September 30, 2019 at 1:09 pm EDT | by Richard J. Rosendall
'Like I had the right to be here'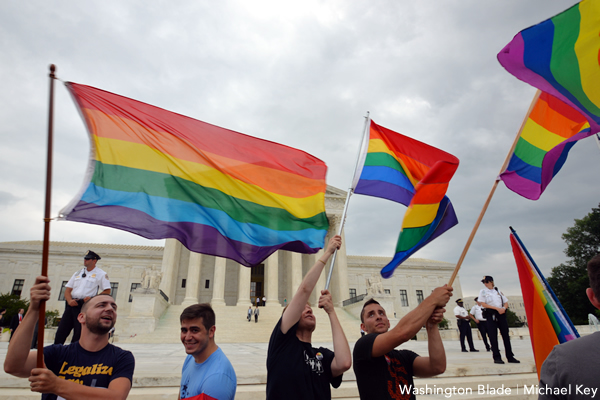 The importance of the gay and transgender employment discrimination cases being argued before the Supreme Court on October 8 is demonstrated by the wide array of amicus briefs submitted by legal groups, civil rights groups, advocates, academics, labor unions, religious groups, 21 states and the District of Columbia.
Lacking space to list, much less analyze, them all, I will discuss just one brief affirming that Title VII of the Civil Rights Act of 1964, specifically its prohibition against discrimination "because of…sex," protects LGBTQ employees. The brief was written by Laurence Tribe and Joshua Matz (a member of Roberta Kaplan's law firm) for four former Solicitors General and Acting Solicitors General and a former Associate White House Counsel.
Tribe and Matz ground their argument in textualism and cite Justice Scalia in Oncale, regarding a man sexually harassed on an oil rig. They quote Justice Kagan, "we're all textualists now." Regarding claims that Congress did not have LGBTQ folk in mind when it passed Title VII, they write, "A statute's meaning is distinct from how people may have expected the statute would apply when it was enacted." They quote Justice Scalia and Bryan Garner explaining that "the presumed point of using general words is to produce general coverage—not to leave room for courts to recognize ad hoc exceptions."
Tribe and Matz defend gender identity coverage: "Few forms of sex-based discrimination are more fundamental than firing someone on the premise that they have misapprehended their own sex." They defend sexual orientation coverage: "Even if Title VII is read as prohibiting only discrimination because of a person's 'sex'—understood as the status of being male or female—it bars employment discrimination based on sexual orientation because a person's 'sex' (and that of his or her desired partners) is a motivating factor in such discrimination."
Despite a clear textualist basis for applying Title VII to LGBTQ cases, I fear the Court as currently constituted will apply an "original expectations" approach that better serves its conservative members' animus, barring another legacy-preserving moment from Chief Justice Roberts or an unlikely epiphany in one of the Trump-appointed justices from Georgetown Prep (Gorsuch and Kavanaugh).
The work that LGBTQ advocates are doing on these cases matters regardless of the hazardous prospects caused by Sen. McConnell's refusal to consider Obama's nomination of Judge Merrick Garland and Trump's Electoral College victory in 2016. The law lives, if at all, in its defenders and interpreters, as it does in those who seek its protection.
Justice Blackmun's bracing dissent from the Court's anti-gay 1986 ruling in Bowers v. Hardwick ultimately prevailed 17 years later in Lawrence v. Texas. A decade later came marriage equality. Now we face a renewed backlash. As Langston Hughes asked, "What happens to a dream deferred?" Fifty years after Stonewall, black trans women are murdered, and cyberbullied students kill themselves. They have no timeless Shangri-La where they can wait, as Billy Porter recently quoted James Baldwin, to "walk around this earth like I had the right to be here."
America will be a long time recovering from Trump-era vandalism, especially if Justices Ginsburg and Breyer are replaced with right-wing justices half their age, as would almost certainly happen in a second Trump term. In that case many of us will not live to see the victory. Let us remember that the National Museum of African American History and Culture has artifacts that were passed down by six, seven, and eight generations before reaching the hands of its founder, Lonnie Bunch, who surely felt the ancestors with him as he was named Secretary of the Smithsonian.
45 and his mob would plunge us into a dark age of know-nothingism and civil strife. I imagine a future explorer discovering forgotten legal battles, reading, wondering, nodding, experiencing a flash of recognition—an old light flickering on again. We never know when the time will come to pass the torch. Let it suffice that we carry it for a time, like those who plant trees in whose shade they will never sit.
But as Monty Python said, we are not dead yet. Duty beckons. Win or lose, we have a country to defend.
Richard J. Rosendall is a writer and activist. He can be reached at [email protected].
Copyright © 2019 by Richard J. Rosendall. All rights reserved.