Buttigieg was right, for Pete's sake
Candidate softens quip that presaged debacle of LGBT presidential forum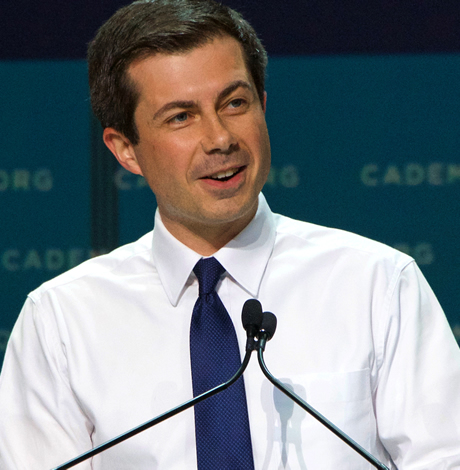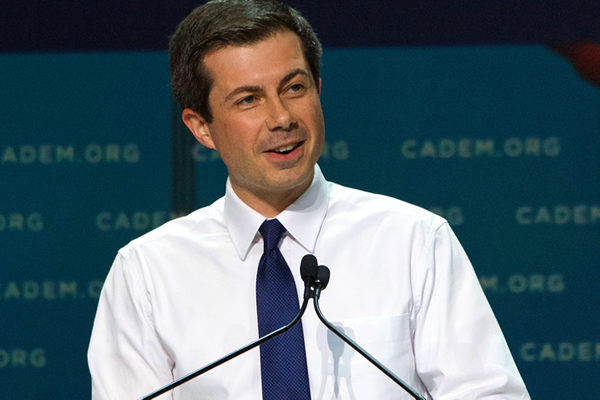 A radio interview last week by gay Democratic presidential nomination candidate Pete Buttigieg created a kerfuffle among some LGBT publications. Umbrage followed the candidate stating, "I can't even read the LGBT media anymore."
Buttigieg's comment was prompted by ongoing accusations that he isn't "gay enough." When queried by an Associated Press reporter regarding these criticisms in mid-July, the South Bend, Ind., mayor said, "The best way I've found to deal with that is to just be myself and let other people worry about whether it's enough."
Last week, in response to being asked on SiriusXM Radio by 'Urban View' program host Clay Cane about disparagements lodged in "LGBT circles" that the 37-year-old gay politician is "too masculine" and benefits from a "privilege" as a result, Buttigieg riffed at length when asked, "how different would it be if you were 'quote-unquote' more effeminate?"
"It's tough for me to know, right? 'Cause I just am what I am and, you know, there's going to be a lot of that. That's why I can't even read the LGBT media anymore, because it's all, 'Too gay, not gay enough, wrong kind of gay.' Like jeez, alright. All I know is that life became a lot easier when I just started allowing myself to be myself. I'll let other people write up whether I'm 'too this' or 'too that'," Buttiegieg declared while chuckling.
Rank-and-file folks were largely unperturbed by Buttigieg's pronouncement, nationally reported by NBC News. More than that, many nodded in agreement.
Buttigieg was right, for Pete's sake.
One complaint volleyed by several LGBT publications, including the Washington Blade, was that several of the more prominent critiques of Buttigieg being "the wrong kind of gay" were written by lesbian or gay writers but appeared in "straight publications." Among the more controversial of those articles, published by Slate in late March and starting-up much of this dust-up, was a piece by D.C.-based reporter Christina Cauterucci, a self-described "queer lesbian" formerly at Washington City Paper.
Cauterucci argued, "Buttigieg isn't just gay – he's also white, male, upper-class, Midwestern, married, Ivy League-educated, and a man of faith" who "can be more accurately lumped in with his white male peers than with anyone else." She fretted, "From what I've seen, Buttigieg doesn't seem terribly sold on the idea of gayness as a cultural framework, formative identity, or anything more than a category of sexual and romantic behavior."
Two days after his remarks, during a Buzzfeed News 'AM2DM' live Twitter interview, Buttigieg deflected the LGBT media anxiety his statement generated by attributing his candor to having a "grumpy moment."
Mayor Pete explained, "I do get frustrated with [the coverage] that seems to tell people how to be gay. And, to be fair, that is happening in a lot of different sources and places online." It was clear that Buttigieg's primary objective was not to deny disappointment with the continuing critiques of his "gayness" quotient, but to clarify that he appreciated the role of LGBT media. As a gay presidential candidate who has benefited from largely positive gay media coverage while raising boatloads of campaign cash from LGBT donors, softening his earlier quip posed a clear upside.
Sandwiched between Buttigieg's comment and contrition was the non-televised "LGBTQ Presidential Forum" last Friday night, produced by GLAAD and the Advocate. Fortunately, few voters of any orientation watched the online debacle.
It was an embarrassing train-wreck, more bar-style off-night karaoke experience than of prideful caliber or newsworthy content. The wilting center-stage floral arrangement was symbolic of cringe-worthy amateurishness and head-scratching oddball presidential candidate inquiries.
Startlingly silly pontification by LGBT extremists regarding whether Buttigieg is "gay enough" and a dumbfounding inability to articulate more than fringe-focused dogmatics signifies much is terribly amiss in conveying community consensus and collective concerns.
Putting Pete in a petticoat won't change that.
Mark Lee is a long-time entrepreneur and community business advocate. Follow on Twitter: @MarkLeeDC. Reach him at [email protected].
Trump family had a tough week — may it only be the beginning
Let's hope he's headed to prison instead of back to White House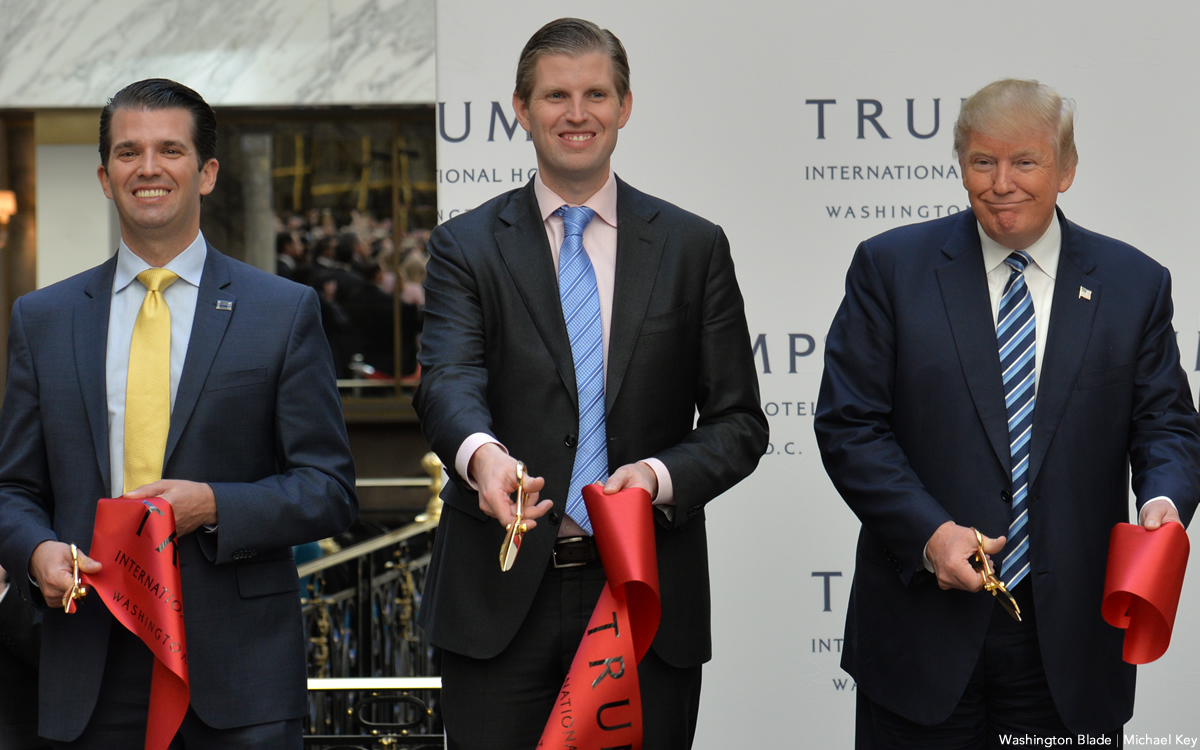 For the first time I actually think Donald Trump and his family may get what they deserve. They have been screwing the country for so long it seemed no one could get to them. Donald Trump is like a mafia don, with his family, and others like Rudy Giuliani, being his soldiers. Like many mafia don's we have seen, while not going down for the deaths he caused, he will likely go down for his financial shenanigans.
As reported in the Washington Post, "The legal dangers facing former president Donald Trump rose this week, after the New York attorney general filed a fraud lawsuit that could effectively shutter the Trump Organization and the U.S. Court of Appeals for the 11th Circuit allowed federal investigators to continue their probe into classified documents found at Mar-a-Lago." In addition, "other setbacks for Trump come as at least a half-dozen additional legal efforts proceed against him and his allies. Federal prosecutors have subpoenaed dozens of his former advisers, and many others, as part of a sprawling investigation into efforts to obstruct the transfer of power after the 2020 election. Separately, a Georgia grand jury has been looking at allegations that he tried to obstruct that state's electoral count by pressuring Secretary of State Brad Raffensperger (R) to 'find' enough votes to overturn the election."
While the New York State investigation is civil, New York AG Letitia James has referred her findings to the Manhattan DA, to U.S. Attorney for the Southern District of New York, as well as to the IRS, for possible criminal proceedings. Many of us are keeping our fingers crossed one of these many investigations will finally see Donald Trump where he belongs; not in the White House, but as a more permanent resident in other federal housing, a jail cell.
While it is important to hold Trump and his acolytes accountable for all the legal issues, we must also hold him responsible for the cultural wars he inspired and promoted. We have always known there are racists, homophobes, transphobes, sexists and misogynists in our midst. However, through hard work and many years of progress, we had seemingly reached a time in this country when people who harbored those hideous feelings couldn't stand openly in the public square and voice them, no less act on them, without repercussions. The four years of Trump's presidency changed that. What he did through his words and actions gave people tacit permission to spout these thoughts and even to act on them. He did this because people understood he was all of those things himself, and in most instances never really tried to hide it. He openly courted and defended white nationalists and neo-Nazis. He bragged about mistreating women. Because of Trump many members of minority groups including the LGBTQ community, African Americans, Asians and women have actually lost their lives to violence. If not losing their lives, many lost the chance to live their lives openly, freely and in safety. With all his misguided policies, lies and obfuscations, it is the cultural wars he unleashed that will take the longest, maybe decades, to counter.
We once had two relatively sane political parties, both advocating differing policies but both standing up for democracy. They seemed to understand our government was founded on the need for compromise to move forward their particular ideas. I may have disagreed with most Republican policies, and their national platforms, but I knew that if they won the Congress and the presidency, I could still fight another day to have Democrats win the next time and change the direction of the country more to my liking. But either way our democracy was going to stand. Today, if Republicans take over, I am not so sure of that.
Yet for some reason I still have confidence in most of the American people. I believe they will fight for our democracy by voting this November to give the Democrats continued control of Congress. By doing so they will let us continue to work to shore up our democracy and to make progress on issues from climate change, to immigration, updating our tax code, and ensuring no person in our country goes without a roof over their head, food in their stomach, and adequate healthcare. I believe we can defeat both Trump and Trumpism if we can convince enough people the road to a better life for them, their children, and grandchildren, is to reject Trump's evil and defend our democracy.
Peter Rosenstein is a longtime LGBTQ rights and Democratic Party activist. He writes regularly for the Blade.
Kenyan McDuffie for D.C. Council-at-Large
A voice of reason and progress in city government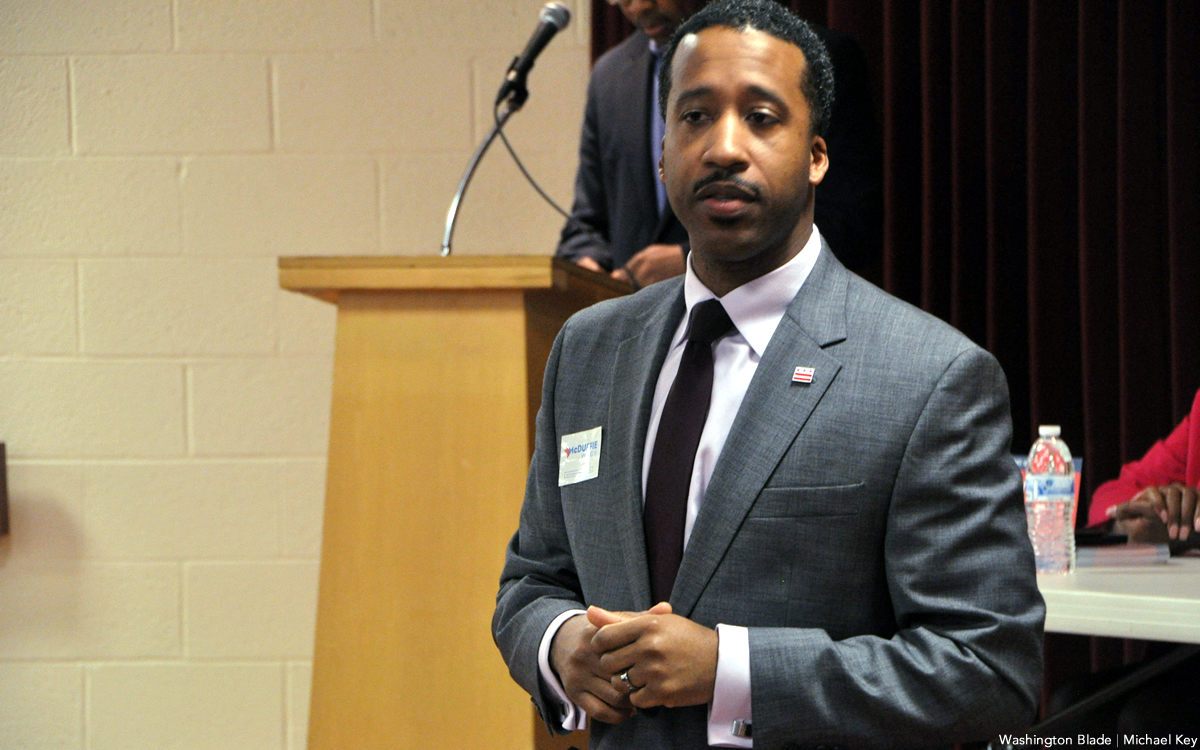 Kenyan McDuffie is a voice of reason, and a voice for progress, on the D.C. Council. He has been a voice for those without one, and for minority communities across the District.
Kenyan is a fourth-generation Washingtonian raised in a working-class family of six. He attended Shaed Elementary in Edgewood, St. Anthony Grade School in Brookland, and graduated from Woodrow Wilson Jackson-Reed high school, having played varsity basketball. He has been a union member working as a mail carrier for the U.S. Postal Service. His college career began at the University of the District of Columbia, which he continues to strongly support. He transferred and graduated summa cum laude from Howard University with a bachelor's degree in Political Science and Community Development and then joined the staff of Congresswoman Eleanor Holmes Norton. He left there to attend the University of Maryland School of Law, where he was an editor of the law school's Journal of Race, Religion, Gender and Class.
After law school he clerked for an associate judge on the 7th Judicial Circuit of Maryland and then became an Assistant State's Attorney in Prince George's County. He then joined the Civil Rights Division of the U.S. Department of Justice, where, as a trial attorney, he enforced key federal civil rights laws in cases throughout the country. His caseload at the DOJ included defending the civil rights of the mentally ill, nursing home residents, persons with disabilities, and other vulnerable populations.
At that point in his career, Kenyan added community activist to his resume becoming president of his local civic association and taking a job as a policy adviser with the Deputy Mayor for Public Safety and Justice. In that position he worked with Council members to shape policy and legislation for the District of Columbia.
In 2012, with this wealth of experience, he was elected to the D.C. Council. At that time Lateefah Williams, president of the Stein Democratic Club, wrote in the Blade, "Kenyan McDuffie is the type of leader that Ward 5 needs. He is intelligent, he has key experience in diverse matters from public safety to public policy, and he is a staunch supporter of the LGBT community. These are some of the reasons the Gertrude Stein Democratic Club, D.C.'s largest LGBT political organization, endorsed Kenyan McDuffie for Ward 5 Council.  … and why I personally support Kenyan McDuffie." Her confidence in Kenyan was well placed. For 10 years he has worked to build coalitions and create solutions, tackling D.C.'s most significant challenges. In his first year on the Council, he was elected to serve as Chairman Pro Tempore (Vice Chair), a position he continues to hold. 
Kenyan is what those of us looking at legislators call a work-horse, not a show-horse. He has put in the work to bring consensus and pass legislation, which he did with sweeping updates to D.C.'s criminal justice laws when he became chair of the Judiciary Committee in 2017. With that committee he oversaw the implementation of D.C.'s police body-worn camera program, including ensuring the public has fair access to the video footage from encounters with officers.
Kenyan has a view of public safety that includes both a strong MPD, with appropriate community oversight, and recognition of the need to fully fund community organizations working to reduce crime. Kenyan, like the mayor, believes we need to do both of these things, not one or the other. He recently said, "One of my proudest moments on the Council is passing the Neighborhood Engagement Achieves Results (NEAR) Act. The law takes a holistic approach to preventing crime in the first instance and floods communities disproportionately impacted by violence with resources – including violence interrupters and behavioral and mental health services – in addition to more innovative, data-driven policing."
For the past five years, Kenyan has chaired the Council's Business and Economic Development Committee. His focus has been on helping grow the local economy with a stronger focus on supporting small and minority-owned businesses. He fought to put millions of dollars in the Commercial Acquisition Fund to allow socially disadvantaged business owners to apply for grants to purchase commercial properties here in D.C. Kenyan spearheaded an emergency relief package of $100 million to help the hospitality, entertainment, and retail industries – some of D.C.'s largest employers of immigrants and minority workers – weather the pandemic and keep District employees on the payroll.
For these reasons, and many more, we cannot afford to lose Kenyan's voice on the Council. I urge everyone to cast their vote for Kenyan McDuffie for Council-at-large. 
Peter Rosenstein is a longtime LGBTQ rights and Democratic Party activist. He writes regularly for the Blade.
Bisexual activists cautiously excited after White House meeting
Sept. 20 gathering took place during Bisexual Visibility Week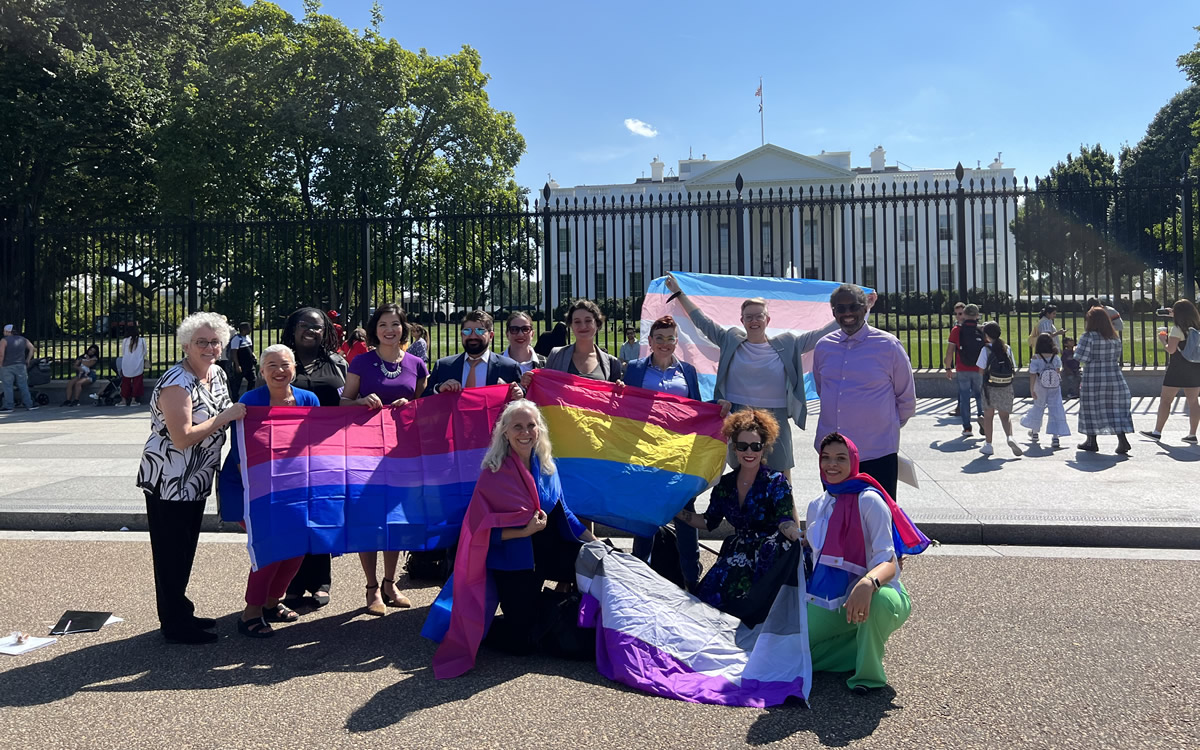 On Tuesday, Sept. 20, just in time for Bisexual Visibility Week, a diverse group of 15 bisexual and pansexual activists met with officials from the White House and the Department of Health and Human Services (HHS), including Melanie Fontes Rainer, the director of the Office of Civil Rights at HHS.
The 15 advocates comprised a wide cross-section of the bisexual community, including nonbinary, transgender, female, young, older, Black, Asian and Muslim advocates, people with disabilities and parents. We came from many walks of life: Academia, education, research, health care, advocacy, law, media and community activism. This isn't unusual: Bisexual people comprise more than half of all LGBT people, totally approximately 12.5 million bisexual adults in the U.S. Strikingly, 15 percent of all GenZ adults — nearly 1 in 6 — identify as bisexual. People of color are more likely to identify as bisexual, as are cisegender women and transgender people in general. 
It has been a painful six years since the Executive Branch last met with bisexual activists (you do the math.) Those meetings, like this one, were the product of tireless advocacy from a population with zero paid organizational staff and less than one percent of all philanthropic dollars earmarked for the LGBT community. It was these stats and others that we shared at HHS on Sept. 20.
Bisexual and pansexual people face specific disparities in mental and physical health, intimate partner violence and monkeypox prevention, treatment and care. Did you know, for example, that nearly half of bisexual women report having been raped? And did you know that federal reporting on monkeypox doesn't disaggregate between gay and bisexual men and men who have sex with men, despite evidence that bisexual men are uniquely vulnerable to MPX and other infectious diseases.
Khafre Abif is a Black bisexual educator, father and person living with HIV. At the meeting with agency officials, Abif shared the story of how staff at his HIV-care clinic initially denied him the monkeypox vaccine, despite Abif being bisexual and thus in a population of special focus for the vaccine.
"This meeting has been a long time coming for the bi+ community," said Abif. "I'm looking forward to a dialogue with federal officials about solving some of the health issues we face."
In order to begin remedying these disparities and more, we presented the administration with a set of benchmarks, including the creation of a Federal Interagency Bisexual Liaison and a Federal Interagency Bisexual Working Group. Other benchmarks included training for HHS staff on bisexual disparities and remedies thereof, funding streams for bisexual-specific funding and interventions, and the disaggregation of data on specific health disparities.
Robyn Ochs is a pillar of bisexual and pansexual community organizing. At HHS, Ochs shared more about her specific expertise. "Research has made clear our health disparities and invisibility. It's time for federal interventions to catch up with what we already know through research and lived experience."
Frustrated by years of inaction by the federal government to release bisexual-specific data, target the bisexual and pansexual community with tailored interventions, or recognize the importance of bi+ health in general, we are cautiously excited by this opportunity to share critical data and remedies.
Heron Greenesmith is the Senior Research Analyst for LGBTQI+ Justice at Political Research Associates, and the co-founder of BiLaw and the Polyamory Legal Advocacy Coalition. Find Greenesmith on Twitter @herong.