October 3, 2019 at 12:57 pm EDT | by Beirne Roose-Snyder and Zoe Bulls
D.C. Council should decriminalize sex work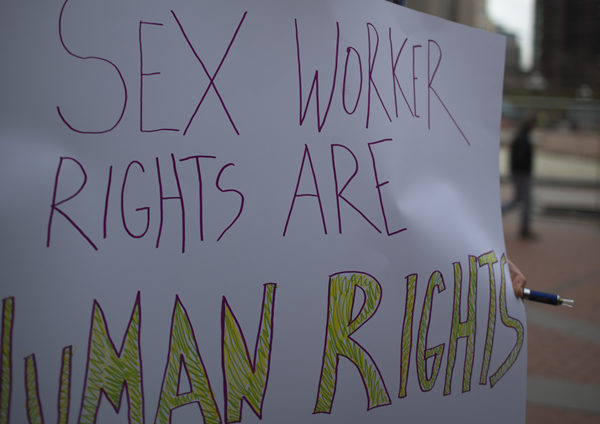 Like gay marriage and marijuana regulations before it, across the country, Americans are waking up to our harmful laws against sex work. As they are now, sex work criminalization laws create barriers to access to health services for sex workers and increase their vulnerability to physical harm, financial abuse, and other crimes.
Earlier this year, the Reducing Criminalization of Commercial Sex Amendment Act of 2019 was introduced by the D.C. City Council. Despite the rising groundswell of sex worker-led advocacy to call attention to the issues sex workers face, and the growing support among politicians to decriminalize sex work in D.C., The Washington Post's editorial page recounts a more extreme, carceral view — one that relies on anecdotes more than facts, and has no real consideration of the significant benefits that decriminalizing sex work would have for the city.
Sex work decriminalization affirms sexual and reproductive health and rights. Decriminalization enables sex workers to better screen clients, negotiate safer sex practices, and report incidents of trafficking or client and police violence, which benefits not only sex workers, but the general public as well. No one can afford to ignore these facts when we have conversations about people's health care needs.
On a global scale, international health and development agencies including UNAIDS, UNFPA, UNDP, the WHO, and the World Bank have recognized the role that decriminalization of sex work plays in advancing public health outcomes while also advancing the human rights of sex workers. For example, the decriminalization of sex work would have the greatest effect on the course of HIV epidemics across all settings, averting 33–46% of new HIV infections in the next decade. There were 12,322 individuals living with HIV in the District at the end of 2018. In 2016, the Center for Health and Gender Equity released a report highlighting the role that decriminalization plays in advancing health and rights internationally, and provides recommendations for actions that the U.S. government can take to advance these objectives.
Furthermore, criminalizing sex work has done nothing to decrease sex workers' exposure to the very real threat of human trafficking. And to be clear, child abuse, rape, physical abuse, coercion and trafficking are still criminal offenses — the proposed law to decriminalize sex work in no way weakens or eliminates existing laws around sexual violence and exploitation. The difference is that with common sense legislation like the Reducing Criminalization of Commercial Sex Amendment Act, if a sex worker comes forward to report abuses, they don't have to worry about being convicted of a crime themselves. If D.C. sex workers don't fear arrest, they'll be better able to access services and health care, as well as inform authorities when they see trafficking occur.
For example, as our sex work laws are written now, trans women who are sex workers live in fear of police violence and arrests at an alarming rate. In New York City, eighty percent of sex workers report experiencing some form of violence in the course of their work, but sex workers who are immigrants, LGBTQIA+ individuals, and black and brown sex workers in particular feel discouraged to report these incidences. Trans women face alarming rates of murder – and this includes trans women who are sex workers. Earlier this year, Ashanti Carmon, a trans woman of color who was a sex worker was murdered in a D.C. suburb.
That is unacceptable. All sex workers — including trans women and queer women — have the right to bodily autonomy and control over their lives, and the government should work to positively affirm those rights rather than restrict them.
It's time for those like Colbert King and The Washington Post's editorial team to reckon with the simple fact that sex work is going to happen no matter what, and keeping it illegal promotes the exploitation of the people he pretends to care about.
This month, as the D.C. City Council comes back to session, we are calling on it to address policies that perpetuate stigma, abuse, and bad public health policy by passing the Reducing Criminalization of Commercial Sex Amendment Act of 2019.
Women everywhere are depending on it.
Beirne Roose-Snyder is director of Public Policy at the Center for Health and Gender Equity. Zoe Bulls is an Advocacy and Partnerships Associate at the Center for Health and Gender Equity.