October 18, 2019 at 11:59 pm EDT | by Joey DiGuglielmo
Veteran Blade features editor recalls all-time best and worst celeb interviews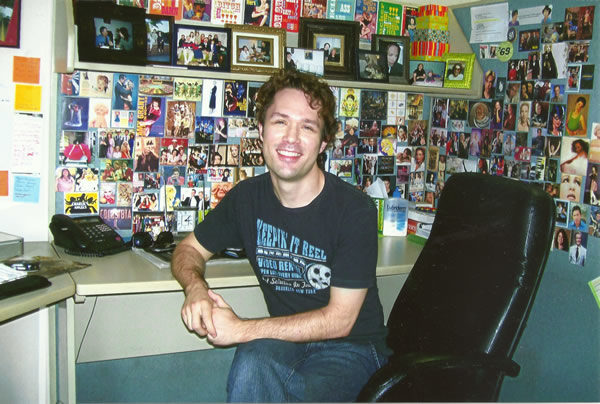 I'm naming names, so get ready.
I came to the Blade in October 2006 as news editor, then became features editor in 2008, which is my title to this day. That's probably a record, but I have no easy way to verify that.
One small part of my job is interviewing celebrities. It's tough when it's somebody you're not familiar with and you have to research from scratch. It's super fun when it's a star you've followed for a long time and can go deep and ask interesting, off-the-beaten-path stuff. I work hard to eschew the same handful of questions they've been asked nine zillion times before (e.g. to John Waters: "What was Divine like?"). You can geek out and go crazy deep/obscure for a few questions but obviously you don't want an entire interview of that.
Often the audiences for these pieces are people who follow the subjects avidly already so you want to make it interesting for them as well as the casual fan. Nothing pisses off a fan base faster than a set of questions that sounds like you cobbled them together in 10 minutes after reading the press release and the Wikipedia page.
These are almost always done by phone because rarely is the celeb in D.C. prior to the event that's bringing them to our region. I only agree to e-mail interviews under extremely rare circumstances because they usually cherry pick which questions they want to answer and there's no chance to press them if they play coy or evasive. I let Larry Kramer by on a pass because he has severe hearing loss (he was great — we went several rounds of follow-up by e-mail) and Janis Ian, who was on vocal rest.
It's tough when their handlers have scheduled back-to-back phoners and you only get 15 minutes and have to keep firing like you're in the lightening round to cram in as much as possible. The celebs don't give a shit — even under tight time constraints, you'll sometimes get somebody who'll ramble on for 10 minutes answering one question, so you're fucked (I'm looking at you Megan Mullally). You also learn quickly, these people are never your friends; many of them are just good at giving you the temporary illusion that they're chummy with you. As a mentor of mine used to say, you see how quickly that stops when the column inches are over.
It also sucks when their publicists stay on the line and cut you off just when you're getting going. In some cases, I get it — some journalists would hog the celeb's time so somebody has to be the bad cop. I'm greedy with my celeb time but never go crazy long. Thirty-40 minutes is ideal — you can actually breathe a little, give them time to ramble, then pick your most interesting responses to use. You always have to have more prepared than you'll get to in case they go Bob Dylan on you and give one-word answers. The best situations are when you develop rapport, keep them engaged (typically this kind of thing bores them) and get them riffing way off their press release.
So after 11 years of doing this, I'm giving out my all-time best and worst awards for Blade interviews. We'll start with the worst. 
5. Stand-up legend Margaret Cho ("Mothers' Day with Margaret" 2013; "Margaret goes 'psyCHO' on new tour," 2015) — perfectly nice lady but not funny in interview mode; like, at all. Makes you feel like she'd rather be doing anything but this.
4. Actress Maria Bello ("Don't label Maria Bello," 2015) — didn't have time for anything much once we got through talking about her book.
3. Andy Cohen ("Deep Talk with Andy Cohen," 2017) — polite but just didn't give me much to work with. Very succinct responses delivered in as few words as possible. It was like he couldn't wait to get off the phone.
2. Singer Natalie Merchant ("Natalie Merchant goes deep," 2017) — ostensibly polite and decent elaboration but sounded about as excited as a clerk at a D.C. 7-11.
1. Jazz pianist Patricia Barber ("Cerebral jazz," 2013) — stock answers, kind of a tone of "why would you ask me that"? to every answer that made me feel she thought I was an idiot.
DISHONORABLE MENTION: Rufus Wainwright ("Rufus Wainwright on opera, revisiting his first two albums," 2018) — Nice enough guy, but we were late getting started, then his handlers cut us off as if the clock had started at the time they were supposed to have called.
Best:
5. Actress Valerie Harper ("Taking on Tallulah," 5-29-09) — one of the rare ones I got to do in person. Chatty, funny, willing to go anywhere the questions took her — a delight.
4. Singer/actress Patti LuPone ("Reminiscing with LuPone," 9-8-11) — I was terrified. Miss LuPone does not suffer fools gladly and I'm not a show queen, so I was winging it slightly (but I had read her then-new memoir! You don't always have time.). The appointed time came. Her husband answers and says sorry, she's getting her hair done. She called a few hours later and apologized. It was perfect — that mild inconvenience put her more at my mercy, so she wasn't prickly at all.
3. Figure skater/personality Adam Rippon ("Adam Rippon on new life, loves, memoir, ass and skating in the nude," 2019) — candid, funny, balked at nothing, not in a hurry and genuinely sweet.
2. Motown legend Mary Wilson ("Mary Wilson shares Motown memories," 2017) — the Supremes co-founder gleefully went anywhere I led and elaborated without prodding. Miss Ross, of course, has yet to deign us with her presence.
1. Actress Lily Tomlin ("Laughing with Lily," 2014; "Lily Tomlin on why she's happy she lost the Emmy this year — and a whole lot more," 2018) — unsurprisingly, it's often true that the bigger the name, the more you're likely to encounter a diva. Tomlin, as many in my field would attest, is the exception. Exceedingly nice, the only celeb to ever make a point of using my name and never in a rush. The ultimate class act A-lister.
HONORABLE MENTIONS: Bruce Vilanch ("Dishing with Bruce," 2013), Leslie Jordan ("Flamboyantly funny," 2016; "Character actor Leslie Jordan on his pony obsession, TV hits and misses and dream threesome," 2019); Salim Gauwloos ("Former Madonna dancer Slam recalls 'Blond Ambition Tour,' 'Truth or Dare'); Dave Koz ("A Dave Koz Christmas," 2014, "Koz and effect," 2011), Yvonne Craig ("Holy spandex tights! It's Batgirl!," 2015) and Alison Arngrim ("Life on the 'Prairie,'" 2011).