Klobuchar's votes for Trump judges include one with anti-LGBTQ record
Stras derided LGBTQ rights, school integration as 'social policy'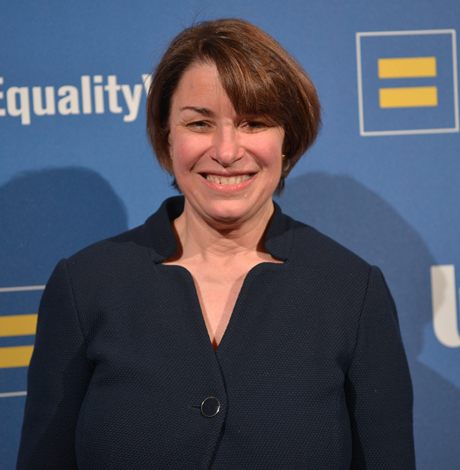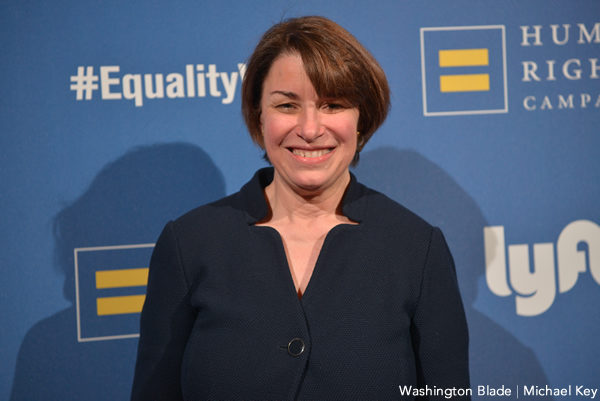 Sen. Amy Klobuchar is facing scrutiny on the campaign trail for voting to confirm many of President Trump's judicial nominees — and a closer look at that record reveals she backed one pick who once derided as "social policy" not only LGBTQ rights and abortion, but also school integration.
With weeks remaining before the Iowa caucuses on Feb. 3, Klobuchar's vote to confirm David Ryan Stras to the U.S. Eighth Circuit Court of Appeals could dissuade supporters of LGBTQ rights and other progressives from supporting her in the Democratic presidential primary.
Although Stras hasn't been as viciously anti-LGBTQ as some of Trump's other picks, his past is troubling to LGBTQ advocates. As a law professor, Stras in a 2008 legal essay was condescending toward judges' "ventures" into LGBTQ rights, abortion and school integration.
"The court's own ventures into contentious areas of social policy — such as school integration, abortion, and homosexual rights — have raised the stakes of confirmation battles even higher," Stras wrote.
Additionally, as a Minnesota Supreme Court justice, Stras in 2012 joined an opinion allowing an anti-gay marriage amendment to come intact to the ballot with a title obscuring its purpose and effect. Minnesota voters ended up rejecting the amendment anyway.
Along with Sen. Doug Wilson (Ala.), Sen. Joe Manchin (W.Va.) former Sen. Claire McCaskill (D-Mo.) Sen. Mark Warner (Va.), former Sen. Heidi Heithkamp (N.D.) and former Sen. Joe Donnelly (Ind.), Klobuchar was among seven Democrats who joined Republicans in voting for Stras. The vote in January 2018 was otherwise along party lines, 56-42.
Ironically, Klobuchar voted for Stras even though she wasn't consulted on the judicial pick, which was a customary part of the confirmation process before the Trump era, and recommended other choices for the judicial seat.
Carlie Waibel, national press secretary for the Klobuchar campaign, put distance between Klobuchar and Stras in response to a Washington Blade inquiry on whether the Democratic hopeful stands by her vote.
"Of course Sen. Klobuchar disagrees with his comments, just as she will not agree with every one of his opinions," Waibel said. "She has made clear that Judge Stras was not the judge that she would ever recommend to the White House. In fact, she recommended other candidates."
Waibel also defended the senator's vote for Stras by saying he was better than other picks Trump might have offered.
"Her vote was based on the reality that given the choices, on balance she thought he was better than the other candidates who would have been nominated from other states," the spokesperson said. "Judge Stras was recommended by liberal Justice Alan Page, who Sen. Klobuchar has great respect for, and in the vast majority of cases on the Minnesota Supreme Court Judge Stras sided with the majority, which included several Democratic-appointed justices."
Klobuchar's vote for Stras was one of many in favor of judicial nominees by Trump, who set records with judicial confirmations in ways that will likely affect the courts for generations to come.
According to an April 2019 article in ThinkProgress, Klobuchar voted for more than 56 percent of his judicial picks two years into his presidency. According to the Klobuchar campaign, the percentage since that time has dropped to just 33 percent.
Meanwhile, other Democratic senators who have run for president this cycle, such as Bernie Sanders, Kamala Harris, Elizabeth Warren and Kirsten Gillibrand, had a knee-jerk opposition to all of them.
Klobuchar cast a vote for Stras even though he was opposed by civil rights and progressive groups, who pointed to his statements and actions as a law professor and Minnesota Supreme Court justice. Among the groups that opposed him were Lambda Legal, People for the American Way and Alliance for Justice.
In a letter dated Jan. 29, 2018 urging senators to vote "no" on confirmation, Lambda Legal Chief Strategy Officer Sharon McGowan wrote Stras's record "raises serious concerns about his willingness to adhere to the Supreme Court's landmark LGBT rights decisions."
"His vision of the role of the courts as a nefarious force that seeks to block the will of the majority sends a dangerous message to vulnerable minorities that their constitutional rights are not guaranteed," McGowan wrote. "Justice Stras' failure to appreciate the important role that an independent judiciary plays in our constitutional democracy causes communities like ours grave concern."
In a 2008 essay titled "Understanding the New Politics of Judicial Appointments," Stras wrote intensified media scrutiny and organized interest groups have politicized the judicial confirmation process, which he said made lawmakers act "with a keen eye toward pleasing constituent groups and maintaining a consistent policy image."
As an example of attempts at "pleasing constituent groups," Stras pointed to judicial rulings on LGBTQ rights, abortion and school integration, suggesting either the decisions were best left to the political process or the courts got it wrong.
Although the Supreme Court decision in Roe v. Wade is the case most cited in the article, Stras also draws on the 2003 decision in Lawrence v. Texas, noting with a tinge of skepticism the court "struck down a Texas ban on homosexual sodomy because, according to the court, the state law violated privacy rights."
Anthony Kreis, visiting assistant professor of law for the Chicago-Kent College of Law, told the Blade comments deriding LGBTQ rights as "social policy" are off-base.
"The problem with the notion of LGBTQ rights as being 'social policy,' is that viewpoint indicates that the Constitution's protections do not sweep broadly enough to protect sexual minorities," Kreis said. "In other words, LGBTQ people are at the mercy of legislatures to do right by them — and so then courts aren't reliable actors to combat homophobia and transphobia."
In written responses to questions from the Senate on his 2008 writing, Stras when asked about school integration acknowledged the Supreme Court applied the Fourteenth Amendment to desegregate schools in Brown v. Board of Education, which he said "overruled the Supreme Court's detestable decision in Plessy v. Ferguson."
"When I wrote the referenced book review essay, I did so as a law professor, not as a judge," Stras added. "I was describing the factors that have increased political polarization surrounding the judicial nomination process over the past several decades."
Asked whether the U.S. Constitution provides a textual basis for rights to contraception, women's access to abortion and same-sex marriage, Stras acknowledged the Supreme Court's rulings in favor of abortion rights and marriage equality, saying he'd "follow all binding precedent, including each of these precedents" on the Eighth Circuit.
Four years later, when Stras was a justice on the Minnesota Supreme Court, he joined an opinion that prevented the Minnesota secretary of state from changing the ballot title on a proposed anti-gay marriage constitutional amendment from "Recognition of Marriage Solely Between One Man and One Woman" to "Limited the Status of Marriage to Opposite Sex Couples."
Although Minnesota law dictates the secretary of state must "provide an appropriate title" for proposed constitutional amendments on the ballot, the court in the case of Limmer v. Ritchie concluded that language doesn't enable the official to change a ballot title designated by the state legislature.
"Allowing the secretary of state, an executive branch officer with no constitutional authority over the form and manner of proposed constitutional amendments, to simply ignore the legislature's action in proposing and passing a title to accompany a ballot question on a constitutional amendment potentially risks interfering with the legislature's constitutional authority," the decision says.
The decision, however, wasn't unanimous. Minnesota Supreme Court Judge Minnesota Alan Page criticized the majority in his dissent by saying the ruling "announces a fundamentally flawed interpretation" of state law.
"Under the court's view, a majority of the legislature could propose a constitutional amendment to, say, reinstate prohibition, propose the ballot title 'Eliminating the Personal Income Tax,' the secretary of state would be obligated to put the legislature's title on the ballot, and under the standard the court announces today, this court could do nothing to prevent it," Page wrote. "That is a result I cannot countenance."
It should be noted that although the Klobuchar campaign defended the Minnesota Democrat's vote for Stras by saying he was recommended by Page, the two weren't in agreement in this instance.
Stras's LGBTQ record was just part of the reason civil rights and progressives opposed his confirmation. A member of the Federalist Society, Stras clerked for conservative U.S. Associate Justice Clarence Justice, whom he called a "mentor" upon being sworn in to the Minnesota Supreme Court.
During the 2016 presidential campaign, Stras was on the list of 11 potential picks from which then-candidate Donald Trump said he wouldn't stray when making selections for the U.S. Supreme Court. The Federalist Society and the anti-LGBTQ Heritage Foundation were said to have a hand in the selection of these names.
In Peterson v. Minnesota, which involves a police officer suing the City of Minneapolis for age discrimination, the Minnesota Supreme Court determined the 14 months the city took to investigate the case need not be applied to the statute of limitations under the law. Stras, however, joined a dissent that would have prevented the officer from bringing his case to the jury.
When the Minnesota Supreme Court ruled in a rape case trial judges can allow expert testimony to explain why a victim would delay in reporting the incident, Stras strikingly dissented on procedural grounds. The testimony was deemed warranted in the case because the victim had waited several hours before reporting the incident.
Stras has cultivated this record even though his own family experienced persecution as a member of a minority community. Stras, who's believed to be the first Jewish person to serve on the Minnesota Supreme Court, is the descendant of Holocaust survivors.
To be sure, Klobuchar has built a solid record in support of LGBTQ rights as a member of the U.S. Senate. She was a co-sponsor of the Respect for Marriage Act, which sought to repeal the anti-gay Defense of Marriage Act before it was overturned by the U.S. Supreme Court, voted in favor of the Employment Non-Discrimination Act and now co-sponsors the Equality Act. The Minnesota Democrat received a perfect score of "100" in the latest Human Rights Campaign congressional scorecard.
However, Klobuchar's vote to confirm Stras to the Eighth Circuit despite his record on LGBTQ rights stands out.
Kreis acknowledged "there are often many reasons why senators could vote for nominees they don't favor," but didn't see that at play with Klobuchar's vote for Stras.
"It is hard to discern what reason she might have," Kreis said. "Whatever the reason might be for the favorable vote, it was not a vote cast to help the advancement of LGBTQ rights."
EDITOR'S NOTE: This article has been corrected to reflect the number of senators who voted with Republicans to confirm Stras and to update the percentage of judicial nominees she has approved. The Blade regrets the errors.
Trans woman sues D.C. Jail for placing her in men's unit
Lawsuit charges city with exposing inmates to 'risk of sexual violence'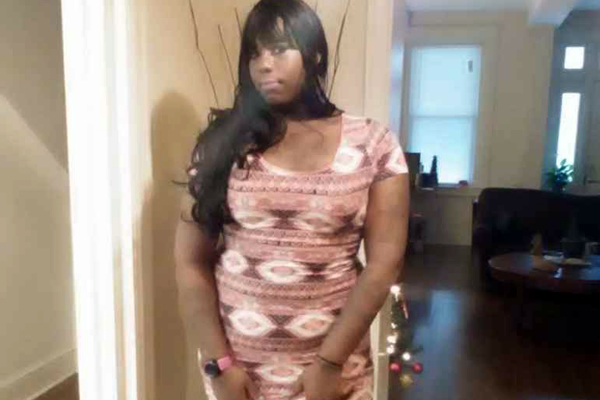 The American Civil Liberties Union of D.C. and the D.C. Public Defender Service filed a class action lawsuit on May 11 on behalf of a transgender woman being held in the D.C. Jail on grounds that the city violated its own Human Rights Act and the woman's constitutional rights by placing her in the men's housing facility at the jail.
The lawsuit charges that D.C. Department of Corrections officials violated local and federal law by placing D.C. resident Sunday Hinton in the men's unit at the D.C. Jail against her wishes without following a longstanding DOC policy of bringing the decision of where she should be placed before the DOC's Transgender Housing Committee.
The committee, which includes members of the public, including transgender members, makes recommendations on whether a transgender inmate should be placed in either the men's or the women's housing unit based on their gender identity along with other considerations, including whether a trans inmate's safety could be at risk. Under the policy, DOC officials must give strong consideration to the recommendations of the committee.
The lawsuit, which was filed in U.S. District Court for the District of Columbia, says the committee has not met or acted on any trans-related jail housing matter since January 2020.
It says Hinton was taken to the D.C. Jail on April 26 after a judge ordered her held following an arrest for an alleged unarmed burglary in which she attempted to take $20.
It notes that the Department of Corrections has a "default" policy of placing transgender inmates in either the male or female housing unit at the D.C. Jail and other city detention holding facilities based on the inmate's "anatomy." If a female transgender inmate is anatomically male, the inmate – barring other mitigating circumstances – is placed in the male housing facility under the default policy. Similarly, a male transgender inmate who is anatomically female is placed by default in the women's housing unit under the DOC policy.
"DOC's policy of focusing on anatomy rather than gender identity is both discriminatory and dangerous," the ACLU says in a statement released on the day it filed the lawsuit on Hinton's behalf. "It forces trans individuals, particularly trans women, to choose between a heightened risk of sexual violence and a near-certain mental health crisis," ACLU attorney Megan Yan said in the statement.
Yan was referring to yet another DOC policy that sometimes gives a transgender inmate placed in a housing unit contrary to their gender identity the option of being placed in "protective custody," which the lawsuit calls another name for solitary confinement. The ACLU and the Public Defender Service have said solitary confinement in prisons is known to result in serious psychological harm to inmates placed in such confinement.
"Because DOC's unconstitutional policy exposes every transgender individual in its custody to discrimination, degradation, and risk of sexual violence, Ms. Hinton seeks, on behalf of a class of similarly situated individuals, a court order that strikes down DOC's unlawful focus on anatomy as the touchstone for its housing decisions regarding transgender individuals," the lawsuit states.
It further calls on the DOC to use "gender identity, not anatomy, as the default basis for housing assignments" for transgender inmates and to provide all trans individuals a prompt hearing by the DOC Transgender Housing Committee.
It calls for the DOC to be required to implement the recommendations of the Housing Committee "so that each person is housed as safely as possible and without discrimination."
In addition to the lawsuit, Hinton's attorneys filed an application for a temporary restraining order to immediately require the DOC to transfer Hinton to the D.C. Jail's women's housing facility. The attorneys also filed a motion for a preliminary injunction to stop the DOC from using a transgender person's anatomy as the default or sole criteria in making housing assignments at the jail.
In response to a request from the Washington Blade, DOC spokesperson Dr. Keena Blackmon sent the Blade a DOC statement responding to the lawsuit.
"The Department of Corrections is dedicated to the safety and security of all residents in its care and custody," the statement says. "DOC is committed to following its policies and procedures relating to housing transgender residents," it says. "Ms. Hinton recently arrived in DOC custody and, per the agency's COVID-19 protocols, was placed into single-occupancy quarantine for 14 days."
The statement adds, "Once that quarantine ends, Ms. Hinton will go before the Transgender Housing Committee to determine her housing based on safety needs, housing availability, and gender identity. D.C. DOC is sensitive to Ms. Hinton's concerns and will continue to ensure that its residents' needs are met."
DOC spokesperson Blackmon didn't immediately respond to a follow-up question from the Blade asking why the Transgender Housing Committee has not met for over a year, which the ACLU has said resulted in all transgender female inmates being placed in the male housing facility.
Blackmon also couldn't immediately be reached for a second follow-up question asking for DOC's response to the lawsuit's claim that DOC officials told Hinton's lawyers that she was being placed in the men's housing facility because she was anatomically male.
The lawsuit says the DOC default policy of placing Hinton in the jail's male housing unit violates the D.C. Human Rights Act, which bans discrimination based on gender identity. The act has been interpreted to mean private businesses or the city government cannot prevent a transgender person from using facilities such as bathrooms or locker rooms that are in accordance with their gender identity.
D.C. Superior Court records show that Hinton has been arrested a total of 24 times in D.C. between 2006 and 2018. All except three of those arrests are listed as misdemeanor offenses, with just three listed as alleged felony offenses. One of the arrests is listed as a traffic offense.
In nearly all of the prior arrests, the court records identify Hinton by her birth first name, with her last name of Hinton used in all of the arrest records.
The burglary offense for which Hinton was charged on April 26 of this year and for which she is currently being held the D.C. Jail would  normally not result in a defendant being held in jail while awaiting trial. The fact that Hinton is being held rather than released pending trial suggests her prior arrest record may have prompted a judge to order her incarceration.
ACLU attorney Yan, who is among the attorneys representing Hinton in the lawsuit, said Hinton's prior arrest record should not be a factor in the lawsuit.
"We don't think any of the underlying things are relevant to her claim in this lawsuit, which is based on her identity and the fact that her constitutional and statutory rights to be free from discrimination are being violated," Yan said. "At the end of the day, Sunday is a transgender woman and she's a woman and she deserves to be held according to her gender identity as she desires."
Gay Iranian man murdered in so-called honor killing
State Department describes Ali Fazeli Monfared's death as 'appalling'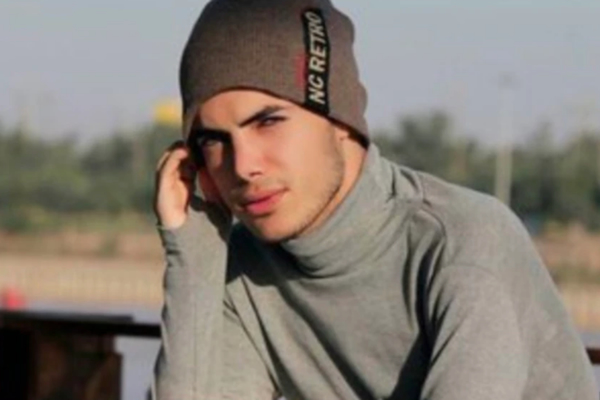 Reports indicate an Iranian man's relatives killed him after they discovered he was gay.
The Iranian Lesbian and Transgender Network wrote on its website that Ali Fazeli Monfared, 20, was kidnapped in Ahvaz, a city in Iran's Khuzestan's province on May 4.
The advocacy group said Monfared, who was known as Alireza, was beheaded. His body was reportedly found on May 5, the day after he was kidnapped.
The Iranian Revolutionary Guard Corps had exempted Monfared from military service because he is gay, even though consensual same-sex sexual acts remain punishable by death in the country. An activist who has known Monfared since late 2019 told the Iranian Lesbian and Transgender Network his half-brother discovered he was gay when he opened an envelope from the Iranian Revolutionary Guard Corps that contained his military exemption card.
Masih Alinejad, an Iranian journalist and activist, reported Monfared at the time of his murder was planning to flee Iran and live with his boyfriend, who previously sought refuge in Turkey. Alinejad said Monfared's half-brother and cousins killed him "as part of an honor killing."
2-Alireza was killed by being beheaded by his family. After beheading him, the family dumped this poor man's body under a tree outside of the city of Ahwaz. Alireza was about to flee Iran to join his boyfriend, who's a refugee waiting for him in Turkey. #علیرضا_فاضلی_منفرد pic.twitter.com/QMqAoINHIm

— Masih Alinejad 🏳️ (@AlinejadMasih) May 8, 2021
The Iranian Lesbian and Transgender Network says authorities have arrested Monfared's half-brother and cousins and charged them with first-degree murder. A State Department spokesperson on Tuesday in a statement to the Washington Blade described the Fazeli Monfared's murder as "appalling."
"The United States firmly opposes abuses against LGBTQI+ persons. The struggle to end violence, discrimination, criminalization and stigma against LGBTQI+ persons is a global challenge, and one that remains central to our commitment to promote human rights and fundamental freedoms for all individuals," said the spokesperson.
"Iran must do more to ensure the human rights of LGBTQI+ persons are protected," added the spokesperson. "We extend our deepest sympathies to Mr. Monfared's loved ones."
D.C. mayor to lift all restrictions on bars, nightclubs on June 11
'We will definitely be celebrating Pride' next month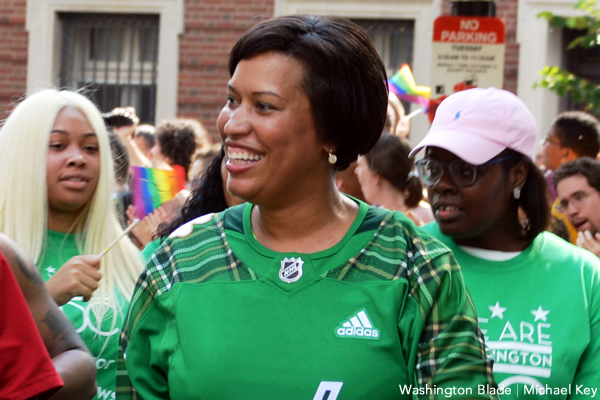 D.C. Mayor Muriel Bowser announced at a news conference on Monday that a continuing trend of significantly lower numbers of coronavirus cases and deaths in the city has enabled her to fully lift capacity and other restrictions on most businesses, including restaurants and places of worship, on May 21.
The mayor said bars and nightclubs will be allowed to increase indoor capacity from the current 25 percent to 50 percent on May 21, with all capacity restrictions for bars and nightclubs to be removed on June 11.
The mayor's announcement came after representatives of the city's nightlife businesses, including the city's gay bars and restaurants, expressed concern that D.C. had yet to lift its capacity restrictions beyond 25 percent while surrounding jurisdictions in Maryland and Virginia had already lifted most restrictions.
"On May 21, restrictions on public and commercial activity, including capacity limits, types of activities, and time restrictions, will be lifted," the mayor's directive says.
It says restrictions for bars and nightclubs would continue at a 50 percent capacity from May 21 through June 11. The directive says restrictions for large sports and entertainment venues would also continue from May 21 to June 11, which includes a requirement such events apply for a waiver of the restrictions on a case-by-case basis.
"On June 11, capacity limits and restrictions will be lifted on those venues that cannot fully reopen on May 21," the directive says.
In response to a question at the news conference, Bowser said the June 11 date would essentially end all restrictions on nightclubs and bars, including the current requirement that they close at midnight rather than the pre-epidemic closing times of 2 a.m. on weekdays and 3 a.m. on weekends.
In a development that could have a major impact on plans for D.C.'s LGBTQ Pride events, the mayor's revised health directive announced on Monday includes the lifting of all capacity restrictions on large outdoor and indoor sports and entertainment events beginning on June 11.
That change would remove restrictions that have, up until now, prevented D.C.'s Capital Pride Alliance from holding its annual Pride Parade and Festival in June during Pride Month.
Capital Pride Executive Director Ryan Bos told the Washington Blade shortly after the mayor's announcement that Capital Pride is assessing its options for expanding its current plans for in-person events in June.
"We will definitely be celebrating Pride in June," Bos said. "We just received this information as well. So, we will be getting further information," he said. "We have not been informed that they will be issuing any permits yet, so at this time we are moving forward with our original plans for doing things."
Bos was referring to a city requirement for obtaining permits for street closings and use of other public spaces for events such as a parade or street festival. He said existing plans, among other things, call for an informal parade of cars and other vehicles on June 12 that will drive throughout the city to view homes and businesses that will be decorated with Pride displays such as signs, photos, and other symbols of Pride.
Those familiar with the city's past Pride events don't think there will be enough time for Capital Pride to organize the traditional large parade and street festival in time for June. But Capital Pride officials have talked about holding a possible parade and festival in October, and the lifting of the capacity restrictions announced by Bowser on Monday would likely make that possible.
In addition to lifting all capacity restrictions on May 21 for restaurants, the mayor's May 21 timeframe for lifting restrictions includes these additional venues and events:
Weddings and special events
Business meetings and seated conventions
Places of worship
Non-essential retail
Personal services
Private at-home gatherings
Libraries, museums, galleries
Recreation Centers
Gyms and fitness centers
Pools
Office space
Schools
Childcare
"We're very pleased that over the last several days, we have seen our case spread, our community spread numbers, venture out of the red into the yellow and fast approaching the green," Bowser said in referring to a health department chart that shows the changes in coronavirus cases in the city.
"You might remember that our daily case rate peaked in January at 45.9. And today you can see it's down to 6.6," she said at her news conference on Monday.
"Throughout this process I have said how proud I am of D.C. residents and businesses who have responded, who have followed health guidance and have worked together to help protect our community throughout the pandemic. And we see it in these numbers today," she said.
"Containing the virus will continue to require all of us to be focused on maintaining a robust health system," the mayor said, adding that while over 200,000 D.C. residents have been fully vaccinated since December 2020, "many more thousands" still need to be vaccinated. "Vaccines are free and available on demand at walk-up sites across the District," she said.
The mayor also noted that the city will continue to require residents and visitors to use a mask in accordance with existing and updated guidance set by the U.S. Centers for Disease Control and Prevention.
Mark Lee, coordinator of the D.C. Nightlife Council, an association that represents restaurants, bars, nightclubs and other entertainment venues, said the mayor's directive on May 10 leaves some details to be addressed but will open the way to bring nightlife businesses back to life.
"What we do know is that on Friday, May 21, businesses begin returning to normal operations and, three weeks later, on June 11, all restrictions for all businesses in the District will end," Lee said. "It's a day we've long awaited and one that will save much of our community enterprise from financial ruin."