March 14, 2020 at 5:30 am EDT | by Valerie Blake
The art of the (real estate) deal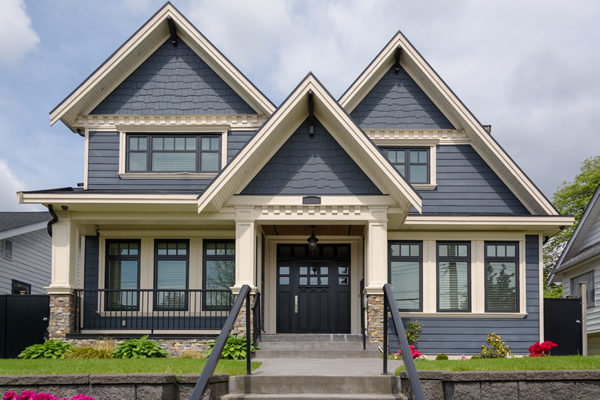 This week, the Blade celebrates art. Unfortunately, I don't draw or paint. Sculpting and blowing glass are beyond my capabilities. I can't dance (don't ask me) and my photography and videography skills are limited to tapping on my phone.
I will admit to playing the Bad Lounge Singer (à la Bill Murray in the early years of "Saturday Night Live") as an introduction to a community theater production held in the meeting room of a church in Artesia, N.M., population 11,301. The church ladies made us take all the swear words out of the script.
I've learned over the years that there are lots of ways in which helping people buy and sell real estate imitates art.
We are first captivated by architecture: the symmetry of a Colonial house, the proportion and geometry of Renaissance homes, Victorian buildings featuring towers, turrets and ornate fretwork, or the futuristic mid-century designs of Frank Lloyd Wright, to name just a few found in the DMV.
It is said that art is in the eye of the beholder, so it is understandable that your home becomes something you appreciate and even love, your sanctuary. You weave the tapestry of your life as you settle into a comfortable routine in a familiar environment. If the bed isn't made or the dishes aren't washed, who cares? It's just you and whoever lives there with you.
So, when it's time to trade up, leave the area, or downsize, your real estate agent asks you to think of your home as a product. No longer your cocoon, it must be de-cluttered, primped, polished, and dressed in the latest fashion, all while smelling fresh as a daisy.
Based on their knowledge of what's trending, what's passé, and what buyers are looking for, soliciting (and then following) your agent's advice is essential to ensure a quick sale and possibly turn a house sale into a house auction with multiple offers.
For example, panting walls in a neutral palette will show off the features of your home and allow for an explosion of color (I'm sick of the term "pop of color") on accent pieces. You'll have to give up that fabulous purple wall and, although wallpaper is starting to make a comeback, it's more likely that the paper on your walls today is more reminiscent of 1970 than that of 2020.
Stagers are experts in turning your home into a living piece of art using color, proportion, texture, and three-dimensional spatial organization. This makes an empty house look warm and inviting. A stager can sometimes work with your own furnishings to create an equally appealing vignette as well.
While not a fine art, cooking is also artistry. Instagram pictures of food won't substitute for the flavors of the real thing, so just as the presentation of a meal should delight the eyes, the presentation of your house should also enhance the senses.
Even if they don't cook often, most buyers say they want a "gourmet kitchen." The term has become as hackneyed as a pop of color so determining what constitutes "gourmet" in someone's mind can be difficult.
To me, a gourmet kitchen echoes a mixed media piece: a hardwood floor creates the underlying palette, while large swaths of white are reminiscent of kitchen cabinets. The artist then follows with a nod to sculptured stone and wisps of metallic are strategically added last.
Literature worms its way into real estate as well. I've seen fliers that rival the Great American Novel and descriptions written using the alliteration of Edgar Allen Poe. Professional photography reveals your home in its best light, and you can now see virtual furniture placement and walk through a house on your iPad, thanks to the graphic arts.
Consider the open house sign-in sheet. Gone is the fountain pen with which your name could be written in calligraphy in favor of a tablet with no soul. Sadly, the art of calligraphy will be relegated to wedding invitations as instruction in cursive writing leaves our schools.
And then comes the pièce de resistance: the art of negotiating a contract. Like an intimate pasodoble, two agents approach each other and then retreat, inching closer and closer until finally they move as one and the dance concludes with cheers and applause from the audience.
So, as you visit local galleries, attend auctions, browse online sources, or just accompany your out-of-town friends to one of D.C.'s fabulous museums, remember that art isn't just in your home – it is your home.
Valerie M. Blake is a licensed Associate Broker in D.C., Maryland and Virginia and Director of Education & Mentorship at RLAH Real Estate. Call or text her at 202-246-8602, email her via DCHomeQuest.com, or follow her on Facebook at TheRealst8ofAffairs.