April 25, 2020 at 2:11 pm EDT | by Kathi Wolfe
Shakespeare was productive in quarantine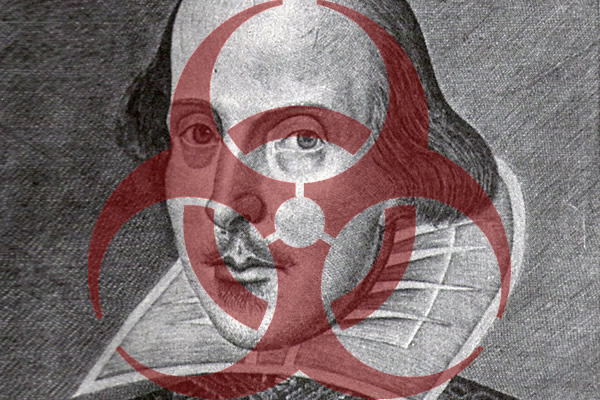 An epidemic strikes. No one wants to catch the terrifying disease. People quarantine themselves. Some are alone. Others are stuck inside with anxious spouses and restless children. Theaters, bars and other businesses are closed. Passersby give you the side-eye if they think you're spreading the disease.
Washington, D.C., New York or San Francisco in the COVID-19 age? No! This is what life in London was often like during the latter half of the 16th and early 17th century. One of those living in and observing this time was William Shakespeare. Washing our hands, it's easy to feel that we're the only ones struggling with a plague. But, nearly 500 years ago, Shakespeare, who lived from 1564 to 1616, not only endured, but thrived through plague after plague.
We don't know much about Shakespeare's personal life or sexuality. In his day, people didn't talk about sexual orientation or identify as queer. But I'm proud to claim the queerness in his plays and poems. His work from "Twelfth Night" to his sonnets has a queer quotient. It's brimming with wit and gender-bending. In some of his sonnets a narrator addresses a man – a "fair youth." In Sonnet No. 20, the narrator calls the handsome man a "master mistress."
Shakespeare's life was intertwined with epidemics (of bubonic plague) from the get-go. Luckily, (for him and the universe!), Shakespeare survived an outbreak of plague that occurred in his birthplace of Stratford-upon-Avon when he was three months old. But his two older siblings died from the disease.
Over the centuries, outbreaks of plague killed at least a third of the people of Europe. It was caused by rat fleas. But, people didn't know that then. Some thought it was caused by "sin." Others believed you could get the plague from dogs. Sure, social distancing is hard, but be glad that you weren't a puppy during Shakespeare's era. "As grim as plague was for humans, it was worse for dogs," writes theater historian James Shapiro in "The Year of Lear," "erroneously convinced that dogs spread plague, London authorities had them rounded up and slaughtered."
You wouldn't have wanted to be human then, though. As it is with COVID-19, there was no treatment or cure. The horrific symptoms of the plague included, "fever, a racing pulse and breathlessness, followed by pain in the back and legs, thirst and stumbling," Shapiro wrote in The Guardian.
There were several severe outbreaks of plague during Shakespeare's lifetime (including in 1582, 1592, 1603, 1605 and 1606). As is the case with us and COVID-19, when the plague raged the only recourse was self-isolation and social distancing. Theaters and other public places were closed down.
Why am I telling you this? Because I'm in awe of how creative Shakespeare was during his periods of self-isolation. True confession: I was bored to death when we read "Hamlet" in high school English. The language seemed way too old – too stilted. I didn't care about "to be or not to be." I only wanted the class to end. But after I saw "Hamlet," "As You Like It and other of his plays performed on the stage (where his words on the page came vibrantly to life), I joined the multitudes of Shakespeare aficionados.
Since we've been on lockdown, I've had to push myself to write grocery lists. Even dreaming of making art seems daunting. This wasn't a problem for Shakespeare. While he was quarantined during plague outbreaks, he wrote "King Lear," "Macbeth," "Anthony and Cleopatra," "Coriolanus" and "Timon of Athens."
Most of us in our COVID-19 era won't give Shakespeare a run for his money. We won't write the next "King Lear." Yet, we can be creative – through singing, dancing, drawing – writing a poem. And we can cheer on the artists who nourish and nurture us by making art.
Kathi Wolfe, a writer and a poet, is a regular contributor to the Blade.