June 4, 2020 at 9:05 am EDT | by Philip Van Slooten
LGBTQ public officials, community leaders join Md. protests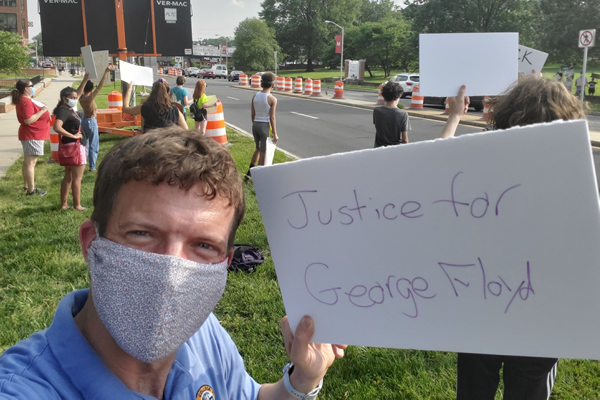 College Park Mayor Patrick Wojahn on Wednesday joined residents in a protest largely supported by 5 o'clock commuters and Prince George's County police.
Wojahn was one of many LGBTQ Marylanders who took to the streets this week to support protests against police brutality and racial violence.
Both peaceful protests and violent riots were triggered by the death of George Floyd on May 25 when then-Minneapolis police officer Derek Chauvin kneeled on his neck, asphyxiating him, according to a recent autopsy report. CNN also reported protesters in the city cheered when charges were announced against all four ex-officers involved in Floyd's death, with Chauvin facing an additional second-degree murder charge.
However, Maryland LGBTQ protestors interviewed by the Washington Blade pointed out that the issues underlying the protests extend beyond Floyd's death and include oppression that continues to impact the lives of both trans and cisgender African Americans.
"I think when people talk about Black Lives Matter, it should resonate and go to the lives of all people who are systematically disadvantaged and oppressed," Wojahn said. "It's the whole idea that until there is justice for every person, there will not truly be justice for any person. The tragic case with George Floyd should also raise the point of systematic oppression for other people as well, including the transgender community."
Wojahn stood with what he estimated were 40-50 College Park residents along Baltimore Avenue between a Target store and the University of Maryland campus. They waved signs calling for an end to racial violence and police brutality while drivers honked their support and both campus and county police monitored the situation from a distance, though a few gave protestors the thumbs up.
"I think that we're all in this together," said Nicola Netto-White, a cisgender-heterosexual Marylander and College Park protest co-organizer. She's also an Indian American who was born in New York. "And the best way to make changes is if we all take action. We've all had different experiences and we can use these experiences to make change, whether by protesting or voting or writing letters to public officials. We need change now, and we all can play a part in that."
But Kaniya Walker, a black transgender woman who lives and works in Prince George's County did not agree that the protests or the Black Lives Movement was trans-inclusive.
"I'm not too positive about the Black Lives Matter movement protests because they seem to apply only to heterosexual black people," said Walker who helped organize a Transgender Day of Remembrance event last year to honor Ashanti Carmen and Zoe Spears, two black trans women who were murdered in Fairmount Heights last year. "It doesn't seem like an equal movement … I just want the same energy when a trans person is murdered."
Five years ago Baltimore rioted following the death of 25-year-old Freddie Gray after his arrest and transport in a police van. According to the Washington Post, though the Floyd protests were more peaceful, issues of poverty, violent crime and corruption remain.
"Trans Maryland backs all of our siblings in the streets speaking out against police brutality and white supremacy," said the organization's Executive Director Lee Blinder in a statement to the Blade.
However, like Walker, Blinder felt it was important to include the losses endured by black trans women before this time of national reflection inevitably passes.
"We're hoping allies and co-conspirators join in for this Friday's Black Trans Lives Matter protest at 2 p.m.," Blinder added. "Organized by Iya Dammons, Executive Director of Baltimore Safe Haven."
Safe Haven is a nonprofit organization providing services for "transgender people in Baltimore City living in survival mode," according to its website.
Prince George's County Police Chief Hank Stawinski earlier on Wednesday suspended three of his officers after a video on social media showed them kicking a black man who was handcuffed. One of the people who recorded the footage can be heard saying, "This is the [stuff] we're protesting."
The Blade reached out to Prince George's County and the University of Maryland police departments, but all were unable to comment prior to publication.