June 4, 2020 at 8:35 am EDT | by Lou Chibbaro Jr.
Capital Pride shows solidarity with Black Lives Matter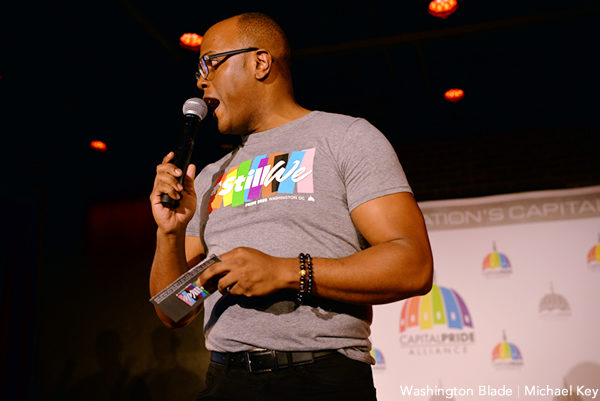 The Capital Pride Alliance, the nonprofit group that organizes D.C.'s annual Pride parade and festival, issued a strongly worded statement on Wednesday expressing solidarity with the Black Lives Matter movement and calling on the LGBTQ community to "atone" for its role in inflicting harm against LGBTQ people of color.
The statement, which was released in written form on the Capital Pride website, was also presented in a YouTube video by Capital Pride's President Ashley Smith, Vice President of Records Management Natalie Thompson, and Executive Director Ryan Bos, who took turns reading it.
"Pride this year comes on the heels of a global pandemic and a nation confronting the murder of George Floyd at the hands of Minneapolis police officers," the part of the statement read by Smith says. "This horrific tragedy, and the murders of Breonna Taylor, Tony McDade, and Ahmaud Arbery by police and white vigilantes, have created a nationwide uprising crying out for racial justice and the protection of Black life," Smith stated in reading the statement.
"We acknowledge that the work of the LGBTQ+ community will not be complete until prejudice, inherent racism, and systemic oppression have been overcome," Ryan Bos quoted the statement as saying in the video.
"The LGBTQ+ community has a history of excluding, marginalizing, and erasing the work of Black and Brown Queer and Trans people," Bos read. "While we continue to work toward equity, we must atone for our role in inflicting this harm," he read. "This moment, like many before it, demand that we do better in our words and actions and hold ourselves accountable. The survival of black and brown bodies depends on it."
Thompson presented a part of the statement calling for unity. "Our LGBTQ+ community is acutely aware of being told that we are less than, that our lives do not matter and that our rights are not important or even contrary to American values," she stated. "The ongoing culture of permissible homophobia, sexism, racism, ableism, and transphobia, the last of which is seen in the epidemic of violence against Trans women, particularly Trans women of color, shows that we are all connected and we must stand together in unity."
Bos resumed reading a section of the statement calling for supporting people of color. "As members of the Black and Brown communities have stood with the LGBTQ+ community, the Capital Pride Alliance stands in complete solidarity to unite against those disparities that impact communities of color," Bos stated.
"We pledge that we will work together to find solutions and make the positive changes that are so desperately needed to end inequity, injustice, and violence against people of color," he stated. "We are committed to assessing our relationship with the Metropolitan Police Department; making certain that our partners are working for the betterment of the entire community," he said. "In addition, we will not support anyone who promotes hate, division, and fear."
Smith concluded the statement by reiterating Capital Pride's 2020 campaign of #StillWe, which he said "speaks to the resilience, struggles, celebrations, and pride that exist within our community."
The Capital Pride Alliance statement comes less than a month after it announced a series of online virtual Pride events that will replace this year's parade, festival, and concert, which Capital Pride said had to be cancelled due to the coronavirus restrictions
The full text of the statement and a link to the video can be accessed here.