My vote on behalf of those who are excluded
Democracy does not exist in my homeland of Cuba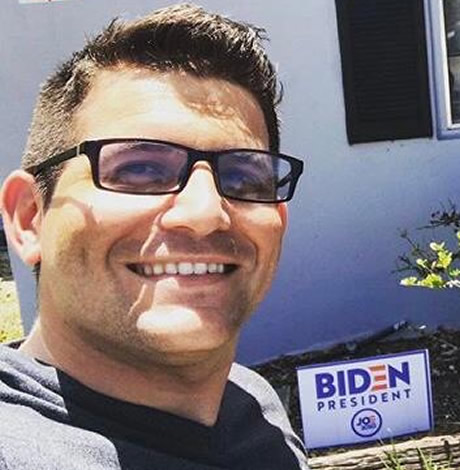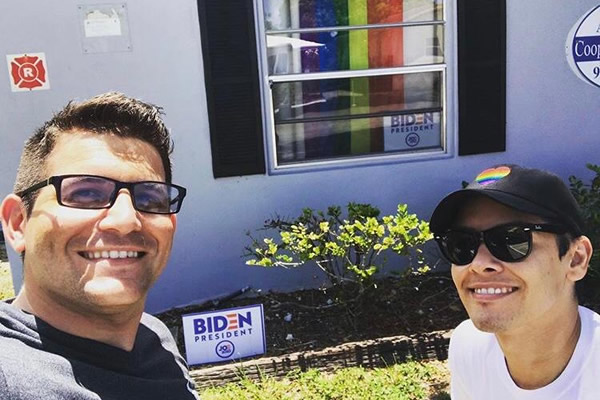 In my 30 years, I have never elected the president of my country, and it is not something I say with pride, but rather with shame. I should have voted for at least three presidential candidates at this point in my life, but that possibility where I come from was exterminated like a deadly pandemic.
There are no presidential elections in Cuba, but rather elected members of the National Assembly who elect the president themselves. This deceptive and convenient electoral system was manufactured several years after the triumph of the 1959 revolution and allowed the same man to govern for 49 years. Fidel Castro fell so in love with power that only a deadly disease could take it from him in 2008.
At that time, he transferred the reins of power to his brother, Raúl Castro, who established 5-year presidential terms. The president was allowed to run for re-election, but the same electoral system remained in place. How convenient! At the age of 87 and tired of steering a ship aimlessly for a decade, Castro appointed Miguel Díaz-Canel, a 58-year-old engineer who he previously trained, as a presidential candidate.
My homeland's president-designate, however, is a carefully stitched marionette puppet who is handled by very thin strings that tell him what to do or say, since it is the Castro dynasty that truly commands the Communist island's destinies behind the scenes.
Díaz-Canel, therefore, did not have to win the applause of the masses with government proposals. He did not run against opponents for months; nor did he face them in nationally televised debates. Díaz-Canel was elected mechanically and unanimously by 605 National Assembly members locked in a room, not by the more than eight million Cubans registered to vote.
Still, no one can dispute his "leadership." Cuba does not recognize or legalize the opposition as normally happens in democracies. The brave few who stand up to the regime are persecuted or imprisoned as criminals, accused of receiving money that the United States sends them to "subvert" the "sovereign and democratic order chosen by the people."  
As a journalist in Cuba, I was accused by the dictatorship of being part of "subversive campaigns" that independent media launched against the dictatorship and that, according to them, seek a regime change, when in truth I only wanted to show the world the harsh reality of my people.
I spent 11 months in U.S. Immigration and Customs Enforcement prisons after I asked for asylum in this country. My departure to true freedom, just seven months ago, has coincided with the epilogue of the presidential election in the United States, in which I still do not have the right to participate.
Even so, being a spectator of this process is extremely exciting. Coming from a dictatorship without presidential elections to a country with one of the strongest democracies on earth is a 360-degree turn, one to which I am still assimilating and beginning to understand.
For the moment, my vote, like that of millions of immigrants, will be excluded. That does not mean, however, that I cannot join the electoral fervor prior to Nov. 3.
It's a weird feeling, I confess. So many years of inexperience cannot be recovered at once. At times I feel shy, even fearful. It takes some time to get used to the idea that nothing will happen to you for speaking against the president himself.
One of my first contributions was to place a banner in support of Biden with my boyfriend in the garden of our apartment. That small poster was, for me, the unequivocal sign of the political freedom that I now have and that for so many years was taken from me.
Then a friend, a fervent pro-Biden activist in Fort Lauderdale, invited me to a rally in support of the former vice president. When I saw myself there I knew that I was really contributing to the good of this nation.
In some way, supporting the candidate who I think is the right one is my way of doing something good for this country, of returning the favor for it welcoming me, of saying thank you: Thank you for allowing me to choose, thank you for protecting me from intolerance, thank you for setting me free, thank you for letting me grow, dream, live …
My contribution to American democracy will definitely not be in statistics, nor will it arrive by mail. My vote is not secret or personal. I throw my vote into the wind every time I go out with a Democratic flag; when I hold up a sign in the name of the blue candidate; when I jump excited if someone honks their car horn as a sign of sympathy; when I put my thumb up if a Trump supporter shows me his is down; when I travel the streets in a caravan urging everyone I see to vote.
Because in this country voting can make a difference, especially in Florida, a state that has been key in the last presidential races and where a large immigrant community resides, which grows stronger every day. 
Proof of this is the sum of the current electoral contest of more than 23 million naturalized immigrants in the United States who are eligible to vote, according to a report by the Pew Research Center, which represents approximately 1 in 10 eligible voters in the United States. A new record.
I will not be able to vote in the next election either, but I will be closer. Meanwhile, I will continue to raise my voice for myself and on behalf of the millions of excluded. My contribution may not be taken into account now, but definitely no one will be able to silence it anymore.
The road to DADT repeal — remember their names
'Maybe not in my lifetime, but we are going to win in the end'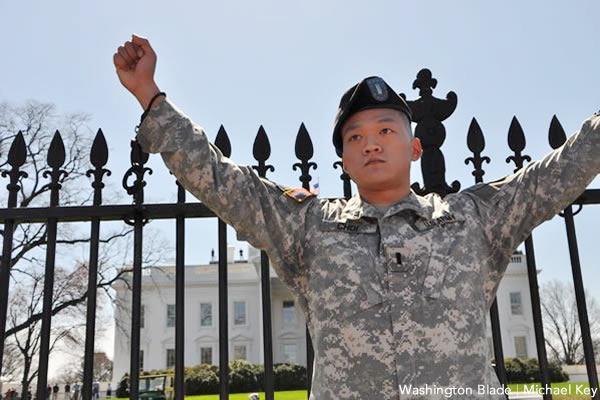 "Maybe not in my lifetime, but we are going to win in the end." – Air Force TSgt. Leonard Matlovich, Sept. 19, 1975.
The road to repeal of the codified charade known colloquially as "Don't Ask, Don't Tell" (DADT), masquerading as something different than the Pentagon policy ban dating to World War II, was long and built by many hands. While a straight-identified Congress and president were necessary to reach the destination, LGBT Americans made it happen. But "DADT Speak" can unintentionally erase the some 100,000 discharged before its creation. The following focuses on some of the First Volunteers; those very few service members who chose to risk their careers by outing themselves, putting faces to the ban, without which it would still be destroying lives.
In March 1974, Leonard Matlovich was the happiest he'd ever been in his life. It had taken him until he was 30, and surviving thoughts of suicide-by-war and direct suicide, to finally accept and embrace that he was gay, and now he had a job that he loved: Race Relations Instructor for the Air Force. He was so good in this job that he was sent around the country to train other instructors. An African-American fellow instructor said that, "He has the classroom in the palm of his hand."
His department chief wrote, "As a Race Relations Instructor there is none better. His mastery of group dynamics and group facilitation has enabled him to conduct seminar after seminar around the difficult and sensitive subject of race relations without incident. He should be promoted to Master Sergeant well ahead of his contemporaries."
And then he read an interview with Frank Kameny in the Air Force Times.
World War II veteran Frank Kameny had a genius IQ and Harvard Ph.D. in astronomy. Hired by the Army Map Service (AMS) in 1957, his dream of being one of the first astronauts, in fact, his entire scientific career, crashed and burned when the AMS learned he was gay. LGBs were already banned in the military; now, per Republican President Dwight Eisenhower's Executive Order banning "sexual perversion" among civilian federal employees, he was fired five months later, and, worse, blackballed from employment by any other federal agency or private company or university receiving federal funding.
Unaffiliated with any gay group, he did what no other fired gay person had done. Eight years before Stonewall, he appealed his case against the Secretary of the Army to the Supreme Court in a self-penned brief whose eloquent fury still stuns today.
"The government's regulations, policies, practices and procedures, as applied in the instant case to petitioner specifically, and as applied to homosexuals generally [including in the military], are a stench in the nostrils of decent people, an offense against morality, an abandonment of reason, an affront to human dignity, an improper restraint upon proper freedom and liberty, a disgrace to any civilized society, and a violation of all that this nation stands for. These policies, practices, procedures, and regulation have gone too long unquestioned, and too long unexamined by the courts."
Yale Law School professor William Eskridge, Jr., later called it revolutionary, "the birth of Gaylegal Equality Arguments"; and Frank "the Rosa Parks and the Martin Luther King and the Thurgood Marshall of the gay rights movement."
In a "court of last appeal" letter to newly inaugurated President John F. Kennedy in May 1961, two months after the Court refused to hear his case, Kameny, still on his own, also denounced "the policies, practices, and official attitudes of the military" and "less-than-fully-honorable discharges."
That November he cofounded the militant Mattachine Society of Washington (MSW; not a chapter of original Mattachine) whose four missions included challenging military homophobia— 29 years before the creation of the first national group dedicated to fighting the ban, and 32 years before its codification into DADT.
MSW's unprecedented three pickets of the White House in 1965 included signs protesting the ban, and he led a picket at the Pentagon itself.
"STOP Wasting Taxpayers Money on Hunts for HOMOSEXUALS." "65,000 Homosexual Sailors DEMAND NEW NAVY POLICY." "Quarter Million Homosexual American Servicemen & Women Protest Armed Services Policies." "15 Million U.S. Homosexuals Protest Treatment by Armed Forces."
That year the Navy alone kicked out at least 1,365—some 100 more than all the branches kicked out in the worst year under DADT.
The ban was the subject of the first same day, nationally coordinated gay rights protests in 1966. Frank led another Pentagon picket then flew to New York City to lead a protest there. He was essentially the only non-lawyer source of help for LGB service members trying to avoid being kicked out or at least be granted an Honorable Discharge characterization.
Since at least 1964, he'd been looking for a "perfect test case" — a service member with a clean record willing to out themselves and fight the ban in court. Leonard Matlovich read that in the Air Force Times and called him describing his three tours in Vietnam, Bronze Star, Purple Heart, and outstanding performance ratings. After a number of meetings, Leonard agreed to carry the banner, coming out on the front page of The New York Times and on the CBS Evening News with Walter Cronkite on Memorial Day 1975.
The response was seismic, rippling from the Times to the Kokomo, Indiana, Tribune and around the world. So unlike the mainstream concept of a gay male one reporter asked him if he was really gay. The effect was magnified when he appeared in uniform on the cover of Time magazine with the bold, black caption "I Am a Homosexual"—putting a face on the ban for millions for the first time. Gay historian Nathaniel Frank, author of the definitive book on the evolution of DADT, "Unfriendly Fire," said, "it began a national discussion on gay rights."
Accounts of his four-day discharge hearing filled newspapers and TV screens. When the Air Force board couldn't see past "Homosexual" to the perfect airman, they recommended his discharge; Leonard telling the crush of reporters outside: "Maybe not in my lifetime, but we are going to win in the end." He failed to overturn the ban, but a 1981 Pentagon mandate that, barring extenuating circumstances such as sex on base, all discharge characterizations for gays should be Honorable can be linked to his case. No one imagined how short his lifetime would be, but he filled it fighting for gay equality. Frank was the lead honorary pallbearer, walking by the horse-drawn caisson carrying his body in 1988, and today his grave in Washington's Congressional Cemetery with its iconic gravestone is a place of pilgrimage next to a Veterans Administration cenotaph for Frank.
"Exemplary" Army Reserve Drill Instructor Miriam Ben-Shalom was honorably discharged in 1976 after refusing to deny she was a lesbian during questioning about her criticizing the discharge of Leonard Matlovich. In 1980, a federal judge ruled that her discharge violated the First, Fifth, and Ninth amendments of the Constitution—the first court ruling that the ban was unconstitutional and 30 years before the ruling against DADT in the Log Cabin Republicans challenge—and ordered her reinstated. The Army simply ignored the order for seven years; until a Circuit Court forced them to return her to duty. But they refused to allow her to reenlist at the end of that period of service.
The Supreme Court refused to hear her appeal in February 1990. Three months later, she and five other veterans founded Gay, Lesbian & Bisexual Veterans of America, the first such national lobby group; today American Veterans for Equal Rights (AVER). She and several other veterans were arrested at the White House in 1993 protesting the ban's refashioning as DADT. She was arrested there again in 2010 protesting President Obama's slow walk on repeal along with eight fellow veterans and four civilians including myself.
Sgt. Perry Watkins' 16-year adventure in the U.S. Army began when Lyndon Johnson was president and would not end until George Bush père sat in the Oval Office. It spanned the globe, sometimes a comedy, sometimes a tragedy. It was sometimes even a musical comedy—but it was always, just as the ban itself, nonsensical; here ignoring that he was gay, there trying to kick him out because he was gay. Year after year, time after time, he demanded justice; and, in the end, it was his own truth that set him free—the truth he had told from the very beginning, during his draft physical in 1967 when he was 19 and checked the box indicating "homosexual tendencies."
The first gay African-American soldier to make headlines, while the Army ignored a court order to reinstate Miriam, in May 1982, Watkins also became the first out gay service member returned to duty by a court. But he was kicked out again, and, eventually, the Supreme Court let a lower court ruling stand that he should be reinstated in the name of fairness. Like Leonard, for whom he was an honorary pallbearer in 1988, he chose a settlement; passing himself in 1996.
Petty Officer Keith Meinhold, a certified Master Training Specialist teaching sonar crews on P-3 Orion aircraft how to hunt submarines outed himself on ABC's World News Tonight on May 19, 1992. Formerly recognized as "Aircrew Instructor of the Year," his usually perfect performance ratings drop. Without any evidence, they claimed knowledge of his sexual orientation had "adversely affected his performance of duty and adversely affected the good order and discipline." Though given an honorable discharge he sued and was ordered reinstated. Overall, his return was met positively, and his crew continued to win new awards. He retired four years later with full military honors, naval band music, a Navy Achievement Medal, and a 60-foot American flag.
Purposely coinciding with Meinhold's coming out the same day, 25-year old Navy Lieutenant Junior Grade Tracy Thorne, first in his class in flight training, outed himself on "Nightline." A bombardier-navigator flying A6 Intruders, like a ship on a roiling sea, his status repeatedly changed due to the unknowns of what might happen—or not—to the ban following Bill Clinton's possible election, then election. He joined a five-week, 32-city cross-country veterans bus Tour of Duty to try to drum up public support for an end to the ban. He testified against the ban before the Senate Armed Services Committee — homophobic Sen. Sam Nunn's dog and pony show where he was jeered by 1,000 sailors and Marines. To wild applause and laughter, infamous racist Sen. Strom Thurmond told him, "Your lifestyle is not normal. It's not normal for a man to want to be with a man or a woman with a woman. Have you considered getting help from a medical or psychiatric standpoint?" He filed a lawsuit in 1994 and returned to active duty with the stipulation that the Navy could attempt to discharge him under DADT. In 1995, he was discharged. He sued again; his challenge ending when the Supreme Court refused to hear his case.
Their high-profile outings were planned to coincide with the same-day introduction of the long forgotten end-the-ban Military Freedom Act of 1992. Popular war hero and chair of the Joint Chiefs Colin Powell's statements to Congress killed not only that bill but crippled Bill Clinton's intentions even before he had the party's nomination. Powell: "Skin color is a benign, non-behavioral characteristic. Sexual orientation is perhaps the most profound of human behavioral characteristics." His disingenuous, pseudo intellectual way of saying, "they choose to be gay so it's not a civil rights issue."
Navy Reserve Lieutenant Zoe Dunning outed herself at a Jan. 16, 1993, rally in support of Keith Meinhold. She was allowed to stay in after convincing a board that "status" did not equal "conduct" — a finding immediately forbidden in future cases by the Pentagon. By retirement in 2007, she'd risen to the rank of commander, having served openly for more than 13 years. In December 2010, as co-chair of Servicemembers Legal Defense Network (SLDN) Board of Governors, she was invited to stand next to the president as he signed the provisional DADT repeal bill. Co-founder Dixon Osburn just released "Mission Possible," his account of the crucial role SLDN played in ending the ban.
Former Marine of the Year Sergeant Justin Elzie had served 10 years when he outed himself on "World News Tonight" on Jan. 29, 1993. The Corps reneged on their existing approval for his early separation in April with benefits, moving to honorably discharge him immediately with none. He testified to Congress in support of ending the policy ban. A judge ordered he be retained until his legal challenge was resolved. He eventually settled out of court, receiving the early retirement bonus after having served as an out gay Marine for four more years during which he was recommended for promotion three times. He was one of our 13 arrested at the White House in November 2010 demanding DADT repeal.
Twenty-three-year old Desert Storm veteran and former Sixth Army Soldier of the Year Joe Zuniga outed himself at a huge event honoring gay military activists the night before the April 1993 March on Washington, including Meinhold and Thorne. "The roar was deafening. People cried. People hugged each other." – The Washington Post. The next morning the three joined the veterans' contingent in the march with hundreds of thousands.
Conversely, his Army command was enraged, discharging him, however honorably, in record time—in less than a month. They also brutally demoted him from Sergeant to Specialist after falsely accusing him of wearing a decoration he had not earned. His battalion commander melodramatically threw newspapers in which his story had appeared into a trashcan during his administrative hearing. But he continued to speak out all across America, and appeared in the historic first national gay TV ad; created for the Campaign for Military Service, an ad hoc group representing multiple existing gay groups hoping to offset the rabidly homophobic campaign of those in and out of the Democratic-controlled Congress determined to prevent President Bill Clinton from ending the ban. He also travelled the country and TV newsrooms trying to promote public support.
Army First Lieutenant and Iraq veteran Dan Choi came out on "The Rachel Maddow Show" on March 19, 2009, resulting in his discharge in June 2010. Far from just another came-out-on-TV story, Dan was the first Asian-American to become a leader in the anti-ban movement, and shook that movement when he began to engage in nonviolent direct action in the second year of the Obama administration after the president broke his promise to start working with Congress to end DADT when he took office. Dan allied with new direct action group GetEQUAL, and a small but growing number of people joined him in handcuffing themselves to the White House fence (including transgender veteran Autumn Sandeen); each time growing more media coverage, never more critical than in November 2010 when word went round that the repeal provision bill, stalled in the lame duck Congress, was going to be withdrawn likely damning the chance for repeal for years. Republicans would take over the House in 2011.
I have no proof that the action Dan led that month, joined by Miriam, Justin, et al., helped salvage the bill and, thus, repeal. I can only say that I am proud to have been next to them; one wrist handcuffed to the White House fence behind me; and holding Leonard's Time magazine cover aloft with my free hand.
"Remember your roots, your history, and the forebears' shoulders on which you stand." – Marion Wright Edelman.
Overcoming COVID-19 challenges for prospective gay surrogacy fathers
Sept. 18 conference offers a comprehensive educational agenda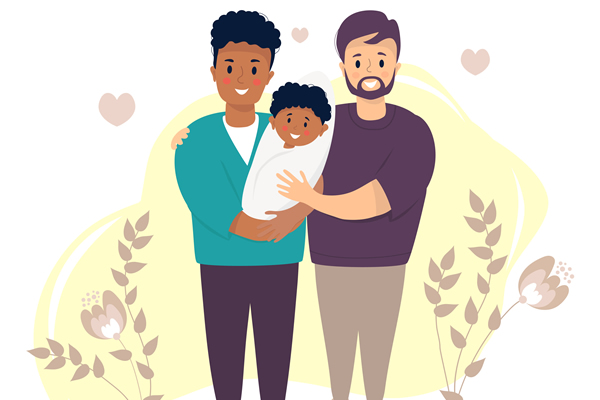 Even before the pandemic, biological and social constraints severely limited parenting options for gay men. Surrogacy, an option that larger numbers of gay men have been turning to in recent years, was highly complex, expensive and emotional even before COVID-19. More challenges were added with travel restrictions, uncertainty about the implications of the disease and vaccines to pregnancy, and domestic circumstances that contributed to hesitancy among some surrogate candidates. And while the number of men interested in embarking on a parenting journey did not diminish, there are inherent limitations on the extent to which the guidance and support resources they depend on could be provided virtually.
My husband and I had our twins with the help of a surrogate almost 21 years ago. Even in New York City, where we reside, no community resources existed for people like us. A few years later, with the help of the NY LGBT Community Center, we started building a program that culminated with the establishment of Men Having Babies (MHB), a nonprofit dedicated to helping men worldwide become biological parents through guidance, financial assistance, support and advocacy. The premise was that surrogacy has an immense potential as long as steps are taken to protect the rights and minimize the risks for surrogates and egg donors, and to sensitively build meaningful relationships between all parties involved.
Thus, for more than a decade MHB has been traveling to a number of cities across the U.S. and internationally offering peer guidance, expert advice, information about financing and grants, inspirational testimonies from surrogates and fathers, and an opportunity to meet dozens of reputable surrogacy providers that abide by our Framework for Ethical Surrogacy.
With the onset of the pandemic, MHB was first focused on providing immediate support to hundreds of men that faced disruptions to medical treatments and even their ability to travel to the birth of their children and attain legal custody. Luckily a range of solutions were soon found to at least allow existing journeys to move forward.
Indeed, by now things are looking better also for the many men that did not yet start the process and were putting their dreams on hold. The clinics, agencies and law firms that provide the required professional services are back to full operations. Vaccination is deemed safe and effective for surrogates and donors, and with the resumption of in-person schooling, more women may feel ready to commit to becoming surrogates.
However, how do you provide both complex guidance and an opportunity to meet surrogacy professionals during a pandemic? Our first move was to offer webinars and add more resources online, and then to make use of specialized virtual conference technology to try and recreate the conference experience to the best of our abilities. However, the complex process and highly personal nature of surrogacy parenting requires an immersive and personal experience, and a comprehensive educational agenda that is beyond the attention span of virtual.
At this point, given the unique nature of our challenge, we decided it is time for a new model to once again offer the full inspirational and interactive experience in-person, while still meeting the challenges of the new public health reality we face for many months to come. After consulting with our partners, we're starting this fall with events in NYC, Chicago and Brussels, where public health conditions and regulations are suitable. We accommodate only fully-vaccinated participants, and developed a range of additional COVID-19 safety measures, including on-site rapid testing of staff, speakers and exhibitors, indoor masking, and safe catering protocols during meals and breaks.
Judging from the robust registration rate from attendees, there is indeed much pent-up demand worldwide from gay men who've been putting their dreams of family building on hold. "Please don't cancel this event and change it to a virtual conference. I look forward to meeting experts in-person," stated one of many encouragements MHB received.
To join us September 18-19 in NYC, please go to menhavingbabies.org/ny.
Ron Poole-Dayan is the founder and executive director of Men Having Babies.
Re-energizing Pride in our communities and workforce
"We don't believe advocacy should be limited to June."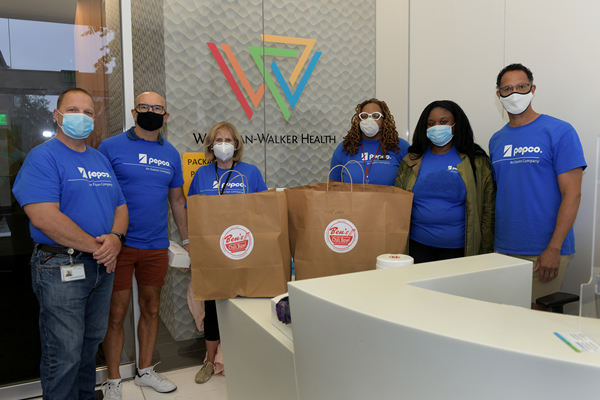 At Pepco, we recognize it's been a tough year in so many ways for our communities. Discrimination and hate crimes affected Asian American and Pacific Islanders (AAPI), new forms of anti-transgender legislation emerged across the nation, and we anxiously awaited the sentencing of Derek Chauvin for the murder of George Floyd. In the midst of all these extensively covered events, the everyday reality for many – including some of our employees – meant teleworking and participating in virtual meetings and activities. To realign, revitalize, and reunite ourselves, Pepco re-energized our 2021 Pride programming. This June, we, along with our sister companies Atlantic City Electric and Delmarva Power, proudly showcased inclusivity, openness, and ways to reaffirm our commitment to our diverse local communities.
Realigning Ourselves. Pepco is one of three utilities that make up Pepco Holdings, a company providing electric and gas service to portions of southern New Jersey, the Eastern Shore of Maryland, and Delaware, in addition to the District of Columbia and nearby Prince George's County and Montgomery County. Historically, there were two separate Pride employee resource group (ERG) chapters serving our LGBTQ+ employees and allies, one for our northern region and one based in Washington. In January of this year we combined the two chapters, ensuring employees have access to the same events and resources, no matter their work location. The new, rebranded Pepco Holdings Pride ERG gives employees the space, safety, and support needed to feel empowered at work and to help foster professional relationships.
The newly combined ERG also rotated in a new employee leadership team with highly enthusiastic representatives from all over the company. The diverse board includes employees from IT, HR, Engineering, Finance, Regulatory, and field-based operations, who were at the forefront of planning fresh events for June.
Revitalizing Our Communities. Whether we're providing essential services, or volunteering our time, supporting the communities we serve is a critical part of our everyday work – and we were excited to finally be able to engage with our customers in person. We renewed our annual sponsorship with The Capital Pride Alliance and were honored to be the advocate sponsor of the "Paint the Town Colorful with Pride" month-long event. You may have even spotted a few of our electric vehicles and bucket trucks rolling downtown with the rest of the PrideMobile parade, or our Edison Place headquarters decorated with rainbow LED lights at night. We greatly missed the energy of the annual Capital Pride parade, and we were thrilled to be back in person showing our support for our LGBTQ+ customers, families, and friends.
We also acknowledge the many men and women who haven't been able to work from home during the pandemic – including those who continue serving our communities at healthcare facilities, and our very own field workers. So, we wanted to pay homage to our local heroes by delivering hundreds of Ben's Chili Bowl lunches to employees at Whitman-Walker Health.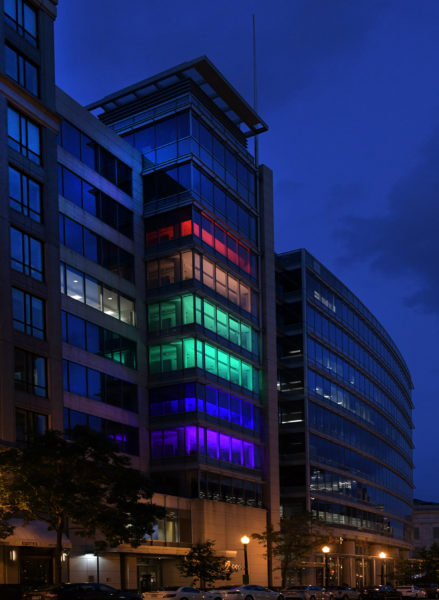 Reuniting the Workforce. We wanted this Pride month to be memorable for both our communities and our employees, so we pulled together a variety of virtual events for our employees to celebrate Pride. From joint events with BGE (part of our larger Exelon family of companies) where we discussed Netflix's Death and Life of Marsha P. Johnson film, to a special AAPI and LGBTQ+ intersectionality panel featuring the Blade's publisher Lynne Brown. Both events served as a forum for participants to share stories about the struggles that people have faced and how they prevail to live their true, authentic lives.
To round out our employee events, our Pepco Holdings Political Action Committee recently hosted a panel featuring Sarah McBride, senator, Delaware General Assembly; Luke Clippinger, chairman of the Maryland House Judiciary Committee; and Jeremy LaMaster, executive director, FreeState Justice. The trio showed immense dedication to expanding protections and removing barriers for LGBTQ+ individuals in our region and nationally.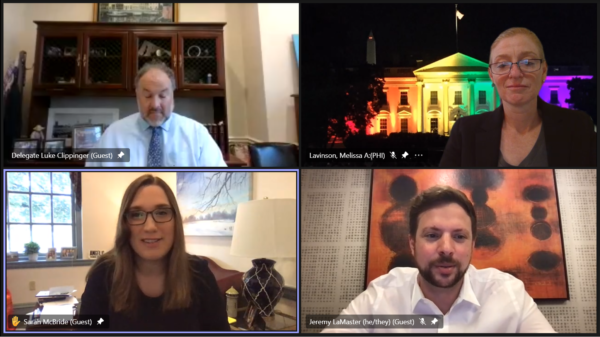 What's Next? Reflecting on the past year we've had, we've found there is a silver lining. Had these events not occurred, would our employees be as open to sharing their stories? Would we take such pleasure in being outside with our neighbors on a hot June afternoon? And would we be as quick to offer thanks to those who work each day to keep our communities safe? While Pride month may be coming to a close, we don't believe the advocacy, discussions, and celebrations should be limited to June. We'll continue powering Pride for our employees, customers, and communities, with a drive that is just beginning to re-energize.
Megan Clark is senior communications specialist at Pepco Holdings.