February 23, 2021 at 8:17 am EST | by Kathi Wolfe
Mike Nichols's creative, extraordinary life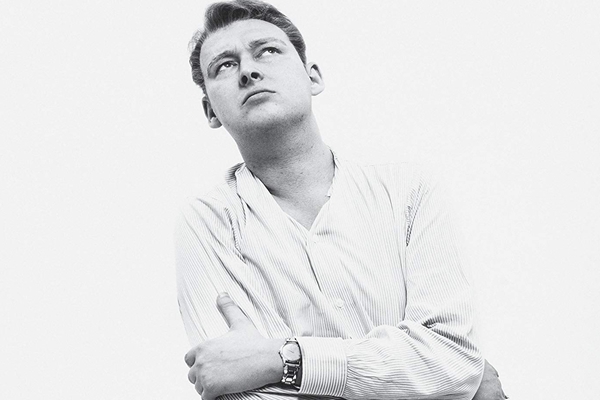 'Mike Nichols: A Life'
By Mark Harris
c.2021, Penguin Press $35/688 pages
Few books will make you want to stop reading, break out the popcorn and start streaming movies ASAP as much as "Mike Nichols: A Life."
I don't mean that at all as criticism. Film historian Mark Harris's biography of film and theater director, producer, actor, and comedian Mike Nichols is so entertaining that you'll almost put it down to dip into Nichols's work. To watch some of his iconic films such as "The Graduate" or "Who's Afraid of Virginia Woolf," stream his Emmy Award-winning version of "Angels in America" or listen to the albums of his groundbreaking comedy act with Elaine May.
Whether you're 25 or 85, you've likely seen a play or movie directed or produced by Nichols. From mid-century to near the end of his life, Nichols, who lived from 1931 to 2014, worked with queer icons from Elizabeth Taylor to Cher. (He directed Taylor in "Who's Afraid of Virginia Woolf" and Cher in "Silkwood.") That's just the tip of the iceberg.
Meryl Streep ("Heartburn," "Silkwood"), Robin Williams and Nathan Lane ("The Birdcage") and Christine Baranski and Cynthia Nixon (in the play "The Real Thing") are just a few of the stars of stage and screen who Nichols directed. He brought Whoopi Goldberg when she was unknown to fame and Broadway.
In lesser hands, "Mike Nichols: A Life" could well have become an over-stuffed, overwhelming, respectful, but deadly boring, mix of awards lists and hagiography.
Thankfully, Harris, author of "Pictures at a Revolution: Five Movies and the Birth of the New Hollywood," tells an engrossing story of a creative, extraordinary life. Harris, husband of playwright Tony Kushner (author of "Angels in America"), paints a three-dimensional portrait of Nichols. He deftly depicts not only Nichols's gifts but his foibles.
"Aren't all childhoods bad," Nichols once asked.
After hearing about Nichols's childhood, most of us would think: no – well, not as bad as Nichols's.
Nichols was born as Michael Igor Peschkowsky in Berlin. His family, who were Jewish, had to flee the Nazis. At 7, Nichols and his younger brother Robert embarked on a boat by themselves to New York City. Their father, Harris writes, had already been in New York for almost a year. Their sickly mother, he adds "was still bedbound in Berlin."
Later in life, Nichols would say that on the boat he knew only two English sentences, "I do not speak English" and "Please do not kiss me."
Nichols's story of his transatlantic crossing was "his first self-revelation-as-anecdote," Harris writes.
Nichols would "refine" this approach "into a shield and a disguise, but also into a style of directing," Harris writes, "a means of conveying an idea or a feeling or a circumstance to an actor that he deployed with precision and finesse over a five-decade career."
Being a Jewish refugee in New York by itself would have made Nichols feel like an outsider. But an allergic reaction to a childhood whooping cough vaccination left him with "a complete and lifelong inability to grow hair," Harris writes.
This was "says his brother, 'the defining aspect of his childhood,'" Harris added.
Though he never stopped feeling like an outsider, Nichols became an insider's insider. He and Elaine May performed with Marilyn Monroe at President John F. Kennedy's birthday party. Leonard Bernstein and Richard Burton and Elizabeth Taylor were among his friends.
In 1966, Jackie Kennedy accompanied Nichols to the Catholic League of Decency's screening of "Who's Afraid of Virginia Woolf." "Jack would have loved it," Kennedy said. Kennedy's endorsement convinced the League to give the movie a B rating.
When Burton and Taylor were in Rome filming "Cleopatra," Burton had to travel for a week. He trusted Nichols to show Taylor "a good time" while he was gone. Nichols was "unexpectedly touched by her openness and warmth," Harris writes.
Once, Nichols asked Taylor if "it was ever a pain in the ass being so beautiful," Harris writes, "And she looked at me and said, 'I can't wait for it to go.'"
If you miss going to the theater and hanging out with friends to discuss the play over drinks, "Mike Nichols: A Life" is the book for you.