HRC sues Tennessee over bathroom bill as school year starts
"The state's political leaders are making Tennessee a dangerous place for our daughter, & other children like her."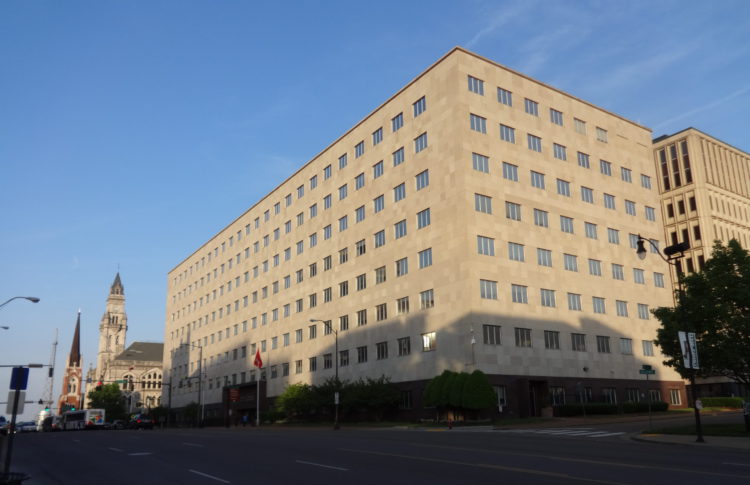 NASHVILLE – The Human Rights Campaign, (HRC) has filed suit in the U. S. District Court for the Middle District of Tennessee challenging the Tennessee law that denies transgender students, faculty, and staff access to the bathroom, locker rooms and other sex-segregated facilities consistent with their gender identity.
The suit filed Tuesday by the Washington D.C. based LGBTQ advocacy group joined by the law firms of Linklaters and Branstetter, Stranch, & Jennings PLLC, is on behalf of two Trans students currently enrolled in Tennessee schools and alleges that the law violates Title IX, the 1972 federal law that protects against sex discrimination in education.
HRC in a press release noted that its federal suit was brought on behalf of 14-year-old Alex* and his parents, Amy A. and Jeff S., as well as 6-year-old Ariel* and her parents, Julie and Ross B.
"Alex is excited to start high school this fall where he will be an honor student. His family relocated to Tennessee in 2018 to build their 'forever home' in an incredibly supportive and tight-knit neighborhood and Alex takes pride in being involved in his community and has created strong friendships among his peers at school."
We didn't know we had a trans child when we relocated to Tennessee—if Alex had come out to us before the move, we wouldn't have come here. It makes me so angry that our elected officials have chosen to target trans kids. If lawmakers were to take the time to get to know my son, they would see that he is an amazing, smart, caring, creative person who has so much to offer. Alex just wants to be a regular kid. He should be able to look forward to starting high school without the added layer of anxiety about something as basic as using the bathroom

Amy and Jeff
He came out as transgender before the 7th grade, however, in 7th grade he was not allowed to use the boys' restroom. Instead, Alex was forced to either use the school nurse's private bathroom or the restroom that corresponded to his gender assigned at birth—not due to statewide legislation, but instead due to the school policy. Both options were alienating and isolating for Alex who instead stopped drinking liquids at school to avoid having to use the facilities.
Due to COVID-19 pandemic-related issues, Alex transferred to a private school for 8th grade that affirmed his gender identity, including permitting access to the boys' restroom—Alex enjoyed a great year, without incident. He is also looking forward to starting high school at the public school near his home, but due to Tennessee's anti-Trans bathroom law, He will again be forced into using restrooms that are stigmatizing or forgo using the bathroom altogether.
To protect Alex, Amy and Jeff are considering moving from their beloved community and leaving their 'forever home' behind out of fear for Alex's safety at school and emotional wellbeing, the statement concludes.
In the case of the second plaintiff, HRC noted: Similar to Alex, Ariel's family built their 'forever home' from the ground up in a neighborhood they fell in love with and that fills Julie, Ross, and Ariel with happiness and friendship.
Ariel began expressing her gender identity at 2 years old and when she was nearing 4 years old, Julie read the children's book "I Am Jazz," to Ariel that tells the story of a transgender girl. When the main character explains that she "has a boy body with a girl brain." Ariel immediately lit up with excitement and eagerly told her mother, "that's me, momma, I have a boy body with a girl brain."
Since Ariel began her social transition at 4 years old, her classmates, their parents, teachers and school administrators have only known Ariel as her authentic self. When she was enrolled in kindergarten, her school was receptive and understanding of her gender identity and has largely protected Ariel from stigmatizing experiences.
In anticipation of Ariel starting 1st grade at a different school this fall, Julie reached out to the principal to discuss accommodations for her daughter.
Since Tennessee's bathroom law is enacted, Ariel will have to use the boy's restroom or the private nurse's bathroom despite only ever using the girl's restroom. Due to her young age, Ariel does not understand the law's ramifications or why she is being told to use the boy's bathroom.
The state's political leaders are making Tennessee a dangerous place for our daughter, and other children like her. We are extremely worried about her future here, and the bills that are being passed have put us in panic mode. They are attacking children that cannot defend themselves for what appears to be political gain over a non-existent problem. We wish our leaders would take the time to speak with transgender youth and adults—instead, their fear of the unknown is unnecessarily leading their actions and causing irreparable harm to these children

Julie and Ross
Julie and Ross are also considering moving out of Tennessee due to these anti-transgender laws out of fear for their growing daughter, the statement concluded.
Under Title IX of the Education Amendments of 1972; Title IX expressly prohibits discrimination on the basis of sex in federally funded education programs. In June the U.S. Education Department announced it would expand its interpretation of federal sex protections to include transgender and gay students. The new policy directive means that discrimination based on a student's sexual orientation or gender identity will be treated as a violation of Title IX.
The lawsuit also alleges that the law violates the Equal Protection and Due Process Clauses of the U.S. Constitution. Earlier this month, the U.S. Supreme Court's decision to deny certiorari in Grimm v. Gloucester County School Board left in place a federal circuit court decision recognizing the rights of transgender students under the Equal Protection Clause and Title IX.
In July a federal judge blocked a new law in Tennessee that required businesses and other entities that allow transgender people to use the public restroom that matches their gender to post a government-prescribed warning sign.
"This law is bad for businesses in Tennessee, and most importantly, harmful to transgender people," said Hedy Weinberg, ACLU of Tennessee executive director. "We are glad the court saw that this law is likely unconstitutional and hope that the state gives up the wasteful effort to defend discrimination and a violation of the First Amendment."
Art used to spotlight people of color lost to AIDS in the South
National AIDS Memorial, Southern AIDS Coalition created Change the Pattern exhibit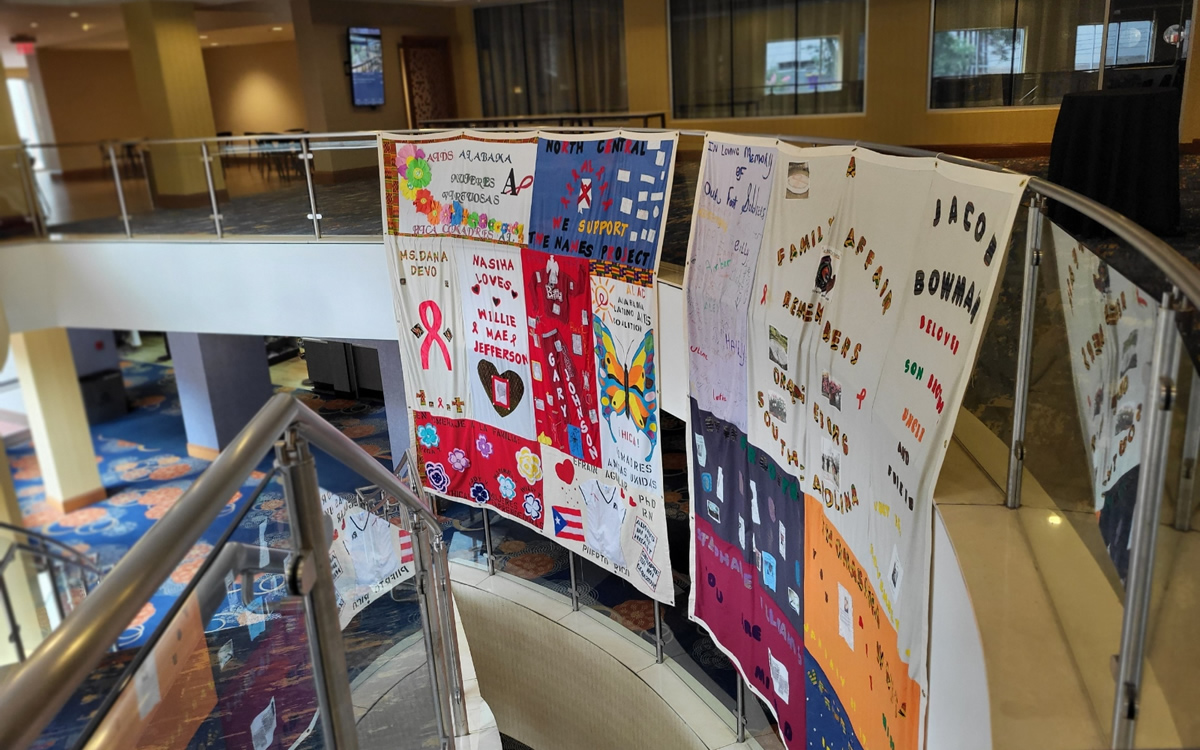 The National AIDS Memorial has joined forces with the Southern AIDS Coalition to stage a series of art exhibitions and educational forums to honor Black and Brown people in the South who have been lost to HIV/AIDS.
The initiative, titled Change the Pattern, began in Jackson, Miss., on Wednesday with curated quilt exhibitions, displays, educational forums, advocacy, storytelling and quilt-making, according to a press release from the National AIDS Memorial. A $2.4 million grant from the biopharmaceutical company Gilead Sciences, Inc., funded Change the Pattern.
More than 500 hand-stitched quilt panels from the area were featured in what the National AIDS Memorial says is "the largest display of the AIDS Memorial Quilt ever" in Mississippi.
"By creating an empowering message and safe spaces for conversation, we can uplift, inspire and make progress toward ending the HIV epidemic, challenge cultural stigmas and continue the legacy of advocacy that the quilt represents," said National AIDS Memorial CEO John Cunningham in the release. 
Change the Pattern was announced in honor of Southern HIV/AIDS Awareness Day during the Southern AIDS Coalition's annual Saving Ourselves Symposium that took place in August.
The conference, which was heavily attended by LGBTQ activists from the South, featured 100 quilt panels, and attendees participated in quilt-making workshops to make new quilt panels representing their loved ones.
Interested LGBTQ advocacy organizations in the South were invited to apply for funding to support local quilt-making workshops in their communities so as to ensure that the legacies of Black and Brown people are captured through newly-sewn panels on the quilt through the Memorial's Call My Name program, according to the National AIDS Memorial press release. 
The application process opened on Sept. 15 with up to 35 eligible organizations receiving as much as $5,000 to support hosting local workshops.
The first major Change the Pattern Quilt was founded 35 years ago as a visual representation of the need to end stigma and provide equitable resources to communities most impacted by HIV/AIDS, according to Southern AIDS Coalition Executive Director Dafina Ward.
"Change the Pattern is a call to action and change in the South," said Ward. "Quilt-making has such a deep cultural connection in the Black community and in the South. The sharing and telling of these powerful stories through the quilt, coupled with advocacy and open dialogue, can help end HIV-related stigma and bring the stories of those we've lost to light."
As the Change the Pattern initiative occurs, conversations about how to handle health epidemics within LGBTQ communities of color have become national topics, especially with the prevalence of monkeypox cases amongst Black gay men.
Despite earlier panic about the disease, the Centers for Diseases Control and Prevention in a report released on Wednesday said that individuals who were vaccinated against the disease were less likely to be affected over the summer compared to those who weren't.
The effectiveness and duration of immunity after a single dose, however, is not known, and few individuals in the current outbreak have completed the recommended two-dose series, according to the report.
The most recent CDC data reports that 25,509 monkeypox cases have thus far been confirmed in the U.S. Only one death has been reported.
Doctor, transgender spouse indicted for passing information to Russia
Jamie Lee Henry first active-duty Army officer to come out as trans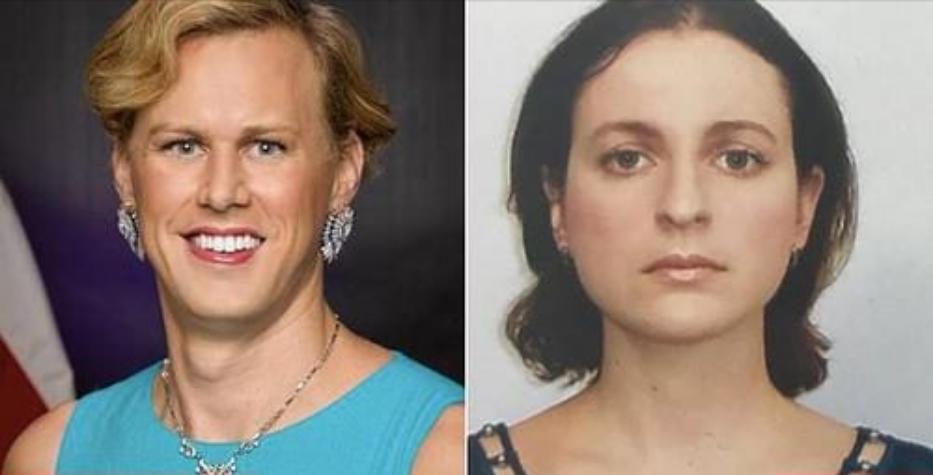 A federal grand jury on Wednesday handed down an indictment of a Johns Hopkins anesthesiologist and her spouse, a doctor and major in the U.S. Army, with conspiracy and for the disclosure of individually identifiable health information related to their efforts to assist Russia in connection with the conflict in Ukraine.
The office of the U.S. Attorney for the District of Maryland in a press release stated Anna Gabrielian, 36, and her spouse, Jamie Lee Henry, 39, both of Rockville, Md., both of whom had secret clearances, were attempting to provide medical information about members of the military to the Russian government.
Gabrielian and Henry met with an individual they believed to be associated with the Russian government, but who was, in fact, an Federal Bureau of Investigation Undercover Agent.
Court documents indicate Gabrielian told the FBI agent posing as a Russian operative that she had previously reached out to the Russian Embassy by email and phone, offering Russia her and her spouses' assistance.
According to the U.S. Attorney's office, Gabrielian told the FBI agent that, although Henry knew of Gabrielian's interaction with the Russian Embassy, she never mentioned Henry's name to the Russian Embassy.
In the narrative released by the U.S. Attorney's office, on Aug. 17, 2022, Gabrielian met with the FBI at a hotel in Baltimore. During that meeting, Gabrielian told the FBI she was motivated by patriotism toward Russia to provide any assistance she could to Russia, even if it meant being fired or going to jail.
She proposed potential cover stories for her meeting with the "Russians" and stressed the need for "plausible deniability" in the event she was confronted by American authorities. Gabrielian also told the FBI that, as a military officer, Henry was currently a more important source for Russia than she was, because they had more helpful information, including how the U.S. military establishes an army hospital in war conditions and information about previous training provided by the U.S. military to Ukrainian military personnel. 
Henry identifies as a "transgender military physician" on their Twitter account.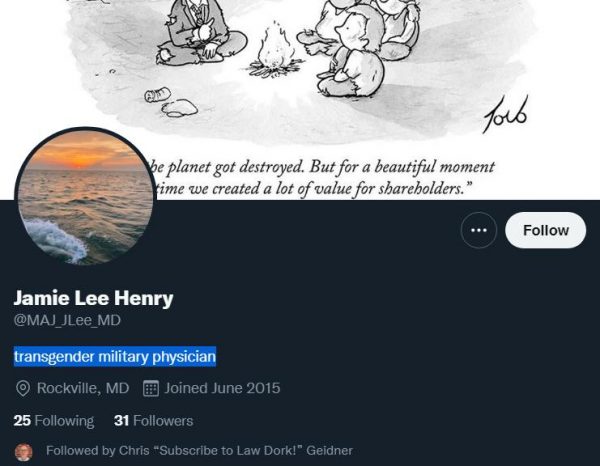 Henry received public attention in 2015 after becoming the first known active-duty Army officer to come out as trans.
Henry was at one point a member of SPARTA, the nation's largest nonprofit representing actively-serving trans U.S. servicemembers. A spokesperson for SPARTA, in an emailed statement commenting on the announcement of the arrest and indictment of Henry and their spouse told the Washington Blade:
"Transgender people are as diverse as the societies to which they belong. One's gender identity neither increases nor decreases a propensity towards alleged criminal activity."
As stated in the indictment, Gabrielian is an anesthesiologist and worked at Medical Institution 1 in Baltimore.
Henry, a major in the U.S. Army who held a secret-level security clearance, is Gabrielian's spouse and a doctor. During the time of the alleged conspiracy, Henry worked as a staff internist stationed at Fort Bragg, the home of the Army's XVIII Airborne Corps, headquarters of the U.S. Army Special Operations Command and the Womack Army Medical Center.
Gabrielian was scheduled to have initial appearance at 11:30 a.m. on Thursday in U.S. District Court in Baltimore before U.S. Magistrate Judge Brendan A. Hurson. Henry is also expected to have an initial appearance today, although a time has not yet been set.
Full statement from SPARTA:
"SPARTA, a non-profit advocacy organization representing transgender Service members in the United States, is saddened to learn of the arrest and indictment of Jamie Lee Henry, an officer in the U.S. Army and a medical doctor.
SPARTA has long advocated for the inclusion and total equity for transgender persons throughout the United States uniformed services. Today, thousands are serving honorably and authentically at home stations worldwide.
The actions alleged in the indictment do not reflect Henry's identity as transgender. Their alleged actions are those of an individual and should not be taken as a representation of transgender people broadly or transgender members of the military specifically.
All people in the United States are entitled to the same rights, including due process and the presumption of innocence in this case. SPARTA does not condone any actions alleged in the indictment and expects the process to play out fairly and equitably as it would for anyone accused of a crime."
The unvaccinated are 14 times more likely to contract monkeypox: health officials
Guidance updated to allow shots in places other than forearm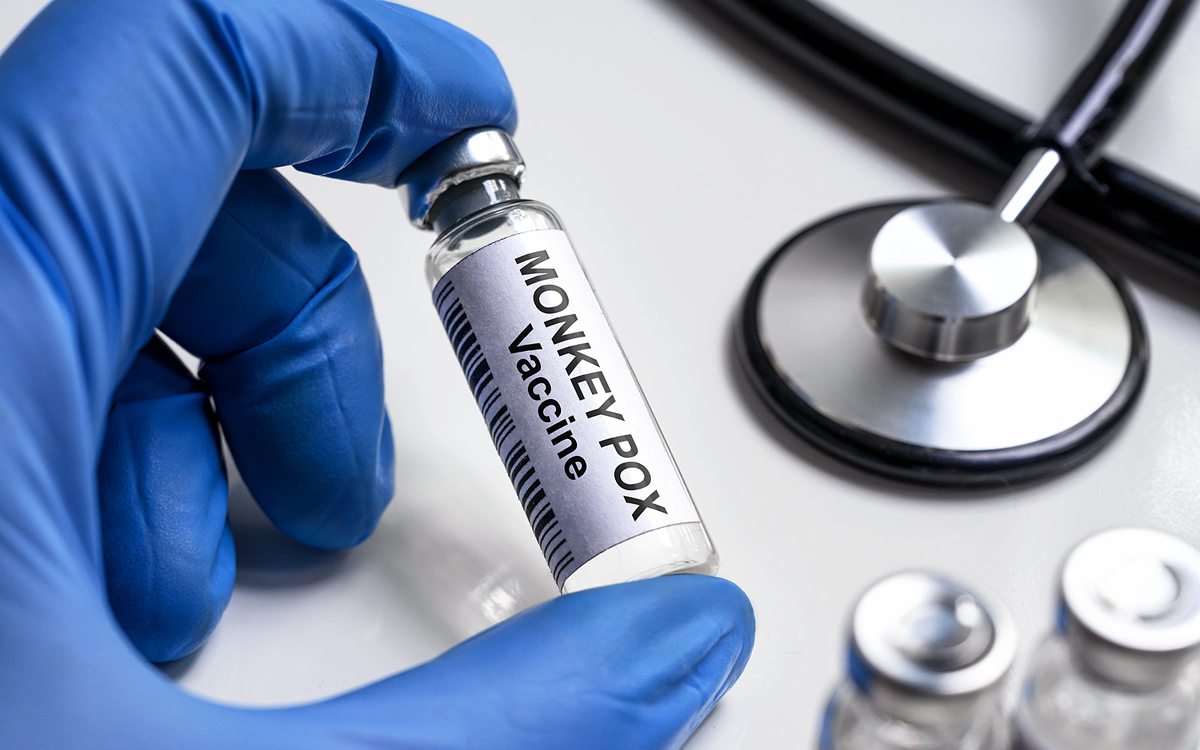 U.S. health officials are celebrating preliminary data on the vaccine used in the monkeypox outbreak, which has led them to conclude eligible persons who didn't get a shot were 14 times more likely to become infected than those who are vaccinated.
The new data, as described by health officials on the White House monkeypox task force during a call with reporters on Wednesday, comes as the overall number of new cases of monkeypox is in sharp decline, although considerable racial disparities persist in the remaining cases as Black and Latino people are overrepresented in the numbers.
Rochelle Walensky, director of the Centers for Disease Control & Prevention, said during the conference call the preliminary data — collected from 32 states between July 2022 and September 2022 — provides an early shapshot of the effectiveness of the vaccine and cause for optimism on the path forward.
"These new data provide us with a level of cautious optimism that the vaccine is working as intended," Walkensky said. "These early findings and similar results from studies and other countries suggest even one dose of the monkeypox vaccine offers at least some initial protection against infection."
Walensky during the conference call admitted the data is incomplete in numerous ways. For example, the data is based on information on individuals who have obtained only the first shot as opposed to both shots in the two-shot vaccination process. (The data showing positive results from individuals who have only one shot contradicts previous warnings from the same U.S. health officials that one shot of the monkeypox vaccine was insufficient.)
The data also makes no distinction between individuals who have obtained a shot through subcutaneous injection, a more traditional approach to vaccine administration, as opposed to intradermal injection, which is a newer approach adopted in the U.S. guidance amid the early vaccine shortage. Skeptics of the new approach have said data is limited to support the idea the intradermal injection is effective, particularly among immunocompromised people with HIV who have been at higher risk of contracting monkeypox.
Not enumerated as part of the data were underlying numbers leading health officials to conclude the unvaccinated were 14 times more likely to contract monkeypox as opposed to those with a shot, as well as any limiting principle on the definition of eligible persons. Also unclear from the data is whether individual practices in sexual behavior had any role in the results.
Despite the positive data on the monkeypox vaccine based on one shot, U.S. health officials warned during the conference call the two-shot approach to vaccine administration is consistent with their guidance and more effective.
Demetre Daskalakis, the Biden administration's face of LGBTQ outreach for monkeypox and deputy coordinator for the White House monkeypox task force, made the case that for individuals at risk obtaining a second dose is "really important."
"So we see some response after the first [shot] in the laboratory, but the really high responses that we want to really get — that you know, level 10 forcefield as opposed to the level five forcefield — doesn't happen until the second dose," Daskalakis said. "So the important message is this just tells us to keep on trucking forward because we need that second dose at arms that people haven't gotten the first should start their series of two vaccines."
Also during the call, health officials said they would be expanding opportunities for vaccines as pre exposure prophylaxis, as opposed to practices in certain regions granting vaccines in their limited supply to individuals who meet certain criteria or have had risk of exposure.
The Centers of Disease Control & Prevention, officials said, is also updating its guidance to allow injection of the vaccines in places other than a patient's arm.
Daskalakis said fear of stigma about getting a noticeable shot in the forearm after obtaining a monkeypox vaccine was a key part of the decision to issue the new guidance on implementation.
"Many jurisdictions and advocates have told us that some people declined vaccine to monkeypox because of the stigma associated with the visible but temporary mark often left on their forearm," Daskalakis said. "New guidance from CDC allows people who don't want to risk a visible mark on their forearm to offer a vaccine on their skin by their shoulder or their upper back. Those are areas more frequently covered by clothes."