ANALYSIS: Secretive Arthur Finkelstein, secret no more
Gay GOP consultant pioneered slash-and-burn campaign tactics of '80s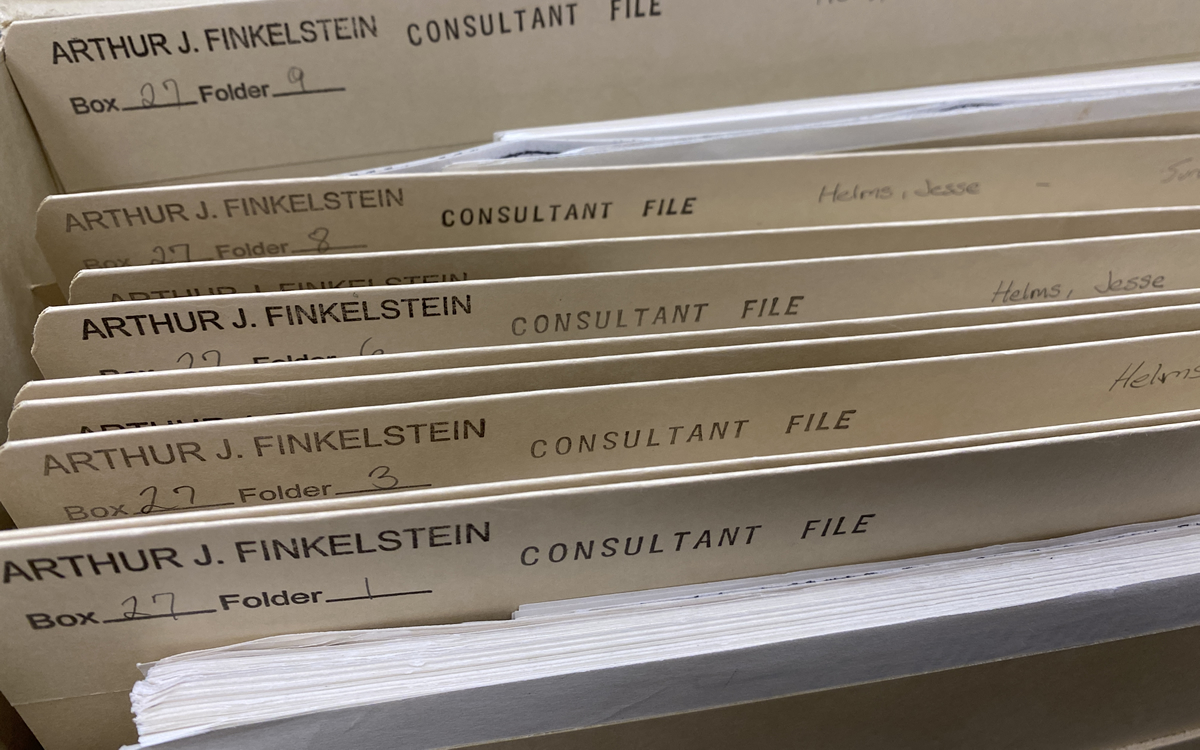 As Archive Activists, we eagerly awaited this year's opening of Republican campaign consultant Arthur J. Finkelstein's papers at the Library of Congress. Donated by Finkelstein's husband, evidently to cement the man's political legacy, the Finkelstein papers are loaded with the ideas and words of his candidates who attacked homosexuals to court the voters who fear them. Finkelstein pioneered the slash-and-burn campaigns of the 1980s, working for clients including Sens. Jesse Helms (N.C.), Bob Smith (N.H.), Don Nickles (Okla.), and Lauch Faircloth (N.C.) — senators who formed the core opposition to gay and lesbian-related legislation in the day. We recall when Sen. Nickles, in 1998 the Senate's second-ranking Republican, declared Ambassador James Hormel unqualified to be named an ambassador because anyone who promotes "immoral behavior" should not represent the U.S.
Political commentary on Arthur Finkelstein is most always "de-gayed," his homosexuality a footnote. When I ask people how Finkelstein could live with such dissonance — being gay with a husband, raising children and working for Helms, Smith, Nickles and Faircloth — one response rang most true: "Did you ever see his palatial estate?" It was not all about "compartmentalization" or "self-loathing," just greed is good for Citizen Finkelstein?
"Arthur J. Finkelstein, Advising Leaders Around the World," one flier proclaims. "It is said that no American political consultant has been involved in as many successful Senate races as AJF," the promotional piece says about this secretive man who lived in a Tudor mansion at the end of a quarter-mile drive through a horse farm. "In the fall, visitors park their Bentleys and Rollses in the pasture. Dressed like plump extras in a Merchant-Ivory film gone wrong, they're here for the annual fox hunt," wrote Stephen Rodrick in a lacerating Boston Magazine profile that famously outed Finkelstein in 1996. "In the amoral world of big league politics … Finkelstein has worked for the chief gay-bashers on Capitol Hill while raising two children with his male live-in partner," says the magazine's press release. His archive, organized into 139 boxes, covers it all.
Through the anger of scrawled notes never released, Finkelstein expresses outrage at having to publicly reconcile his politics with his life. "This (Boston Magazine article) is a political hatchet job. It's about destroying me politically. They are not after me for being gay," he writes. "That we are gay is obvious — but they use it as a weapon meant to unleash the prejudices and hatreds that can bring me down … my strongest personal values are Liberterian [sic]." Jesse Helms, Don Nickles libertarians? He rails against the same "prejudices and hatreds" he helped his candidates unleash in scores of elections.
You can see in the archive his confusion at being confronted on the subject of "who really is this reclusive Arthur Finkelstein?" There are the handwritten scratch-outs on legal pads: "I NEVER CHOSE TO BE A PUBLIC PERSON. I BELIEVED, AND STILL DO, THAT I HAVE A RIGHT TO MY PRIVATE LIFE." Scratched out, "I am a libertarian conservative….I have never seen Eye-to-Eye with my candidate on all the issues!" He wrote, then scribbled over, "I thought, at least I hoped, we were past the point of persecuting people for their lifestyle." Did Finkelstein see eye-to-eye with client Jesse Helms' direct mail? "Do you resent—as I do—the corrupting of the word "gay"? These people are NOT "gays"— they are HOMOSEXUALS. Will you help me counter these latest attacks coming from the homosexuals," Helms asks.
In the archive is a memo to Finkelstein from Tom Ellis, described as the "architect of Senator Helms' rise to political power." "People vote on fears. The AIDS [sic] offers a fear … Can we show that the Haitians who are in the group that has AIDS were part of the mixture of people that now come into the United States from Cuba? I feel like I have seen some statistics that Castro shipped in a large number of homosexuals." People vote their fears.
In another note, Finkelstein vents, "I am a Milton Friedman Republican who believes in Lassize [sic]-faire government and not every gay person must be a Democrat or PERISH." Milton Friedman's bestseller "Free to Choose" was not about fears, but choice. To be fair, the archive documents reveal Finkelstein's close working relationship with New York Sen. Alfonse D'Amato who was "one of the strongest Republican voice (sic) of gays in the Military," he writes in his own defense.
Finkelstein never "perished." He went into international consulting for clients including Hungarian Prime Minister Viktor Orban and his party Fidesz that viciously targets LGBTQ citizens. Working with Orban for five years, Finkelstein also helped invent the now infamous anti-Semitic "enemy of the people" George Soros. Speaking this year in Dallas to the Conservative Political Action Coalition (CPAC), Orban attacked Soros ("The globalists can all go to hell!") and threatened LGBTQ citizens worldwide, "Leave our children alone," he yelled. From Helms to Orban, this is the Finkelstein legacy.
The influence remains. There is this birthday note in 2000 to Roger Stone, then a Trump lobbyist: "Dear Roger, Have a happy next 1,000 years, and may Donald Trump be President for 900 of them. Best, Arthur J. Finkelstein."
The author is president of the Mattachine Society of Washington, D.C.
GLAAD: LGBTQ people 'nearly invisible' in mainstream advertising
Media watchdog released report in Cannes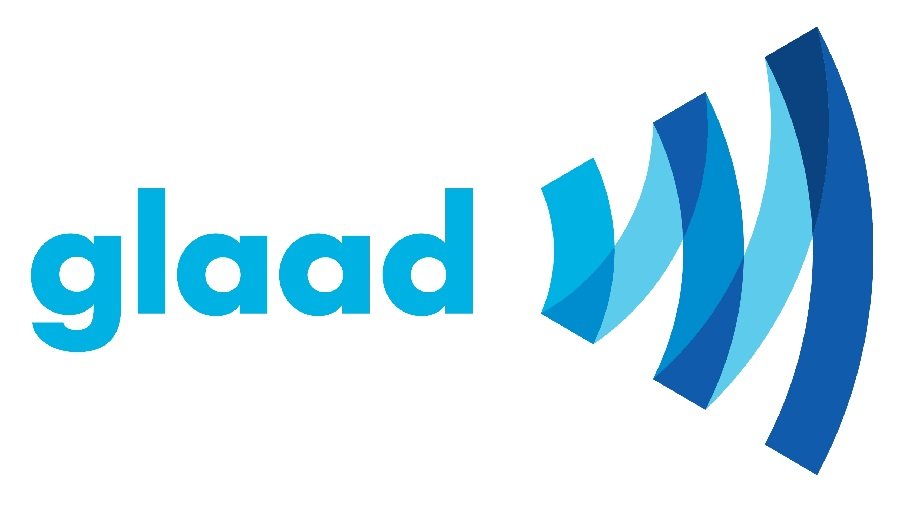 Advertisers received failing grades in a new scorecard produced by GLAAD and a marketing analytics company, part of what the media advocacy organization labeled the first-ever LGBTQ visibility index of mainstream TV ads.
Madison Avenue is deliberately making the community "invisible to appease anti-LGBTQ activists," according to its president and CEO.
The GLAAD Advertising Visibility Index, which was released overnight during the 2023 Cannes Lions International Festival of Creativity, also revealed a majority of consumers support brands that are LGBTQ inclusive.
According to the report, 66 percent of Americans surveyed said they feel advertisers have a responsibility to provide visibility for LGBTQ individuals, couples, and families within their content. And Gen Z respondents were nearly 1.5x more likely to say advertisers are not appropriately representing LGBTQ people.
GLAAD's scorecard graded ads based on how they showed representation, the type of LGBTQ content in the ads, how much screen time LGBTQ people were given, as well as when and where these ads were shown. Each ad was rated on a 5-point scale that ranged from "Failing" to "Excellent."
Of the 436 ads that appeared on national broadcast, cable and satellite television from the top 10 largest advertisers, LGBTQ people received a paltry 1.42 percent of screen time.
Only 3 percent of those TV ads from the top 10 largest advertisers included LGBTQ people.
Not one LGBTQ-inclusive ad reviewed in this report rated higher than "Insufficient" in representation.
More than 70 percent of inclusive ads featured LGBTQ celebrities, although celebrity inclusion is the least effective driver for telling LGBTQ stories in advertising, according to GLAAD and Kantar's survey of U.S. consumers.
"The ad industry is decades behind television and film when it comes to LGBTQ inclusion, but consumers are ready and willing to see the industry grow the quality, quantity, and diversity of ads," said GLAAD President Sarah Kate Ellis in a statement to the Washington Blade. "Brands that keep us invisible to appease anti-LGBTQ activists are not only missing a large and loyal consumer base today, but are missing a future generation of consumers and employees who demand that brands include LGBTQ people and other diverse communities in authentic and organic ways."
According to the report, "consumers placed high importance on inclusive ads featuring universal empathy and realism, more than LGBTQ celebrities."
54 percent of consumers who took part in the survey said quality representation includes LGBTQ people in realistic stories and with instances of empathy and humanity.
Only 31 percent of consumers who responded said good representation is rooted in featuring a celebrity who is LGBTQ.
79 percent of non-LGBTQ+ consumers and 88 percent of LGBTQ consumers agreed brands should strive for what GLAAD called "multi-dimensional and human representation" when including LGBTQ people in advertising or content.
"Consumers have spoken," said Valeria Piaggio, global head of diversity, equity and inclusion for Kantar. "They want business to do better and are prepared to change their buying decisions if companies do not. Data from Kantar U.S. MONITOR finds that 67 percent of people state that it's important for companies they buy from actively promote diversity and inclusion in their own business or society as a whole."
HRC finds more than half of American trans youth will soon face barriers to healthcare
'LGBTQ+ people are living in a state of emergency.'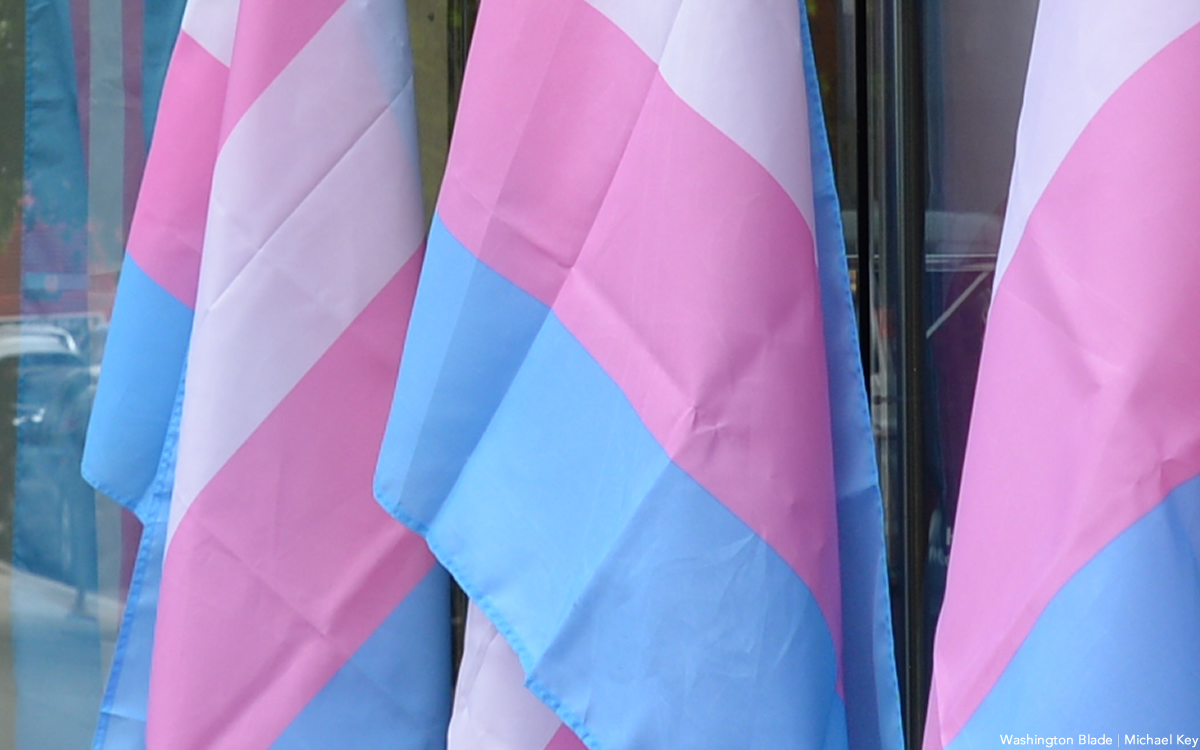 The Human Rights Campaign reported Wednesday that more than half of America's transgender youth are facing or will soon face barriers to access guideline-directed gender affirming healthcare.
The organization's finding comes as more than 10 states are on the verge of enacting healthcare bans for youth diagnosed with gender dysphoria, in some cases criminalizing physicians and parents for facilitating access to these healthcare interventions for young patients.
HRC's press release announcing the data noted gender affirming care is supported by medical organizations with relevant scientific and clinical expertise, groups with a combined 1.3 million member physicians and whose guidelines on treatment for minors are backed by decades of research.
Eight states have now enacted laws banning gender affirming care (Ala., Ariz., Ark., Iowa, Miss., S.D., Tenn., and Utah), while three have passed bans (Ga., Ky., and W.Va.) and six have advanced bans through one of the two chambers of their respective legislatures (Idaho, Ind., Kan., Mont., N.D., and Okla.), according to HRC.
The organization noted that Florida effectuated a ban through its Board of Medicine while Texas passed a law last year that deputizes the state's Department of Family and Protective Services "to investigate the provision or support of gender affirming care by parents, doctors, or others, as child abuse."
"LGBTQ+ people are living in a state of emergency," HRC Senior Vice President Jay Brown said in the press release. "Today's findings illustrate how the ongoing assault against transgender people is taking hold across the country and underscore how dire the situation is growing for our community by the day. "
"Now more than ever, we must fight back against extremism and hold anti-LGBTQ+ politicians accountable for bullying children and terrorizing our families," Brown said.
In states where bans have taken effect, for some minors who are currently receiving gender affirming care, such as those for whom traveling out of state to retain access to that care is prohibitively expensive or difficult, the law will effectively and forcibly de-transition them.
Because it significantly reduces the likelihood of self harm behaviors and suicide, gender affirming care is in many cases life saving. A study last year by the National Institutes of Health found a link between anti-trans legislation and "suicide- and depression-related Internet searches."
HRC reports more than 180 bills targeting the trans and nonbinary community have been introduced so far in 2023, of which more than 100 are healthcare bans for trans youth.
The White House has repeatedly spoken out against many of these bills and laws. During a press briefing Wednesday, White House Press Secretary Karine Jean-Pierre condemned Florida Gov. Ron DeSantis's proposal to expand the state's controversial "Don't Say Gay" law such that it would prohibit any discussion or classroom instruction of sexual orientation or gender identity in public school classrooms from kindergarten through grade 12.
During a briefing on March 10, Jean-Pierre discussed another Florida bill that proposes to "give the state the right to remove kids from their parents just because that kid is transgender.
"And just think about that. Just think about a kid who is sitting at home in this community who is listening and hearing elected officials talking about how they want to take away their rights or how they want to even threaten their parents with felony charges for seeking healthcare for their children," said Jean-Pierre.
Inside the battle over Republican Senate votes for Respect for Marriage Act
Some advocates for religious liberty joined forces with LGBTQ groups to play a vital role in passage of the Respect for Marriage Act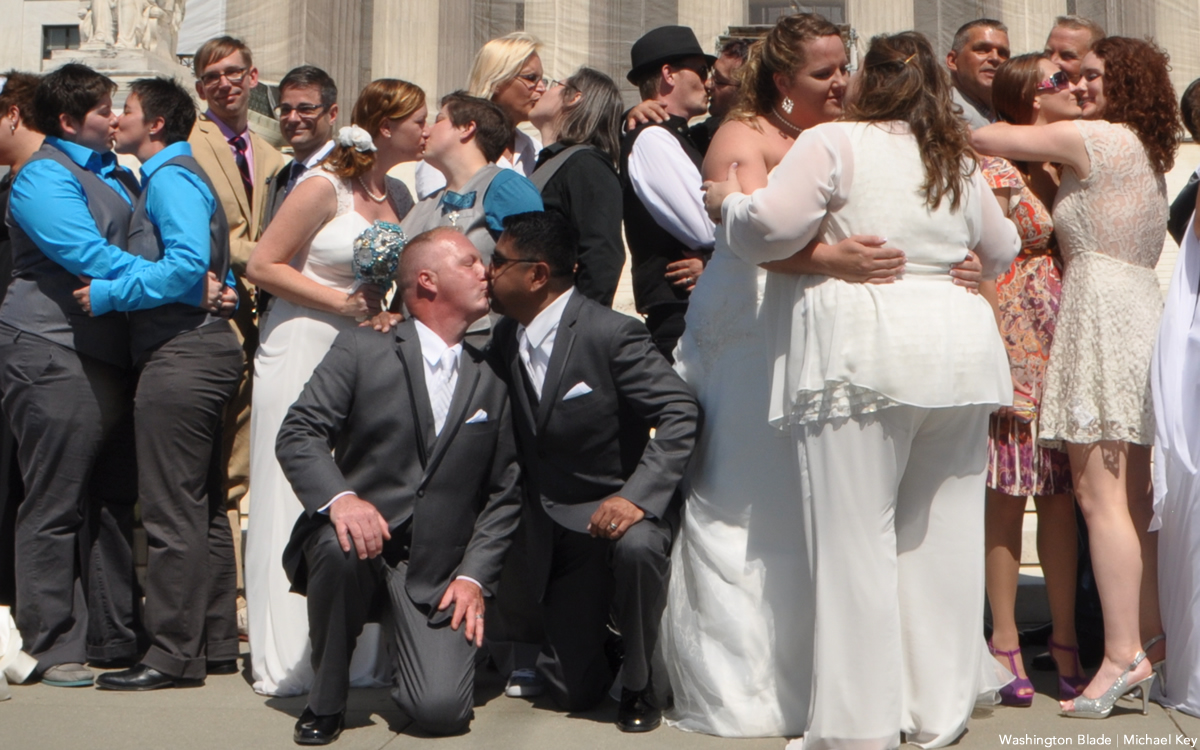 The U.S. Senate passed the Respect for Marriage Act on Tuesday 61-36, clearing the threshold required to secure a filibuster-proof majority by just one vote, thereby sending the bill on its way to becoming law.
The landmark legislation's path out of the evenly divided upper chamber was, until that 60th "yea" vote, far from clear. Tuesday's passage of the Respect for Marriage Act marked the third time this month in which a few Republican senators held the keys to its fate.
Before and just after Thanksgiving break, the Senate managed to avoid having to debate amendments to the bill proposed by some conservative members of the Republican caucus who felt the bipartisan addition of supplemental protections for religious liberties was insufficient.
Success on the first procedural move was won with a margin of just two Republican senators who voted with their Democratic colleagues. The second, with only one.
Had the Senate chosen instead to consider these amendments, the Respect for Marriage Act could easily have been defeated, with time running out to pass legislation before the new Congress is seated in January, at which point control of the House will flip from blue to red.
Particularly in the days leading up to this week's votes, lobbyists with a wide spectrum of views on the Respect for Marriage Act were laser focused on winning over members of the small camp of GOP senators who were on the fence or, perhaps, relatively tepid in their support for (or opposition to) the bill.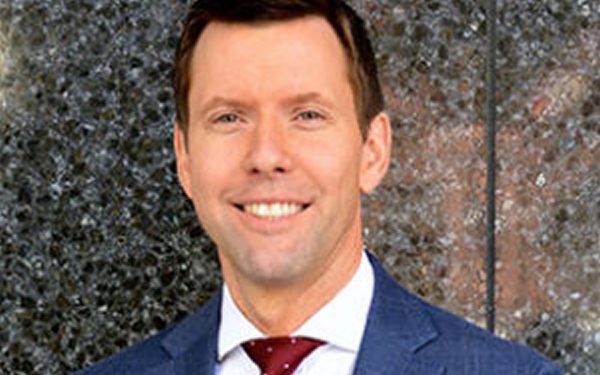 Among the parties representing special interests engaged in ongoing discussions with Senate Republicans was Tim Schultz, president of the 1st Amendment Partnership (1AP), a nonprofit group focused on education and public engagement to promote and protect religious freedom. Schultz's work on behalf of the organization includes some lobbying activity.
Speaking with the Washington Blade by phone on Tuesday before the final vote was held, Schultz said the key to winning support from these Republican senators was to show them how the Respect for Marriage Act does not threaten – and in some respects, may in fact strengthen – protections for religious liberty.
Other GOP senators opposed to the bill cited different reasons, arguing for example that it is unnecessary or improper for the legislature to preempt the fallout of a potential future U.S. Supreme Court ruling on same-sex marriage.
Schultz noted that unlike the conservative lawmakers whose primary focus was on religious freedoms, these other objections raised by Senate Republicans were mostly brought forth by members who were never going to vote in favor of the Respect for Marriage Act in the first place. In some cases, they believed the landmark cases establishing marriage equality as a fundamental right in the United States were wrongly decided, which is a non-starter.
"The lawmakers who have been the margin of victory [in key votes] have cared a lot about religious protections," Schultz said. They are sincere in their efforts to understand precisely whether and how religious liberties might be affected by passage of the Respect for Marriage Act, he said. "They are serious in their efforts to try to get their arms around those questions."
The primary arguments happening in the Senate "have been held by [Republican Senators] who all have a broad conception of religious freedom," Schultz said. "So, the question has been, 'is this sufficient? Or should we demand quite a bit more?'"
Engaging these GOP lawmakers, he said, often involved "trying to get the senators accurate information, including responses from faith groups and scholars." This sometimes required addressing and dispelling arguments against the legislation "point by point," Schultz added.
Schultz said it was an amusing twist to lock horns over the Respect for Marriage Act with other groups that promote and fight for religious liberties, organizations with which he has some deep and longstanding relationships.
"It's weird, because I am a professional religious freedom advocate and I share their conception of religious liberty. But I think their analysis of this bill is incorrect. So, it's been a bit strange to be having an argument among folks who, otherwise, I agree with."
Strange bedfellows?
The bill's passage through the Senate could be read as a signal of the efficacy of a model of government relations by which LGBTQ groups in some circumstances can reach mutually beneficial compromises with organizations that are concerned with religious liberty, Schultz said.
Compromise was also the goal for the bipartisan coalition of lawmakers in the House and Senate who sponsored, co-sponsored, or otherwise championed the Respect for Marriage Act.
Writing the legislation within bounds of universally accepted constitutional precepts, part of their aim was to lessen the likelihood that it might face a successful legal challenge. The other primary reason for backing a narrowly construed bill: greater chances of securing the support necessary from congressional Republicans to get it passed.
But the Respect for Marriage Act was conservative in focus, if not in effect, from the jump. It was meant to address the very specific consequences and fallout for same-sex couples that would result if the U.S. Supreme Court's conservative supermajority opts to overturn or substantially weaken the two landmark rulings that established marriage equality as a constitutional right in America.
Practically speaking, however, compromise did not come at a cost. "This will be the biggest federal legislative victory for gay rights since the repeal of "Don't Ask, Don't Tell," Schultz said. (Incidentally, that hard-won victory also happened during a lame duck session, following the 2010 midterm elections.)
Though some groups acknowledged its limitations, the Respect for Marriage Act was publicly backed by a diverse swath of LGBTQ civil rights and legal advocacy organizations, including: the Human Rights Campaign, the National Center for Transgender Equality, GLSEN, PFLAG National, GLAAD, Equality California, the Transgender Legal Defense and Education Fund, and Lambda Legal, the Interfaith Alliance, the National Center for Lesbian Rights, LGBTQ Victory Fund, and the National LGBTQ Task Force.
The Respect for Marriage Act faced a tumultuous road to passage through Congress
In July, the House passed the Respect for Marriage Act with a decisive margin, picking up 47 Republican "yeas" for a total of 267 votes in favor of the bill (with 157 members, all Republican, voting no).
At the time, there was little to no concern expressed publicly by GOP lawmakers in either chamber over the Respect for Marriage Act's threat to religious liberties, Schultz said. He added that this may be explained, at least to some extent, by members' focus on the then-upcoming Nov. 8 midterm elections.
After Congress reconvened with Republicans poised to take control of the House next year, the Biden administration and congressional Democratic leadership had made clear that the Respect for Marriage Act would be a top priority for the brief legislative session before the next Congress is seated in January.
"By the Monday after election week, people started focusing again," Schultz said. "It was game time."
Logistically, it was a heavy lift for Congress. Lawmakers had just a few weeks to pass legislation and cobble together end-of-year must-pass spending packages.
Democratic congressional leadership were under pressure from President Biden to allocate more funding for COVID-19 and aid to Ukraine, proposals that both faced resistance from their Republican colleagues. The Senate was way behind on the National Defense Authorization Act, another must-pass bill to fund the military that happens to also require a lengthy review process. And finally, momentum was building behind the bipartisan legislative proposal to revise the Electoral Count Act.
For the key GOP senators, all other considerations were secondary to religious liberty
As the Senate vote neared, campaigns by special interest groups were dialed up, including by opponents of the bill, which ranged from extreme anti-LGBTQ organizations deemed hate groups by the Southern Poverty Law Center to conservative think tanks with close ties to Capitol Hill.
Liberty Counsel President Matt Staver made the outrageous argument that the protections for same-sex couples provided in the Respect for Marriage Act would lead to "pedophilic marriages," perpetuating the dangerous lie that queer people are linked to child sexual abuse.
Fortunately, "the crazy stuff you see online doesn't penetrate into how senators talk about and think about this stuff," Schultz said. "They are concerned with substantive objections" to the Respect for Marriage Act.
And while there was some discussion of the deadly Nov. 19 shooting at an LGBTQ nightclub in Colorado Springs, the tragedy did not play a major part in GOP senators' deliberations over passage of the Respect for Marriage Act, Schultz said – perhaps partly because much of the substantive talks had already happened with the Senate vote just days away.