Prosecutors drop multiple charges in D.C. gay murder case
One count remains for defendant in 2019 stabbing death of Vongell Lugo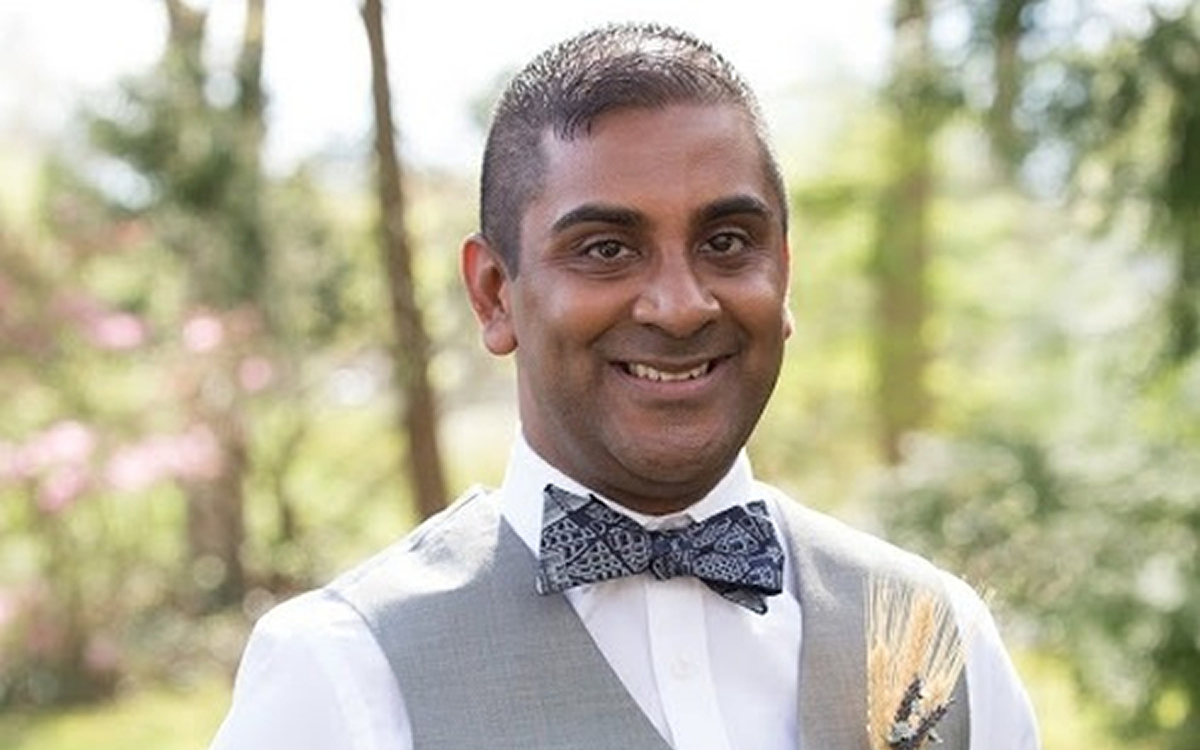 Without providing a reason, prosecutors with the Office of the U.S. Attorney for the District of Columbia requested and received approval from a D.C. Superior Court judge on Jan. 23 to drop four of the five pending charges, including two counts of murder, against the man charged with the Jan. 6, 2019 murder of gay retail manager Vongell Lugo.
Court records show that Assistant U.S. Attorney Peter V. Roman asked Judge Marisa Demeo to dismiss four of the five charges handed down in an Aug. 20, 2019, grand jury indictment against former U.S. Navy Hospital Corpsman Collin J. Potter, who was 26 years old when D.C. police charged him with fatally stabbing Lugo at least 47 times.
A single charge of First Degree Murder While Armed remains pending.
An arrest affidavit filed in court states that the murder took place inside Lugo's Northwest D.C. apartment shortly after the two men met, possibly for the first time, at the Black Whisky bar at 1410 14th St., N.W., and Lugo invited Potter to his apartment.
The arrest affidavit says police arrested Potter on the night of the murder after being called to the apartment building by a neighbor and after observing Potter fully nude standing over Lugo's nude body that Potter minutes earlier dragged outside the apartment door. Potter has remained in jail since the time of his arrest on Jan. 6, 2019, while awaiting a trial that has repeatedly been postponed. The trial is currently scheduled for April 18.
Court records show that in response to a motion filed by an assistant U.S. attorney on Jan. 18 of this year, Judge Dameo agreed to drop Counts 1 through 4 of the grand jury indictment. Those charges include Kidnapping While Armed, Felony Murder While Armed (Aggravating Circumstances), First Degree Sexual Assault While Armed, and Felony Murder While Armed (Aggravating Circumstances).
Roman's motion, which the judge approved, called for leaving in place Count 5 of the indictment – First Degree Murder While Armed (Premeditated) (Aggravating Circumstances).
When contacted by the Washington Blade, a spokesperson for the U.S. Attorney's Office declined to disclose the reason for the office's decision to drop the four indictment counts.
"We cannot comment on matters not in the public record," said spokesperson Patricia Hartman.
Prosecutors sometimes drop or lower charges against a defendant in cases like this in exchange for a plea bargain agreement in which the defendant agrees to plead guilty to a lower charge. Doing so avoids a trial, which prosecutors sometimes feel could result in a verdict of not guilty on all or some of the charges.
The public court records in the case pending against Potter do not show whether a plea bargain offer was made prior to the dropping of the four charges. Potter's defense attorney, Matthew Davis, has not responded to attempts by the Blade to reach him for comment on the case.
The next court hearing for the case, a Trial Readiness Hearing, is scheduled for 9:30 a.m. on Friday, Feb. 3. The Blade couldn't immediately determine whether an explanation for why prosecutors chose to dismiss the four indictment counts would be disclosed at the Feb. 3 hearing.
Whitman-Walker announces leadership change
CEO Ryan Moran to become Deputy Secretary of Health in Maryland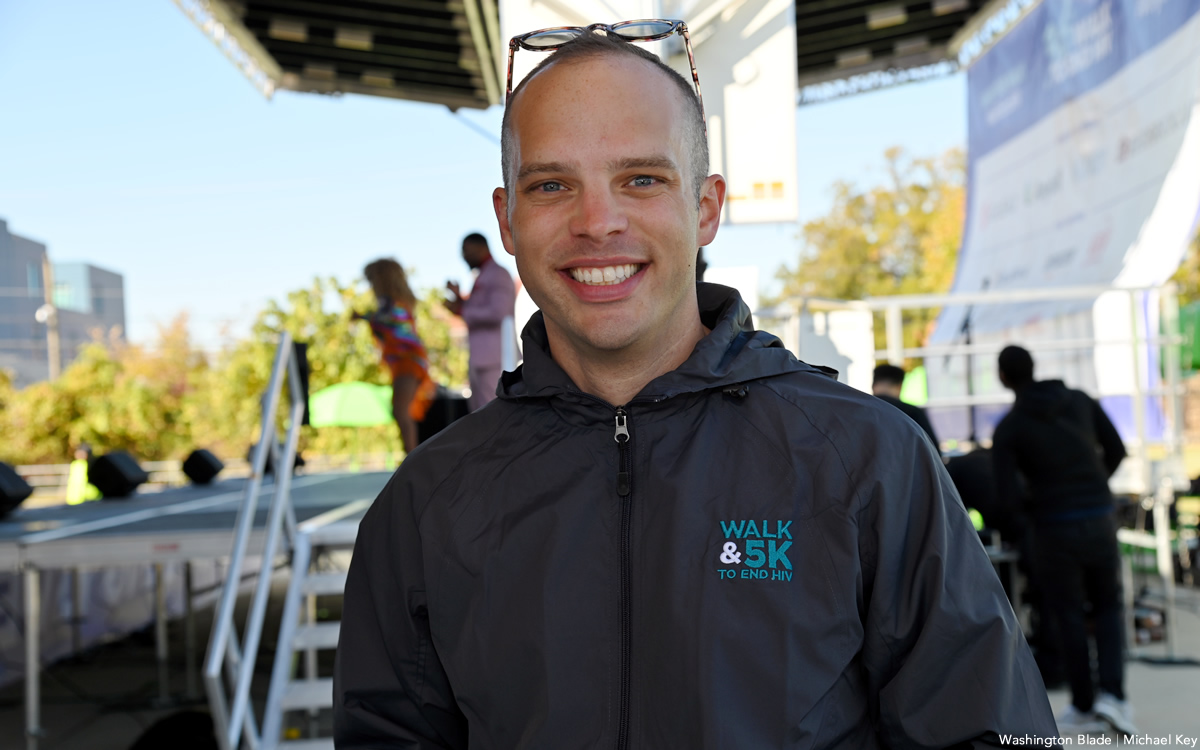 Dr. Ryan Moran, who has served since 2021 as CEO of the Whitman-Walker Health System, an arm of D.C.'s longtime LGBTQ and HIV health services provider Whitman-Walker Health, will be leaving his position next month after being named as Deputy Secretary of Health and Healthcare Finance and Medicaid Director for the State of Maryland.
According to a March 21 statement released by Whitman-Walker, Moran will begin his new job as a member of the Maryland Department of Health's senior leadership team effective April 12.
The statement says Cindy Lewin, an official with nonprofit organizations for more than 25 years and who previously served as Executive Vice President and General Counsel at the AARP, will serve as interim CEO at Whitman-Walker Health System beginning April 10.
Around that time, the statement says, Whitman-Walker will begin a nationwide executive search "to secure a permanent CEO" for the top position at Whitman-Walker Health System.
The statement points out that Naseema Shafi will continue in her role as CEO of Whitman-Walker Health, the other component of Whitman-Walker that directly provides and oversees medical and health care services to patients and clients, including those from the LGBTQ community.
Whitman-Walker Health System, among other things, advances the mission of Whitman-Walker through expanding its financial and fundraising capacity through the Whitman-Walker Foundation, the Whitman-Walker Institute, and the Whitman-Walker Health System Real Property Holdings, the statement says.
"Whitman-Walker Health System is grateful for Ryan's visionary leadership, which has advantageously positioned us for our once in a generation expansion of research and health services with our move to the Saint Elizabeth campus this year," said Dr. Ann Bonham, the Whitman-Walker Health System Board Chair.
"While the organization will miss Ryan, his enthusiasm and passion for the work and his commitment to the mission of Whitman-Walker, I am sure he will be a transformative leader in his new role," Bonham said.
"I am deeply grateful to Whitman-Walker for the opportunity to steward our mission-driven organization as a regional and national leader in LGBTQ+ care, advocacy, research, and education," Moran said in the statement.
"I am honored to have contributed to this organization's rich history, and I am proud of the work Naseema Shafi and I have accomplished together and of the exceptional board senior leadership team, and staff for their collaboration in building a strong foundation for Whitman-Walker's future success," he said.
The statement announcing the Whitman-Walker leadership change notes that Moran played an important role in continuing the organization's previously started plans for opening its new Max Robinson Center at the city's St. Elizabeth's campus in Southeast D.C. According to the statement, the new center will provide services and programs to more than 15,000 people each year, a 300 percent increase from the existing Max Robinson Center located in Anacostia.
Trans people lost to drug overdose remembered at D.C. tribute
Citywide 'Celebration of Life' held at Metropolitan Community Church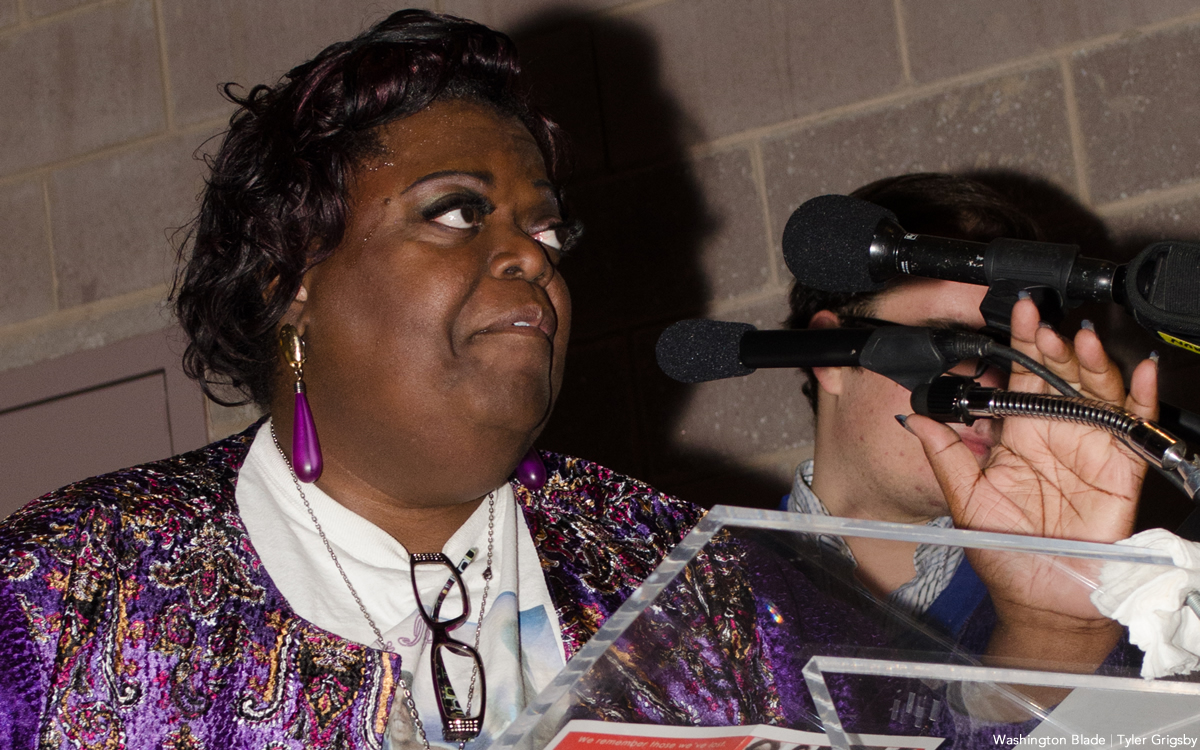 About 50 people turned out on Saturday, March 18, at D.C.'s Metropolitan Community Church for a Citywide Memorial Celebration of Life for at least seven local transgender people who lost their lives from a drug overdose within the past two months.
"We lifted up the lives of those who recently and before passed amongst the transgender community," said longtime D.C. transgender advocate Earline Budd, the lead organizer of the event.
"The goal was to send a clear message to D.C. officials that we will not sit by silently while members of the LGBTQ community are dying as a result of the OVERDOSE epidemic here in D.C. and around the country," Budd said in a Facebook post.
Budd told the Washington Blade this week that she and others involved in organizing the memorial celebration are planning a series of conversations with city officials and LGBTQ community stakeholders to push for strengthening the city's overdose prevention and response programs targeting LGBTQ people at risk for a drug overdose.
Among those participating in the March 18 celebration of life event were Rev. Elder Akosua McCray of Unity Fellowship Church of D.C.; Rev. D. Amina B. Butts of New Hope Baptist United Church of Christ of D.C.; and Rev. Cathy Alexander of D.C.'s Metropolitan Community Church.
Among those who spoke at the event was Tyler Edge, the associate director of D.C. Mayor Muriel Bowser's Office of LGBTQ Affairs.
The trans people who recently lost their lives to a drug overdose and whose names were listed in the program book handed out at the memorial tribute include Diva Chole Mason, Kenneth Isaac "Candy," Terri Holland, Lourica Potts, Cee Cee Creek, Tyneisha Phillips, and Danielle Pinkney.
Budd said among the plans by her and community supporters to address the overdose problem faced by some in the LGBTQ community include arranging for a more targeted approach to distribute and make accessible the lifesaving medication Narcan, which reverses an opioid overdose if administered quickly through a nasal spray device.
She said the plan also calls for pushing for a wider distribution of test kits for determining whether the deadly substance fentanyl, the cause of most drug overdose deaths, is present in recreational drugs such as cocaine, MDMA, and crystal meth.
"That's what our goal is, and we may end up saving some lives," Budd said.
D.C. government to hold 'LGBTQIA+ Emergency Training' event
Leaders, staff of nonprofits invited to learn how to assess threats of violence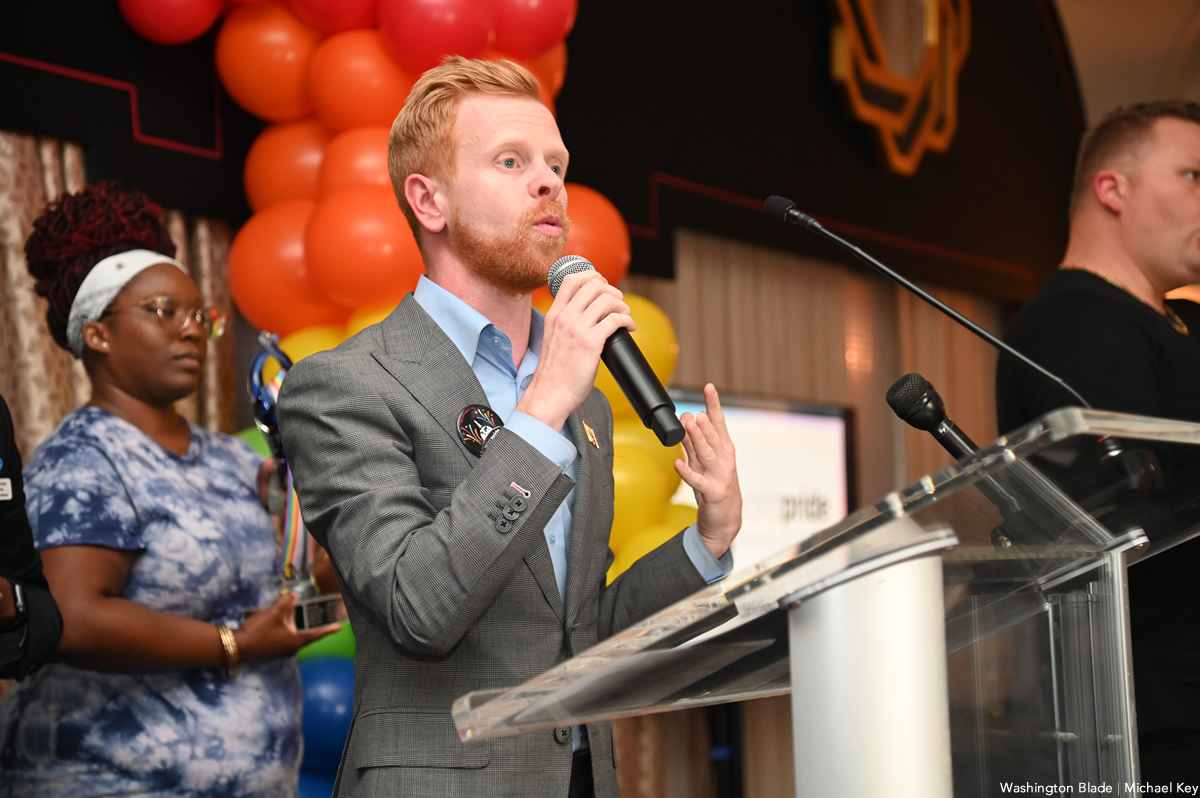 D.C. Mayor Muriel Bowser's Office of LGBTQ Affairs and the city's Homeland Security and Emergency Management Agency are inviting "all LGBTQIA+ non-profit leaders, management and event production staff" to attend a first-of-its-kind LGBTQ community Emergency Preparedness Event scheduled for April 5.
The event, officially called an LGBTQIA+ Emergency Preparedness Training, will be held at the headquarters of the D.C. Homeland Security and Emergency Management Agency at 1015 Half St., S.E.
"Non-profit partners will receive a special briefing on potential crime trends and threats," an announcement of the event issued by the mayor's office says. "The Preparedness Training will teach partners how to assess behavioral threats, manage risk factors such as warning signs of violence," the announcement continues.
"Partners will also hear more information about how to apply for non-profit security grant programs to support physical security enhancements," according to the announcement.
Japer Bowles, director of the Mayor's Office of LGBTQ Affairs, sent an email invitation on Tuesday, March 21, to various LGBTQ community leaders to attend the event. In his email message Bowles told of why an emergency preparedness training may be needed.
"We are a strong and diverse LGBTQIA+ community, even though we are increasingly under threat of violence for being who we are, for loving who we love, and for creating spaces for our community to do the same," Bowles wrote. "I commend you all; we must continue to support each other and share resources!"
The training session announced by Bowles and the mayor's office was scheduled to take place about four months after D.C. police announced they were stepping up police patrols around LGBTQ events and establishments, including gay bars, following the Nov. 19 shooting incident at a Colorado Springs gay nightclub called Club Q.
A 22-year-old lone gunman later identified as Anderson Lee Aldrich is charged with firing a rifle inside the club, killing five people, and injuring at least 25 others. One of the patrons of the club is credited with tackling Anderson and grabbing the barrel of the rifle and removing it from Aldrich's grip as horrified patrons attempted to flee from the club.
The incident, which prosecutors have listed as a hate crime, raised concern among LGBTQ clubs across the country and prompted some, including nightlife businesses in D.C., both gay and straight, to arrange for security and active shooter training sessions for their managers and employees.
"Nightlife hospitality establishments understand the importance of being constantly vigilant about, and prepared for, any and all incidents that could occur whenever people are gathered," said Mark Lee, the former coordinator of the D.C. Nightlife Council, a group representing bars, restaurants, nightclubs, and entertainment establishments.