Mayor's Office of LGBTQ Affairs honors Earline Budd
Transgender activist received Toast to LGBTQIA+ Elder award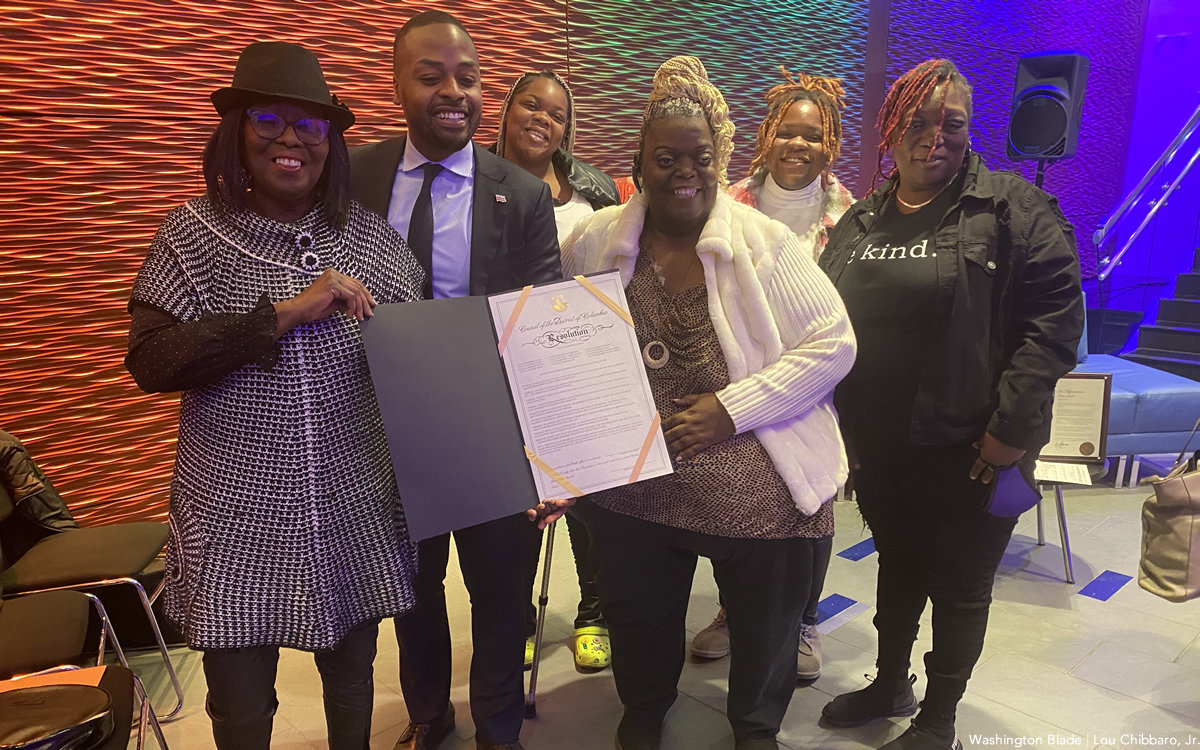 Longtime D.C. transgender rights advocate and community activist Earline Budd was honored on Wednesday as the first recipient of an annual Toast to LGBTQIA+ Elder award initiated by Mayor Muriel Bowser's Office of LGBTQ Affairs.
About 50 people, including D.C. Councilmember Zachary Parker (D-Ward 5), attended a ceremony hosted by the mayor's office to honor Budd on her selection for the recognition. The event was held at the Atlas Performing Arts Center at 1333 H St., N.E.
"The Toast to LGBTQIA+ Elders is a way for the Mayor's Office of LGBTQ Affairs and greater community to give thanks and recognition to those who paved the way for many of us in the LGBTQIA+ community today," said Japer Bowles, director of the Mayor's LGBTQ Affairs Office, in a statement.
Bowles said he and the mayor's office were honored to have selected Budd for the first annual Toast award.
"We thank Ms. Budd for her 35+ years of outstanding and extraordinary dedication to the most vulnerable of our communities through support and harm reduction services," Bowles said in the statement. "Known as THE Advocate, Ms. Budd has been steadfast in community outreach, an accomplishment of immense significance, especially to our LGBTIA+ youth."
Budd's selection as the first Toast to LGBTQIA+ Elder recipient came one month after she was honored in a ceremony unveiling a large wall mural painting of Budd in an alley next to the Atlas Performing Arts Center, making her the first trans person to be portrayed in D.C.'s citywide wall mural program.
Among those attending Tuesday's elder recognition event was local artist Shani Shih, who designed and painted the Budd wall mural.
Also attending was Sean Cuddihy, a member of the staff of D.C. Councilmember Robert White (D-At-Large), who presented Budd with a resolution introduced by White and passed unanimously by the Council called the Earline Budd Recognition Resolution.
The resolution, among other things, credits Budd for dedicating "decades of her life to advocacy for lesbian, gay, bisexual, transgender, queer and other gender and sexual minority (LGBTQ) communities in the District of Columbia, especially those struggling with substance abuse, mental health challenges, homelessness, and HIV/AIDS."
It also mentions Budd's role as founder and executive director of the D.C. group Empowering the Transgender Community and her work as Re-entry Program Manager for the D.C. organization HIPS, which provides support and services for sex workers and those impacted by drug use.
Parker became the first openly gay member of the D.C. Council since 2015 when he took office in January. He presented another Council resolution at the Wednesday Toast to Budd event recognizing the life of trans woman Jasmine Star Parker, who was found murdered on a street in Northeast D.C. on Dec. 7.
Parker presented the Jasmine Star Parker Memorial Recognition Resolution of 2023 to members of Parker's family, including her mother and sister, who attended the Wednesday event. Parker credited Budd's efforts to draw attention to the Jasmine Parker murder, including Budd's role in organizing a vigil honoring Jasmine Parker, with prompting him to introduce the Jasmine Parker resolution.
"The Council of the District of Columbia honors Jasmine Star Parker's memory, joins with those privileged to have known her in mourning her untimely death and condemns all forms of hate and violence directed towards members of the LGBTQ+ community, particularly Black trans women," the resolution states.
In his remarks at the Wednesday event, Parker said his current role as the city's only Black openly gay council member was made possible by people like Earlene Budd.
"Before there was ever a Zachary Parker there was an Earline Budd," he told the gathering. "Thank you for serving as a personal inspiration for me and countless other youth and individuals across the District," Parker said. "On behalf of more than 90,000 residents of Ward 5 and every LGBTQIA+ person in the District, thank you."
Among the others who spoke at the event about the important role Budd has played in helping to secure LGBTQ rights were D.C. event host and longtime LGBTQ advocate Rayceen Pendarvis, who served as host at the Tuesday event; and longtime local trans rights advocate Jeri Hughes.
"I'm so honored to have the privilege to host this wonderful event as we honor a living legend," Pendarvis told the gathering. "Not many people in their lifetime can say that they know a living legend," Pendarvis said, pointing to Budd. "I am honored to call you a friend, sister, and colleague."
Hughes said she and Budd have been friends for at least 17 years and have worked together on numerous projects related to human rights.
"Earline Budd has always been defined in my eyes as a woman of service," Hughes said. "She's one of the most selfless human beings that I've ever known. She spends most of her days thinking of ways to care for others and help others."
Budd, who spoke at the conclusion of the event, recited the names of the many community activists and government officials she has interacted with in her years of community organizing and advocacy and praised them for their help in her endeavors. She expressed strong gratitude and called for recognition of Shih for her painting of the Budd wall mural.
"Let me say with an honor to God, it is not by any means a false profit that I find myself here, because God knew before that this day would come," Budd said. "I didn't know it, that it would come, I'm here to say I've been to so many places. And I tell people that if this were my last day, and I mean this from the bottom of my heart, I have lived a good life."
Concern over possible D.C. juvenile crime wave targeting LGBTQ victims
Anger, frustration at attorney general's 'Listening Session' in Dupont Circle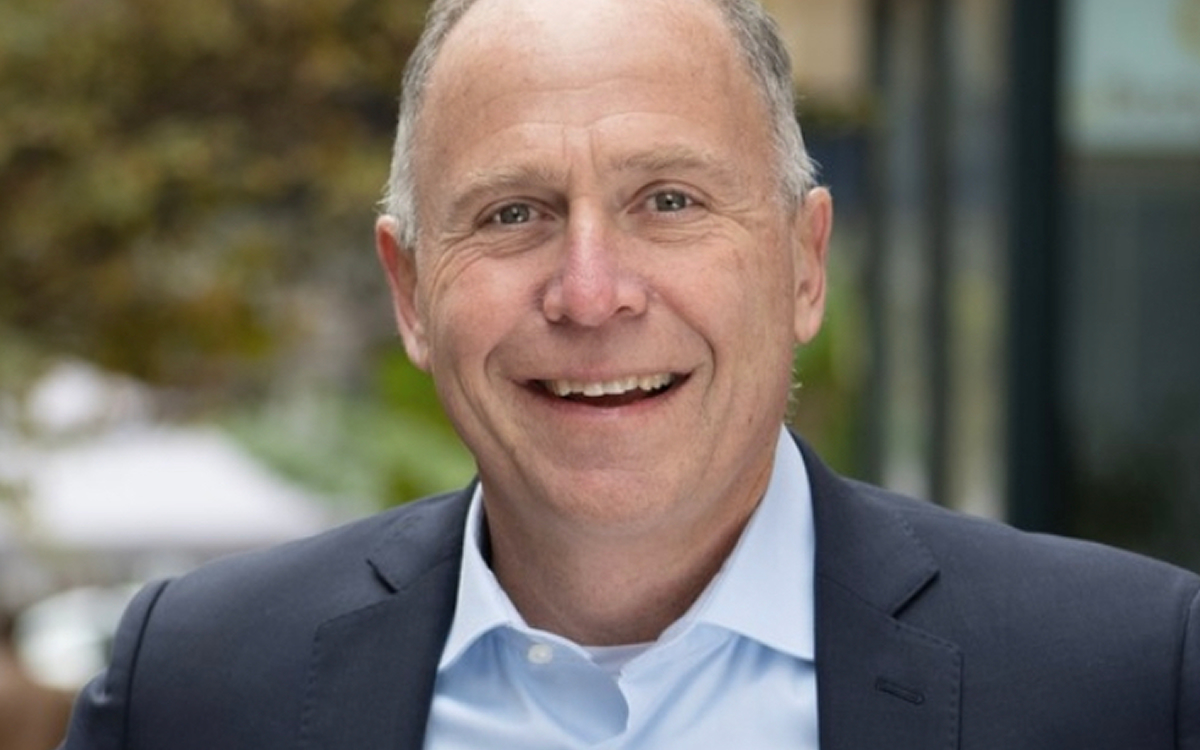 The rapidly growing number of violent crimes in the nation's capital committed by juveniles armed with guns and knives that D.C. Mayor Muriel Bowser has called a juvenile crime emergency is surfacing in neighborhoods where LGBTQ people are likely being targeted, according to activists following local crime reports.
Concern over reports of cases where LGBTQ people may have been targeted for armed robberies and carjackings in the Dupont Circle area by juvenile assailants coming to the area from other parts of the city surfaced at a Feb. 28 Ward 2 Listening Session hosted by D.C. Attorney General Brian Schwalb.
The event, held at St. Thomas' Parish Church in the Dupont Circle neighborhood, included strongly worded presentations from Dupont Circle Advisory Neighborhood Commissioner Vincent Slatt and former Dupont Circle ANC Commissioner Mike Silverstein, both of whom are longtime LGBTQ rights advocates.
The two told Schwalb, whose office oversees prosecuting juveniles charged with committing crimes in the District, that the city's juvenile justice system appears to be failing to take adequate measures to address the juvenile crime problem.
Among the main concerns raised by Silverstein and Slatt as well as others is that the city's criminal law pertaining to juvenile offenders has a strict confidentiality provision that prevents D.C. police and prosecutors with the D.C. Office of the Attorney General from publicly disclosing the outcome and disposition of cases in which a juvenile is arrested for a crime of violence or any other crime.
Activists raising this concern have said they do not want authorities to disclose the identity of juveniles charged with crimes. But what they would like to know, Silverstein and Slatt said, is whether officials like Attorney General Schwalb and members of the D.C. Council will take steps to change the law to allow the disclosure of the outcome of juvenile cases.
"Last year there were 1,400 juvenile arrests and 56 percent of those who were arrested had guns," said Silverstein, whose remarks were recorded on a video taken by Peter Semler, editor and owner of the Capitol Intelligence Group news organization.
"These are children with guns," Silverstein continued. "Seventy-five percent of those arrested for carjacking last year were kids, were children," he told Schwalb. "And people are questioning, you know, where is the prosecution?"
Schwalb responded by saying he would consider asking the D.C. Council to pass legislation allowing the public disclosure of the disposition of juvenile criminal cases, but he did not commit to doing so, according to Silverstein and others who attended the AG's Listening Session.
A spokesperson for Schwalb did not respond to a request from the Washington Blade for a comment from the attorney general elaborating on any plans he may have to propose a change in the law as requested by activists speaking at the Feb. 28 Listening Session.
In his remarks at the Listening Session, Slatt, who serves as co-chair of the city's ANC Rainbow Caucus, said he and other Dupont Circle residents were especially troubled that they have not been able to determine the status of the prosecution or whether a prosecution took place for three juvenile males arrested for committing four separate armed robberies in the Dupont Circle area within about 30 minutes on Sunday evening, Jan. 29.
Slatt said he and others alarmed over the incidents have not been able to determine whether any of the victims are members of the LGBTQ community or whether any of the incidents might be hate crimes.
D.C. police released a statement announcing that detectives had arrested three juvenile males for allegedly committing the armed robberies in different nearby locations between 9:45 and 10:14 p.m. on Jan. 29. The police statement says two of the juveniles were 16 years old and the other was 15.
The police statement lists the offenses allegedly committed by the youths as Attempted Armed Robbery, Armed Robbery (Gun), Assault with a Dangerous Weapon (Gun), and Armed Robbery (Gun). It says the 15-year-old was additionally charged with Carrying a Pistol Without a License, and Possession of a Large Capacity Ammunition Feeding Device.
"The ongoing question about youth crime and youth getting re-released is a major thing in the city right now," Slatt told the Blade. "And as you know, they won't release information about these cases," he said. "And also, they're not letting us know is this a hate crime?"
Slatt added, "And so we don't know when they are gay related. And there is no way for us in the gay community to do community impact statements because we're not allowed to follow these cases because of the anonymity protections on the youth criminals."
He was referring to the longstanding process in the local D.C. court system for adult criminal cases where victims of a crime and members of the community, including members of the LGBTQ community, can submit to a judge a victim impact statement or community impact statement.
The impact statements usually are submitted at the time a judge is about to hand down a sentence after the person charged with a particular crime has been convicted in a trial or pleads guilty as part of a plea bargain deal offered by prosecutors.
"My thing specifically is, is this a gay issue or not," said Slatt. "Are they hiding that data or not? How can we even say these are hate crimes or not if we can't even follow the cases, if we can't say what it's about?"
In a development that may come as a surprise to activists calling for the release of information about juvenile cases without releasing the identity of a juvenile, the controversial 450-page D.C. criminal code reform bill that Congress overturned earlier this month does not address in any way the city's juvenile criminal code.
The Revised Criminal Code Act, which the Council passed unanimously last September and voted 12 to 1 to override Mayor Bowser's veto of the bill, became the target of criticism from both Democratic and Republican members of Congress and from President Joe Biden because of several controversial provisions.
Among them are language calling for eliminating most mandatory minimum prison sentences, reducing the maximum sentence for crimes such as burglaries, carjackings, and robberies, and allowing jury trials for all misdemeanor cases in which a prison sentence is possible.
Bowser, who said she supported about 95 percent of the bill's voluminous proposed overall of the city's antiquated criminal code, has called on the Council to remove the provisions that triggered the reaction by Congress and a Democratic president to oppose the legislation in its original form.
Jinwoo Charles Park, executive director of the D.C. Criminal Code Reform Commission, which played a lead role in helping the D.C. Council draft the criminal code reform bill, said the Council limited the commission's scope of work to the city's adult criminal code when it created the commission in 2016.
According to Park, now that the commission finished most of its work on the criminal code bill for adults – with some changes needed to address the objections by Congress and Biden – the commission can look into possible changes in the criminal code's provisions dealing with juveniles. He said he would support looking into such a revision for the juvenile code.
"I do think going forward there is a whole other part of the law that probably should be revised," he said in referring to the juvenile provisions of the D.C. criminal code. "I'm not taking a position on that at this point. But I think it is an important project that does need to be tackled in coming years," he said.
Bowser, meanwhile, stated at a Feb. 6 press conference in response to a question from the Washington Blade that she would support a revision in the juvenile code to allow the public disclosure of the outcome of juvenile cases with the identity of a juvenile charged in such a case remaining confidential.
"I would, and I say that with a lot of caveats because it is a complicated issue," Bowser said. "But I agree with the sentiment," she said, adding that the current blanket confidentiality in juvenile cases might also have a negative impact on other D.C. government agencies that provide services for juveniles.
Among those who have also said they would consider changing the city's juvenile law to allow the outcome of juvenile cases to be disclosed to victims and possibly to the community is D.C. Council member Brooke Pinto (D-Ward 2). Pinto currently serves as chair of the Council's Committee on the Judiciary and Public Safety, where any legislation calling for changing the juvenile criminal law will be sent for consideration and approval.
"It is something that the committee is looking at very closely and something that we're going to try to make some actionable improvements on in the coming months," Pinto told the Blade. But she said her focus would be "from the perspective of victims' rights and what survivors need to have some resolution to their case."
When asked if she would commit to having the disposition of juvenile cases disclosed to the public as well as to victims of juvenile related crimes, Pinto added, "I would say I'm committed to looking at it." An important concern, she said, is to carefully balance the issue of youth privacy and making sure there is a just resolution to a case for all parties.
"The most important dynamic to me that I'm thinking about are the survivors and victims as well as government partners having access to this information," she said. "But I am open minded to looking at this other piece to make sure that our communities can be kept safe and have the resolution that they need and deserve."
The other Council members who serve on the Judiciary and Public Safety Committee who would join Pinto in deciding on whether to change the city's juvenile criminal statute include Charles Allen (D-Ward 6), Anita Bonds (D-At-Large), Vincent Gray (D-Ward 7), and Christina Henderson (I-At-Large).
Among those expressing concern over the city's juvenile justice system is Washington Post columnist Colbert King. In a Feb. 24 column, King reported that in response to his request, the Office of the D.C. Attorney General sent him data showing that out of 462 juvenile arrests made by D.C. police between Oct. 1, 2022, and Feb. 15, 2023, the AG's office prosecuted only 295, or 64 percent, of the cases. Ninety-four of the cases, or 19 percent, were dropped for insufficient evidence, King said the AG's office informed him.
According to King, 73 of the juvenile arrests during that period, or 16 percent, were dismissed and diverted to "alternative or no-incarceration programs or deferred sentencing agreements."
Silverstein, the former Dupont Circle Advisory Neighborhood Commissioner and LGBTQ rights advocate, raised the issue of how many juvenile cases were being prosecuted or dropped in his remarks to D.C. Attorney General Schwalb at Schwalb's Feb. 28 listening session.
"There is this growing belief, sir, and I'm not one of those who wants to lock everybody up or anything like that," Silverstein said, "that people don't believe it's anything but catch and release, that people are getting away with this kind of stuff and there is no prosecution."
Silverstein concluded his remarks telling Schwalb about an anti-gay hate crime that took place several years ago involving juvenile attackers.
"A gang of between 10 and 15 kids set upon two young gay men on U Street and beat the hell out of them, called them all kinds of homophobic names, and broke the bones around one of their eyes," he said. "We never found out what happened to the kids – the three who were arrested. The rumor was they had to write a paper."
Added Silverstein, "There's no trust, sir, in the consequences. It breaks my heart because it plays to those who want to lock everybody up. I'm sorry if I had to spill my guts, but it scares the hell out of me."
The audio part of the video recording of Silverstein's remarks became mostly inaudible when Schwalb responded to Silverstein.
"He said he would consider the possibility of supporting some change in the confidentiality laws regarding the disposition phases, that he would consider supporting it," Silverstein told the Blade in an interview. "And it was just word salad. It's totally nonspecific and it is not a promise at all," said Silverstein.
The Washington Blade will report Schwalb's positions in greater detail on these issues if his office responds to the Blade's request for comment by the attorney general.
Bill calls for designating D.C. street in honor of gay former slave
Black resident called 'early pioneer' for LGBTQ rights in 1880s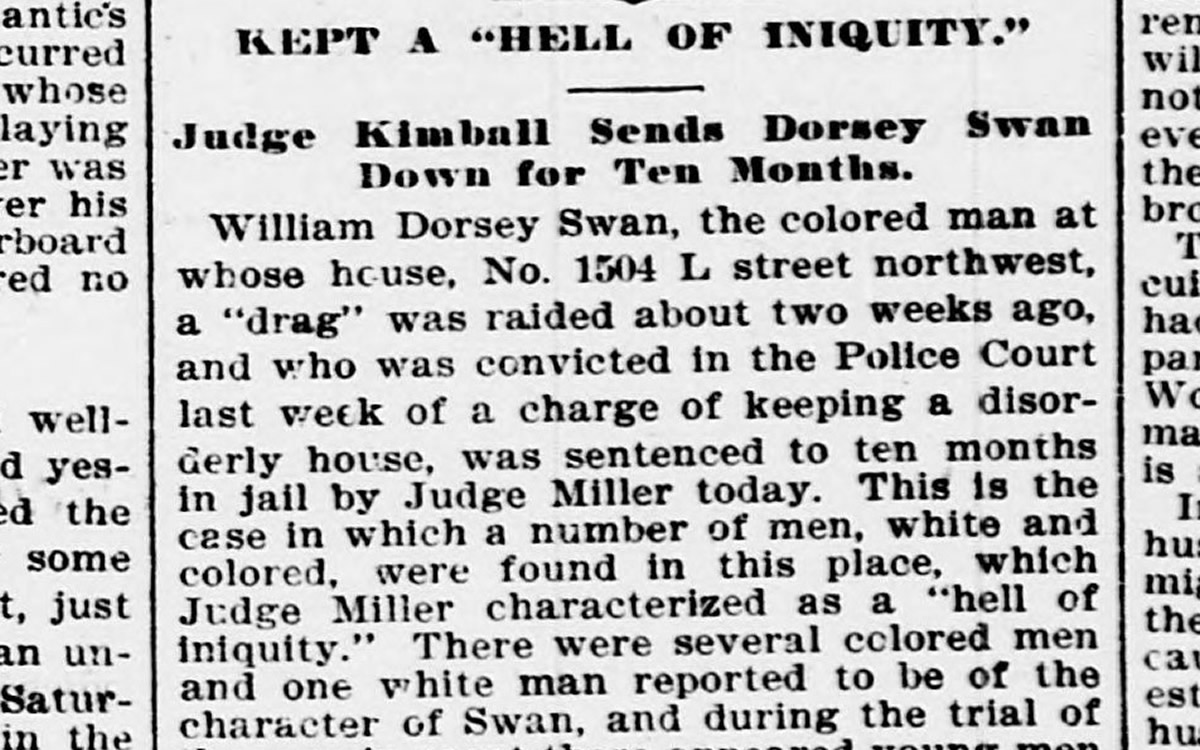 The D.C. Council is expected to approve a bill that calls for designating Swann Street, N.W., near Dupont Circle in honor of William Dorsey Swann, a little known Black gay D.C. resident and former slave who is credited with leading a group that organized drag shows in the late 1800s.
A statement released by D.C. Council member Brooke Pinto (D-Ward 2), who introduced the bill along with 10 other Council members, including gay Council member Zachary Parker (D-Ward 5), says William Dorsey Swann was an early pioneer in LGBTQ rights who referred to himself as "The Queen of Drag."
"Beginning in the 1880s, William Dorsey Swann ran a group known as the 'House of Swann' and organized balls, largely attended by queer, formerly enslaved men who would gather to dance and cross dress," according to Pinto's statement, which she released on Feb. 28 at the time she and the other Council members introduced the bill.
"William Dorsey Swann was persecuted by the authorities and arrested multiple times for 'impersonating a woman' and 'keeping a disorderly house,' and was the first American activist to lead an LGBTQQIA+ resistance group," Pinto's statement says. "Swann eventually sought a pardon from President Grover Cleveland, becoming the first American on record to pursue legal action in defense of LGBTQQIA+ rights," the statement says.
Her statement cites the Jan. 24, 1912, edition of the Congressional Record for the U.S. Senate as saying that Swann Street, N.W. had originally been named for Thomas Swann, an "enslaver" who served as mayor of Baltimore and governor of Maryland.
"Officially designating this street in honor of native Washingtonian and trailblazing LGBTQQIA+ rights activist William Dorsey Swann is an opportunity to ensure that our streets honor those who embody the District's value of social equality and human dignity," the statement says.
"The location of Swann Street, N.W. provides a physical and symbolic representation of the District's Black Queer community, sitting both within the Strivers' Section Historic District, a historic Black neighborhood, and the Dupont Circle neighborhood, the historic epicenter of D.C.'s LGBTQQIA+ community," it says. The street would maintain the current nomenclature and signage as 'Swann Street,'" the statement concludes.
Swann Street is located between 14th Street, N.W. and 19th Street, N.W. and parallel to and between S Street, N.W. and T Street, N.W.
Pinto's statement says William Dorsey Swann is believed to have been born in 1858 and died in 1925.
At the time of its introduction, the bill, called the William Dorsey Swann Street Designation Act of 2023, was sent to the Council's Committee of the Whole, which consists of all 13 Council members.
In addition to Pinto and Parker, the Council members who co-introduced the bill include Council Chair Phil Mendelson (D-At-Large), Brianne Nadeau (D-Ward 1), Robert White (D-At-Large), Kenyan McDuffie (I-At-Large), Charles Allen (D-Ward 6), Janeese Lewis George (D-Ward 4), Vincent Gray (D-Ward 7), Anita Bonds (D-At-Large), and Matthew Frumin (D-Ward 3).
Lindsey Walton, a spokesperson for Mendelson, said the Committee of the Whole voted unanimously on March 21 to approve the bill, which was expected to come before the full Council on April 4 for the first of two required votes.
One potential problem for the immediate passage and implementation of the Swann Street bill surfaced in a March 21 memo prepared by D.C. Chief Financial Officer Glen Lee and sent to Council Chair Mendelson.
Lee says in his memo that the D.C. Department of Parks and Recreation has determined it will cost $30,000 to fabricate and install a commemorative sign called for under the bill explaining the historic background of William Dorsey. It says the sign is to be located at the intersection of Swann Street, New Hampshire Avenue, and 17th Street, N.W.
"Funds are not sufficient in the fiscal year 2023 through fiscal year 2026 budget and financial plan to implement the bill," Lee says in his memo. "Department of Parks and Recreation will need to work with ANC 2B to design the sign and then will fabricate and install it…The fabrication and installation will cost $30,000 and the agency is unable to absorb the cost within its existing budgeted resources," the memo says.
Walton, Mendelson's spokesperson, said Mendelson and the other supporters of the bill on the Council will look for funds for the $30,000 needed to implement the bill in the city's supplemental budget.
Former Trump official elected president of D.C. Log Cabin Republicans
Says GOP group welcomes 'wide spectrum' of conservative adherents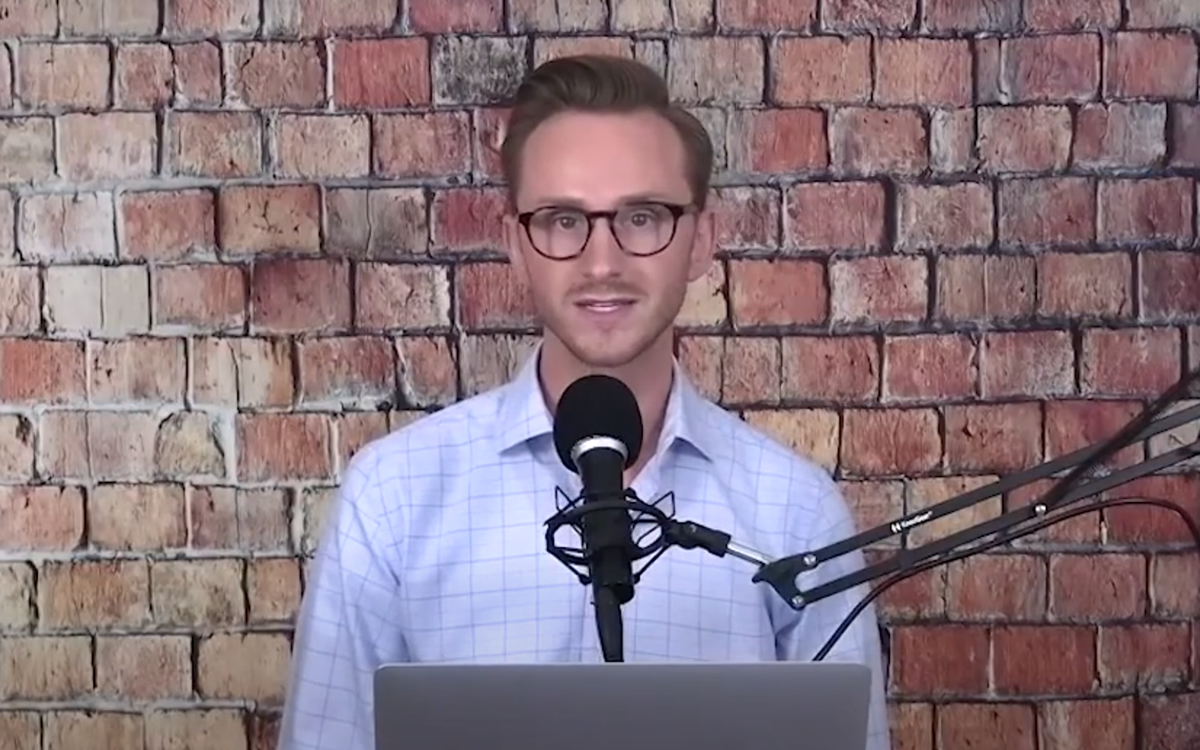 Log Cabin Republicans of D.C., the local chapter of the national LGBTQ Republican organization with the same name, earlier this month elected former Trump administration official Thad Brock as its new president.
Brock replaces longtime GOP activist Adam Savit, who served as the D.C. Log Cabin group's president for the past five years. The local group held its officers election on March 7 during a meeting in which U.S. Sen. Joni Ernst (R-Iowa) appeared as a guest speaker.
Brock served from 2018 to 2019 during the Trump administration as Assistant to the Administrator at the U.S. General Services Administration, according to his LinkedIn page.
His LinkedIn page says he served from 2019 to January 2021 as Special Assistant to the CEO at the Millennium Challenge Corporation, an independent U.S. agency that works with the State Department to help facilitate foreign trade and assistance for developing countries.
Brock told the Blade the two positions were presidential appointments.
Information released by the D.C. Log Cabin group says its members also elected Andrew Mink as vice president, Matthew Johnson as secretary, Greg Wallerstein as treasurer, and Andrew Desser, Tyler Stark, and Jaime Varela as at-large board members.
"Log Cabin Republicans is the nation's largest Republican organization dedicated to representing LGBT conservatives and allies," the national Log Cabin group states on its website. "For more than 40 years, we have promoted the fight for equality through our state and local chapters, our full-time office in Washington, D.C., and our federal and state political action committees," the statement says.
"We believe in limited government, strong national defense, free markets, low taxes, personal responsibility, and individual liberty," the statement continues. "We believe equality for LGBT Americans is in the finest tradition of the Republican Party," it adds, an assertion that many LGBTQ Democrats strongly dispute.
Asked what he thought about the Trump administration's record on LGBTQ rights, Brock said he would defer that question to Charles Moran, president of the National Log Cabin Republicans.
In discussing plans for the D.C. Log Cabin group, Brock said he and the newly elected board members will continue the types of activities and emphasis of the former board and former President Savit.
"We will definitely continue to build off the success of the former board members and continue with speakers and events that are representative to the interest of our membership," he said. "But one of our big focuses will be meeting people where they are," he said, noting that plans were underway to hold events in different D.C. neighborhoods.
"I think one of the things that we're also really looking forward to doing is a really big recruitment push to get a lot more members on the conservative spectrum that share a wide variety of ideas," he said.
But Brock said he and his fellow board members will likely retain a policy put in place by Savit and the previous board in which most of the group's meetings and events are closed to the press.
"The culture of our membership is strengthened by an open and honest dialogue with our speakers," he said, which have included GOP members of Congress. "For a better free-thinking environment, we have limited access for the press to attend," Brock said. "If there is an event that warrants press availability, I will certainly let you know," he said.