Someday we'll be together?
Bi-national couple describes pain, anxiety of navigating U.S. immigration laws
You're waiting on your partner and he's late.
Most gays in that situation might be mildly irked, especially if a dinner reservation or theater tickets are at stake. Even if a few hours pass, you realize the likelihood that something serious has happened is small.
But when Kelly Cross, a local gay attorney, found himself waiting more than two hours at the Foggy Bottom Metro station last summer with no sign of his partner, who was scheduled to join him following a stint in Europe, it was a much more serious situation — it could have meant the end of their relationship.
Because the United States doesn't recognize same-sex marriage at the federal level — where immigration is handled — bi-national same-sex couples have few options for staying together long-term in the U.S. or anywhere else. The 1996 Defense of Marriage Act (DOMA) further complicates the matter.
Cross and his partner, who declined to be identified because it could increase his chances of being deported, had tried to make a go of it in Europe, spending more than a year together in Dusseldorf, Germany, but a bounty of practical considerations — most pressingly Cross's cancer-stricken mother in West Virginia — made staying there untenable. Cross returned in June 2009. But on the July day when his partner was scheduled to arrive at Dulles Airport, Cross's panic increased as time went by.
"I was going around calling all kinds of people," Cross says. "I thought he'd gotten pulled over and sent to the detention center where they're double- and triple-checking everything probably. They want to make sure these folks are not going to stay in the U.S. They have no idea of his life here, his friends and family. It's terrifying to know that you could be traveling and get the wrong immigration officer and not be able to get back into the country and I would not be able to go back and say anything and have no right to appeal anything. We're very much at their whim."
It had already been a nerve-wracking month for Cross, 31. Since he'd returned to the United States, he'd spent a frantic month trying to find someone willing to give his partner a job. Without that, there was no hope for the partner to stay. Though the partner's background is in public policy, he had some experience doing financial analysis in Europe and that led to a D.C. opportunity but one that they say is more of a temporary fix than a long-term career plan.
For the couple, who got serious quickly after meeting at Apex in 2007, it was just one more in a string of seemingly endless obstacles. The relationship is strong enough, they say, that it's worth the constant anxiety and uncertainty.
Cross's partner, also 31, came to the states from his native Poland in 2003 to study public policy at the University of Northern Iowa. Disenchanted with Iowa, he came to D.C. for an internship in 2006. Though he liked the U.S., he was planning to return to Poland or possibly somewhere else in Europe — wherever he might find a good job. His plans changed radically when he met Cross.
"This is an everyday concern, how are we going to survive," the partner says. "In our situation, we're lucky that we have sufficient funds to live in this not-very-pleasant situation, but I just cannot imagine if somebody is gay and working for McDonald's and he has a boyfriend who is working for Burger King. I don't think they are going to make it. They won't make it for sure because they're not able. But if there's a couple who's straight, they have all the rights and all possibilities to make it because it will be possible. A law that gives them the opportunity, one piece of paper, a marriage license, that gives all kinds of rights and we don't have it."
The couple did enter a New Jersey civil union last summer, but they say it was purely symbolic and has little practical benefit. The partner says although he understands the arguments of those who will settle only for marriage, he'd be happy with a federally recognized civil union.
"That would be fine, I don't give a shit," he says. "Just anything so I don't have this headache every morning. I would be perfectly happy with a civil union."
Cross and his partner are, of course, not alone. Immigration Equality, a gay rights advocacy group working to end discrimination in U.S. immigration law against LGBT people, points to Williams Institute figures based on the 2000 Census that indicate there are about 36,000 bi-national same-sex couples struggling to stay together in the U.S. They're hoping the Uniting American Families Act (UAFA), versions of which date back to 2000, will solve the problem. Because its wording says "permanent partner," activists say it wouldn't conflict with DOMA, though they're hopeful — as are virtually all gay activists — that DOMA will eventually be repealed.
But how are the odds looking for UAFA? Immigration Equality's communications director Steve Ralls is optimistic.
"Now that health care is officially behind us, there are indications that Congress and the White House are turning to immigration reform in the coming weeks and months," Ralls says. "The White House has called key lawmakers to plot a way forward for comprehensive immigration reform and as part of that process, we're working very hard to ensure that the Uniting American Families Act is part of that comprehensive bill."
If it fails there — and many are opposed to its inclusion — it could pass on its own but Ralls says Speaker of the House Nancy Pelosi and U.S. Sen. Charles Schumer, supporters of the legislation, have told him they want to tackle a comprehensive bill before individual ones. U.S. Sen. Patrick Leahy (D-Vermont), who introduced UAFA in the Senate last year, is a key ally, Ralls says.
"He's chair of the Judiciary Committee, which has enormous influence on what immigration bills move through Congress when," Ralls said. "He remains willing and determined to pass UAFA as a standalone bill if necessary. That gives us a legislative leg up right out of the starting gate."
But if it fails, what are the options for couples like Cross and his partner? They're few, they say. Moving to Canada is not practical because the antitrust law Cross specializes in is not viable to practice there. Cross says he was lucky he spoke German and that his England-based international law firm was able to transfer him there, but he took a large pay cut to do it.
His partner becomes indignant at the mere suggestion of moving to Canada.
"This question is not really appropriate," he says. "Who the heck is going to tell me where I should live? … I am entitled to decide where I should like to live because I'm your partner. We want to live here. Nobody's going to tell me what I'm supposed to do with my life. I'm not a random person who's just coming and pushing to want to settle in the D.C. area. We have our life here."
And though the immigration problem is by far the couple's biggest challenge, Cross says it's compounded by other factors that flair up occasionally. They have cultural, interracial and homophobic issues that pop up, mostly externally. Cross encountered it often when he was trying to arrange a job for his partner.
"There's a different sort of worth people ascribe to a heterosexual relationship that they don't ascribe to homosexual ones," Cross says. "There's a presumption that if you've found a woman and are in love with a woman, then that must be love and there must be something there and you know, that's your family. People attribute that and assume it's real. But I think with gay couples there's a mentality that yeah, you could find someone else or why go to the effort for this, there's plenty of other people you could find. But it's not true. When you love somebody, you love somebody."
Cross says the challenges sometimes overwhelm his friends and colleagues.
"I think it's just a combination of the whole thing," he says. "Black, interracial, bi-national, gay — sometimes it's just too much and people don't know how to deal with it."
As Md. advances bill to fund gender-affirming care, LGBTQ advocates stress it will save lives
Trans Health Equity Act would impact state Medicaid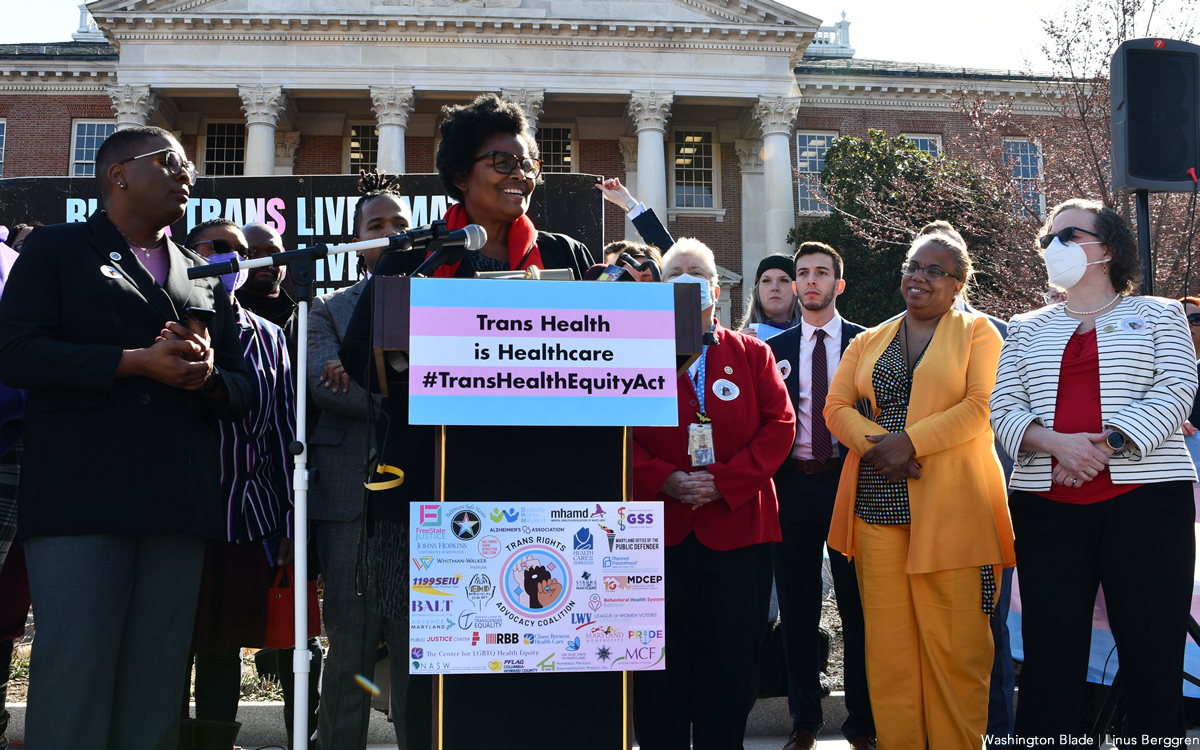 By John-John Williams IV | Shaylie Elliette wishes the Trans Health Equity Act that appears headed for final passage in the Maryland General Assembly would have been around seven years ago, when she turned 18. She believes that transitioning earlier in life would have eliminated years of torment, abuse and discrimination all linked to transphobia.
The rest of this article can be found on the Baltimore Banner website.
Whitman-Walker announces leadership change
CEO Ryan Moran to become Deputy Secretary of Health in Maryland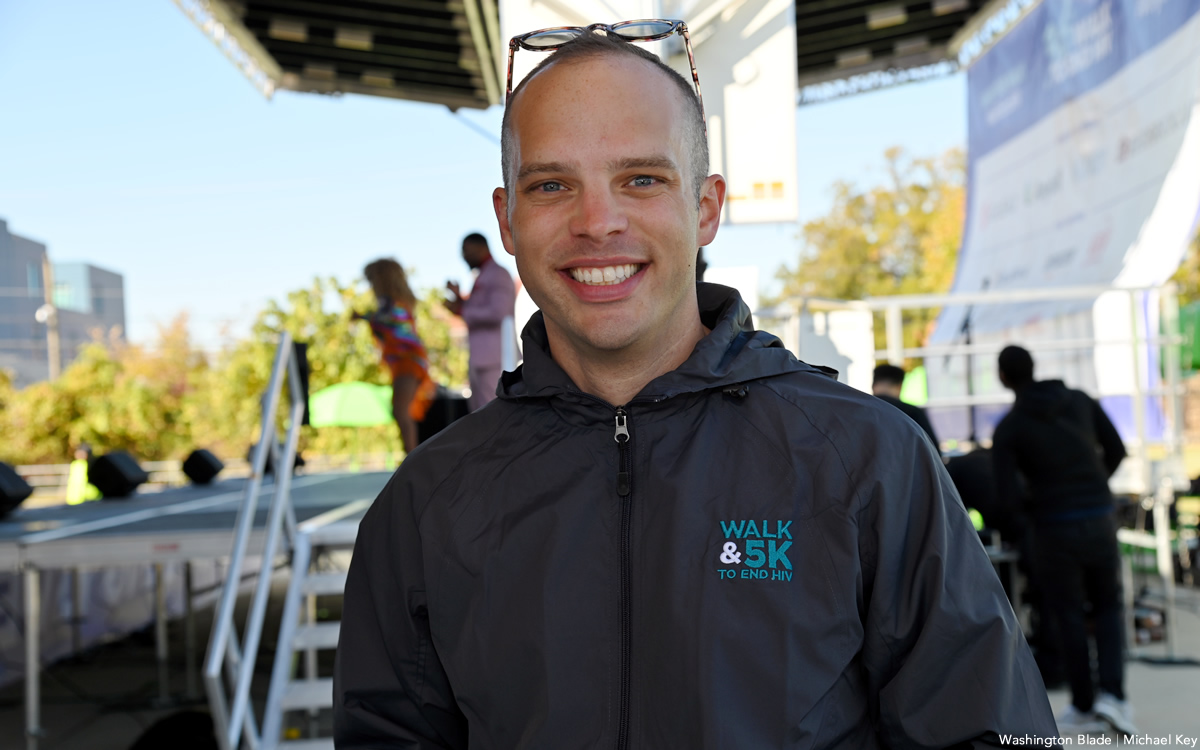 Dr. Ryan Moran, who has served since 2021 as CEO of the Whitman-Walker Health System, an arm of D.C.'s longtime LGBTQ and HIV health services provider Whitman-Walker Health, will be leaving his position next month after being named as Deputy Secretary of Health and Healthcare Finance and Medicaid Director for the State of Maryland.
According to a March 21 statement released by Whitman-Walker, Moran will begin his new job as a member of the Maryland Department of Health's senior leadership team effective April 12.
The statement says Cindy Lewin, an official with nonprofit organizations for more than 25 years and who previously served as Executive Vice President and General Counsel at the AARP, will serve as interim CEO at Whitman-Walker Health System beginning April 10.
Around that time, the statement says, Whitman-Walker will begin a nationwide executive search "to secure a permanent CEO" for the top position at Whitman-Walker Health System.
The statement points out that Naseema Shafi will continue in her role as CEO of Whitman-Walker Health, the other component of Whitman-Walker that directly provides and oversees medical and health care services to patients and clients, including those from the LGBTQ community.
Whitman-Walker Health System, among other things, advances the mission of Whitman-Walker through expanding its financial and fundraising capacity through the Whitman-Walker Foundation, the Whitman-Walker Institute, and the Whitman-Walker Health System Real Property Holdings, the statement says.
"Whitman-Walker Health System is grateful for Ryan's visionary leadership, which has advantageously positioned us for our once in a generation expansion of research and health services with our move to the Saint Elizabeth campus this year," said Dr. Ann Bonham, the Whitman-Walker Health System Board Chair.
"While the organization will miss Ryan, his enthusiasm and passion for the work and his commitment to the mission of Whitman-Walker, I am sure he will be a transformative leader in his new role," Bonham said.
"I am deeply grateful to Whitman-Walker for the opportunity to steward our mission-driven organization as a regional and national leader in LGBTQ+ care, advocacy, research, and education," Moran said in the statement.
"I am honored to have contributed to this organization's rich history, and I am proud of the work Naseema Shafi and I have accomplished together and of the exceptional board senior leadership team, and staff for their collaboration in building a strong foundation for Whitman-Walker's future success," he said.
The statement announcing the Whitman-Walker leadership change notes that Moran played an important role in continuing the organization's previously started plans for opening its new Max Robinson Center at the city's St. Elizabeth's campus in Southeast D.C. According to the statement, the new center will provide services and programs to more than 15,000 people each year, a 300 percent increase from the existing Max Robinson Center located in Anacostia.
Comings & Goings
Inouye named Deputy Assistant Secretary in communications at Dept. of Education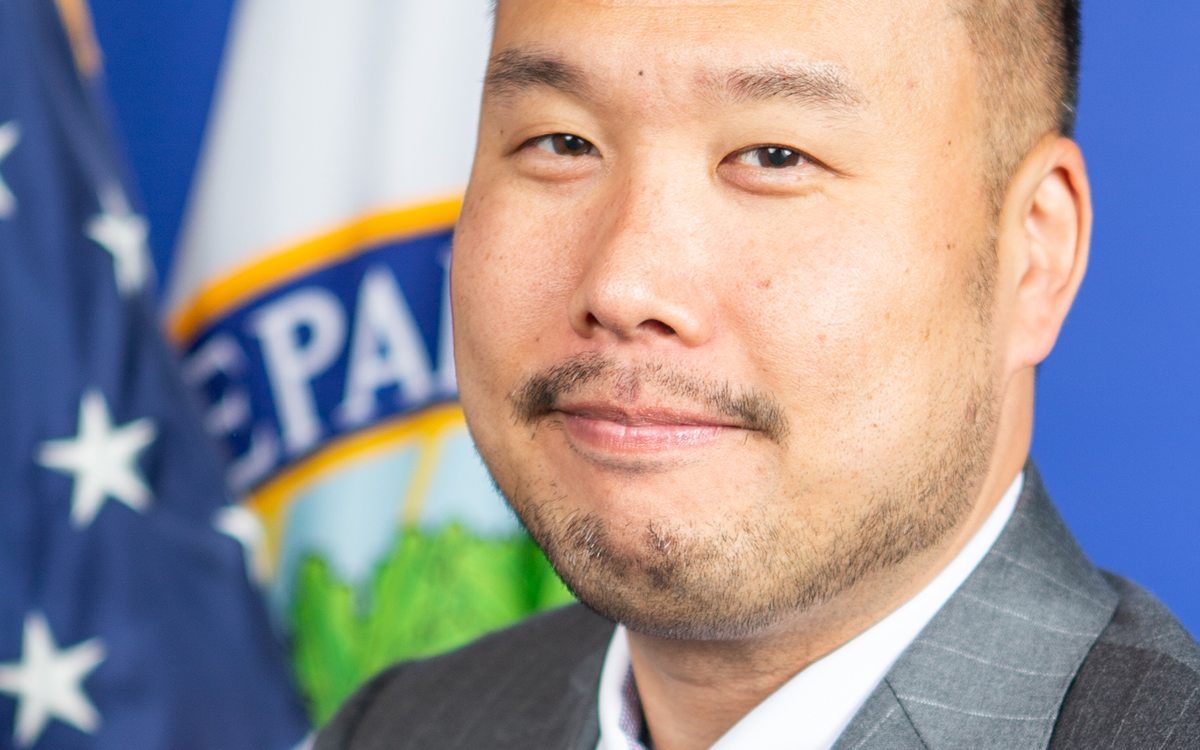 The Comings & Goings column is about sharing the professional successes of our community. We want to recognize those landing new jobs, new clients for their business, joining boards of organizations and other achievements. Please share your successes with us at [email protected].
Congratulations to Shin Inouye on his appointment as Deputy Assistant Secretary in the Office of Communications and Outreach, U.S. Department of Education. He said, "I'm honored to join the Biden-Harris administration and the amazing team under Secretary Cardona. Working with my outstanding colleagues, I am confident we will meet our goal to raise the bar and promote academic excellence in America."
Previously, Inouye served as Executive Vice President of Communications, The Leadership Conference on Civil Rights and Human Rights, The Leadership Conference Education Fund. He also held a number of high-level positions in the Obama administration, including Press Secretary and Acting Senior Adviser for Intergovernmental and External Affairs, Department of Homeland Security, U.S. Citizenship and Immigration Services; Adviser for Intergovernmental and External Affairs, Executive Office of the President; White House Office of Communications: Director of Specialty Media; and as an authorized spokesperson for the Obama Inaugural Committee, with a focus on specialty media outlets.
Inouye has received many honors, including being named one of 25 "LGBTI next generation leaders to watch" by Out in National Security and the Atlantic Council; and one of "40 Asian American Pacific Islander National Security & Foreign Policy Next Generation Leaders" by New America and the Diversity in National Security Network.
Congratulations also to Tristan Fitzpatrick, on his promotion to Senior Communications Consultant at APCO Worldwide. Fitzpatrick said, "I am thrilled to start this new position and look forward to the start of a new chapter advising clients on how to best achieve their communications and public affairs goals." Tristan has worked with APCO for the past year and a half. They are the fifth largest independently owned PR firm in the United States. Prior to that, Fitzpatrick was a Digital Media Specialist with the National Public Pension Coalition in D.C. He worked as a Communications and Digital Adviser, to the Biden for President campaign. He advised the campaign's Out for Biden Coalition on communications and digital best practices for turning out 11 million LGBTQ and 57 million pro-equality voters. Tristan has also been a Communications Manager and Digital Outreach Coordinator, Cancer Support Community, Washington, DC.