D.C.'s condom conundrum
City must replenish supplies in time for Pride

In recent years, the D.C. Department of Health has been tremendously supportive of our community's fight against HIV, especially through its condom distribution program. Yet, a series of unfortunate oversights has resulted in the DOH running out of condoms for the entire months of March and May.
In the recently released Men-who-have Sex-with-Men HIV Surveillance Report, 15 percent of those sampled tested HIV positive — a "staggering" yet likely deflated representation of the disease's impact on our community. One of the most telling figures from this report indicated that only 57.4 percent of MSM used a condom during their last anal intercourse. Considering our sky-high HIV prevalence, this number simply is not good enough. We need to be using more condoms, more frequently.
Despite this urgent need, local organizations like the DC FUK!T and TOOLK!T safer sex kit campaign, which currently distribute as many as 5,000 condoms at local gay venues each week, are left scrambling to prevent stock-outs that will happen just before Capital Pride. Why the shortfall? Our government has had a billing issue with Durex, which contracts with DOH to supply the bulk of the city's condoms.
As Terry Gerace, co-founder of DC FUK!T and TOOLK!T states, "This is very unfortunate timing. When the campaign launched last year, we distributed more than 30,000 kits at D.C. Capital Pride events. It takes a month of volunteer packing to get that number ready, and this year we'll have about a week to do that, which will be impossible."
Gerace continues, "Missing shipments in both March and May depleted our reserves and squandered hours of volunteer time. We had dozens of volunteers that we had to turn away from kit packing because there were no condoms and lube. It's rather embarrassing that we are running out just in time for Pride, and it undermines our credibility as a reliable distributor of condoms in D.C."
A recent report in the Washington Post lauds the DOH for its distribution of more than 3 million free condoms over the past year and highlights its recent decision to switch to Trojan brand condoms exclusively for D.C. youth. Meanwhile, the more important issue of whether we are actually getting condoms into people's hands and onto their penises has been ignored.
Rather than caving to popular opinion over which brand is best, wouldn't it serve us better to focus on educating people about the proper use of condoms and lube? I think so. But that can't be done if we have no supplies.
Gay men must put aside the idea that we either get what we want or we will refuse to protect ourselves. If that's the case, we need to revisit why we bother to use condoms in the first place. With ready and convenient access comes empowerment for us to take control of our health. Having a consistent and reliable supply is how we will bring behavioral changes, not by having a preferred brand.
Next month more than 200,000 gay men will descend upon Washington to celebrate Pride and there will be insufficient condoms to go around. I hope those who were relying on DC FUK!T for their condoms understand that they will need to find some other means of protecting themselves. Otherwise, we may have a noticeable spike in new HIV transmissions this June.
Now is the time for the D.C. government to ensure our community is protected. We need condoms!
Daniel O'Neill is chair of the DC Center's HIV Prevention Working Group. Reach him at [email protected]
National Gay & Lesbian Chamber of Commerce Certifies Brown, Naff, Pitts Omnimedia, Inc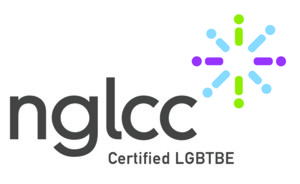 Washington, D.C. — Brown, Naff, Pitts Omnimedia, Inc, the parent company of the Washington Blade and Azer Creative, announced today it has been certified by the National Gay and Lesbian Chamber of Commerce (NGLCC) as an LGBT Business Enterprise. The NGLCC supports and advocates for diversity and inclusion for LGBT-owned businesses. With this certification the Blade's parent company joins more than 510 business and 134 corporate partners of the NGLCC.
Brown, Naff, Pitts Omnimedia, Inc. owns and operates the Washington Blade, the oldest and most acclaimed LGBT newspaper in the country. In 2012, the company launched Azer Creative, a full-service design firm. The company employs more than a dozen full-time LGBT staff.
"We are excited to become one of the 500 LGBT businesses across the country certified by NGLCC," said Lynne Brown, the Blade's publisher and a co-owner of the company. "The LGBT community has been part of our company from the beginning and we look forward to continue that for many years to come."
The Washington Blade was founded in 1969 and is known as the "newspaper of record" for the LGBT community both locally and nationally. Visit washingtonblade.com for more information. Azer Creative is a full-service graphic design firm based in Washington, D.C. Visit azercreative.com for more information. 
Vote now for the 2013 Best of Gay DC!
Choose in dozens of categories among hundreds of nominees, and make your voice heard!
Nominate the 'Best of Gay D.C.' now!
Dozens of categories cover all the best for LGBT Washington. Who deserves the prize this year?