After a year to remember, what's next?
Working together, we can continue to make progress

Looking back on 2010, one word sums it up nicely: Wow! It was a roller coaster of a year with enough political ups and downs to get the person with the heartiest stomach a little queasy.
Democrats began the year with an overwhelming majority in Congress but seemed unable to move forward on so many issues. Then, in the last few weeks of a lame duck session, after being handed what the president called a "shellacking" in the mid-term elections, they suddenly got it together. They repealed "Don't Ask, Don't Tell" with a bill that became the first stand-alone civil rights bill for the LGBT community. We can thank sponsors Rep. Patrick Murphy (D-Pa.), who was defeated in his bid for reelection, and Sens. Joe Lieberman (I-Conn.) and Susan Collins (R-Maine). With the signing ceremony on the Wednesday before Christmas the congressional session ended on an incredibly high note for the LGBT community. As Shakespeare said, "All's well that ends well."
On so many issues during the year there were times many of us railed against President Obama and his staff and other days when we wanted to send a big kiss. There were days that even as a Democrat it was hard to imagine wanting to reelect Harry Reid and then at the end wondering why we supported Sen. Joe Manchin of West Virginia.
But with repeal of "Don't Ask, Don't Tell," passage of healthcare reform, the START treaty, financial reform and a number of other bills, the 111th Congress turned out to be the most productive since the New Deal.
Congress allowed the D.C. marriage equality law to stand and the courts ruled that marriage equality was legal with no referendum required. There is real confidence that the Supreme Court won't even look at the issue.
As we begin 2011, my crystal ball reveals challenges ahead but based on this past year, no one can tell us where we will end up on Dec. 31, 2011. Who knows, maybe we can even have a signing ceremony for federal partner benefits and ENDA. We must never stop fighting or give up hope.
What we do know is that if we band together and are vigilant in protecting the rights we have, as we continue our fight for total equality for the LGBT community, there can be success. There are some out there that fear us, because they believe we threaten their way of life. It is our job to convince the majority of them that all we want is the right to live our lives in peace and dignity, with full equality, just as they do. If only there were some magic wand to wave maybe we could avoid all the sturm and drang that is sure to come.
In the District we will be prepared to defend marriage equality against a new Congress. But even they may have moved on to other fights. In New Hampshire we will need to stand tall with our brothers and sisters and defend it there. In California we await a court decision on Proposition 8 and know that whatever happens the case will most likely move to the Supreme Court.
Our new year's resolution should be to stop bickering among ourselves. We will need each person and organization — HRC, Task Force, Log Cabin, Stonewall, GetEqual, SLDN and so many others and allies too numerous to mention — working together if we are to make progress on completing our quest for equality.
Our strength comes from being on the right side of history. Knowing and understanding history and our vision for a better future for the entire world will make us successful.
In 2011, I want President Obama and others to fully "evolve" and support marriage equality. More of us must come out and that includes members of Congress, past and present Cabinet members, and military leaders, including generals.
As we work on that we can make progress on passing an inclusive ENDA and repealing DOMA. Just let us take heart from the fact that no one could have predicted that the repeal of "Don't Ask, Don't Tell" would be in the form of a stand-alone civil rights bill.
Let us march hand-in-hand into 2011 looking to the better angels that I believe stand on the shoulders of every member of Congress and all Americans, and work to make sure that those angels' voices are heard loud enough to drown out the bigotry and hate and allow us to make progress.
National Gay & Lesbian Chamber of Commerce Certifies Brown, Naff, Pitts Omnimedia, Inc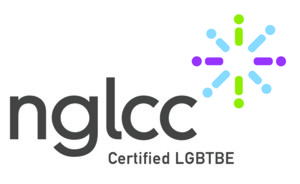 Washington, D.C. — Brown, Naff, Pitts Omnimedia, Inc, the parent company of the Washington Blade and Azer Creative, announced today it has been certified by the National Gay and Lesbian Chamber of Commerce (NGLCC) as an LGBT Business Enterprise. The NGLCC supports and advocates for diversity and inclusion for LGBT-owned businesses. With this certification the Blade's parent company joins more than 510 business and 134 corporate partners of the NGLCC.
Brown, Naff, Pitts Omnimedia, Inc. owns and operates the Washington Blade, the oldest and most acclaimed LGBT newspaper in the country. In 2012, the company launched Azer Creative, a full-service design firm. The company employs more than a dozen full-time LGBT staff.
"We are excited to become one of the 500 LGBT businesses across the country certified by NGLCC," said Lynne Brown, the Blade's publisher and a co-owner of the company. "The LGBT community has been part of our company from the beginning and we look forward to continue that for many years to come."
The Washington Blade was founded in 1969 and is known as the "newspaper of record" for the LGBT community both locally and nationally. Visit washingtonblade.com for more information. Azer Creative is a full-service graphic design firm based in Washington, D.C. Visit azercreative.com for more information. 
Vote now for the 2013 Best of Gay DC!
Choose in dozens of categories among hundreds of nominees, and make your voice heard!
Nominate the 'Best of Gay D.C.' now!
Dozens of categories cover all the best for LGBT Washington. Who deserves the prize this year?