Chaz's changes
Bono on media blitz, plans, activism and more

Forget about gender identity, how he felt looking in the mirror all those years, navigating the thorny overlap of sexual orientation, the surgery and all that for a minute — for Chaz Bono, the sheer physiological aspects of being a woman wreaked decades of pain on him.
In the new memoir "Transition: The Story of How I Became a Man" (see review on page 48), Bono writes of "periods that were painful to the point of being debilitating" and regularly not being able to get out of bed. Menstrual pain, of course, is no picnic for anyone, but for Bono, there was precancerous cell growth on the cervix, endometrial cysts on the ovaries and, in his late 20s, a cyst in the uterus.
Upon having it removed when he was 36, a further issue — he can't recall the medical term for it offhand — was discovered that doctors hadn't been aware of before involving cell lining growing into muscle.
And though the hormone therapy Bono started taking in March 2009 at age 40 brought with it some adverse side effects (acne, for one), Bono writes of soon feeling "really good" physically with "more energy, more focus … as if I had been depressed and suddenly an antidepressant kicked in — everything in my life seemed easier … like my body had finally gotten something that it really needed to function."
Bono, during a 45-minute phone chat this week, says he doesn't think this is a coincidence.
"I've talked to lots of trans guys who have these kind of issues like with me, there was just issue after issue after issue with my female organs," he says. "So it's not just emotionally troubling, but physically painful my whole life … it was cyst after growth after this after that. I can't help but think a little bit of that was my body trying to tell me something."
Everybody, by now, knows the basics of Bono's story, but even the searingly candid "Transition" leaves a few topics unexplored. Bono is up for any question and answers all in a low key non-melodramatic manner.
The media blitz, which has included appearances on Oprah and Letterman, has been "really good."
"Oprah's so weird, because it's Oprah," he says. "There's this huge lead up to it and then before you know it, it's over. Letterman, too, was really great. I felt he really represented a lot of the lack of knowledge about trans issues so it was a good opportunity to break it down in the most basic ways."
Some gay groups criticized Letterman's squeamish expressions as Bono explained "bottom surgery." He says it didn't faze him.
"I think seeing David Letterman for so many years, you realize he can always be kind of snarky with his guests. I didn't feel he was being disrespectful to me."
Bono's friend Diego Sanchez, who's also FTM transgender and a senior legislative adviser to gay U.S. Rep. Barney Frank, says Bono's visibility and irrefutable pop culture cred, put him in a unique position to speak out.
"(He's) been in America's and the world's eyes since he was 2, so the value and courage this open disclosure adds is immense," Sanchez wrote in an e-mail.
Bono says his father's side of the family easier time with the transition is likely due to a generation gap, though now his mom (Cher) and grandmother (85-year-old Georgia Holt) have, in many ways, come around.
"Transition" relays Cher's initial nonchalance followed by months of withdrawal and inaccessibility.
"I think fear set in," Bono says. "It was a sense of loss for her. There was a part of me that was gone forever."
Though Holt was "cool from the get go," Bono admits "I don't think she still completely understands it. But she's always been 100 percent supportive and said if this is what makes you happy. That never wavered. We've been close my whole life and that hasn't changed an iota."
Bono agrees it seems more butch lesbians seem to transition than gay men. Though he says his lesbian-identified years were never an accurate identification, he's personally known way more FTMs in lesbian circles whereas many MTFs often have been married to women and not part of the gay community at all.
"For me, it was very much, 'Oh, I'm attracted to women, I must be a lesbian.' I don't personally know any (trans men) who didn't go through the lesbian community … I think maybe with (trans women) they tried to be extremely macho as guys and really tried to be guys, so they overcompensated and got married and had kids and all that. That may be part of it. I think the stigma for transwomen is a lot harder because we're a very patriarchal society and masculinity is the most coveted thing, so I think they get a lot more flak. I don't really know why, but it may have been important for them to fit into proper, and I put that in quotes, male behavior before they finally allowed themselves to be themselves."
Bono, who got fired from the Gay & Lesbian Alliance Against Defamation (GLAAD) in the '90s, says that's all ancient history now and they've been supportive this time out. The staff has changed since he worked there and he says most of his problems stemmed from one person who's no longer in the picture.
He imagines staying active in LGBT activism but has no concrete plans. He'd like to see trans and bi issues more prominent in LGBT activism.
"I feel like the T and the B, which is my household, don't get nearly as much focus as the L and the G and I hope that starts to change. I certainly think we need the support of gays and lesbians, even though they're somewhat different issues, but we're generally discriminated against for the same reasons, for not being perceived as fitting into gender roles."
For Bono, sexual orientation and gender identity are apples and oranges, though he imagines less rigidity in understanding in coming years.
"Since transgender encompasses any sort of non-typical gender expression, there are a lot of different people who could loosely or strongly fit under that umbrella … I think, especially with the younger generation, we're gonna see more pan-sexuality, more pan-gender identity and less rigid labels."
A conversation with RuPaul, Bono says, was helpful.
"I was like, 'Dude, what's up with the drag thing?,' because I had kind of the same question. He said for him it was an act or rebellion initially. It was his way of being a rebel, of giving the finger to the establishment."
He says he and his girlfriend of nearly six years, Jennifer Elia, may eventually tie the knot now that they legally could, but he says they'd "feel a little guilty since so many of our friends can't."
Bono, who's grand marshalling San Francisco Pride this year, says he's fully supportive of a trans-inclusive ENDA but suspects it's on the back burner since "Don't Ask, Don't Tell" and marriage rights for same-sex couples seem to stuff activism coffers more readily than trans-connected issues.
Though Bono balks, in his book, at undue interest in his parents, he indulges a few questions about his parents' relationship with each other. From their awkward Letterman reunion to the palpable grief Cher exhibited at Sonny's funeral, it's obvious they had a complicated relationship.
Bono remembers clearly the phone call in which he told his mom that Sonny was dead.
"She was OK at first, but then she very quickly started to unravel," he says. "Like I'd never heard her. I was like, 'OK, I'm gonna go and get (Aunt) Gee to call you now.' I don't have any memory of them together but I think (when he died) I started to realize the depth of love that was there."
Growing up, Bono says they were mostly amicable with each other.
"There were many times when they were friendly, for sure. After the divorce there were times where it felt a little prickly. Well, not prickly, but something. But until my dad passed away, anytime I went to see one of them, they always asked about the other."
He says it wasn't especially hard to be so open in the new book and the documentary "Becoming Chaz" which found the crew behind "Eyes of Tammy Faye" following him during the process. The book, he says, was much harder to do.
"The documentary was kind of fun but the book, yeah, you're sitting there at the computer wanting to pull your hair out. The book was really hard, especially writing about the years when I was in denial. I always knew it had been hard but looking back for the book, I don't think I realized at the time, how hard it really was. The first part was a real grind to write and it took a really long time to get through."
Even though life is obviously extremely different now, Bono is proud of his earlier work, the book "Family Outing" ("it did what I wanted it to do") and even the 1993 flop album he did with his band Ceremony ("in a sense I'm glad it didn't take off, but I still think it's pretty good music — it's not anything that I'm ashamed of").
Bono closes the book by acknowledging "a loving God, a higher power who delights in diversity and has only our best interests at heart."
In his estimation, then, why does God put people in the wrong bodies?
"Transgender people have lived both ways and there are so few on the earth who've experienced socializing in both bodies and feeling two different hormonal endocrine systems. I think we have a lot to share, so to me it kind of makes sense. In certain cultures, transgender people have been highly revered."
But what about all the years of agony? Is there a payoff on the back end?
"Yes, definitely," Bono says. "It's horrible and very rough going through it, but you definitely gain a depth and an insight that people who sail through life probably don't have. I have all that now. I really appreciate things. Life wasn't so easy for so many years, so I try to always be grateful for the things I have and always have a positive attitude. It's easier after years of feeling just the opposite."
Anne Heche dies after removal from life support
Actress dated Ellen DeGeneres in late 1990s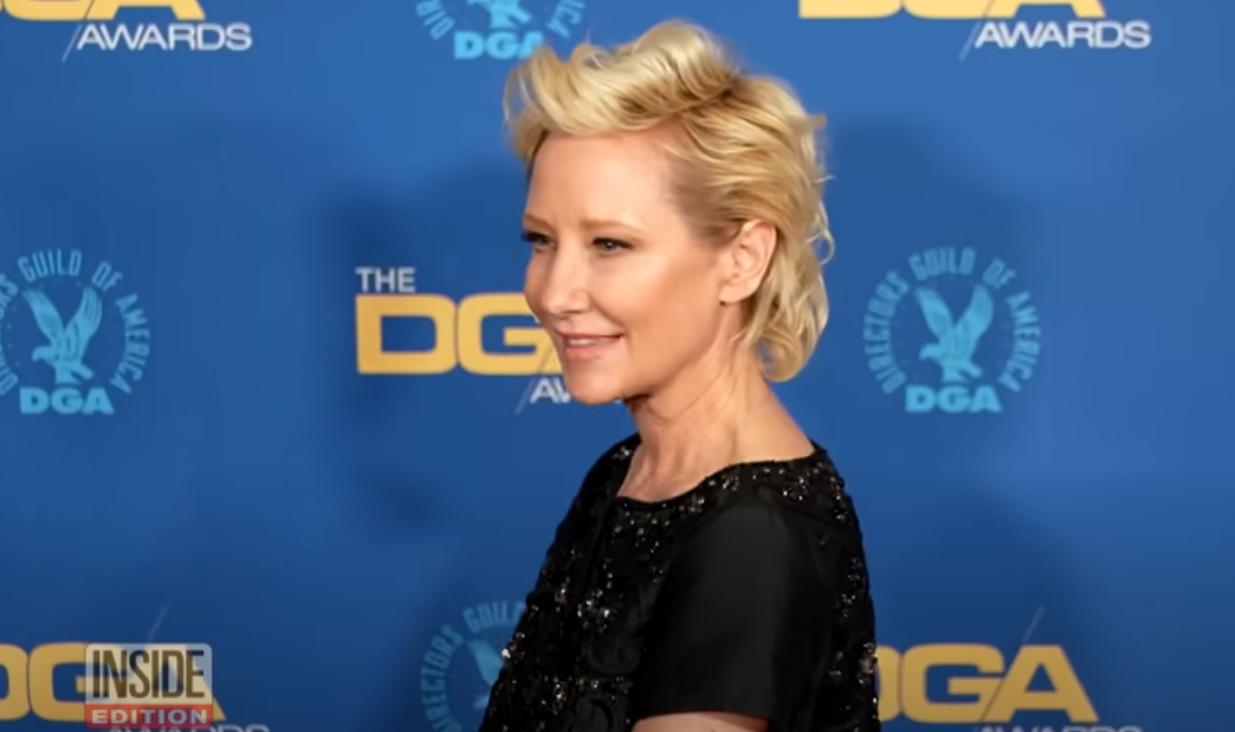 Actress Anne Heche died after she was removed from life support on Sunday, nearly two weeks after her Mini-Cooper crashed through a two-story house in Los Angeles' Mar Vista neighborhood. Investigators with the Los Angeles Police Department believe she was intoxicated at the time.
She sustained a severe anoxic brain injury along with severe burns and was being treated at the Grossman Burn Center at West Hills Hospital, near Chatsworth in the San Fernando Valley.
The 53-year-old actress who was a star of films like "Donnie Brasco," the political satire "Wag the Dog" and the 1998 remake of "Psycho," had been declared legally dead under California law on Friday, however, her family kept her alive long enough to be an organ donor.
In a statement Friday, the LAPD announced that: "As of today, there will be no further investigative efforts made in this case. Any information or records that have been requested prior to this turn of events will still be collected as they arrive as a matter of formalities and included in the overall case. When a person suspected of a crime expires, we do not present for filing consideration." LAPD detectives had previously made public that investigators into the crash found narcotics in a blood sample taken from Heche.
The actress's family released a statement on Friday:
"Today we lost a bright light, a kind and most joyful soul, a loving mother, and a loyal friend. Anne will be deeply missed but she lives on through her beautiful sons, her iconic body of work, and her passionate advocacy. Her bravery for always standing in her truth, spreading her message of love and acceptance, will continue to have a lasting impact," the statement added.
Heche was married to camera operator Coleman Laffoon from 2001 to 2009. The two had a son, Homer, together. She had another son, named Atlas, during a relationship with actor James Tupper, her co-star on the TV series "Men In Trees."
Laffoon left a moving tribute on an Instagram reel in which he also gave an update on how their 20-year-old son Homer Laffoon is coping with the loss of his mother.
"I loved her and I miss her, and I'm always going to," he said adding: "Homer is okay. He's grieving, of course, and it's rough. It's really rough, as probably anybody can imagine. But he's surrounded by family and he's strong, and he's gonna be okay."
"Rest In Peace, Mom, I love you, Homer," the actor's 20-year-old son, Homer, said in a statement after Heche was declared legally dead on Friday." My brother Atlas and I lost our Mom," read the statement. "After six days of almost unbelievable emotional swings, I am left with a deep, wordless sadness. Hopefully, my mom is free from pain and beginning to explore what I like to imagine as her eternal freedom. Over those six days, thousands of friends, family, and fans made their hearts known to me. I am grateful for their love, as I am for the support of my Dad, Coley, and my stepmom Alexi who continue to be my rock during this time. Rest In Peace Mom, I love you, Homer."
Tupper, a Canadian actor who starred alongside Heche in "Men in Trees," had a 13-year-old son, Atlas, with her. "Love you forever," Tupper, 57, wrote on his Instagram post's caption with a broken heart emoji, which shared an image of the actress from Men in Trees.
Between 1997 and 2000, Heche was also in a relationship with talk show host Ellen DeGeneres.
"This is a sad day," DeGeneres posted on Twitter. "I'm sending Anne's children, family and friends all of my love." The year after her break-up with the comedian, in September 2001, Heche recounted in her memoir "Call Me Crazy," about her lifelong struggles with mental health and a childhood of abuse.
KTLA's entertainment reporter Sam Rubin noted that over the past two decades, Heche's career pivoted several times. In 2017, she hosted a weekly radio show on SiriusXM with Jason Ellis called "Love and Heche."
In 2020, Heche made her way into the podcast world. She launched "Better Together" which she cohosted alongside Heather Duffy Boylston. The show was described as a way to celebrate friendship.
She also worked in smaller films, on Broadway, and on TV shows. She recently had recurring roles on the network series "Chicago P.D.," and "All Rise" and was a contestant on "Dancing with the Stars."
People magazine reported that several of Heche's acting projects are expected to be released posthumously.
These include "Girl in Room 13," expected to be released on Lifetime in September, "What Remains," scheduled to be released in 2023, and HBO Max TV series "The Idol," created by Abel Tesfaye (The Weeknd) and Euphoria creator Sam Levinson.
In her Instagram post from earlier this year Heche stands between her sons Atlas, 13 and Homer, 20.
From KTLA:
'Star Trek' actress Nichelle Nichols dies at 89
George Takei tweets 'we lived long and prospered together'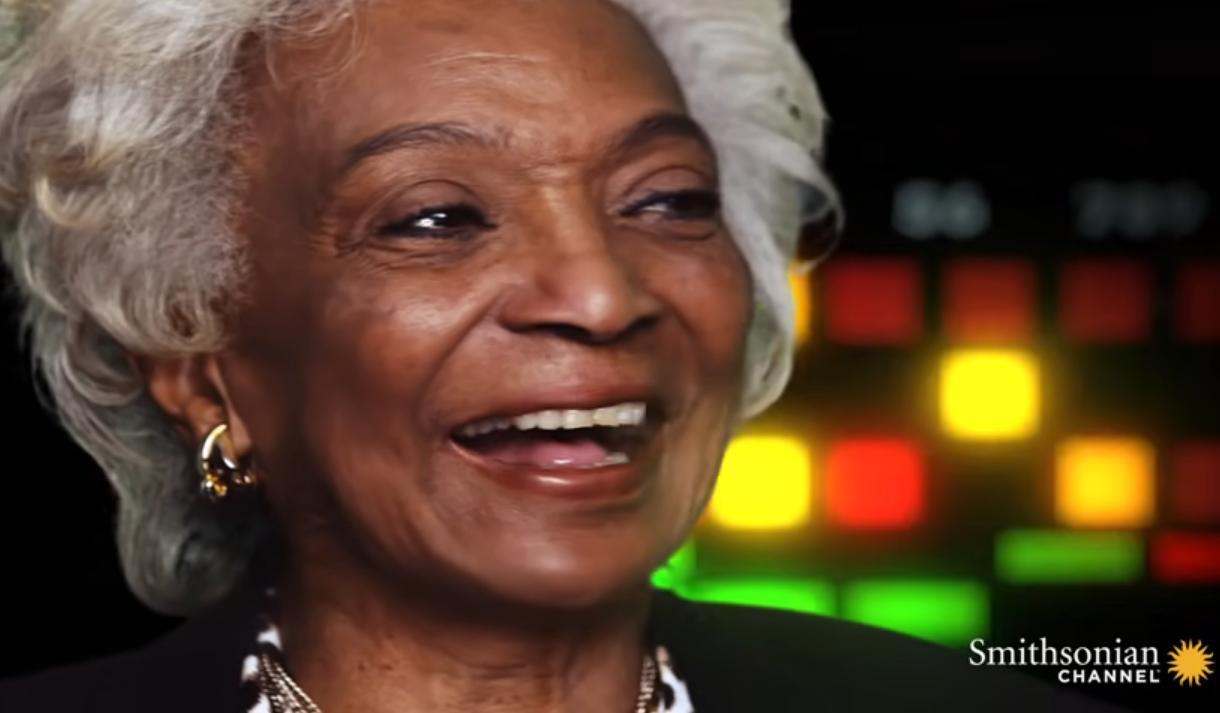 She was a groundbreaking cultural icon who broke barriers in a time of societal upheaval and battling for the civil rights of Black Americans. An actress, a mother and thoroughly devoted to the legions of fans of "Star Trek," Nichelle Nichols, Star Trek's Lt. Nyota Uhura, has died at 89.
The announcement on her Facebook page by her son read:
Sunday, July 31, 2022
Friends, Fans, Colleagues, World
I regret to inform you that a great light in the firmament no longer shines for us as it has for so many years.
Last night, my mother, Nichelle Nichols, succumbed to natural causes and passed away. Her light however, like the ancient galaxies now being seen for the first time, will remain for us and future generations to enjoy, learn from, and draw inspiration.
Hers was a life well lived and as such a model for us all.
I, and the rest of our family, would appreciate your patience and forbearance as we grieve her loss until we can recover sufficiently to speak further. Her services will be for family members and the closest of her friends and we request that her and our privacy be respected.
Live Long and Prosper,
Kyle Johnson
Nichols was born in Robbins, Ill., in 1932, according to her IMDb page. Legendary composer Duke Ellington "discovered" Nichols and helped her become a singer and dancer. She later turned to acting, and joined Gene Roddenberry's "Star Trek," where she played Uhura from 1966 to 1969.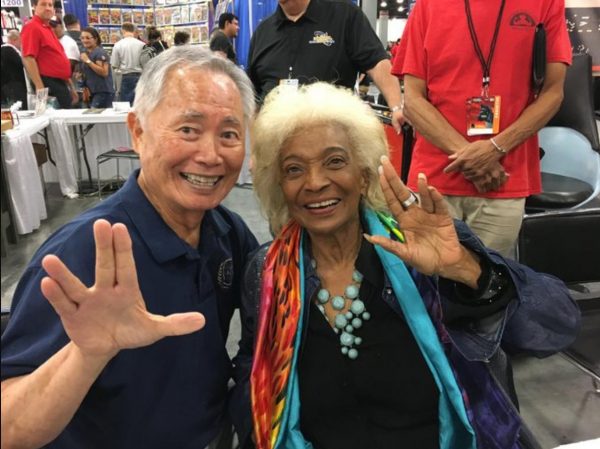 It was in that role of Uhura that Nichols not only broke barriers between races, most famously her onscreen kiss, the first between a Black person and a white person, with castmate William Shatner, who played Capt. James T. Kirk, but she also became a role model for young Black women and men inspiring them to seek out their own places in science, technology, and other human endeavors.
In numerous interviews over the years Nichols often recalled how the Rev. Martin Luther King, Jr., was a fan of the show and praised her role and personally encouraged her to stay with the series.
When the first series ended Nichols went on to become a spokesperson for NASA, where she "helped recruit and inspire a new generation of fearless astronauts." She later reprised her role in several successful "Star Trek" films and continued to advocate for the advancement of Black Americans especially in the areas of science and technology.
We celebrate the life of Nichelle Nichols, Star Trek actor, trailblazer, and role model, who symbolized to so many what was possible. She partnered with us to recruit some of the first women and minority astronauts, and inspired generations to reach for the stars. pic.twitter.com/pmQaKDb5zw

— NASA (@NASA) July 31, 2022
Formerly a NASA deputy administrator, Frederick Gregory, now 81, told the Associated Press he once saw an advertisement in which Nichols said "I want you to apply for the NASA program."
"She was talking to me," he recounted. The U.S. Air Force pilot would apply and later become the first African American shuttle pilot.
President Joe Biden weighed in Sunday afternoon on her passing in a statement issued by the White House:
"In Nichelle Nichols, our nation has lost a trailblazer of stage and screen who redefined what is possible for Black Americans and women.

A daughter of a working-class family from Illinois, she first honed her craft as an actor and singer in Chicago before touring the country and the world performing with the likes of Duke Ellington and giving life to the words of James Baldwin.

During the height of the Civil Rights Movement, she shattered stereotypes to become the first Black woman to act in a major role on a primetime television show with her groundbreaking portrayal of Lt. Uhura in the original Star Trek. With a defining dignity and authority, she helped tell a central story that reimagined scientific pursuits and discoveries. And she continued this legacy by going on to work with NASA to empower generations of Americans from every background to reach for the stars and beyond.

Our nation is forever indebted to inspiring artists like Nichelle Nichols, who show us a future where unity, dignity, and respect are cornerstones of every society."
Nichols son said that services will be private for family members and her closest friends.
In 2008 the actress at a news conference, coordinated by the filmmakers of the motion picture "TRU LOVED," in honor of the more than 900 students at Los Angeles' Miguel Contreras Learning Complex's School of Social Justice who participated in the GLSEN Day of Silence.
Nichelle Nichols speaks on LGBTQ rights:
Her fellow castmate and life long friend, openly Out actor George Takei shared his sadness on hearing of Nichols' passing on Twitter:
We lived long and prospered together. pic.twitter.com/MgLjOeZ98X

— George Takei (@GeorgeTakei) July 31, 2022
From the September 2016 edition of the Smithsonian Channel: "Star Trek's decision to cast Nichelle Nichols, an African American woman, as major character on the show was an almost unheard-of move in 1966. But for black women all over the country, it redefined the notions of what was possible."
Star Trek's Nichelle Nichols on Uhura's Radical Impact:
Emma Corin becomes first nonbinary person featured on cover of American Vogue
The star of The Crown opened up about their identity.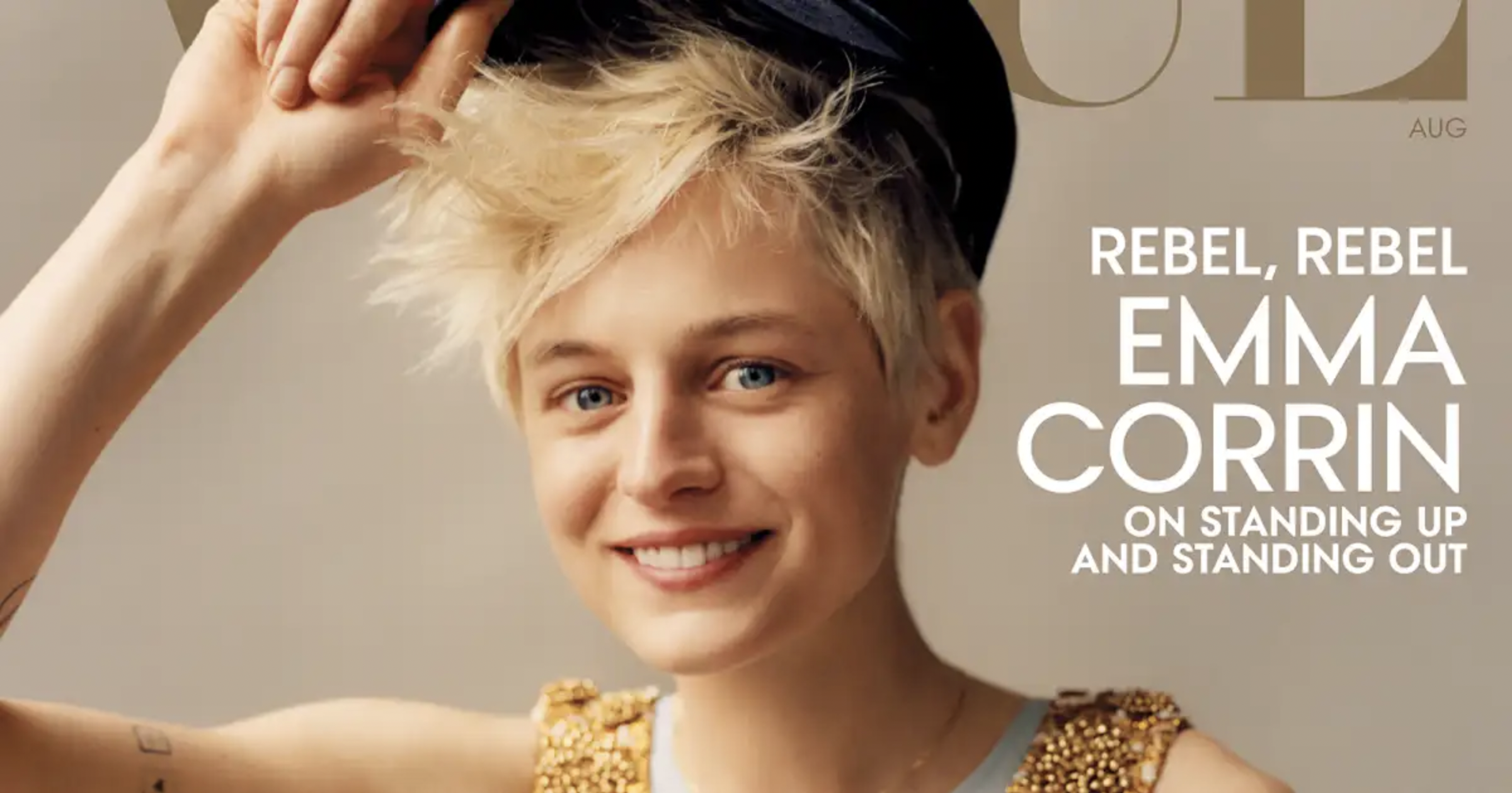 Emma Corin was announced as the cover star of the August edition of Vogue. It's the first time a nonbinary person is featured on the cover of American Vogue.
Corin posted the cover photo and wrote, "My grin really says it all! A huge honour to be your August cover."
In early 2021, Corin quietly came out as a queer and nonbinary, changing pronouns to "she/they" in their instagram bio. Currently Corin sticks to pronouns "they/them."
"I feel much more seen when I'm referred to as 'they,' but my closest friends, they will call me 'she,' and I don't mind, because I know they know me," Corin explained during the interview with Vogue.
Corin stated that they've still gone on dates with various kinds of people and set no limit on who they date. "I like people," they simply said and shrugged.
Corin also shared some of their dating experiences. "My first date with a girl, they were like, Oh! You're a baby queer!" Corin said, "It was amazing. We actually didn't end up seeing each other again, but she really gave me the lowdown."
Besides, Corin was frank about their conflicting feelings towards gender and sexuality issues. "I'm working out all this complex gender and sexuality stuff. And yet, I'm seeing a guy? That feels very juxtaposed, even if I'm very happy."
Corin is known for playing Diana on the Netflix series The Crown.