Accusations fly as Equality Md. copes with crisis
State group could close; board blames fired director for mismanagement
Equality Maryland will likely lay off its four remaining staff members and could be forced to close if sufficient funds aren't raised to cover costs, according to its board president, who blames the organization's former executive director for the crisis.
"We brought in an interim executive director to assess the state of our resources," said Charles Butler, Equality Maryland's board president. "She did a rapid assessment and confirmed our fear that Equality Maryland has been perhaps irreparably damaged by the previous executive director."
Morgan Meneses-Sheets was fired as director last month. Butler claims she entered into expensive contracts on behalf of the organization and hired staff without the board's approval or knowledge.
"The most serious of the harms that we're facing now is the depleted financial conditions of the organization, which may require the termination of existing staff due to the financial commitments [Meneses-Sheets] made on the organization's behalf," Butler said.
He appealed to the LGBT community in Maryland to step up and save the organization with donations of money and volunteer time.
"Hopefully the LGBT community in Maryland will come together and support the organization financially because otherwise that will leave a void in the state," he said.
Meneses-Sheets sharply disputed Butler's accusations and in a candid interview took aim at Equality Maryland's board and even the state's eight-member LGBT Caucus.
"I wish he'd be a grown up and allow me to move on," she said, describing her termination as "a groundless rash decision."
She denied entering into contracts without the board's knowledge and claimed she wasn't authorized to sign anything in the last six months of her tenure without approval. Further, she said she could not pay any bill in excess of $1,000 without approval from the board treasurer.
"We produced monthly reports and there weren't contracts or liabilities they weren't aware of, it's complete nonsense," Meneses-Sheets said. "Maybe Chuck wasn't paying attention to the reports but they were generated."
But a second knowledgeable source, who spoke on condition of anonymity, said Meneses-Sheets agreed to a payment plan with a vendor that included a June 2011 balloon payment in excess of $10,000. The source said Meneses-Sheets did not inform the board of the obligation. In addition, the source claims that Meneses-Sheets brought on four staffers as contractors without the knowledge or consent of the board.
In addition to the accusations of financial mismanagement, Butler said there were other problems with Meneses-Sheets' performance. He claims she made a controversial decision to remove a public accommodations provision from the state's gender identity non-discrimination bill without informing the board. That decision riled some transgender activists, who pulled their support for the bill, which ultimately died. Again, Meneses-Sheets denies that she acted unilaterally and said the decision to pull the provision came from the bill's sponsor, Del. Joseline Pena-Melnyk (D-Prince George's and Anne Arundel Counties).
"It's unfortunate that the board chair is pointing fingers," Meneses-Sheets said. "Board members were consulted … the decision was made by the sponsor and our choice was to support the bill. It's ridiculous to suggest that I was running around willy-nilly."
Again, Equality Maryland insiders paint a different picture. The anonymous source said Meneses-Sheets approached national LGBT partner organizations and the bill's sponsor and "made a deal without board approval or knowledge." By the time the board found out the public accommodations provision had been stripped, the bill was already being written in Annapolis and it was too late to change it, the source claims.
Butler also claimed that Meneses-Sheets left Equality Maryland's member and donor database in disarray. He said the database was damaged while merging information from another database but that Meneses-Sheets didn't inform the board.
"That database is arguably our most valuable material asset," Butler said, adding that most donor information obtained at the organization's fall gala that raised $25,000 was lost. He urged Equality Maryland donors to proactively contact the group as some e-mail addresses and phone numbers can't be found.
Once again, Meneses-Sheets tells a very different story. She claims the database was "a wreck" when she arrived at Equality Maryland and that the new problem surfaced in the fall but that she brought on a volunteer to clean it up and rebuild it.
"Wrong," the anonymous source said, "she knew the database was damaged and did nothing about it."
Meneses-Sheets made allegations of her own — that she never had performance reviews, was treated unprofessionally, left the organization with money in the bank and that the board deceived her about the stability of the organization when she was hired. "They were in the red and barely getting by," she said. Despite the accusations, she said she didn't contemplate a lawsuit after her departure and never filed for unemployment benefits. She found a new job and now works for Pride at Work.
She claims that the eight-member LGBT Caucus was a "major force in choosing me as the scapegoat."
"Several sources told me they played a big role in deciding I would be the scapegoat," she said. "Should the LGBT legislators decide who staffs the LGBT organization? They've created an untenable situation where they dictate everything."
Sources dispute the claim that Equality Maryland was in the red at the time the group hired Meneses-Sheets and insist that she neglected her responsibility to raise funds.
"Her idea of development was to go to happy hours all over the state of Maryland and ask for $5 donations," the source said. "Her fundraising plan was never more sophisticated than that."
The flap over Meneses-Sheets' termination has offered a glimpse into how state LGBT rights groups interact with national groups like the Human Rights Campaign, Freedom to Marry and the Gill Action Fund.
"The shit has hit the fan," Meneses-Sheets said, "[the board] realizes there are major problems with the LGBT Caucus and that the national groups have their own agendas that have nothing to do with supporting Equality Maryland. They've gotten no money and they're panicking."
She claims that at the time she left the organization, there were rumors that HRC would keep Equality Maryland out of future efforts to pass a marriage equality bill, following this year's failed attempt.
Butler confirmed that the national groups are involved in Maryland's marriage fight. HRC's regional field director, Sultan Shakir, began working at Equality Maryland's headquarters office in Baltimore earlier this month.
"HRC is working with local and national groups to help build a strong campaign to pass Equality Maryland's entire legislative agenda next year," said HRC spokesperson Fred Sainz. "While HRC currently has a field staffer working in the Baltimore headquarters to support their new executive director, there are no set plans to keep him there," he said.
Butler said the national groups are working on a campaign field strategy and a plan to combat an anticipated referendum to overturn a same-sex marriage law and that he's unsure if that effort would be run out of Equality Maryland or be physically located elsewhere. Sainz denied rumors last week that HRC sought to install Shakir as the new Equality Maryland director.
But the marriage struggle in Maryland could be hampered if Equality Maryland is forced to close.
"We need your support, financially and otherwise, we need your involvement," Butler said. "I'm fairly optimistic we can raise enough funds so that we can keep the organization running. I think we do have a realistic shot at getting the marriage bill and the gender identity bill passed in the next legislative session."
Assuming the organization can raise funds to cover its expenses, Butler said the next step would be to hire an executive search firm to "find us a competent, strong director." He said it's important to work more closely with the community and, to that end, the organization now seeks to expand its board.
Md. House of Delegates approves transgender rights bill
State Medicaid program would be required to cover gender-affirming treatment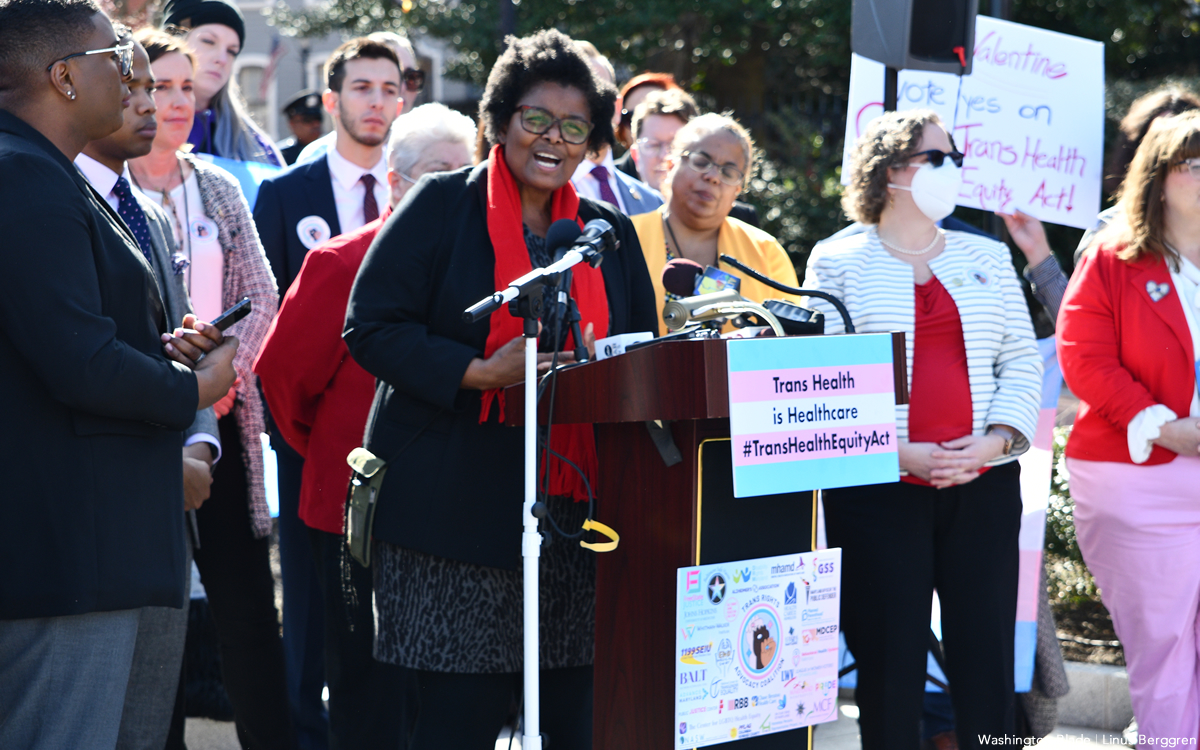 The Maryland House of Delegates on Saturday approved a bill that would require the state's Medicaid program to cover gender-affirming treatment for transgender people.
House Bill 283, or the Trans Health Equity Act, passed by a 93-37 vote margin. The measure now goes before the Maryland Senate.
"Proud that the MD House of Delegates passed the Trans Health Equity Act with such a strong majority," tweeted state Del. Anne Kaiser (D-Montgomery County), who introduced HB 283.
Proud that the MD House of Delegates passed the Trans Health Equity Act with such a strong majority. #TransHumanity pic.twitter.com/1E8MoDFQex

— Anne R. Kaiser (@DelegateKaiser) March 18, 2023
Capital Pride reveals 2023 Pride theme
This year will focus on 'peace, love, revolution'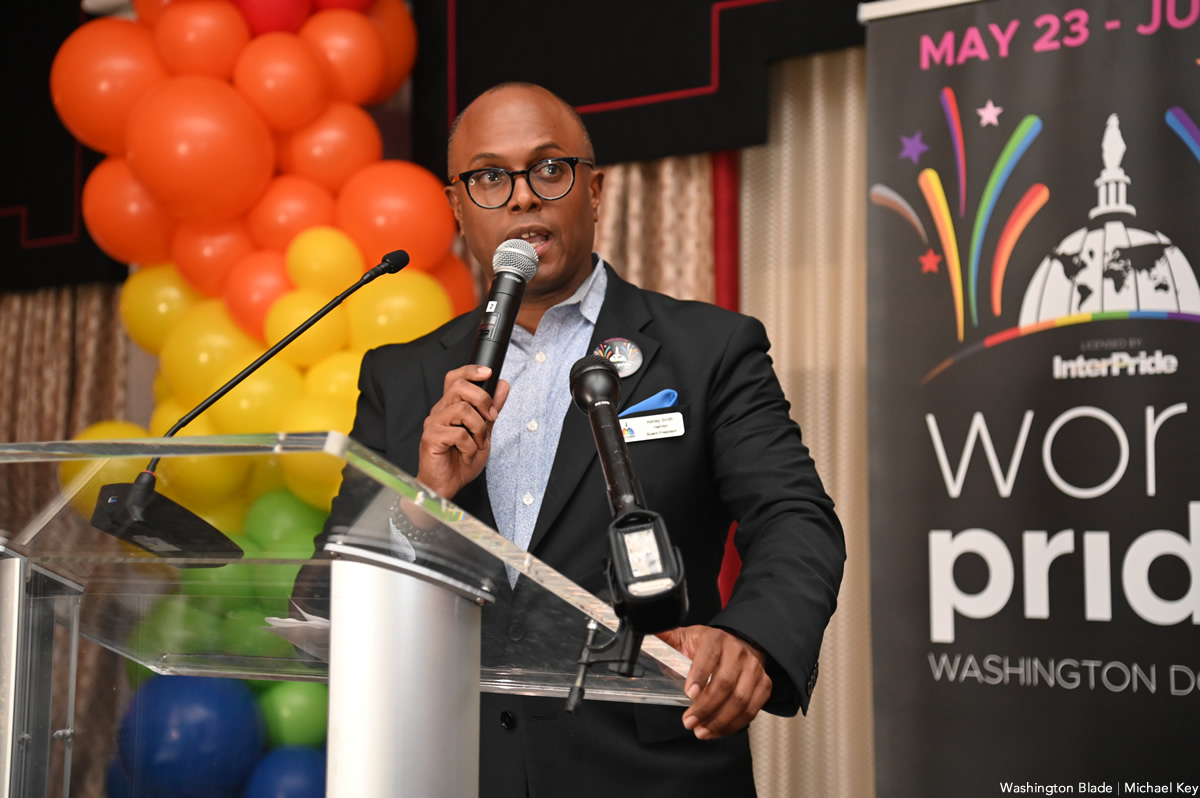 Over 300 people turned out Thursday night, March 16, for the annual D.C. Capital Pride Reveal celebration, which organizers say served as the official kick-off of the LGBTQ Pride events for 2023 in the nation's capital.
Among other plans for the 2023 Pride events, including the annual Pride parade and festival, organizers announced this year's theme for the Pride festivities will be "peace, love, revolution."
The event took place in one of the large ballrooms at D.C.'s Kimpton Hotel Monaco at 700 F St., N.W.
Officials with Capital Pride Alliance, the group that organizes D.C.'s annual Pride events, also announced at the Reveal celebration that the 2023 Pride events will set the stage for 2025, when D.C. will serve as the host city for World Pride 2025.
World Pride is an international LGBTQ event that takes place over a period of several days that usually draws a million or more visitors from countries throughout the world to the host city.
Organizers of the World Pride celebration announced last year that they had accepted D.C.'s bid to host World Pride 2025. The bid was prepared by the Capital Pride Alliance and D.C. government officials, including officials from the office of Mayor Muriel Bowser and the city's convention and visitor's bureau.
"We are thrilled to introduce our theme for Capital Pride 2023 as we gear up to welcome the world to D.C. in 2025, which is also the 50th anniversary of Pride in D.C.," said Capital Pride Alliance Executive Director Ryan Bos in a statement released on Friday. "This year's theme kicks off a three-year campaign leading into the message that we want to share with the world in 2025," Bos said.
In the statement it released on Friday, Capital Pride explained its rationale for selecting its theme, saying it was based in part on the LGBTQ rights movement's history.
"Social justice issues, including those involving the LGBTQ+ community, were shaped by moments that turned into movements beginning in the 1950s and in the years that followed," the statement says. "These movements created a REVOLUTION of change that sparked the beginning of newfound freedoms," it says.
"The fight for these liberties instilled a sense of Pride in members of the LGBTQ+ community in the decades since," the statement continues. "PEACE and LOVE motivated many of these pioneers to be brave and inspired others to fight for human rights for years to come," it says.
The statement points out that "recent challenges" have arisen in state legislatures and in Congress that have once again placed the LGBTQ community "under fire from those who would deny us our basic civil rights." It says these challenges will require a continuation of the fight for freedom "through direct action in the streets and the halls of government."
Among those who spoke at the Reveal event, in addition to Bos, were Capital Pride Board President Ashley Smith, and Capital Pride's public affairs director, Marquia Parnell.
Also speaking was Japer Bowles, director of the D.C. Mayor's Office of LGBTQ Affairs, who told the gathering that the city government, especially Bowser, will be working diligently to provide full city support for WorldPride 2025.
D.C. drag performer Shi-Queeta-Lee drew loud applause from the crowd that filled the hotel ballroom for a drag performance after the speakers addressed the crowd.
"We're going to be focused on peace, love, and revolution over the course of this next year," Smith told the Washington Blade at the conclusion of the Reveal event. "We're super excited about it because this is a part of the movement that adds to the historical pieces as we approach 2025 and World Pride in 2025," he said.
In its statement released on Friday, the Capital Pride Alliance announced the 2023 Capital Pride Parade will take place June 10, and will travel the same route as last year's D.C. Pride Parade. A Pride block party will also take place this year in a two-block section of 17th Street, N.W., near Dupont Circle in the same location as last year, the Capital Pride announcement says.
And it says the annual Capital Pride Festival and concert will take place on June 11, also at the same location as last year — along a stretch of Pennsylvania Ave., N.W., with the U.S. Capitol as a backdrop.
"Through the events of Capital Pride and its many partnerships, last year Capital Pride Alliance was able to raise over $200,000 for the Pride 365 Fund," according to the Capital Pride statement.
"The success of last year allowed CPA to invest and partner with the D.C. Center for the LGBT Community to establish a new LGBTQ+ community center for Washington, D.C., and continue the support of partner organizations that organize events such as DC Black Pride, Trans Pride, Youth Pride, Silver Pride, Latinx Pride and Asian and Pacific Islander Pride," the statement says.
Further details of plans for Capital Pride 2023 can be access at www.CapitalPride.org.
Former Log Cabin Republicans executive director named to Va. LGBTQ+ Advisory Board
R. Clarke Cooper 'proud to accept' Youngkin's appointment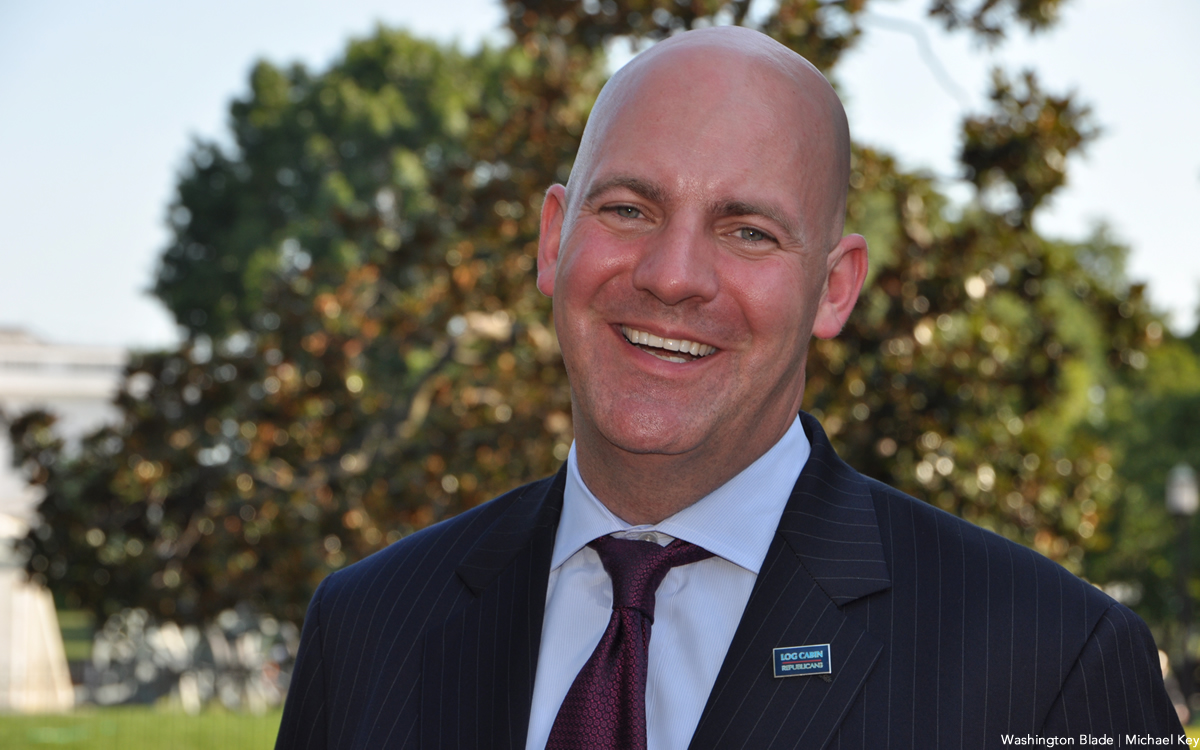 Republican Virginia Gov. Glenn Youngkin has named former Log Cabin Republicans Executive Director R. Clarke Cooper to the Virginia LGBTQ+ Advisory Board.
"Proud to accept appointment from Gov. Glenn Youngkin to serve on the Virginia LGBTQ+ Advisory Board," wrote Cooper in a post on his LinkedIn page. "Every citizen of the commonwealth has God given inalienable rights, envoys individual liberty and is charged with individual responsibility."
"May Virginians judge our neighbors on the content of their character, not by their sexual orientation," he added.
Youngkin announced Cooper's appointment on March 10.
Cooper, an Army Reserve officer who served in the Iraq War, as Log Cabin Republicans' executive director from 2010-2012.
He was Assistant Secretary of State for Political-Military Affairs from 2019-2021. Cooper is currently a nonresident senior fellow at the Atlantic Council.