Police chief defends fight against anti-LGBT hate crimes
Lanier disputes claim that gay liaison unit 'dying on vine'

D.C. Police Chief Cathy Lanier told a D.C. Council hearing on Wednesday that the department was making progress in its fight against hate crimes and strongly disputed criticism by the head of the police union that the Gay and Lesbian Liaison Unit was "dying on the vine."
Her testimony before the Council's Committee on the Judiciary came after several other witnesses, including D.C. police union chair Kristopher Baumann and LGBT activists, expressed concern that she had seriously weakened the GLLU's central office, which had once led efforts to fight anti-LGBT hate crimes.
Lanier said some critics have misconstrued her efforts to decentralize and expand the GLLU and the department's other special liaison units as an effort to discontinue or cut back on the units' central offices.
"This expansion has not only improved our response to these communities throughout the city, by providing service 24 hours a day, seven days a week," she said. "But it has also improved our ability to provide consistent information to these communities, while ensuring that information about their needs is integrated into services in each patrol district."
D.C. Council member Phil Mendelson (D-At-Large), who chairs the committee, said he called the hearing to assess the extent of the city's hate crimes problem and efforts by the police to address the problem. Other Council members participating in the hearing included Jim Graham (D-Ward 1), Mary Cheh (D-Ward 3) and Muriel Bowser (D-Ward 4).
Graham said he agreed with activists that the GLLU as a whole has been diminished over the past several years. He praised Lanier for doing overall excellent work in fighting crime throughout the city but said she appears to be making changes at the GLLU without "true engagement" from the community the unit is supposed to represent.
"I feel this is slipping away," Graham said. "It's a serious loss … This is the message we're getting."
Lanier said she could have reached out more to the community on a few issues, including her decision earlier this year to name a civilian administrator as head of the Special Liaison Division, which oversees the GLLU and liaison units working with the Latino, Asian and deaf and hard of hearing communities. But she said members of the GLLU have joined her in expressing disappointment in claims by critics that the unit is not doing as good a job as it has in the past.
Police statistics have shown that D.C. has the nation's highest rate of anti-LGBT hate crimes, with anti-LGBT bias related crimes making up as much as 70 percent of the city's overall hate crimes.
Lanier acknowledged that the number of reported hate crimes against the LGBT community has increased significantly in recent years. However, she said it could not be determined whether the actual number of such crimes has increased or whether the increase is due to more people coming forward to report such crimes.
According to D.C. police statistics, in 2010, the total number of reported hate crimes in the city was 68. Out of that total, 35 were crimes targeting gays, lesbians or bisexuals and 10 targeting members of the transgender community.
In 2009, a total of 41 hate crimes were reported, with 30 said to be against gays, lesbians or bisexuals and five based on the victim's gender identity or expression.
A total of 39 hate crimes were reported in the city in 2008, with 26 said to be against gays, lesbians, or bisexuals and four against transgender persons.
As of June 30 of this year, there were a total of 38 reported hate crimes, according to police data released this week. Out of that total, 14 were based on the victim's sexual orientation and two were based on the victim's gender identity or expression.
"It is important to note that because the number of these crimes is relatively low, small shifts in numbers can look disproportionately large in percentages," Lanier said in her testimony. "Therefore those percentages should be interpreted carefully while also considering the raw numbers."

A.J. Singletary, president of the D.C. group Gays and Lesbians Opposing Violence, told the committee that Lanier and the department have taken some "laudatory measures" in recent years to combat hate crimes targeting the LGBT community.
But he said the department overall was not properly training officers to recognize and take reports on incidents of anti-LGBT bias that don't involve a crime of violence but that could lead to violence.
"First, MPD is not documenting anti-LGBT bias incidents effectively, thereby endangering the community and impacting the use of vital resources to prevent hate crimes," he said.
"Hate incidents – slurs, derogatory terms, or other similar actions – can be tracked and used to target areas of increasing problems across the city," he told the committee. "We have anecdotal evidence of a disturbing increase in anti-LGBT incidents, including threats, harassment and intimidation."
Singletary and other witnesses noted that police officials have encouraged citizens to report such incidents to police so that data can be compiled to monitor areas where hate crimes might surface.
"Despite this, GLOV is aware of numerous instances when MPD officers refused to take reports when called and even made the individual feel silly or petty for requesting that the incident be reported," Singletary said.
Jason Terry, an official with the D.C. Trans Coalition, told the committee that many in the local transgender community lost confidence in police following a December 2010 incident in which an off-duty D.C. police officer assaulted a transgender woman on a downtown street. The woman, Chloe Moore, has accused the officer of assaulting her after she approached him to ask for a light for her cigarette.
The department's Internal Affairs Division is currently investigating the incident.
Terry and D.C. transgender activist Jeri Hughes told the committee that police officers often assume incorrectly that transgender women, who report being harassed or assaulted because of their gender identity, are prostitutes.
GLOV members and other LGBT activists have complained that Lanier's decision in 2009 to decentralize the GLLU by assigning affiliate members to the unit from each of the department's seven police districts diminished the effectiveness of the unit's central office, which is located in Dupont Circle.
At the time former Mayor Adrian Fenty appointed Lanier as police chief in 2009, there were seven to eight full-time GLLU officers assigned to the central office. The office, created by former Police Chief Charles Ramsey in 2000, became an internationally recognized police entity aimed at addressing issues involving the LGBT community.
Among other things, Ramsey gave GLLU officers full authority to investigate crimes and make arrests as well as to provide public information and outreach to the LGBT community.
Lanier has said she supports those efforts but wanted to expand the unit's reach throughout the city. She assigned officers from the eight police districts to become affiliate GLLU officers who would continue to perform their regular duties in the districts while being on call to assume GLLU duties as the need arises in their respective districts.
Rick Rosendall, vice president of the Gay and Lesbian Activists Alliance, told the committee he and most other activists fully support the affiliate program. But Rosendall and other activists have said they strongly objected to what they believe has been Lanier's removal of officers from the GLLU's central office.
Sources familiar with the GLLU have told the Blade in recent years that the unit's reputation within the department had diminished and other important units, like the homicide squad, had largely stopped calling on the GLLU for help in gay-related cases.
Lanier has disputed those claims, saying the central unit remains the hub of the GLLU. She told the Council hearing on Wednesday that affiliate members spend at least a month at the central office in a special training program.
She also told the hearing that there are now seven people assigned to the central GLLU office in addition to its part-time commander, Sgt. Carlos Mejia, who also serves as commander of the Latino Liaison Unit.
Delaware governor vetoes legalization of marijuana possession
Carney cites impact on youth, public health, law enforcement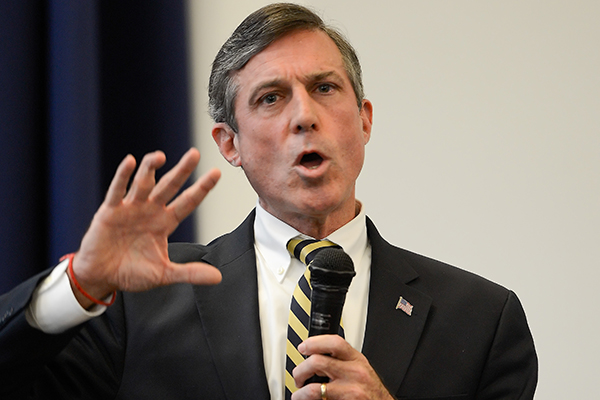 Delaware Gov. John Carney on Tuesday vetoed a bill that would have legalized the possession of marijuana in the First State. House Bill 371, which passed the House on May 5 and the Senate May 12, would legalize the possession of up to one ounce of marijuana and remove criminal and civil penalties associated with the non-remunerative transfer of marijuana for individuals ages 21 or older.
"I do not believe that promoting or expanding the use of recreational marijuana is in the best interests of the state of Delaware, especially our young people," Carney said in his veto statement Tuesday. "Questions about the long-term health and economic impacts of recreational marijuana use, as well as serious law enforcement concerns, remain unresolved."
Current state laws deem the possession of one ounce of marijuana or less a civil offense resulting in a financial penalty. Still, the possession of more than one ounce of marijuana remains a misdemeanor — a designation that would remain unchanged with the passage of the bill.
In the statement, Carney acknowledged that marijuana can help individuals with certain health conditions, and said that possession and private consumption of the substance should not lead to imprisonment. But he also noted that these beliefs are already reflected in state legislation, following his passage of marijuana decriminalization in 2019.
"I have been clear about my position since before I took office, and I have articulated my concerns many times," he added.
The Delaware Center for Justice called upon the General Assembly to override the veto in a Tuesday press release, emphasizing that legalizing marijuana is of particular importance to low-income communities and communities of color across the state.
These communities "experience police harassment and arrest for marijuana at disproportionate rates than those of white affluent communities, despite usage rates being almost the same," DCJ Director of Policy Kailyn Richards noted in the press release. She added that DCJ believes state legislators should further "pass a companion bill that sets up a safe and legal marketplace."
The American Civil Liberties Union of Delaware also emphasized that the General Assembly should override the veto.
Carney's veto of the bill "is an affront to the lawmakers, advocates, and residents of Delaware who have shown consistent and overwhelming support for this measure," Mike Bichner, ACLU of Delaware executive director, said in a statement Tuesday. "The criminalization of cannabis has been a tool of the failed, racist War on Drugs, which has caused irrevocable harm to our Black communities."
Vandals target 2 Rehoboth Beach LGBTQ-owned businesses
Staff discovers graffiti on walls, doors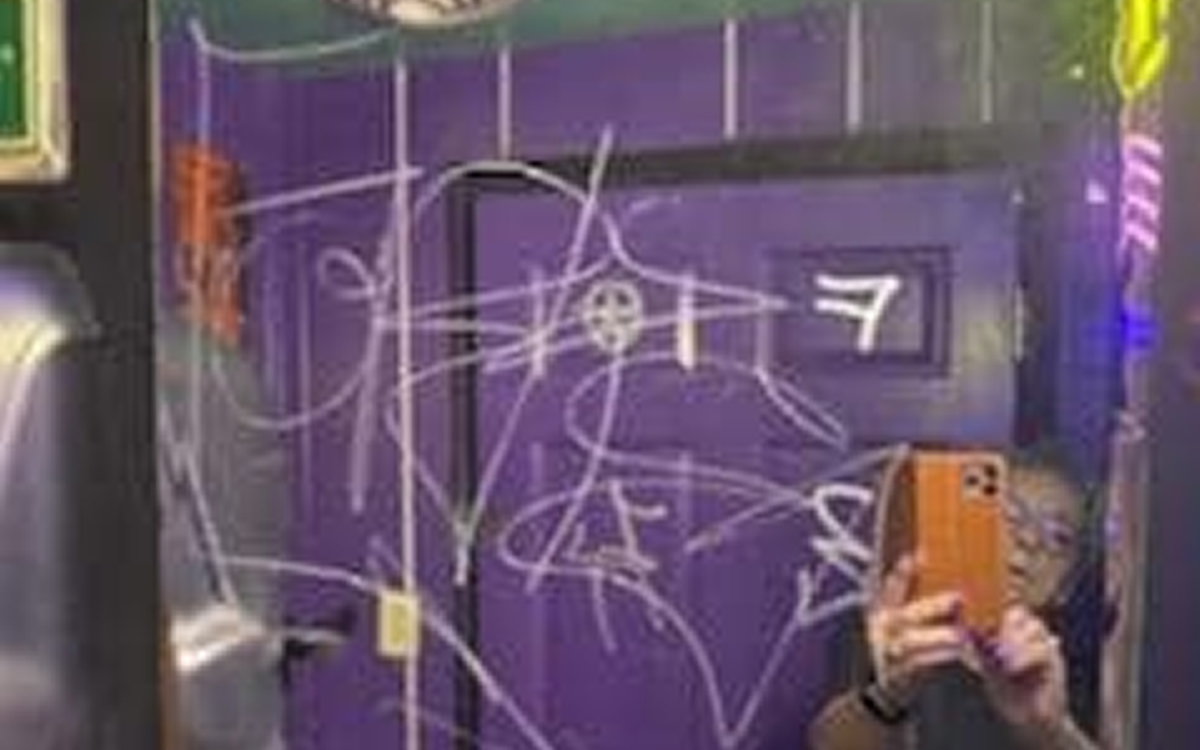 Freddie's Beach Bar and the Purple Parrot — two LGBTQ+ bars and restaurants in Rehoboth Beach — discovered that their establishments had been vandalized on Monday, according to a series of posts to the Purple Parrot's Facebook page made by Hugh Fuller, the restaurant's owner.
The vandal, whose identity remains unknown, painted on the walls and carved graffiti into the mirrors of the Purple Parrot's bathroom, and painted graffiti on the front door of Freddie's Beach Bar, the posts recounted. The establishments have since filed police reports with the Rehoboth Police Department.
Tony Rivenbark, a manager at Freddie's, said that a staff member first noticed the vandalism around 10:30 a.m. on Monday, and that it was dry to the touch, leading restaurant management to believe it was painted early in the day. Upon discovering the graffiti, restaurant staff reported it to local police and were told that other nearby locations had similarly been vandalized, he said.
Between its Rehoboth and Arlington, Va. locations, Rivenbark has worked at the establishment for almost two decades, and added that this was the first instance of vandalism at the Rehoboth venue, which has been open for less than one year. He noted that Freddie's management is currently reviewing security footage for further information, and is likely to soon install additional security cameras.
At the establishment's Arlington, Va., location, "we've had some minor spray painting done, we've had some rocks thrown at windows," he recounted. "Mostly I have attributed it to drunken antics, not so much hate. Hopefully that's the case here as well."
Rivenbark added that Freddie's staff remains positive despite the circumstances. "It doesn't seem like a huge issue. It's something we'll probably just paint over tomorrow," Rivenbark said. "I'd much rather it be some kid that's got a new little airbrush … than it being somebody that's targeting LGBT businesses."
The Rehoboth Beach Police Department declined to comment or to confirm details of the reports filed.
Pride Run returns after two-year hiatus
1,500 participants to join 10th annual event on June 10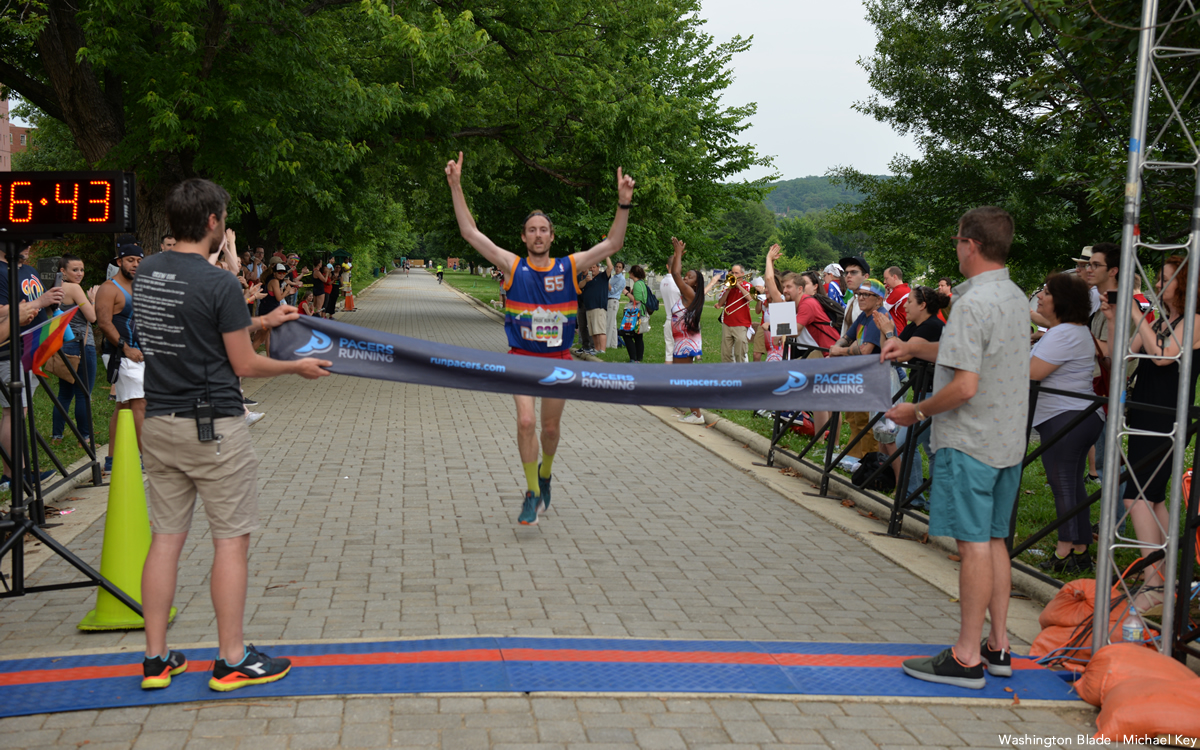 After a two-year pandemic hiatus that saw the Pride Run go mostly virtual, the DC Front Runners Pride Run 5K is elated to once again welcome nearly 1,500 runners, walkers, volunteers, and spectators back to the Historic Congressional Cemetery for their Tenth Anniversary Race on Friday, June 10.
As an official Capital Pride Partner Event, the Pride Run 5K kicks off Capital Pride weekend with a bang. Well perhaps more of a "On your mark, get set, GO!"
Join us as we run, walk, skip, shantay, and sashay on a course that starts near the cemetery's "Gay Corner" where many LGBTQ rights activists, such as Leonard Matlovich, are interred. The race then winds along the Anacostia Riverwalk Trail to finish where you started.
Gates open at 5 p.m. for packet pickup with the race beginning at 7 p.m. The post-race party includes beer and hard seltzer provided by DC Brau along with a DJ playing music until 9 p.m. Be sure to check out the return of the DCFR dance troupe performing to a hyped-up crowd.
Race proceeds benefit the following local LGBTQ and youth-supporting organizations via the Pride Run Foundation: Ainsley's Angels (National Capital Region), Casa Ruby, Team DC Student-Athlete Scholarship, SMYAL, The Wanda Alston Foundation, The Blade Foundation, and Teens Run DC. You can help support these amazing charities by registering for the race or donate directly at DCPrideRun.com.
A special thanks to the presenting sponsors, Capital One Café, Choice Hotels, KNEAD Hospitality + Design, Shake Shack, and Wegmans Food Market to the premier sponsors DC Brau, Pacers Running, and Wilkinson Barker Knauer, LLP, and our elite sponsors, AHF Healthcare Centers, Avalon Bay Communities, Casey Trees, Endorphin Fitness, and Starbucks, and of course our special partner the Historic Congressional Cemetery. Last, but not least, a big thank you to all individual donors who contribute via the race website directly to our incredible charity partners. Together, we proudly celebrate who we are in a festive, safe, and inclusive event.