Police chief defends fight against anti-LGBT hate crimes
Lanier disputes claim that gay liaison unit 'dying on vine'

D.C. Police Chief Cathy Lanier told a D.C. Council hearing on Wednesday that the department was making progress in its fight against hate crimes and strongly disputed criticism by the head of the police union that the Gay and Lesbian Liaison Unit was "dying on the vine."
Her testimony before the Council's Committee on the Judiciary came after several other witnesses, including D.C. police union chair Kristopher Baumann and LGBT activists, expressed concern that she had seriously weakened the GLLU's central office, which had once led efforts to fight anti-LGBT hate crimes.
Lanier said some critics have misconstrued her efforts to decentralize and expand the GLLU and the department's other special liaison units as an effort to discontinue or cut back on the units' central offices.
"This expansion has not only improved our response to these communities throughout the city, by providing service 24 hours a day, seven days a week," she said. "But it has also improved our ability to provide consistent information to these communities, while ensuring that information about their needs is integrated into services in each patrol district."
D.C. Council member Phil Mendelson (D-At-Large), who chairs the committee, said he called the hearing to assess the extent of the city's hate crimes problem and efforts by the police to address the problem. Other Council members participating in the hearing included Jim Graham (D-Ward 1), Mary Cheh (D-Ward 3) and Muriel Bowser (D-Ward 4).
Graham said he agreed with activists that the GLLU as a whole has been diminished over the past several years. He praised Lanier for doing overall excellent work in fighting crime throughout the city but said she appears to be making changes at the GLLU without "true engagement" from the community the unit is supposed to represent.
"I feel this is slipping away," Graham said. "It's a serious loss … This is the message we're getting."
Lanier said she could have reached out more to the community on a few issues, including her decision earlier this year to name a civilian administrator as head of the Special Liaison Division, which oversees the GLLU and liaison units working with the Latino, Asian and deaf and hard of hearing communities. But she said members of the GLLU have joined her in expressing disappointment in claims by critics that the unit is not doing as good a job as it has in the past.
Police statistics have shown that D.C. has the nation's highest rate of anti-LGBT hate crimes, with anti-LGBT bias related crimes making up as much as 70 percent of the city's overall hate crimes.
Lanier acknowledged that the number of reported hate crimes against the LGBT community has increased significantly in recent years. However, she said it could not be determined whether the actual number of such crimes has increased or whether the increase is due to more people coming forward to report such crimes.
According to D.C. police statistics, in 2010, the total number of reported hate crimes in the city was 68. Out of that total, 35 were crimes targeting gays, lesbians or bisexuals and 10 targeting members of the transgender community.
In 2009, a total of 41 hate crimes were reported, with 30 said to be against gays, lesbians or bisexuals and five based on the victim's gender identity or expression.
A total of 39 hate crimes were reported in the city in 2008, with 26 said to be against gays, lesbians, or bisexuals and four against transgender persons.
As of June 30 of this year, there were a total of 38 reported hate crimes, according to police data released this week. Out of that total, 14 were based on the victim's sexual orientation and two were based on the victim's gender identity or expression.
"It is important to note that because the number of these crimes is relatively low, small shifts in numbers can look disproportionately large in percentages," Lanier said in her testimony. "Therefore those percentages should be interpreted carefully while also considering the raw numbers."

A.J. Singletary, president of the D.C. group Gays and Lesbians Opposing Violence, told the committee that Lanier and the department have taken some "laudatory measures" in recent years to combat hate crimes targeting the LGBT community.
But he said the department overall was not properly training officers to recognize and take reports on incidents of anti-LGBT bias that don't involve a crime of violence but that could lead to violence.
"First, MPD is not documenting anti-LGBT bias incidents effectively, thereby endangering the community and impacting the use of vital resources to prevent hate crimes," he said.
"Hate incidents – slurs, derogatory terms, or other similar actions – can be tracked and used to target areas of increasing problems across the city," he told the committee. "We have anecdotal evidence of a disturbing increase in anti-LGBT incidents, including threats, harassment and intimidation."
Singletary and other witnesses noted that police officials have encouraged citizens to report such incidents to police so that data can be compiled to monitor areas where hate crimes might surface.
"Despite this, GLOV is aware of numerous instances when MPD officers refused to take reports when called and even made the individual feel silly or petty for requesting that the incident be reported," Singletary said.
Jason Terry, an official with the D.C. Trans Coalition, told the committee that many in the local transgender community lost confidence in police following a December 2010 incident in which an off-duty D.C. police officer assaulted a transgender woman on a downtown street. The woman, Chloe Moore, has accused the officer of assaulting her after she approached him to ask for a light for her cigarette.
The department's Internal Affairs Division is currently investigating the incident.
Terry and D.C. transgender activist Jeri Hughes told the committee that police officers often assume incorrectly that transgender women, who report being harassed or assaulted because of their gender identity, are prostitutes.
GLOV members and other LGBT activists have complained that Lanier's decision in 2009 to decentralize the GLLU by assigning affiliate members to the unit from each of the department's seven police districts diminished the effectiveness of the unit's central office, which is located in Dupont Circle.
At the time former Mayor Adrian Fenty appointed Lanier as police chief in 2009, there were seven to eight full-time GLLU officers assigned to the central office. The office, created by former Police Chief Charles Ramsey in 2000, became an internationally recognized police entity aimed at addressing issues involving the LGBT community.
Among other things, Ramsey gave GLLU officers full authority to investigate crimes and make arrests as well as to provide public information and outreach to the LGBT community.
Lanier has said she supports those efforts but wanted to expand the unit's reach throughout the city. She assigned officers from the eight police districts to become affiliate GLLU officers who would continue to perform their regular duties in the districts while being on call to assume GLLU duties as the need arises in their respective districts.
Rick Rosendall, vice president of the Gay and Lesbian Activists Alliance, told the committee he and most other activists fully support the affiliate program. But Rosendall and other activists have said they strongly objected to what they believe has been Lanier's removal of officers from the GLLU's central office.
Sources familiar with the GLLU have told the Blade in recent years that the unit's reputation within the department had diminished and other important units, like the homicide squad, had largely stopped calling on the GLLU for help in gay-related cases.
Lanier has disputed those claims, saying the central unit remains the hub of the GLLU. She told the Council hearing on Wednesday that affiliate members spend at least a month at the central office in a special training program.
She also told the hearing that there are now seven people assigned to the central GLLU office in addition to its part-time commander, Sgt. Carlos Mejia, who also serves as commander of the Latino Liaison Unit.
One trans woman shot, another had legs run over by car in Northeast
November incidents occurred near D.C.-P.G. County border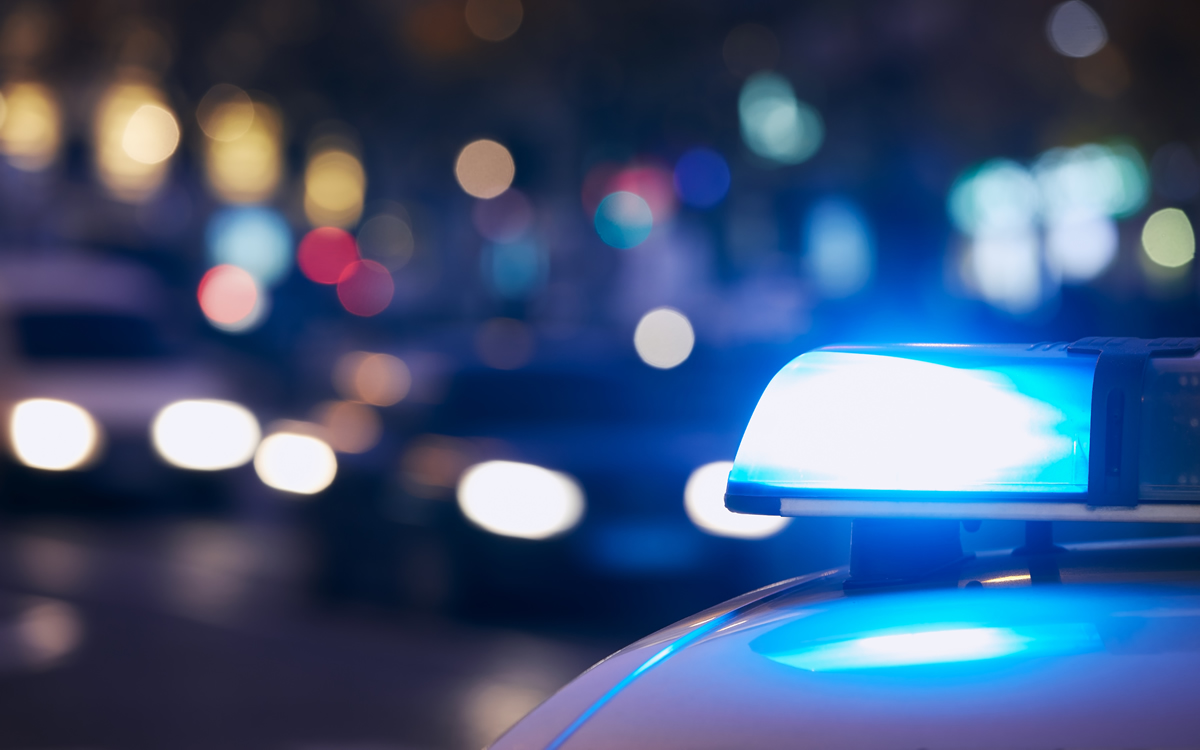 D.C. police say they are investigating a Nov. 1 incident in which a transgender woman was knocked down on a street by a man who backed his car into her and then drove over both of her legs after he was shot in the arm in an unrelated dispute with another person outside an apartment building at 5920 Foote St., N.E.
The woman, Latisa Moorman, said she spent a month at Washington Hospital Center recovering from her injuries before being transferred to a rehabilitation center for continued treatment of her injured legs.
Police are also investigating a second incident in which another transgender woman was shot in her "pelvic region" by an unidentified male suspect causing a nonfatal injury on Nov. 29 inside the same apartment building. The shooting followed an "argument about a sexual act that was performed and payment of money," according to a D.C. police report.
The victim of the second incident couldn't immediately be reached to determine if she would like her name to be disclosed.
Moorman, the victim in the first incident, told the Washington Blade a police detective informed her that the man who hit her with his car and drove away has been arrested. She said the detective gave her the name of the arrested man. But the man's name could not be found in court records and police have not responded to a Blade request to confirm the arrest.
A police report says police were investigating what they listed as separate cases of the shooting that injured the man who drove over Moorman's legs as well as the incident in which the man who was shot hit Moorman with his car and drove away.
"Both cases remain under investigation and detectives are actively following up on leads, collecting evidence, and interviewing potential witnesses," D.C. police spokesperson Paris Lewbel told the Blade in an email. "Due to the ongoing nature of the investigation, we cannot discuss specific investigative steps that have been taken by detectives," Lewbel said.
The case of the Nov. 29 shooting of the trans woman inside 5920 Foote St., N.E. and the incident in which Moorman was hit by the car outside that same building took place in a location that trans and LGBTQ activists say is known as an area where female trans sex workers as well as trans women who are not engaged in sex work congregate along Eastern Avenue and nearby side streets.
The Foote Street apartment building where the two incidents took place is located at the intersection of Foote Street, 60th Street, and Eastern Avenue.
Less than a mile away one block off the Prince George's County side of Eastern Avenue transgender woman Ashanti Carmon, 27, was shot to death on March 30, 2019. That case remains unsolved, with no arrest made. About 100 people led by transgender activist Earline Budd held a candlelight vigil one month later in honor of Carmon at the site of where the shooting took place.
Gay D.C. Advisory Neighborhood Commissioner Anthony Lorenzo Green, whose district is located near the Eastern Avenue area where trans women hang out, expressed concern that D.C. officials are not adequately addressing the issues related to why trans women are engaging in sex work in that area.
"The angle we come from is the city needs to provide services for Black trans women along this corridor as opposed to constantly trying to arrest them and hoping that will keep them away from Eastern Avenue or away from where they work out of desperation, out of necessity," Green told the Blade.
"But that has never worked. And we tell them that over and over," Green said. "These ladies have not been given an opportunity to advance in this city. They've been forced to the edges of this city," he said, adding that the D.C. government "should be bringing social services to that corridor."
Bomb threat shuts down Takoma Park holiday drag show
MotorKat evacuated when Tara Hoot was performing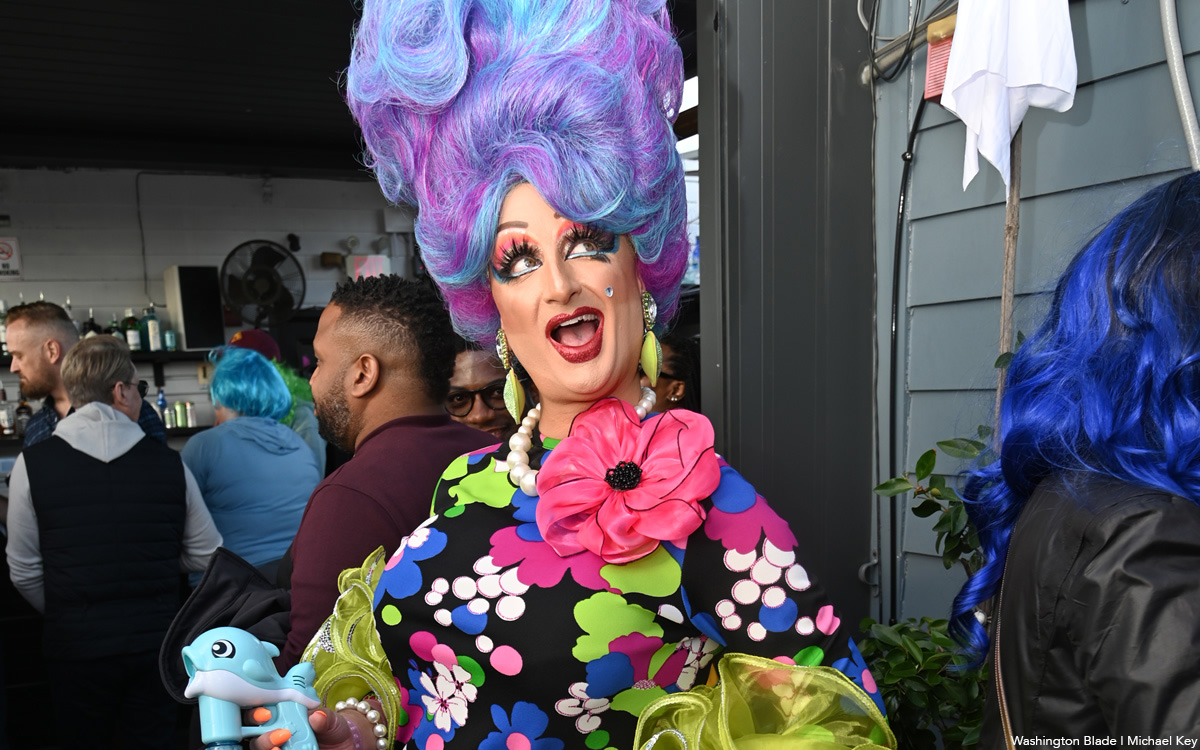 Police cordoned off a popular strip in Takoma Park on Saturday after a bomb threat shut down businesses, including a holiday performance by drag artist Tara Hoot.
MotorKat General Manager Mike Rothman told the Washington Blade that Takoma Park police notified them of a bomb threat to their business around noon.
Tara Hoot was delivering a holiday brunch performance at the MotorKat when the evacuation order came in.
Rothman said they were notified "five minutes into her final performance." Tara Hoot herself told the audience to leave for their safety.
Police proceeded to tape off the area and evacuated all businesses between Eastern and South Carroll Avenues, including TakomaBevCo, which is co-owned by MotorKat Wine Director Seth Cook.
Cook told the Blade that police brought in "bomb-sniffing dogs" to clear the area before allowing businesses to reopen around 2 p.m.
"The timing is unfortunate as this is one of the busiest weekends before the holidays," Cook said.
Rothman was also disappointed by the lost revenue due to what ultimately was a false threat, but he was firm that the Takoma Park LGBTQ community is resilient and would continue to thrive despite this setback.
"Takoma Park is a pretty proud and resilient community," he said. "I don't expect people to lay down and be scared by this."
MotorKat and TakomaBevCo reopened for business around 3 p.m.
Comings & Goings
Jimmy Alexander joins WTOP News as a feature reporter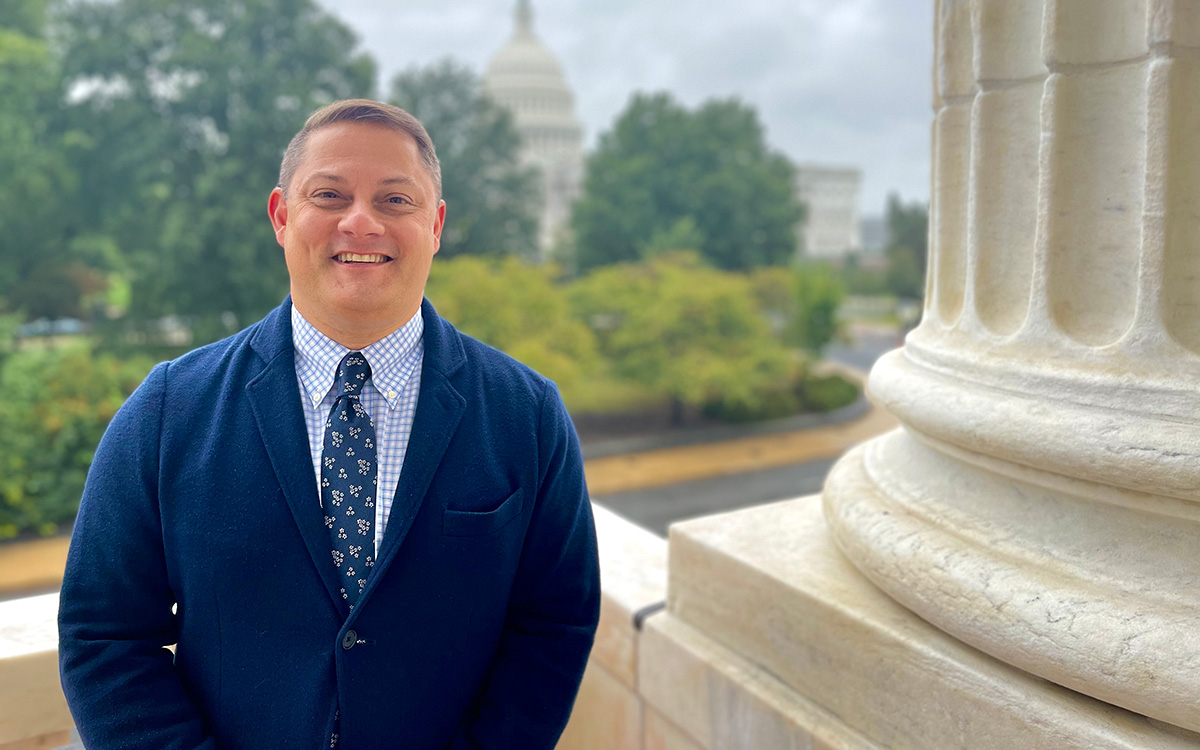 The Comings & Goings column is about sharing the professional successes of our community. We want to recognize those landing new jobs, new clients for their business, joining boards of organizations, and other achievements. Please share your successes with us at: [email protected]. 
Congratulations to Jimmy Alexander who has been hired at WTOP News as a feature reporter. Over the last four years Alexander has been covering stories as varied as the Jan. 6 insurrection to the 17th Street High Heel Race. He has been working as a co-host on the Jack Diamond Morning show on Cumulus Media, Manning Media. On his acceptance of the new position Alexander said, "I'm thrilled that at WTOP News, I will be able to focus on events and people that bring hope to your heart and a smile to your face."
Alexander is a versatile multimedia broadcaster with more than two decades of experience covering both major news events in Washington D.C., and important human-interest stories outside the Beltway. He is an engaging interviewer with a track record of having compelling conversations with the biggest names in government and show business, from presidents to Paul McCartney. Prior to this he worked as a freelance feature reporter with WDCW50-DC News Now. He is also with Writer-20, Twenty Country Countdown, United Stations Radio Networks. There he developed a concept for a countdown show featuring country music's weekly top songs on-air and online and prepared weekly scripts for a three-hour show.
Alexander conducted the only Jan. 6, 2021 interview with "The QAnon Shaman" Jacob Chansley. Since 2016, he has served by request of the D.C. mayor as official host of the 17th Street High Heel Race, the city's second largest LGBTQ event of the year. He is featured in the documentary "Joan Rivers: A Piece of Work," and is a frequent guest on CNN's Morning Show "New Day." He covered White House visits by Queen Elizabeth, the Pope, and the yearly Easter Egg Roll. He also won $10,000 on the game show "Pyramid."