National news in brief: November 18
Mass. passes law barring gender identity employment discrimination, Catholic Charities ceases providing foster services in Ill., Mich. poised to pass anti-bullying bill

L.A. LGBT Center celebrates 40 years
LOS ANGELES — Saturday, one of the nation's oldest LGBT institutions celebrated its 40th anniversary at the Westin Boneventure Hotel, honoring Chaz Bono, gay actor Neil Patrick Harris and his partner, celebrity chef David Burtka.
According to Karen Ocamb of Frontiers L.A., the ceremony was hosted by comedian Leslie Jordan and included presentations by Center Board member and Queer As Folk actor Peter Paige, "Glee" star and board member Jane Lynch and actor David Arquette, whose sister is trans actress Alexis Arquette, presenting an award to fellow "Dancing With The Stars" contestant, Chaz Bono.
"Today we are living in an increasingly uncivil society. Gone are the optimistic aspirations for a New Frontier or a Great Society that would conquer the problems of ignorance and prejudice and eliminate injustice," said Center CEO Lorri Jean. "The L.A. Gay & Lesbian Center stands in stark contrast to all of that."
Mass. legislature passes trans rights bill
BOSTON — After passing in the lower house Tuesday 95-58, and passing by voice vote in the Senate Wed., a bill that would bar employment and housing discrimination — but leaves out public accommodation discrimination — for transgender residents of Massachusetts passed the Senate in a voice vote on Wednesday. Gov. Deval Patrick (D) has said he would sign it.
It's a bittersweet victory for some Massachusetts trans rights activists, who have criticized the lack of public accommodations language in the bill.
"We want complete protections for transgender people – including in public accommodations – but also know that in order to get there, we cannot walk away from the legislature's first step toward achieving those full protections," GLAD Transgender Rights Project director Jennifer Levi said in a statement.
Calif. FAIR Education law takes effect Jan. 1
SACRAMENTO — The law that mandates schools include in the curriculum important figures from the LGBT community and disabled community will take effect in seven weeks.
Opponents of the FAIR Education Act, known as SB 48, attempted to derail the legislation by collecting signatures toward a "people's veto" ballot measure. That effort failed, and schools are now gearing up to comply with the mandate.
"Our history is more complete when we recognize the contributions of people from all backgrounds and walks of life," State Superintendent of Public Instruction Tom Torlakson said after the legislation was signed into law in July.
Supporters of the law say it will improve the self-esteem of LGBT young people and possibly curb bullying.
Ill. Catholic Charities ends foster care services
CHICAGO — Catholic Charities of Illinois has announced that it will no longer provide foster care services in Illinois as three Catholic dioceses dropped lawsuits against the state seeking to skirt state law mandating same-sex couples in civil unions be allowed in the foster care system.
According to the Chicago Tribune, the dioceses of Joliet, Springfield and Belleville sued the state in an attempt to avoid recognizing same-sex couples. However, after the state forced 2,000 foster cases to transition to non-religious agencies, and judges refused to halt the process before the Nov. 30 deadline, the dioceses agreed to the state's terms and end adoption and foster care placement services in Illinois.
Secular agencies in the regions serviced by the dioceses have already agreed to assist in the transition.
'Religious exemption' in Michigan bullying bill dropped
LANSING, Mich. — Controversial language in a Michigan anti-bullying bill that would exempt from punishment those expressing "sincerely held religious belief or moral conviction," will be stricken from the Senate bill after outrage from LGBT and Muslim groups.
ALSO IN THE BLADE: GAY SAUDI DIPLOMAT DENIED ASYLUM IN PRELIMINARY DECISION
Paving the way to make the bill easier to pass, State Senator Rick Jones agreed last week to drop the language in Matt's Law, a bill named for a young Michigan man who committed suicide in 2002 after severe bullying and harassment. Matt's father, Kevin Epling joined with leaders from Equality Michigan and the Michigan chapter of the Council on American-Islamic Relations in denouncing the bill.
"That one paragraph, though, negates most of the things that we tried to put in," Epling told ABCNews in regard to the religious exemption.
Michigan is one of only three states without an anti-bullying law.
Jim Obergefell announces bid for seat in Ohio state legislature
Marriage plaintiff moves on to new endeavor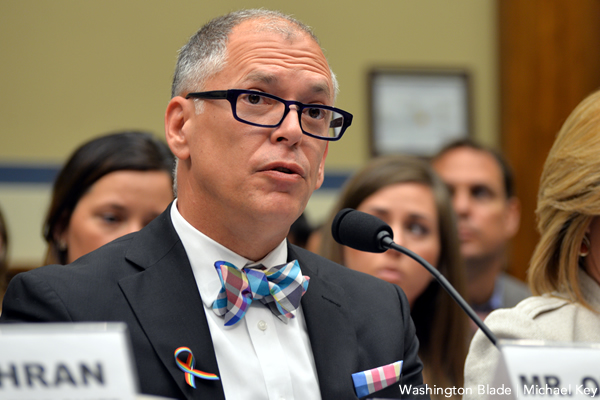 Jim Obergefell, the lead plaintiff in the litigation that ensured same-sex couples have the right to marry nationwide, announced on Tuesday he'd pursue a new endeavor and run for a seat in the state legislature in his home state of Ohio.
"You deserve a representative who does the right thing, no matter what. You deserve a representative who fights to make things better for everyone," Obergefell said. "I've been part of a national civil rights case that made life better for millions of Americans. Simply put, I fight for what's right and just."
Obergefell, who claims residency in Sandusky, Ohio, is seeking a seat to represent 89th Ohio District, which comprises Erie and Ottawa Counties. A key portion of his announcement was devoted to vowing to protect the Great Lakes adjacent to Ohio.
"We need to invest in our Great Lake, protect our Great Lake, and make the nation envious that Ohio has smartly invested in one of the greatest freshwater assets in the world," Obergefell said.
Obergefell was the named plaintiff in the consolidated litigation of plaintiffs seeking marriage rights that led the U.S. Supreme Court to rule in 2015 for same-sex marriage nationwide. Obergefell was widower to John Arthur, who died of amyotrophic lateral sclerosis, and was seeking the right to be recognized as his spouse on his death certificate. The ruling in the consolidated cases ensured same-sex couples would enjoy the full benefits and responsibilities of marriage.
"We should all be able to participate fully in society and the economy, living in strong communities with great public schools, access to quality healthcare, and with well-paying jobs that allow us to stay in the community we love, with the family we care about," Obergefell said in a statement on his candidacy.
FDA-funded blood donation study recruiting gay, bi men
D.C.'s Whitman-Walker, L.A. LGBT Center working on study to ease restrictions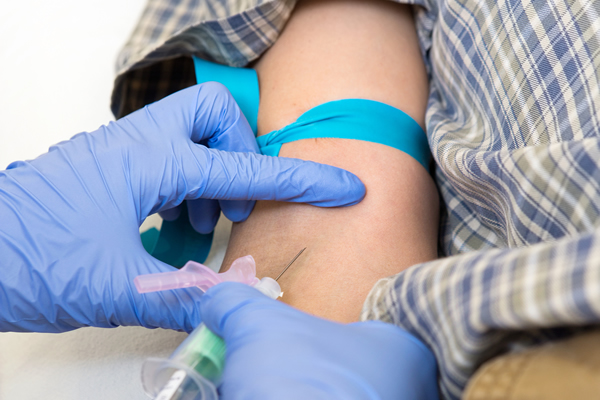 D.C.'s Whitman-Walker Institute and the Los Angeles LGBT Center are among LGBTQ supportive organizations in eight U.S. cities working with the nation's three largest blood donation centers on a study to find a way to significantly ease blood donation eligibility for men who have sex with men or MSM.
The study, which is funded by the U.S. Food and Drug Administration, calls for recruiting a total of 2,000 gay and bisexual men in eight U.S. cities selected for the study to test the reliability of a detailed donor history questionnaire aimed at assessing the individual risk of a gay or bisexual man transmitting HIV if they donate blood.
A statement released by the study organizers says the questionnaire, which could be given to a gay or bisexual person showing up at a blood donation site, could be a replacement for the FDA's current policy of banning men who have had sex with another man within the previous three months from donating blood.
In the early years of the AIDS epidemic in the 1980s, the FDA put in place a permanent ban on blood donations by men who have sex with men. In 2015, with advanced HIV testing and screening techniques readily available, the FDA lifted its permanent ban on MSM blood donations and replaced it with a 12-month restriction for sexual activity between MSM.
The FDA further reduced the time of sexual abstinence for MSM to three months in 2020.
LGBTQ rights organizations and others advocating for a change in the current FDA restriction point out that at a time when the nation is facing a severe shortage of blood donations due to the COVID pandemic, the three-month donation deferral requirement for MSM is preventing a large number of blood donations from men whose risk of HIV infection is low to nonexistent.
Under the FDA-funded and initiated study, the American Red Cross, Vitalant, and OneBlood — the nation's three largest blood donation centers — have been conducting the questionnaire testing since the study was launched in March 2021.
"To gather the necessary data, the blood centers will partner with LGBTQ+ Centers in Washington, D.C., San Francisco, Orlando, New Orleans/Baton Rouge, Miami, Memphis, Los Angeles, and Atlanta," the study organizers say in a statement on a website launched to help recruit volunteers for the study.
"The study will enroll a total of 2,000 gay and bisexual men (250 – 300 from each area) who meet the study eligibility criteria," the statement says.
Among the criteria for being eligible, the statement says, is the person must be between 18 and 39 years old, have expressed an interest in donating blood, must have had sex with at least one other man in the three months before joining the study, and must agree to an HIV test. A negative test result is also required for acceptance into the study.
The study is officially named ADVANCE, which stands for Assessing Donor Variability And New Concepts in Eligibility.
"The ADVANCE study is a first step in providing data that will help the FDA determine if a donor history questionnaire based on individual risk would be as effective as time-based deferral, in reducing the risk of HIV in the blood supply," the study organizers statement says.
"If the scientific evidence supports the use of the different questions, it could mean men who have sex with men who present to donate would be assessed based upon their own individual risk for HIV infection and not according to when their last sexual contact with another man occurred," the statement continues. "The ADVANCE study is groundbreaking because it's the first time a study is being conducted that could result in individual risk assessment for men who have sex with men to donate blood," the statement says.
The Whitman-Walker Institute, which is among the community-based organizations involved in helping organize and conduct the study, is an arm of Whitman-Walker Health, the LGBTQ supportive D.C. health center.
Christopher Cannon, director of Research Operations for Whitman-Walker Institute, said that since the D.C.-based part of the study was launched early last year prior to the official announcement of the study on March 20, D.C. has surpassed the original city goal of recruiting 250 participants for the study.
"We are currently at 276 as of last Friday's report," Cannon told the Blade in a Jan. 13 interview. "And the current goal is now 300," he said. "So, we're hoping to push this over that goal line in the coming days and weeks.
Cannon said that like the community organizations involved in the study in other cities, Whitman-Walker Institute's role has been focused on recruiting gay and bisexual men to participate in the study and to send them to the American Red Cross headquarters building at 430 17th St., N.W. near the White House. That site, which serves as a blood donation center, is also serving as the site where study participants are screened, interviewed, and presented with a detailed questionnaire.
"We promote the study within Whitman-Walker," Cannon said. "We promote it to our networks. We did social media promotions across the city.'
Although Whitman-Walker doesn't have the final draft of the questionnaire being presented to study participants, Cannon said he has seen "bits and pieces" of it.  
"They ask very direct questions about the person's sex life, sexual partners, sex acts, numbers of partners," Cannon said. "There are questions about condom use, PrEP use, drug use. How recently have you had sex? Lots of related questions," he said.
"It's really about trying to figure out effectively which are the best questions," according to Cannon. "The hope is by analyzing the questions and identifying maybe the best 10 to 12 questions that can be universally used…to get the best answers that identify the individuals that may have the highest risk," he said. Doing that, he points, out can help determine which men who have sex with men should be eligible to safely donate blood.
A statement released by Whitman-Walker last March calls the study a "monumental research effort" that has the potential to lift the stigma imposed on gay and bisexual men whose ability to donate blood is currently based on their sexual orientation.
"The ADVANCE study is designed to understand if, by asking carefully crafted and research-informed research questions, blood collectors can screen potential blood donors for their individual HIV risk factors rather than applying a ban against sexually active gay and bisexual men," the statement says.
"The goal is to move away from overly broad questions that exclude potential donors and spread stigmatizing messages about MSM and their HIV risks," it says.
Cannon said that as of last week, study organizers had recruited a total of 879 study participants nationwide out of the goal of 2,000 participants needed to complete the study. He said issues related to the COVID pandemic created delays in the recruitment efforts, but study organizers were hopeful the study could be completed by this summer.
Information about participating in the study or learning more about it can be obtained at advancestudy.org.
Loudoun County removes LGBTQ book from school libraries
Superintendent overrules committee that called for retaining 'Gender Queer: A Memoir'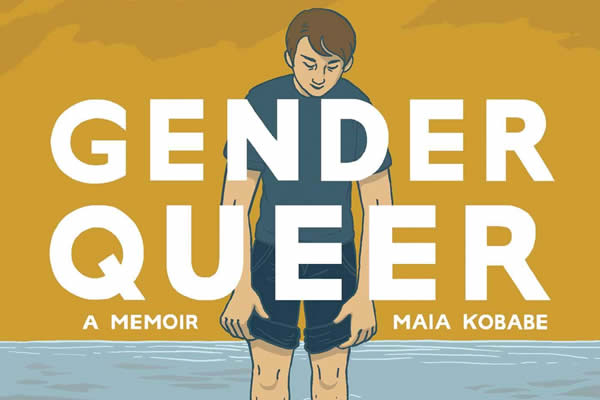 A Loudoun County, Va., School Board committee on Jan. 13 voted to uphold a decision by Loudoun County Public Schools Superintendent Scott A. Ziegler to remove from the school system's high school libraries a controversial LGBTQ-themed book called "Gender Queer: A Memoir."
The book is an illustrated autobiography by non-binary author Maia Kobabe that contains descriptions and comic book style drawings of sexual acts that e uses to tell the story of eir journey and struggle in discovering eir gender identity.
Although the book has received an American Library Association award for its relevance to young adults, critics in school systems throughout the country have said its sexually explicit content is not suitable for school libraries.  
The action by the School Board committee came after Ziegler asked a separate school system committee to review the book to determine if its content was appropriate for school libraries. Loudoun Public Schools spokesperson Wayde Byard told the Washington Post the committee, in a split vote, recommended that the book be retained in high school libraries.
According to Byard, Ziegler overruled the committee's recommendation and ordered that the book be removed from the libraries. Byard said that decision was then appealed to a School Board appeals committee, which voted 3-0 to uphold Ziegler's decision.
The decision by Ziegler to remove the book from school libraries took place about two months after Fairfax County, Va., Public Schools officials decided to return "Gender Queer" and another LGBTQ-themed book called "Lawn Boy" to their high school libraries after temporarily pulling the two books in response to complaints by some parents and conservative activists.
Two committees appointed by Fairfax school officials to review the two books that consisted of educators, school officials, parents, and students concluded that, while the books contained sexually explicit content, it did not cross the line as pornography or depictions of pedophilia as some opponents claimed.
"The decision reaffirms Fairfax County Public Schools' ongoing commitment to provide diverse reading materials that reflect our student population, allowing every child an opportunity to see themselves reflected in literary characters," a statement released by Fairfax school officials explaining their decision to retain the two books in their libraries said.
"Both reviews concluded that the books were valuable in their potential to reach marginalized youth who may struggle to find relatable literary characters that reflect their personal journey," the statement says.