Virginia Senate passes anti-gay adoption bill
Ebbin fears foster parents could force gay kids into 'reparative' therapy

The Virginia Senate voted 22-18 on Thursday to approve a bill that would allow private adoption and foster care agencies to deny placement of children based on religious or moral beliefs, including disapproval of homosexuality.
The action by the Senate, which fell mostly along partisan lines, came one week after the state's House of Delegates approved an identical bill. With Republican Gov. Robert McDonnell saying he planned to sign the legislation if it came to him, the bill is certain to become law.
"This bill authorizes every one of the 80 private adoption agencies licensed in Virginia to refuse to offer their services to any GLBT person based on a written moral policy, which they can make up tomorrow," said State Sen. Adam Ebbin (D-Alexandria and Fairfax), who is gay.
"The bill says they can do that no matter how qualified the prospective mom and dad is to become a parent," said Ebbin in an impassioned floor speech urging his colleagues to vote against the bill.
All 20 Republicans in the chamber voted for the bill, with two conservative-leaning Democrats, Sen. Charles Colgan of Prince William County and Sen. Phillip Puckett of Russell County joining Republicans to vote for the measure.
The bill, SB 349, became known as the "conscience clause" bill because supporters say it would protect the religious rights of faith based adoption and foster placement agencies, many of whom are funded by the state.
Ebbin and other opponents of the bill said that although it doesn't say so directly, they believe it is aimed mostly at allowing adoption agencies to turn away LGBT people as adoptive or foster parents.
The bill doesn't change the state's existing adoption and foster placement law and policies that allow an agency to place a child with a gay parent if the agency wishes to do so. Existing law prohibits placement of children with an unmarried couple, gay or straight, but it does not bar single parent adoptions or foster placements for gays.
"One of the most important reasons not to pass this bill is I'm sure that next year or soon thereafter we'll be addressing a bill that seeks to directly do what this bill does do indirectly – and that is to achieve the ultimate goal to ban foster care and adoption by GLBT people completely," Ebbins told his Senate colleagues.
In an effort to lessen the bill's impact, Democratic opponents introduced 18 floor amendments on Wednesday. The Senate voted down each of the amendments.
One of the amendments, introduced by Ebbin, called for prohibiting a foster parent from arranging for a gay or lesbian child to undergo "reparative" therapy to change his or her sexual orientation from gay to straight.
The bill could "endanger children – GLBT children – who make up a disproportionate share of youth in our child welfare system," Ebbin said. "Once this bill becomes law, foster care agencies contracting with the state to place our children will be free to place children in homes that are not in their best interest and potentially damaging to them," he said.
Ebbin said studies have shown that so-called reparative or conversion therapy often causes those undergoing it great emotional distress and sometimes leads to suicide.
Sen. Jeffrey McWaters (R-Virginia Beach), the lead sponsor of the bill, said the bill was aimed only at protecting the religious and moral beliefs of adoption and foster care agencies that provide an important service for the state.
"This is completely consistent with state and federal law," he said during the Senate debate. "It does not change who can or cannot adopt a child."
Sheila Alexander-Reid to step down as director of D.C. LGBTQ Affairs Office
Veteran community activist to take new job workplace bias consultant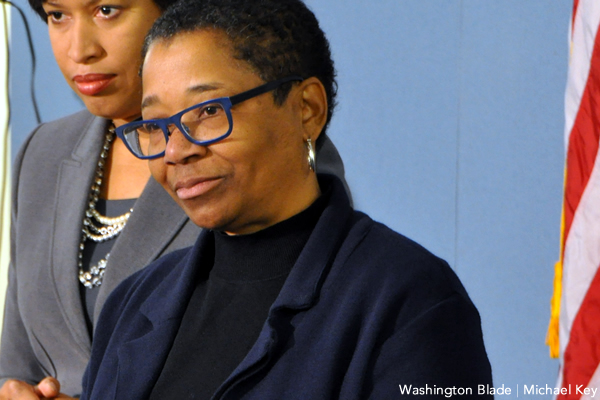 Longtime LGBTQ community advocate Sheila Alexander-Reid, who has served since 2015 as director of Mayor Muriel Bowser's Office of Lesbian, Gay, Bisexual, Transgender, and Questioning Affairs, is stepping down from her city job in mid-July.
Alexander-Reid told the Washington Blade she will take a few weeks of accumulated leave beginning June 15 to recuperate from follow-up knee surgery before officially leaving her current job to take on a new role as a private sector consultant in the area of workplace bias and diversity training.
She said will announce the name of the private sector company she will be joining as a senior vice president when she begins her new job in mid-July.
Among her duties at the Mayor's LGBTQ Affairs Office has been to lead the office's staff in providing LGBTQ related diversity or competency training for D.C. government employees at all city agencies.
According to the office's website, other activities it carries out include connecting LGBTQ residents with city services they may need, advocating on behalf of programs and policies that benefit the lives of LGBTQ residents, providing grants to community-based organizations that serve the LGBTQ community and LGBTQ homeless youth; and host events that "enrich, promote, and bring together" the LGBTQ community in D.C.
"That work is always going to be part of who I am," Alexander-Reid said. "But now I will be expanding on that work to look at racial equity and gender bias as well as LGBTQ bias," she said. "I feel like I will be doing the same work but in a different format."
Prior to starting her job at the mayor's office, Alexander Reid served as Vice President of Strategic Initiatives at the Washington Blade, Director of Strategic Engagement at the Washington City Paper, and Founder and Executive Director of the D.C. based Women in the Life Association. She has also served as host of Inside Out, a local FM LGBTQ radio show.
Alexander-Reid noted that when she began work at the LGBTQ Affairs Office in late January 2015, less than a month after Bowser took office as mayor, the office consisted of two full-time employees, including her, with a budget of $209,000. In the current fiscal year 2021, the office now has four full-time employees and two additional detailed employees, from the Department of Health and Department of Human Services. The mayor is proposing a budget of $561,000 for the office for fiscal year 2022.
"I would be remiss if I didn't say what a pleasure it has been to work for Mayor Bowser," said Alexander-Reid. "I was excited to work for her and I don't regret it for one second. "It's been an amazing journey and I appreciate her having faith in me."
She said she expects an interim director to be named to run the office in mid-July while a search is conducted for a permanent director.
Attack on trans woman in D.C. laundromat captured in video
Police seek help from community in identifying suspects.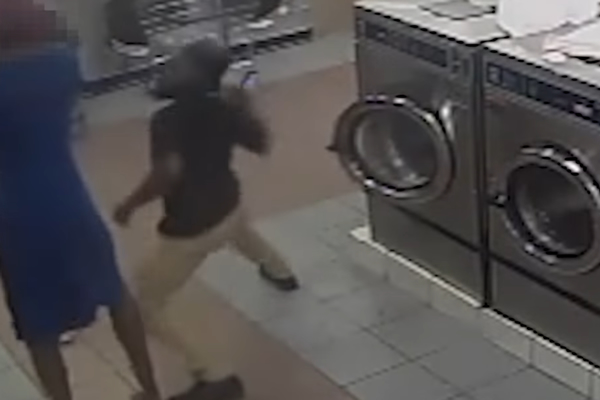 D.C. police on Thursday night released a dramatic video taken from a surveillance camera showing two women and a man repeatedly punching and shoving a transgender woman at a laundromat on Benning Road in Northeast Washington in an incident in which the victim was stabbed in the head.
Police, who have listed the Sunday, June 6, incident as a suspected anti-LGBTQ hate crime, are appealing to the community for help in identifying the three suspects, who are shown in the video attacking the trans woman before escaping in a black SUV while carrying laundry bags.
Detectives from the Metropolitan Police Department's Sixth District obtained the video from a surveillance camera at the Capital Laundry Mat at 1653 Benning Road, N.E., according to a police report and a police statement released Thursday night.
The video shows that the suspects were accompanied by two young children. It shows one of the adult female suspects appearing to be dancing by herself in front of a row of washing machines seconds before the three suspects lunged at the victim and began punching her.
"One of the suspects brandished a knife and stabbed the victim," the police statement says. "The suspects fled the scene in a vehicle. The victim was transported to a local hospital for treatment of non-life-threatening injuries," the statement says.
"Anyone who can identify these individuals, or vehicle, or has knowledge of this incident should take no action but call police at 202-727-9099 or text your tip to the Department's TEXT TIP LINE at 50411," the statement adds. It says the department's Crime Solvers program offers a reward of up to $1,000 to anyone who provides information leading to the arrest and indictment of a person or persons responsible for a crime committed in D.C.
Police spokesperson Alaina Gertz told the Washington Blade that because the investigation is ongoing, police could not immediately disclose whether they know if the victim knew one or more of the attackers before the incident took place or what, if anything, prompted the suspects to attack the victim other than due to her status as a transgender person.
The video released by D.C. police can be accessed here: https://youtu.be/7v8lthvUPcg
Trans woman attacked, stabbed at D.C. laundromat
Police seeking three suspects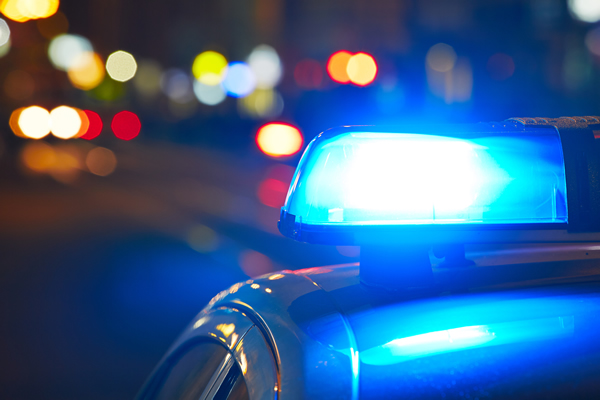 D.C. police are investigating a June 6 assault and stabbing of a transgender woman at a laundromat on Benning Road in Northeast Washington that a police incident report lists as a suspected anti-LGBT hate crime.
"On Sunday, June 6, 2021, MPD officers responded to a radio assignment for a stabbing at 1653 Benning Road, N.E.," the report says. "Officers arrived on the scene with Victim 1 bleeding," the report continues. "Victim 1 stated that they were stabbed in the head and assaulted by Suspect 1, Suspect 2, and Suspect 3," according to the report.
The report, which lists the incident as an assault with a dangerous weapon, says officers provided first aid to the victim until an ambulance arrived and took the victim to a local hospital for medical treatment. The report does not disclose the victim's gender identity or sexual orientation.
But D.C. transgender activists Earline Budd, an official with the LGBTQ supportive group HIPS, and Ruby Corado, founder and CEO of the LGBTQ community services center Casa Ruby, each said they learned that the victim is a transgender woman.
Corado said she has heard that the victim was recovering from her injuries and may have been released from the hospital where she was treated.
D.C.'s Fox 5 News reported details of the incident that were not in the police report obtained by the Washington Blade. According to Fox 5, the victim told D.C. police the assailants used anti-LGBTQ slurs during the attack and the assailants consisted of a man and two women who "beat her and stabbed her in the head."
The police report obtained by the Blade from the police public information office does provide a description of the three suspects and does not state whether or not the victim knew them prior to the attack.