Faith of our fathers
40-year-old gay Catholic group defies Vatican yet seeks communion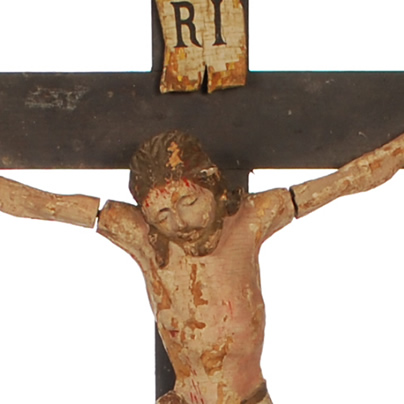 All the mainline Christian denominations by now have gay subgroups that have formed and many in the U.S. — Episcopalians, United Methodists and others — can point to huge strides they've made over the last several decades in persuading their hierarchies to acknowledge their presence.
Dignity/Washington, the largest chapter of the LGBT Roman Catholic group DignityUSA, has made so little progress making Vatican teaching less gay-condemning, the group, in many ways, has moved on to other goals it considers more realistic and achievable. The lone victories its members can count on that front are being invited indoors for a 1978 rainstorm during a weekend-long prayer vigil they held at the National Conference of Catholic Bishops at its former headquarters on Massachusetts Avenue (it didn't foster a long-term dialogue) and a wave from current Pope Benedict XVI (Joseph Ratzinger) in the summer of 2010 (accompanying soon-to-be Cardinal Donald Wuerl did not follow suit).
If anything, the Vatican has become more anti-gay over the years. Though several regional parishes had long allowed Dignity groups to meet on their property, in 1986 Ratzinger, writing as the Vatican's official keeper of church morality, issued a letter stating that gays and lesbians are "intrinsically disordered" and that gay organizations were no longer allowed the use of church property. It's only gotten worse in recent years — in January, Pope Benedict condemned same-sex marriage efforts and called gay marriage, in an ironic choice of words, a threat "to human dignity and the future of humanity itself … pride of place goes to the family based on the marriage of a man and woman."
And it wasn't just talk — the Roman Catholic Church gave $2 million this year to unsuccessful efforts to outlaw same-sex marriage with November's ballot initiatives in Maine, Maryland, Minnesota and Washington state, according to the Human Rights Campaign. As pro-LGBT efforts of any kind have taken root elsewhere, the Vatican has increasingly dug in its heels. Official church teaching is that although gays should "be accepted with respect, compassion and sensitivity," "homosexual acts are intrinsically disordered" and "sexual activity only exists for the purpose of procreation."
DignityUSA, however, has persevered. The Washington chapter, formed in the fall of 1972 (three years after the national group) and one of 45 active U.S. chapters, has its 40th anniversary events ("Forty and Fabulous on the First") this weekend. On Saturday evening, a reception and dinner will be held at Clyde's Restaurant (707 7th St., N.W.) with gay actor/singer Will Gartshore providing entertainment. On Sunday, Sr. Jeannine Gramick (Sisters of Loretto) will give the homily at a special "anniversary Mass." The group meets weekly for a 6 p.m. Mass at St. Margaret's Church, an Episcopal parish at 1820 Connecticut Ave., N.W. Details are at dignitywashington.org.
The sheer numbers are daunting. The Roman Catholic Church is the world's largest Christian church with more than a billion members worldwide. It claims it is the one true church founded by Jesus Christ, that its bishops are the successors of Christ's apostles and Pope Benedict is the successor to the biblical figure Peter. Though there was no recognized papacy until later centuries, Rome has named an unbroken line of bishops that dates to Peter and the first century. The Archdiocese of Washington did not respond to a request for comment for this article. Dignity/Washington members say relations with it are prickly at best.
"There's no sense that the local archdiocese has evolved at all," says Tom Bower, a gay member for almost the whole time the D.C. group has existed, a board member for eight years and co-chair for the anniversary committee. "They absolutely find us quite beyond the pale."
DignityUSA, a U.S. group as its name implies (similar but unaffiliated gay Catholic groups exist in other countries), has about 6,000 dues-paying members, according to Executive Director Marianne Duddy-Burke, a lesbian, and an operating budget at the national level of about $550,000 though the chapters have their own budgets.
It's a big weekend for the organization — the Boston chapter is also celebrating its 40th anniversary. San Diego, Chicago and New York also formed chapters in 1972. Dignity/Washington started with a group of about 20 at its first Mass. It moved from twice-monthly to weekly Mass in 1976. Membership and Mass attendance peaked at about 500 and 350 respectively in the late '80s. By late 1990, it had become the largest Dignity chapter in the U.S., a feat it maintains to this day, though membership is now about 200 with an average of 90-100 believers attending weekly Dignity Mass in D.C.
It owns its own building in Eastern Market that houses offices and provides space to other LGBT organizations such as Brother Help Thyself and Imperial Court. As with most Dignity chapters, Dignity/Washington prefers to let other churches host its services rather than build its own sanctuary.
"Most of our chapters are kind of hand to mouth," Duddy-Burke says. "We pay our rent and our basic expenses, we have the weekly bulletins and we underwrite memberships for low-income people and most of our chapters give back to their own communities in some way. … Our model really isn't based on the institutional model. We focus on the church as more of a community than a building."
Despite the daunting odds, the group is celebrating. Bower says the group's mere survival is a reason to be ecstatic.
"The official church would very much like us to disappear," he says. "We show that you can be gay and Catholic at the same time and happily so and despite the major efforts of a much bigger organization to throw us out. We're part of a national organization and when the Pope comes out against something gay, we're able to say, 'No, that's wrong.'"
Bob Miailovich, a member for 35 years — someone left a Dignity brochure on his car while he was in a gay bar — agrees.
"This small group of gay men got together back in the early '70s — who would have ever envisioned this thing being as big as it is and the ongoing evolution of this group. I mean we're a small group of sort of churchy guys, but it's really opened up and I think we're more broadly attuned to the world at this time and to what faith is all about."
Despite the political and spiritual cold shoulder, DignityUSA wants to be recognized by the Holy See, the Roman Catholic Church's central governing body. It's a key component to the organization's mission. While many LGBT Christian groups, Catholic and otherwise, have started their own denominations with no interest whatsoever in swaying the Vatican, Dignity, at its very core, feels that it's important to stay within the church and fight as much as possible. Though many gay Christians cannot fathom wanting anything to do with the Roman Catholic Church after centuries of anti-gay teaching, Dignity members say it's essential.
"People think, 'Oh, why do you keep banging your head against the wall?'" Bower says. "That's why we call it faith. It's a belief that there is within the larger view of what it means to be Catholic, there's something there that you just don't have with other groups."
Miailovich says despite the anti-gay teachings, he still "find(s) more truth in the Catholic Church than I do in other religions. It's not perfect and I don't buy everything at the end of the day but from what I know of other religions and what they teach and believe, I find more truth on the Catholic side than elsewhere else."
As one might expect considering its size, millions have left the Catholic Church for all kinds of reasons and to varying degrees. Hard though it may be for LGBT people to fathom, there are even strains of Catholicism that have broken off from Rome because they feel the Vatican has gotten too liberal.
The most notorious is the Mexico City-based New Jerusalem, a gated community of about 3,000 that was founded in 1973 as a reaction to the Second Vatican Council of 1962-1965, a hugely influential change in Church teaching that allowed Masses to be said in languages besides Latin among many other things. Several "Traditionalist Catholic" splinter groups also revolted against Vatican II reform, but New Jerusalem is widely regarded as the most extreme — TV, radios, alcohol, makeup and pants for women are forbidden. Residents attend church three times daily, don't recognize any post-Vatican II Roman church leaders and think Benedict is the anti-Christ. Fundamentalist splinter groups occur in other religions as well — the Fundamentalist Church of Jesus Christ of Latter-day Saints received massive media attention in recent years when its leader was convicted of two felony counts of child sexual assault.
Other groups have broken away on the opposite side of the theological spectrum. The North American Old Catholic Church considers itself a "2,000-year-old church with Apostolic succession" and teaches the "full inclusion of LGBT persons in our religious life, sacraments and clergy." It also advocates for "the full inclusion of LGBT persons throughout society." Two gay-welcoming Old Catholic churches were launched in Washington — one in 2011 and another this year— but appear to be inactive. Neither Presiding Bishop Rev. Michael Seneco, who's gay, nor Rev. Kerolos Saleib of Saint Damien of Molokai Parish responded to multiple requests for comment or had recently updated websites. The churches that hosted them say they're no longer meeting there. Salieb held a series of Masses at National City Christian Church during the International AIDS Conference this summer but fled the country soon after under mysterious circumstances. Duddy-Burke says many similar groups have come and gone over the years.
Denomination hopping between Episcopalians and Catholics, perhaps the two most stylistically similar denominations in the U.S., has been going on for all kinds of reasons for decades. Many progressive believers left the Catholic Church to find more gay- and women-friendly theology among Episcopalians, the Anglican Church in the U.S. The Catholic Church in recent years has started welcoming a spate of disenfranchised former Episcopalians who left disappointed that the church had become more gay-friendly. Others Episcopalians still, as has been widely reported, left their U.S. dioceses to align with more conservative Anglicans in other countries.
Bower says for him, converting to the Episcopal faith is not feasible.
"There are some basic theological differences between Catholicism and Episcopalianism," he says. "Even in something as basic as Communion and the notion of transubstantiation. We really believe there is a change in the body and blood. They see it more as a memorial. And there's a whole historical precedent of difference between the Roman and English churches."
Others are pushing as far as they can under Vatican leadership and not just on LGBT issues. A lengthy article in the current edition of Rolling Stone magazine tells the stories of Sister Simone Campbell, Sister Margaret Farley and others who are "refusing to back down from the Catholic Church itself up to and including the Pope. On issues ranging from gay rights to abortion, the nuns are either openly contradicting church dogma or quietly undermining it with their silence, choosing instead to embrace a radical notion of missionary work that wouldn't be out of place at an Occupy Wall Street rally: income inequality, universal health care, corporate responsibility, immigration reform," and elsewhere reproductive rights. A group called Roman Catholic Womenpriests includes former nuns, ordains women as priests and holds women-led Masses.
Campbell, who didn't immediately respond to a Blade interview request, told Rolling Stone, the same anti-LGBT beliefs are equally as harmful to women in the exclusively male-led Vatican.
"You've got to realize that any crowd that took 350 years to figure out Galileo might be right is not noted for rapid change," she told Rolling Stone. "This is about a cultural clash between monarchy, in which the monarch is always right, and democracy where everybody has equal dignity, responsibility and opportunity, women and men. The whole idea that we live in a pluralistic society is news to these guys."
The combined effect of all this shifting is a diminished Vatican hurt by a range of factors, from those turned off by its increasingly right-leaning teachings to millions lost and incalculable damage incurred by the clergy abuse scandals of recent years. Benedict, at times, has seemed almost cavalier about the loss, advocating for a "smaller, purer" church and saying that a church that seeks "above all to be attractive is already on the wrong path."
Regardless of one's political or religious views, the numbers are surprising — a third of those reared Catholic in the U.S. leave the church and, according to a Pew Research Study, 10 percent of all Americans are former Catholics. The losses have been partially offset by the disproportionately high number of immigrants who are Catholic.
Gramick, in a lengthy phone interview this week from her home in Mt. Ranier, Md., says the Roman Catholic "institution is unraveling." Gramick, who declines to give her sexual orientation, was present at the first meeting to form Dignity/Washington in the cafeteria of the National Shrine of the Immaculate Conception with five others in 1971. She later formed New Ways Ministry, which she calls "a peace and justice center focused solely on the issue of lesbian and gay rights."
Of the Church's continual anti-gay teaching, she says it's "causing a lot of dissonance and alienation among the Catholic community and a lot of Catholics out there in the pews, they're no longer in the pews. Mass attendance has decreased dramatically in the last 20-30 years and actually what I think we're seeing is the beginning of the dissolution of the institutional church. The institution is unraveling but the faith of the people is continuing and growing."
Is it conceivable to imagine a post-Vatican world in another generation or two?
"If you're talking erasure, I don't think I'd go that far, but it's unraveling certainly … it's getting increasingly frayed and not only at the edges. It's really closer to the center and it's coming apart at the seams."
Dignity Catholics don't want that. At the most basic level, they believe the Vatican is simply wrong on the traditional view of Christian teaching and homosexuality, though opinions vary as to the reasons.
"We say basically go back and look at the theological arguments presented and they're false," Bower says. "We're not picking and choosing which teachings to abide by. This is what you get when you look at the gospels. There really are no statements about LGBT people the way we think of it today. The type of homosexuality they were referring to was basically idol worship and temple prostitution."
Having worked on these issues for decades, Gramick says the Vatican's gay and lesbian theology is "not really based on the Bible."
"It's really more based on philosophy and natural law that uses scriptural quotes as backup," she says. "It doesn't really use scripture as the basis for its objection. They say homosexuality is unnatural without any acknowledgement that nature changes. What you see with the Vatican is an unwillingness to acknowledge change. If you have a 13th century mind, you would understand their position but with a 21st century mind and the science we've discovered, the human person is not what the Vatican thinks a person is. … Psychology has come so far since then. They didn't know anything about Freud. When they come out with these views of it being a disorder, this is just not an enlightened view of psychology."
Gramick's iconoclastic work has not gone unnoticed — she says in the last 11 years, her religious community has received nine letters from the Vatican advising her superiors to have her dismissed from the Sisters of Loretto. The three presidents in that time have backed her, though the Church does play hardball — last month Rev. Roy Bourgeois was "canonically dismissed" for ordaining a woman at a Unitarian church in Kentucky in 2008.
Duddy-Burke says the decades of Vatican opposition have brought both a change of approach from DignityUSA and unexpected advantages.
"I think we've actually moved from trying to get acceptance from the Vatican to really leading the rest of the Church into being a more just Church," she says. "I think we sort of feel like our job now is to hold our leadership accountable for the damage they've done and at the same time model a better way of living out the Gospel."
She says slowly this approach has "caused people to see that the Church not only belongs to the Bishop and the Vatican. All of us who are baptized Catholics own the Church as well as the rites that are part of it. … If people ever caught on it would be like, 'Wow, you're governing it, you're saying who preaches and presides, you decide if you want to use the new Roman Missel or not.' Because we've been so excluded, we've had this opportunity to create the Church that we deserve and it's an opportunity that a lot of Catholics haven't had."
Despite the Vatican's refusal to bend, there's growing evidence, both anecdotally and in serious research, that its official teachings are out of step with the majority of its laity — a summer poll conducted by the Pew Forum on Religion and Public Life found that 58 percent of Catholics favor same-sex marriage with 33 percent opposed. On matters as far-ranging as whether an unexcused absence from weekly Mass warrants a mortal sin to use of contraception, U.S. Catholics and many of their counterparts in other countries have long been a body of believers who haven't felt they had to adhere to all church doctrine to stay in the church. Many parishes and clergy — even some who perform Dignity Masses — are quietly gay welcoming. They keep it low key to avoid interference from church leaders, but can sometimes be more welcoming than many would realize. So much so, in some cases, that it's eaten into Dignity's roster.
That's partially why Dignity members say they don't want to leave the church.
"The church really is the people of God," Miailovich says. "It's a horizontal assembly, not some vertical thing where you have the Pope at the top and an triangle going down with everyone else. Out there in the pews, there's a great deal of support for a more progressive agenda, for women's ordination, for married priests, you have the nuns on the bus for social justice. Everybody in the church does not believe 100 percent of everything that may be promulgated from on high."
He also says there's an "attitude that it's my church and you can't take it away from me."
"I can't leave what is mine and that leaves you with a sense that some day, somehow, change will be made. You're right, there are people who've said, 'Why spend a lifetime working with these people, let's go start our own thing and not worry about what's left behind.' But I'm not going to change. This is who I am. This is how I pray and how I worship and here I am. We pray for our church leaders because we feel they need enlightenment."
Bower agrees.
"We've found a peace and reconciliation within ourselves," he says. "It's more like a 'We think we're right and we're here if you ever want to talk'-kind of thing. There's less time today spent trying to articulate and debate all these issues because there's really nobody to talk to on the other side."
Despite, the ongoing dissent, Gramick says the occasion is a celebration.
"They've had a marvelous ministry here for 40 years ministering to local LGBT Catholics," she says. "It's really a time to rejoice."
The death of Irene Cara and the broken promise
Singer inspired a generation of gay men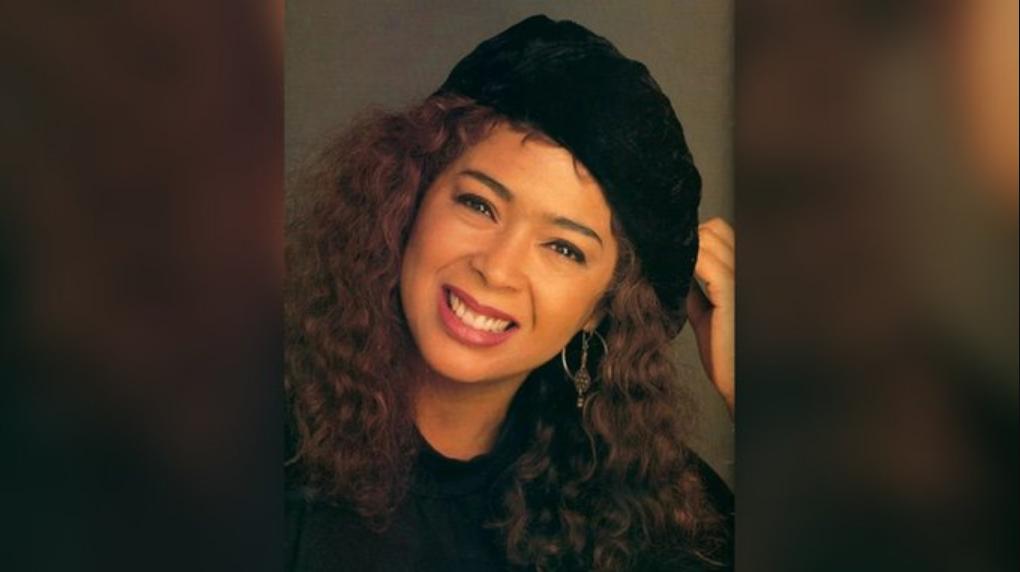 As I walked down the dark alley towards the glowing light, the opening bridge of the song called to me. "Baby, look at me and tell me what you see, You ain't seen the best of me yet, Give me time, I'll make you forget all the rest, I got more in me…" 
The movie "Fame" had just come out and its anthem theme song was HOT. The glowing light that night was a gay disco, tucked away from heterosexual view, while gay bashers circled in trucks a few blocks away. That safe haven in the dark alley allowed me, a 20-year old youth, a path out of the closet in which I emotionally and sexually had residence. To me, the words of the song "Fame," and its overwhelming delivery, was my inner drive and conviction that I could be me, and my own personal superstar.
The young woman delivering the song was barely an adult herself. Irene Cara had been a child performer and was now breaking into the fame she was singing about. She was "instantly" famous thanks to "Fame." Amongst other accolades, she was nominated for a Best New Artist Grammy. The song itself won the Oscar that year.
The Grammy nomination put a public trapping on what we all knew: She was a star, and had all the makings to become a superstar, an icon.
For LGBTQ people, her work that year spoke to our souls and our optimism. As "Randy 503" shared on the Joe.My.God site, "I was a deeply closeted and lonely kid in my early 20s. Not lonely because I didn't have friends (had tons of them,) but lonely because I refused to admit I was gay and kept away from all that. I saw the movie and was transfixed. Bought the album and played it all the time, especially her songs. Her voice was so strong, and so expressive, it really touched me." 
Cara's second song in the movie also resonated with the gay audience. While "Fame" spoke to the sassy optimism of embracing our outstanding selves and taking the world by storm, "Out Here On My Own" spoke to the dark loneliness of the closet. "Sometimes I wonder where I've been, who I am, do I fit in … when I'm down and feeling blue, I close my eyes so I can be strong and be with you … I dry the tears I've never shown, Out here on my own."
Randy points out, "Out here on my own always left me in tears. It hit so close to home, and I could feel sadness on it. It's a great song sung by one of the best."
After the success of "Fame," Cara ventured into a sitcom pilot and a freshman album, "Anyone Can See." Neither caught the world on fire, as apparently only some of us could actually "see" her real worth.
It was not long after however, where Cara's apparent life mission to deliver culture changing anthems, came calling again. She was recruited to help out with the new "Flashdance" movie, and to work with iconic gay producer Giorgio Moroder for its theme song. Cara was reportedly reluctant. She had already been criticized as a second tier Donna Summer with "Fame," and was hesitant to get into that musical lane. Later she would work with John Farrar whom she credited as being responsible for ALL of Olivia Newton John's hits. It seems that her superstar aspirations were more to be Pop Princess than another Queen of Disco.
She did sign on board with Moroder and "Flashdance," and made history. Her song "Flashdance… What a Feeling" went to #1 for six straight weeks. It affected American culture in style, attitude and substance. On Academy Awards night, Cara made history again. (She had already made history in a minor way a few years before as the first person to ever perform two nominated songs in one evening.) This time, she became the second African American woman to win an Oscar – the first being "Gone With the Wind"'s Hattie McDaniels. 
Cara was the first African American woman to ever win a non-acting Oscar ever.
The anthem "Flashdance…What a Feeling" spoke to LGBTQ audiences of the 80s, in a way that "Fame" had. "First when there's nothing but a slow glowing dream that your fear seems to hide deep inside your mind. All alone, I have cried silent tears full of pride in a world made of steel, made of stone, Well, I hear the music, close my eyes, feel the rhythm wrap around, take hold of my heart. What a feeling, being is believing I can have it all.."
Online, Joe.My.God reader BearlvrFl shared, "LUV the song "Out Here On My Own" I call 'Flashdance: What A Feeling' my coming out song, popular on the dance floor very close to the time I finally came out at the age of 22. I could relate to "Take your passion/And make it happen." Super simple lyric, but it's timing was everything for me, having been closeted for so long."
This time, AIDS had brought a very dark cloud over the community, however. Its ravage was starting to take widespread hold. It made the line in the song "now I'm dancing for my life" even more poignant and relevant.
The darkness that was falling over the LGBT world was on a parallel track in Cara's own life. As she picked up Oscars and Grammys, there was a sadness in her eyes above the smile on her face. She shared later that the public glory was matched with a behind-the-scenes horror story. Her record company was keeping her from garnering any success from her accomplishments. Columnist Liz Smith stated in a 1993 piece that Cara earned only $183 in royalties.
Cara inspired women of her generation. Patti Piatt shared on Twitter, "I am from a generation of women who thought anything was possible because of Irene Cara. She gave us so much joy. We all danced to her songs, didn't matter if we could dance, we danced because she made us want to dance."
In spite of singing THE anthem of women empowerment, Cara became an example of a woman destroyed by the male dominated music industry. As she fought back for earnings due her, she became black-listed, and her trek to superstardom halted. They made her all but disappear. A decade later, she won, but by that time, the damage had been done.
Her final solo album subconsciously called out her professional demise with songs titled "Now That It's Over," "Get a Grip" and the ultimate defeatist title "Say Goodnight Irene."
"I know well enough this is going nowhere … Might as well say goodnight, Say Goodnight, Irene."
In the end, she seemed to find peace. Her final professional projects were gifts to other women musicians of color. She comfortably settled into what she called "semi-retirement" and her Florida home with a steady stream of funds from her hard-earned residuals.
The promise of becoming a superstar eluded her, but she busted the ceiling so it might not elude others. Painfully for fans, the promise from the song "Fame," "I'm gonna live forever" also did not come true. 
Let's instead, think of her making "it to heaven" and lighting "up the sky like a flame."
For those trying to find final meaning from her life, and the un-fulfilled promise of what could have been for her and for us, may do so in the words from her lesser-known anthem. Here we swap out a promise instead for "The Dream": 
"We can all be free, we hold the key, if we can see what we want to be. Life is never easy, you get no guarantees, why not give your all and see what you can find?"
And, yes.
Irene Cara, we will always remember your name.
"The Dream"
*************************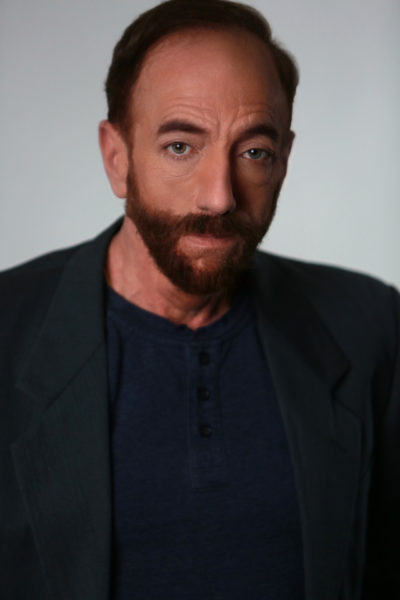 Rob Watson is the host of the popular Hollywood-based radio/podcast show RATED LGBT RADIO.
He is an established LGBTQ columnist and blogger having written for many top online publications including Parents Magazine, the Huffington Post, LGBTQ Nation, Gay Star News, the New Civil Rights Movement, and more.
He served as Executive Editor for The Good Man Project, has appeared on MSNBC and been quoted in Business Week and Forbes Magazine.
He is CEO of Watson Writes, a marketing communications agency, and can be reached at [email protected] .
PHOTOS: Superstar Drag Revue
Bombalicious Eklaver leads the show at Selina Rooftop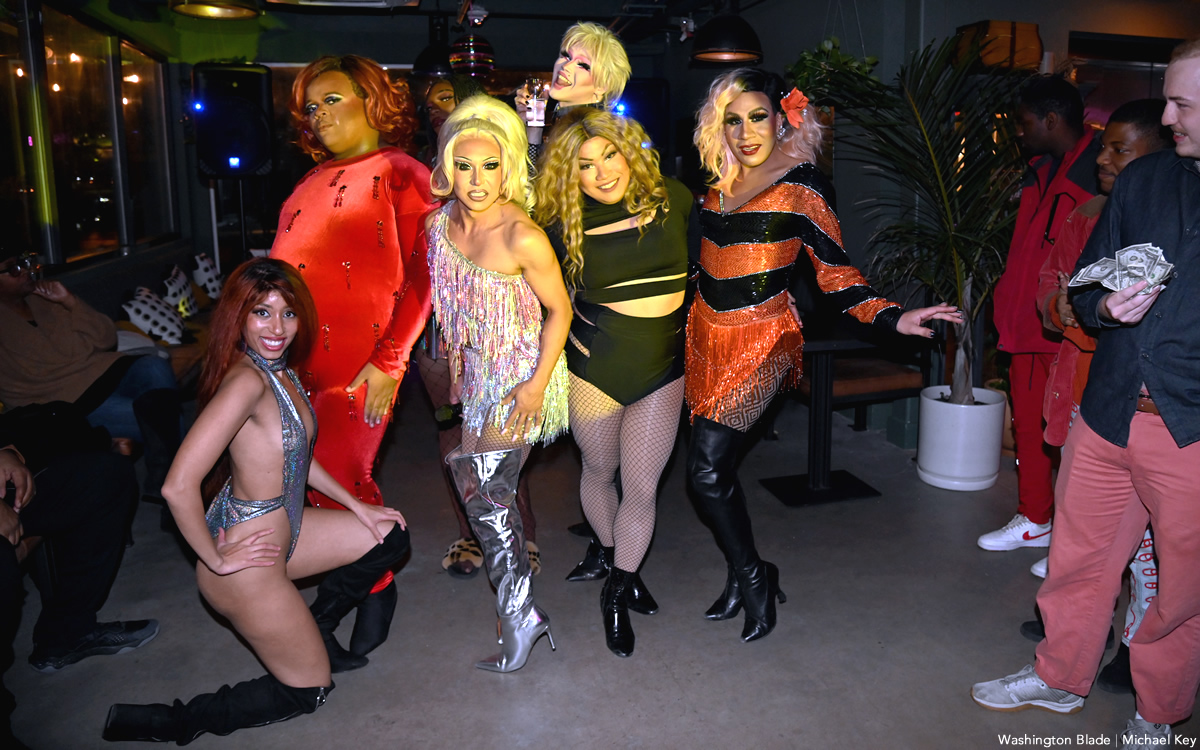 Bombalicious Eklaver held a Superstar Drag Revue at the Selina Hotel Rooftop on Friday, Nov. 25. DJ Juba provided the music.
(Washington Blade photos by Michael Key)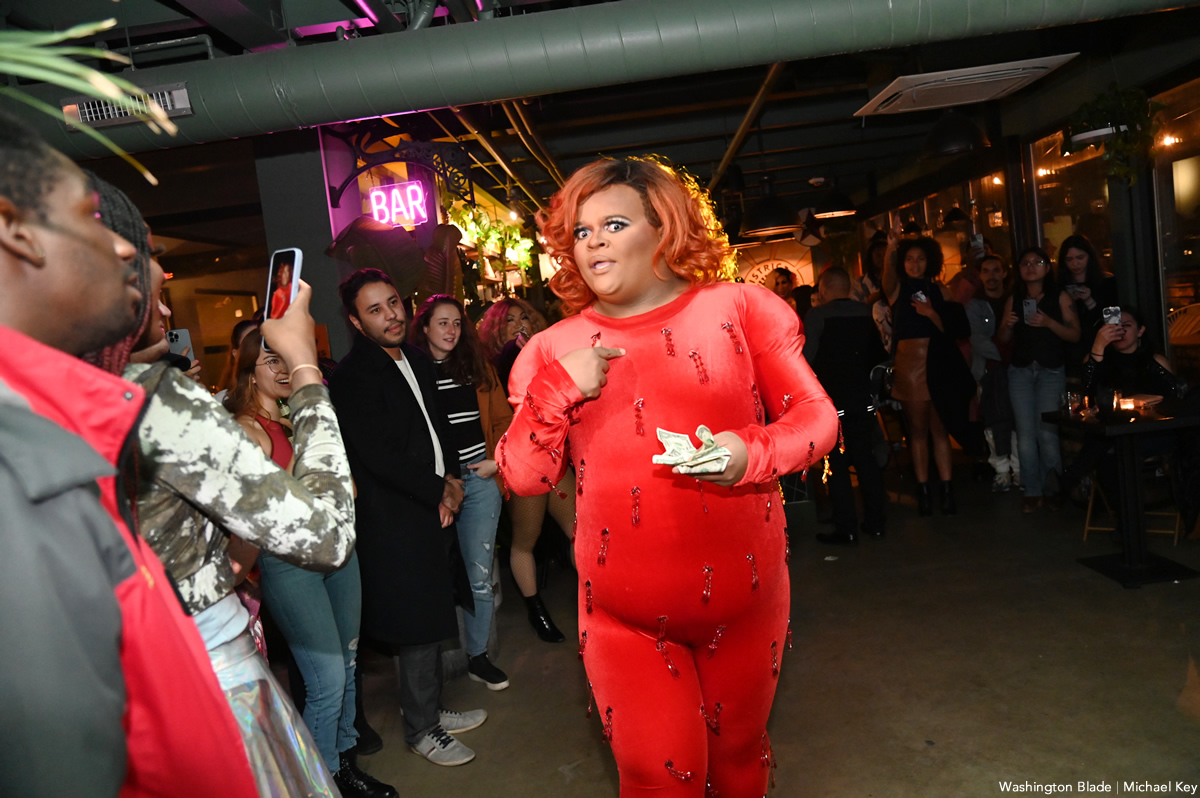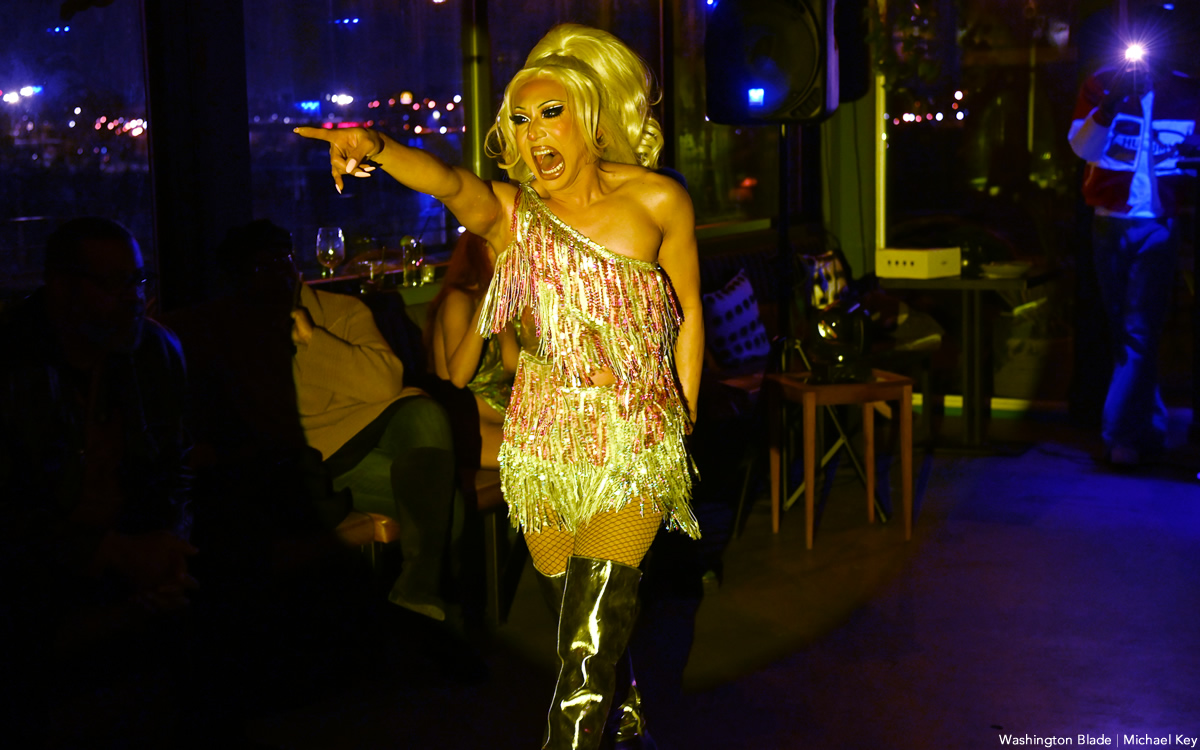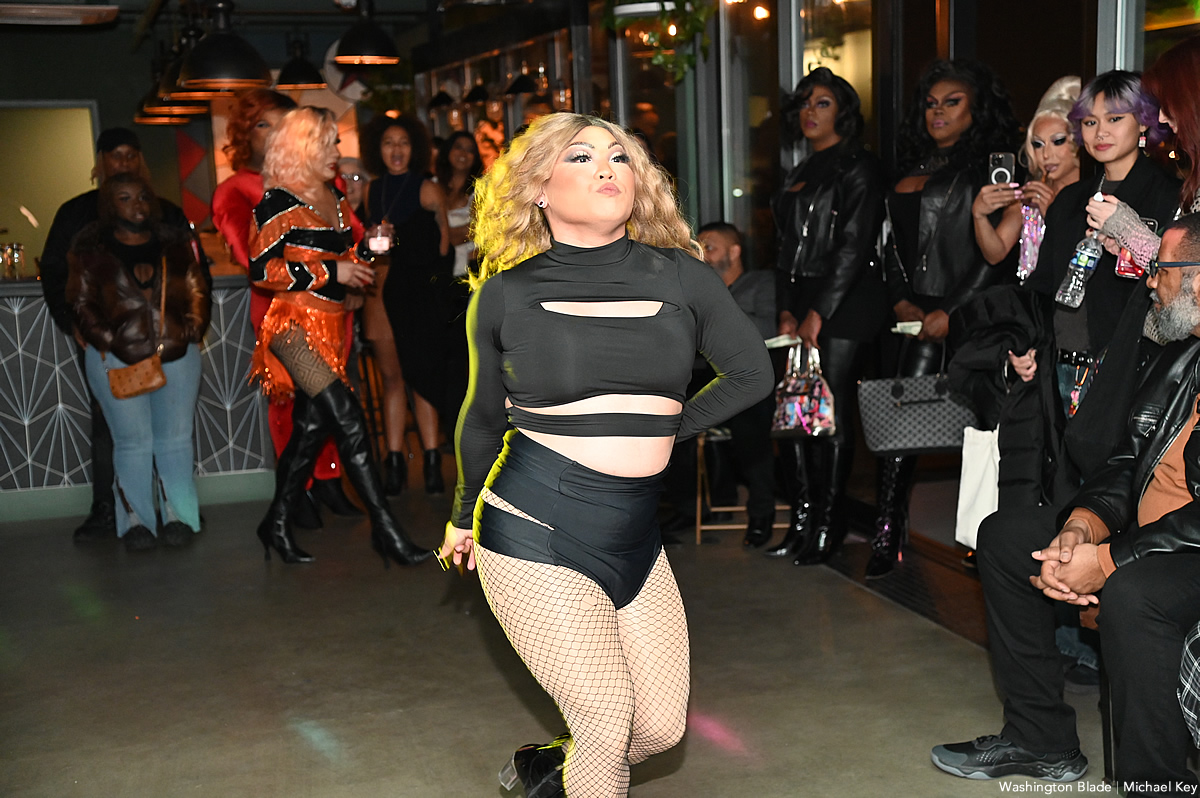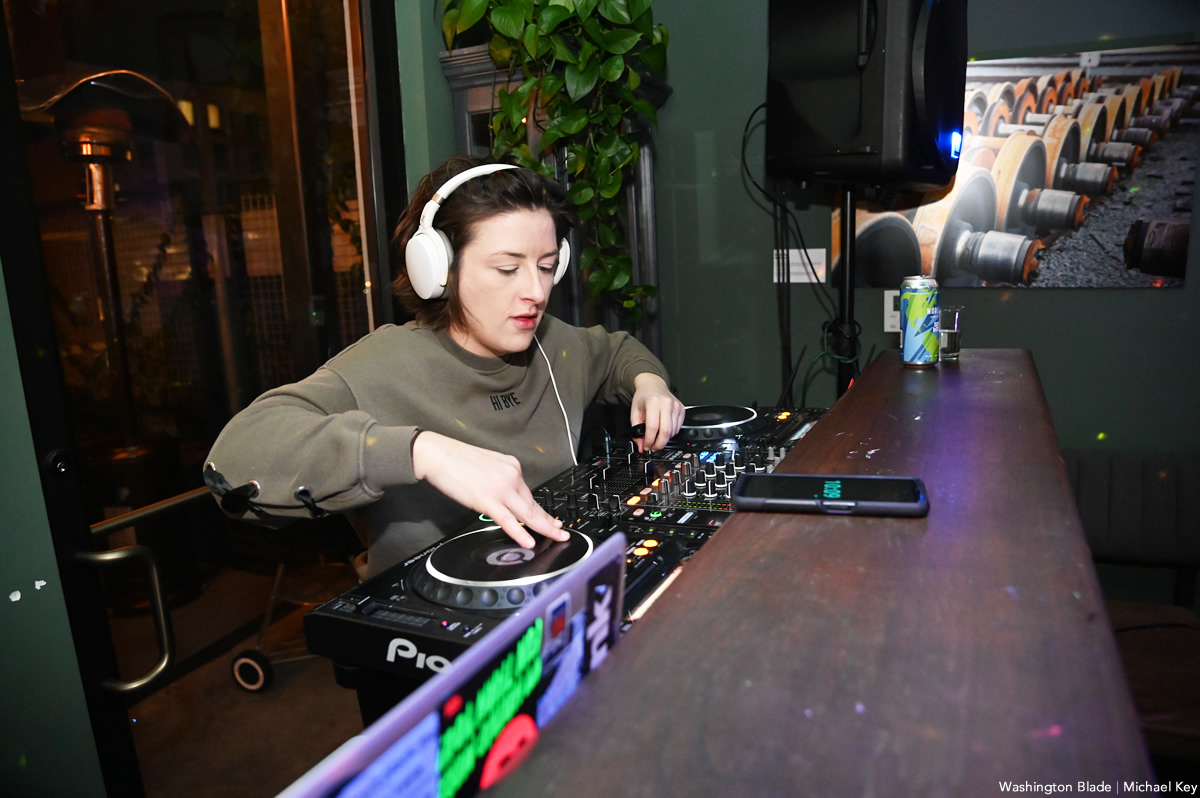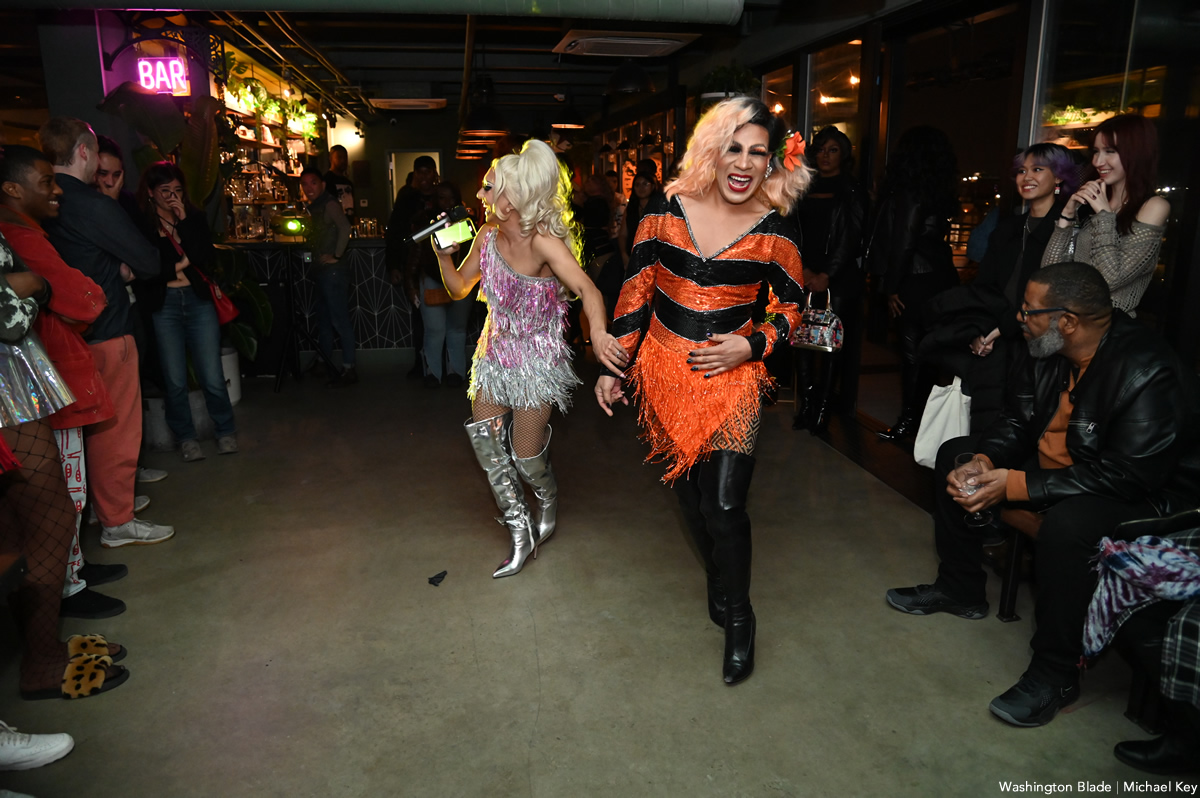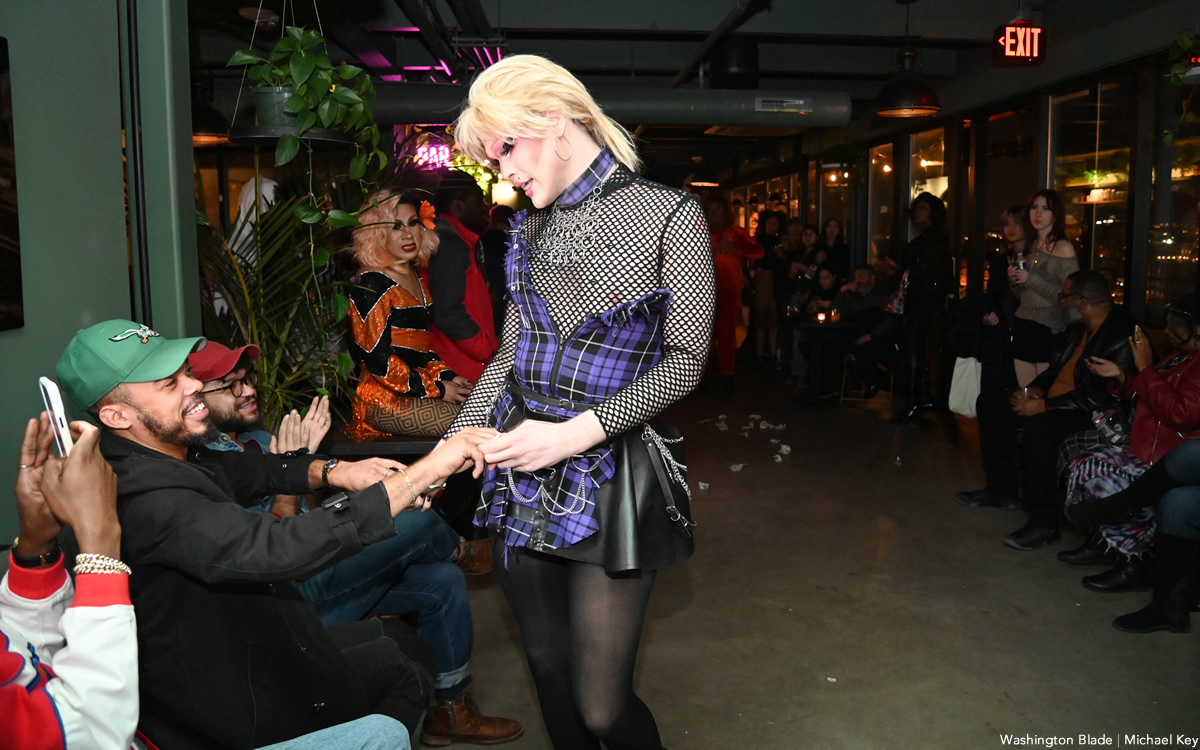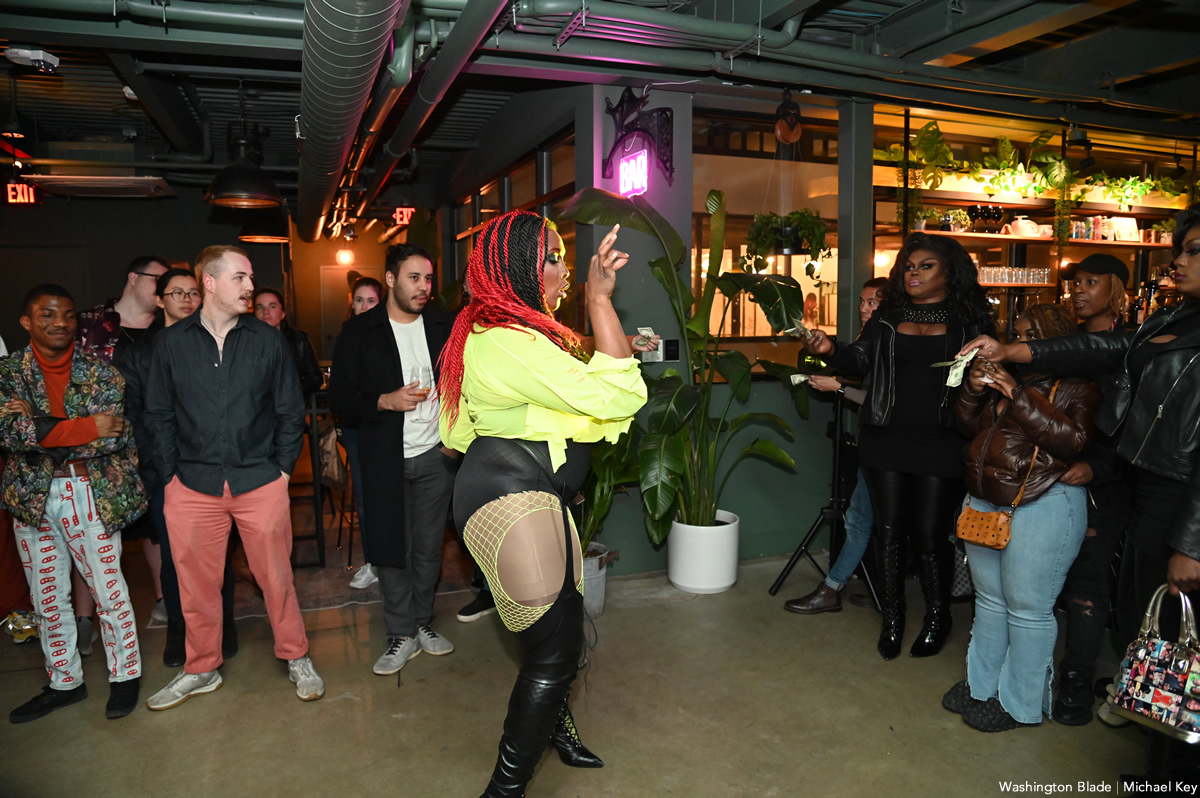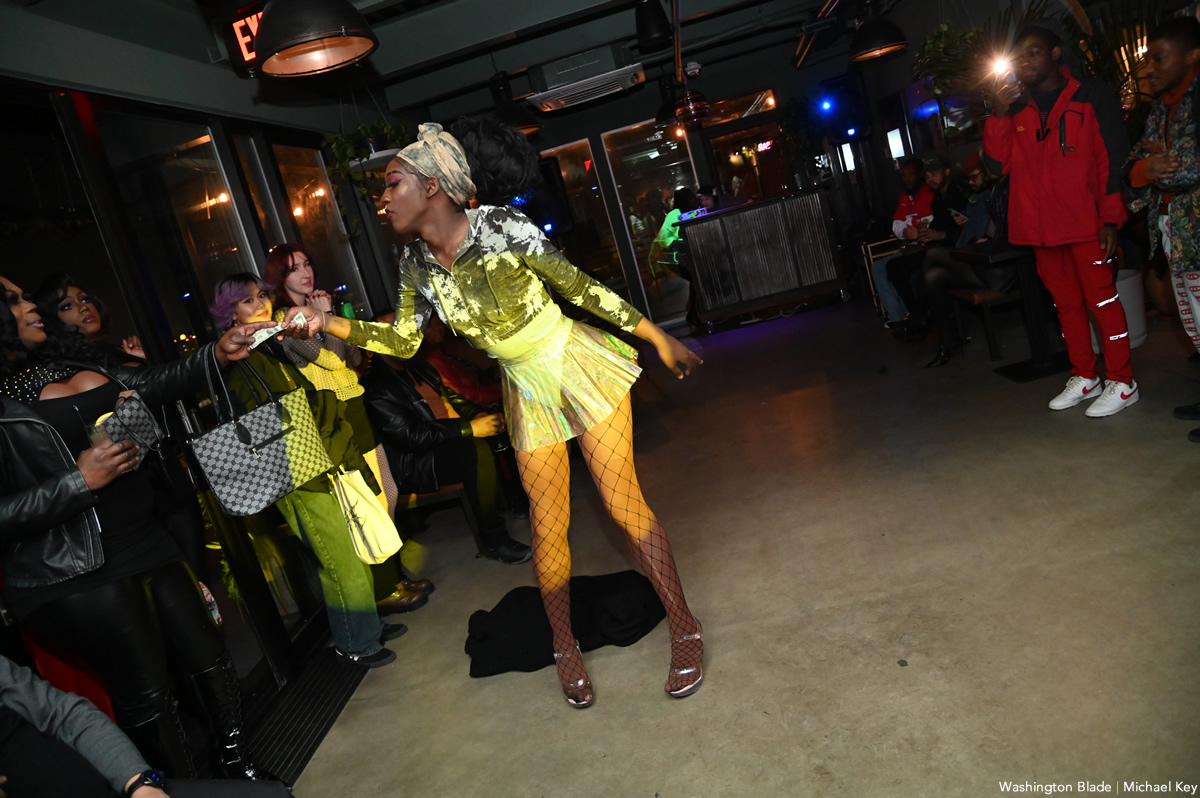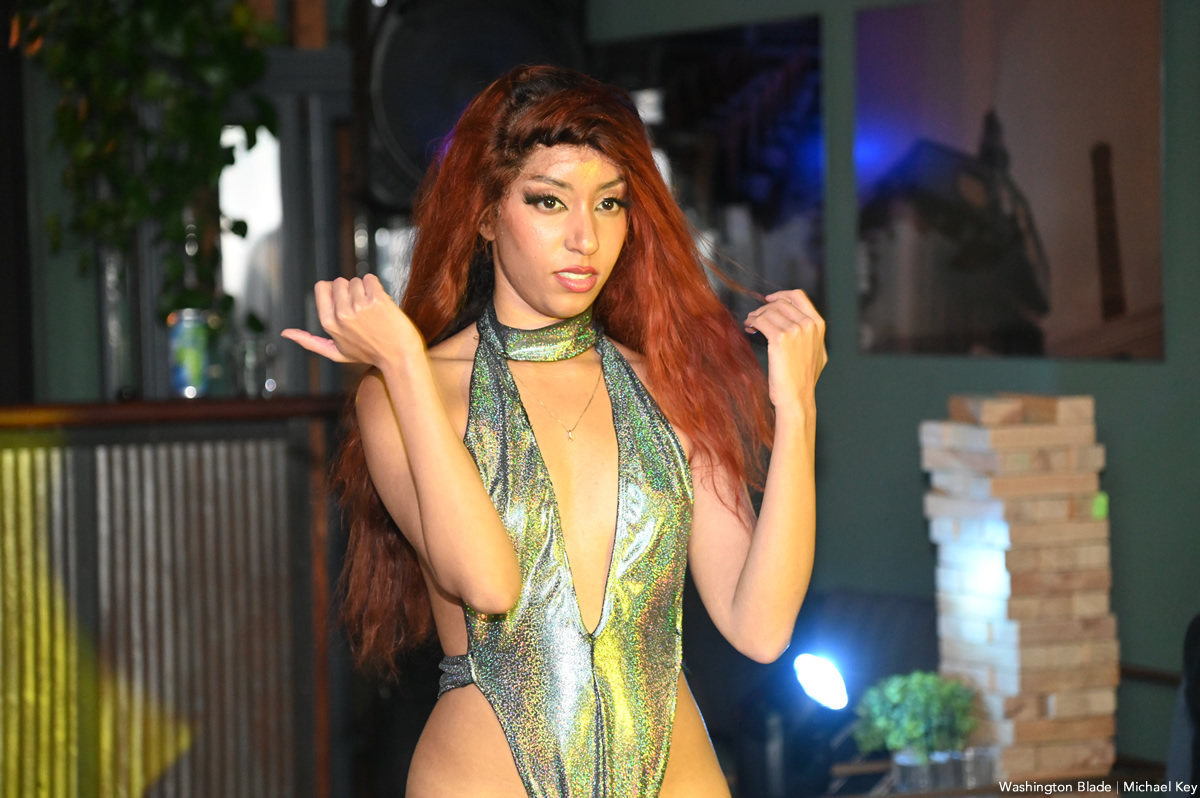 Catching @BombaEklaver's show. @MasVusi performing at Selina Rooftop. Covering for @WashBlade pic.twitter.com/8t8aqlbJVC

— Michael Patrick Key (@MichaelKeyWB) November 26, 2022
Memoir reveals gay writer's struggle with homelessness, rape
'Place Called Home' a powerful indictment of foster care system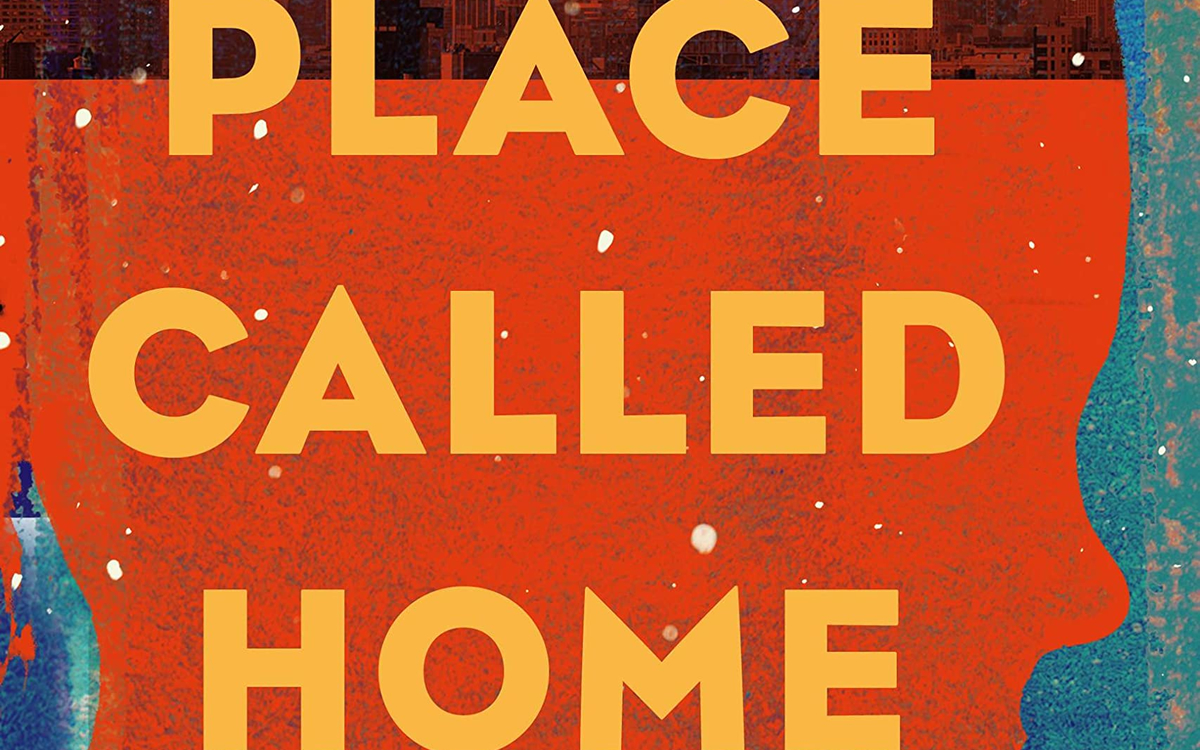 'A Place Called Home: A Memoir'
By David Ambroz
c. 2022, Legacy Lit/Hachette
$30/384 pages
For David Ambroz, 42, author of the stunning new memoir "A Place Called Home," one of his childhood recollections is of himself and his siblings walking with Mary, their mother, on a freezing Christmas morning in New York City.
Today, Ambroz, who is gay and a foster parent, is a poverty and child welfare expert and the head of Community Engagement (West) for Amazon.
But, on that morning, Ambroz remembers, when he was five, he and his seven-year-old sister Jessica and six-year-old brother Alex were freezing. Mary, their mother was severely mentally ill. They were homeless.
Ambroz draws you into his searing memoir with his first sentence. "I'm hungry," he writes in the simple, frightened, perceptive voice of a malnourished, shivering little boy.
As it got dark and colder, Ambroz recalls, he walked with his family, wearing "clownishly large" sneakers "plucked from the trash."
Five-year-old Ambroz remembers that the night before his family got lucky. They had dinner (mac and cheese) at a church "with a sermon on the side."
"We heard the story of the three kings bringing gifts to the baby Jesus," Ambroz writes.
But the next day they're still homeless and hungry. Talk about no room at the inn.
Young Ambroz doesn't know the word "death," but he (literally) worries that he and his family will die. Frozen, hungry and invisible to uncaring passersby.
Ambroz's mom, a nurse, is occasionally employed and able to house her family in dilapidated apartments. But she's soon ensnared by her mental illness, unable to work. Then, her family is homeless again.
Until, he was 12, Ambroz and his siblings were abused and neglected by their mother.
Ambroz doesn't know as a young boy that he's gay. But, he can tell he's different. Instead of playing street games with the other kids, Ambroz likes to play "doctor" with another boy in the neighborhood.
Mary tells him being gay is sinful and that you'll die from AIDS if you're queer.
His mother, having decided that he's Jewish, makes Ambroz undergo a badly botched circumcision. At one point, she beats him so badly that he falls down a flight of stairs.
At 12, Ambroz reports this abuse to the authorities and he's placed into the foster care system.
If you think this country's foster care system is a safe haven for our nation's 450,000 kids in foster care, Ambroz will swiftly cut through that misperception.
From ages 12 to 17, Ambroz is ricocheted through a series of abusive, homophobic foster placements.
One set of foster parents try to make him more "macho," rent him out to work for free for their friends and withhold food from him. At another placement, a counselor watches and does nothing as other kids beat him while hurling gay slurs.
Thankfully, Ambroz meets Holly and Steve who become fabulous foster parents. Ambroz has been abused and hungry for so long he finds it hard to understand that he can eat whatever he wants at their home.
Through grit, hard work and his intelligence, Ambroz earned a bachelor's degree from Vassar College, was an intern at the White House and graduated from the UCLA School of Law. Before obtaining his position at Amazon, he led Corporate Social Responsibility for Walt Disney Television.
But none of this came easily for him. Coming out was hard for many LGBTQ people in the 1990s. It was particularly difficult for Ambroz.
In college, Ambroz is deeply closeted. He's ashamed to reveal anything about his past (growing up homeless and in foster care) and his sexuality.
At one point, he's watching TV, along with other appalled students, as the news comes on about Matthew Shepard being murdered because he was gay. Ambroz can see that everyone is enraged and terrified by this hate crime. Yet, he's too ashamed to reveal anything of his sexuality.
Over Christmas vacation, Ambroz decides it's time to explore his sexuality.
Telling no one, Ambroz takes a train to Miami. There, he goes home with a man (who he meets on a bus) who rapes him.
"I run in no particular direction just away from this monster," he recalls. "When I get back to my hotel room, I'm bleeding…I order food delivered but can't eat any of it."
"A Place Called Home" has the power of Martin Luther King, Jr.'s "Letter from Birmingham Jail" and Rachel Carson's "Silent Spring."
Ambroz's writing becomes less powerful when he delves into the weeds of policy. But this is a minor quibble.
Ambroz is a superb storyteller. Unless you lack a heartbeat, you can't read "A Place Called Home" without wanting to do something to change our foster care system. 
The Blade may receive commissions from qualifying purchases made via this post.