Despite apology, LGBT concerns persist over Hagel
Advocates seek plan on partner benefits for gay troops, openly trans service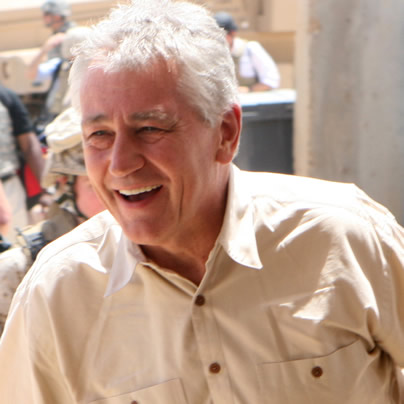 Concerns are emerging in some circles of the LGBT community — now most notably from gay Rep. Barney Frank (D-Mass.) — over the potential nomination of former Sen. Chuck Hagel as defense secretary, despite the apology he issued days ago regarding anti-gay remarks made in 1998.
A handful of advocates who spoke to the Washington Blade are seeking more details over how Hagel would address remaining issues for LGBT service members — such as additional partner benefits for gay troops and the implementation of openly transgender service — beyond what was offered in the statement in which Hagel apologized and said he would be "committed to LGBT military families."
Richard Socarides, a gay New York-based Democratic advocate, is among those saying Hagel should lay out more specific plan for addressing outstanding LGBT issues at the Pentagon.
"I think that if he is nominated as Defense Secretary, before we as a community agreed to support him, as some groups have already done, it would be important to hear from him what his plan is on implementing 'Don't Ask, Don't Tell' repeal and on issues like transgender service," Socarides said. "These kinds of questions would be appropriate for any defense secretary nominee, but they would be particularly appropriate were the nominee Sen. Hagel, who because of his comments would have some convincing to do."
Hagel is having his name floated for the role at a time when LGBT rights supporters are pushing the Pentagon to grant additional partner benefits to gay service members — such as joint duty assignments, issuance of military IDs, use of the commissary and family housing — through administrative changes as well as the implementation of open service by transgender people. Since the time "Don't Ask, Don't Tell" was lifted in September 2011, the Pentagon has said that it was looking into the benefits issue, but no action so far has been taken.
Jim Burroway, editor of Tucson, Ariz., based blog Box Turtle Bulletin, also said on Sunday the LGBT community should know more about Hagel's evolution on these issues "before rushing to embrace him."
"I do think there has been an unseemly rush to accept his apology, considering he apologized for being 'insensitive' but not quite for being wrong," Burroway said. "A lot of other Republicans who changed their minds have found opportunities to articulate their new positions. I'm still waiting for Hagel to do the same."
Prior to his apology, the concern over Hagel among LGBT advocates was largely over a 1998 quote attributed to him in the Omaha World-Herald where he called then-nominee for U.S. ambassador to Luxembourg, Jim Hormel, "openly aggressively gay."
On Dec. 14, Hagel issued an apology to media outlets saying the remarks were insensitive and he's "fully supportive of 'open service' and committed to LGBT military families." At the time, LGBT groups such as the Human Rights Campaign and OutServe-SLDN accepted Hagel's apology.
But Hagel also has an anti-gay record while serving in Congress. From 2001 to 2006, Hagel consistently scored a "0″ on the Human Rights Campaign's scorecards. Hagel voted for the Federal Marriage Amendment in 2004, but didn't cast a vote on the measure in 2006.
On Monday, gay Rep. Barney Frank announced he was outright opposed to the Hagel nomination on the grounds that the former senator's 1998 anti-gay remarks and his congressional record on LGBT issues demonstrated "aggressively bigoted opposition" and that Hagel "voted consistently against fairness for LGBT people."
Speaking to the Blade, Frank said he waited to put out the statement on Monday because he had been on vacation during the previous week, but had been meaning to make known his opposition to the nomination for some time.
"It is important that gay liberals and Democrats not appear to be giving our side a pass," Frank said. "There's no doubt Obama's been very good on LGBT issues. It's also the case that I don't think he knew of this statement. A lot of people didn't; it came out later. But now that it's out there, I think we have to hold firm. That really was an awful statement."
Frank said he though the Hormel apology was "very unpersuasive" and he was "surprised" groups like HRC would have accepted the apology on the day it was issued.
"The fact that he would call Jim Hormel 'aggressively gay' seems to me an indication of the depth of his dislike of us," Frank said. "If he said I was 'aggressively gay,' I would have said, "'Well maybe.' But HRC, I was surprised. I don't know why they would do that."
Socarides, an adviser to former President Clinton on LGBT issues at the time Hormel was seeking confirmation, also took issue with the apology and is skeptical of the regret Hagel intended to convey in his statement.
"He did not call Ambassador Hormel or even try to communicate directly with him by email or letter," Socarides said. "The apology did not address in any specific way why he made the original comments. As I recall, it was fairly clear to us at the time that the Hagel statement was as a result of pressure on him by right-wing groups who were demanding that Republican Senators oppose the nomination. Had he provided some context in the apology it might have been more persuasive."
Socarides added the apology was "clearly written by someone else, probably by a White House staffer" and "seemed contrived and lacked the kind of context it would need to connote genuine regret."
The White House didn't respond to a request to comment on whether it had a role in crafting the Hagel apology or to provide any assurances that the next secretary will address the outstanding issues for LGBT service members in the wake of "Don't Ask, Don't Tell" repeal.
Over the weekend, President Obama addressed the potential nomination of Hagel during an interview on NBC's "Meet the Press," saying that nothing in Hagel's record — including his anti-gay remarks — disqualify from the role of defense secretary and that his apology reflects "positive change" in the way the country sees LGBT issues.
"And I think it's a testimony to what has been a positive change over the last decade in terms of people's attitudes about gays and lesbians serving our country," the President said. "That's something that I'm very proud to have led, and I think the anybody who's serves in my administration understands my attitude and position on those issues."
The LGBT community itself is divided on Hagel as defense secretary. Opposition is largely coming from commentators — or in Frank's case, a lawmaker who soon to leaves Congress — as most LGBT groups have accepted the apology from Hagel.
Mara Keisling, executive director of the National Center for Transgender Equality, is among those saying that the LGBT community shouldn't view Hagel so harshly considering his apology.
"It was two years after Bill Clinton signed DOMA," Keisling said. "We've forgiven Bill Clinton for something worse than name-calling. The point, largely, of the social justice movement is educating people, and then embracing them when they come over to your side."
Asked whether LGBT groups should demand a commitment to openly transgender service in exchange for supporting the Hagel nomination, Keisling said those demands are underway and talks have already started at the Pentagon.
"I think we'd like that issue to get raised in confirmation hearings for whomever it is — whether it's Chuck Hagel or somebody else," Keisling said. "But the conversations are already starting over at the Pentagon and the next secretary of defense is going to have to be answering to that, regardless of who it is."
John Aravosis, the gay editor of AMERICAblog often critical of HRC and the Obama administration, was also unprepared to criticize either entity over the Hagel apology or his potential nomination as defense secretary.
Aravosis was critical of the 1998 anti-gay remarks — saying they are along the lines of something the late anti-gay Sen. Jesse Helms would say — but added criticizing LGBT groups like HRC for accepting the apology is tough because what kind of commitments they've received offline is unknown.
"Maybe they got massive promises from Hagel directly, saying, 'I promise I'm going to bend over backwards to work with you on the policy,'" Aravosis said. "Who knows? But that's also part of the downside of having private conservation, is the rest of us look at it and say, 'We have no idea why you changed your mind. We're still uncomfortable.' That's the sort of the dynamic we're in."
The Human Rights Campaign didn't respond to a request to comment on whether it had received any private promises in exchange for accepting the Hagel nomination or if they had a role in crafting the apology.
Frank said he thinks the opposition to Hagel is so strong now from both progressive and conservatives that the chances of Obama naming him to the post are nil.
But in the unlikely event Hagel was confirmed as Pentagon chief, Frank said he has no doubt Hagel would implement pro-LGBT policy change if ordered to do so by the White House.
"I believe that he will do whatever the president tells him," Frank said. "I'm pretty sure if he were appointed, which I don't think he's going to be, he would be directed to do the right thing."
Other high-profile opposition to Hagel has come from Hormel himself, who initially questioned the sincerity of the apology in interviews with the Washington Post and the Blade. However, the former ambassador  appeared to reverse himself in a Facebook posting hours later.
Also noteworthy was a full-page ad in the New York Times taken out by the gay Republican group Log Cabin Republicans in opposition to Hagel on the basis of his anti-gay remarks and his earlier stated views on Israel and Iran. Outgoing Log Cabin executive director, R. Clarke Cooper has said they were paid for by Log Cabin members, but has declined to state how much the ad cost or identify these donors.
Socarides was careful to distance his concern about the Hagel nomination from the outright opposition that Log Cabin expressed in its full-page advertisement.
"I would not automatically oppose him, like the Log Cabin Group seems to have done, and certainly would not endorse using someone else's money to run an advertisement against him based on his foreign policy view," Socarides said.
Frank said he was unaware Log Cabin put out an advertisement and utterly rejected the notion his opposition against Hagel was along the same lines as the gay GOP group.
"I was hoping I could to talk to you about substance and not stupid things," Frank responded to the Blade. "I mean, you sound like Joe McCarthy, saying 'You're siding with the Communists.' I didn't know that Log Cabin had taken that ad until I wrote my statement. … Do you ever write about substance and never about a lot of political bullshit? Why did I do it? Because I don't think the man should be secretary of defense. I was on vacation, came back and wrote my statement."
Biden names civil rights veteran to U.S. Education Dept.
Catherine Lhamon's portfolio will include LGBTQ rights, sexual misconduct, racial discrimination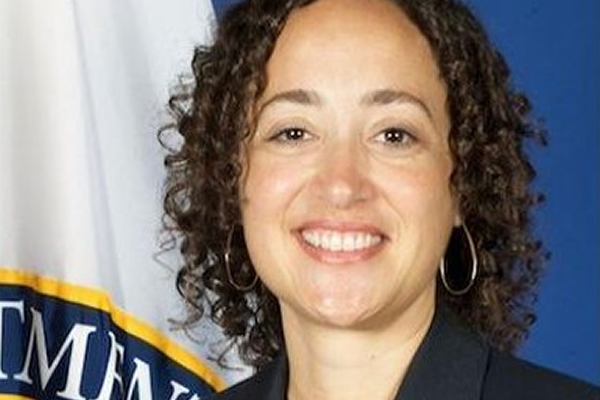 The White House announced Thursday that President Joe Biden has nominated Catherine Lhamon to serve as the Assistant Secretary of the Office for Civil Rights at the U.S. Department of Education.
Lhamon currently serves as a Deputy Assistant to the President and Deputy Director of the Domestic Policy Council for Racial Justice and Equity at the White House, where she manages the President's equity policy portfolio. She is a former attorney for the American Civil Liberties Union, (ACLU) and served as chair of the U.S. Commission on Civil Rights from 2017 to 2021.
She has also served as Legal Affairs Secretary to California Governor Gavin Newsom.
Her portfolio at Education, where she previously served in the same position under former President Barack Obama, will include LGBTQ rights, sexual misconduct and racial discrimination in the nation's K-12 schools, universities and colleges. Lhamon was Assistant Secretary for Civil Rights at the Department of Education, to which President Obama nominated her and the Senate confirmed her in 2013.
"I am thrilled that President Biden is nominating Catherine Lhamon to serve as Assistant Secretary of the Office for Civil Rights at the U.S. Department of Education. Catherine has devoted her career to ensuring equity is at the core of all her work," U.S. Secretary of Education Miguel Cardona said in a statement released by his office Thursday.
"She has a strong record of fighting for communities of color and underserved communities, whether as the current Deputy Director of the Domestic Policy Council, the former chair of the U.S. Commission on Civil Rights, or as a civil rights educator at Georgetown University. We are thrilled to have Catherine serving as Assistant Secretary for Civil Rights and know she will continue to fight for fairness, equity, and justice for all of America's students."
Lhamon has also litigated civil rights cases at National Center for Youth Law, Public Counsel Law Center, and the ACLU Foundation of Southern California.  Lhamon taught federal civil rights appeals at Georgetown University Law Center in the Appellate Litigation Program and clerked for the Honorable William A. Norris on the United States Court of Appeals for the Ninth Circuit.
"Catherine Lhamon is the right choice to lead the Department of Education's civil rights division at such a critical time for the country and the agency. There is much work to do in order to roll back the harmful policies and legacies of Betsy DeVos, from her attacks on transgender students to her unconscionable revocation of discriminatory discipline guidance and rewrite of Title IX rules," Adele Kimmel, Director of the Students' Civil Rights Project at Public Justice told the Blade in an email.
"During her previous tenure in the same job, Catherine embraced equality, enforced Title IX and ensured students had an ally inside the federal government. She will do so again, and the Senate should move to quickly confirm her so she can begin the work of restoring the Department's commitment to protecting the civil rights and dignity of students and implementing the Biden Administration's pledge to undo the damage that DeVos has done," Kimmel added.
Born in Virginia and raised in California, Lhamon graduated from Amherst College and Yale Law School. Lhamon and her husband and two daughters are transitioning between California and Maryland.
Family of transgender woman who died in ICE custody sues federal government
Roxsana Hernández passed away in N.M. in 2018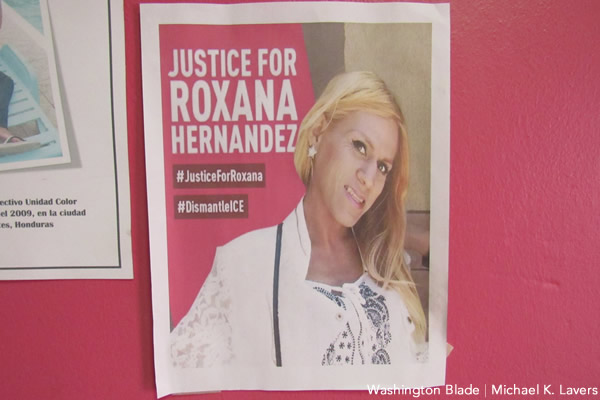 The family of a transgender woman with HIV who died in U.S. Immigration and Customs Enforcement custody in 2018 has sued the federal government.
The Transgender Law Center and two immigration lawyers — Daniel Yohalem and R. Andrew Free — in 2020 filed a lawsuit in U.S. District for the District of New Mexico against five private companies who were responsible for Roxsana Hernández's care.
The lawsuit named Management and Training Corporation, LaSalle Corrections, Global Precision Systems, TransCor America and CoreCivic as defendants. The Transgender Law Center, Yohalem and Grant and Eisenhofer Law on Wednesday petitioned the court to add the federal government to the lawsuit.
"This amended complaint adds the United States, including U.S. Immigration and Customs Enforcement (ICE), U.S. Customs and Border Protection (CBP), and the United States Department of Homeland Security (DHS) to the list of entities who had a direct role in Roxsana's death," said the Transgender Law Center in a press release.
Hernández, who was from Honduras, entered CBP custody on May 9, 2018, when she asked for asylum at the San Ysidro Port of Entry in San Diego. She arrived at the Cibola County Correctional Center, a facility in Milan N.M., that CoreCivic operates, a week later.
Hernández was admitted to Cibola General Hospital in Grants, N.M., shortly after she arrived at the privately-run detention center. Hernández died at Lovelace Medical Center in Albuquerque, N.M., on May 25, 2018.
The lawsuit, among other things, alleges Management and Training Corporation personnel "denied Roxsana and her fellow detainees food, water and restroom access throughout their transfer" from California to a facility in San Luis, Ariz., that LaSalle Corporations operates. The lawsuit also states Hernández did not receive necessary medical care from LaSalle Corporations, Global Precision Systems and TransCor personnel as they transported her to the Cibola County Correctional Center.
CoreCivic officers, according to the lawsuit, delayed Hernández's medical care once she was hospitalized.
An autopsy the New Mexico Office of the Medical Investigator performed concluded Hernández died from Castleman disease associated with AIDS.
A second autopsy that former Georgia Chief Medical Examiner Kris Sperry performed at the Transgender Law Center's request concluded the cause of death was "most probably severe complications of dehydration superimposed upon HIV infection, with the probable presence of one or more opportunistic infections." The second autopsy also found "evidence of physical abuse" that included bruising on Hernández's rib cage and contusions on her body.
"Defendants' discriminatory, negligent, and reckless acts and omissions: (a) caused Roxsana to suffer severe emotional and physical distress; (b) created an unreasonable risk that Roxsana's condition would deteriorate, especially in light of her known HIV-positive status; (c) caused Roxsana's condition to deteriorate; (d) diminished the opportunity for Roxsana's condition to improve; (e) caused her to lose her chance to survive and participate in the federal immigration process; and (f) ultimately, caused her death," reads the motion the Transgender Law Center filed on Wednesday.
"My sister came to the U.S. in search of safety and protection from the horrific violence she experienced as a trans woman in Honduras, and what she found instead was abuse, discrimination and neglect," said Hernández's sister, Jenny Hernández Rodríquez, in the Transgender Law Center press release. "The tragic fact that she is no longer with us is a direct result of that discrimination and neglect."
A spokesperson for the Department of Homeland Security — which oversees ICE and CBP — with whom the Washington Blade spoke on Thursday declined to comment.
Hernández's death sparked widespread outrage among immigration advocates. Her case also intensified calls for ICE to release all trans women in their custody.
The Transgender Law Center, the Rapid Defense Network and the Ballard Spahr law firm in April 2020 filed a class action lawsuit that demanded the release of all trans people in ICE custody.
More than 40 Democratic members of the U.S. House of Representatives in January 2020 called for ICE to release all trans people in their custody. Illinois Congressman Mike Quigley on Thursday during a House Appropriations Committee hearing asked Acting ICE Director Tae Johnson about the treatment of trans people in his agency's custody.
"We have made some efforts on sort of improving our training and identifying specific facilities which would focus on housing these individuals in a less restrictive environment but there's always more work we can do," said Johnson. "We're looking at all aspects of our vulnerable population to include transgender, and this is going to continue to be a priority for us as we move forward in assessing our detention framework."
A unit for trans women in ICE custody opened at the Cibola County Correctional Center in 2017. It closed in 2020.
Biden administration to ban discrimination against LGBTQ patients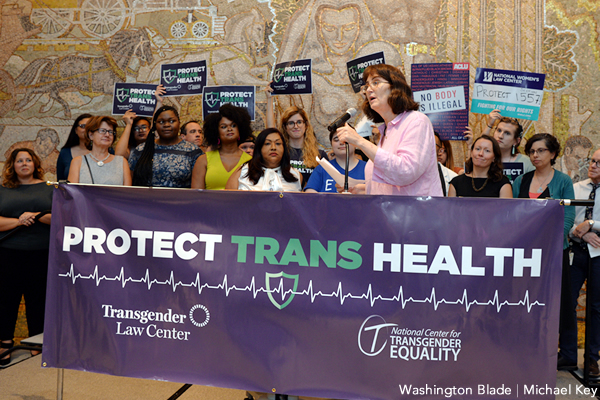 The Biden administration announced on Monday it would enforce civil rights protections under Obamacare to prohibit discrimination in health care against patients for being LGBTQ, reversing policy during the Trump years excluding transgender status as a protected characteristic under the law.
The Department of Health & Human Services declared it would enforce Section 1557 of the Affordable Care Act, which prohibits discrimination in health care on the basis of sex, and begin to take up cases of discrimination based on sexual orientation and gender identity.
HHS Secretary Xavier Becerra said in a statement the Supreme Court has "made clear that people have a right not to be discriminated against on the basis of sex and receive equal treatment under the law, no matter their gender identity or sexual orientation."
"Fear of discrimination can lead individuals to forgo care, which can have serious negative health consequences," Becerra said. "It is the position of the Department of Health and Human Services that everyone — including LGBTQ people — should be able to access health care, free from discrimination or interference, period."
The move is consistent with the executive order President Biden signed on his first day in office directing federal agencies to implement the U.S. Supreme Court's decision last year in Bostock v. Clayton County to the furthest extent possible. Federal agencies were directed to comply within 100 days of the executive order, which is about now and a short time after Biden's first 100 days in office.
The announcement with respect to Section 1557 comes on the same day as the hearing took place this morning in Bagly v. HHS, a case before a federal court in Massachusetts challenging Trump's undoing of transgender protections under the law. An attorney with the U.S. Justice Department announced a new notice of proposed rule-making is coming with respect to Section 1557.
Sharita Gruberg, vice president for the LGBTQ Research and Communications Project at the Center for American Progress, said in a statement the change "assures LGBTQ people that their rights will be upheld at the doctor's office, vaccine sites, and everywhere else they seek health care and coverage."
"The administration's announcement that it will enforce these protections are a critical step toward addressing vaccine hesitancy among LGBTQ people, a population that has been disproportionately impacted by the pandemic and seriously harmed by the previous administration's attempts to permit discrimination against LGBTQ patients, Gruberg added.
The past three administrations have instituted policy on LGBTQ protections based on their interpretation of Section 1557. Each move had varying implications and directions for LGBTQ patients.
The Obama administration issued a rule in 2016 interpreting Section 1557 to apply to cases of anti-transgender discrimination and discrimination against women who have had abortions, which was consistent with court rulings at the time. However, that move was enjoined by a nationwide court order in Texas as a result of litigation filed by Texas Attorney General Ken Paxton.
The Trump administration, shortly after the Supreme Court's ruling in Bostock, made final a regulation proposed last year rescinding the Obama administration's transgender protections under Section 1557. Faced with criticism, the Trump administration defended itself by saying its move was consistent with the court order in Texas, although it seemed to ignore the decision from the higher court.
The new rule from HHS goes above and the beyond the Obama administration by instituting protections based on both sexual orientation and gender identity. It wasn't immediately clear whether the proposed rule would be a new regulation entirely, or seek to modify the changes that were made in the two previous administrations. The Blade has placed a request seeking comment with HHS.
Susan Bailey, president of the American Medical Association, said in a statement the new HHS rule is a welcome change after the Trump administration rescinded protections for transgender patients.
"It's unfortunate that such an obvious step had to be taken; the AMA welcomes this common-sense understanding of the law," Bailey said. "This move is a victory for health equity and ends a dismal chapter in which a federal agency sought to remove civil rights protections."
Discrimination in health care is an experience transgender people commonly report. The U.S. Transgender Survey in 2015 found one-third of responders said they had at least one negative experience in health care related to being transgender. Further, 23 percent of responders said they didn't seek health care because they feared being mistreated and one-third said they didn't go to a provider because they couldn't afford it.
A Center for American Progress survey from 2018 had similar findings with respect to transgender people and patients with being gay, lesbian and bisexual or queer. Eight percent of responders said a doctor refused to see them because of their perceived or actual sexual orientation, while 28 percent of providers said a doctor refused to see them because of their actual or perceived sexual orientation.
Hospitals, especially religiously affiliated providers, refusing to provide transition-related care, including gender assignment surgery, is another frequently reported incident for transgender patients. The American Civil Liberties Union, for example, has filed litigation against hospitals under Section 1557 for refusing to perform the procedure.
Rachel Levine, assistant secretary of health and the first openly transgender presidential appointee to obtain Senate confirmation, hailed the HHS rule change in a statement.
"The mission of our Department is to enhance the health and well-being of all Americans, no matter their gender identity or sexual orientation. All people need access to healthcare services to fix a broken bone, protect their heart health, and screen for cancer risk," Levine said. "No one should be discriminated against when seeking medical services because of who they are."
Although the Biden administration's announcement is a welcome move for LGBTQ advocacy groups, the change is not without critics.
John Banzhaf, a law professor at George Washington University who declares himself a supporter of transgender rights, said the policy could have unintended consequences, which he said has become evident in the British health system.
"[Transgender] individuals with a penis but no vagina are being asked to have medical tests on their non-existent cervices, while [transgender] persons with a vagina and cervix will not be asked, under new guidelines which appear to place lives at risk and encourage a physically impossible medical exam on organs which simply do not exist," Banzhaf said. "And, carrying this absurdity to its totally illogical conclusion, a patient with a penis and a full beard was offered a cervical test because, despite his clearly masculine appearance and style of dress, he registered himself as being gender neutral."