Other mothers
Local performers honor their drag moms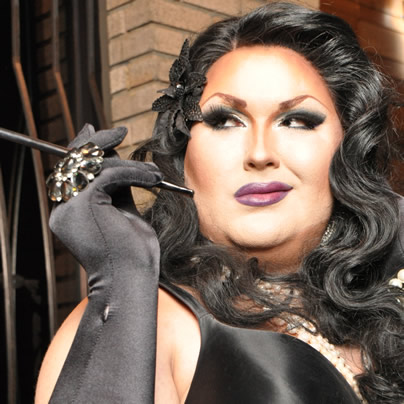 Spend any real time in the gay world and you know there are many who take drag very seriously, from the elaborate routines to the familial ties.
Since this weekend is Mother's Day, we asked a few local performers why drag families are important. It didn't take long to realize it's about a lot more than borrowing lipstick or getting input on a new gown.
"It truly is family," says Muffy Blake-Stephyns. "Few people know me quite as well as my drag family. We complete each other's sentences, we know just what to say or do to comfort one another. We have each other's back."
"We're closer than your actual blood relatives," says Alexandra B. Childs. "We sew, rhinestone, glue, paint, staple, smile and lip sync our hearts out for one another. Our drag family hangs out together in and out of the drag scene. Drag events are like a weekly family reunion for us with a lot more hairspray and sequins involved than most others."
"Drag families are just an elaborate support system," Ba'Naka says. "A sisterhood that is there for you when you need it."
Drag name: Shi-Queeta-Lee
Boy name: Jerry VanHook
Drag mother's name: Chyna Pendar'vis/Benjamin Smith
How did you meet? I met Chyna Pendar'vis (RIP) through a friend of mine, Don Pendar'vis (RIP). I was competing for the Miss Magic Pageant 1998, which I won singing live Whitney Houston "Your Love Is My Love." The pageant is part of the Gay Softball league here in D.C. called Chesapeake and Potomac Softball League (CAPS). I painted myself for it and Don came over to help me and he said, "Girl you look a hot ghetto mess." So he calls Chyna to come and do my makeup and clothes. I was always told the first drag queen that paints you and put you in drag is your drag mother. She taught me the ropes on drag life and the drama that comes with it.
What does she mean to you? She means the world to me. Taught me so much on life in the gay community. How to get booked for drag shows, how to host to get patrons excited to see drag queens perform. She was a pageant girl, so she guided me on how to compete as well. Chyna was a diva at her craft, also had a loving family that supported the art form. I had a loving family that supported me.
Drag name: Kuji Lee
Boy name: Kuji Mah Ajani
Drag mother's name: Shi-Queeta-Lee aka Jerry VanHook
How did you meet? I met my drag mom at a nightclub called "The Edge" that used to be located in Southeast Washington near the Navy Yard Marine Base. Shi-Queeta-Lee wasn't born yet (I don't believe), so the first three years of our interaction was with Jerry. Later I ran into her again and she introduced me as her child, which I didn't dispute. It was then that I began to carry the last name "Lee." A few years later, the birth of Shi-Queeta-Lee arrived in D.C. and started hosting a drag show at the famous Bachelor's Mill. I was infatuated with drag performances for many years that I began to secretly desire to hit the stage as a male entertainer one day and Shi-Queeta-Lee was the first to give me my start.
What does she mean to you? Shi-Queeta-Lee is and will always be the catalyst of our family. She is also a well-known public figure who has endured ridicule, harsh criticism, etc. within our gay community for believing that the drag-gay/bi/transgender community can reach higher ground if presented in a different framework that connects all genders, all races. She embodies diversities, complexity, independence, boldness, unconditional love, vulnerability, creativity and more. She never let anyone or anything halt her goals or dreams and she makes sure we as her family apply those same beliefs.
Drag name: Shelby Blake-Stephyns
Boy name: Jon Rybka-Wachhaus
Drag mother's name: Veronica Blake (Rob Amos)
How did you meet: I had been doing drag for approximately two years and had become a member of The Academy of Washington, Inc. We had become close and when my previous mother and I had a falling out, she asked me if I would be her daughter because she saw so much in me that wasn't being nurtured and needed to be. And the rest, as they say is history.
What does your drag mother mean to you? Veronica means the world to me. Many times I get so many ideas in my head that it's great to have someone there to help you sort it all out to make you the best you can be. She can be tough as leather sometimes but she always has my best interest at heart.
Drag name: Muffy Blake-Stephyns
Boy name: Daniel L. Hays
Drag mother's name: Shelby Blake Stephyns/Jon Rybka-Wachhaus
How did you meet? I met Shelby at a benefit drag show at Freddie's Beach Bar.  I had been doing drag for a number of years, but at that particular time I was going through some health challenges and was battling depression. She was just kind of the perfect prescription. She was incredibly caring, uplifting and made me want to continue performing. Over the next few weeks we talked pretty much every day. Before long it was official, I had changed "families" and Shelby became my mom. I think I can safely say that were it not for Shelby coming into my life, in all likelihood Muffy would have hung up her heels.
What does she mean to you? My drag mother truly means the world to me.  I know she loves me unconditionally and that is something that is felt in return. If I need something, I know without a doubt that if there is any way my drag mother can help she will be there, no questions asked. I am truly blessed to have Shelby Blake Stephyns as my mama.
Drag name: Delila B. Lee
Boy name: Delonte' Ladson
Drag mother's name: Shi-Queeta-Lee/Jerry Vanhook
How did you meet?  I met Shi-Queeta-Lee in 2009 at Town Danceboutique. And I was amazed of the illusion she gave as Tina Turner. She got me into drag by teaching me how confidence is the key. And completely being myself. I was very interested in becoming a drag queen. The desire to transform into a beautiful diva and lip sync on stage. I first performed in 2011.
What does she mean to you? A drag family is being together, supporting and loving one another. It should be treasured forever. Most of us don't have supportive families because they don't accept and tolerate our lifestyles. Having a drag family means knowing you'll be loved unconditionally. I'm proud to call Mother Lee my drag mother.
Drag name: Ba'Naka
Boy name: Dustin Michael Schaad
Drag mother's name: When they say it takes a village they weren't joking! I don't have one singular drag mother. From Florida to D.C., I've collected a harem of Mommie Dearests but the most influential have been D.C. icons Lena Lett and Kristina Kelly (David Lett and Chris Smith).
How did you meet? I met Kristina Kelly at Apex when I first moved to D.C. She was the first queen to give me a chance in this city. I began regularly performing with her at various D.C. venues: Apex, Omega, Remington's, Be-Bar. She taught me how to paint a face and take the stage. As for Lena, she has never been my official drag mother but I've learned more from her than any other. From her I learned how to host a show and command an audience (hosting is 10 times harder than performing). Lena over the years has given me some of the best advice (not that I always listen — I'm hard headed) that I have ever received.
What does she mean to you? My drag mothers have been a source of wisdom, experience and comfort over the years.
Drag name: Hope B. Childs
Boy name: Steven Ramsey
Drag mother's name: Destiny B. Childs/Richard Legg
How did you meet? I met my drag mother years ago when I tried to commit suicide. She and her husband picked me up and let me live with them. She helped me become the true me. I started in the drag scene as her dresser and anywhere she went, I went. Rhinestoning her shoes and outfits and putting her outfits together. I first started doing drag without her really knowing (not a good idea to doing something behind your mother's back). She helps me with whatever I need.
What does she mean to you? She is my best friend she means the world to me. She's not my drag mom she is my mom.
Drag name: Alexandra B. Childs (Miss Capital Pride 2012)
Boy name: Chad Phillips
Drag mother's name: Destiny B. Childs/Richard Legg
How did you meet? I met Destiny at Freddie's Beach Bar in Crystal City, shortly after I moved to D.C. and came out. Theater was always something that I enjoyed and drag to me is an extension of that. I had toyed with the idea of trying drag and voiced it several times to some people. The first time I was put into drag was by Destiny's drag mother, Ophelia Bottoms. After that it was something that I knew that I loved and the creativity is endless. Destiny took me in and gave me advice and sources for items and ideas to advance in the craft. And here I am, Miss Capital Pride 2012 about to step down and I owe it all to my mother and the family that we call the Childs clan!
What does she mean to you? Destiny/ Ric is more than a drag mother. We have a friendship that is more than just lashes and lipstick. Destiny is that person who knows my look from across the room, the one who is honest enough to say "Girl, not that hair," the one who magically has the Mary Poppins "bag of stuff" if we forget something or need something. She is a person who in or out of drag consistently gives back to the community and those around her.
Is cash always king?
How to stay competitive in the face of all-cash offers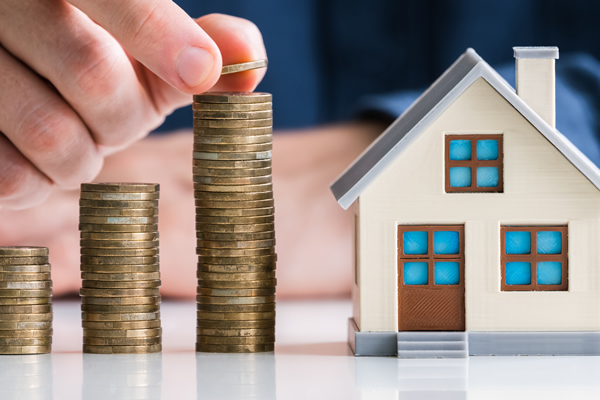 One of the frequently asked questions I get as a real estate agent serving the DC Metro area and Delaware beaches is: How can I be competitive in a market that is seeing an increase in all-cash offers?
I get it, the real estate market is super competitive, but it's not just because of the low inventory, it's also because of the cash offers sellers are seeing.
Money is money right? Why would a seller be inclined to take a lower all-cash offer versus a higher offer with a mortgage. Let's break it down a bit.
An all-cash offer usually comes with very limited contingencies in addition to the more important piece, which is the timing. A cash sale can close in less than a week whereas a sale with a conventional mortgage can usually only be expedited to a 21-day close. Don't lose hope! There are still a few ways you can have a competitive edge over cash offers with a few steps your agent can advise you through:
OFFER CASH – THEN ACQUIRE FINANCING: If the stars align and you are purchasing a home that the sellers currently reside in, you can expect that they will need some time to gather their items and move — they also have to gather their great great grandmother's wedding dress and Uncle Fester's golf clubs that they just HAVE to keep. This will allow you time to go the conventional mortgage route. Please note that this is a very detailed alteration and it is recommended fully that you speak with your real estate agent prior to doing this to ensure that you are fully educated with the pros and cons of this method and what is at risk. The biggest item to highlight is that a mortgage comes with the infamous appraisal. The appeal of an all-cash offer is that there is no appraisal. With a mortgage an appraisal is required. If the appraisal comes in low, you will need to be ready to come to the table with the difference in appraised value – in cash. For example: Appraised value is $100,000 and you are under contract for $200,000 – that is a delta of $100,000, which you will need to come up with in cash in order to continue with the transaction, separate from any other monies you have already placed down.
OFFER $$$ OVER LOW APPRAISAL: Following up on the appraisal aspect here – you can write a contract with financing in place from the onset and provide an addendum that you will pay the difference in low appraisal (referencing the example above) or you can offer an alternative that would be to pay up to XX over a low appraisal. In this example of paying a dollar amount over a low appraisal, you write into the contract that you are going to offer $50,000 over the appraisal if it is a low appraisal. So if the contract price is $150,000 and you offer to pay $25,000 over a low appraisal value and the property is valued with appraisal at $125k then you would have to pay a total of $150k for the home and that $25k difference would, again, need to be in cash. This allows a bit of leverage with lower cash amounts on hand – but again similar to the example of acquiring financing above, the sellers must allow for the timing of a mortgage application process to occur.
GIFTS FROM FAMILY: What is family for if it isn't for providing you large sums of cash!? In all seriousness – this is a fully accepted method of cash funds. You will want to speak to a financial planner/tax individual to fully understand tax implications for both parties (giftor and giftee) to fully understand what this means, but there is always the ability to be gifted funds from parents, aunts, uncles etc., to ensure that you are liquid and can purchase the property of your dreams.
OFFER "RENT BACK" TO SELLERS: Following the guise that the sellers must find a property to purchase or perhaps they are moving across the country and need a month or two in order to get their affairs in order. This allows you to provide a "rent back" to the sellers and basically become their landlord. In this scenario you would typically charge them rent, which would be equal to your carrying costs for your home expenses. For the purposes of being competitive in this market, you can offer a "rent FREE rent back" where you afford them the ability to sell the home to you and they still reside in the home for an established time post closing at no cost to them. This sounds silly — why would you let someone stay in your new home rent free for two months when that means that you are paying for your mortgage and other expenses in addition to rent for an apartment or maybe shacking up with mom and dad again?
It's important to remember that in order to get a property in this market there is the need to think creatively if you don't have all the cash in the world — you can still be VERY competitive.
Justin Noble is a Realtor with Sotheby's international Realty licensed in D.C., Maryland, and Delaware for your DMV and Delaware Beach needs. Specializing in first-time homebuyers, development and new construction as well as estate sales, Justin is a well-versed agent, highly regarded, and provides white glove service at every price point. Reach him at 202-503-4243, [email protected] or BurnsandNoble.com.
Leather and lace in your home decor
From couches to countertops, add some flair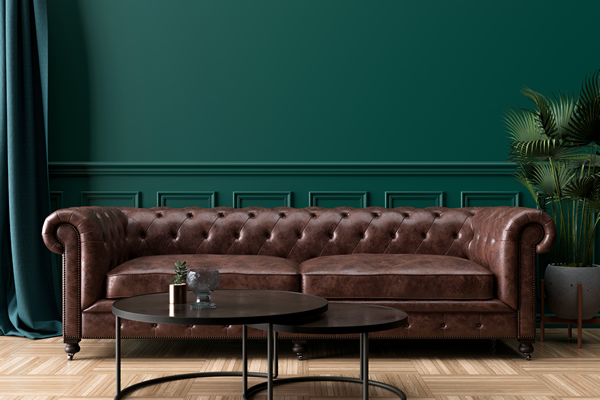 When I was very young, I would visit my maternal grandmother and marvel at the hand-tatted and crocheted doilies that adorned the arms and backs of her sofa and chairs. They were also found on her dressers and side tables, and on the dining table as coasters and placemats, to prevent scratches on the furniture. Like snowflakes, the designs of the doilies were both intricate and individual.
I'm convinced that people had better posture in the early 20th century, because I never saw the remnants of men's hair tonic, Macassar oil, or pomade on Nana's doilies, even though they were there to keep the furniture from absorbing those hair products. Certainly, people weren't the couch potatoes lounging on sofas then that we are today. Being able to Netflix and chill was a long way off.
I was impressed with the amount of work that had gone into such a little piece of fabric, so I later tried to learn to crochet. Sadly, all I was able to accomplish was string after string, never having been taught how to join those strings together to resemble a doily. At least with knitting, I was able to form squares large enough to be blankets for my Barbie.
In my mid-century childhood, doilies were put away and saved for grandchildren who, years later, would neither want them nor appreciate their historical value. The '50s saw polyvinyl chloride (PVC) go from a commercial substance used frequently in post-WWII construction to a residential fabric that we now refer to fondly as "pleather." I can still remember the sound of my thighs peeling off the vinyl banquette at the diner when I would get up to leave a booth.
To be without a leather couch in the '60s was déclassé and, although styles have changed, such a couch remains a timeless piece. These days, if you are looking for a little more leather in your life and in your home, you can look beyond that couch and chair, where options range from the subdued to the highly decorative.
While vinyl is still the least expensive leather-look fabric, we now have "bonded" leather, made with scraps that are bonded together using polyurethane or latex. As you can tell from the prices of such furniture, the actual leather used in the process can vary from 10-90 percent.
Of course, top grain leather is the most expensive, and we have suede, die cut, embossed, patent, and a variety of other techniques used to change the look of a hide. In addition, there is now vegan leather.
For something unique for your kitchen or bar, check out the tooled leather countertop from Kosel Saddlery (koselsaddles.wixsite.com/marty) in Montana. They also make saddles and chaps.
Instead of the shiny granite counters that we all know, MSI Surfaces (msisurfaces.com) makes honed and leathered granite finishes for a more subtle appearance and has dealers throughout the DMV. 
For a do-it-yourself application, Amazon sells the Aspect brand eight-pack of leather glass, peel and stick subway tiles for backsplashes in five neutral colors for less than $20 each.
EcoDomo (ecodomo.com) in Gaithersburg offers a variety of custom leather treatments, including countertops, door and cabinet panels, floor planks and tiles, and wall systems. Your color choices aren't limited to black or brown either. They can manufacture pieces in blue, red, green, and even in custom colors to match other items in your décor.
Many online stores such as Wayfair and Overstock carry real and faux leather headboards, footstools, poufs and benches at affordable prices.
There's always something in leather at Pottery Barn, even for the conservative budget: pieced leather pillows, tufted stools, basket collections, and even a leather-bound coffee table book for cigar aficionados.
If you're looking for small accent pieces, try a leather coaster, placemat, napkin ring, or my personal favorite, a cutlery pouch for your tableware collection from Lucrin Geneva (lucrin.com). They also offer office accessories such as crocodile desk sets, wastebaskets and storage boxes.
And for the connoisseur of leather, vinyl, rubber, or even neoprene items of a more personal nature, head to the Capitol Hill Hyatt Regency this Friday through Sunday for Mid-Atlantic Leather weekend. With plenty of specialty items, high-impact fashion, toys and games for all ages and yes, even custom-made furniture among the vendor exhibitions, you're sure to find something that will tickle your fancy.
Just remember that you (and your puppy) must both be vaccinated and masked to attend. We take COVID (and rabies) very seriously here in D.C.
Valerie M. Blake is a licensed Associate Broker in D.C., Maryland, and Virginia with RLAH Real Estate.  Call or text her at 202-246-8602, email her via DCHomeQuest.com, or follow her on Facebook at TheRealst8ofAffairs.
Winter Restaurant Week a welcome escape from the cold
Enjoy D.C.'s diverse culinary scene at great prices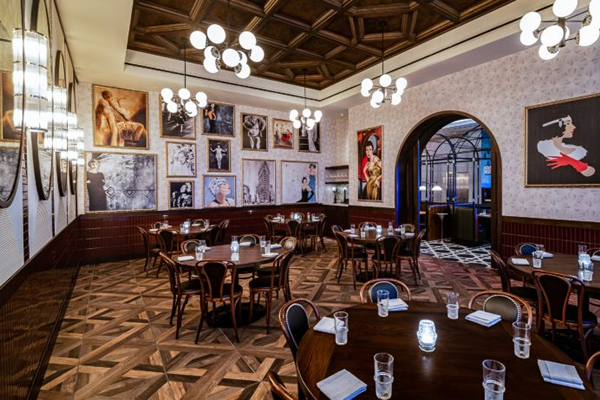 Saving Washington, D.C. diners from winter doldrums, RAMW Winter Restaurant Week is back in action. It returns Jan. 17-23 with the motto of "Dine Out. Take Out. Eat Up."
The city's signature winter dining event is back as a one-week promotion focused on dining out and tasting the city's diverse culinary scene. Yet it also is providing diners with newer programs that they have grown to love over the past few cycles. These include the popular "RW-To-Go" takeout dinner meals, outdoor dining spaces, as well as cocktail pairings, allowing diners to take advantage of a range of indoor/outdoor comfort levels and dining opportunities.
Participating restaurants are set to offer multi-course brunch and lunch menus for $25 per person, and multi-course dinner menus for $40 or $55 per person for on-premises dining. Most are offering the traditional three-course meals, while others may include extras.
Many restaurants will also offer the RW-To-Go dinner meals, a program introduced in 2019, available at two price points: $70 or $100 for two people and $140 or $200 for four people.
More than 200 restaurants across the area are participating.
"Our restaurants have shown resilience, creativity, and perseverance over the past two years, and they continue to count on the amazing support of loyal diners and newcomers through promotions like Restaurant Week," said RAMW President & CEO Kathy Hollinger. "Designed to get diners out to experience all our great food scene has to offer, we have evolved this turnkey promotion to help meet diners where they are in terms of comfort. With offerings to include RW-To-Go, curbside pickup and delivery, heated patios, cozy igloos and indoor dining, there is truly something for anyone looking to support their favorite spot or try something new."
New restaurants participating in Winter Restaurant Week include Ala, Bar Chinois, Bistro Du Jour, The Mayflower Club, Officina Cafe, Penny Royal Station, and Urban Roast in the District; Diabolo's Cantina at MGM and Rosa Mexicano at National Harbor; North Italia Tysons; and the newest The Capital Grille location in Fairfax.
2021 RAMMYS Winners and finalists participating include Convivial, Cranes (also Michelin-starred), Espita, Estadio, iRicchi, and Sababa.
In the 14th Street and Dupont Circle areas, popular participating restaurants include Agora, Cork, Duke's, Floriana, and Sushi Taro, among others.
Winter Restaurant Week also extends beyond core neighborhoods, stretching far past the city's borders. Areas like Takoma Park and Bethesda in Maryland, and Alexandria and National Landing in Virginia, are also hosting participating restaurants.
Some spots are offering additional deals, extended timelines, and other options. "I'm excited about the creativity of our local restaurants," says Hollinger, "with their offers and spaces that give diners great experiences during the promotion, and the flexibility to dine in the way that works for them whether indoor, in heated outdoor dining spaces or at home with our Restaurant Week To-Go program."
For example, Ambar (both the D.C. and Clarendon locales) will have a $70 seven-course to-go menu for two people. The deal includes a bottle of wine in addition to the food.
Schlow Restaurant Group has a $40 gift card for more than three meals at any of its restaurants, including NAMA Sushi Bar and TICO in D.C. and Alta Strada Italian Restaurants in D.C. and Fairfax. 
James Beard Award-winning Chef Michael Schlow says, "This is a great way for Restaurant Week diners to experience more of our menu offerings, and perhaps explore some of our restaurants they haven't tried yet. Plus, with [our] Restaurant Week extended an additional week through Jan. 30, there's ample time to dine."
Gay-owned KNEAD Hospitality + Design group is involving all its restaurants in the promotion. The group's restaurants include Gatsby, Mi Vida, The Grill, and more. Owner Jason Berry notes that he is "excited to participate in this year's winter restaurant week. Each year Restaurant Week brings new diners to our doors to experience the creativity and talent our staff continues to showcase at our restaurants."
Recall that the city has reinstated mask mandates for indoor spaces. In addition, On Jan. 15, 2022, per Mayor's Order 2021-148, the District of Columbia adopts a citywide vaccination entry requirement that requires COVID-19 vaccination to enter indoor facilities within the city. This includes restaurants and bars.