British gay group to expand int'l advocacy efforts
Four Stonewall U.K. staffers work on global LGBT issues; more planned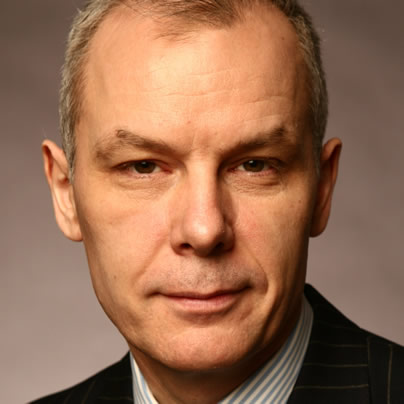 CONWAY, N.H.—The head of the U.K.'s largest gay advocacy group told the Washington Blade last month his organization has begun to devote more resources to the global LGBT rights movement now that marriage rights for same-sex couples have been secured in England and Wales.
Stonewall U.K. Chief Executive Ben Summerskill said during an extensive interview in New Hampshire's Mount Washington Valley on Dec. 20 where he was spending the holidays that his organization hopes to hire additional staff to continue its work on LGBT-specific issues in Uganda, Russia, Eastern Europe and other areas.
Four of Stonewall's 70 staffers currently work directly on these issues. The organization also works with the British Foreign Office and the U.K. Department of International Development to raise them at the United Nations.
"I was very anxious historically about us getting engaged in that sort of territory while we didn't have complete legal equality in Britain," said Summerskill. "It just opened you up to the people who turn up in Uganda to say what are you doing? Why have you come to lecture us?"
Summerskill spoke with the Blade hours after the Ugandan Parliament approved a bill that would impose a life sentence upon anyone found guilty of repeated same-sex sexual acts. The Indian Supreme Court's Dec. 11 ruling that recriminalized homosexuality sparked global outrage.
Summerskill said he feels it is more effective to work through the U.K. commonwealth — as opposed to "standing outside [the Ugandan embassy in London] in the rain with placards" — to address anti-LGBT laws in former British colonies. He also applauded British Prime Minister David Cameron's decision to begin channeling foreign aid directly to non-governmental organizations in Uganda and other countries as opposed to giving it directly to governments whose records on LGBT rights and other issues have sparked criticism.
"I don't think any LGBT campaigner, however strongly they feel about Uganda, would think that it was a good thing that people should starve just so we feel we're making some progress around human rights for gay people," said Summerskill.
Another Stonewall strategy is to work with U.K.-based businesses to urge countries in which they do business to improve their LGBT rights records.
Summerskill told the Blade many of the corporations that are part of Stonewall's Diversity Champions program that promotes gay and lesbian equality in the workplace are "becoming increasingly uneasy in investing in countries of that sort." Richard Branson, founder of the Virgin Group, which is not a member of Stonewall's workplace advisory group, on Dec. 23 announced he would not do business in Uganda because of the passage of the Anti-Homosexuality Bill.
"That is another way in which we can put pressure on Uganda and other governments," said Summerskill. "And we'll continue to do so."
Organization opposes Olympic boycott
Stonewall remains opposed to a boycott of the 2014 Winter Olympics that will take place next month in Sochi, Russia, over the Kremlin's LGBT rights record.
Summerskill said this position "has been informed from day one" by Russian LGBT rights advocates with whom his organization works.
"They were crystal clear again from day one that that's not what they thought was the best way of moving the needle in terms of the reality of everyday life for gay people in Russia," he said.
Summerskill said Elton John was "right" to perform in Russia last month — the gay British singer specifically criticized a law that bans gay propaganda to minors during a Dec. 6 concert in Moscow. Summerskill added he feels the BBC's decision to send lesbian reporter Clare Balding to Sochi to host its coverage of the games sends a strong message to Russian President Vladimir Putin.
"She will be there making a very powerful point," said Summerskill. "The coverage will be anchored by someone who billions of people by then will know is a lesbian."
The Independent on Dec. 20 reported Cameron would not attend the Sochi games. The newspaper cited sources within the U.K. government who said the decision is not a boycott the Olympics over Russia's LGBT rights record.
"[Cameron] has been crystal clear about what he thinks," said Summerskill, noting British prime ministers have never attended the Winter Olympics. "He's raised the issue face-to-face with Mr. Putin, which again would have been unthinkable when Mrs. Thatcher was prime minister, and he's been prepared to do that very publicly. And that actually is something we should all have been quite encouraging about."
A group of gay and lesbian advocates that campaigned against a bill that would have banned the "promotion" of homosexuality in public schools in the U.K. founded Stonewall in 1989. Stonewall Scotland and Stonewall Cymru (Wales) operate within their respective regions of the country.
Stonewall's annual income in 2014 will be £4.5 million ($7.37 million.)
Gays and lesbians in England and Wales can begin to legally marry on March 29. A final vote on a measure that would extend marriage rights to same-sex couples in Scotland is expected to take place in the coming weeks.
The government of Northern Ireland in November announced it had lifted the ban on gay couples adopting children.
IBM, Barclays and Goldman Sachs are among the nearly 650 companies that are members of Stonewall's Diversity Champions program. They pay the organization an annual fee of £2,500 ($4,090) to receive advice and other materials on how to become a welcoming workplace for gays and lesbians.
"We're very conscious that we just don't have a situation where they do what we call signing the poster, which is all a bit too easy," said Summerskill. "They actually pay us."
Stonewall has also worked with the Gay, Lesbian and Straight Education Network (GLSEN) to develop a campaign to tackle anti-gay bullying in U.K. schools.
The U.K.'s anti-discrimination law protects trans people in employment and public accommodation, but Summerskill said some of the statutes need "tidying up." Trans people in the U.K. have been able to legally change their gender on birth certificates and other documents without sex-reassignment surgery since 2004, but the country's hate crimes law does not include gender identity and expression.
Stonewall Scotland advocates for transgender rights, and Stonewall does so on the international level.
Stonewall and Stonewall Cymru do not specifically advocate for trans rights because Summerskill said English and Welsh trans advocates have specifically asked them not to do so. This stance has sparked division among some British LGBT rights advocates.
"While that's a lively debate, we've kind of finessed that by trying to be as supportive as we possibly can of trans people but not claiming to speak on their behalf if a material number have said we don't want you to," Summerskill told the Blade. "Happily there is an infrastructure, although it's fragile, of seven or eight quite good trans organizations in Britain."
Summerskill also discussed British Olympic diver Tom Daley's acknowledgement last month that he is in a relationship with a man widely reported to be "Milk" screenwriter Dustin Lance Black.
He categorized the Olympian who won a bronze medal during the 2012 Summer Olympics in London as a "national treasure" alongside Balding, John and comedian Stephen Frye. Summerskill added most of the reaction to Daley's announcement from within the U.K. was along the lines of "Oh, he's a nice young man."
"We want him to do well in the Olympics in 2016," said Summerskill. "If being able to be who he is makes that easier, which it almost certainly does, then he will probably perform better."
Summerskill also discussed those who were quick to label Daley as bisexual or gay, even though the British Olympian has not used either term to identify himself.
"He's kind of said he's in a relationship with another guy," Summerskill told the Blade. "It's pretty clear what that means unless you're a queer theorist looking to be upset by someone whose not using the language you like to use to describe what's going on in your life."
Botswana attorney general seeks to recriminalize homosexuality
High Court heard case on Oct. 12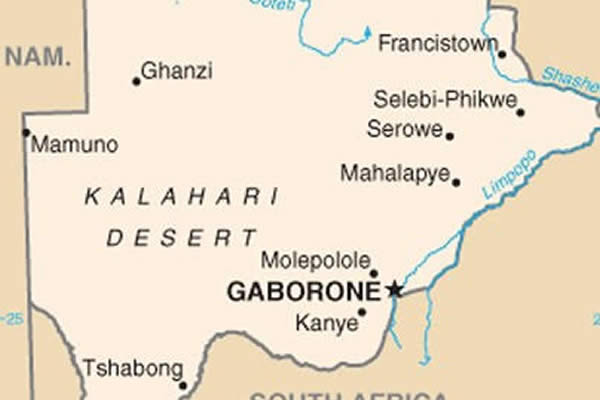 GABORONE, Botswana — On June 11, 2019, Botswana moved toward being a state that no longer held some of its citizens (and, by extension, visitors) as criminals if they identified within the LGBTQ spectrum. However, the government didn't take too long before it declared its intention to appeal the High Court judgment that asserted that consensual same-sex sexual activity in private was not to be a criminal act.
The appeal hearing took place on Oct. 12.
There are some key things to understand about what the High Court did for people in Botswana. The judgment, written and delivered by Justice Leburu, not only put a clear delineation between the state's powers to intrude in people's private sexual lives, but it also stated that laws that served no purpose in the governance of the people they oversaw were most likely worthy of "a museum peg" more than being active laws of the land.
In the hearing on Oct. 9, a full bench of five judges of the Court of Appeal was treated to the government's case—as presented by advocate Sydney Pilane of the Attorney General's Chambers—along with hearing the rebuttals from the legal counsel representing Letsweletse Motshidiemang, who brought the original case against the government, and LEGABIBO, an NGO admitted as amicus curiae, a friend of the court. The appeal, two years in the making, would have been expected to be based on facts rather than opinions of what could and could not be accepted by hypothetical Batswana. Pilane even went so far as to contest that President Mokgweetsi Masisi's utterances about how people in same-sex relationships were "suffering in silence" were taken out of context as he was talking about gender-based violence and not endorsing their relationships.
The 2019 ruling of the High Court, the most supreme court of incidence in the country, not only declared people who were or had interest in engaging in consensual same-sex sexual activity not criminals, but it also allowed non-queer people to engage in sex acts that would otherwise be considered "against the order of nature" freely. The latter clause had often been interpreted as being solely about non-heterosexuals but on greater interrogation one realizes that any sex act that doesn't result in the creation of a child was considered against this 'order of nature' and that nullified much of heterosexual sexual exploration—further painting these clauses as out of touch with contemporary Botswana as Leburu expressed.
In some of his appeal arguments, Pilane stated that Batswana "do not have a problem with gay people", yet he based his contention on the fact that Batswana "respect the courts' decisions;" as such they would not take up arms at the court's decision to decriminalize consensual same-sex sexual activity. Pilane maintained that the decision to decriminalize should be left to the Parliament on the recommendation of the courts. The bench was swift to query whether a body of politicians elected by a majority would be the best representatives of a minority that was oppressed by laws that the very politicians benefitted from.
Botswana's legal system allows for the High Court ruling to remain the law of the land until such a point as it's struck down. The Court of Appeal ruling in favor of Batswana's sexual liberties will be a nail in the proverbial coffin of residual colonial sex-related laws plaguing Botswana. This will not be the end by any means though. Where the attorney general can form a case stating that decriminalizing consensual same-sex relations could be likened to people locking themselves in their houses with animals and having their way with them, we know that mindset changes need to be prioritized to ensure that all Batswana understand their constitutionally protected rights to privacy, expression, and freedom of association as relates to their personal and sexual lives.
The 2010 Employment Act of Botswana already protects people from being discriminated against based on their sex or gender identity. The nation's sexual violence laws were made gender neutral, thus covering non-consensual sex (rape) in all its possibilities. In upholding the ruling of the High Court, the Court of Appeal will allow the LGBTQ and SOGIESC (sexual orientation, gender identity and expression and sex characteristics) movements in Botswana some respite as attention is then channeled toward other pressing matters such as name changes, access to healthcare, and other culturally pertinent issues.
The Court of Appeal is expected to hand down a judgement following their deliberations in 4-6 weeks (mid to late November), however, this remains at their discretion. As it stands, since the High Court ruling in 2019, Botswana has experienced increased social accommodation for LGBTQ matters and figures—however, this is not to say there have not been any negative instances. With the continued sensitization, the expectation is that the courts, the government and NGO players will all contribute to a broad, national, culturing of LGBTQ rights in Botswana devoid of colonial residues.
D.C. rejects request by gyms to lift mask mandate
LGBTQ-owned venues sign letter calling requirement 'devastating' for business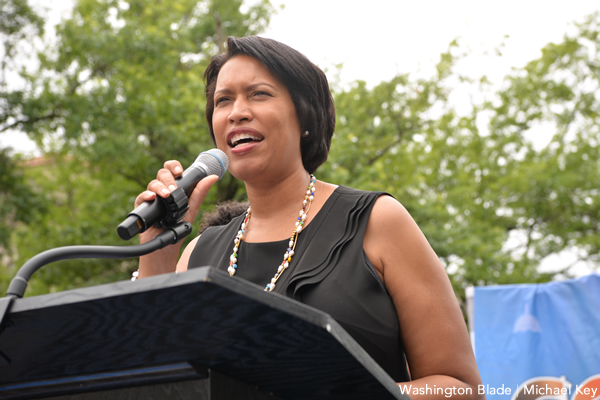 Owners of two LGBTQ-owned D.C. fitness studios and one gym signed on to a joint letter with the owners of six other similar businesses urging D.C. Mayor Muriel Bowser and D.C. Department of Health Director Dr. Laquandra Nesbitt to lift a city mandate requiring patrons of gyms and fitness studios to wear masks.
The Oct. 4 letter, written by gay businessman Bryan Myers, the CEO and president of a chain of local fitness studios using the trademark name of [solidcore], states that the mask mandate, which applies to people who are fully vaccinated for the coronavirus, is based largely on outdated data pertaining to gyms and fitness studios collected prior to the widespread availability of the COVID vaccine.
"More relevant data to inform decision-making would be to study the data from two, large Northeastern cities that have opted to allow fitness classes to continue with the requirement of vaccination in lieu of a mask requirement," the letter states. "In both New York City and Philadelphia, which have opted for this approach, we have not seen an increase in the trajectory of the Delta variant," Myers says in the letter.
In the last week of July, the U.S. Centers for Disease Control and Prevention issued a recommendation that cities and local jurisdictions with 50 new COVID cases per 100,000 residents per week, which at that time included D.C., should ask residents to voluntarily resume wearing masks indoors. That same week, Bowser announced she would go one step further by mandating the indoor use of masks in most public places, including gyms and fitness spas or studios.
Bowser and Nesbitt said their intention was to take immediate steps to curtail the spread of the coronavirus so that the city would not be forced to return to the full shutdown mode, including the closing of businesses, that the mayor lifted earlier this year.
Maryland Gov. Larry Hogan and Virginia Gov. Ralph Northam announced they would ask residents of their states to consider using masks in crowded indoor spaces as recommended by the CDC, but said they would not require mask use.
In their letter to Bowser and Nesbitt, the gym and fitness studio owners called on the mayor to provide the same exemption to their businesses as the city has provided for restaurants, bars, and nightclubs, which requires masks except when patrons are eating and drinking.
"While it is true that bars, restaurants, and clubs technically have to follow the same guidelines, we know that in practice, these venues have been granted exceptions by D.C. Health," the letter says. "On any given night, you can find hundreds of individuals crowded into a U Street bar, at a Capitol Hill restaurant, or thousands at a performance or party at The Anthem enjoying themselves – singing, dancing and physically exerting themselves, shouting – maskless – so long as they have a drink somewhere nearby," says the letter.
"And to be unequivocally clear, we are not advocating that there is anything wrong with what is happening in other industries or that there be a change to the management of those industries/venues," the letter continues. "We are simply advocating that we be treated the same as they are."
The letter adds, "Finally, but perhaps most importantly, the mask mandate for fitness studios and gyms has resulted in devastating financial impact to these businesses – many of which are small locally owned."
It says patronage has dropped 50 percent for some of the fitness centers and gyms since the mayor's mask mandate took effect July 29. It points out that the drop in customers comes at a time when many of these businesses have spent thousands of dollars and in some cases hundreds of thousands to upgrade their ventilation and filtration systems and other structural steps to curtail the spread of the coronavirus.
Myers told the Washington Blade in a statement that neither the Department of Health nor the mayor's office replied directly to the gym and fitness studios' letter.
Channel 7 News reported that in response to its request for the city's reaction to the gym and fitness studios' concerns, the Department of Health released a statement saying, "D.C. Health's stance is that persons should wear masks in gyms and during this time [we] do not have plans to change our stance on this guidance."
In his statement to the Blade, Myers said the D.C. gym and fitness studios were frustrated and disappointed that the city at this time is not open to reconsidering the mask mandate for gyms and fitness studios, many of which he said are barely surviving.
"This mandate is directly affecting the livelihoods of residents of the District, many of whom are women, people of color, and/or LGBTQ+ in a policy that is simply not equitable, and is steering residents away from services that can help improve the overall health of our community," Myers said.
Pete Buttigieg calls out Tucker Carlson over attack
Fox News host mocked transportation secretary over paternity leave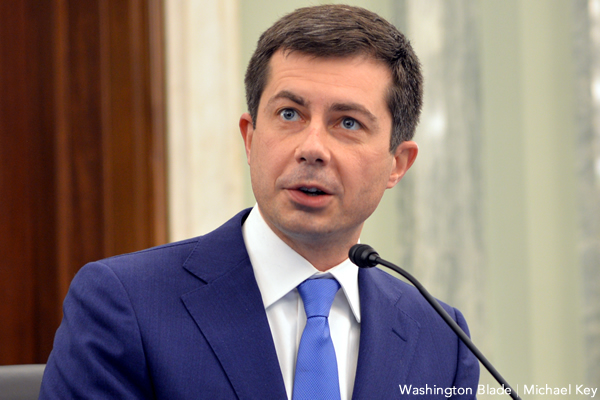 Appearing remotely on MSNBC's Nicolle Wallace's politics program Friday, U.S. Transportation Secretary Pete Buttigieg called out Fox News host Tucker Carlson for the attack on his parental leave.
"This attack is coming from a guy who has yet to explain his apparent approval for the assassination of Harvey Milk, " Buttigieg said.
During his Thursday evening program Carlson said, "Pete Buttigieg has been on leave from his job since August after adopting a child—paternity leave, they call it—trying to figure out how to breastfeed. No word on how that went. But now he's back in office as the transportation secretary and he's deeply amused, he says, to see that dozens of container ships can't get into this country."
Sec. Pete Buttigieg calls out Tucker Carlson for the attack on his parental leave, "This attack is coming from a guy who has yet to explain his apparent approval for the assassination of Harvey Milk, " pic.twitter.com/DsyQgCyUNO

— Sarah Reese Jones (@PoliticusSarah) October 15, 2021
Tucker Carlson mocks Pete Buttigieg for taking paternity leave: "Paternity leave, they call it, trying to figure out how to breastfeed, no word on how that went." pic.twitter.com/zFnp6uSser

— nikki mccann screamírez 👻 (@NikkiMcR) October 15, 2021