British gay group to expand int'l advocacy efforts
Four Stonewall U.K. staffers work on global LGBT issues; more planned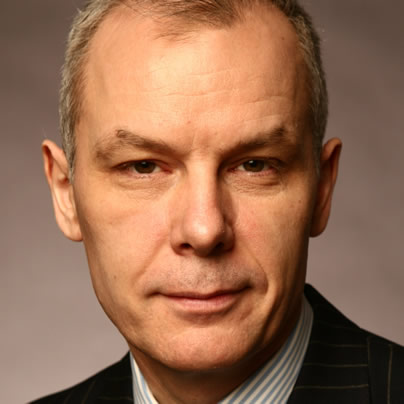 CONWAY, N.H.—The head of the U.K.'s largest gay advocacy group told the Washington Blade last month his organization has begun to devote more resources to the global LGBT rights movement now that marriage rights for same-sex couples have been secured in England and Wales.
Stonewall U.K. Chief Executive Ben Summerskill said during an extensive interview in New Hampshire's Mount Washington Valley on Dec. 20 where he was spending the holidays that his organization hopes to hire additional staff to continue its work on LGBT-specific issues in Uganda, Russia, Eastern Europe and other areas.
Four of Stonewall's 70 staffers currently work directly on these issues. The organization also works with the British Foreign Office and the U.K. Department of International Development to raise them at the United Nations.
"I was very anxious historically about us getting engaged in that sort of territory while we didn't have complete legal equality in Britain," said Summerskill. "It just opened you up to the people who turn up in Uganda to say what are you doing? Why have you come to lecture us?"
Summerskill spoke with the Blade hours after the Ugandan Parliament approved a bill that would impose a life sentence upon anyone found guilty of repeated same-sex sexual acts. The Indian Supreme Court's Dec. 11 ruling that recriminalized homosexuality sparked global outrage.
Summerskill said he feels it is more effective to work through the U.K. commonwealth — as opposed to "standing outside [the Ugandan embassy in London] in the rain with placards" — to address anti-LGBT laws in former British colonies. He also applauded British Prime Minister David Cameron's decision to begin channeling foreign aid directly to non-governmental organizations in Uganda and other countries as opposed to giving it directly to governments whose records on LGBT rights and other issues have sparked criticism.
"I don't think any LGBT campaigner, however strongly they feel about Uganda, would think that it was a good thing that people should starve just so we feel we're making some progress around human rights for gay people," said Summerskill.
Another Stonewall strategy is to work with U.K.-based businesses to urge countries in which they do business to improve their LGBT rights records.
Summerskill told the Blade many of the corporations that are part of Stonewall's Diversity Champions program that promotes gay and lesbian equality in the workplace are "becoming increasingly uneasy in investing in countries of that sort." Richard Branson, founder of the Virgin Group, which is not a member of Stonewall's workplace advisory group, on Dec. 23 announced he would not do business in Uganda because of the passage of the Anti-Homosexuality Bill.
"That is another way in which we can put pressure on Uganda and other governments," said Summerskill. "And we'll continue to do so."
Organization opposes Olympic boycott
Stonewall remains opposed to a boycott of the 2014 Winter Olympics that will take place next month in Sochi, Russia, over the Kremlin's LGBT rights record.
Summerskill said this position "has been informed from day one" by Russian LGBT rights advocates with whom his organization works.
"They were crystal clear again from day one that that's not what they thought was the best way of moving the needle in terms of the reality of everyday life for gay people in Russia," he said.
Summerskill said Elton John was "right" to perform in Russia last month — the gay British singer specifically criticized a law that bans gay propaganda to minors during a Dec. 6 concert in Moscow. Summerskill added he feels the BBC's decision to send lesbian reporter Clare Balding to Sochi to host its coverage of the games sends a strong message to Russian President Vladimir Putin.
"She will be there making a very powerful point," said Summerskill. "The coverage will be anchored by someone who billions of people by then will know is a lesbian."
The Independent on Dec. 20 reported Cameron would not attend the Sochi games. The newspaper cited sources within the U.K. government who said the decision is not a boycott the Olympics over Russia's LGBT rights record.
"[Cameron] has been crystal clear about what he thinks," said Summerskill, noting British prime ministers have never attended the Winter Olympics. "He's raised the issue face-to-face with Mr. Putin, which again would have been unthinkable when Mrs. Thatcher was prime minister, and he's been prepared to do that very publicly. And that actually is something we should all have been quite encouraging about."
A group of gay and lesbian advocates that campaigned against a bill that would have banned the "promotion" of homosexuality in public schools in the U.K. founded Stonewall in 1989. Stonewall Scotland and Stonewall Cymru (Wales) operate within their respective regions of the country.
Stonewall's annual income in 2014 will be £4.5 million ($7.37 million.)
Gays and lesbians in England and Wales can begin to legally marry on March 29. A final vote on a measure that would extend marriage rights to same-sex couples in Scotland is expected to take place in the coming weeks.
The government of Northern Ireland in November announced it had lifted the ban on gay couples adopting children.
IBM, Barclays and Goldman Sachs are among the nearly 650 companies that are members of Stonewall's Diversity Champions program. They pay the organization an annual fee of £2,500 ($4,090) to receive advice and other materials on how to become a welcoming workplace for gays and lesbians.
"We're very conscious that we just don't have a situation where they do what we call signing the poster, which is all a bit too easy," said Summerskill. "They actually pay us."
Stonewall has also worked with the Gay, Lesbian and Straight Education Network (GLSEN) to develop a campaign to tackle anti-gay bullying in U.K. schools.
The U.K.'s anti-discrimination law protects trans people in employment and public accommodation, but Summerskill said some of the statutes need "tidying up." Trans people in the U.K. have been able to legally change their gender on birth certificates and other documents without sex-reassignment surgery since 2004, but the country's hate crimes law does not include gender identity and expression.
Stonewall Scotland advocates for transgender rights, and Stonewall does so on the international level.
Stonewall and Stonewall Cymru do not specifically advocate for trans rights because Summerskill said English and Welsh trans advocates have specifically asked them not to do so. This stance has sparked division among some British LGBT rights advocates.
"While that's a lively debate, we've kind of finessed that by trying to be as supportive as we possibly can of trans people but not claiming to speak on their behalf if a material number have said we don't want you to," Summerskill told the Blade. "Happily there is an infrastructure, although it's fragile, of seven or eight quite good trans organizations in Britain."
Summerskill also discussed British Olympic diver Tom Daley's acknowledgement last month that he is in a relationship with a man widely reported to be "Milk" screenwriter Dustin Lance Black.
He categorized the Olympian who won a bronze medal during the 2012 Summer Olympics in London as a "national treasure" alongside Balding, John and comedian Stephen Frye. Summerskill added most of the reaction to Daley's announcement from within the U.K. was along the lines of "Oh, he's a nice young man."
"We want him to do well in the Olympics in 2016," said Summerskill. "If being able to be who he is makes that easier, which it almost certainly does, then he will probably perform better."
Summerskill also discussed those who were quick to label Daley as bisexual or gay, even though the British Olympian has not used either term to identify himself.
"He's kind of said he's in a relationship with another guy," Summerskill told the Blade. "It's pretty clear what that means unless you're a queer theorist looking to be upset by someone whose not using the language you like to use to describe what's going on in your life."
Justice Department eyes criminal probe of Santos' campaign finances
House Speaker Kevin McCarthy's (R-Calif.) office has not commented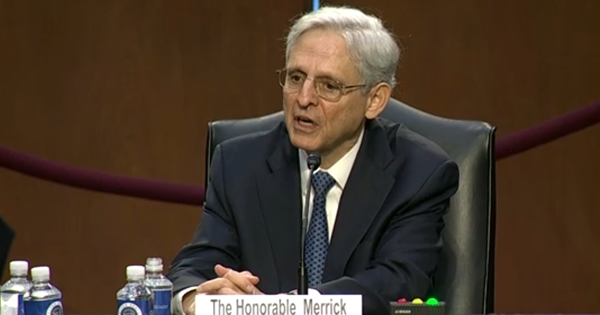 The Justice Department has asked the Federal Election Commission to hold off on law enforcement activity over Republican U.S. Rep. George Santos (N.Y.) as federal prosecutors conduct their own criminal probe into the congressman's campaign finances.
The news, first reported Friday by the Washington Post, was confirmed Saturday by the Washington Blade via a Justice Department source familiar with the matter who was not authorized to speak with the press.
The attorney who filed the FEC complaint against Santos previously told the Blade that the agency would yield to the Justice Department if prosecutors initiate a criminal probe — indicating that in Washington the matter would be overseen by the Department's Public Integrity Section. 
The Nassau County District Attorney's Office and the office of New York Attorney General Letitia James are also looking into Santos' financial conduct, while the congressman has simultaneously been enmeshed in controversies over his compulsive lying, having fabricated virtually every part of his life and identity.
As of this publication, House Speaker Kevin McCarthy's (R-Calif.) office has not responded to a request seeking comment. McCarthy, along with the rest of Republican leadership in the chamber, have addressed the controversies only minimally, telling reporters they have no plans to ask Santos to step down until or unless criminal proceedings against him are underway.
Santos voted for McCarthy's bid for speakership in each of the 15 ballots that were required to unite the House GOP conference behind him due to the objections of a couple dozen ultra-conservative members who were able to delay the vote and extract painful concessions because of the party's narrow control of the House majority.
Memphis police release Tyre Nichols arrest, fatal beating video
29-year-old Black man died after traffic stop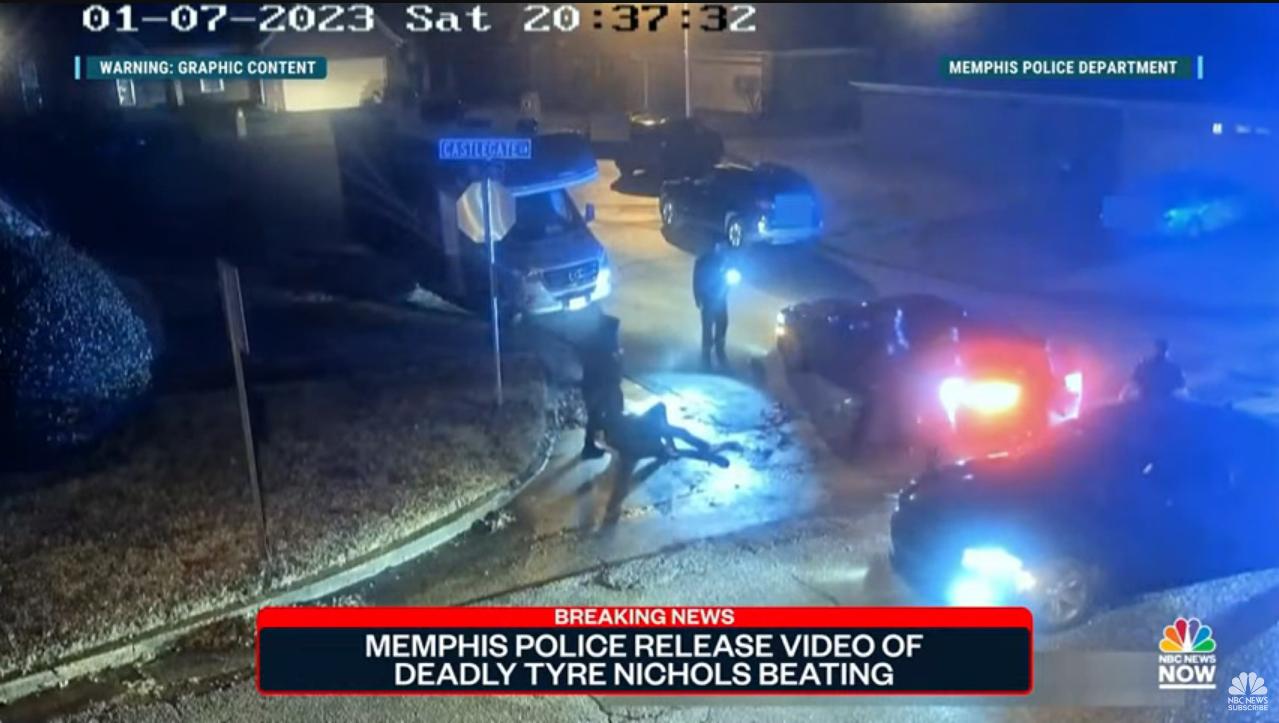 Three videos consisting of both body cam footage and street surveillance footage were made public by the Memphis Police Department Friday evening showing the violent arrest and beating of Memphis resident 29-year-old Tyre Nichols.
Nichols died three days after he was beaten by police in a traffic stop in the Hickory Hill neighborhood around 8:22 p.m. on Jan. 7, in an altercation Memphis Police Chief C.J. Davis described, saying "in my 36 years in law enforcement, I don't think I have witnessed the disregard for a human being displayed in this video." 
Shelby County District Attorney Steve Mulroy announced Thursday that five now-former Memphis police officers — Tadarrius Bean, Demetrius Haley, Emmitt Martin III, Desmond Mills, Jr., and Justin Smith — were fired for misconduct, indicted by a grand jury and taken into custody.
Each is charged with second-degree murder, aggravated assault, two counts of aggravated kidnapping, two counts of official misconduct and official oppression. By Friday morning, they had posted bond.
As news of the beating and death spread beyond Tennessee, officials expressed concern that release of the footage would touch off violent protest in reaction.
The attorneys and family of Nichols asked for justice for their son, and peace in their city, at a press conference in Memphis on Friday, WREG News 3 reported.
Speakers included family members, attorneys Ben Crump, Antonio Romanucci and Van Turner, president of the Memphis branch of the NAACP.
Rodney Wells, Nichols' stepfather, said that he initially wanted first-degree murder charges against the officers, but the family is satisfied with second-degree murder.
He pleaded for peace in Memphis Friday night.
"We want peace. We do not want any type of uproar. We do not want any type of disturbance," Wells said. "Please, please, protest, but protest safely."
Protests took place in Memphis after police released more than an hour of footage in the case with some major highways temporarily shut down.
Other protests were organized in New York, as well as D.C., Sacramento, Los Angeles, Atlanta, Philadelphia and Seattle, with police at the ready for potential violence.
"Tonight, I stand with the millions of Americans sending condolences and love to the family of Tyre Nichols as the navigate this unimaginably difficult tragedy," said D.C. Mayor Muriel Bowser in a statement. "We are a nation traumatized by violence, especially violence against Black Americans. We don't even need to see the video to feel outraged that those five former officers, sworn to protect their community and now arrested and charged with murder, killed Tyre. But tonight, many people will see the video and it will elicit strong feelings — from sadness and anger to confusion and despair. Tonight, we are a city and country united by tragedy, but we are also determined — to deliver justice for Tyre and change for our nation."
The White House held a joint emergency call Friday with the mayors of at least 16 cities before the video's release "to brief them on federal preparations in support of state and local leaders."
"Participating mayors shared their perspectives on how important it is to recognize the pain felt by communities across this country, be prepared in advance with a game plan to provide adequate community support, and to reinforce the importance of peace and calm during these difficult moments," the White House said in a statement about the call, which included cities from New York City, to Atlanta, Los Angeles, D.C., Seattle and Portland.
The Los Angeles Police Department issued a statement condemning the actions of the Memphis officers and calling for demonstrations to remain peaceful.
"The accounts of the circumstances of this heinous crime and the criminal actions of those involved are reprehensible," the LAPD said.
"The department will do all within its power to ensure the lawful expression of the public's anger and frustration is protected and prepared to facilitate those wishing to exercise their First Amendment rights."
The Los Angeles County Sheriff's Department told local media that it is preparing for the possibility of disturbances after the footage is made public. and is coordinating with other state, local and federal agencies.
"Our patrol stations and specialized units remain in a state of readiness to respond to any disturbances that might occur," the LASD said.
"The sheriff's department supports the First Amendment and the people's right to protest."
Speaking with reporters as he prepared to depart for Camp David at the White House Friday evening, President Joe Biden said that he had spoken with Nichols' mother prior to the video footage release for about 10 or 15 minutes.
"I spoke with Tyre's mother and expressed my condolences and told her that I was going to be making the case to the Congress to pass the George Floyd Act. We should get this under control. I can only do so much on the executive order at the federal level," Biden said. "I was really pleased that she called for peaceful protest, no violence," he added.
When asked about the potential for violence Biden said:
"I'm obviously very concerned about it. But I think she has made a very strong plea. She's obviously in enormous pain. I told her I had some idea of what that loss is like and although it is impossible to believe now, a time will come when his memory brings a smile before a tear."
The White House released a statement from the president that said in part:
"Like so many, I was outraged and deeply pained to see the horrific video of the beating that resulted in Tyre Nichols' death. It is yet another painful reminder of the profound fear and trauma, the pain, and the exhaustion that Black and Brown Americans experience every single day.

My heart goes out to Tyre Nichols' family and to Americans in Memphis and across the country who are grieving this tremendously painful loss. The footage that was released this evening will leave people justifiably outraged. Those who seek justice should not to resort to violence or destruction. Violence is never acceptable; it is illegal and destructive. I join Mr. Nichols' family in calling for peaceful protest."
California Gov. Gavin Newsom issued a statement in response to the Memphis Police Department's body camera footage being released, showing the deadly actions that took the life of Nichols, a Sacramento native, and led to the charging of five since fired Memphis law enforcement officers.
"Jennifer and I send our deepest condolences to the family and friends of Tyre Nichols. Tyre Nichols should be alive today. The video released shows abhorrent behavior and these officers must be held accountable for their deadly actions and clear abuse of power," said Newsom. "Today, we are a country in mourning, and must continue our work nationwide to push reforms to prevent excessive use of force and save lives."
"Tonight, we saw ferocious violence from an out-of-control herd," said Los Angeles Mayor Karen Bass.
Late Friday evening Vice President Kamala Harris' office released a statement from the vice president on Nichols:
"Tyre Nichols should have made it home to his family. Yet, once again, America mourns the life of a son and father brutally cut short at the hands of those sworn to protect and serve. The footage and images released tonight will forever be seared in our memories, and they open wounds that will never fully heal.

The persistent issue of police misconduct and use of excessive force in America must end now.
I join President Biden in his call for accountability and transparency. We must build trust—not fear — within our communities."

VIDEO COURTESY OF KTLA:
TYRE NICHOLS VIDEO VIEWER DISCRETION ADVISED, GRAPHIC CONTENT AND LANGUAGE WARNING.
LGBTQ Holocaust victims remembered on International Holocaust Memorial Day
Up to 15,000 gay men sent to concentration camps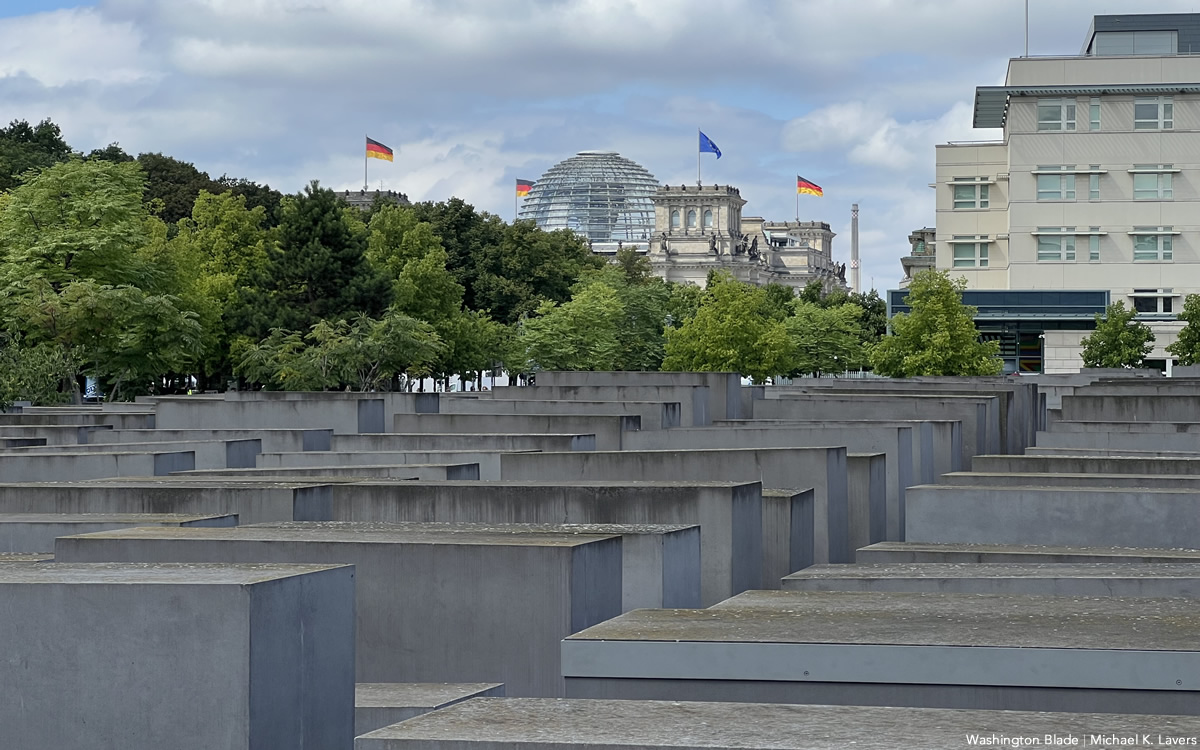 Ordinary People is the theme for International Holocaust Memorial Day 2023 as around the globe the day is set aside for everyone to remember the millions of people murdered in the Holocaust under Nazi persecution.
The Nazis targeted anyone they believed threatened their ideal of a "pure Aryan race," including Roma and Sinti people, disabled people, LGBTQ people, political opponents and others.
In a statement released by the U.S. Embassy in Lithuania, whose ambassador, Robert S. Gilchrist, is openly gay, a coalition consisting of other nation's diplomatic missions to the Baltic nation, including Israel, Germany, the Netherlands, Japan and the European Commission noted:
"As we mark International Holocaust Remembrance Day, we commemorate the Holocaust of six million Jews, men, women and children, including more than 200,000 Jews murdered in Lithuania. We remember other communities who were also murdered: Roma, disabled persons, LGBTQI+ persons, Slavs and others. We do not forget that the Nazis committed these heinous crimes with the support of local collaborators throughout Europe. And we remember the heroism of countless people who, at great personal risk, stepped in to save thousands of Jews."
Amy Gutmann, the U.S. ambassador to Germany, tweeted: "Today we remember the horrors of the Holocaust and the six million Jews, and millions of Roma, Sinti, Slavs, persons with disabilities, LGBTQ+ individuals and political dissidents murdered by the Nazis and their collaborators." Gutmann added: "As my father, a German Jew forced to flee Germany in 1934 said, "Everything we do — and everything we don't do — makes a difference."
Today we remember the horrors of the Holocaust and the six million Jews, and millions of Roma, Sinti, Slavs, persons with disabilities, LGBTQ+ individuals, and political dissidents murdered by the Nazis and their collaborators. pic.twitter.com/wfjBnCeoUB

— Ambassador Amy Gutmann (@USAmbGermany) January 27, 2023
PinkNewsUK journalist Patrick Kelleher wrote:
"It is thought that up to 50,000 gay men received severe prison sentences under Nazi rule. According to the Holocaust Memorial Day Trust, most were sent to police prisons, but between 10,000-15,000 were sent to concentration camps.
Life for queer people in Weimar Germany was a very different picture to what it would become under the Nazis.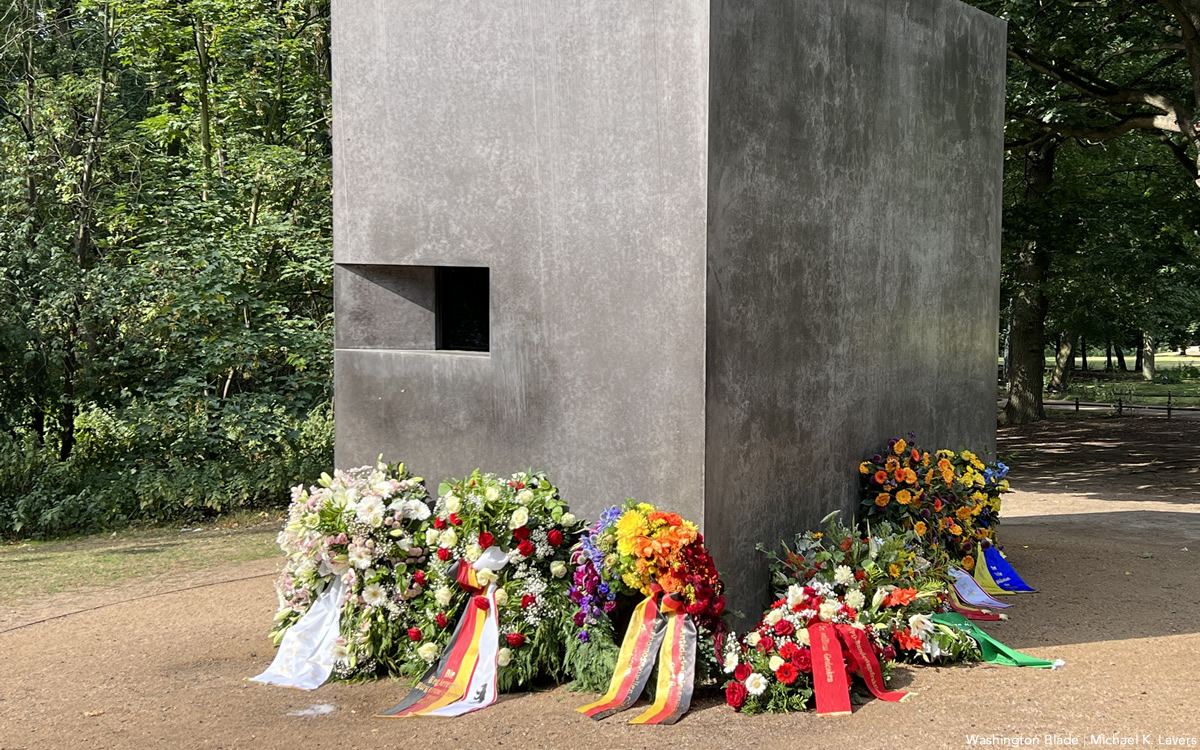 There were gay bars, there was a functioning queer scene — there was even an institute for sexual research, a concept that would be impossible to imagine in most European cities of the day.
When the Nazis came to power in 1933, everything changed. In the years that followed, millions of Jews, alongside other minority groups, were rounded up, tortured and murdered in concentration camps, up until 1945."
David Pressman, the U.S. ambassador to Hungary who arrived in that country with his husband and their two children last fall, also remembered the Holocaust in a tweet:
January 27, 2023