Tom Chorlton, gay rights leader, author dies at 67
Former D.C. resident co-founded nat'l LGBT Democratic group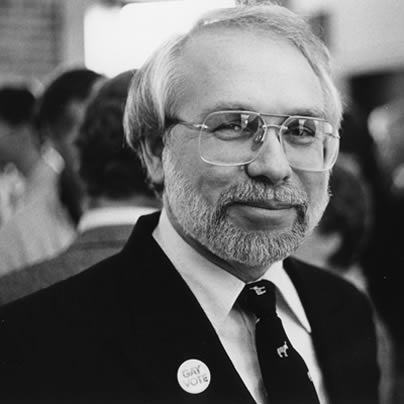 Tom Chorlton, a longtime advocate of LGBT rights and former D.C. resident who taught political science at the College of Charleston in South Carolina, died Jan. 5 from complications associated with leukemia. He was 67.
Chorlton has been credited with playing a key role in the early 1980s in organizing support for gay rights within the Democratic Party. Among other endeavors, he helped found the National Association of Gay and Lesbian Democratic Clubs in 1982 and served as its first executive director from 1982 to 1987.
While living in D.C. from the mid-1970s to the early 1990s, Chorlton advocated for LGBT rights on a local and national level. He served as president of D.C.'s Gertrude Stein Democratic Club from 1981 to 1982 and ran as a candidate for an at-large seat on the D.C. City Council in 1988 under the banner of the D.C. Statehood Party.
Although he lost his Council race, his role as the first serious openly gay candidate for a seat on the Council opened the way for the election in subsequent years of gay D.C. Council members David Catania (I-At-large) and Jim Graham (D-Ward 1).
Friends and associates say Chorlton had a dual passion for LGBT rights and political science, with a strong interest in American history during the period just before and after the Revolutionary War.
As an assistant professor at the College of Charleston, Chorlton taught courses on the American Presidency and Politics of the American Revolution up until October 2013, when he was diagnosed with leukemia.
In 2012, after years of research and writing that Chorlton called a labor of love, he completed and published his book, "The First American Republic: 1774-1789." The book consists of profiles of the 14 little-known leaders of the American Revolution who served as president of the Continental Congress from the time it was formed in 1774 to 1789, when George Washington took office as the nation's first elected president under the new U.S. Constitution.
"What few Americans realize is that there had been a fully functioning national government prior to 1789," Chorlton wrote in his book. "It was called the Continental Congress and it was, in every respect, the First American Republic (1774-1789)."
Deacon Maccubbin, former owner of D.C.'s Lambda Rising bookstore and a longtime friend of Chorlton's, said Chorlton was born in Illinois, where his parents adopted him and raised him in the City of Belleville.
Chorlton received a bachelor's in political science in 1968 from St. Louis University. Upon graduation, he served as a teacher in the Peace Corps in Kenya before returning to the U.S., where he worked in Washington in 1975 on the staff of U.S. Rep. Melvin Price (D-Ill.).
He earned his master's degree in government administration in 1977 at Webster University in Missouri. During his time of studies there he was employed as a local government specialist with the St. Louis Area Council of Governments.
Shortly after leaving Washington in the early 1990s, Chorlton taught history and government at Columbia College's Lake Campus in central Missouri. He began his post as an assistant professor at the College of Charleston in 2003, according to Erin Blevins, administrative coordinator for the college's Department of Political Science.
Blevins said among the courses Chorlton taught were LGBT Politics, American Government, Contemporary Political Issues, Politics of the American Revolution, and the U.S. Presidency.
Kurt Vorndran, who served as president of the Gertrude Stein Democratic Club in D.C. several years after Chorlton held that post, credits Chorlton with being among the first to organize a political fundraising dinner for a gay rights cause in 1981 on behalf of the Stein Club.
Vorndran said the Stein Club's 1981 dinner, held at the Hyatt Regency Hotel, drew hundreds of people, including members of Congress, then-D.C. Mayor Marion Barry, and many other D.C. elected officials and straight allies, such as labor union and civil rights leaders.
"At the time, very few, if any, national or local LGBT groups put on this type of political banquet that attracted big name politicians and media coverage," Vorndran said. "This was something Tom started."
Maccubbin and his husband Jim Bennett, who are serving as executors of Chorlton's estate, said in a statement that plans for a memorial service would be announced shortly. The statement says a portion of Chorlton's ashes would be interred at St. Michael's Episcopal Church in Charleston and at a family plot in Belleville, Ill.
"Another small portion of his ashes will be scattered in Antarctica, the only continent Tom had not yet visited," the statement says. "He has travelled extensively all his life, beginning with his Peace Corps service, and has been to more than 50 countries, including regions as diverse as Mongolia and Easter Island, Fiji and Kenya, Moscow, Beijing and Iran," the Maccubbin-Bennett statement says.
"Those who believe in heaven know that Tom is there now with his mom and his canine friends who went before," Maccubbin and Bennett said in a separate statement. "Those who don't believe in the afterlife know that Tom created a heaven right here on earth, and shared it with all of us. He will live in all of our hearts forever."
Maccubbin said Chorlton's life will be celebrated in a memorial service at St. Michael's Episcopal Church in Charleston on Jan. 14, with interment to take place in the churchyard. He said that in lieu of flowers, memorial donations may be made by check payable to the Tom Chorlton Memorial Fund, PO Box 1892, Folly Beach, SC 29439.
Patti LaBelle, Gladys Knight dazzle at AIDS Healthcare Foundation World AIDS Day Concert at Kennedy Center
Renowned vocalists delivered show-stopping performances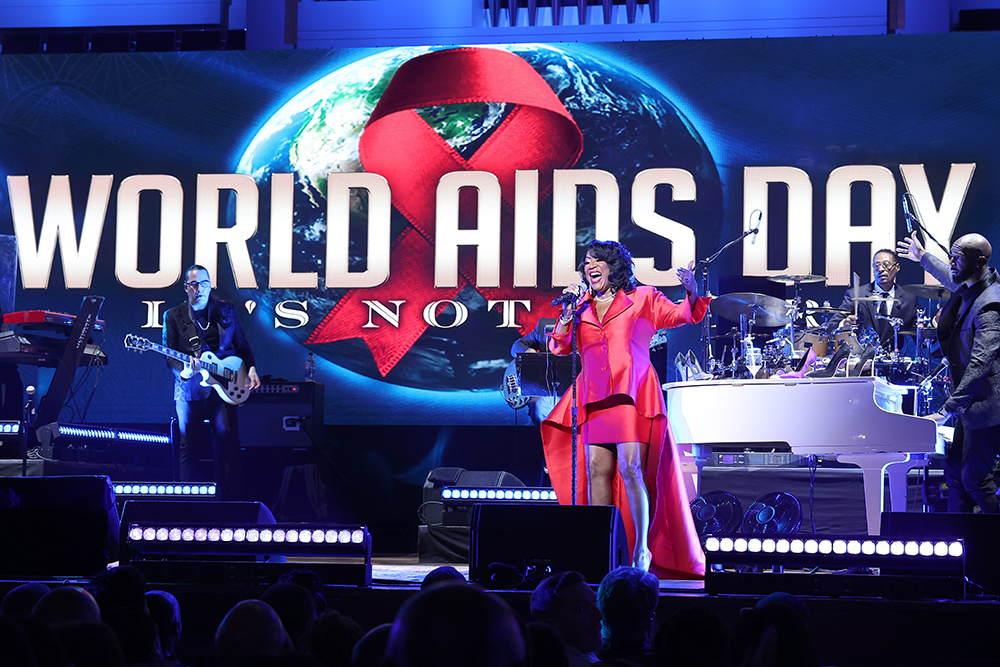 The AIDS Healthcare Foundation (AHF) hosted its 2022 World AIDS Day Concert on Wednesday, Nov. 30, at the concert hall of The Kennedy Center in D.C. Renowned multi-Grammy Award-winning vocalists Patti LaBelle and Gladys Knight delivered show-stopping performances to the packed crowd, which included supporters, dignitaries such as: Harold Phillips, Director of the White House Office of National AIDS Policy; White House Senior Advisor for Public Engagement, Mayor Keisha Lance Bottoms, Congresswoman Sheila Jackson Lee, and New Orleans Mayor, Mayor LaToya Cantrell, and more, in a night of hope and celebration.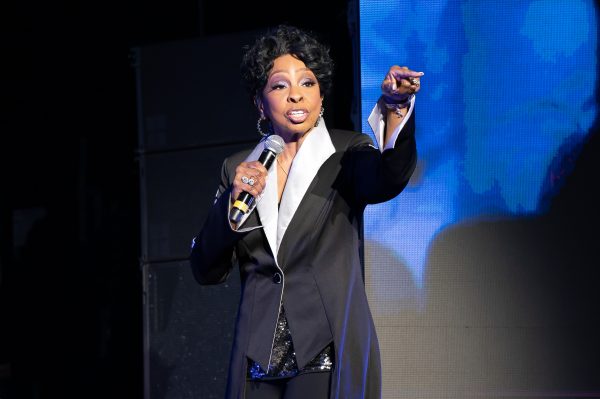 AIDS Healthcare Foundation (AHF), is the world's largest HIV/AIDS care provider, currently operating in 45 countries. The concert is held every year to commemorate World AIDS Day, observed internationally each year on Dec. 1. This year also marked the global organization's 35th anniversary.
At the event, longtime humanitarian and AIDS advocate, Princess Diana was honored, posthumously, with AHF's Lifetime Achievement Award. Under its "Keep the Promise!" banner, AHF also acknowledged progress made in the global fight against HIV and AIDS and continues to raise awareness about "The Other Pandemic" as a reminder of the significant work still to be done on HIV/AIDS, as well as remembering the lives that have been lost over the years.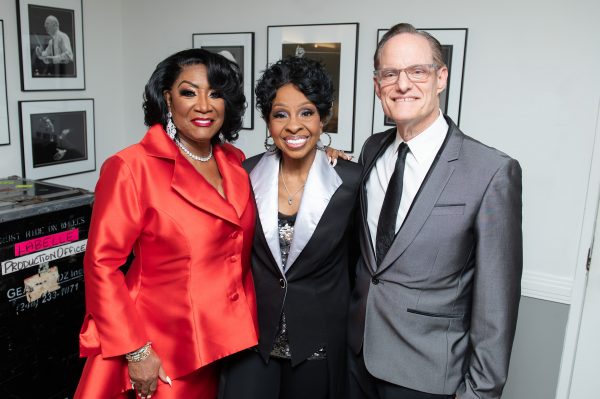 Michael Weinstein, President of AHF, said, "As millions remain affected by HIV/AIDS around the globe, World AIDS Day annually provides an opportunity to honor those we've lost and those living with HIV/AIDS today, as well as reminding leaders and the community of the work that still remains to address this epidemic. From providing compassionate AIDS hospice care in those darkest early days to growing to become the largest global AIDS organization today, now providing lifesaving care and treatment to more than 1.7 million people around the globe, we also celebrate the tireless work of all those who help make today's AHF possible: our staff, Board, affiliate organizations and affinity groups, friends, family and elected officials and community partners across the globe, but most of all, our clients and patients—with our annual 2022 World AIDS Day event. It was a momentous night to host our World AIDS Day concert at The Kennedy Center for the first time, and welcome back the legendary Patti LaBelle, and have another great American icon, Gladys Knight join us, while also being able to honor the legacy and humanitarian work of the late Princess Diana."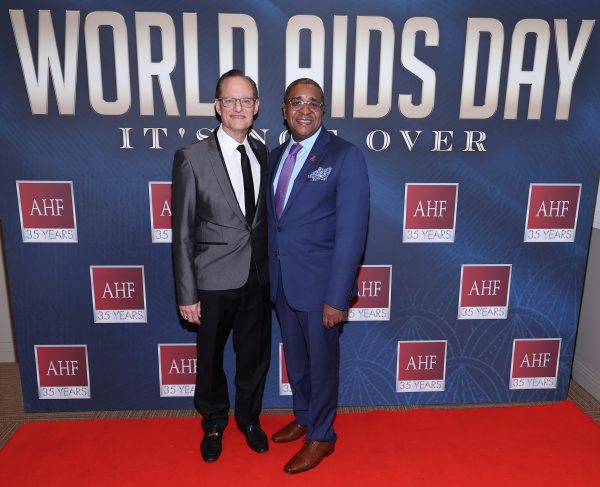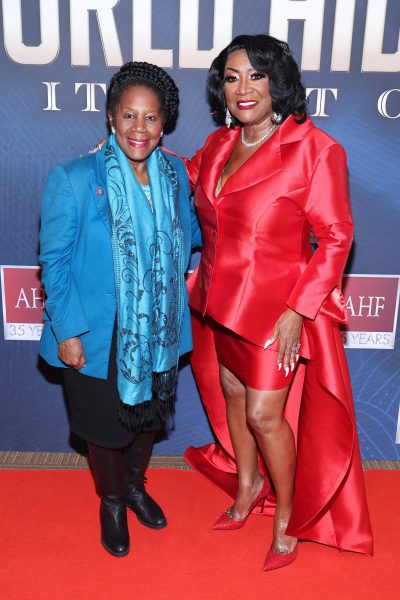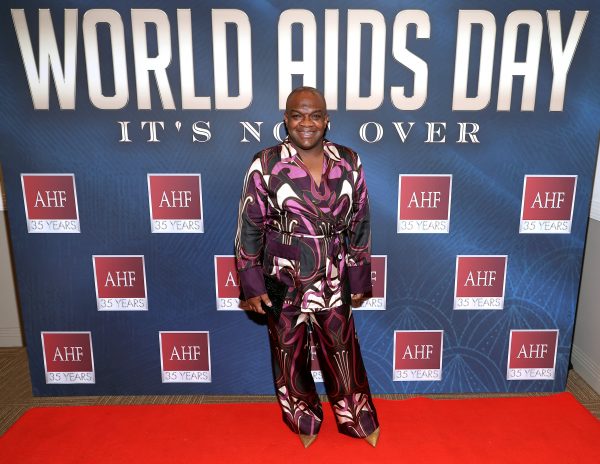 Blinken: PEPFAR 'shows us what American diplomacy can do'
Secretary of state spoke at World AIDS Day event in D.C. on Friday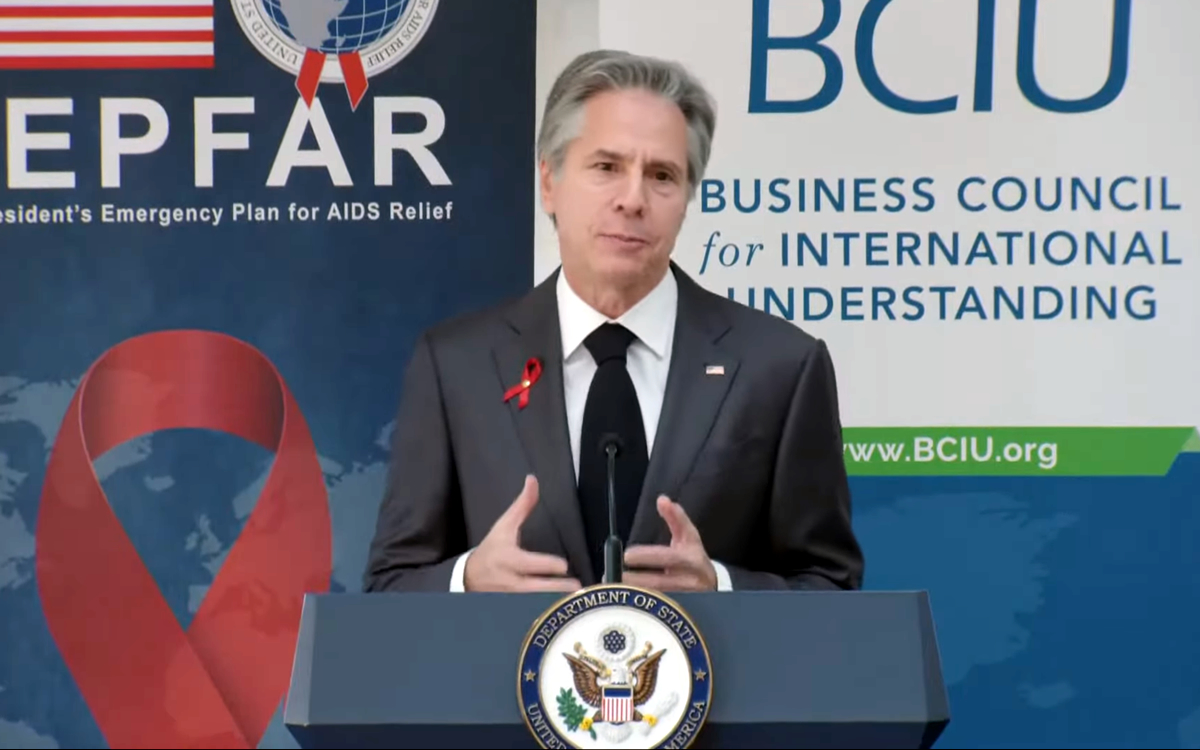 Secretary of State Antony Blinken on Friday noted the President's Emergency Plan for AIDS Relief has saved more than 25 million lives since its launch in 2003.
Blinken, who spoke at the Business Council for International Understanding's World AIDS Day event at the Hay-Adams Hotel in D.C., said the more than $100 billion the U.S. has earmarked for PEPFAR over the last two decades has funded 70,000 new community health clinics, 3,000 new laboratories and the hiring of 340,000 health care workers.
"Entire public health systems formed, with over a dozen countries which have either reached their HIV-treatment goals or managed control of the virus altogether," said Blinken.
Then-President George W. Bush in 2003 signed legislation that created PEPFAR. California Democrat Barbara Lee, members of the Congressional Black Caucus and Dr. Anthony Fauci, the director of the National Institute of Allergy and Infectious Diseases and chief White House medical advisor who is retiring at the end of this month, are among those who played a key role in PEPFAR's creation.
"PEPFAR has benefitted from bipartisan support, as we've heard, across four presidencies, across ten Congresses," said Blinken. "It's resulted in an investment of more than $100 billion to the global HIV/AIDS response. This is the largest commitment by one country ever to address a single disease."
Lee and Fauci were among those who attended the event alongside U.S. Global AIDS Coordinator John Nkengasong; Assistant Health Secretary Rachel Levine; Dr. Deborah Birx, the former White House Coronavirus Response Director, and HIV and Hepatitis Policy Institute Executive Director Carl Schmid.
Blinken in his speech noted "the systems put in place by PEPFAR have become an integral part of the health security architecture of countries around the world."
Blinken also said PEPFAR has bolstered responses to COVID-19, Ebola and the avian flu.
"We are continuing to build on PEPFAR's many successes to create a stronger global health security architecture to prevent, to detect, to respond to future health emergencies. Doctor Fauci, you once said that PEPFAR 'shows what the goodwill of a nation can do,' and you were right," said Blinken. "PEPFAR also shows us what American diplomacy can do: Bring together governments, bring together the public and private sectors, communities to tackle challenges that none of us can actually effectively deal with alone and that creates and has created a healthier, safer and ultimately more secure world."
Five-year PEPFAR strategy to target LGBTQ people
Blinken acknowledged there is still "very serious work still required for us to end the global HIV health epidemic by 2030," noting HIV/AIDS continues to disproportionately impact LGBTQ and intersex people and other marginalized groups.
"Too many countries still have fragile and insufficiently resourced public health systems, which makes it difficult to offer services beyond HIV/AIDS treatments, and that undercuts our capacity to respond to emerging threats," he said.
Blinken noted the U.S. on Thursday announced a new PEPFAR strategy that will help "fill those gaps" over the next five years. It includes the following:
• Targeted programming to help reduce inequalities among LGBTQ and intersex people, women and girls and other marginalized groups
• Partnerships with local organizations to help reach "hard-to-reach" communities.
• Economic development and increased access to financial markets to allow countries to manufacture their own antiretroviral drugs, tests and personal protective gear to give them "the capacity to meet their own challenges so that they're not dependent on anyone else."
"This latest PEPFAR strategy will keep making advancements like that possible so that millions more people can live healthy lives and live lives to their full potential," said Blinken.
Hakeem Jeffries makes history with appointment to lead House Democrats
Democratic Rep. Hakeem Jeffries of New York, an LGBTQ ally, will become the first Black lawmaker of either party to serve in the top spot of either of the two chambers of Congress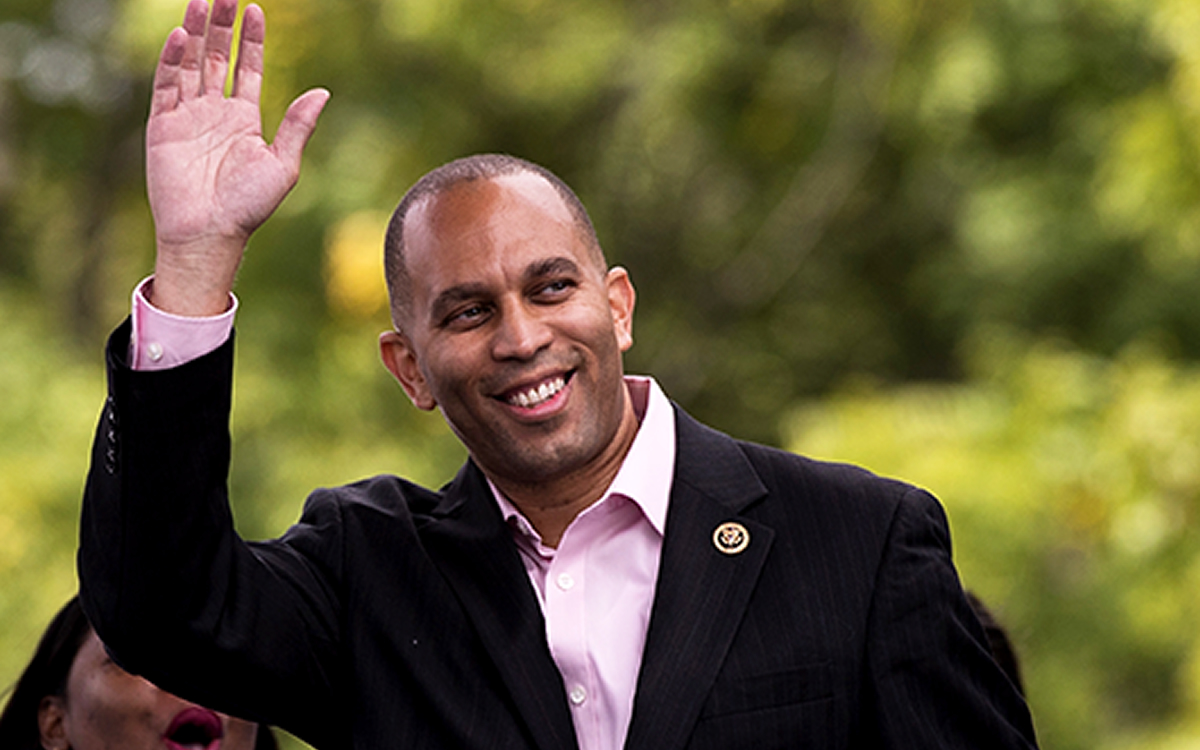 With his election on Wednesday to take over as House Democratic minority leader next year, Rep. Hakeem Jeffries (D-N.Y.) became the first-ever Black lawmaker from either party who will serve in that role in either of the two chambers of Congress.
House Democrats also chose, for the second and third-highest ranking positions, Reps. Katherine Clark (Mass.) and Pete Aguilar (Caif.). All ran unopposed and rather than by formal ballots were elected by voice vote for unanimous consent.
The moves signaled broad consensus among House Democrats in their decision to send the new slate of lawmakers, young and diverse with some progressive bona fides, to serve in the party's senior leadership positions.
The three lawmakers are all members of the Congressional LGBTQ+ Equality Caucus and longtime allies of the community. Jeffries, as chair of the House Democratic Caucus, introduced the Respect for Marriage Act in the House this summer.
The Caucus declined to comment on the House Democratic leadership elections.
When Aguilar succeeds Jeffries in that role next year, it will be the highest-ranking position in House leadership ever held by a Latino member. Clark, meanwhile, will become the second woman to serve as Democratic House Whip after Rep. Nancy Pelosi (D-Calif.), the current House Speaker.
Pelosi announced on Nov. 18 her plans to step down from House Democratic leadership after the next Congress is seated. She made history in 2001 as the first woman elected to the second highest-ranking position in the chamber, and then again in 2007 when she took the top slot, becoming the first woman Speaker of the House.
Following her announcement, Pelosi was celebrated for her many legislative accomplishments at the top of her party's caucus, where she served for two decades under four presidents. A Washington Post column called Pelosi the "best speaker in U.S. history."
Considering that Pelosi also presided over some of the biggest legislative milestones in the modern LGBTQ rights movement, such as the 2011 repeal of "Don't Ask, Don't Tell," Jeffries has a high bar to clear when he's handed the torch in January.
In addition to his leadership on the Respect for Marriage Act, Jeffries has been a major advocate in Congress for other pro-LGBTQ pieces of legislation like the Equality Act and, in 2014, the Hate Crime Reporting Act.
Jeffries has been a vocal champion of measures to make the U.S. Capitol more welcoming for transgender and gender nonconforming people – such as by calling for single-occupancy gender-neutral restrooms on the Hill and rules that would adopt gender-neutral language in the House.
He has also spoken out forcefully against anti-LGBTQ hate from some members of the House Republican caucus, such as the dangerous rhetoric from Rep. Marjorie Taylor Greene (Ga.), who has repeatedly tried to link queer people to child sexual abuse.