White House has no comment on Utah same-sex marriages
Carney defers to DOJ on whether gay couples' unions are valid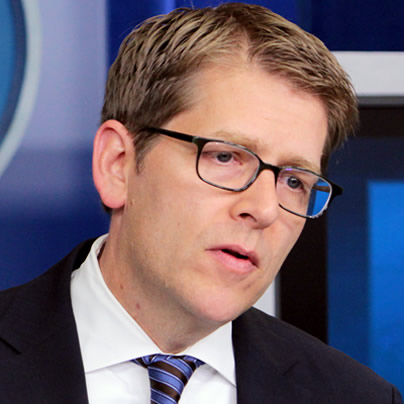 White House Press Secretary Jay Carney said Tuesday he has no comment on the stay placed by the Supreme Court on same-sex marriages in Utah, but reiterated President Obama's support for marriage equality.
Under questioning from the Washington Blade, Carney said the White House has nothing to say about Kitchen v. Herbert, the litigation that brought same-sex marriage to Utah before the Supreme Court halted the weddings Monday as the lawsuit continues through the courts.
"We have no comment on the specifics of this case because the United States government is not a party to this litigation, but speaking broadly, as you know, the president's views on marriage equality are well-established," Carney said.
Carney went into detail about the president's support for marriage rights for gay couples — first made public by the president in 2012 during an interview with Good Morning America's Robin Roberts — as well as Obama's opposition to taking those rights away.
"He believes that loving, committed gay and lesbian couples that want to get married and have access to the full benefits, protections and obligations that marriage brings should be able to do so," Carney said. "He has also long opposed divisive and discriminatory efforts to deny rights and benefits to same-sex couples, and he believes strongly that protections shouldn't be taken away from gay and lesbian couples who want to take care of their families."
Carney said Obama opposes efforts to take rights away from gay couples amid questions over whether couples who already married in Utah will be recognized as legally married by Utah and the federal government. On Tuesday, Dena Iveerson, a Justice Department spokesperson, said, "We are reviewing the court's decision."
According to the Salt Lake Tribune, at least 1,324 same-sex marriages were performed in Utah after the district court ruled in favor of marriage equality on Dec. 20, but before the Supreme Court issued its stay.
Asked whether there are any conversations happening the White House and the Justice Department about whether the federal government will consider those marriages valid, Carney referred all inquiries to the department.
"I would refer you to the Department of Justice," Carney said. "Again, this is matter that's in litigation now, we're not a party to the litigation. The views of the president are well known, and when it comes to questions like that, I think, the Justice Department is the best place to ask them."
Victory Fund honors Maine House speaker at D.C. conference
Ryan Fecteau is gay Catholic University alum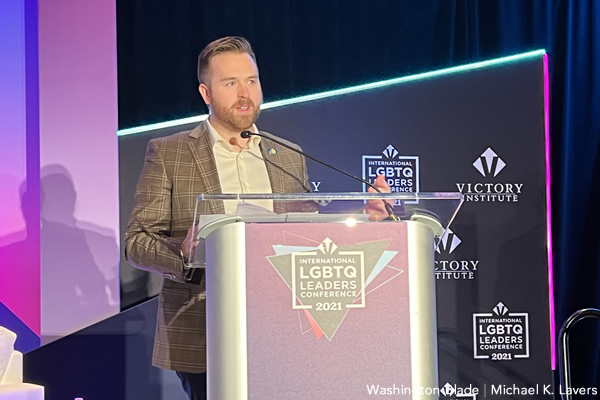 The Victory Fund on Saturday honored Maine House Speaker Ryan Fecteau on the last day of its International LGBTQ Leaders Conference in D.C.
Fecteau — an openly gay Catholic University of America alum — won a seat in the Maine House of Representatives in 2014. He became the chamber's speaker in 2018.
"Hate and intolerance will not derail us," said Fecteau after Florida state Rep. Carlos Guillermo Smith presented him with the Tammy Baldwin Breakthrough Award, which is named after U.S. Sen. Tammy Baldwin (D-Wis.). "Our community will not be intimidated."
The Victory Fund on Friday honored Guatemalan Congressman Aldo Dávila, a gay man who is living with HIV.
Victory Fund honors gay Guatemalan congressman at D.C. conference
Aldo Dávila a vocal critic of country's government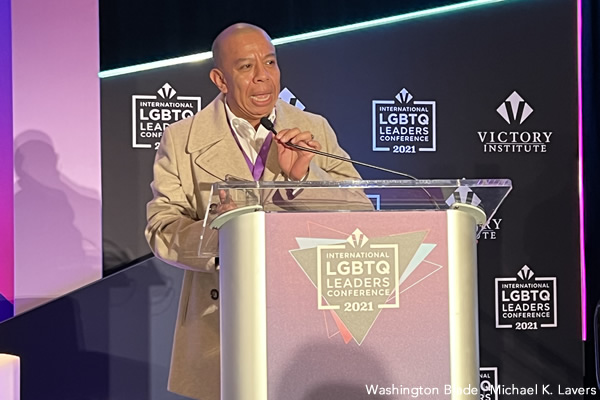 The Victory Fund on Friday honored an openly gay Guatemalan congressman who has faced death threats because of his efforts to fight corruption in his country.
Dávila — a member of the Winaq movement, a leftist party founded by Rigoberta Menchú, an indigenous human rights activist and Nobel Peace Prize winner — in 2019 became the first openly gay man elected to Guatemala's congress. Dávila, who also lives with HIV, had previously been the executive director of Asociación Gente Positiva, a Guatemala City-based HIV/AIDS service organization.
Supporters of President Alejandro Giammattei have lodged several formal complaints against Dávila after he publicly criticized the government over corruption, its response to the pandemic and other issues.
Three men on April 19 approached Dávila's vehicle near Guatemala's National Library and tried to rob him. One of Dávila's bodyguards shot one of the men, but the two other assailants fled the scene before police officers and passersby arrived.
Dávila told the Washington Blade in September during an interview at a Guatemala City hotel that he and his partner installed cameras in their apartment after someone killed their dog.
Two female police officers who arrived at the hotel with Dávila sat in the lobby while he spoke with the Blade. The government a few weeks later reduced his security detail.
"Guatemala is living through the worst democratic crisis in the last 40 years," said Dávila after he accepted the Victory Fund's Global Trailblazer Award at its 2021 International LGBTQ Leaders Conference that is taking place in-person at the JW Marriott in downtown D.C. "Guatemala right now is being paralyzed by corruption and impunity and my voice is uncomfortable because of this."
Dávila became emotional at the end of his remarks.
"I will keep fighting for our rights," he said.
Comings & Goings
Nathanson takes role at Outright Action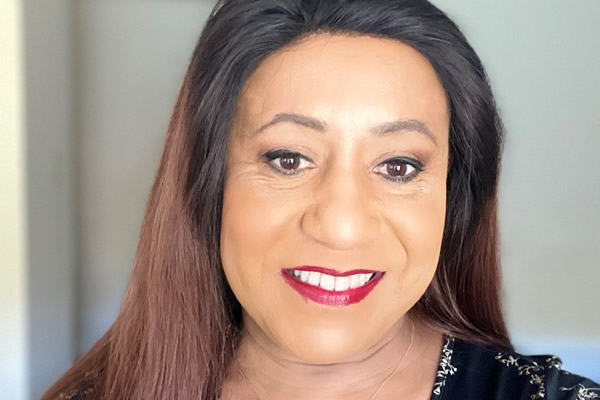 The Comings & Goings column is about sharing the professional successes of our community. We want to recognize those landing new jobs, new clients for their business, joining boards of organizations and other achievements. Please share your successes with us at: [email protected]
The Comings & Goings column also invites LGBTQ+ college students to share their successes with us. If you have been elected to a student government position, gotten an exciting internship, or are graduating and beginning your career with a great job, let us know so we can share your success.
Congratulations to Rikki Nathanson on her new position as Senior Advisor – Global Trans Program with OutRight Action International in New York. Nathanson will be based in D.C.
"I am absolutely thrilled to be taking on this new role as Senior Advisor in OutRight's Global Trans Program," said Nathanson. "I have finally found the perfect fit for me: as a trans woman who has been fighting for equality not only for myself, but for others globally, this position is not only a job, it's intrinsically part of who I am. So, what better way to live, nurture and grow myself."
Nathanson will be working closely with all program staff to ensure a cohesive and intentional approach to gender issues throughout OutRight's programs, including its approach to gender ideology movements. She will lead new initiatives on gender advocacy and policy change, focused but not limited to legal gender recognition and anti-discrimination legislation and policies.
Prior to this Nathanson was director of housing programs at Casa Ruby in D.C. She has also held a number of other positions including: founder/executive director of Trans Research, Education, Advocacy & Training (TREAT), Zimbabwe; chairperson Southern Africa Trans Forum, SATF, Cape Town, South Africa; executive director, Ricochet Modeling Agency, Zimbabwe; and company secretary for Dunlop Zimbabwe Limited, Zimbabwe.