Judge strikes down Virginia gay marriage ban
Two couples filed lawsuit against gay nuptials ban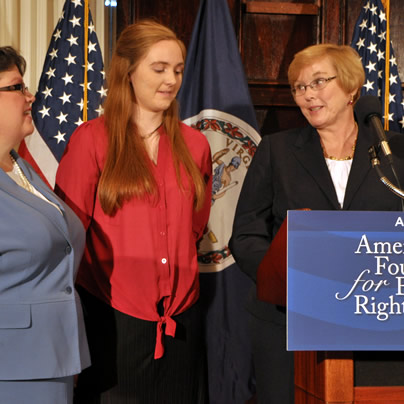 A federal judge Thursday struck down Virginia's constitutional amendment that defines marriage as between a man and a woman as unconstitutional.
"The court is compelled to conclude that Virginia's marriage laws unconstitutionally deny Virginia's gay and lesbian citizens the fundamental freedom to choose to marry," said Judge Arenda L. Wright Allen of the U.S. District Court for the Eastern District of Virginia. "Government interests in perpetuating traditions, shielding state matters from federal interference, and favoring one model of parenting over others must yield to this country's cherished protections that ensure the exercise of the private choices of the individual citizen regarding love and family."
Allen, who President Obama nominated to the federal bench in 2010, repeatedly referenced the U.S. Supreme Court's landmark 1967 ruling that struck down Virginia's interracial marriage ban in her 41-page decision. She also opened her decision with a quote from Mildred Loving, who publicly backed marriage rights for same-sex couples before her death in 2008.
"Tradition is revered in the commonwealth, and often rightly so," said Allen. "However, tradition alone cannot justify denying same-sex couples the right to marry any more than it could justify Virginia's ban on interracial marriage."
Allen also dismissed arguments made by those who defend Virginia's same-sex marriage ban that marriage rights for gays and lesbians harms children.
"Of course the welfare of our children is a legitimate state interest," she said. "Limiting marriage to opposite-sex couples fails to further this interest. Instead, needlessly stigmatizing and humiliating children who are being raised by the loving couples targeted by Virginia's Marriage Laws betrays that interest."
Allen's ruling comes less than two weeks after she heard oral arguments in a lawsuit that Timothy Bostic and Tony London of Norfolk and Carol Schall and Mary Townley of Chesterfield filed last year.
"We want to be married for the happy times, but we need to be married for the sad times," Schall told the Washington Blade earlier this month before Wright heard oral arguments in their case. "When one of us is sick or when one of us needs surgery or when health care is an issue, we need to be there for each other. And Virginia should not be in the business of standing in the way of people wanting to care for each other and take responsibility for each other."
Virginia voters in 2006 approved the marriage amendment by a 57-43 percent margin.
Attorney General Mark Herring last month announced he would not defend the amendment.
The Republican-controlled Virginia House of Delegates earlier this month overwhelmingly approved a bill that would allow any state lawmaker to defend a law if the governor and attorney general decline to do so. Gov. Terry McAuliffe a few days earlier denied a request from 30 state lawmakers to appoint a special counsel to defend the marriage amendment.
A federal judge in Harrisonburg on Jan. 31 certified a second lawsuit the American Civil Liberties Union, Lambda Legal and the ACLU of Virginia filed on behalf of two lesbian couples from the Shenandoah Valley who are seeking marriage rights in the commonwealth as a class action.
"This decision is a victory for the Constitution and for treating everyone equally under the law," said Herring in a statement after Allen issued her ruling in the Bostic case.
McAuliffe also applauded the decision.
"In order to grow our economy and attract the best businesses, entrepreneurs, and families to Virginia, we must be open and welcoming to all who call our commonwealth home," he said in a statement. "As this case continues through the judicial process, I will enforce the laws currently on the books, but this decision is a significant step forward in achieving greater equality for all of our citizens."
Former U.S. Solicitor General Ted Olson, who successfully argued against California's Proposition 8 before the U.S. Supreme Court with David Boies, joined the lawsuit last September with the American Foundation for Equal Rights. Olson said in an AFER press release that Allen's decision has "upheld the principles of equality upon which this nation was founded."
"Virginia's prohibition on marriage for same-sex couples relegates gay and lesbian Virginians to second-class status," he said. "Laws excluding gay men and lesbians from marriage violate personal freedom, are an unnecessary government intrusion, and cause serious harm. That type of law cannot stand."
Equality Virginia Executive Director James Parrish said Wright's ruling "finally puts Virginia on the path toward allowing lesbian and gay couples to marry the person they love here in the place they call home."
"This is an historic day in Virginia," added Parrish.
National Organization for Marriage President Brian Brown blasted Allen.
"This is another example of an Obama-appointed judge twisting the constitution and the rule of law to impose her own views of marriage in defiance of the people of Virginia," said Brown in a statement.
Brown also again sharply criticized Herring for not defending the commonwealth's marriage amendment.
"This case also leaves a particular stench because of the unconscionable decision of Attorney General Mark Herring to not only abandon his sworn duty to defend the laws of the state, but to actually join the case against the very people he is duty-bound to represent," said Brown.
Victoria Cobb, president of the Family Foundation of Virginia, also criticized Herring.
"Regardless of one's stance on marriage, the people of Virginia were disenfranchised by this ruling as our voice and our vote that amended our Constitution have been rendered meaningless by a single federal judge with the assistance of our own attorney general," she said.
Neighboring Maryland is among the 18 states and D.C. that have extended marriage rights to same-sex couples.
The Southern Poverty Law Center earlier on Thursday filed a federal lawsuit against Alabama's same-sex marriage ban on behalf of a gay widower who married his late-husband in Massachusetts in 2011.
A federal judge on Wednesday ruled Kentucky must recognize same-sex marriages legally performed in other states.
Gays and lesbians in West Virginia, Utah, Pennsylvania, Florida, Missouri, Louisiana and other states have filed lawsuits seeking marriage rights in the wake of the U.S. Supreme Court's landmark decision last June that found a portion of the Defense of Marriage Act unconstitutional. Nevada Attorney General Catherine Cortez Masto earlier this week announced she will no longer defend her state's same-sex marriage ban in court.
Attorney General Eric Holder on Feb. 10 announced the Justice Department will now recognize same-sex marriages in civil and criminal cases and extend full benefits to gay spouses of police officers and other public safety personnel. This directive applies to Virginia and the 31 other states that have yet to allow nuptials for gays and lesbians.
U.S. Sen. Ted Cruz (R-Texas) earlier on Thursday introduced a bill that would ban the federal government from recognizing same-sex marriages in states that ban gay nuptials.
Allen has stayed her ruling, pending the outcome of an appeal.
Capital Stonewall Democrats backs Robert White over Bowser
LGBTQ group endorses Erin Palmer over incumbent Mendelson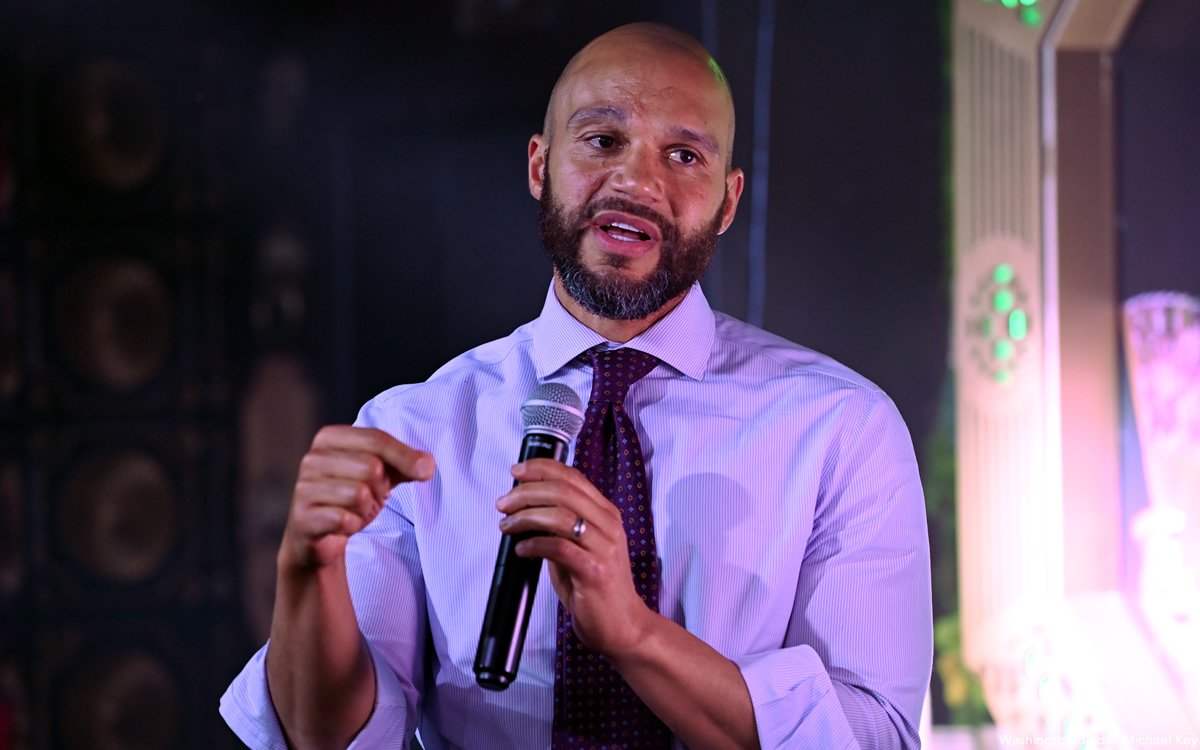 The Capital Stonewall Democrats, the city's largest local LGBTQ political group, announced on May 17 that it has selected D.C. Council member Robert White (D-At-Large) over incumbent Mayor Muriel Bowser and political newcomer Erin Palmer over D.C. Council Chair Phil Mendelson as its endorsed candidates in the city's June 21 Democratic primary.
With Bowser and Mendelson as well as White having longstanding records of support for LGBTQ rights and Palmer expressing strong support for the LGBTQ community, local observers say the LGBTQ Democratic group's 163 voting members appear to have based their endorsement decisions on other pressing issues facing the city rather than only LGBTQ specific issues.
In other races, Capital Stonewall Democrats, formerly known as the Gertrude Stein Democratic Club, which was founded in 1976, voted to endorse incumbent Ward 1 Council member Brianne Nadeau over gay former D.C. police officer Salah Czapary and community activist Sabel Harris who are running against Nadeau.
In the Ward 5 Council race, the group has endorsed gay D.C. Board of Education member Zachary Parker in a five-candidate contest for the seat being vacated by incumbent Council member Kenyan McDuffie, who ran unsuccessfully for the office of D.C. Attorney General.
The group has also endorsed Council member Charles Allen (D-Ward 6), who is running unopposed in the primary; D.C. Congressional Del. Eleanor Holmes Norton (D), who's favored to win re-election against two lesser-known opponents; and D.C. shadow U.S. Rep. Oye Owolewa, who's also favored over a lesser known opponent.
Capital Stonewall Democrats announced it did not make an endorsement in the Ward 3 and At-Large D.C. Council races and in the D.C. Attorney General race because no candidate received a required 60 percent of the vote under the group's longstanding rules for endorsements.
By not endorsing in the At-Large race, the group passed over incumbent At-Large Council member Anita Bonds, a longtime supporter of LGBTQ issues. Bonds is being challenged by Advisory Neighborhood Commissioner Lisa Gore, former D.C. shadow House member Nate Fleming, and former D.C. Council staffer Dexter Williams.
In the hotly contested Ward 3 Council race, nine candidates are competing for the seat being vacated by incumbent Mary Cheh, another longtime LGBTQ rights supporter.
In the race for attorney general, three prominent local attorneys — Brian Schwalb, Ryan Jones, and Bruce Spiva — are competing for the AG position being vacated by incumbent Karl Racine, who chose not to run for re-election.
Capital Stonewall Democrats' endorsements follow a series of five LGBTQ candidate forums the group held virtually in which most of the candidates running in the various races attended.
In the group's mayoral form, Bowser was the only one of the four mayoral contenders that did not attend. Her supporters said she had a conflicting event organized by gay Democratic activist Kurt Vorndran that prevented her from attending the Stonewall event.
Those who attended the mayoral forum were Robert White, D.C. Council member and mayoral candidate Trayon White (D-Ward 8), and former attorney and community activist James Butler.
A detailed vote tally released by Capital Stonewall Democrats shows the vote count for each of the endorsed candidates as well as candidates in the races for which the group did not make an endorsement.
In the mayoral race, Robert White received 120 votes, or 74.5 percent. Bowser came in second place with 37 votes or 23.0 percent; Trayon White received just two votes or 1.2 percent, with Butler receiving just 1 vote at 0.6 percent. One vote was cast for no endorsement.
In the D.C. Council Chair race, Palmer received 89 votes or 60.1 percent, just surpassing the 60 percent threshold needed for an endorsement. Mendelson received 48 votes or 32.4 percent. Eleven votes were cast for no endorsement.
In the Ward 1 Council race, Nadeau received 100 votes or 69.4 percent compared to gay candidate Czapary, who came in second place with 23 votes or 16.0 percent. Candidate Sabel Harris came in third place with 9 votes or 6.3 percent, with a no endorsement selection receiving 12 votes or 8.3 percent.
In the Ward 5 contest, gay school board member Parker received 91 votes or 64.5 percent. Candidate Faith Hubbard came in second with 31 votes or 22.0 percent. The remaining candidates received fewer than 10 votes each, including former At-Large and former Ward 5 Council member Vincent Orange, who received 5 votes or 3.5 percent.
"Since Capital Stonewall Democrats has only 221 members, and only 163 bothered to vote, this is clearly not representative of the LGBTQ+ community in the District," said gay Democratic activist Peter Rosenstein, who is supporting Bowser for mayor.
But longtime D.C. LGBTQ rights advocate A. Billy S. Jones-Hennin is among the local activists who view the Capital Stonewall Democrats' endorsement of lesser-known challengers – most of whom have progressive, left-leaning views – as a reflection of changes in the demographics of the LGBTQ community and the Stonewall group's members.
"At the forefront for voters is who they feel can address core problems like crime, open drug transactions, and increased homeless populations," Jones-Hennin told the Blade. "Just asking voters for support based on their support of the LGBTQ+ community in the past does not cut it," he said. "We are multi-faceted voters looking for new, more progressive and aggressive leadership."
The Capital Stonewall Democrats list of endorsements as well as races with no endorsement can be viewed below:
• Mayor: Robert White, with 74.5% of the round one vote
• DC Attorney General: No Endorsement
• DC Council Chair: Erin Palmer, with 60.1% of the round one vote
• Ward 1 Council: Brianne K. Nadeau, with 69.4% of the round one vote
• Ward 3 Council: No Endorsement
• Ward 5 Council: Zachary Parker, with 64.5% of the round one vote
• Ward 6 Council: Charles Allen, with 83.2% of the round one vote
• At-Large Council: No Endorsement
• Delegate to U.S. House of Representatives: Eleanor Holmes Norton, with 69.7% of the round one vote
• U.S. Representative: Oye Owolewa, with 66.1% of the round one vote
Pannell resigns in protest from Ward 8 Council member's LGBT Commission
Says Trayon White has no out member of his staff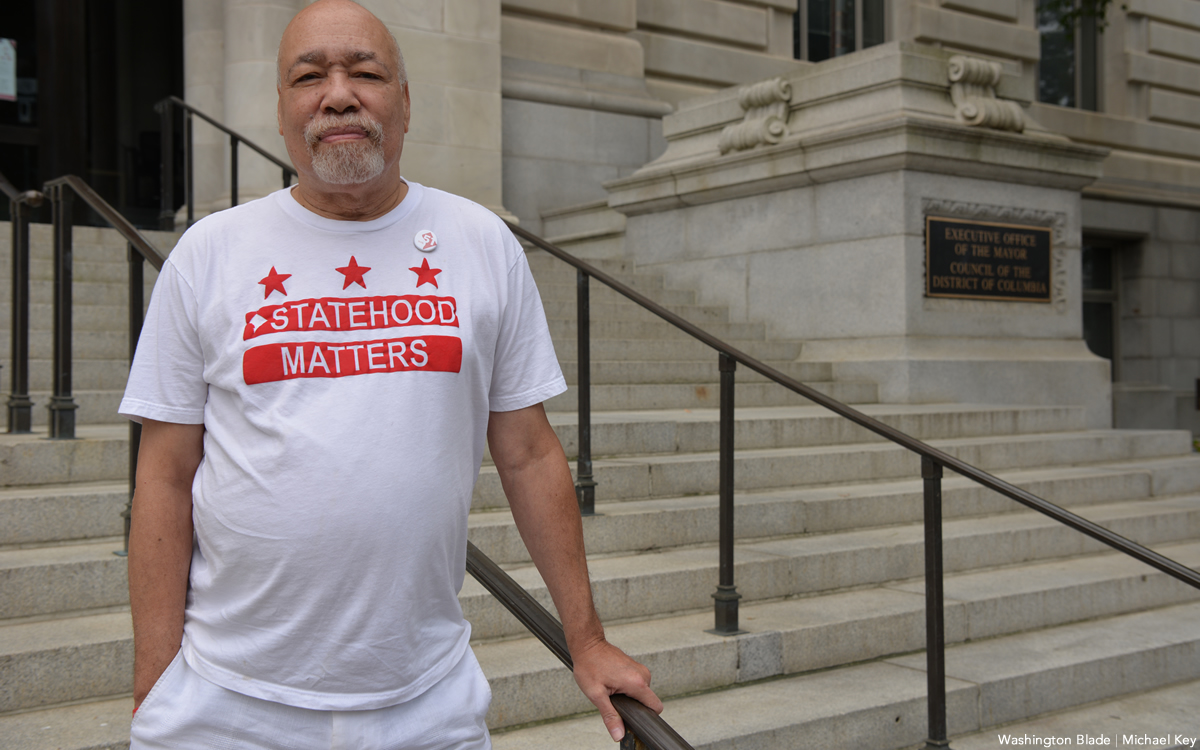 Longtime D.C. LGBTQ rights activist Phil Pannell announced on May 6 that he has resigned as a member of the Ward 8 LGBT Commission created by D.C. Council member Trayon White (D-Ward 8) on grounds that White does not have an LGBTQ person on his Council staff.
White's office has said the Council member created the commission to "focus on the specific needs of this community" in his role as a supporter of LGBTQ equality.
"For me, this is a major issue of inclusion, affirmative action and diversity," Pannell said in an email message announcing his resignation. "I as a Black Gay man cannot in good conscience continue to be a member of my Councilmember's LGBT Commission when he has no one from my community on his staff," Pannell's announcement message continues.
"This is hypocritical at best and structurally homophobic at worst," he said. "I deeply resent and refuse to be used as anyone's homosexual prop for any purposes. Therefore, I resign from the commission effective immediately."
In response to a request by the Washington Blade for comment on Pannell's resignation, Julia Jessie, White's director of communications, said White's Council office "follows all legal HR procedures and hires based on experience and skillset." Jessie added, "As an employer, we do not discriminate or consider a person's race, color, religion, or sex, including sexual orientation or gender identity, when making decisions about employment qualifications."
According to Jessie, "We do, however, harvest a safe and inclusionary work environment where employees who wish to voluntarily disclose their sexual orientation of gender identity feel comfortable doing so."
White's office released a statement from the Ward 8 LGBT Commission's chair, Marvin 'Rahim' Briggs, saying the commission "regretfully accepts" Pannell's resignation.
"The Commission will continue to focus on and address issues affecting Ward 8 LGBTQ," Briggs says in the statement. "We'll continue to organize to promote acceptance of LGBTQ community diversity and to foster respect and appreciation for each member of the community residing in Ward 8."
Two gay candidates disqualified from D.C. primary ballot
Republican, Libertarian activists withdraw from races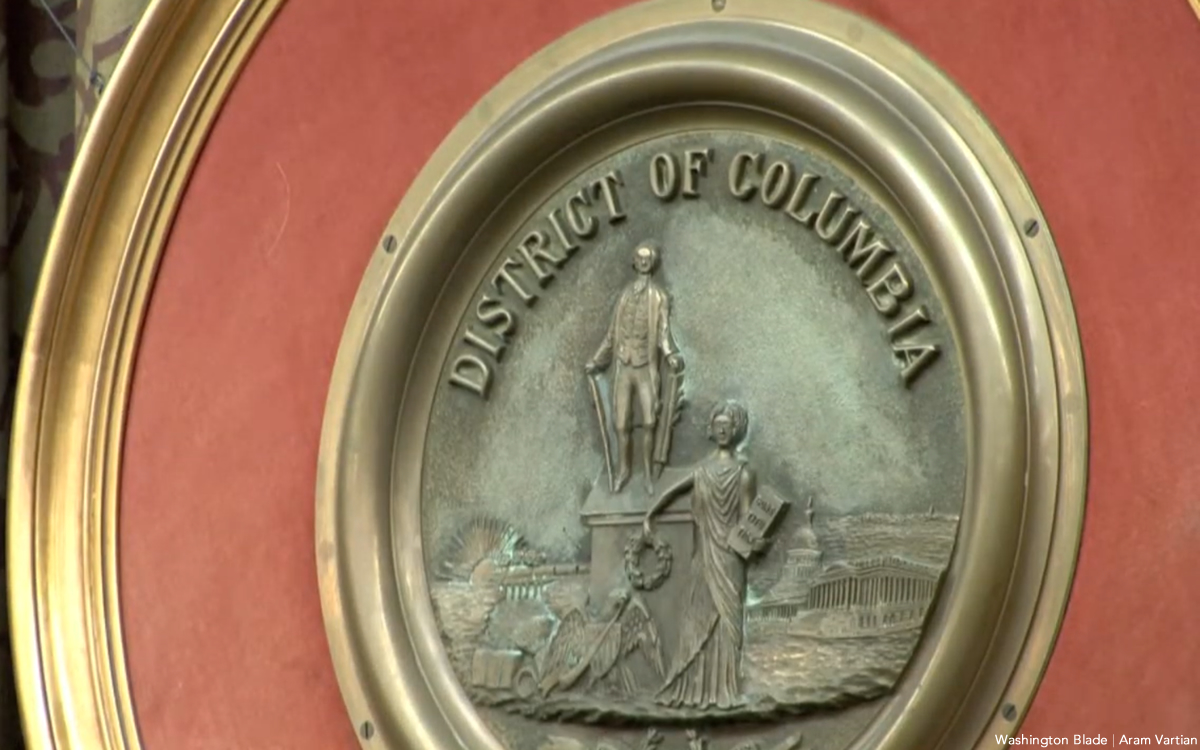 A member of the Capital Stonewall Democrats, D.C.'s largest LGBTQ local political group, mounted a successful challenge before the D.C. Board of Elections earlier this month that resulted in a gay Republican and a gay Libertarian Party activist withdrawing as candidates for public office in the city's June 21 primary.
James Harnett, 24, a member of the Ward 2 Democratic Committee and a member of the staff of U.S. Sen. Sherrod Brown (D-Ohio), filed challenges to the candidacy of gay Libertarian Party activist Bruce Majors, who was running unopposed in the June 21 primary for the office of both D.C. Delegate to the U.S. House and chair of the Libertarian Party of D.C.
The Board of Elections upheld Harnett's challenge claiming that Majors failed to obtain a sufficient number of valid petition signatures needed to be placed on the ballot for both offices, according to elections board spokesperson Nicholas Jacobs. Majors withdrew his candidacy for both offices rather than contest the challenge.
The Board of Elections also upheld a challenge filed by Harnett against the candidacy of gay Republican and D.C. Log Cabin Republicans organization member Andrew Desser, who was running unopposed in the primary for the position of Ward 1 Chairperson of the D.C. Republican Committee.
Desser told the Blade he acknowledged that he fell short in obtaining the needed number of valid petition signatures and would not contest the challenge.
Harnett, who appeared to be acting on his own behalf and not representing the Capital Stonewall Democrats in his challenges to Majors and Desser before the election board, did not respond to the Blade's request for comment.
Board of Elections records showed that he also successfully challenged six other candidates seeking ballot placement in the June 21 primary, one of whom, Lori Furstenberg, was running for mayor as a Republican and another, Corren Brown, was running for mayor as a Statehood-Green Party member.
The others Harnett mounted a successful challenge against were GOP candidates running for the Ward 2, Ward 4, and Ward 7 GOP Chairperson positions; and Leniqua 'Dominique' Jenkins, a Democrat running for the at-large D.C. Council seat, who was the only Democrat challenged by Harnett.
Harnett, a former ANC commissioner in the Foggy Bottom neighborhood, ran unsuccessfully in 2020 for the nonpartisan office of D.C. Board of Education for Ward 2. Among the candidates he ran against was gay education advocate Allister Chang, who won that race.