Brewer's 'turn away the gay' veto not universally popular at CPAC
Some young conservatives say measure misunderstood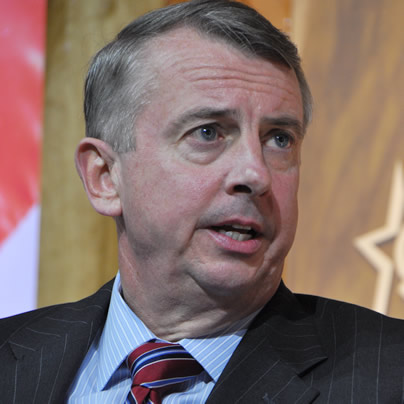 NATIONAL HARBOR, Md. — Following a national outcry, Arizona Gov. Jan Brewer recently vetoed a bill that would have enabled businesses to refuse services to gay people for religious reasons. But some attendees at the 2014 Conservative Political Action Conference didn't share her opposition to the measure.
A handful of the estimated 8,500 attendees over the weekend at the annual gathering for conservatives who spoke the Washington Blade either professed to have no knowledge of the legislation, SB 1062, or thought the religious liberties expansion under the legislation was misunderstood.
Ed Gillespie, a Republican political analyst who's seeking to unseat U.S. Sen. Mark Warner (D-Va.) in the upcoming mid-term election, was among those who said he had no knowledge of the bill when asked by the Blade whether Brewer should have vetoed it.
"I haven't looked at that bill," Gillespie said. "I've been very focused on the Senate race. I'm running for the United States Senate in Virginia, So, very focused on federal issues there, and I just don't know enough about what was in that bill. I'm sorry."
Despite opposition to the bill from Arizona businesses, both GOP U.S. senators from the state and even former Republican presidential nominee Mitt Romney, some younger attendees at the conference who were familiar with the legislation said the bill was unfairly criticized and that outrage against the legislation was a product of the LGBT movement.
Matteo Moran, 20, a junior at Hillsdale College in Michigan, said he thinks Brewer "gave into" pressure of groups that said SB 1062 was an anti-gay bill, insisting the measure wasn't directed at anybody.
"I think the reasoning behind her vetoing it was wrong," Moran said. "I don't think her veto was the wrong thing to do; I just think her rationale behind it was because it could be interpreted as being she gave into gay activist groups on that."
Asked about gay non-discrimination laws, Moran said each business should "have a right to refuse service to anybody they deem is against whatever they believe."
"Personally, I don't think there should any discrimination laws, period," Moran said. "I think people should have an equal choice, equal opportunity. That's what I believe is everyone should have an equal opportunity to fight for the same jobs. Having legislation against or for one group or another is discriminatory in and of itself."
Andrew Homer, 21, a graduate student at George Mason University, also said Brewer shouldn't have vetoed the bill because he said it was only "a statement of religious right."
"Just as people who are gay who own a business were turning away people who were against being gay, the same exact rights was what that bill was trying to instill," Homer said. "You can try to turn away whomever you want to turn away, as long as it's not discrimination on, you know, 'I just don't like you, go away.' It's their religious right."
But Homer drew a distinction between discrimination against LGBT people that the legislation would have enabled and discrimination against categories of people protected under existing law.
"That's not on a religious basis," Homer said. "Gay people can claim that they have a religious basis, that they do not want to serve people who don't support what they believe in. That's fine. The same thing is for people who are not gay, who do not believe in gay rights, they should be allowed to have that exact same power."
It's true the legislation never explicitly mentions LGBT people, but most observers agreed its intent was clear — to enable businesses to refuse services to LGBT people, such as baking a cake or photographing a same-sex wedding.
These CPAC attendees are in the extreme minority in their views. According to a recent Washington Post-ABC News poll, 81 percent of Americans reject the idea of allowing businesses to discriminate against or to refuse services to LGBT people.
But they're in line with the views of former Republican presidential candidate Rick Santorum, who told The National Review during an interview  at CPAC he "absolutely" would have voted for the legislation  and opposition to the bill was the result of "hysteria" created by the media.
"You talk about a complete mischaracterization of a bill," Santorum said. "Actually, you could make the case this bill actually limited religious liberties because it actually added a section to the Religious Freedom Restoration Act that actually required you to have legitimate religious objection. Before, you just said, 'Well, it's against my religion, or I have a religious objection. Here they actually put a standard here."
Prior to his interview with the Review, the Blade attempted to ask Santorum in the halls of the Gaylord Convention Hall if Brewer should have vetoed the bill. He declined to answer and left quickly before this reporter could finish asking the question.
Ross Hemminger, co-director of GOProud and among the guests at CPAC, told the Blade he doesn't think those expressing views supporting the Arizona bill were representative of conference attendees, saying observers shouldn't assume they're all bigoted.
"It's a little bit disingenuous to paint CPAC as bigoted because a handful of attendees you spoke to said they supported the Arizona bill and thought it was mischaracterized," Hemminger said. "We had multiple conversations with multiple people there who didn't like the bill and were glad that it was vetoed, people who, quite frankly, didn't support gay marriage, but don't believe in being bigoted toward gay people."
Sen. Rand Paul (R-Ky.), known for his libertarian mindset, won the CPAC presidential straw poll by a whopping 31 percent, beating Sen. Ted Cruz (R-Texas), who finished in second place, by double digits.
George Doll, 20, a sophomore at the University of South Dakota, offered a nuanced position on the bill, saying he had misgivings about requiring businesses to do things, but ultimately said Brewer "should have vetoed" the bill.
"I think it's wrong that they're doing it," Doll said. "I don't think it's right to refuse service to people based on any sort of creed or religion or sexuality, but I guess if you own the place, you can do what you want."
CORRECTION: An earlier version of this story incorrectly attributed a comment to Matteo Moran about the 1964 Civil Rights Act. The question asked was specifically about non-discrimination laws aimed at protecting gay people, not the 1964 Act. The Blade regrets the error.
German soccer federation announces transgender players can choose their team
Rule takes effect in 2022-2023 season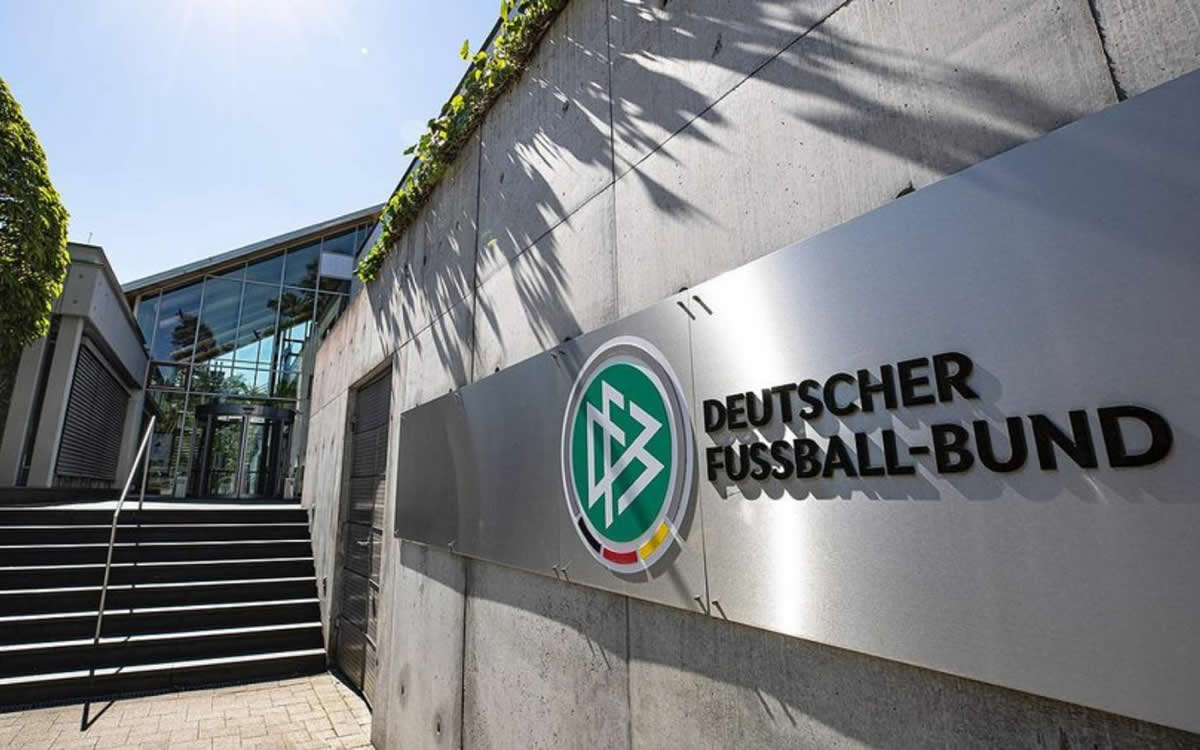 The German Football Association (Deutscher Fußball-Bund e.V.) this week issued new regulations and rules governing all transgender, intersex and non-binary players.
On Thursday the governing soccer body passed a new regulation that takes effect as of the start of the upcoming 2022-2023 season allowing all trans, intersex and non-binary players to decide for themselves whether to compete on men's or women's teams.
The DFB also specified that as long as the player's health is not affected by playing sports while taking medication, they can continue to participate in the sport. Under the new regulation, this would not be considered as doping.
This marks a departure from the recent trend and actions of other international sports governing associations such those taken earlier this month by the swimming's world governing body FINA, which meeting in the Hungarian capital city of Budapest, voted to restrict trans athletes from elite women's competitions.
FINA said their action was necessary to determine eligibility criteria because of the "biological performance gap" that appears between males and females.
Thomas Hitzlsperger, the DFB's diversity ambassador, said "Football (soccer) stands for diversity, a value that the DFB also promotes. This new regulation on playing rights will provide an important foundation to allow players with diverse gender identities to play football."
Sabine Mammitzsch, the vice president for women's and girls' football (soccer) welcomes the regulation telling media outlets:
"The national and regional associations and also those responsible at grassroots level have signaled for some time that there is uncertainty around how to treat trans, intersex and non-binary players in practice. They therefore welcome the introduction of a far-reaching, nationwide regulation on the playing rights of these groups."
Mass shooting in Norwegian capital leaves 2 dead, cancels Pride
Gunman opened fire at Oslo gay bar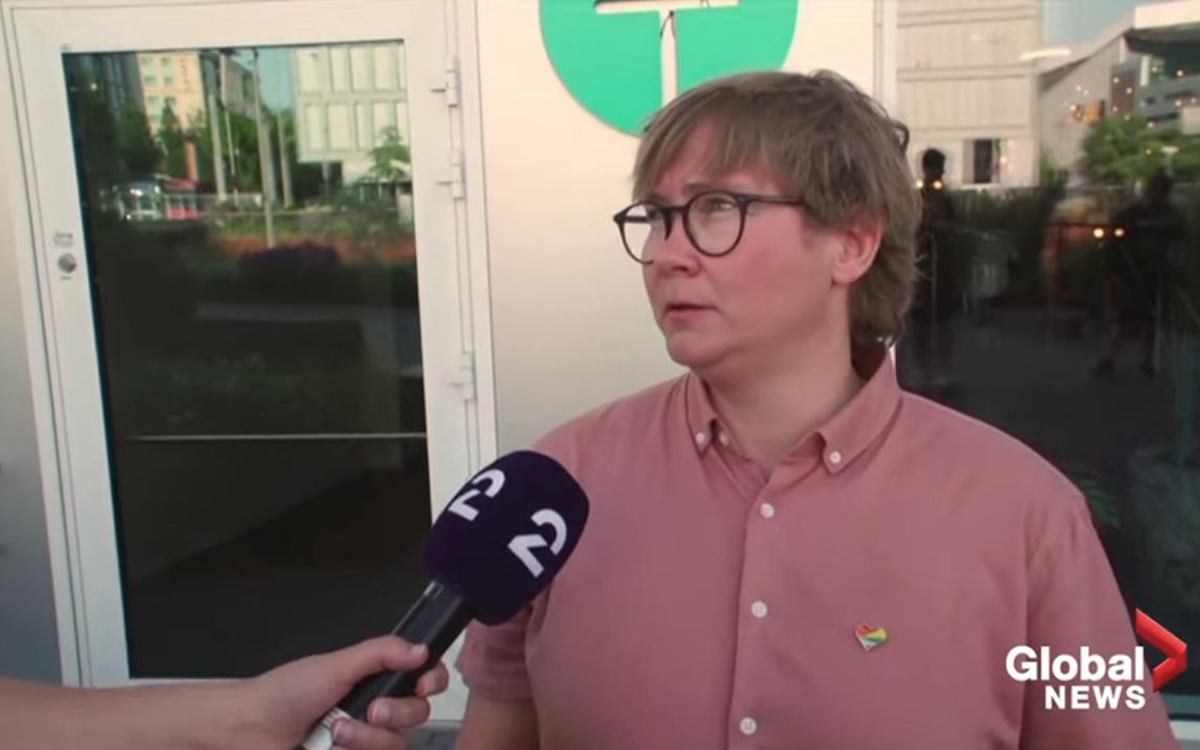 A gunman entered an establishment popular with the LGBTQ community in the Norwegian capital city's nightlife district on Saturday morning at approximately 1 a.m. local time and opened fire, killing two people and injuring dozens more.
A spokesperson for the Norwegian Police Service told the Washington Blade in a phone call that officials are investigating the matter as an act of terrorism. According to the official, the suspect is a 42-year-old Norwegian citizen originally from Iran.
Multiple eyewitnesses reported that the suspect had entered the bar and produced a semi-automatic rifle from a bag and started shooting.
Olav Roenneberg, a reporter with Norway's largest broadcast media outlet NRK who was on scene when the shooting started, told NRK colleagues in an interview "I saw a man arrive at the site with a bag. He picked up a weapon and started shooting. First I thought it was an air gun. Then the glass of the bar next door was shattered and I understood I had to run for cover."
The police official, while not confirming the weapon used, did acknowledge that the shooter had been known to Norwegian officials in the country's security services since 2015 as a "suspected radicalized Islamist" and also apparently had a history of mental illness. The official also pointed out that up until the incident there were no previous major criminal acts committed by the suspect.
Because of the incident, organizers of the Pride parade which had been scheduled to start hours after the shooting was cancelled. The parade was set to culminate the week long Pride festivities in Oslo.
Norwegian Prime Minister Prime Minister Jonas Gahr Stoere wrote in a public post on Facebook that "the shooting outside London Pub in Oslo tonight was a cruel and deeply shocking attack on innocent people." He added "We all stand by you," showing support for the country's LGBTQ citizenry.
Norway's King Harald V issued a statement offering condolences and said he and Norway's royal family were "horrified by the night's shooting tragedy."
"We sympathize with all relatives and affected and send warm thoughts to all who are now scared, restless and in grief," the Norwegian monarch said. "We must stand together to defend our values: Freedom, diversity and respect for each other. We must continue to stand up for all people to feel safe."
Oslo Pride issued a statement concerning cancelling the Pride parade;
"Oslo Pride has received clear advice and recommendation from the police that the parade, Pride park and other events in connection with Oslo Pride be canceled. Oslo Pride therefore asks everyone who has planned to participate in or watch the parade not to attend. All events in connection with Oslo Pride are canceled.
Now we will follow the police's recommendations and take care of each other. Warm thoughts and love go to relatives, the injured and others affected. We will soon be proud and visible again, but today we will hold and share the pride celebrations from home," says Inger Kristin Haugsevje, leader of Oslo Pride, and Inge Alexander Gjestvang, leader of the Association for Gender and Sexuality Diversity.
Oslo Pride has close communication with the police and is following the situation, and will provide ongoing information.
The White House reacted to the news of the shooting issuing a statement by National Security Advisor Jake Sullivan;
"The horrific shooting in Norway this morning has been felt around the world. The United States strongly condemns this act of terror. We stand in solidarity with the families of the victims, the diverse and strong LGBTQI+ community of Oslo, our close NATO ally Norway, and all who have been devastated by this senseless act. The United States has been in touch with the Norwegian government and offered to provide assistance. We remain committed to continuing to partner with Norway to advance a more equitable and just world for all, free from violence and discrimination."
Oslo shooting being investigated as act of terrorism:
'Gay marriage, gay sex are going to fall like fucking dominoes'
Anger, fear as protesters decry Supreme Court ruling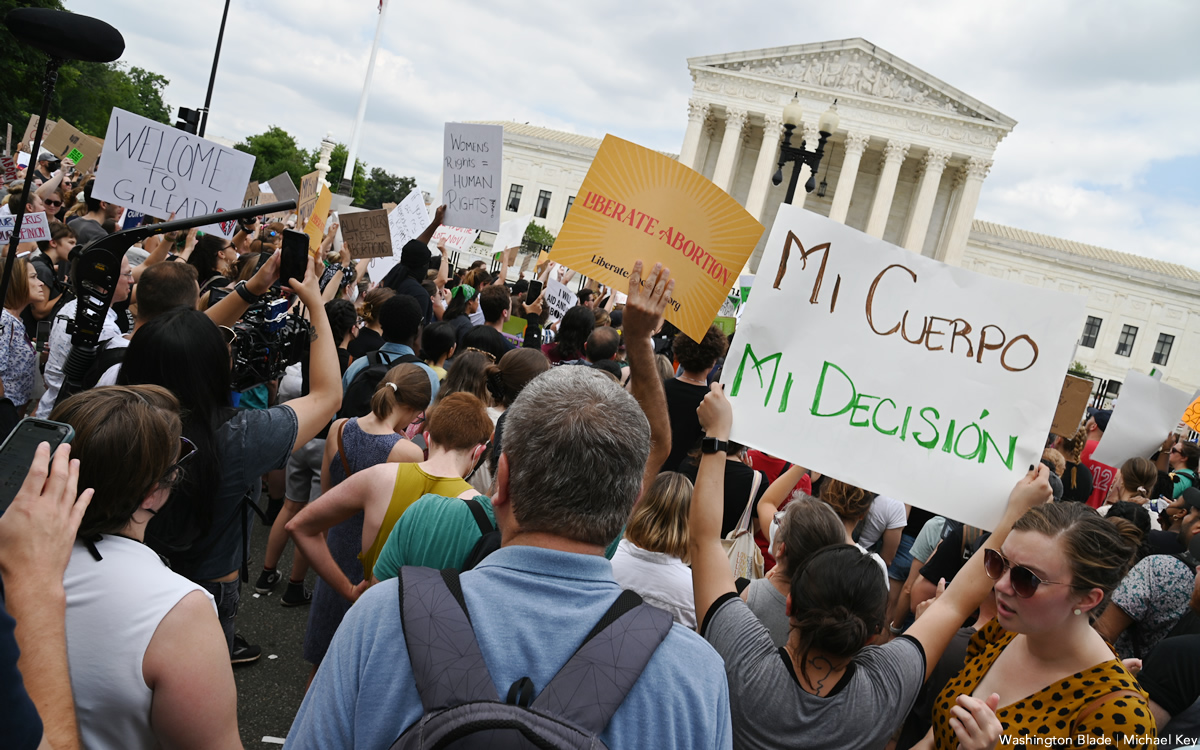 Just moments after the U.S. Supreme Court delivered its decision on Friday overturning its landmark ruling in Roe v. Wade that had legalized abortion nationwide for 49 years, hundreds gathered outside the court to both protest and celebrate the ruling.
In a 6-3 decision in Dobbs v. Jackson Women's Health Organization, the court found that access to abortion was not a right guaranteed under the language of the Constitution. The ruling effectively reversed the court's 1973 decision that mandated states to allow the procedure in most instances throughout the first two trimesters of pregnancy.
Immediately following the decision, a group of those welcoming the decision quickly gathered in front of the court.
Anna Lulis, a member of Students for Life of America, welcomed the decision as long overdue.
"I think it is a huge victory for human rights," Lulis said. "For far too long, since 1973, human rights have been infringed upon at an egregious level."
Beside Lulis, Olivia Cowin, a member of Survivors LA, shared a similar reason for gathering outside the court.
"This is a celebratory day to show our support of the unborn and of women and support both simultaneously," Cowin said.
But across the way from the court's west side, Virginia resident Alysia Dempsey feared what the verdict in Dobbs could mean for women's rights – including those of her four daughters.
"I believe in women's rights, and I think that our country needs to be able to start listening to each of our stories and to have empathy for them in so many different aspects," Dempsey said. "I feel like we're sort of going back in time with regard to so many rights."
Hailing from Arizona, a state under Republican legislative leadership where Planned Parenthood has already halted all abortion services pending legal clarity from the state, Hannah Waldrip cast doubt on the sincerity of anti-abortion rationale.
"For a country about personal rights and personal freedom, we're doing an awful lot right now to limit women's or people with uterus' ability to do what they want with their body," Waldrip said.
Stark divisions between the groups arose as ideological lines could be seen physically emerging between the crowds.
And as the day progressed, those protesting the ruling quickly began to outnumber its supporters.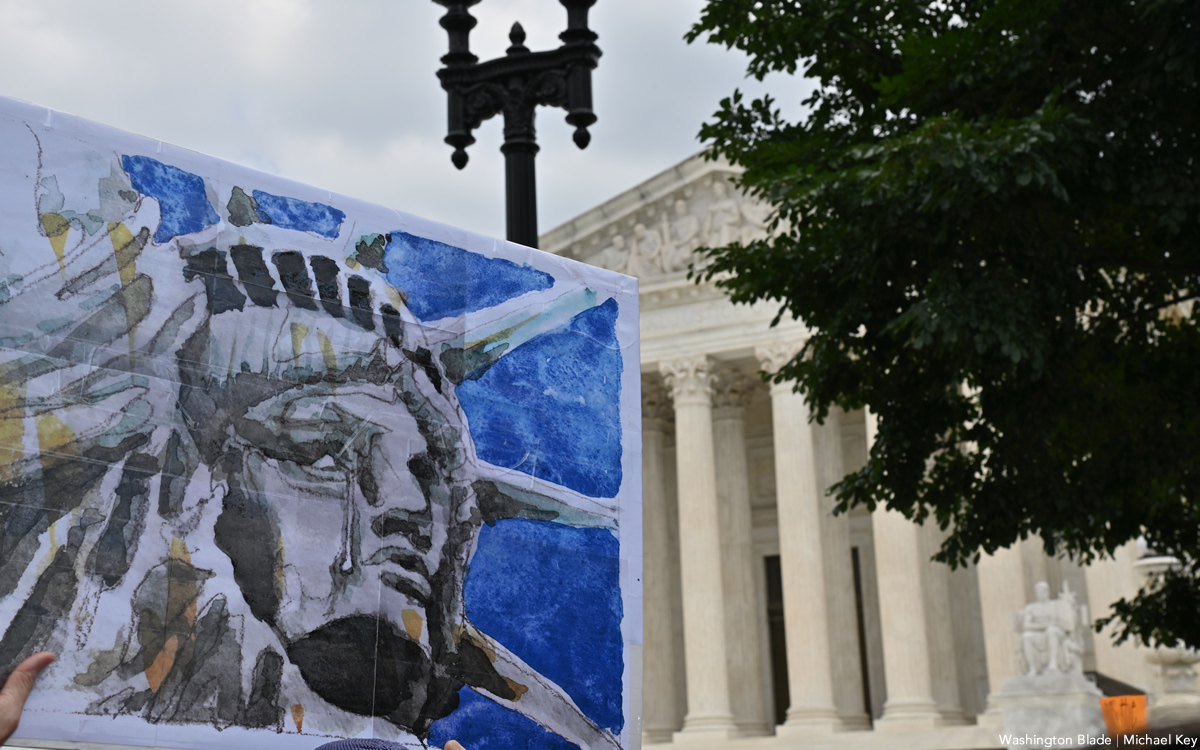 Among the protesters, the color green – a symbol for abortion rights activists borne out of similar movements in Argentina and elsewhere in Latin America – could be seen lining the street on scarves, shirts, stickers, and elsewhere.
As the crowd grew and green began to eclipse the simmering pavement beneath the protesters, several speakers emerged at the center of the crowd.
One of those speakers was Elizabeth Paige White, a civil rights lawyer working under nationally renowned attorney Ben Crump.
In connecting Friday's decision to the United States' history of patriarchal structure, White called into focus the disproportionate effect the repeal of nationwide abortion access is widely expected to have on minorities and communities of color with fewer resources to travel to abortion-friendly states.
"As Black, brown, and all these women out here know, we've been fighting for our rights since the inception of this country," White said. "We have been fighting to have rights over our own bodies since the inception of this country."
With the repeal of Roe, decisions on whether to legalize or outlaw abortion will now be left to each state. As of Friday's ruling, 13 states are set to make almost all abortions illegal, having passed "trigger bans" designed to take effect in the immediate aftermath of Roe's demise or within the next month.
However, many abortion rights supporters, activists, and lawmakers still fear that the curtailing of reproductive rights won't end with the court's decision.
Sen. Catherine Cortez-Masto (D-Nev.) addressed the crowd with a message of urgency and revelation.
"At the end of the day, let me just say, here's what's next," Cortez-Masto said. "I've got some of my Republican colleagues based on this decision who are already drafting legislation to restrict abortion in this country. If they win this election, they will pass that legislation and it will preempt all of the state laws we have protecting women in this country when it comes to our right to choose."
Beyond a nationwide restriction on abortion, some fear even more privacy restrictions are coming.
Such privacy rights have been established in other Supreme Court rulings based on the same Due Process and Equal Protection clauses of the 14th Amendment that justices used to interpret nationwide abortion rights nearly half a century ago. These cases have included those that established access in all states to contraception, same-sex marriage, interracial marriage, and the right to same-sex relations in the privacy of one's home.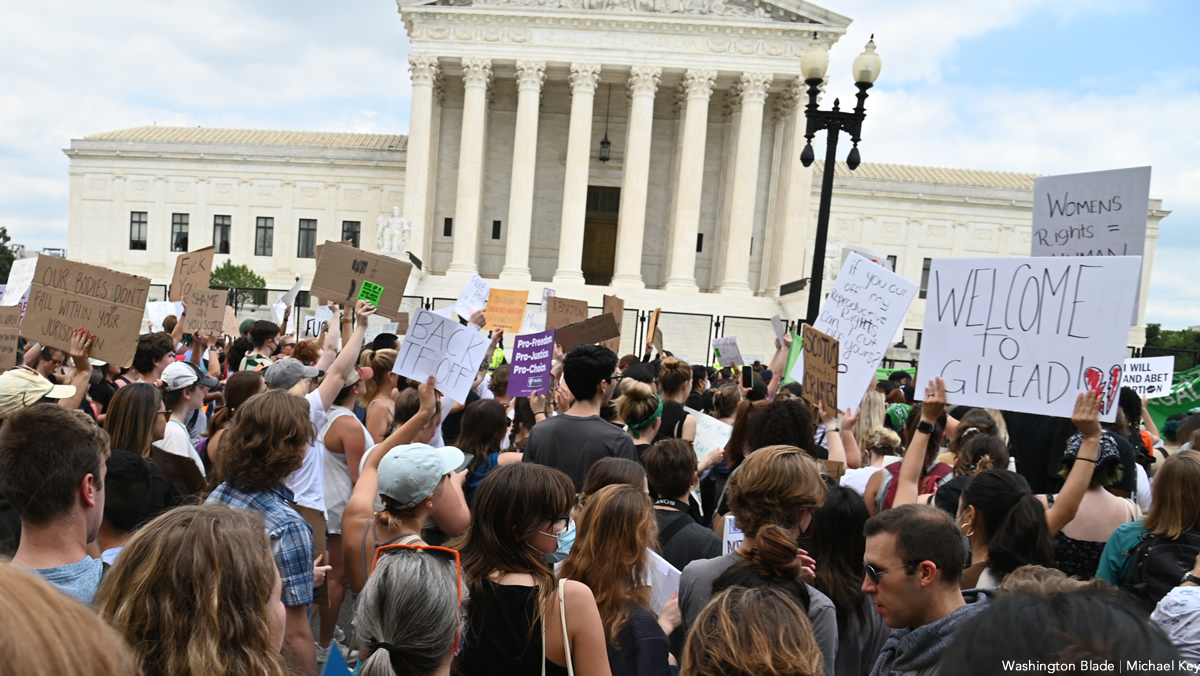 Among the crowd gathered on Friday, such was a sobering outlook for many.
"Gay marriage, interracial marriage, gay sex are going to fall like fucking dominoes if we let them," one speaker outside the court said.
Anger and fear could be felt permeating the crowd. Activists, however, were determined to turn their compatriots' fears into action and change.
"We must get out in the streets," the speaker said. "We need millions of people all around the country because this affects every single living, breathing person in this country whether they realize it yet or not."
Among protesters' trepidation regarding the future of women's rights and privacy rights in America, many clung to a message of hope as speakers and activists pledged to continue fighting.
"They have worked to keep us down, they worked to keep us enslaved, they worked to keep us out of the polls, they worked to keep us out of political offices, they've worked to keep us in the home," White said. "But we know, as we fought for centuries, that this will not stand."