The story behind the Harvey Milk stamp
Postal service to release commemorative stamp in May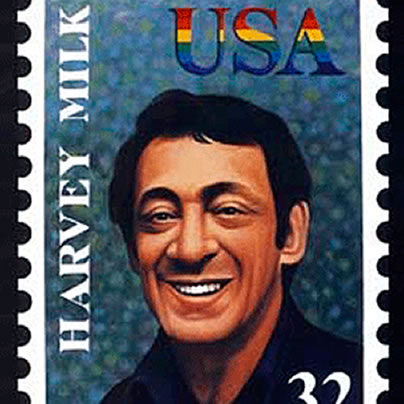 While no specific date has been announced for the official release of the United States Postal Service's first-ever Harvey Milk stamp, the Washington Blade has confirmed that the release date will be in May—not as late as June, as has been reported by several media outlets and as the postal service's own Web site still indicates is possible.
"It will be May, not June," said Susan McGowan, director of USPS Office of Stamps and Corporate Licensing. "And we hope people will turn out to experience a very special release ceremony."
The stamp's coming out party promises to be a big affair for the postal service—one that's been nearly a decade in the making.
"Let's just say it's going to be a great celebration," McGowan told the Blade.
Today, Harvey Milk may seem like a shoe-in as a candidate to be honored with the issuance of a U.S. postage stamp bearing his likeness.
But according to organizers of the National Harvey Milk Stamp Campaign, there was fervent opposition from some of the country's most fundamentalist religious groups, as well as from some members of the Citizens Stamp Approval Committee (CSAC), which votes to approve about 25 stamp requests out of about 1,000 requests each year.
"I know for a fact that some of the stamp committee members were absolutely opposed to the idea of a Harvey Milk stamp or a stamp honoring any homosexual leader," said San Diego City Commissioner Nicole Murray Ramirez, head of the International Imperial Court System, which led the national campaign to win approval for the stamp.
"That was early on, of course. I think as the process moved on and they saw how much support we had not only from Democrats, but from top Republicans, support grew."
Although she couldn't say whether the Citizens Stamp Approval Committee's vote for the Harvey Milk stamp was divided or unanimous, USPS's McGowan was adamant that there is no story of impassioned opposition to the stamp on the committee.
"I think you're trying to find controversy where there wasn't any," she said. "It's quite possible the vote was unanimous; we don't keep those details because all that is needed is a simple majority for approval."
What matters, says McGowan, is that the committee did approve the Harvey Milk stamp, and that it will be released in May.
Ramirez said the process for winning approval for the Harvey Milk stamp was arduous. But he added that he and his colleagues on the stamp campaign, including Stuart Milk — Harvey Milk's nephew who is also a gay civil rights advocate — GLAAD, the Human Rights Campaign, the Harvey Milk Foundation, the National Gay and Lesbian Task Force, numerous senators and members of Congress, mayors and others, were gratified that it succeeded.
"I don't think it was as hard as it would have been 20 years ago," Ramirez said. "In the end, I think we were treated fairly and we got approval for the stamp faster than a lot of other stamp campaigns."
Still, some organizations such as Save California, a right-wing religious group, plan to protest the postal service's decision to commemorate Harvey Milk, whom they call a "sexual predator."
Nevertheless, Ramirez said national symbols, such as commemorative stamps, speak louder and resound for longer than any words of hate or bigotry espoused by angry ultra-conservatives.
"The fact that we now have the image of one of our greatest GLBT leaders on a beautifully designed United States postage stamp says more than anything else about how far we have come as a country fighting against the hatred that we still face as gay, lesbian, bisexual and transgender people," said Ramirez.
Ramirez knows about that history through his own experience. He helped lead historic marches for LGBT rights in the early 1970s in downtown San Diego and other California locales to protest police abuse of gay people.
"Young people don't know how bad it was," Ramirez said. "You could get beat up or worse by the police, just for being in a gay bar. This stamp honoring Harvey Milk shows that by fighting for our rights and never giving up, we can change the way the majority of people behave toward minorities, whether it's racial minorities or GLBT people."
According to McGowan, the postal service received thousands of letters of support for the Milk stamp.
"It was overwhelming," she said. "We get about 30,000 letters of support for stamp proposals every year, but that's for all of the thousand or so annual stamp proposals combined. The amount of public support for this stamp was really amazing."
The stamp campaign began with a simple letter, dated Oct. 20, 2009, signed by Ramirez in his capacity then as chair of the City of San Diego's Human Relations Commission, asking the Citizens Stamp Approval Committee to consider and approve the design and issuance of a U.S. postage stamp commemorating and bearing an image of San Francisco City and County Supervisor Harvey Milk.
In essence, the Harvey Milk campaign asked the postal service for the first time to specifically honor a person for being a tireless soldier in the battle for equal rights for LGBT people—and for having the courage and tenacity to become one of the nation's first openly gay elected public officials.
Ramirez and his fellow signers of the San Diego Human Relations Commission's letter to CSAC wrote in 2009: "The governor of the state of California, Arnold Schwarzenegger, recently inducted Harvey Milk into the California Hall of Fame, saying 'he embodies California's innovative spirit and has made a mark on history."
By citing California's then Republican governor's support for the stamp, the campaign hoped to demonstrate the principles Milk stood for crossed party lines.
"Harvey Milk is recognized nationally and globally as a pioneer of the LGBT civil rights movement for his exceptional leadership and dedication to equal rights," the letter continued.
That same year, the film "Milk" won Sean Penn an Oscar for best actor in recognition of his critically acclaimed portrayal of the slain civil rights leader. The hit film also brought home an Oscar for writer Dustin Lance Black for best screenplay.
That was also the year that President Obama posthumously awarded Harvey Milk the Presidential Medal of Freedom.
Now, five years later, a postage stamp featuring Milk's smiling face will finally be released. The stamp will find its way into the stamp collections of philatelists throughout the world.
According to one gay stamp collector, given the fact that this is the first stamp expressly honoring an openly gay American hero, it is conceivable that the postal service may get a whole new generation of LGBT philatelists as stamp-collecting customers.
"Harvey Milk continues to inspire us all to strive for a society that provides unlimited and equal opportunities for all our citizens," wrote Rep. Nancy Pelosi to CSAC when she was still speaker of the House of Representatives, imploring the committee to approve the stamp. "The United States Postal Service has yet to honor an LGBT American hero with a stamp, commemorating the life and efforts of Harvey Milk would be a testament to Harvey's courage and a symbol of pride to anyone who has ever felt discrimination or cared about those who have."
Recently, a new stamp campaign was launched for another openly gay Presidential Medal of Freedom recipient.
In January, the Blade broke the news that many of the same people and organizations that won approval for the Harvey Milk stamp have joined with Walter Naegle, Mandy Carter and the National Black Justice Coalition (which Carter cofounded), to win approval for a United States postage stamp commemorating the life and work of the late Bayard Rustin.
Along with A. Phillip Randolph, Rustin was chief organizer of the 1963 March on Washington for Freedom and Jobs, where Martin Luther King, Jr. delivered his historic "I Have a Dream" speech.
"The current campaign is a new effort, but there have been letters written for more than a decade suggesting that Bayard be honored with a stamp," said Walter Naegle, Rustin's surviving partner. "Perhaps an increase in the number of supporters will help, but the postal service doesn't seem to be influenced by such efforts."
Naegle is currently engaged in an ongoing Rustin awareness campaign, focusing his efforts on a multitude of fronts. He promises to do what he can to help the Bayard Rustin National Stamp Campaign succeed.
"Don't Say Gay" student leader says school stopping run for student leadership
Jack Petocz organized a state-wide student protest against Florida's "Don't Say Gay" bill & annoyed administrators suspended him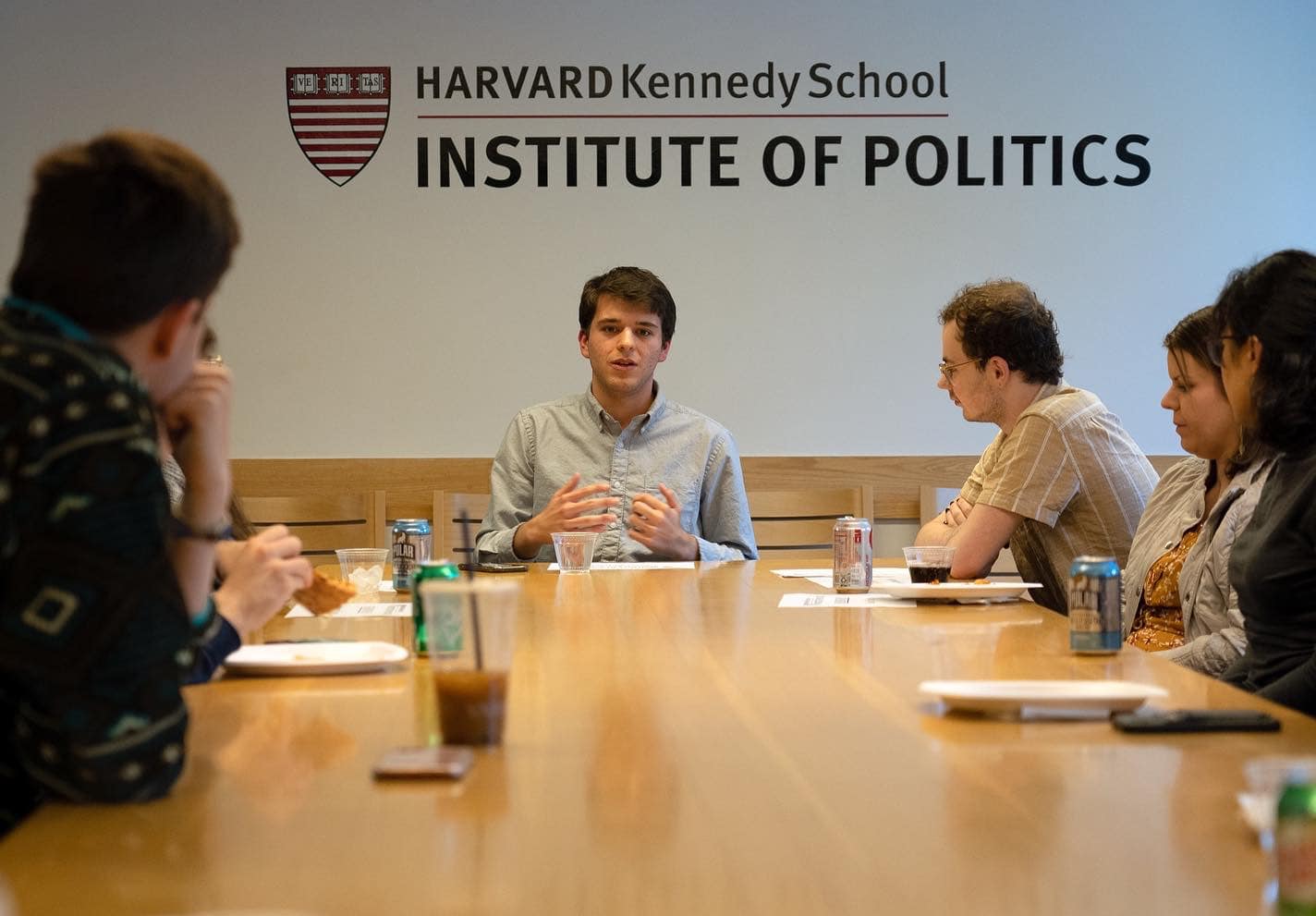 Jack Petocz, a Flagler Palm Coast High School junior, organized a state-wide student protest against Florida's "Don't Say Gay" bill this past March, and at his school, annoyed administrators suspended him.
On Tuesday, Petocz said that the school's disciplinary action is now preventing him from running for senior class president.
"When I returned, the administration assured me that no further disciplinary action would be taken. A month later, they broke this verbal agreement and placed a level 3 referral on my record. Now, due to this high level of discipline, I am being prevented from running for senior class president. I am continuing to be punished for standing up for my identity and against widespread hatred."
The suspension over the student walkout became a viral moment that propelled the 17-year-old into the national spotlight and into the national discourse over a spate of harsh laws targeting the LGBTQ+ community.
17-year-old Cameron Driggers, a student LGBTQ+ activist-organizer of the group Recall Flagler County School Board and co-leader of the walk-out, his friend's suspension inspired him to create a petition on Change.org to pressure Flagler Palm Coast High School Principal Greg Schwartz to rescind his seemingly arbitrary decision to suspend Petocz.
One protest at the school over its suspension of Petocz brought together a grizzled and proud Out gay U.S. Marine Corps veteran accompanied by his fellow vets, who alongside with Driggers and the other young adolescent activists protested in a rally in front of the school at the same time Petocz and his father were inside meeting with Flagler Palm Coast High School Principal Greg Schwartz, hoping to get him to rescind his seemingly arbitrary decision to suspend Petocz.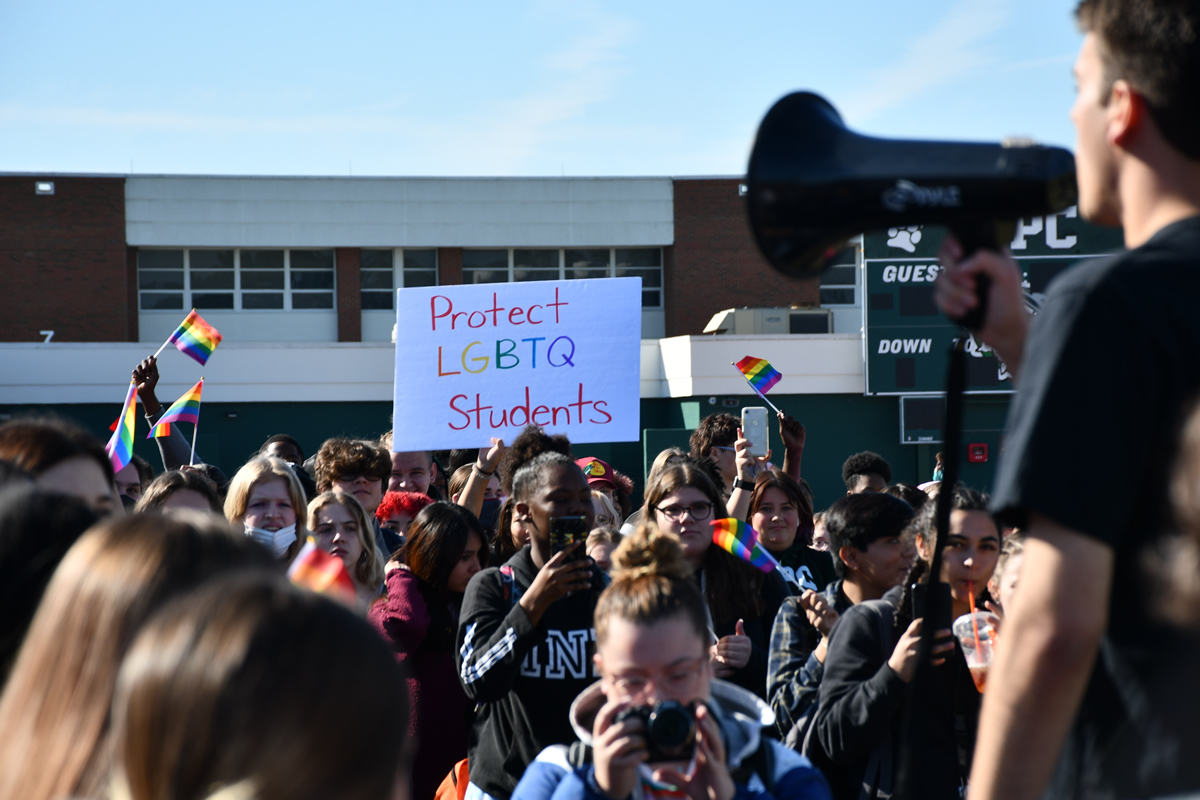 Later on during the day Driggers posted to the Change.org petition the news that Principal Schwartz had backed off.
"Recall FCSB is pleased to announce that Jack's suspension has ended and he is back on-campus. We are grateful for the thousands of people around the globe that shared, tweeted and protested in support of Jack, the organizer behind the state-wide Don't Say Gay Walkout. Over 7500 signatures were collected on a condemnation of Principal Greg Schwartz' conduct last Thursday. With Jack back on campus, Recall FCSB will continue to empower student leaders in and out of school," Driggers wrote.
Principal Schwartz also committed to removing the 'disciplinary action' from Petocz's school record.
On Tuesday, Petocz announced that Principal Schwartz and other school officials are barring him from running for an elected student office.
My name is Jack Petocz. I am the high school junior who led walkouts in opposition to the "Don't Say Gay" bill and was suspended for passing out pride flags. Now, I'm being prevented from running for senior class president. No matter what, I won't stop fighting for my community. pic.twitter.com/5lG6EYIXo2

— Jack Petocz (@Jack_Petocz) May 17, 2022
In response to the news, PEN America issued the following statement from Jonathan Friedman, director of the Free Expression and Education program:
"By going back on their word and imposing a red mark on Jack Petocz's disciplinary record, the Flagler Palm Coast High School administration appears bent on retaliating against him for organizing the walkout against the 'Don't Say Gay' bill. This is unconscionable. Jack exercised his right to protest as a citizen, and he led the walkout with the school's approval. No student ought to be intimidated or punished by school authorities for their political speech, and the school already told him he would not be disciplined. This is especially troubling alongside news of other efforts to censor or intimidate students raising their voices for LGBTQ+ rights across Florida. The leaders of Flagler Palm Coast High School should remove this infraction from his record so that he can run for class president just like any other student."
On Twitter, Petocz urged people to contact his school to get officials to reverse this latest decision.
If you want to help me fight, click the link below to send an email to administrators and the superintendent of my district. It's ridiculous queer kids have to be punished while fighting for our rights. https://t.co/oBOKZDLavb

— Jack Petocz (@Jack_Petocz) May 17, 2022
History making win- Out Lesbian could be Oregon's next governor
"This will be a three-way race for the highest office in our state, and this will be an election unlike anything any of us have ever seen"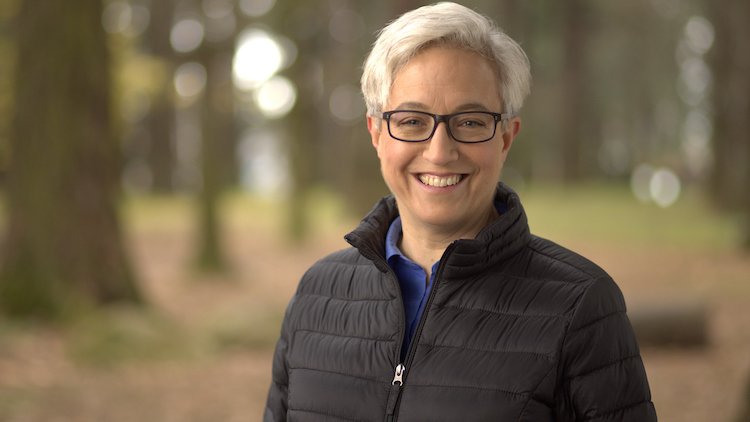 The Democratic gubernatorial primary Tuesday win by Oregon Speaker of the House Tina Kotek, who had announced her run for the governor's seat to replace incumbent Democratic Governor Kate Brown, who is term limited last September 1st, 2021, positions her to become the first Out Lesbian governor in the nation should she win the general election in November.
Kotek's win comes during an uptick in the elections nationwide as more candidates running for office identify as LGBTQ". More than 600 LGBTQ candidates are on ballots this year, according to the LGBTQ Victory Fund.
According to the Victory Fund, at least 101 people ran or are running for the U.S. Senate or U.S. House – with 96 still actively running as of February 21, 2022. That marks a 16.1 percent increase in LGBTQ Congressional candidates compared to the 2020 election cycle, when 87 people ran.
Speaking to her supporters after it became clear she had won over Oregon Treasurer Tobias Read, who was polling second among Oregonian progressives, "This will be a three-way race for the highest office in our state, and this will be an election unlike anything any of us have ever seen," Kotek said.
Republican state legislator Christine Drazan along with an independent candidate, Betsy Johnson are slated to be on the November ballot.
Last Fall when she announced her candidacy, she said, "I am running for Governor because I know that, together, we can reckon with the legacies of injustice and inequality to build a great future for Oregon." She also noted, "Oregonians are living through a devastating pandemic, the intensifying impacts of climate change, and the economic disruptions that leave too many behind. We must get past the politics of division and focus on making real, meaningful progress for families across our state."
"A victory for Tina would shatter a lavender ceiling and be a milestone moment in LGBTQ political history, yet she is running not to make history, but because there are few people as prepared and qualified to serve as Oregon's governor," said Mayor Annise Parker, President & CEO of LGBTQ Victory Fund. "Under Tina's leadership, Oregon has led in passing legislation to improve roads and education, raise the minimum wage and ensure all residents are treated fairly and equally. As governor, Tina will make Oregon a role model for the nation."
U.S. demands more access to Brittney Griner in Russia
Out WNBA star detained in Moscow in February
U.S. Ambassador to Russia John Sullivan on Tuesday said Russian officials have denied consular visits to detained WNBA star Brittney Griner three times this month.
"For the third time in a month, Russian authorities have denied an embassy visit to detained U.S. citizen Brittney Griner," said Sullivan in a statement the U.S. Embassy in Moscow posted to its Twitter account. "This is unacceptable. We call on @mfa_russia (Russia's Foreign Affairs Ministry) to provide timely consular access, in line with Russia's international and bilateral obligations."
#AMBSullivan:  For the third time in a month, Russian authorities have denied an Embassy visit to detained U.S. citizen Brittney Griner. This is unacceptable. We call on @mfa_russia to provide timely consular access, in line with Russia's intl & bilateral obligations.

— Посольство США в РФ/ U.S. Embassy Russia (@USEmbRu) May 17, 2022
Griner — a center for the Phoenix Mercury and a two-time Olympic gold medalist who is a lesbian and married to her wife — was taken into custody at Moscow's Sheremetyevo Airport in February. Russian officials said customs inspectors found hashish oil in her luggage.
The State Department earlier this month determined Russia "wrongfully detained" Griner.
A Russian court on May 13 extended her detention for another month. The Women's National Basketball Players Association, a union that represents WNBA players, has endorsed a Change.org petition that urges the Biden administration to "prioritize" Griner's release.
State Department spokesperson Ned Price on Tuesday told reporters during his daily press briefing that a consular official "was able to speak with" Griner "on the margins of her court proceedings" on May 13.
"That consular official came away with the impression that Brittney Griner is doing as well as might be expected under conditions that can only be described as exceedingly difficult," said Price.
"But sporadic contact is not satisfactory," he added. "It also may not be consistent with the Vienna Convention, to which Russia has subscribed. That is why we continue to urge the Russian government to allow consistent, timely consular access to all U.S. citizens detained in Russia, in line with those very legal obligations, and to allow us to provide consular services for U.S. citizens detained in Russia."
Price on Tuesday also said Secretary of State Antony Blinken "had an opportunity in recent days to speak with" Griner's wife.
Blinken spoke with her on May 14.
"He conveyed once again the priority we attach to seeing the release of all Americans around the world, including Brittney Griner in the case of Russia, Paul Whelan in the case of Russia — those are Americans who we consider to be wrongfully detained," said Price.