April 17, 2015 at 1:00 pm EDT | by Jordan Dashow
Congress must give voice to the silenced
On Sept. 19, 2010, Seth Walsh, age 13, committed suicide by hanging himself. Three days later, on Sept. 22, 2010, Tyler Clementi, age 18, committed suicide by jumping off the George Washington Bridge. Almost a year after that, on Sept. 18, 2011, Jamey Rodemeyer, age 14, committed suicide also by hanging himself. These three teenagers' stories, all of which ended in suicide as a result of anti-LGBT bullying, have stayed with me because they all occurred about a year after I came out publicly as gay. But more importantly, these names have remained sketched in my mind because in another life they could have been me.
I was first called gay by a fellow camper when I was in elementary school, and although I did not know what the word meant, it was clear to me that it was meant as an insult. I was bullied in both elementary school and middle school, for a variety of reasons, including my lack of interest in traditionally "masculine" activities. This continued into high school but in a different form – although I was occasionally called gay or a faggot (despite being closeted), these moments were very rare. Instead, the anti-LGBT bullying in my school was indirect. Through comments like "that's so gay" and a general environment in which homophobic remarks went unchallenged, a hostile environment was created for closeted LGBT students.
I will never forget sitting in class and listening to my fellow students tell our teacher, who was a Rabbi, that they would never let their future children interact with a gay Rabbi because they would turn their children gay. The malice and disgust in these students' voices as they described being gay made me shrink further into the closet. For a significant amount of time in high school, I was depressed because of my struggles coming to terms with my sexuality and the homophobic environments I was constantly forced to be a part of in school.
And I was not alone. Lesbian, gay and bisexual (LGB) youth are more likely to experience depression than their straight counterparts and LGB youth are four times more likely to attempt suicide than their straight peers. These statistics are even worse for trans youth. Although I was lucky to ultimately have the support of family and friends and was eventually able to come out in college in an LGBT-friendly environment, many LGBT youth do not have the same support and experiences.
The suicides of Seth Walsh, Tyler Clementi and Jamey Rodemeyer, as well as the suicide of Leelah Alcorn, a trans girl who took her own life this past December at age 17, are not isolated incidents, but part of a persistent trend of anti-LGBT bullying and LGBT suicides. On April 17, students from across the country are taking a vow to not speak as part of GLSEN's Day of Silence to "draw attention to the silencing effect of anti-LGBT bullying and harassment in schools." While these students' participation can have a huge impact in countering anti-LGBT bullying and harassment, these students cannot solve this issue alone. Our elected officials must act to combat bullying and harassment in our public schools by passing the Safe Schools Improvement Act and the Tyler Clementi Higher Education Anti-Harassment Act.
The Safe Schools Improvement Act would ensure that all school districts have clear and comprehensive student conduct policies prohibiting bullying and harassment, report data regarding bullying and harassment and implement professional development programs to help school administrators and staff address bullying and harassment. These policies would explicitly prohibit bullying on the basis of a student's actual or perceived sexual orientation, gender identity, race, color, national origin, sex, disability status or religion. Similarly, the Tyler Clementi Higher Education Anti-Harassment Act of 2015 would require institutions of higher education to develop policies regarding harassment based on a student's actual or perceived sexual orientation, gender identity, race, color, national origin, sex, disability or religion.
As a Jew growing up I learned that the great rabbinic sage Hillel summarized the entire Torah as "what is hateful to you, to others don't do." Furthermore, our tradition teaches that all people are created b'tzelem Elohim (Gen 1:27), in the divine image; this belief in our shared humanity teaches us not to tolerate discrimination against—or the bullying of—any person. Although the school I attended did not embody these principles, our legislators have the opportunity to take action and ensure that public schools throughout the country are actively fighting bullying and harassment and honoring the divine in each of us.
Jordan Dashow is a fellow at the Religious Action Center of Reform Judaism in Washington, D.C.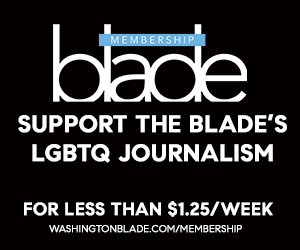 Sign Up for Blade eBlasts