September 23, 2016 at 11:15 am EDT | by Brock Thompson
Gay men talking about mental health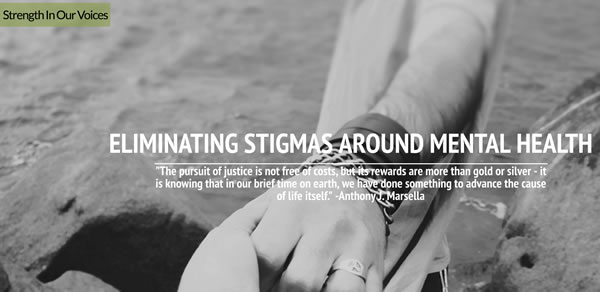 I've always found it interesting and amusing that as gay kids we did pretty much anything we could to get out of gym, but as gay adults we more or less flock to them. I remember in sixth grade being terrified of Coach Whitmore and this terrible, sadistic game he invented called "crab soccer."
That was then. And I'm sure most of us had Coach Whitmore in our childhoods. But now many us can't imagine gay city life without the gym. For various reasons best explored in other columns, gay men put a huge premium on their physical state. Naturally, we want to look good, and feel good, but why does it seem that when it comes to our mental health, many of us don't seem to invest as much?
I was wondering about this issue — gay men and mental health — so I grabbed my friend Bobby, who last year started his own organization, Strength in Our Voices, with a mission to provide support for people impacted by mental health issues. We sat down a few Sundays ago in Larry's Lounge. Here's what he had to stay:
Tell me more about Strength in Our Voices
SiOV is a mental health non-profit dedicated to eliminating stigmas surrounding mental health. Our mission is to create an environment of trust and support for those impacted by mental health issues through open dialogue, education, empowerment, and positive change. As a group, we are individuals that have either experienced mental health issues firsthand or truly believe in the cause of eliminating stigmas so that we can all live in a more understanding world. We hope to use the power of social media and storytelling to bring insights to our community. Additionally, we host events not only to raise money but also to bring the community together to talk about mental health stigma.
What has SiOV been up to lately?
This past spring, SiOV hosted its first "Summer of Strength Benefit for Change" in D.C. where we raised more than $16,000. With these proceeds we are bringing Sources of Strength, a permanent, comprehensive suicide prevention program, to McLean High School in Fairfax County, a region that has witnessed high rates of teen suicide in recent years. We are facilitating the program build out at McLean this fall
Why is mental health important to you?
I've gone through so much in my own life. From being bullied during middle and high school to the process of coming out in college. More recently, I struggle with anxiety on a daily basis and regularly see a therapist to work on stress reduction.
I know that talking about the issues I've experienced has been the most important action I've ever taken to improve my own health. If I had found a platform or comfort with which to do so sooner in my life, I wouldn't have had to suffer alone as long as I did. I hope to be able to touch lives so that someone out there might feel like they are not alone, and even find it in themselves to seek help through a friend, family, or medical professional.
What issues surrounding mental health are of particular importance to gay men?
Generally, LGBTQ individuals are three times more likely than others to experience a mental health condition such as major depression or generalized anxiety disorder. Additionally, gay men experience identity issues, post-traumatic stress disorder, suicide ideation, substance abuse and body dysmorphia, among others.
In my opinion, I think that the mental health issues gay men face originate from two primary sources: societal expectations and the gay social scene.
There's a dynamic between gay men and heterosexual/religious communities. That is, there's a sense of wanting to remain acceptable within the eyes of a majority that had recently rejected us. This may be changing as younger generations enter into adulthood. However, I do feel as if many of us expect to face homophobia or discrimination at some point. Whether this makes us sensitive, defensive or want to seem impressive, I'm not sure. But there's something there that has an effect on our mental health.
Regarding the gay community, we live in a hypersexualized, active community that is both vain and self-loathing. One on hand, we are accepting of differences, but on the other hand, we are body shaming, judgmental critics – mostly of ourselves. Social media self-affirmation is common; we are constantly bombarded by shirtless selfies. Body dysmorphia is a huge issue in the gay community as a result. We are also a close-knit, extremely social, but small community which makes gay men both competitive and cliquey. I think that the concept of being a fabulous, multi-faceted, A-type gay who throws perfect dinner parties is something that plagues much of the gay community. We constantly size ourselves up to other gay men. Additionally, we tend to interact with a number of gay men, but we aren't particularly close with a majority of them (it's simply not possible to be close friends with that many people). As a result, we know everyone, but we don't really know everyone; judgment and gossip fills the gaps.
Is the stigma surrounding mental health more or less so in the gay community?
I think it's useful to distinguish between stigma and "self stigma." Stigma is a mark of disgrace associated with a particular circumstance, quality, or person (i.e. simply, a negative stereotype). "Self stigma" is the internalization of negative beliefs.
Mental health stigma in the gay community is both more and less pervasive. On one end, gay men tend to be more open and accepting of feelings, issues, differences, and hardship than their heterosexual counterparts. At the end of the day, we recognize that our experiences are quite similar and tend to talk more freely with each other about those experiences.
However, on the other end, we can be dramatic, shallow, judgmental, gossip-folk in an incredibly social community, which leads to more "self stigma." I believe that many gay men think regularly about judgment, being stereotyped by other gay men, and being accepted by different cliques within the gay community.
Where do you hope to take SiOV?
I certainly hope to be able to raise more money to bring useful programs to the community. I also hope to be able to dig into the many specific mental health issues we all face, ones that may seem relatively mundane, and share detailed stories on those issues so that new perspectives are illuminated. Maybe you learn something new. Maybe you simply find that the information resonates. Ultimately, if we understood how similar we really are, we will not only treat each other differently, but also, we will treat our own selves differently.
Bobby and I both felt it necessary to state that neither of us are professionals when it comes to mental health. If you find yourself needing assistance, contact either SiOV or the myriad other community resources available such as Whitman-Walker Health.
Brock Thompson is a D.C.-based freelancer writer. He writes regularly for the Blade.