NBC revives 'Hairspray' just in time
All-star cast says election gives show special meaning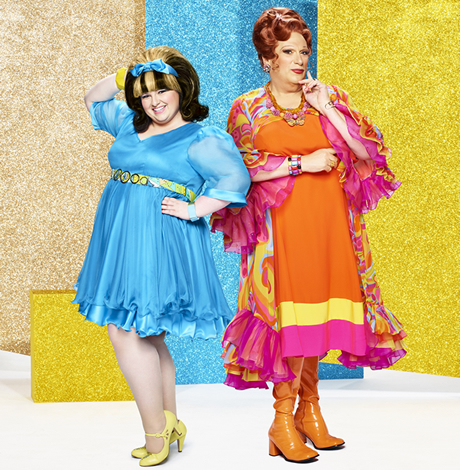 LOS ANGELES — "Hairspray" has always been a peppy musical about a "pleasantly plump" teen in Baltimore who becomes a local superstar, brings her city together and gets the boy.
It's cutesy and fun on the surface but a deeper look reveals the musical as a dark comedy fighting against racial segregation in 1962. While the musical may seem dated in its wardrobe and copious amounts of hairspray, the airing of NBC's "Hairspray Live!" on Wednesday, Dec. 7 at 8 p.m. feels oddly current.
In light of the recent election, it's a sad reminder of life, yet again, imitating art.
The Washington Blade was able to speak with some of the cast and visit the set of "Hairspray Live!" at Universal Studios in California. A brightly colored version of Baltimore lives on the West Coast filled with fake storefronts of the iconic "Hairspray" locations such as Mr. Pinky's Hefty Hideaway and Motormouth Records. The set of the "Corny Collins Show," originally based on the real life "The Buddy Deane Show" which aired on WJZ in Baltimore, and the Turnblad living room stood empty waiting for the cast to bring them to life.
The cast was brimming with excitement for the show and some of the younger cast members bonded eating chips and salsa at Ariana Grande's house the night before.
Harvey Fierstein, who reprises his Broadway role as Edna Turnblad and penned the NBC teleplay, was invited to join.
"Last night, they were texting me at 11 o'clock. All the kids were at Ariana's house having a party. 'Harvey, come on out. Come on out,'" Fierstein says. "I'm old. Leave me alone. I'm in bed."
Baltimore native John Waters' quirky mind gave birth to the original 1988 film. However, "Hairspray Live!" promises to be closer to the 2002 Broadway version with its teleplay. Fans of the original film won't be disappointed though if they spy for Easter eggs on set like Divine Pet Food, Edie's Eggs and Dairy and Waters Plumbing.
 One thing for sure is that the events of the musical ring true now more than the last go around.
"Those kids in 2002, we had to educate them about segregation," Fierstein says. "The black kids would sit out in the hall while the white kids rehearsed, and they started getting a very weird feeling. People started getting very territorial. There was a fight over Little Inez's doll, whether it would be prettier if it was a white girl's doll. We were feeling that stuff, and that stuff was foreign. It had to be brought to the show because it was not part of who they were growing up. This group of kids, very unfortunately knows it's true, and we don't have to educate them about it."
Fierstein and Martin Short, who plays Wilbur Turnblad, find themselves concerned but also oddly optimistic about the evolution of the LGBT community under a Donald Trump presidency.
"You know, Donald … I mean I sat with him at a gay wedding. He was not happy to be there … but he was there at the gay wedding," Fierstein says.
"I think the interesting thing about Donald Trump, who I've never met, is we don't know very much about him," Short adds. "We know that in 2009 you can see him sitting with Wolf Blitzer praising the genius of Hillary and Bill Clinton. We know that he was a Democrat. We know that he was always pro-choice. So I think that there's so much opportunism tied to what he is that I'm sure that in private he is much less what his policies will be."
Fierstein has donned the wig and dress as Edna more than 1,000 times and says he first prepared for the role by following women around at the mall. While both Fierstein and Edna are firecrackers in their own right, he couldn't help but feel the gender difference.
"I do love that nurturing side of Edna, and I love being around the cast and the kids that way," Fierstein says. "And I adore her. But there's a sadness about her that I love too. I've always been an overweight person, and to be an overweight woman is different than being an overweight man."
Grande and Kristin Chenoweth also felt the weight of the timing of the musical and the election. Grande plays Penny Pingleton, Tracy Turnblad's friend who falls for a black boy named Seaweed, played by Ephraim Sykes of "Hamilton." Grande, a "Hairspray" super fan, can hardly contain her excitement about taking on her dream role of Penny. Meanwhile Chenoweth is Velma Von Tussle, the show's racist antagonist. Chenoweth, a veteran Broadway performer, is more quietly understated about her role but her eyes light up when discussing the show's significance.
While their onscreen relationship couldn't be further apart, the pair couldn't have been closer offset, often seen walking arm and arm together.
"I love her like she's my own kid," Chenoweth says of Grande.
For these songstresses "Hairspray Live!" airing in a post-Trump world had to happen.
"I think it's cosmic," Grande says. "I think it was meant to be. I think the universe had a plan and was like, 'OK, we need to show these people something uplifting but that will also make you get the point.' It's a beautiful show. It's touching."
Chenoweth agrees and said her role as an LGBT ally is all the more important.
"It's interesting being a person — not to get weird — a person of faith, a woman in show business in the 21st century. I guess I have to keep saying those words right there. Because to me, whatever God is to us, we have to be. God is love. And it seems like the opposite of that happens a lot. Instead of acceptance and love, not tolerance, acceptance. That's my message," Chenoweth says.
Grande and Jennifer Hudson (Motormouth Maybelle) will be giving "Hairspray" their own twist by singing "Come So Far," written by Marc Shaiman and Scott Wittman. The song appeared in the 2007 movie version. Both Grande and Hudson admit they are excited for the duet. While "Come So Far" is an upbeat tune, Grande and Chenoweth say "I Know Where I've Been," sung by Hudson inside Motormouth Records, is an emotional rollercoaster.
This isn't Hudson's first time in a period musical. However, the mental preparation involved is completely different.
"When I was doing 'Dreamgirls,' I had to go back and look at what was happening in the '60s," Hudson says. "I don't find myself having to do that now. It's like, turn on the news. It helps us in a way because now we can relate in this day and age. I think it gives the story that much more power and meaning. To us, this is normal. But now, we won't necessarily see it that way."
During a panel discussion with the creative team, moderator Dave Karger asked why "now is a good time for 'Hairspray.'"
Director Kenny Leon couldn't help but laugh.
"Oh, wow. Man, where were you last Tuesday?" Leon joked. "It's actually a blessing to be in the throngs of this after last week. And it's emphasized the role of artists in our world. And so it gave me an opportunity to talk to the company about the importance of what we do."
The importance of Hollywood's role as a source of comfort is being highlighted now more so than in recent years. Out actor Billy Eichner, who makes a special appearance as Rob Barker, and Paul Vogt, who plays Mr. Spritzer, see "Hairspray" as especially healing for the LGBT community.
"It was created by John Waters, which is like a gay icon and has always been a great voice," Eichner says. "He has always been very outspoken about being gay and gay issues and diversity in his casts and the characters. And 'Hairspray' is about outsiders, you know? And it's a great musical and gay people like a great musical."
"What everyone else considers the normal world that's his outsiders so I think he likes to show the outsiders and say, 'Yeah, you have a right to be here' and a lot of homosexuals and LGBT we feel like the outsiders but we're not. We're the same as everybody else and we should be able to just feel that way. I think that 'Hairspray' gives you that voice and I think John Waters gives you that," Vogt adds.
For Vogt, comedy is essential in getting through tough political times.
"You can yell at people and yell at people and disagree with them and fight with them, but then when you do it through comedy, sometimes they'll hear you," Vogt says.
Fierstein thinks "Hairspray" is the perfect vehicle for getting that message across.
"The wonderful thing about 'Hairspray' is it's so gentle in its storytelling. It's the right message. We don't beat you up," Fierstein says.
A common thread the cast seemed to share, besides an unwavering passion for "Hairspray," is that keeping the laughter going keeps hope alive.
"I hear there's going to be a man playing the mother," Fierstein jokes. "But I didn't check anyone else's penises or vaginas."
"Well that's what wrap parties are for," Short says.
While the cast prepares for the show, so is the actual city of Baltimore. In celebration of "Hairspray Live!" the city will offer "Hairspray" character-inspired cocktails at many of Baltimore's bars and restaurants. Local hotels will also offer packages with discounts in honor of the show. For a complete list of "Hairspray" activities, visit baltimore.org.
Shaw's Tavern (520 Florida Ave., N.W.) will also hold a special watch party from 7 p.m.- 1 a.m. with a "Hairspray" sing-along before and after the show.
Catch the rest of the cast including newcomer Maddie Bailie (Tracy Turnblad), Dove Cameron (Amber Von Tussle), Garrett Clayton (Link Larkin), Sean Hayes (Mr. Pinky), Derek Hough (Corny Collins), Andrea Martin (Prudy Pingleton), Rosie O'Donnell (Health Ed Teacher) and Shahadi Wright Joseph (Little Inez) in "Hairspray Live!'
A rainbow shield
Parasol Patrol protects children from protesters at LGBTQ, BIPOC events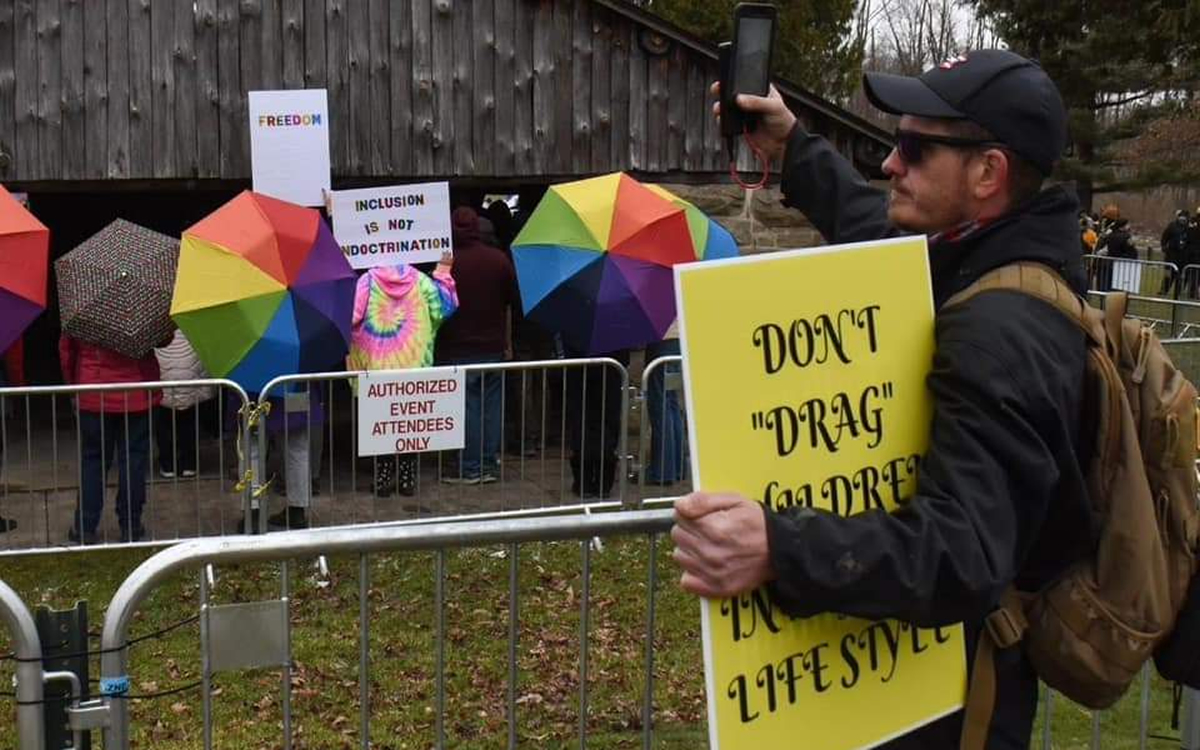 In the wake of LGBTQ events like drag queen story hours being the target of far-right protesters across the country, a national nonprofit is aiming to protect children from hate.
Founded in March 2019 by Pasha Ripley and Eli Bazan in Denver, Parasol Patrol now has grown to 14 official chapters, including in the D.C. area, Idaho, Illinois, and Rhode Island. The goal of the nonprofit is to protect children and young people from protesters at LGBTQ and BIPOC-centered events.
Volunteers with the nonprofit use umbrellas, rainbow or otherwise, as shields to block kids and families from hateful signs and pass out noise-canceling headphones to protect attendees from abhorrent language. Sometimes volunteers will also escort families into the venue to keep them safe.
"We just started this way of creating a turtle shell around families," Ripley said. "We envelop that family as best we can and get them through, or past, protesters."
The mission of Parasol Patrol is twofold, Ripley said. One part of it is to keep kids safe, and the other is to show that there is community support.
"Showing them that we love them. We support them. Not in spite of who they are, but because of who they are," Ripley said. "We've helped the venue create a safer space for them to be themselves."
Originally raised in rural Oklahoma, Ripley, who is queer, said Parasol Patrol provides a security that she and many others didn't necessarily have coming of age.
"We want to be those adults that we wish we had had growing up," she said. "And we're not trying to turn kids gay. We're trying to keep the gay kids alive."
Ripley stressed volunteers with Parasol Patrol are not counter-protesters or security. The mission is nonviolent, and volunteers are encouraged to not engage with protesters.
John Zittrauer, a local volunteer with Parasol Patrol since the early summer of 2022, said volunteers serve as a "welcoming committee" for families attending these events.
"That's where the umbrellas come in. To create not only a beautiful hallway of people but also to shield little kids from things that might get thrown their way," Zittrauer said. "We are this wall of positivity, just welcoming families and making sure that everybody comes in and leaves with a smile on their face."
But sometimes, these events can get hectic.
For example, in late February, the far-right group Proud Boys targeted a drag queen story hour in Silver Spring, Md., the Washington Blade previously reported. About 40 volunteers with Parasol Patrol came out to protect the event, including Zittrauer.
While shielding families from the protesters, Zittrauer was hit in the face on the bridge of his nose. In the melee, he doesn't know if it was an elbow or a signpost that hit him. He didn't realize he was bleeding until he turned around to check in with other volunteers, and the look on their faces signaled to him that something was wrong.
Zittrauer still carried on protecting the event from protesters. But he still says volunteering at that event was a positive experience because the families watching the drag story hour did not know too much of what was going on.
This is exactly what Ripley hopes for — that at the end of the day, the events are fun and inspiring for everyone involved, she said.
"For the most part, we stayed happy and upbeat, and unfazed," Zittrauer said. "It was, all in all, a good day," he said.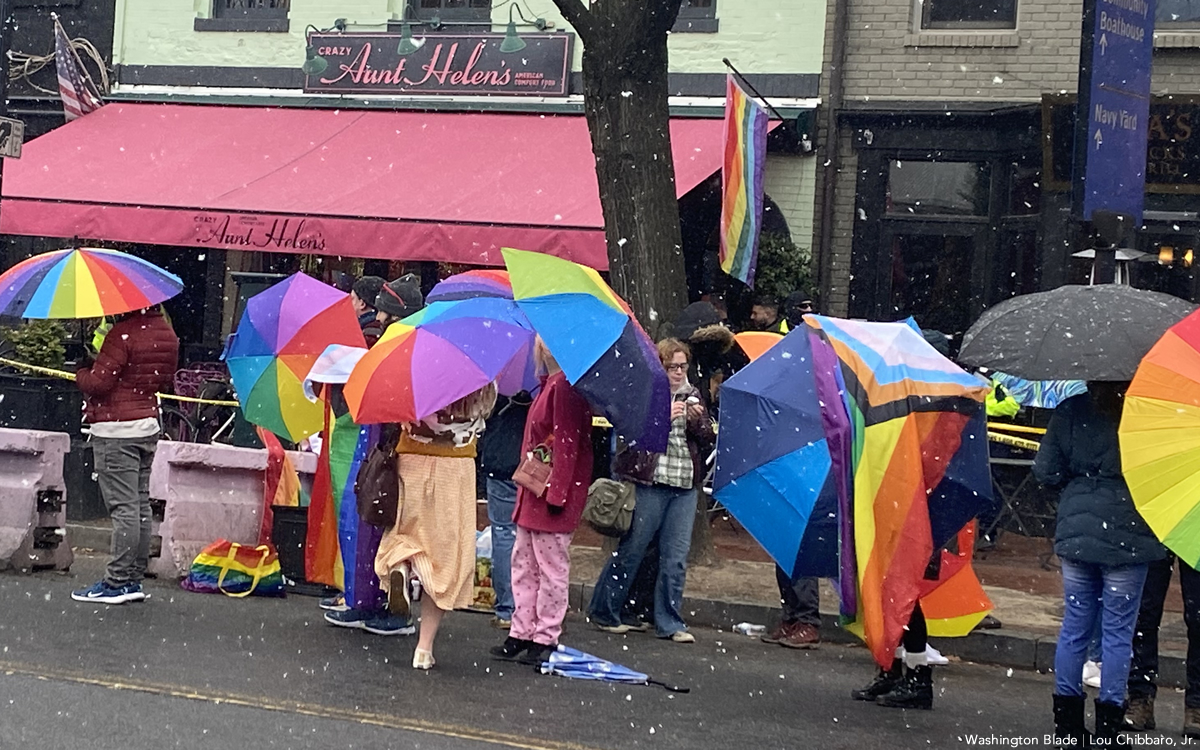 Golden Girls return to D.C.
'The Laughs Continue' to run at Warner Theatre from Feb. 23-26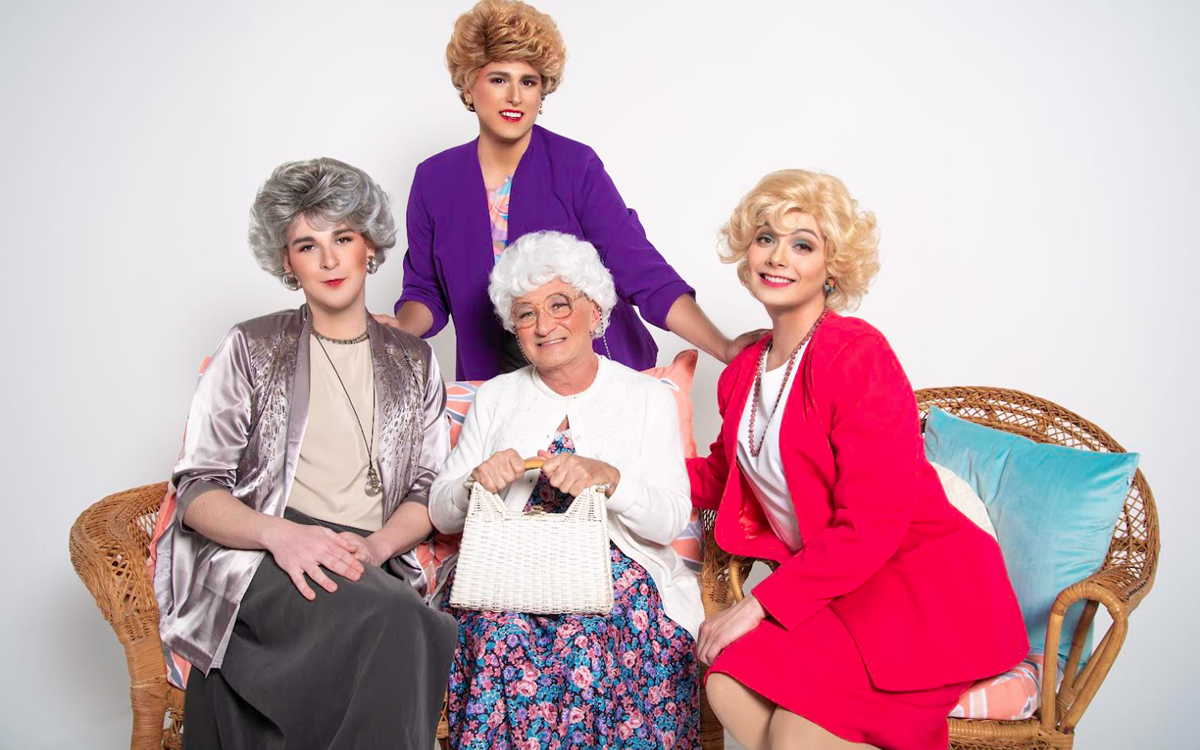 Miami's sassiest seniors will take D.C. by storm when they take the stage at the Warner Theatre from Feb. 23-26.
Robert Leleux — whose previous work includes "The Memoirs of a Beautiful Boy" and "The Living End" — wrote "Golden Girls: The Laughs Continue." It documents the lives of the four cheesecake-loving older women in "The Golden Girls."
Sophia (Christopher Kamm) is out on bail after the Drug Enforcement Administration arrested her for running a drug ring for older adults. Blanche (Vince Kelley) and Rose (Adam Graber) created CreakN, a "sex app for seniors." And the relationship-challenged Dorothy is with a much younger man (Jason Bowen) on the aforementioned app.
Bowen also plays Dorothy's ex-husband Stanley.
Eric Swanson, co-founder of the Detroit Actors' Theatre Company, directs "Golden Girls: The Laughs Continue" and Murray and Peter Present produced the play. A version of it showed at Baltimore's Hippodrome Theatre in July 2022.
"You will feel like you have watched sort of this hour and a half sort of special on a TV and it should feel just like you're hitting play or whatever it is on your streaming service and here it is," Swanson told the Washington Blade during a recent Zoom interview from Fort Lauderdale, Fla. "The set looks like the set and we utilize the cheesecake — there's so much cheesecake in this play. You can't do Golden Girls without cheesecake."
Swanson said he and Leloux binge watched "every episode" of the original show in four days.
"We wanted to create new content, that was our number one goal," Swanson told the Blade. "We didn't want to parody anything. We wanted to completely attack new material and new ways of thinking for women and aging adults in this generation."
Blanche 'weaponizes what God has given her'
Kelley told the Blade from Michigan during a telephone interview that Blanche is "very free and my brand of sassy."
"I love the sensuality of Blanche and that she weaponizes what God has given her to her advantage."
The scene in season two's "The Actor" episode in which Blanche's inflatable breasts deflate when she is hugging an actor during an audition to be his love interest is among Kelley's favorite from the original show. Kelley also noted CreakN is difficult for Blanche to use because "she doesn't identify as a senior."
Blanche in season seven's "The Case of the Libertine Bell" episode that takes place during a murder mystery weekend points out "flirting is part of my heritage" because she is "from the South." Rose asked Blanche what she meant, and Dorothy told her that Blanche's mother was "a slut too."
"There's a few of those zingers in this one too," Swanson told the Blade. "Sometimes they just lay it down."
'Ahead of their time' on LGBTQ issues
"The Golden Girls" premiered on NBC on Sept. 14, 1985.
The series ran for seven seasons until it ended on May 9, 1992. "The Golden Palace" in which Betty White, Rue McClanahan and Estelle Getty starred after Bea Arthur left "The Golden Girls" ran for one season.
"The Golden Girls" is one of the first primetime shows that discussed AIDS, marriage equality, and other LGBTQ issues.
Blanche's brother Clayton, for example, comes out to his sister as gay in season four's "Scared Straight" after he claimed he slept with Rose. Clayton and his boyfriend Doug during season six's "Sister of the Bride" episode tell Blanche, Dorothy, and Sofia that they want to get married.
Dorothy's brother Phil was a crossdresser, and her friend Jean is a lesbian who falls in love with Rose during season two's "Isn't It Romantic?" episode. Rose in season five's "72 Hours" episode tests HIV-negative after she fears a blood transfusion she had exposed her to the virus.
"They were so ahead of their time in the things that they were tackling: AIDS and all that kind of stuff, and LGBTQ rights and discrimination against Jewish people. All things we're still dealing with today, which is unfortunate, but it's nice to turn to them and see how your good friends Blanche, Rose, Dorothy and Sophia are dealing with the same problems that you're dealing with today," said Kelley.
"I love the progressiveness that they had, especially when you look at the time and the era and what was going on, not just politically, but regarding feminism and sexuality and all of that. it was just incredibly brave," Swanson told the Blade.
He further noted "The Golden Girls" also addressed interracial marriage and aging.
"They were addressing these things about what it's like to age," he said. "Whether you are a conservative, you're a liberal, you are gay, you are straight, the one thing we all have is age. We can all relate to age and they led that narrative on what is it like to age and feel left out and have to fight again."
Swanson and Kelley both teased bits of the play.
Kelley notes it is Dorothy's "day in the sun" when she mets her younger man on CreakN. He also told the Blade that Sophia "had to do another small stint in Shady Pines due to another slip and fall."
"While there she decided, how can I make a quick buck," said Kelley. "I'm going to turn into Walter White and monetize that."
Kelly noted the play is "all new material."
"You'll get a whole new fun story that even if you seen every episode twice, you're gonna get something new. But we definitely have all your favorite lines, all the catchphrases, all the tropes and scenarios that you would expect," he said. "We're not trying to reinvent the Golden Girls, we're just trying to add on to them."
"We wanted to create something in their honor," Swanson told the Blade.
"Golden Girls: The Laughs Continue" will be at the Warner Theatre (1299 Pennsylvania Ave., N.W.) from Feb. 23-26. Tickets start at $30. A VIP experience that includes a meet and greet with the cast after the show is $99. Tickets are available at warnerthreatredc.com.
D.C.'s most eligible LGBTQ singles
Meet your match in our annual survey just in time for Valentine's Day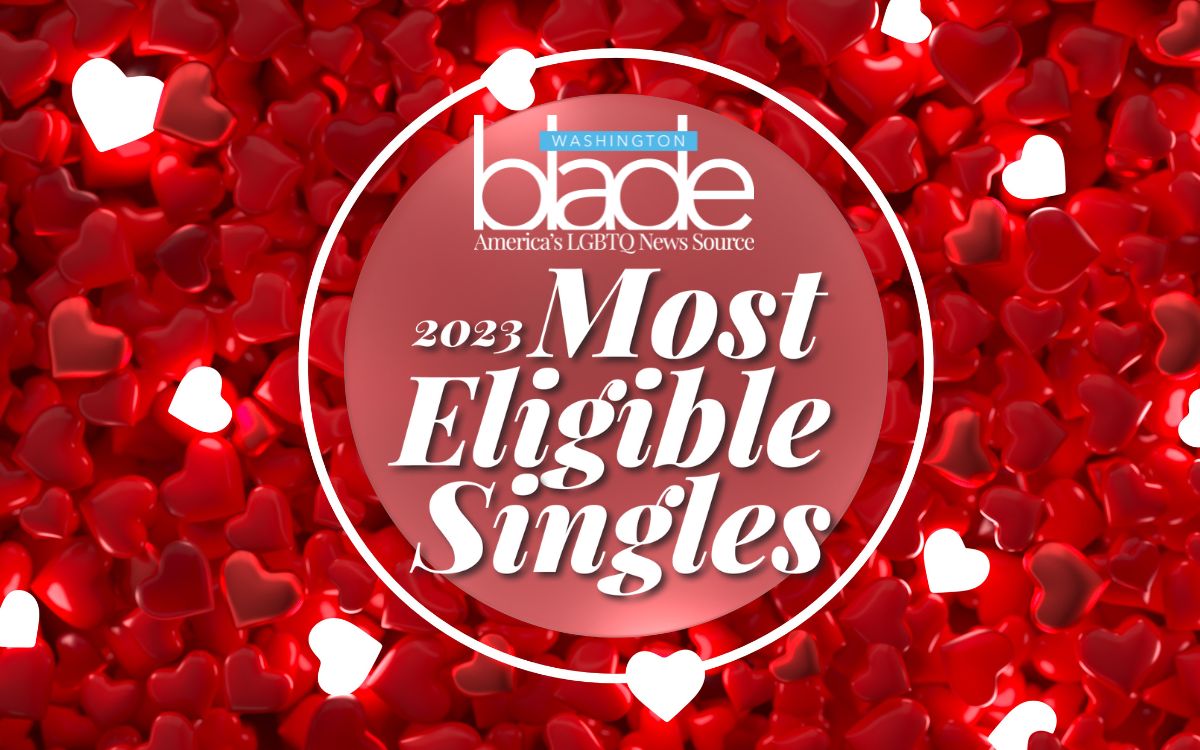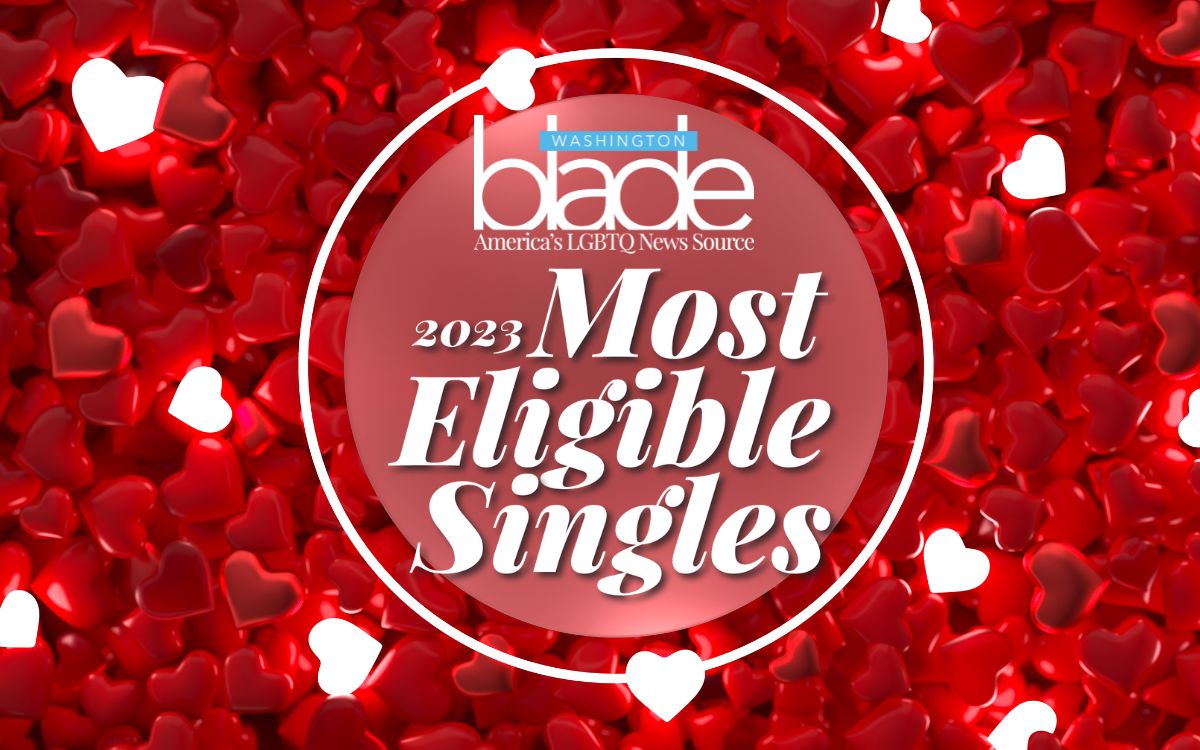 Each year, the Blade seeks our readers' help in identifying the most eligible local LGBTQ singles. Just in time for Valentine's Day, we present this year's list.
Matthew Koerber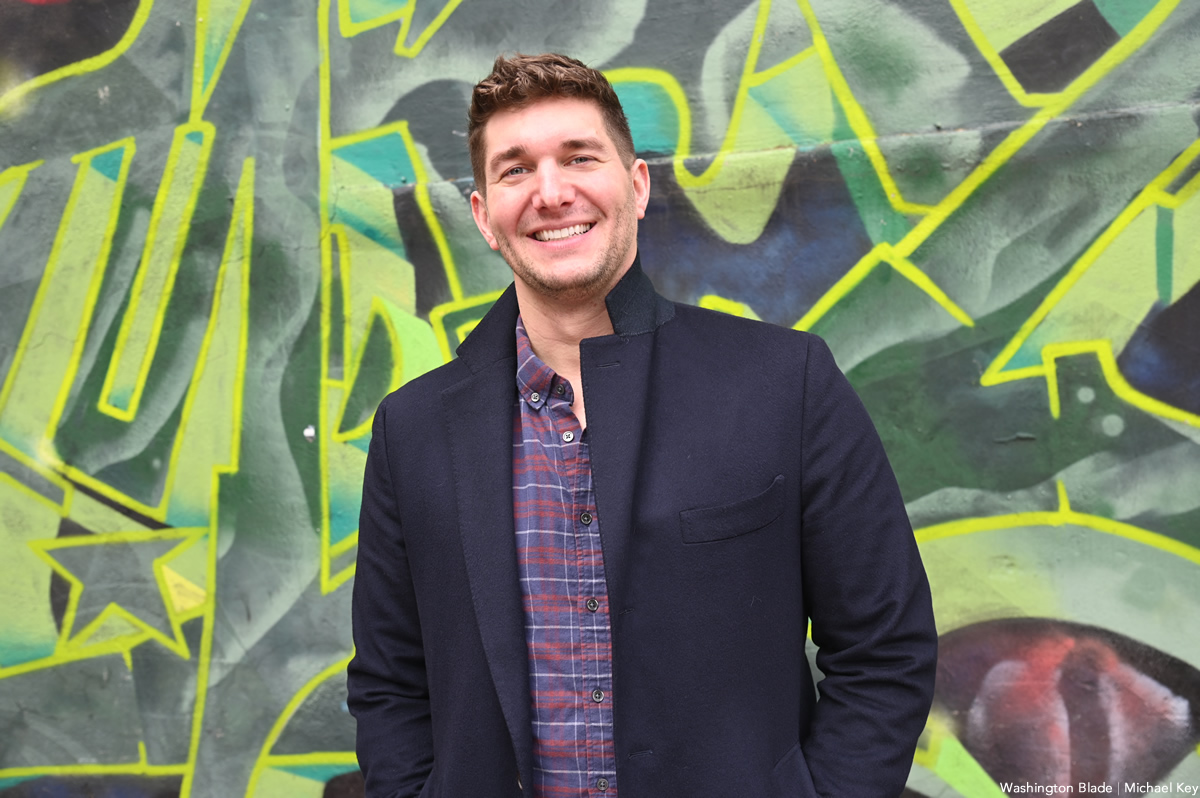 Age: 33
Occupation: Realtor
How do you identify?: Gay
What are you looking for in a mate? Someone accomplished, compassionate, and with a compatible sense of humor and set of values.
Biggest turn off: Green text messages
Biggest turn on: Someone who knows their way around the kitchen
Hobbies: Entertaining friends, singing in the car, and playing my guitar.
What is your biggest goal for 2023?: Finally take my mom on that trip to Paris.
Pets, kids, or neither?: I plead the fifth
Could you date someone whose political views differ from your own?: Within reason
Celebrity crush: Chris Hemsworth
Name one obscure fact about yourself: Will moonwalk after a few drinks.
---
Kelsey Watson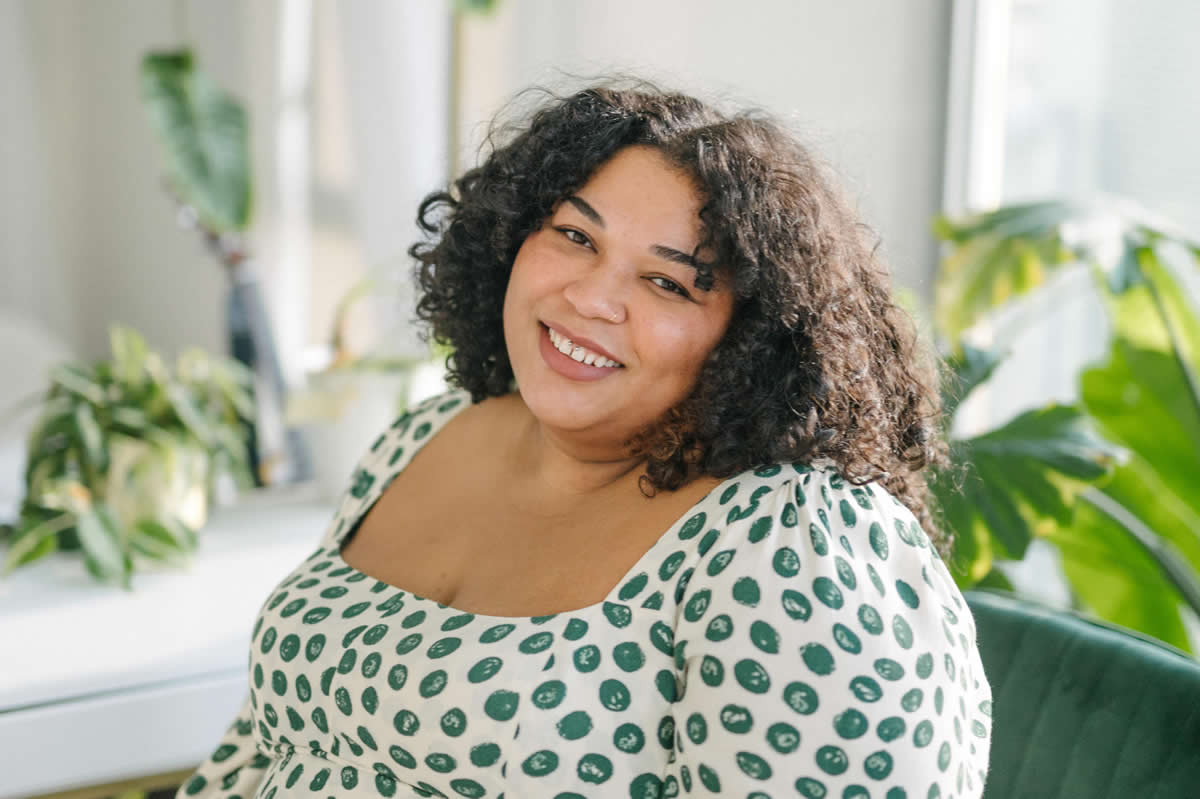 Age: 28
Occupation: Nonprofit professional
How do you identify?: As a Black queer cis-woman
What are you looking for in a mate? I enjoy being around people who are funny and curious. I connect best with folks who have a shared sense of humour and can hold a conversation with just about anyone. I also prefer those who have some level of experience with nonmonogamy.
Biggest turn off: Fatphobia and hot breath
Biggest turn on: Kindness, banter, eye contact, and being fine
Hobbies: I spend my non-work time doing beer education, making elaborate meals for myself, gardening, and spending time with friends.
What is your biggest goal for 2023?: To start running my own beer education experiences, and to fold my laundry as soon as it comes out of the dryer.
Pets, kids, or neither?: Neither
Could you date someone whose political views differ from your own?: Absolutely the fuck not.
Celebrity crush: Raven Saunders, the very fine track and field Olympian. Somebody set me up.
Name one obscure fact about yourself: I like to hunt. I'm new to the sport and would love to find folks in the area to go out with.
---
Barbi Lopez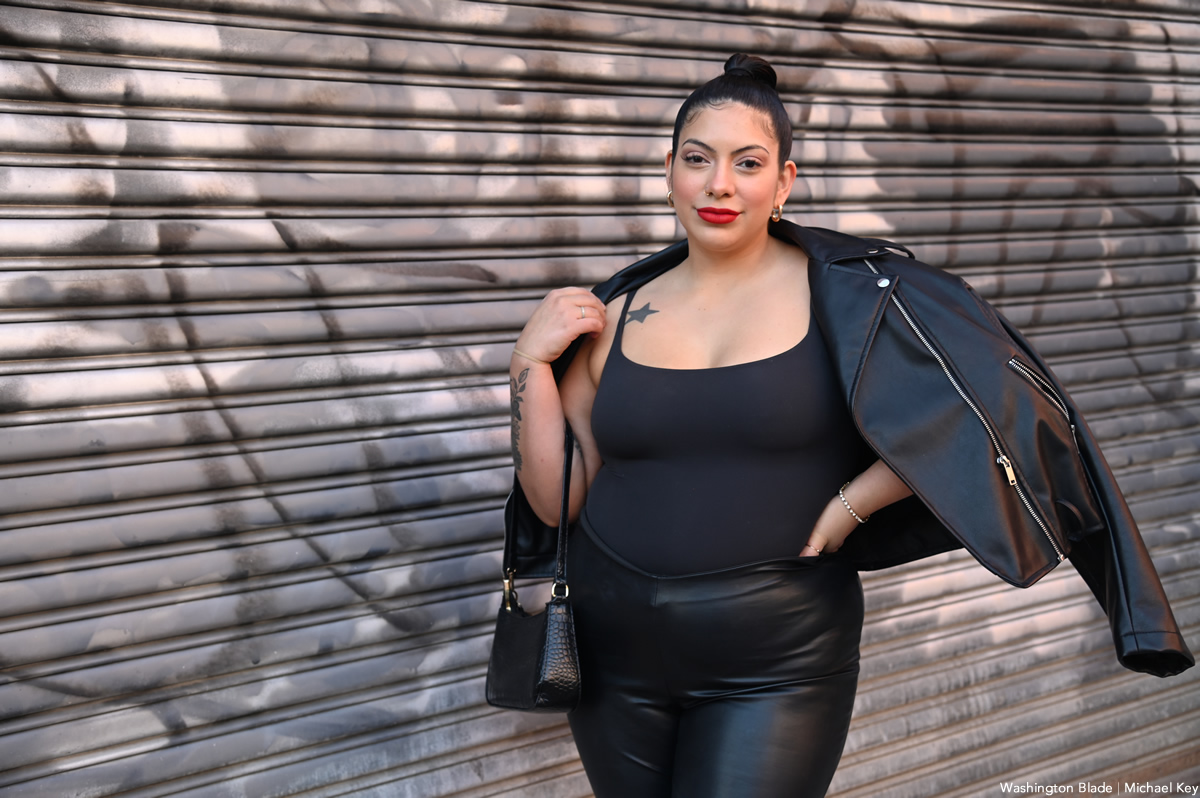 Age: 30
Occupation: Bar manager/bartender
How do you identify?: She/her
What are you looking for in a mate? Someone who is emotionally intelligent, adventurous, ambitious, spiritual, and wants to grow together (in every aspect).
Biggest turn off: Immaturity
Biggest turn on: A submissive dom
Hobbies: Pilates, traveling, reading, writing poetry, and anything in nature!
What is your biggest goal for 2023?: Travel back home to Argentina to see my family
Pets, kids, or neither?: A cat my son names Bruno
Could you date someone whose political views differ from your own?: Depends
Celebrity crush: Kehlani
---
Philip Pannell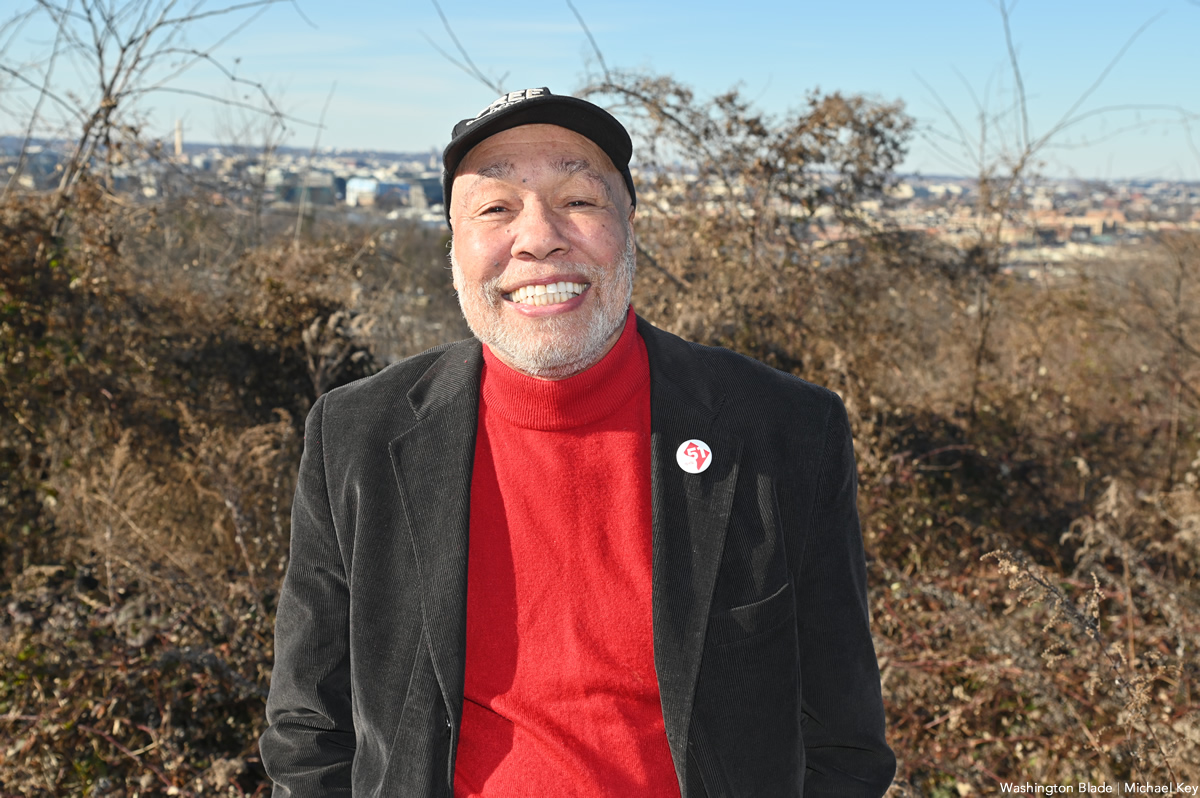 Age: 72
Occupation: Non-profit executive director
How do you identify?: Gay
What are you looking for in a mate? An active advocate for social, political and economic progress.
Biggest turn off: Lack of engagement with community issues
Biggest turn on: Commitment to community progress
Hobbies: Community volunteerism and playing bridge
What is your biggest goal for 2023?: Helping to end violence and statehood for DC
Pets, kids, or neither?: Neither
Could you date someone whose political views differ from your own?: Highly improbable but not impossible
Celebrity crush: I cannot have a crush on someone I have not personally met
Name one obscure fact about yourself: I watch Fox News
---
Michael Wolfe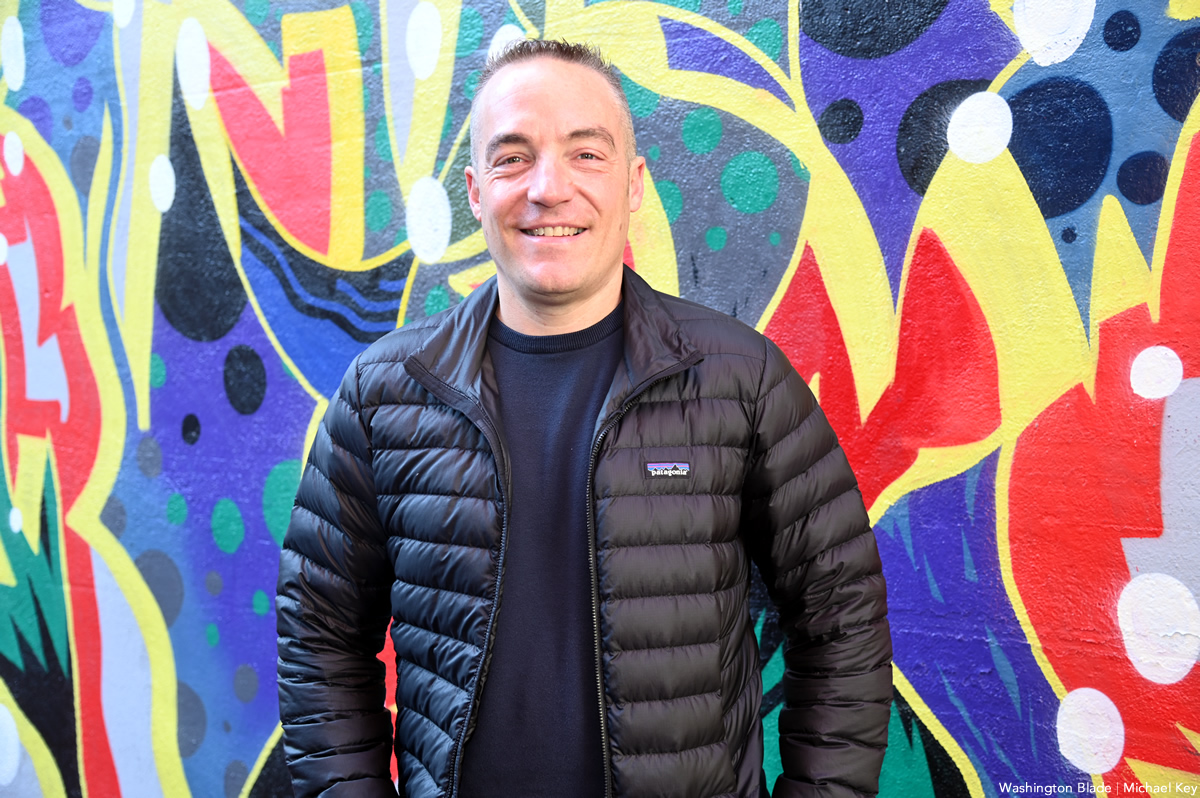 Age: 43
Occupation: Recruiter
How do you identify?: Gay
What are you looking for in a mate? Someone who is independent, spontaneous, low drama and an open and honest communicator with a sense of humor.
Biggest turn off: Selfishness, pretentious, disrespectful of others, takes things they shouldn't too seriously
Biggest turn on: Collaborative, inclusive, cares about others as much as they care about themselves, solid communication skills, not required but bonus points if you appreciate Coke Zero over Diet Coke and love Chipotle as well!
Hobbies: I love to travel and have a long list of places in the world I want to go, and would want someone willing to come on that adventure with me, even if that means hopping on a plane spontaneously tomorrow at the last minute. Enjoy exploring DC (theater, concerts, special events etc.), weekend brunching with friends, and playing social LGBTQIA+ kickball.
What is your biggest goal for 2023?: Continue to live life to the fullest both personally and professionally while surrounding myself with good, positive people.
Pets, kids, or neither?: I love dogs (had a dog for 13 years who passed a few years ago), open to considering another one (or two!) someday.
Could you date someone whose political views differ from your own?: Yes, up to a point
Celebrity crush: Jay Hernandez, Chris Evans, Patrick Mahomes
Name one obscure fact about yourself: I've lived in 18 different apartments/homes in my ~21 years living in the DC metro area – as you can tell, I'm definitely not afraid of moving.
---
Mel May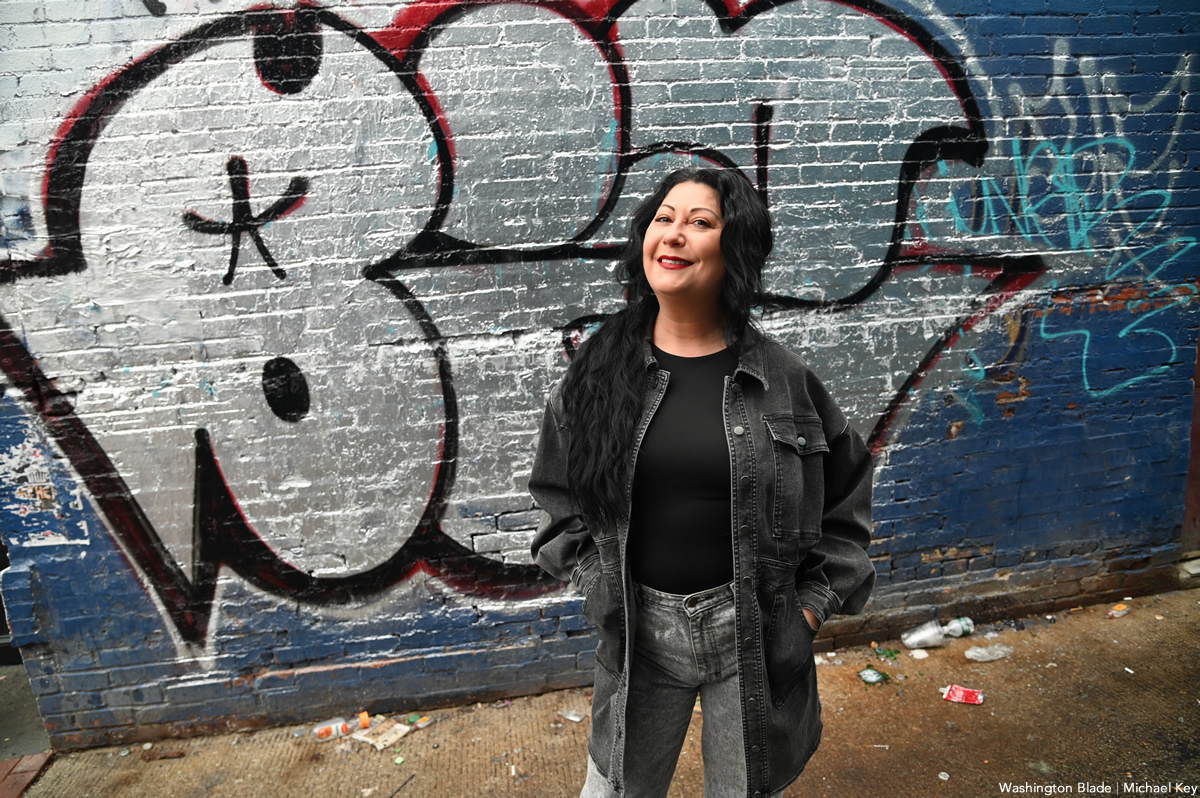 Age: 42
Occupation: Recruiting leader
How do you identify?: Queer
What are you looking for in a mate? Someone who is creative, has a dark sense of humor, is grounded, leads with an authentic heart, and appreciates the little moments in life.
Biggest turn off: Lack of empathy, curiosity, adventurous spirit
Biggest turn on: Someone who lives their life out loud and takes risks with their dreams. Is confident and passionate in a relationship. Can hang with witty and weird jokes. Oh, and if they can cook!
Hobbies: I'm a writer at heart. Obsessed with resell, thrift, and consignment objects. Have always loved trying new, creative projects to include crocheting, DIY miniature kits, painting, publishing my own memoir. Always up for exploring and can walk around a city or trail for hours absorbing the experience.
What is your biggest goal for 2023?: Honestly, to be super present with the people I care about and love. It's been a rough few years and it's made me truly appreciate how precious our time is together.
Pets, kids, or neither?: No kids. No pets right now — but you'll hear me talk about my pup who was so sassy & funny (miss my lil guy). Right now, I live vicariously through my friends' pets.
Could you date someone whose political views differ from your own?: No, that's just too loaded these days. Could be friends and have respectful conversations, but I don't have the space for debate in my deeper relationships.
Celebrity crush: Winona Ryder was my first, and still is my biggest crush.
Name one obscure fact about yourself: I was a finalist for the "Tila Tequila" show. Don't judge me — just knew I was auditioning for a queer reality dating show. *smacks forehead*
---
Elizabeth Falcon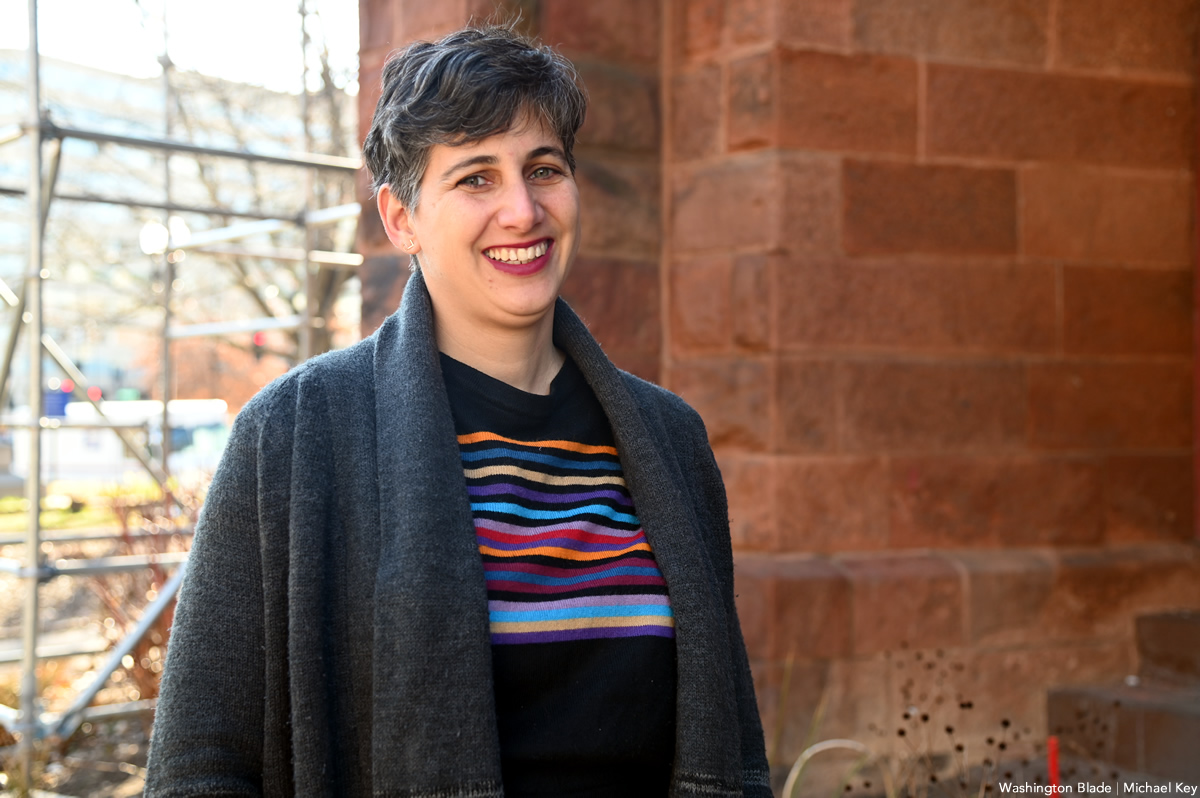 Age: 40
Occupation: Non-profit executive director
How do you identify?: Queer
What are you looking for in a mate? I like to laugh, process the world from the big to the tiny, and collaborate. I want someone who wants to join me in that.
Biggest turn off: Being rude to service workers
Biggest turn on: Direct communication, expression of desires, confidence, playfulness. Know your value and tell me about mine.
Hobbies: Biking around town, illegally swimming in the Potomac, listening to too many podcasts, the Libby app, planting perennials, starting a garden then forgetting to water it, baking when I have the patience to clean the kitchen after, coordinating my friends to plan meals together
What is your biggest goal for 2023?: Living with patience (see next question)
Pets, kids, or neither?: I have a one-and-a-half year-old kiddo I'm raising on my own. I also live with a cat, but the cat is my roommate's.
Could you date someone whose political views differ from your own?: There's a wide spectrum of what this means, but I wouldn't date someone who I fundamentally didn't share agreement about the problems with white supremacy, capitalism, and the impacts of gentrification in DC. TL;DR probably no.
Celebrity crush: Janelle Monae, Mae Martin, E.R Fightmaster, Sara Ramirez
Name one obscure fact about yourself: I grew up on a dairy farm
---
Chloe Thompson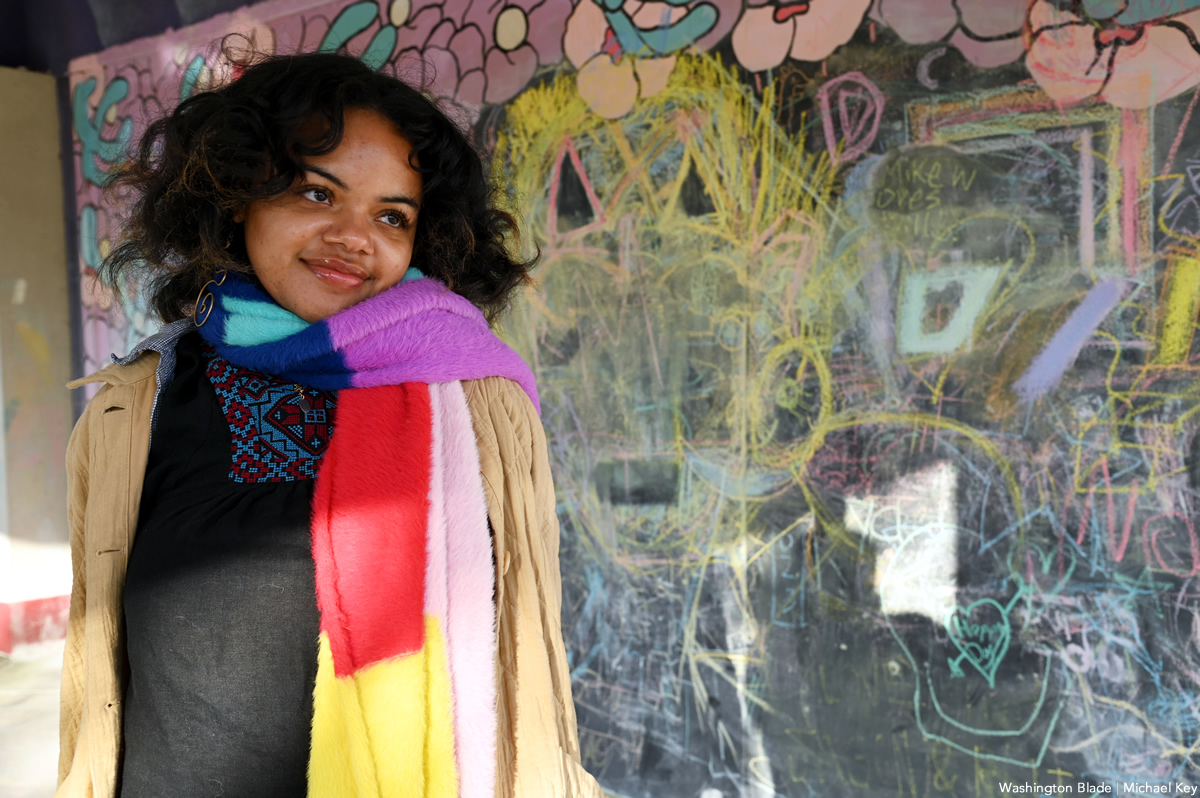 Age: 25
Occupation: Community Manager at TPSS Co-op
How do you identify?: Bisexual/queer woman
What are you looking for in a mate? Someone who is intensely smart, non-secular, building/involved in community, confident, and humble, very sexy, good dancer, curious about the world, a futurist, tall, a defined sense of personal style, and very funny.
Biggest turn off: Using Siri or Alexa (ever), drinking alcohol (I'm Muslim), being cynical or pessimistic, not talkative, being stingy, lacking imagination and refusing to dance!
Biggest turn on: A person who is totally in love with the world, for the good and the bad. Also, beautiful hands.
Hobbies: Reading critical theory and science fiction, yoga, watching and learning about film, writing, reading tarot, praying, learning rock climbing, going to museums, cooking excellent food
What is your biggest goal for 2023?: Create intentional Black and Brown community. Be amazed by the goodness of life, daily.
Pets, kids, or neither?: I have neither, but I want 3 daughters and 2 dogs. Ready to get started creating my semi-big family whenever
Could you date someone whose political views differ from your own?: Yeah! As long as you have an inherent distrust of the state, we're good to go.
Celebrity crush: Kehlani. Real ones know.
Name one obscure fact about yourself: I'm secretly very bashful.
---
Maria Miller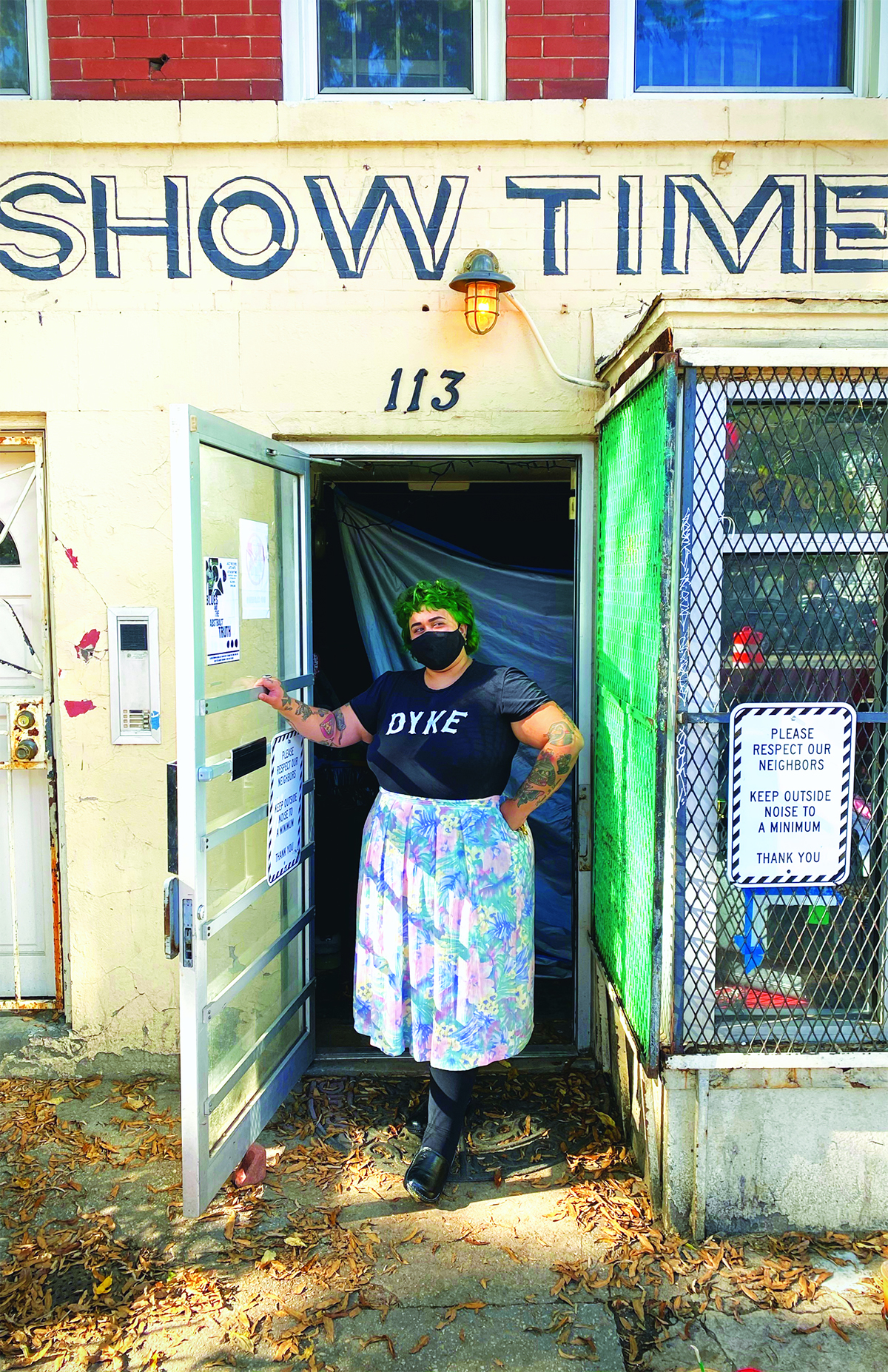 Age: 31
Occupation: Bartender, produce slinger, sandwich artisan
How do you identify?: Dyke
What are you looking for in a mate? A genuinely nice and kind person. That answer seems simple, but you'd be surprised.
Biggest turn off: Bad tippers, rude customers, people who eat dry sandwiches.
Biggest turn on: Kind eyes, a nice smile, thoughtfulness, direct communication.
Hobbies: Thrifting, going to shows, making art, organizing in the community, getting tattoos
What is your biggest goal for 2023?: I have some big plans and that's all I can really say!
Pets, kids, or neither?: A dog named Gravy
Could you date someone whose political views differ from your own?: That doesn't seem smart
Celebrity crush: Alive: Charli XCX and Yseult Onguenet, Not Alive: Selena and Aaliyah
Name one obscure fact about yourself: I have two baby teeth!
---
Al Castillo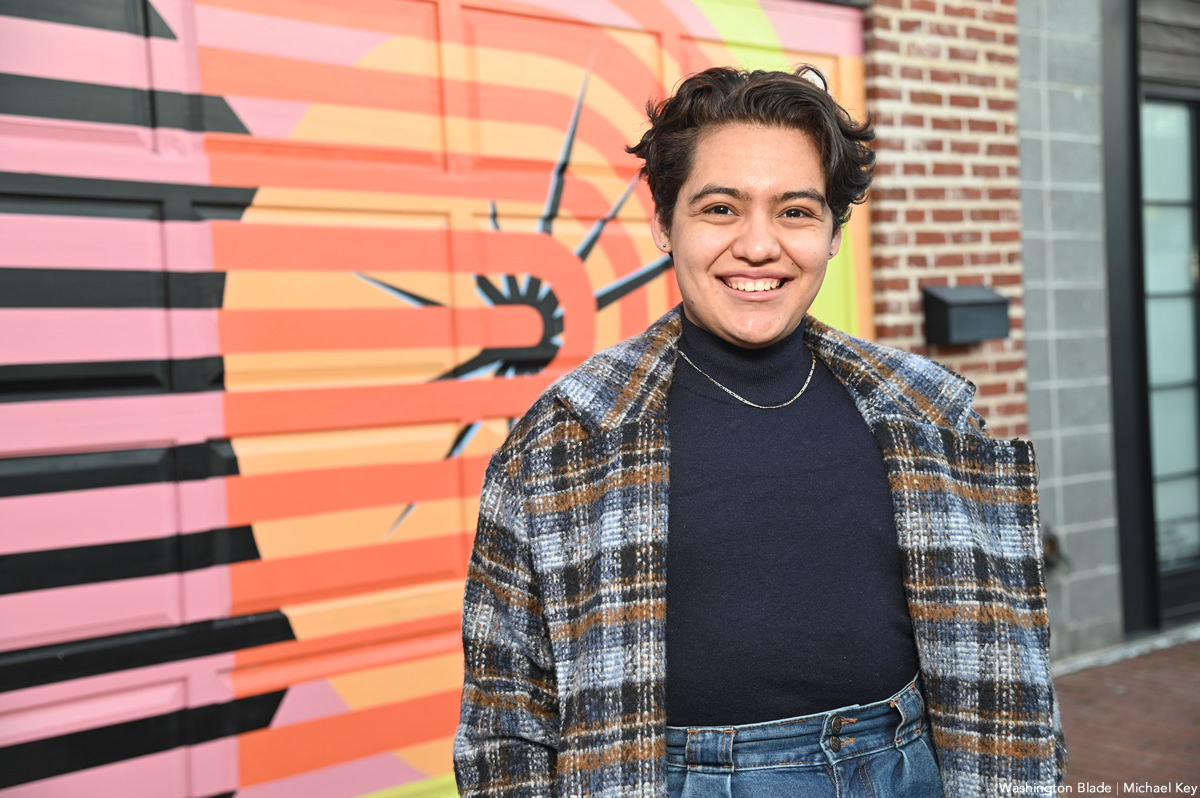 Age: 22
Occupation: Research specialist
How do you identify?: Queer trans man
What are you looking for in a mate? Someone who is emotionally mature, willing to be spontaneous and willing to venture into the world together, but also able to enjoy a quiet day inside watching our favorite cartoon with our pets cuddled next to us on the couch.
Biggest turn off: Being out of touch with the local community and disrespecting physical and emotional boundaries.
Biggest turn on: Taking initiative and being comfortable acting silly and goofy!
Hobbies: Dancing like I am lip-syncing for my life, playing Nintendo and classic arcade games, cocktail making, and spending time with my loved ones.
What is your biggest goal for 2023?: I am beginning my fitness journey by going to the gym more often and becoming more active. I also started learning Spanish this year, so I am hoping to improve my Spanish speaking and listening skills throughout the year.
Pets, kids, or neither?: I have a dog named Dana Scully and my roommate Siena has a kitten named Fox Mulder, just like the characters from the X-Files.
Could you date someone whose political views differ from your own?: No
Celebrity crush: Patrick Dempsey and Rina Sawayama
Name one obscure fact about yourself: I am double-jointed and I can do a jump split (give me some time to stretch though, it's been a while)
---
Aurora Lloyd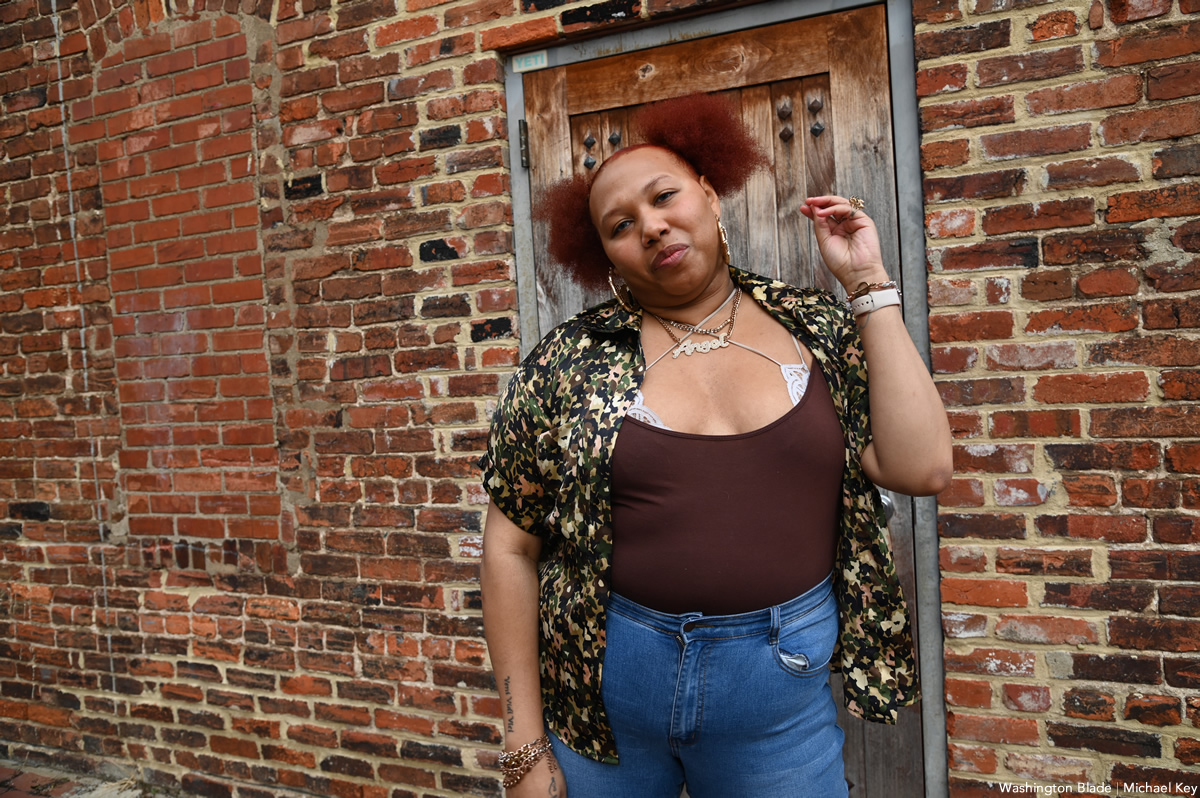 Age: 30
Occupation: Entertainer/Entrepreneur/Activist
How do you identify?: Transsexual woman
What are you looking for in a mate? Someone who wants commitment and understands what it means to build a foundation and grow. Has emotional intelligence and is in therapy. Wants the most out of life. And it doesn't hurt if you are a cutie too!
Biggest turn off: Willful ignorance, blatant disrespect, and judgmental people
Biggest turn on: Intelligence emotional and mental! I love nerds being one myself. Knows how to love and treat Black women.
Hobbies: Video games, anime, reading books, making music, watching movies/shows, traveling, hanging with friends and family, napping, going out to eat, and museums
What is your biggest goal for 2023?: To release my new music and perform, travel, and increase my income.
Pets, kids, or neither?: I have one cat, no biological kids but open to having some but I do have five "queer" kids, lol.
Could you date someone whose political views differ from your own?: I would be open to it, but it just depends on what particular views because politics are not just one vacuum from normal having history with working on the Hill, there are layers.
Celebrity crush: Michael B. Jordan and Tyler James Williams
Name one obscure fact about yourself: I really have a thing for archery
---
Andrew Bunting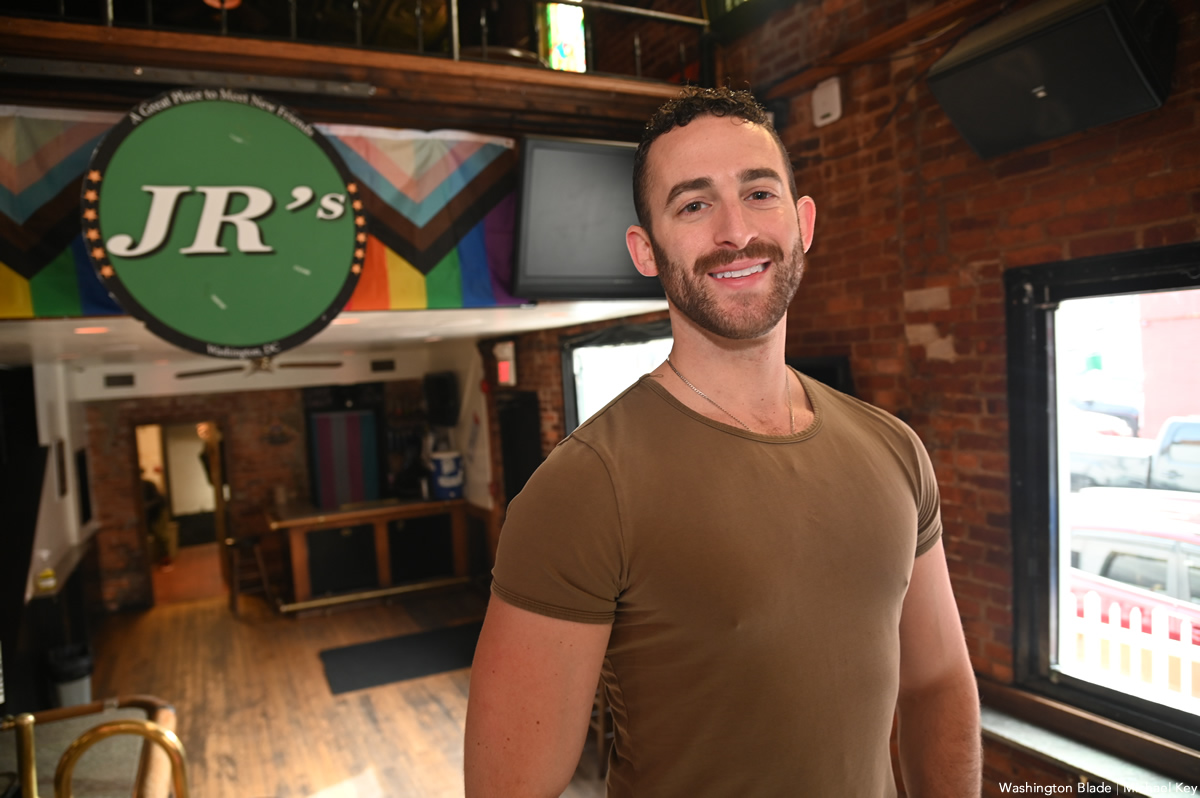 Age: 34
Occupation: Higher education administration/bartending
How do you identify?: Gay
What are you looking for in a mate? Someone who is authentic, witty, driven, empathetic, intelligent, and adventurous. I'm looking for someone who understands the importance of self-care, and also knows how to both work and play hard.
Biggest turn off: My biggest turn off is unwanted pressure. The quickest way to make me no longer interested is to try to constantly pressure me to do something. The moment that I feel that type of pressure I start to feel smothered and I lose all interest.
Biggest turn on: Confidence, decisiveness, and a drive to enjoy life. A great smile and being a good kisser doesn't hurt either!
Hobbies: My interests are really varied, and range from enjoying a day visiting local wineries to catching a movie with friends. Bartending (formerly at Cobalt and now at JR.'s) also takes up a lot of my weekend time, and is, for me, less of a job and more of a hobby.
What is your biggest goal for 2023?: My biggest goal for 2023 is to strive for balance and be intentional about how I use my time. I want to make sure that I am focusing on the right things for the right reasons. For me, that means making sure that I'm connecting with my family and friends (and potential love interests), focusing on my career, and making sure I still have enough time for self-care.
Pets, kids, or neither?: I don't have a pet now, but I'm open both dogs and cats (I grew up with cats and have lived with dogs). Kids are not in my future.
Could you date someone whose political views differ from your own?: An interesting question, and I really think it is more about one's fundamental values than political affiliation. Would I date someone who disagrees with me about specific policies? Sure! But would I date someone who denies things like climate science, vaccines, or the fundamental rights of others? Definitely not.
Celebrity crush: Zac Efron (back off, he's mine!)
Name one obscure fact about yourself: I've never, in my life, eaten Taco Bell (and I don't plan to)
---
Javen Marquise Kostrzewa
Age: 30
Occupation: JD/MBA student at Georgetown
How do you identify?: Bisexual
What are you looking for in a mate? Someone who is emotionally intelligent, career driven and wants to have a family and get married. If you can make me laugh that is the key to my heart.
Biggest turn off: Being rude to service staff; surface-level interactions, and fear of commitment.
Biggest turn on: Ambition, sense of humor and dedication to pursuit of life balance (mental, physical, and emotional health)
Hobbies: I love to work out and am that weird person who enjoys cardio. Outside of work and the gym I like playing video games, watching anime, and binging TV series (financial crime docs are my favorite).
What is your biggest goal for 2023?: Finish law school strong, but make more time for social activities.
Pets, kids, or neither?: Both! I absolutely love dogs (allergic to cats) especially big dogs (Great Dane is my dream dog). I love kids — my nieces and nephews are bright lights in my life. I want to eventually adopt (I grew up in foster care and was adopted.)
Could you date someone whose political views differ from your own?: It depends on where they differ. If we differ on civil rights and equality, that's non-negotiable.
Celebrity crush: Michael B. Jordan
Name one obscure fact about yourself: I sang a tribute for Bill Withers as part of the Songwriters Hall of Fame project. (Bill was hilarious!)