Husband of Luxembourg's gay prime minister joins NATO spouse photo
Destenay was the only male in the group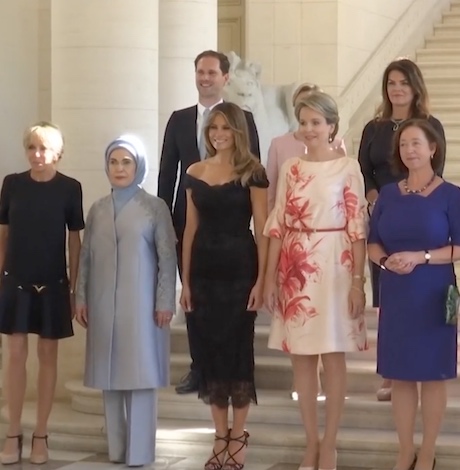 Gauthier Destenay, the husband of Luxembourg's prime minister Xavier Bettel, caused a buzz on social media when he appeared alongside other spouses of world leaders at the NATO summit in Brussels.
Destenay was notably the only male in the group as he posed for a picture with the rest of the women smiling from ear to ear.
He and Bettel had been in a civil partnership when Bettel became prime minister in 2013. The pair was married in 2015 when same-sex marriage became legal in Luxembourg.
Destenay appeared next to First Lady Melania Trump, First Lady of France Brigitte Macron, First Lady of Turkey Emine Gulbaran Erdogan, Queen Mathilde of Belgium, Ingrid Schulerud, Desislava Radeva, Amelie Derbaudrenghien, Mojca Stropnik and First Lady of Iceland Thora Margret Baldvinsdottir.
the best thing I've seen in a while;"husband of Luxembourg's gay PM joined other NATO leaders' spouses for a photo op" #GauthierDestenay ? pic.twitter.com/QFYU4aGnSg

— Beyza Burcak (@beyzaburcak) May 26, 2017
I love this. ? #Luxembourg's openly gay first husband, #GauthierDestenay, poses with other NATO world leader spouses. pic.twitter.com/YPekSCplEQ

— Curtis Kimberlin Jr. (@SirKimberlin) May 26, 2017
This picture is just everything. Simple statement of equality #pride #lgbt #Luxembourg #gauthierdestenay
(AURORE BELOT/AFP/Getty Images) pic.twitter.com/tiByhWPeEi

— Alan Palmer (@PalmerAlan) May 26, 2017
Watch the spouses line up for the photo below.
Bill calls for designating D.C. street in honor of gay former slave
Black resident called 'early pioneer' for LGBTQ rights in 1880s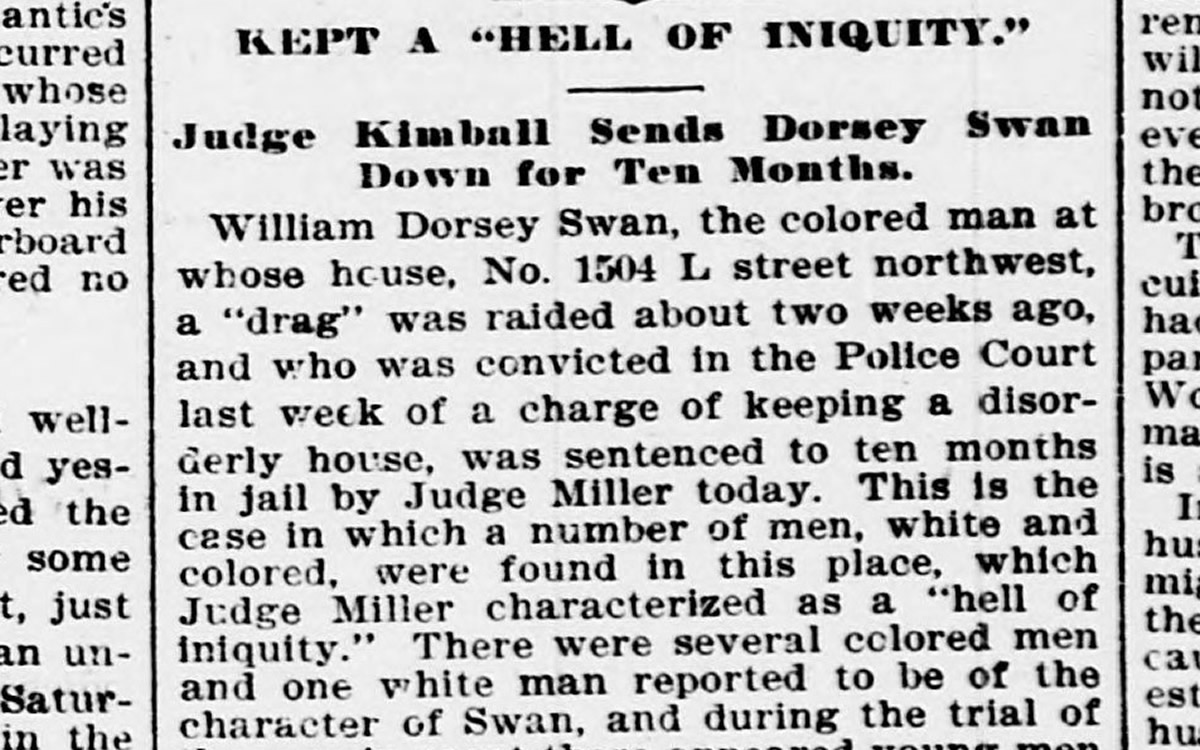 The D.C. Council is expected to approve a bill that calls for designating Swann Street, N.W., near Dupont Circle in honor of William Dorsey Swann, a little known Black gay D.C. resident and former slave who is credited with leading a group that organized drag shows in the late 1800s.
A statement released by D.C. Council member Brooke Pinto (D-Ward 2), who introduced the bill along with 10 other Council members, including gay Council member Zachary Parker (D-Ward 5), says William Dorsey Swann was an early pioneer in LGBTQ rights who referred to himself as "The Queen of Drag."
"Beginning in the 1880s, William Dorsey Swann ran a group known as the 'House of Swann' and organized balls, largely attended by queer, formerly enslaved men who would gather to dance and cross dress," according to Pinto's statement, which she released on Feb. 28 at the time she and the other Council members introduced the bill.
"William Dorsey Swann was persecuted by the authorities and arrested multiple times for 'impersonating a woman' and 'keeping a disorderly house,' and was the first American activist to lead an LGBTQQIA+ resistance group," Pinto's statement says. "Swann eventually sought a pardon from President Grover Cleveland, becoming the first American on record to pursue legal action in defense of LGBTQQIA+ rights," the statement says.
Her statement cites the Jan. 24, 1912, edition of the Congressional Record for the U.S. Senate as saying that Swann Street, N.W. had originally been named for Thomas Swann, an "enslaver" who served as mayor of Baltimore and governor of Maryland.
"Officially designating this street in honor of native Washingtonian and trailblazing LGBTQQIA+ rights activist William Dorsey Swann is an opportunity to ensure that our streets honor those who embody the District's value of social equality and human dignity," the statement says.
"The location of Swann Street, N.W. provides a physical and symbolic representation of the District's Black Queer community, sitting both within the Strivers' Section Historic District, a historic Black neighborhood, and the Dupont Circle neighborhood, the historic epicenter of D.C.'s LGBTQQIA+ community," it says. The street would maintain the current nomenclature and signage as 'Swann Street,'" the statement concludes.
Swann Street is located between 14th Street, N.W. and 19th Street, N.W. and parallel to and between S Street, N.W. and T Street, N.W.
Pinto's statement says William Dorsey Swann is believed to have been born in 1858 and died in 1925.
At the time of its introduction, the bill, called the William Dorsey Swann Street Designation Act of 2023, was sent to the Council's Committee of the Whole, which consists of all 13 Council members.
In addition to Pinto and Parker, the Council members who co-introduced the bill include Council Chair Phil Mendelson (D-At-Large), Brianne Nadeau (D-Ward 1), Robert White (D-At-Large), Kenyan McDuffie (I-At-Large), Charles Allen (D-Ward 6), Janeese Lewis George (D-Ward 4), Vincent Gray (D-Ward 7), Anita Bonds (D-At-Large), and Matthew Frumin (D-Ward 3).
Lindsey Walton, a spokesperson for Mendelson, said the Committee of the Whole voted unanimously on March 21 to approve the bill, which was expected to come before the full Council on April 4 for the first of two required votes.
One potential problem for the immediate passage and implementation of the Swann Street bill surfaced in a March 21 memo prepared by D.C. Chief Financial Officer Glen Lee and sent to Council Chair Mendelson.
Lee says in his memo that the D.C. Department of Parks and Recreation has determined it will cost $30,000 to fabricate and install a commemorative sign called for under the bill explaining the historic background of William Dorsey. It says the sign is to be located at the intersection of Swann Street, New Hampshire Avenue, and 17th Street, N.W.
"Funds are not sufficient in the fiscal year 2023 through fiscal year 2026 budget and financial plan to implement the bill," Lee says in his memo. "Department of Parks and Recreation will need to work with ANC 2B to design the sign and then will fabricate and install it…The fabrication and installation will cost $30,000 and the agency is unable to absorb the cost within its existing budgeted resources," the memo says.
Walton, Mendelson's spokesperson, said Mendelson and the other supporters of the bill on the Council will look for funds for the $30,000 needed to implement the bill in the city's supplemental budget.
Former Trump official elected president of D.C. Log Cabin Republicans
Says GOP group welcomes 'wide spectrum' of conservative adherents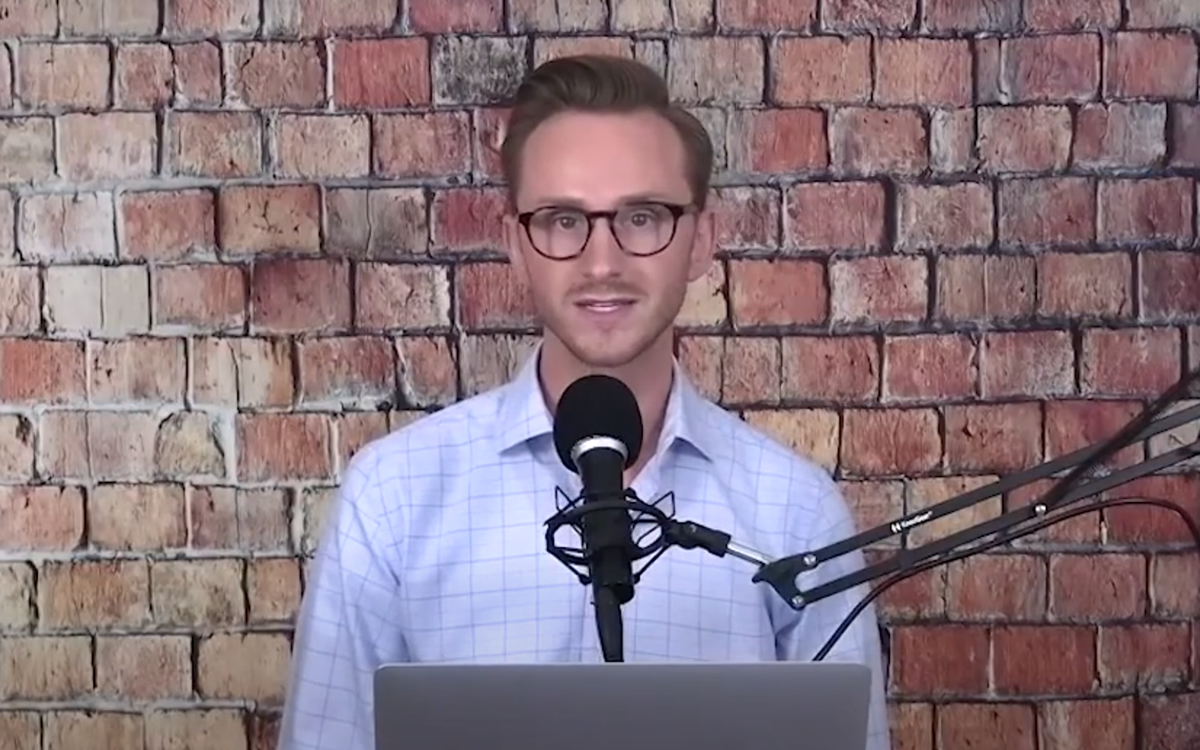 Log Cabin Republicans of D.C., the local chapter of the national LGBTQ Republican organization with the same name, earlier this month elected former Trump administration official Thad Brock as its new president.
Brock replaces longtime GOP activist Adam Savit, who served as the D.C. Log Cabin group's president for the past two years. The local group held its officers election on March 7 during a meeting in which U.S. Sen. Joni Ernst (R-Iowa) appeared as a guest speaker.
Brock served from 2018 to 2019 during the Trump administration as Assistant to the Administrator at the U.S. General Services Administration, according to his LinkedIn page.
His LinkedIn page says he served from 2019 to January 2021 as Special Assistant to the CEO at the Millennium Challenge Corporation, an independent U.S. agency that works with the State Department to help facilitate foreign trade and assistance for developing countries.
Brock told the Blade the two positions were presidential appointments.
Information released by the D.C. Log Cabin group says its members also elected Andrew Mink as vice president, Matthew Johnson as secretary, Greg Wallerstein as treasurer, and Andrew Desser, Tyler Stark, and Jaime Varela as at-large board members.
"Log Cabin Republicans is the nation's largest Republican organization dedicated to representing LGBT conservatives and allies," the national Log Cabin group states on its website. "For more than 40 years, we have promoted the fight for equality through our state and local chapters, our full-time office in Washington, D.C., and our federal and state political action committees," the statement says.
"We believe in limited government, strong national defense, free markets, low taxes, personal responsibility, and individual liberty," the statement continues. "We believe equality for LGBT Americans is in the finest tradition of the Republican Party," it adds, an assertion that many LGBTQ Democrats strongly dispute.
Asked what he thought about the Trump administration's record on LGBTQ rights, Brock said he would defer that question to Charles Moran, president of the National Log Cabin Republicans.
In discussing plans for the D.C. Log Cabin group, Brock said he and the newly elected board members will continue the types of activities and emphasis of the former board and former President Savit.
"We will definitely continue to build off the success of the former board members and continue with speakers and events that are representative to the interest of our membership," he said. "But one of our big focuses will be meeting people where they are," he said, noting that plans were underway to hold events in different D.C. neighborhoods.
"I think one of the things that we're also really looking forward to doing is a really big recruitment push to get a lot more members on the conservative spectrum that share a wide variety of ideas," he said.
But Brock said he and his fellow board members will likely retain a policy put in place by Savit and the previous board in which most of the group's meetings and events are closed to the press.
"The culture of our membership is strengthened by an open and honest dialogue with our speakers," he said, which have included GOP members of Congress. "For a better free-thinking environment, we have limited access for the press to attend," Brock said. "If there is an event that warrants press availability, I will certainly let you know," he said.
LGBTQ ally Humza Yousaf becomes Scotland's next first minister
Nicola Sturgeon resigned in February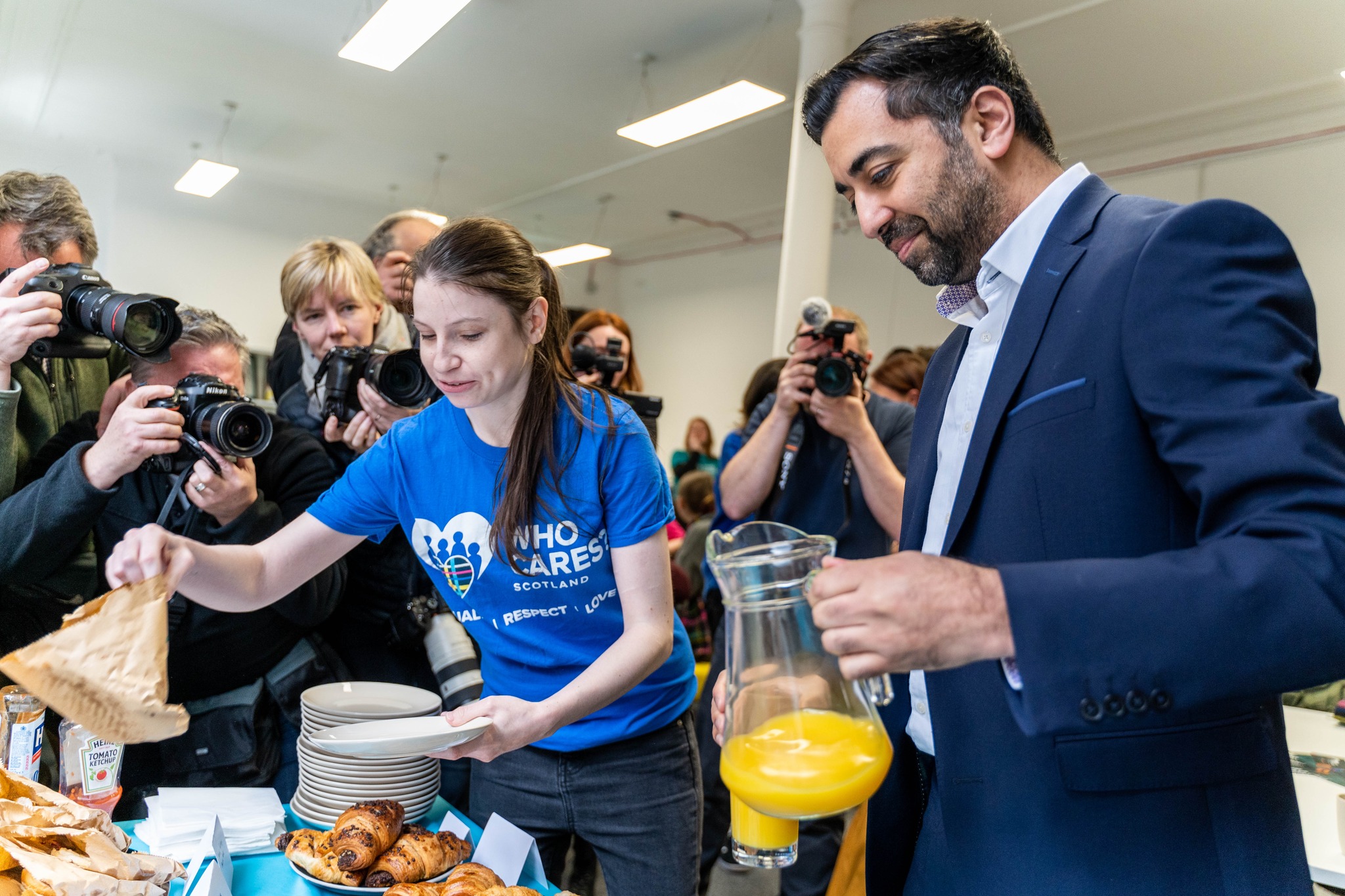 Humza Yousaf, in a tumultuous election race for leadership of the Scottish National Party pitted against socially conservative rivals Kate Forbes and Ash Regan, was elected Monday as SNP leader. He becomes the first Muslim to lead a major U.K. political party and the first Muslim to lead a European democracy.
In a vote in the Scottish Parliament (Holyrood) on Tuesday, Yousaf was confirmed as Scotland's next first minister, replacing Nicola Sturgeon. Sturgeon had resigned as the SNP leader and Scotland's first minister last month, setting off a close contest within the party to succeed her.
Her decision was tied to two key political challenges: The future of the independence campaign and changes to Scotland's gender recognition laws. In January Sturgeon castigated the conservative government of U.K. Prime Minister Rishi Sunak for blocking the Gender Recognition Reform (Scotland) Bill from being signed into law by King Charles III.
The Gender Recognition Reform bill introduced by the Scottish government in Holyrood last spring was passed in a final 86-39 vote days before this past Christmas. The sweeping reform bill modifies the Gender Recognition Act, signed into law in 2004, by allowing transgender Scots to gain legal recognition without the need for a medical diagnosis.
The measure further stipulates that age limit for legal recognition is lowered to 16.
The Guardian noted the most pressing question is how a change of leadership affects the Scottish government's plans to contest the U.K.'s decision to block the bill, which it did using section 35 of the Scotland Act 1998, described by sources as "the nuclear option." Scottish ministers have three months from the date the section 35 order was laid — Jan. 16 — to contest it.
PinkNewsUK reported that Yousaf had received a tidal wave of support and well wishes after his victory was announced. SNP MP John Nicolson said that Yousaf led a "positive and bold campaign."
"Humza knows that young voters love our party's vision of a liberal, progressive, egalitarian independent Scotland," Nicolson said. "His campaign promised a progressive agenda of fair taxation, defending LGBT+ rights from Westminster attack, and support for the vulnerable at home and abroad."
Speaking to PinkNews, Nicolson added: "I think young people want a Scotland which is socially progressive and liberal. And for young people, independence isn't about a face, but it's about the kind of country that they imagine independent Scotland could be — a progressive country — and Humza very deliberately tapped into that in the course of the election campaign and made it very clear what his views were and championed that."
During the campaign Yousaf had promised voters, "If elected Scottish National Party (SNP) leader and Scotland's next first minister, I'll build on our track record of promoting and protecting the rights of LGBTQ+ people by: (1) banning conversion practices and (2) embedding LGBTQ+ rights in an independent Scotland's constitution."
Lots of 🏳️‍🌈 🏳️‍⚧️ LGBT+ people are breathing a collective sigh of relief with @HumzaYousaf on track to be Scotland's sixth First Minister. The fact we came 𝘀𝗼 𝘃𝗲𝗿𝘆 close to the alternative ought not to be forgotten. We all need to be involved in writing Scotland's next chapter.

— Rob McDowall AMRSPH FRSA (@robmcd85) March 27, 2023
Scotland chose to reject transphobia and anti abortion religious fundamentalism. 👏❤️🏴󠁧󠁢󠁳󠁣󠁴󠁿🏳️‍🌈 https://t.co/tPW8QHwIYj

— Esme (@discount_Ripley) March 27, 2023
A political commentator and SNP source told the Washington Blade on Monday they are "happy with the result and motivated by what is to come. Humza has secured the continuation of a progressive agenda. I think he will be more popular as he becomes more well-known."