Best of Gay D.C. 2017: PEOPLE
Winners from the Washington Blade's annual poll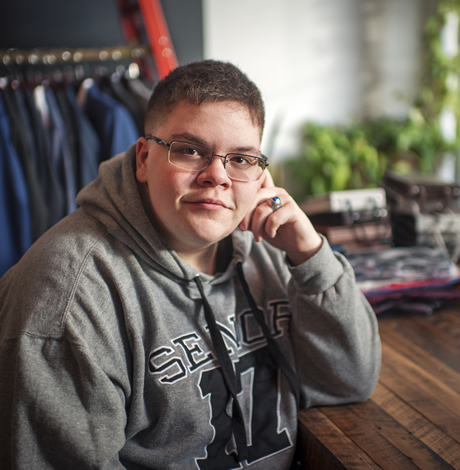 Local Hero
Gavin Grimm
The American Civil Liberties Union in 2015 filed a federal lawsuit on behalf of Gavin Grimm, who was a student at Gloucester County High School in Gloucester, Va., at the time.
Grimm and his lawyers argued the Gloucester County School District's policy that prohibited him from using the boys restroom or locker room because they were not consistent with his "biological gender" is unconstitutional under the 14th Amendment's Equal Protection Clause. The lawsuit also alleged the regulation violated Title IX of the U.S. Education Amendments of 1972 that prohibits schools receiving federal funds from discriminating on the basis of sex.
The Justice Department under the Obama administration argued in Grimm's case that Title IX requires school districts to allow trans students to use restrooms that correspond to their gender identity. The Department of Education's Office of the General Council at the time also filed a brief in support of Grimm.
The 4th U.S. Circuit Court of Appeals in Richmond — which is the first federal appeals court to consider whether Title IX allows trans students to use facilities that are consistent with their gender identity — in April 2016 ruled in favor of Grimm. The Gloucester County School District subsequently announced it planned to petition the U.S. Supreme Court to hear the case.
The Supreme Court last October said it would hear Grimm's case. Oral arguments were scheduled to take place on March 28, but the justices remanded the case to the 4th Circuit after President Trump rescinded the Title IX guidance.
The 4th Circuit in July sent Grimm's case back to the U.S. District Court for the Eastern District of Virginia. The ACLU subsequently withdrew Grimm's request for an immediate injunction against the Gloucester County School Board policy.
Grimm, 18, graduated from Gloucester County High School in June.
"I am in this for the long haul," he said in an ACLU press release that announced the decision to amend his case. "I remain hopeful that my case will help make sure that other transgender students are able to attend school safely and without discrimination."
Grimm in February was among those who spoke at a White House protest that corresponded with Trump's decision to rescind the Title IX guidance.
"We will not be silenced and that we will stand with and protect trans youth," said Grimm, speaking through tears with his mother standing by his side. "No matter what happens, no one, not even the government can even defeat a community so full of live, color, diversity and most importantly love."
Equality Virginia and GLAAD are among the organizations that have honored Grimm over the last year.
— MICHAEL K. LAVERS
Best Amateur Athlete
Mark Hofberg, D.C. Gay Flag Football
Runner-up: Grace Thompson, D.C. Front Runners (last year's winner)
Best Artist
John Jack Gallagher
Runner-up: Glenn Fry
John Jack Gallagher has been taking photos since his first boyfriend gave him a 35-millimeter camera for his birthday more than 30 years ago. In 2012, he started shooting professionally after members of the Stonewall Kickball team he'd been photographing insisted he shoot their wedding. This is his second consecutive win in this category. (JD)
Best Businessperson
Dr. Gregory Jones
Capital Center for Psychotherapy & Wellness
1330 U St., N.W.
Runner-up: Bob Witeck
Best Clergy
Bishop Allyson Abrams
Abrams reclaims her 2015 title after being last year's runner-up. Abrams is the founder and pastor of Empowerment Liberation Cathedral in Silver Spring.
Runner-up: Rayceen Pendarvis (last year's winner)
Most Committed Activist
Ruby Corado
Corado was named Best of Gay D.C. Local Heroine in 2014 and Most Committed Activist in 2015.
Casa Ruby
2822 Georgia Ave., N.W.
Runner-up: Jason Lindsay
Best D.C. Public Official
Mayor Muriel Bowser
Runner-up: Randy Downs
Best Hill Staffer/LGBT Bureaucrat
Yesenia Chavez
Runner-up: Scott Filter
Yesenia Chavez identifies as queer. She got her start on Capitol Hill interning with the Victory Fund during her senior year at the University of Houston. After graduating with a degree in political science, she returned to the Hill in 2013 to work as a professional staffer for Arizona Congressman Raul Grijalva. "Typically, I handle LGBT policy and push my boss on different efforts like the LGBT Data Inclusion ACT," she says.
Chavez also serves on the board of LGBT Congressional Staff Association.
"For the past three years I've been coordinating events," she says. "Our goal is to increase the professional development growth of members interns, fellow and staff on the Hill on the House side."
"It's important to have queer women of color at the table," says Chavez, 26. "We're a smaller contingency on the Hill. We must make sure we're safe there."
Chavez recently bought a home with her partner in D.C.'s Eckington neighborhood and is looking to put down roots.
"Washington is an interesting place to live. Young professionals come her because they feel passionate about giving back and doing something to make the country a better place, despite their political leaning. I don't have the same conversation here that I have with people at back in Texas." (PF)
Best Local Pro Athlete
Bryce Harper, Washington Nationals
Last year's runner up!
Runner-up: John Wall, Washington Wizards
Best Local Pro Sports Team
Washington Nationals
Editor's choice: D.C. United
Best Massage
Ben Auman
Runner-up: Jacob Gough
Ben Auman says he "values connections over everything else." That's what led him to a successful and fulfilling career as a massage therapist.
"I'm making connections with people I never would have gotten to make connections with before," he says.
Auman moved to D.C. from North Carolina in 2005 and worked as a non-profit association manager and financial consultant. Helping his clients with their goal setting and financial planning led him to follow his own true passion: massage therapy. He studied at the Potomac Massage Training Institute and is now a Massage Therapist at Logan 14 Aveda Lifestyle Salon/Spa and the owner of Auman Massage Therapy.
Switching careers gave Auman a whole new perspective on life. "Before, getting up and going to work was a way to get paid. Now, I'm getting up every morning to do something I love and that I'm passionate about. It's very fulfilling." (BTC)
Best Fitness Instructor
Jared Keith Lee
Runner-up: Grace Thompson
After relocating from New York to Washington, Jared Keith Lee felt out of place in his new surroundings, and longed for a feeling of belonging. He found what he was looking for at SoulCycle.
"I left my job as a graphic designer to become a SoulCycle instructor," he says. "I was having a hard time finding my own way here and a place that fit. At SoulCycle people were accepting. And it was fun."
With inspirational coaching, loud music, candle light and a full body workout (they've added hand weights and core work), SoulCycle is indoor cycling re-invented.
"The music and lighting allows riders to separate from their inhibitions and insecurities. It's an individual journey, and we welcome all levels of experience," says Lee who's been an instructor for two years and currently works at SoulCycle's 14th and U and Mount Vernon locations.
Lee grew up in Virginia Beach, Va. He won a soccer scholarship to Hampden-Sydney College in Farmville, Va. And while he came out in his freshman year there, Lee never felt at home on the conservative campus, so he transferred to Maryland Institute College of Art in Baltimore to study photography and design. (PF)
Best Real Estate Agent
Valerie Blake
Runner-up: Stacey Williams-Zeiger
Valerie Blake has sold real estate professionally in the D.C. area for 20 years.
Blake's eclectic former positions include working as a diplomat overseas, a federal government executive and an adult education administrator for a training school in the federal government. She has lived in 12 states, D.C. and two foreign countries.
For Blake, working in the region is a great match.
"I think that there are so many people who are transients here that provide an opportunity to meet a lot of people that I would not get the opportunity to do otherwise," Blake, who also won this award in 2015, says." They come from all walks of life which really helps with my varied background because I've found that there are very few people that I can't find something in common with. That's one of the things that I think makes me help them."
Blake, a straight ally and regular Blade contributor, has serviced the LGBT community since 1999.
"They have been a continued source of great clients and wonderful friends over the years," Blake says.
As for her best tip for buying a home in the area, she says it's all about balance.
"Find out how much of a mortgage you're approved for and then reduce it so that you can continue to have a life as well as a house," Blake says. (MC)
Valerie Blake
11 Dupont Circle, N.W.
Best Real Estate Group
The Bediz Group, Keller Williams
1918 18th St., N.W.
Runner-up: The Evan and Mark Team, Compass
Best Rehoboth Real Estate Agent
Chris Beagle
Third consecutive win in this category!
Runner-up: Andy Staton
Best Straight Ally
Pamala Stanley
Runner-up: Muriel Bowser
Singer Pamala Stanley joins an elite group as this year's Best Straight Ally. Past title holders include everyone from Barack Obama and Hillary Clinton to local allies such as Meghan Davies (Whitman-Walker), Leigh Ann Hendricks (Level One) and Phil Hicks (PFLAG).
Stanley is beloved for her string of Billboard Hot Dance Club Play hits such as "This is Hot," "I Don't Want to Talk About It," "Coming Out of Hiding" and more in the late '70s through the mid-'80s.
Stanley says it's hard to convey why she's always felt so strongly at home with her gay fans.
"There's a love for life there. They listen to what you have to say and you can really be yourself," the dance diva says. "Years ago with the straight crowd, I felt there were certain things I couldn't talk about — dating, life, men. I had to always make sure that I kept it a certain way. But when I played for the gay crowd, I could tell them anything — good, bad, whatever, and they just got a big kick out of it. They didn't judge, they just loved you no matter what you were doing and … I think I needed that. They were always very good to me and just fun people."
Stanley splits her time between her home on Virginia's Eastern Shore and Rehoboth Beach, Del., where she performs year around at tea dances, jazz brunches, private parties and more. She's at the Blue Moon (35 Baltimore Ave., Rehoboth Beach, Del.) every Sunday and Monday and says she's grateful to be in demand.
"I'm very busy here," she says. "I'm lucky." (JD)
Best Transgender Advocate
Sarah McBride
Runner-up: Gavin Grimm
By any measure, Sarah McBride has an impressive resume and an amazing list of accomplishments.
She first came to national attention in 2012 when she came out as transgender while serving as student body president at American University. Following her graduation, she interned at the Obama White House, becoming the first openly transgender woman to work there in any capacity. When McBride spoke at the 2016 Democratic National Convention in Philadelphia, she became the first openly transgender person to address the national convention of major political party.
McBride, who also won this category last year, has worked on LGBT issues at the Canter for American Progress and is currently the National Press Secretary for the Human Rights Campaign. A native of Wilmington, Del., she is also on the board of Equality Delaware and is widely credited with leading the successful effort to add gender identity and expression to her state's nondiscrimination and hate-crimes laws.
McBride describes herself as an "outgoing introvert" and says that some of her major influences are Barack Obama, Franklin Roosevelt, Carl Sagan, Hilary Clinton and Abraham Lincoln. She dedicates her fierce activism to her late husband Andrew Cray, a transgender man and fellow advocate. They met when McBride was working at the White House. Cray was diagnosed with terminal cancer in 2014, and just days after they married, he died. His death instilled in McBride a firm belief in the urgency of political and social change.
Her first book "Tomorrow Will Be Different" will be published in March. (BTC)
Human Rights Campaign Fund
1640 Rhode Island Ave., N.W.
Best Stylist
Quency Valencia
Second consecutive win in this category!
Salon Quency
1534 U St. N.W. No. 1
Runner-up: Bryan Smith
To see winners in other categories in the Washington Blade's Best of Gay D.C. 2017 Awards, click here.
Two new political memoirs reveal how the sausage of democracy is made
Top Dem, GOP spin-meisters weigh in on Trump, Buttigieg, more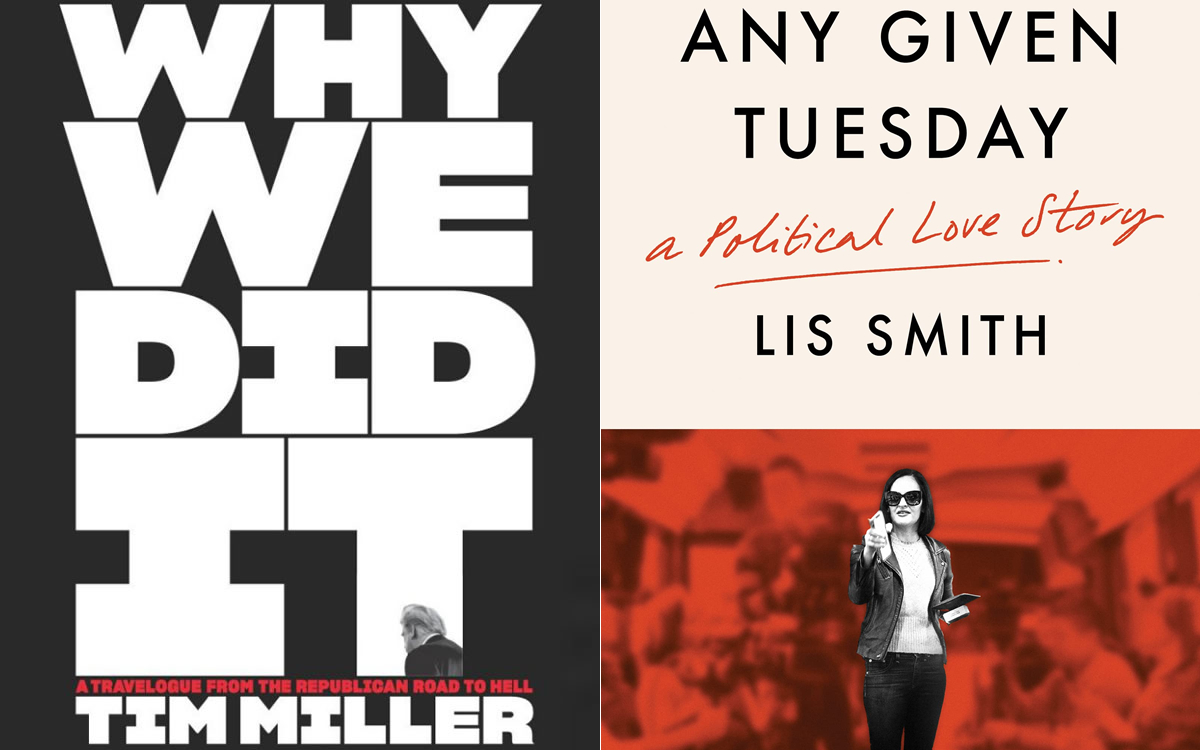 'Why We Did It: A Travelogue from the Republican Road to Hell'
By Tim Miller
c.2022, Harper
$26.99/259 pages
'Any Given Tuesday: A Political Love Story'
By Lis Smith
c.2022, Harper
$22.39/304 pages
The lilies of the field, the Bible tells us, "neither toil nor spin." If only, they had met Tim Miller and Lis Smith!
Miller and Smith, two top-tier spinmeisters have written memoirs. Fasten your seatbelts. These aren't the usual tepid politico's tales.
As you read, you'll laugh out loud one minute. Then gulp down your go-to comfort food or libation while (literally) worrying about the fate of our democracy.
"Next to love, the most sacred thing you can give is your labor," James Carville says to staff and volunteers in the last days of Bill Clinton's 1992 presidential campaign in a real life Aaron Sorkin moment in the 1993 documentary "The War Room."
Miller and Smith both saw "The War Room" when they were kids. Miller would grow up to be a Republican strategist who left the party over Trump. Smith would become a top Democratic political operative. But "The War Room" instilled in both of them a love of the public service and game of politics.
Miller, who lives in Oakland, Calif., with his husband Tyler and their daughter Toulouse, is a former Republican political operative. He was communications director for Jeb Bush's 2016 presidential campaign and spokesman for the Republican National Committee during Mitt Romney's 2012 presidential campaign. Miller left the GOP to become a leader of the "Never Trump" movement. After calling it quits with Trump, Miller worked briefly as a consultant for Scott Pruitt, Environmental Protection Agency administrator during the Trump administration. Now, Miller is an MSNBC analyst, a writer at large with "The Bulwark" and the host of "Not My Party" on Snapchat.
The Republican Party has a history – from Ronald Reagan's abysmal record on AIDS to Donald Trump's transphobic policies – of being anti-queer. You're likely wondering how Miller, as a gay man, could stomach working for the GOP.
In "Why We Did It," Miller puts himself and some of the people who "enabled" Trump under the microscope. 
"America never would have gotten into this mess if it weren't for me and my friends," Miller writes, "We were the 'normal' Republicans."
When Trump arrived, they didn't take him seriously. They didn't, "get off on the tears of immigrant children," Miller writes. Nor would they have been caught "dead in one of those gaudy red baseball caps," he adds.
"Why in the fuck," Miller asks, "did the vast, vast majority of seemingly normal, decent people whom I worked with go along with the most abnormal, indecent of men?"
The first half of the memoir is Miller's story of how he "compartmentalized" being a gay man with being an operative for the largely homophobic GOP.
Take when he worked for John McCain's presidential campaign. Though he was gay, Miller told McCain to walk it back after McCain said "gay marriage should be allowed if there's a ceremony kind of thing."
In the second half of the book, Miller examines why people such as Elise Stefanik opted to "take the red pill" and work for "the great MAGA future."
"Why We Did It" is dishy, dark, and soul-churning.
Smith, a top Democratic strategist and veteran of 20 campaigns, has worked for everyone from Claire McCaskill to Barack Obama. She was a senior communications adviser for Pete Buttigieg's presidential campaign.
Thankfully, "Any Given Tuesday" isn't a stuffy political memoir. It's smart, snarky, and gossipy. Smith is James Carville in high heels.
"Any Given Tuesday" is about Smith's life in politics intertwined with stories from her personal life.
Due to sexism, her love life was politicized. Smith became a tabloid target when she fell in love with former New York Gov. Eliot Spitzer. Former New York City Mayor Bill de Blasio, after learning of Smith's relationship with Spitzer, fired her from her job with his administration. (Though she had worked for de Blasio's campaign.)
You wonder if this would have happened if Smith had been a man. But Smith gets many digs at de Blasio. After her firing, de Blasio tried to win Spitzer's political endorsement. "Both of us had tried to get in bed with Eliot," she writes of de Blasio's failure to win Spitzer's backing, "but only one of us had been successful." (Smith and Spitzer no longer have a relationship.)
Unlike Miller, Smith doesn't have to twist herself into a compartmentalized pretzel to do her work. Like Miller, she's hopped up on the "game" of campaigns. Though Smith doesn't agree with everything everyone she works for believes in, she's generally in synch with centrist Democrats.
Among the most interesting chapters of "Any Given Tuesday" are those about her work on Buttigieg's campaign. If you're queer or queer-friendly, even if you don't agree with his politics, you get the historic significance of Buttigieg's campaign.
Smith's account of being on the road with the "Buttibus" and prepping Buttigieg for the candidates' debates is entertaining and informative. It's moving when Smith, a seasoned, snarky hack, comes to believe Buttigieg is "the one" — the candidate who truly would serve this country well.
In "Any Given Tuesday," Smith reveals how the messy sausage of democracy is made. In "Why We Did It," Miller makes even die-hard atheists pray that democracy will last.    
The Blade may receive commissions from qualifying purchases made via this post.
New musical highlights Frederick Douglass but falls short
'American Prophet' needs more energy and spark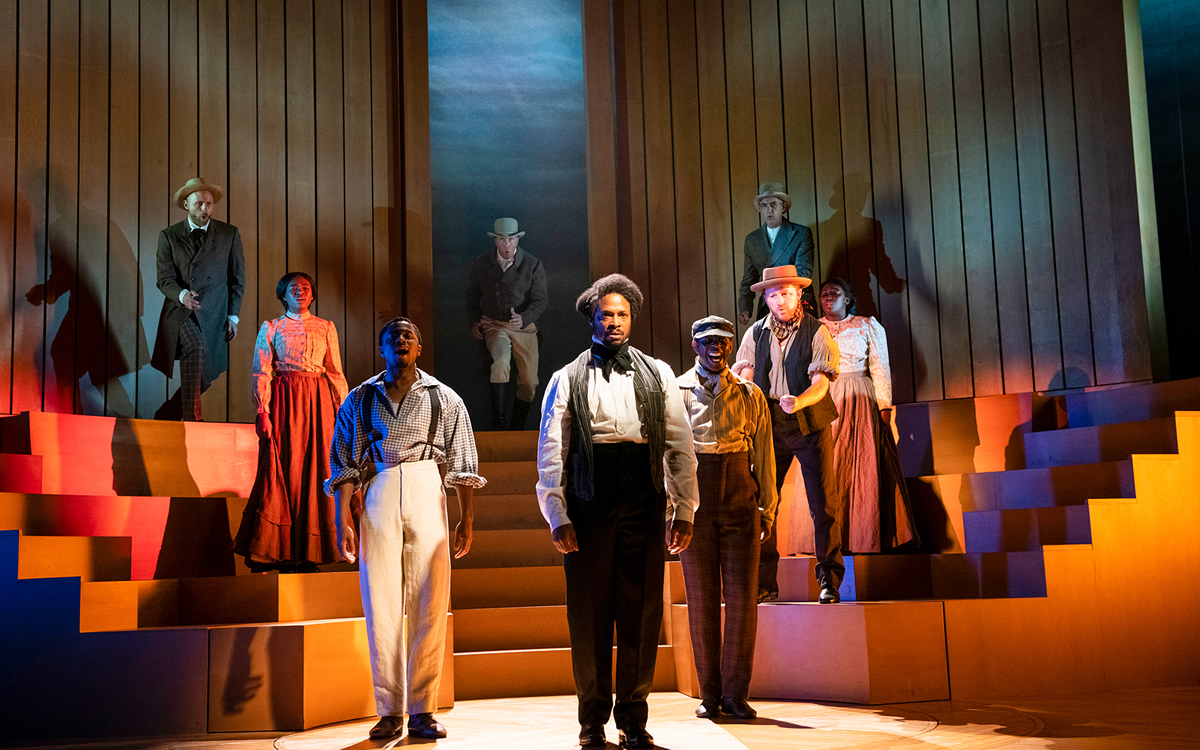 'American Prophet'
Through Aug. 28
Arena Stage
1101 Sixth St., S.W.
$66 – $115
Arenastage.org
Frederick Douglass's brilliance didn't blossom in a walled garden. 
Born into slavery around 1819, the renowned abolitionist worked the fields of Maryland's Eastern Shore, and docks of Baltimore before escaping to freedom in New York where he emerged as a famed orator, writer, and publisher. Along his exceptional journey, Douglass was supported by family, and like-minded folks including prominent progressives of different temperaments whom he both learned from and heavily influenced.
In "American Prophet," a biographical musical now premiering at Arena Stage, co-creators Marcus Hummon and Charles Randolph-Wright have intentionally relied heavily on Douglass's written words with mixed results. In both dialogue and lyrics, the great orator's fearless opines are present, sometimes they spark and crackle, soar and inspire, and other times they're not enough. 
The action takes place on a tiered set resembling the choir space in an unadorned church. It's here the players congregate to tell Douglass's remarkable story that doubles as a compelling slice of mid-19th century American history.
Standing centerstage is Douglass with a serious but handsome countenance, that distinctive side part, dark coat and vest. The actor (Curtis Wiley stepping in for Cornelius Smith, Jr., on a recent Sunday evening) is every inch the activist whose photograph is copiously featured in history books.
(Having slipped into Arena's Kreeger Theatre just as the lights went down, I didn't realize until intermission when a strip of paper announcing the substitution fell out of my program, that I was watching an understudy. Wiley didn't miss a line or lyric. His voice is gorgeous.)
Staged by Randolph-Wright, the musical unfolds chronologically as a straightforwardly told story. Douglass is born Frederick Bailey, purportedly the son of a slave and her white owner. After his mother's death, he's nurtured by a loving maternal grandmother (Cicily Daniels) and taught to read by his owner's sympathetic wife who recognizes the boy's quick mind and ability. Soon after he's sent off to Baltimore to serve as companion to a family relation about his same age. When that doesn't work, he's sent back to the farm where an overseer unsuccessfully tries to break young Bailey's spirit.
Back in Baltimore, still a slave, he works long hours as a stevedore with his pay going to his owners. Exuberant and inexhaustible, he finds time to take in some pleasures of the city. At a dance he meets his wife, a free black woman named Anna Murray (Kristolyn Lloyd). Together, they successfully flee to the free North. Once there – after changing his name to Douglass from a narrative poem by Sir Walter Scott, "The Lady of the Lake," – his career booms. 
Grammy-winning composer Hummon's score, a mix of gospel and country sounds, moves the story lucidly along while leaving room for some strong stand-alone melodies, particularly Kristolyn Lloyd's pleasing rendition of Anna's "I Love a Man." In the supporting role of supporting wife, Lloyd is a standout.
Going forward, Douglass finds friendship and opportunity with William Lloyd Garrison (Thomas Adrian Simpson) an abolitionist who demands absolute fealty from his colleague. He forms a true comradeship with fiery abolitionist John Brown (Chris Roberts), but when their tactics become too dissimilar, the pair part company.
The second act finds us on the precipice of the Civil War, and it's here we meet Abraham Lincoln (Simpson again). It's not the usual hagiographic portrayal we're used to seeing, far from it. The great savior of the Union is written as a real politician – gladhanding and strategic. Still, Lincoln evolves and benefits from his association with Douglass, even borrowing his thoughts from time to time.
Douglass was a force. Insanely ahead of his time, he called slaveowners to the carpet and expressed the hypocrisy of America at home and on tours abroad. And while the musical does lovingly put his humanness on display, I wanted more. When that jolt of energy and spirit finally comes with the show's stirring final number "American Prophet," it's too little too late.
Douglass spent his final years in Washington. He died at his home Cedar Hill in Anacostia. He was 77.
New doc illuminates Patricia Highsmith's life and work
'Intercourse with men is like steel wool to the face'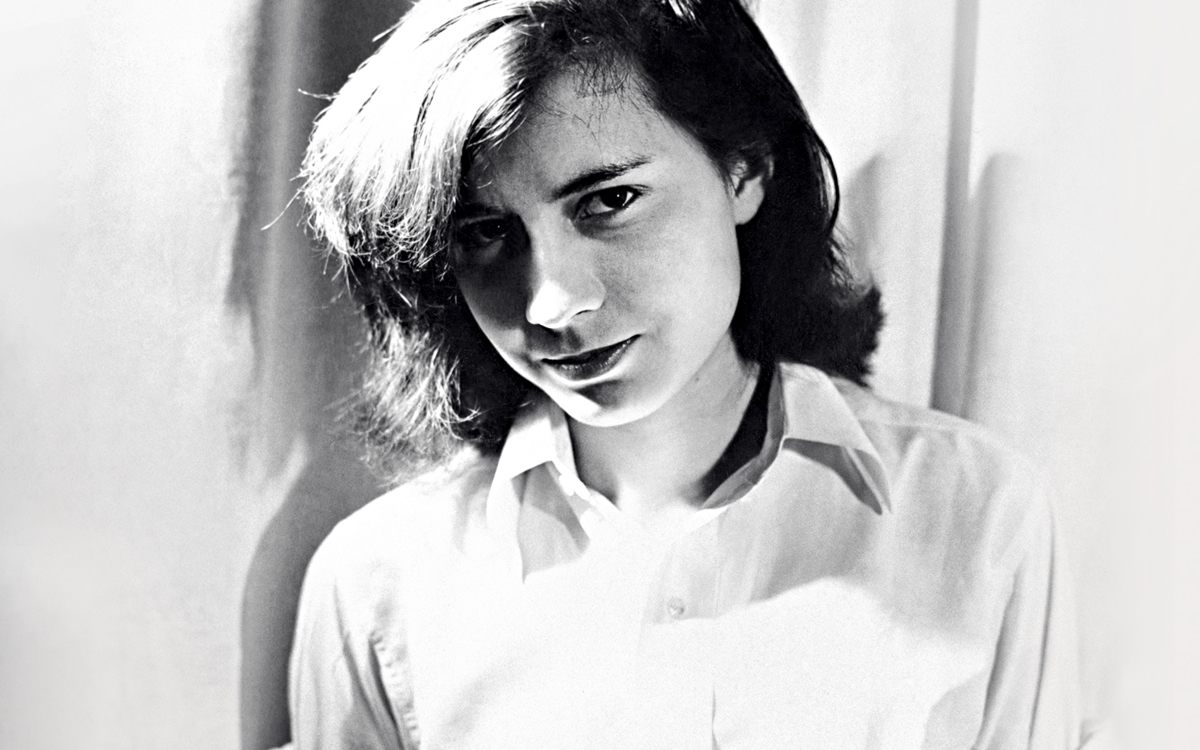 If you've been transfixed by the amusement park scene in Alfred Hitchcock's "Strangers on a Train," rooted for the sociopath Tom Ripley in the 1999 film "The Talented Mr. Ripley" or been moved to tears by the love of Therese and Carol in Todd Haynes's movie of "Carol," Patricia Highsmith is etched in your DNA.
Highsmith, who lived from 1921 to 1995 wrote more than 50 books (novels and short story collections). Nearly all of her books were made into movies.
Recently, "Loving Highsmith," a fab documentary about Patricia Highsmith has been released. The film, written and directed by Eva Vitija, opens Sept. 2 at the Film Forum in New York and Sept. 9 at Landmark's Nuart Theatre in Los Angeles. "Loving Highsmith" premiered at the Sydney Film Festival and bowed at the Frameline Film Festival in June.
Highsmith, like Tom Ripley and many of her other fictional characters, led a double life. She was a lesbian. But, because of the homophobia of her era, Highsmith had to be closeted about what she called "the ever present subject" of her "homosexuality."
Except in the 5,000 pages of her diaries and notebooks. (1,000 pages of her diaries and notebooks were published in 2021 in "Patricia Highsmith: Her Diaries and Notebooks: 1941-1995.")
Even if Highsmith weren't acclaimed for her mastery of suspense, she would be a queer hero.
In 1952, her novel "The Price of Salt" was published under the pseudonym "Claire Morgan." (It was reissued in 1990 under the title "Carol" and with Highsmith's real name.)
Then, fiction featuring queer characters had to end unhappily: they died or went to jail. "The Price of Salt," a rare exception, became a lesbian cult classic. Its protagonists end up together – alive and not in prison.
"Loving Highsmith" deftly uses writings from her diaries and notebooks as well as interviews with her family and lovers to illuminate not only Highsmith's life and work but queer culture in the 1950s.
The film skillfully interweaves archival clips from interviews with Highsmith and famous film adaptations of her work with stories from her relatives and lovers. Gwendoline Christie ("Game of Thrones") reads excerpts from Highsmith's work.
Too often watching documentaries of talented, deceased icons is deadly. You feel like you're entombed in lifeless talking heads and stagnant images.
You don't have to worry about "Loving Highsmith." Its talk and images make Highsmith's story come alive.
As the film makes clear, Highsmith was quite "loving." She had many lovers – in New York, England, France and Germany. Despite trying to cure herself with analysis, Highsmith sexually liked women. "Sexual intercourse [with men] is to me like steel wool to the face," she says.
Highsmith's mother, by the accounts of Highsmith herself, her family and her lovers, was a horror show. She told Highsmith that she was sorry she hadn't aborted her. When Highsmith was 14, her mother berated her for "making noises" like a "les."
New York had many gay bars in the 1950s, we learn from "Loving Highsmith." But homophobia was so rampant that you wouldn't get off at a subway stop near a bar out of fear that a straight friend, family member, or co-worker would see you going into a queer bar.
There is one problem with "Loving Highsmith." It soft pedals Highsmith's anti-Semitism and racism. It mentions Highsmith's prejudices only once: saying Highsmith in her old age reverted to the bigotry of her grandparents.
Highsmith's bigotry grew more virulent in her old age. But, though she had Jewish friends, Highsmith was anti-Semitic throughout her life.
This doesn't diminish Highsmith's literary achievement or iconic role in queer history. Anti-Semitism and racism were likely common in Texas where Highsmith was born and lived before moving to New York when she was six. "Loving Highsmith" is a thoughtful, informative documentary. It would have been more insightful if more attention had been paid to Highsmith's prejudices.
Even with this caveat, "Loving Highsmith" is a must-see documentary. It will send you racing to read the nearest Highsmith book at hand.