Best of Gay D.C. 2017: PEOPLE
Winners from the Washington Blade's annual poll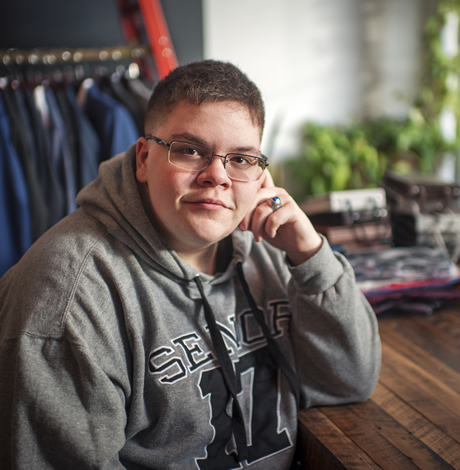 Local Hero
Gavin Grimm
The American Civil Liberties Union in 2015 filed a federal lawsuit on behalf of Gavin Grimm, who was a student at Gloucester County High School in Gloucester, Va., at the time.
Grimm and his lawyers argued the Gloucester County School District's policy that prohibited him from using the boys restroom or locker room because they were not consistent with his "biological gender" is unconstitutional under the 14th Amendment's Equal Protection Clause. The lawsuit also alleged the regulation violated Title IX of the U.S. Education Amendments of 1972 that prohibits schools receiving federal funds from discriminating on the basis of sex.
The Justice Department under the Obama administration argued in Grimm's case that Title IX requires school districts to allow trans students to use restrooms that correspond to their gender identity. The Department of Education's Office of the General Council at the time also filed a brief in support of Grimm.
The 4th U.S. Circuit Court of Appeals in Richmond — which is the first federal appeals court to consider whether Title IX allows trans students to use facilities that are consistent with their gender identity — in April 2016 ruled in favor of Grimm. The Gloucester County School District subsequently announced it planned to petition the U.S. Supreme Court to hear the case.
The Supreme Court last October said it would hear Grimm's case. Oral arguments were scheduled to take place on March 28, but the justices remanded the case to the 4th Circuit after President Trump rescinded the Title IX guidance.
The 4th Circuit in July sent Grimm's case back to the U.S. District Court for the Eastern District of Virginia. The ACLU subsequently withdrew Grimm's request for an immediate injunction against the Gloucester County School Board policy.
Grimm, 18, graduated from Gloucester County High School in June.
"I am in this for the long haul," he said in an ACLU press release that announced the decision to amend his case. "I remain hopeful that my case will help make sure that other transgender students are able to attend school safely and without discrimination."
Grimm in February was among those who spoke at a White House protest that corresponded with Trump's decision to rescind the Title IX guidance.
"We will not be silenced and that we will stand with and protect trans youth," said Grimm, speaking through tears with his mother standing by his side. "No matter what happens, no one, not even the government can even defeat a community so full of live, color, diversity and most importantly love."
Equality Virginia and GLAAD are among the organizations that have honored Grimm over the last year.
— MICHAEL K. LAVERS
Best Amateur Athlete
Mark Hofberg, D.C. Gay Flag Football
Runner-up: Grace Thompson, D.C. Front Runners (last year's winner)
Best Artist
John Jack Gallagher
Runner-up: Glenn Fry
John Jack Gallagher has been taking photos since his first boyfriend gave him a 35-millimeter camera for his birthday more than 30 years ago. In 2012, he started shooting professionally after members of the Stonewall Kickball team he'd been photographing insisted he shoot their wedding. This is his second consecutive win in this category. (JD)
Best Businessperson
Dr. Gregory Jones
Capital Center for Psychotherapy & Wellness
1330 U St., N.W.
Runner-up: Bob Witeck
Best Clergy
Bishop Allyson Abrams
Abrams reclaims her 2015 title after being last year's runner-up. Abrams is the founder and pastor of Empowerment Liberation Cathedral in Silver Spring.
Runner-up: Rayceen Pendarvis (last year's winner)
Most Committed Activist
Ruby Corado
Corado was named Best of Gay D.C. Local Heroine in 2014 and Most Committed Activist in 2015.
Casa Ruby
2822 Georgia Ave., N.W.
Runner-up: Jason Lindsay
Best D.C. Public Official
Mayor Muriel Bowser
Runner-up: Randy Downs
Best Hill Staffer/LGBT Bureaucrat
Yesenia Chavez
Runner-up: Scott Filter
Yesenia Chavez identifies as queer. She got her start on Capitol Hill interning with the Victory Fund during her senior year at the University of Houston. After graduating with a degree in political science, she returned to the Hill in 2013 to work as a professional staffer for Arizona Congressman Raul Grijalva. "Typically, I handle LGBT policy and push my boss on different efforts like the LGBT Data Inclusion ACT," she says.
Chavez also serves on the board of LGBT Congressional Staff Association.
"For the past three years I've been coordinating events," she says. "Our goal is to increase the professional development growth of members interns, fellow and staff on the Hill on the House side."
"It's important to have queer women of color at the table," says Chavez, 26. "We're a smaller contingency on the Hill. We must make sure we're safe there."
Chavez recently bought a home with her partner in D.C.'s Eckington neighborhood and is looking to put down roots.
"Washington is an interesting place to live. Young professionals come her because they feel passionate about giving back and doing something to make the country a better place, despite their political leaning. I don't have the same conversation here that I have with people at back in Texas." (PF)
Best Local Pro Athlete
Bryce Harper, Washington Nationals
Last year's runner up!
Runner-up: John Wall, Washington Wizards
Best Local Pro Sports Team
Washington Nationals
Editor's choice: D.C. United
Best Massage
Ben Auman
Runner-up: Jacob Gough
Ben Auman says he "values connections over everything else." That's what led him to a successful and fulfilling career as a massage therapist.
"I'm making connections with people I never would have gotten to make connections with before," he says.
Auman moved to D.C. from North Carolina in 2005 and worked as a non-profit association manager and financial consultant. Helping his clients with their goal setting and financial planning led him to follow his own true passion: massage therapy. He studied at the Potomac Massage Training Institute and is now a Massage Therapist at Logan 14 Aveda Lifestyle Salon/Spa and the owner of Auman Massage Therapy.
Switching careers gave Auman a whole new perspective on life. "Before, getting up and going to work was a way to get paid. Now, I'm getting up every morning to do something I love and that I'm passionate about. It's very fulfilling." (BTC)
Best Fitness Instructor
Jared Keith Lee
Runner-up: Grace Thompson
After relocating from New York to Washington, Jared Keith Lee felt out of place in his new surroundings, and longed for a feeling of belonging. He found what he was looking for at SoulCycle.
"I left my job as a graphic designer to become a SoulCycle instructor," he says. "I was having a hard time finding my own way here and a place that fit. At SoulCycle people were accepting. And it was fun."
With inspirational coaching, loud music, candle light and a full body workout (they've added hand weights and core work), SoulCycle is indoor cycling re-invented.
"The music and lighting allows riders to separate from their inhibitions and insecurities. It's an individual journey, and we welcome all levels of experience," says Lee who's been an instructor for two years and currently works at SoulCycle's 14th and U and Mount Vernon locations.
Lee grew up in Virginia Beach, Va. He won a soccer scholarship to Hampden-Sydney College in Farmville, Va. And while he came out in his freshman year there, Lee never felt at home on the conservative campus, so he transferred to Maryland Institute College of Art in Baltimore to study photography and design. (PF)
Best Real Estate Agent
Valerie Blake
Runner-up: Stacey Williams-Zeiger
Valerie Blake has sold real estate professionally in the D.C. area for 20 years.
Blake's eclectic former positions include working as a diplomat overseas, a federal government executive and an adult education administrator for a training school in the federal government. She has lived in 12 states, D.C. and two foreign countries.
For Blake, working in the region is a great match.
"I think that there are so many people who are transients here that provide an opportunity to meet a lot of people that I would not get the opportunity to do otherwise," Blake, who also won this award in 2015, says." They come from all walks of life which really helps with my varied background because I've found that there are very few people that I can't find something in common with. That's one of the things that I think makes me help them."
Blake, a straight ally and regular Blade contributor, has serviced the LGBT community since 1999.
"They have been a continued source of great clients and wonderful friends over the years," Blake says.
As for her best tip for buying a home in the area, she says it's all about balance.
"Find out how much of a mortgage you're approved for and then reduce it so that you can continue to have a life as well as a house," Blake says. (MC)
Valerie Blake
11 Dupont Circle, N.W.
Best Real Estate Group
The Bediz Group, Keller Williams
1918 18th St., N.W.
Runner-up: The Evan and Mark Team, Compass
Best Rehoboth Real Estate Agent
Chris Beagle
Third consecutive win in this category!
Runner-up: Andy Staton
Best Straight Ally
Pamala Stanley
Runner-up: Muriel Bowser
Singer Pamala Stanley joins an elite group as this year's Best Straight Ally. Past title holders include everyone from Barack Obama and Hillary Clinton to local allies such as Meghan Davies (Whitman-Walker), Leigh Ann Hendricks (Level One) and Phil Hicks (PFLAG).
Stanley is beloved for her string of Billboard Hot Dance Club Play hits such as "This is Hot," "I Don't Want to Talk About It," "Coming Out of Hiding" and more in the late '70s through the mid-'80s.
Stanley says it's hard to convey why she's always felt so strongly at home with her gay fans.
"There's a love for life there. They listen to what you have to say and you can really be yourself," the dance diva says. "Years ago with the straight crowd, I felt there were certain things I couldn't talk about — dating, life, men. I had to always make sure that I kept it a certain way. But when I played for the gay crowd, I could tell them anything — good, bad, whatever, and they just got a big kick out of it. They didn't judge, they just loved you no matter what you were doing and … I think I needed that. They were always very good to me and just fun people."
Stanley splits her time between her home on Virginia's Eastern Shore and Rehoboth Beach, Del., where she performs year around at tea dances, jazz brunches, private parties and more. She's at the Blue Moon (35 Baltimore Ave., Rehoboth Beach, Del.) every Sunday and Monday and says she's grateful to be in demand.
"I'm very busy here," she says. "I'm lucky." (JD)
Best Transgender Advocate
Sarah McBride
Runner-up: Gavin Grimm
By any measure, Sarah McBride has an impressive resume and an amazing list of accomplishments.
She first came to national attention in 2012 when she came out as transgender while serving as student body president at American University. Following her graduation, she interned at the Obama White House, becoming the first openly transgender woman to work there in any capacity. When McBride spoke at the 2016 Democratic National Convention in Philadelphia, she became the first openly transgender person to address the national convention of major political party.
McBride, who also won this category last year, has worked on LGBT issues at the Canter for American Progress and is currently the National Press Secretary for the Human Rights Campaign. A native of Wilmington, Del., she is also on the board of Equality Delaware and is widely credited with leading the successful effort to add gender identity and expression to her state's nondiscrimination and hate-crimes laws.
McBride describes herself as an "outgoing introvert" and says that some of her major influences are Barack Obama, Franklin Roosevelt, Carl Sagan, Hilary Clinton and Abraham Lincoln. She dedicates her fierce activism to her late husband Andrew Cray, a transgender man and fellow advocate. They met when McBride was working at the White House. Cray was diagnosed with terminal cancer in 2014, and just days after they married, he died. His death instilled in McBride a firm belief in the urgency of political and social change.
Her first book "Tomorrow Will Be Different" will be published in March. (BTC)
Human Rights Campaign Fund
1640 Rhode Island Ave., N.W.
Best Stylist
Quency Valencia
Second consecutive win in this category!
Salon Quency
1534 U St. N.W. No. 1
Runner-up: Bryan Smith
To see winners in other categories in the Washington Blade's Best of Gay D.C. 2017 Awards, click here.
Amy Schneider's Jeopardy! winning streak ends at 40 games
Transgender contestant is the highest-earning woman in competition's history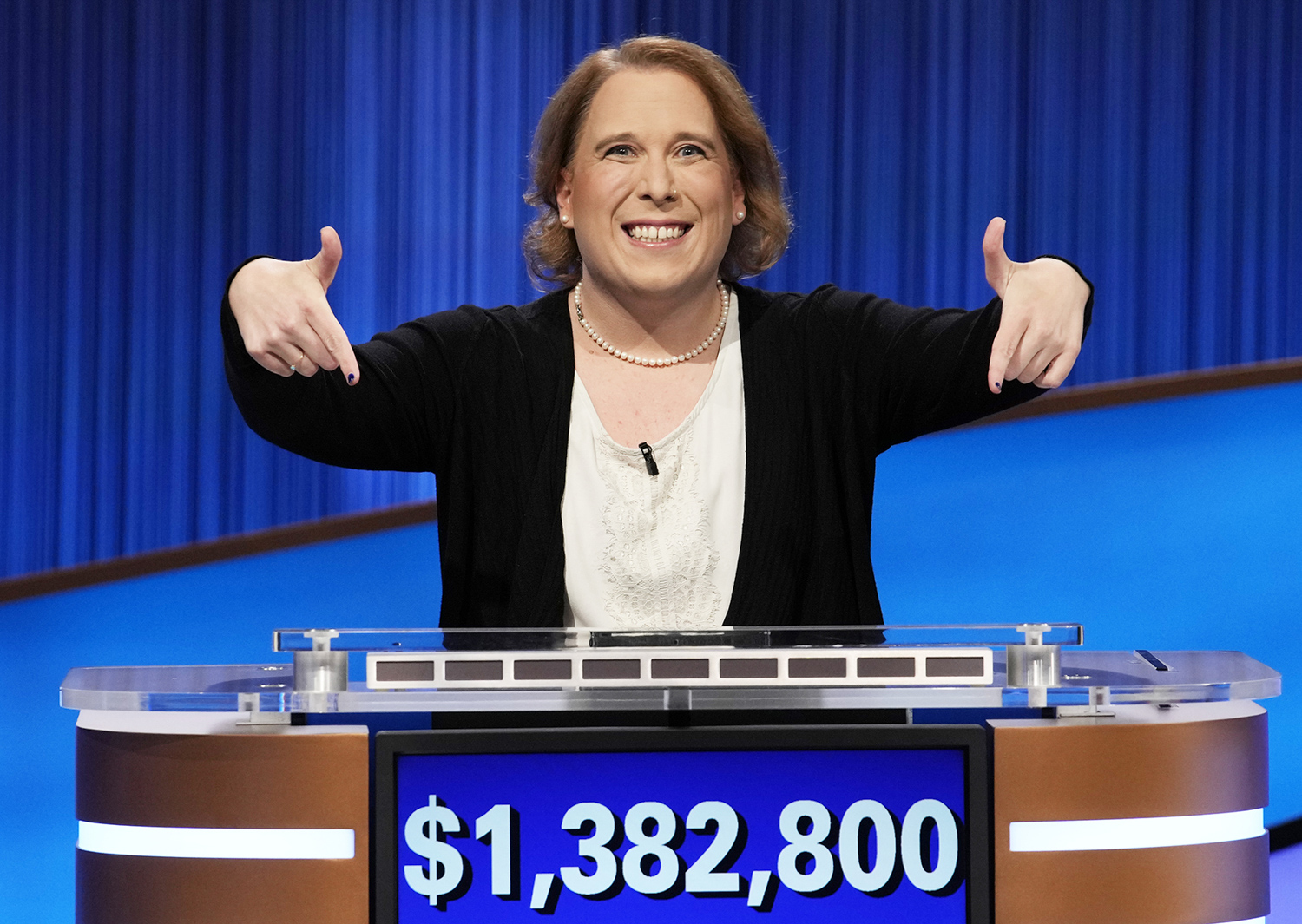 Amy Schneider's record-setting Jeopardy! winning streak came to an end on Wednesday's show after getting tripped up on the Final Jeopardy! clue.
Schneider is the first transgender contestant to qualify for the Tournament of Champions, and she's the highest-earning woman in the competition's history, with a total of $1,382,800 from 40 wins.
Schneider was leading by $10,000 as the contestants headed into the all-important "Final Jeopardy!" category, she failed to answer the clue. It was, "The only nation in the world whose name in English ends in an H, it's also one of the 10 most populous." Contestant Rhone Talsma managed to overtake Schneider when she answered, "What is Bangladesh?" the correct response. Schneider ended up with $19,600 versus Talsma's $29,600.
"I think that the best part for me has been being on TV as my true self, expressing myself and representing the entire community of trans people," Schneider told Good Morning America this week. "And just kind of showing a different thing than maybe some people have seen, of just being a smart, confident woman and just doing something super normal, like being on Jeopardy!."
A Revolution for Women in Baseball
Last week, they announced that Rachel Balkovec will become the first woman to manage a team in minor league baseball.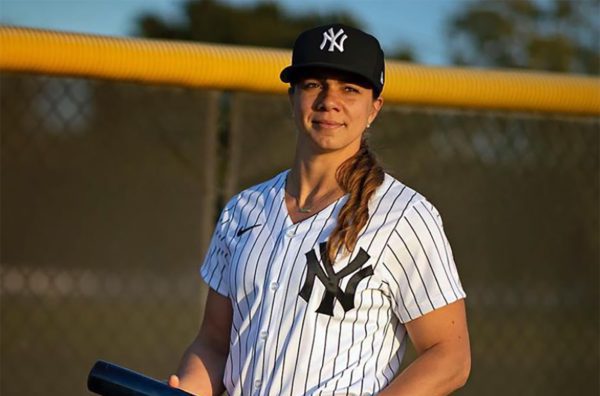 The Yankees were late on introducing an African-American player to their roster, adding Hall of Famer Elston Howard to the team in 1955, eight years after Jackie Robinson starred for the Brooklyn Dodgers. The Yankees seem determined not to repeat that bad history. Last week, they announced that Rachel Balkovec will become the first woman to manage a team in minor league baseball when she takes the helm of the Tampa Tarpons this spring.
It has been just over ten years since Justin Siegal threw batting practice to the Cleveland Guardians and five since she was the first woman to coach a MLB squad with the Oakland Athletics. Two years ago, Kim Ng became the first female General Manager of any of the four major professional sports when the Marlins hired her to run their team. In the two years since then, the dam has burst. Women have been hired to important on-field positions with professional baseball at an impressive clip. As baseball has lagged behind other professional sports in bringing women into the game, the current pace of hires indicates that baseball's embrace of analytics and objective measures have finally penetrated the walls of one of the most enduring old boys clubs in the U.S. and given talented women opportunities they have long been denied.
Ten women will be coaching with major or minor league teams in 2022. In 2021, Bianca Smith became the first African-American woman to coach in the minors when the Red Sox hired her. Alyssa Nakken became the first woman in uniform during a Major League Baseball game when she coached first base for the Giants in a July 2020 exhibition against the Oakland A's. Her jersey now belongs to the National Baseball Hall of Fame. Cuban-American Veronica Alvarez is not only the coach of the U.S. Women's National Baseball team, she also served as a spring training coach for the Oakland A's.
The proliferation of women in baseball is not an accident. More girls than ever are playing baseball. Here, in the DC area, 160 girls participated with D.C. Girls Baseball in 2021. Baseball for All, an organization that supports and promotes girls in baseball, held a tournament last summer that drew nearly 600 girls who play baseball. There are more women than ever on collegiate baseball rosters. Major League Baseball has also devoted significant resources to girls and women in baseball, running several development camps for girls in baseball. Six of the women now coaching professional baseball participated in MLB's Take the Field initiative, which is designed to help place women into baseball positions. To top it all off, the classic film about the All-American Girls Professional Baseball League, A League of Their Own, is getting a reboot on Amazon Prime this year.
The pace of hiring is exhilarating. Unfortunately, every report of a woman being hired is followed by predictable hateful commentary on social media. Many cannot imagine that a woman may be hired for a baseball position on merit and resort to making sexist and derogatory comments. As women in baseball, the coaches are used to that vitriol and have developed thick skin and sophisticated defense mechanisms. However, also reading are thousands of girls who are inspired by the achievements of these women and they are, sadly, learning that to achieve in baseball means enduring the sexist taunts, gross come-ons, and hurtful comments.
Baseball has a long way to go. Other leagues have women officiating games, so it should be reasonable to expect that baseball will have women umpires in the near future. The possibility of women playing professional baseball is tantalizingly close as 17 year old Genevieve Beacom made history last week as the first women to play Australian professional baseball, when she threw a scoreless inning against the Adelaide Giants.
We are watching a revolution in baseball unfold before our eyes.
Baltimore DJ on using music as a bridge to combat discrimination
Deezy brings high-energy show to the Admiral on Jan. 28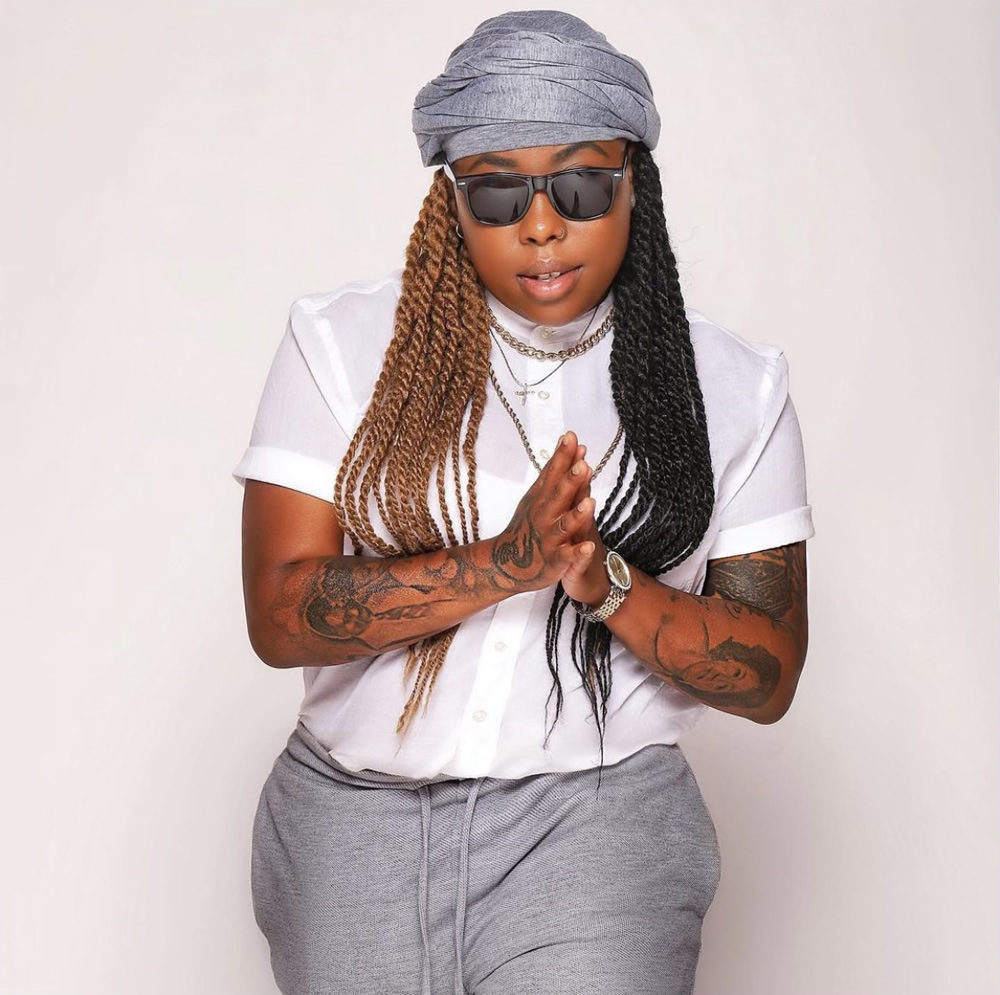 A Baltimore DJ will conclude a month of performances in Baltimore and Washington, D.C. clubs this Friday, Jan. 28, according to the artist's management. DJ Deezy is set to perform at the Admiral in D.C. at 9 p.m.
Since the year began, Deezy has hosted electric events at clubs such as Hawthorne DC, DuPont and the Baltimore Eagle Bar & Nightclub.
The Washington Blade sat down with the DJ to discuss the course of her career.
The beginning of DJ Deezy's infatuation with music dates back to her childhood spent between her mother's house in Baltimore City and her father's house in the suburbs.
In Baltimore, Deezy was exposed to the local rap and raw hip-hop scene that inspired her to embark on a rap career in high school.
Concurrently, she was entrenched in Motown and classic rock by virtue of her singer, songwriter, and guitarist father Ron Daughton's involvement in a classic rock band. He is a member of "The Dalton Gang" and was inducted into the Maryland Entertainment Hall of Fame in 2015.
"Before I embarked on my DJ journey, my father let me record 'a little 16' on his tape recorder," said Deezy. "Eventually, he bought me a wireless microphone that I carried around with me to performances."
Between her experience as a rapper and watching her father maneuver the classic rock music scene, Deezy acquired varying tastes in music that have influenced how she curates her sets today.
She "specializes in open format vibes with spins from multiple genres including hip-hop, rap, circuit, and top 40s hits," according to a summer 2021 press release from her management.
Deezy is also a proud member of the LGBTQ community — she identifies as a lesbian — and this also informs her approach to her work.
"I'm easily able to transition and rock the crowd because I can relate to many different backgrounds," said Deezy. "I can DJ in places that are predominantly white, Black, or gay [and still do my job effortlessly]."
Centering community
Deezy values representation. Not only because she exists in a field dominated by men, but also because DJs who inhabit other identities aside from being men are less common in the industry.
The scarcity of Black and lesbian DJs has prompted her to use her career as evidence that people who are different can attract audiences and succeed.
"I want to put us out there especially for Baltimore," said Deezy. "I know that there's Black lesbians out there doing the same thing as me, but why aren't we getting [recognized]?"
In 2018, Deezy rented out a "Lez" lot at the Baltimore Pride block party where she set up a tent and played a set for the crowds tailgating around her. While entertaining them, she distributed her business cards — an act she believes yielded her the contact who eventually got her booked for a residency at the Baltimore Eagle.
While this was a step forward in her career, Deezy acknowledges that it wasn't without challenges. She likened entering the Baltimore Eagle — traditionally a leather bar frequented predominantly by men —to navigating foreign territory.
"When I first got there, I got funny looks," she said. "There's a lot of these guys who are like, 'Why are you bringing a lesbian DJ to a gay bar?'"
But Deezy powered through her performance, lifted the crowd from its seats and "rocked the house [so that] no one will ever ask any questions again."
She admits that she's an acquired taste but believes in her ability to play music infectious enough to draw anyone to the dance floor.
"Feel how you want to feel about a Black lesbian DJ being in the gay bar," said Deezy. "But music is a bridge that [will] connect us all, and you'll forget about your original discrimination when you [experience] me."
While Deezy has mostly performed in the DMV, she has also made appearances in Arizona where she hosted a family event and also in clubs in Atlanta and New York City.
Her work has also attracted international attention and she was the cover star of  French publication Gmaro Magazine's October 2021 issue. 
Looking to the future, Deezy's goal is to be a tour DJ and play her sets around the world.
"I had a dream that Tamar Braxton approached me backstage at one of her concerts and asked me to be her tour DJ," she said. "So, I'm manifesting this for myself."
In the meantime, Deezy will continue to liven up audiences in bars and clubs around the country while playing sets for musicians like Crystal Waters and RuPaul's Drag Race celebrity drag queens like Alyssa Edwards, Plastique Tiara, La La Ri, Joey Jay and Eureka O'Hara — all of whom she has entertained alongside in the past.
Outside the club, Deezy's music can be heard in Shoe City where she created an eight-hour music mix split evenly between deep house and hip-hop and R&B.