Sen. Murray comes out against Trump's anti-LGBT pick for NASA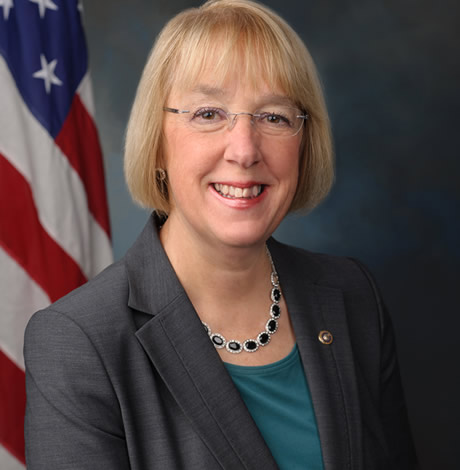 In a letter dated Oct. 26 to Sen. John Thune (R-S.D.) and Bill Nelson (D-Fla.), Sen. Patty Murray (D-Wash.) urges senators "to vote against" the nomination of Rep. Jim Bridenstine (R-Okla.) as administrator of the National Aeronautics & Space Administration.
"Rep. Bridenstine's background makes him an extremely concerning choice to lead the critical agency and its 19,000 diverse employees," Murray said. "Rep. Bridenstine's denial of climate science and consistent opposition to equal rights for women, immigrants and gay, lesbian, bisexual, transgender and queer (LGBTQ) individuals should disqualify him from consideration."
Other senators have voiced concerns over the Bridenstine nomination, but no senator until now has voiced outright opposition and urged fellow senators to vote "no."
A three-term member of Congress, Bridenstine has amassed an anti-LGBT record based on his votes in Congress and elsewhere. In the last Congress, the Human Rights Campaign awarded him a score of "0" based on his voting record. Bridenstine earned a "30" out of 100 in the 112th Congress for rejecting an amendment that would taken out LGBT protections in reauthorization for the Violence Against Women Act (although he ended up voting against the larger LGBT-inclusive bill).
In 2013, when the Boy Scouts of America lifted its ban on gay youths, Bridenstine delivered a speech on the House floor in opposition to the change, suggesting LGBT people are immoral.
"The left's agenda is not about tolerance, and it's not about diversity of thought," Bridenstine said in 2013. "It's about presenting a worldview of relativism, where there is no right and wrong, then using the full force of the government to silence opposition and reshape organizations like the Boy Scouts into instruments for social change."
Murray cites Bridenstine's anti-LGBT views in her letter as wells comments he made against climate change and Islam and remarks downplaying the 2005 Access Hollywood video in Trump admitted to grabbing women by the genitals.
"Since its creation, NASA has played a singular role in American life," Murray said. "The agency has inspired countless young people to pursue careers in science, technology, engineering and math and has stirred curiosity in billions of individuals across the world. Rep. Bridenstine's denial of fundamental scientific facts and long record of bigoted and hateful statements run counter to this legacy."
A Nelson spokesperson said in response to the Murray letter the Florida Democrat shares concerns about Trump's NASA pick.
"Sen. Nelson has made it clear he believes the head of NASA ought to be a space professional, not a politician," the Nelson spokesperson said. "It's hard to see how Rep. Bridenstine's qualifications and his divisive and hurtful stances would fit that bill."
Thune's office didn't immediately respond to the Blade's request to comment on the Murray letter.
The top Democrat on the Senate Health, Education, Labor & Pensions Committee has come out against President Trump's pick to head NASA over the nominee's anti-LGBT views, becoming the first U.S. senator to oppose the selection.
Cómo las empresas impulsan la inclusión e inserción laboral LGBTQ
Uno de cada 20 jóvenes de la comunidad tiene su negocio propio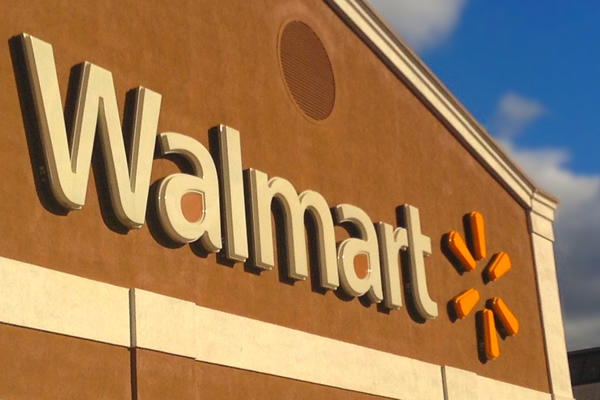 Reportar sin Miedo es el socio mediático del Washington Blade en Honduras. Esta nota salió en su sitio web el 15 de octubre.
CIUDAD DE GUATEMALA — Apenas el 5 por ciento de los jóvenes LGBTIQ+, es decir uno de cada 20, tiene negocio propio. Esa es una de las cifras reveladas en el webinar "Empresas y derechos humanos: perspectiva LGBT", que se desarrolló durante la IV Semana de Empresas y Derechos Humanos.
El taller se llevó a cabo con apoyo de la organización diversa Visibles, la embajada del Reino Unido en Guatemala, Walmart México y Caricam. En la actividad se abordaron los retos que las empresas afrontan de cara a la inclusión.
Al preguntarle a las personas LGBTIQ+ sobre sus oportunidades laborales, ¿Qué tendencias vemos?@hg_duarte explica los hallazgos de nuestra investigación y cuenta algunas de las experiencias en el evento de Empresas y Derechos humanos de @UKinGuatemala pic.twitter.com/NiIvtWCmRj

— Visibles (@visibles_gt) October 14, 2021
El tema se remonta a 10 o 20 años, en los que han surgido empresas con un enfoque de recursos humanos y políticas de no discriminación que incluyen orientación sexual e identidad de género.
Estas organizaciones ofrecen prestaciones y licencia de paternidad, además igualan el tiempo que se da a padres del mismo sexo, ofrecen seguros médicos que incluyen necesidades de personas transgénero y redes LGBTIQ+.
Por otra parte, empiezan a llevar a cabo eventos por el mes del orgullo LGBTIQ+.
Una campaña multinacional
La Human Rights Campaign se ha lanzado en Brasil, Argentina, México, Chile y Estados Unidos, país donde nació. En el caso de las iniciativas multiactor, algunas de estas empresas están empezando a abrirse a otras empresas y tratan de ofrecer algún tipo de apoyo.
Muchas compañías ven el acrónimo LGBT como si se tratase de un grupo homogéneo.
Es decir, ven a las poblaciones diversas sin distinguir entre personas gays, lesbianas, transexuales, transgénero e intersexuales, no separan la orientación sexual de la identidad de género.
"Las personas LGBTIQ nos enfrentamos a una discriminación estructural social y cultural que no nos permite acceder a empleo, salud, educación, justicia y derechos civiles, entre otros derechos…" @danberezowsky en foro de empresas y DDHH de @UKinGuatemala pic.twitter.com/HaLVkxeIsW

— ReportarSinMiedo (@ReportarSin) October 14, 2021
Estas empresas tampoco distinguen las experiencias de las personas dentro del acrónimo y hacen una sola campaña, como si se tratara de todas las personas por igual.
Esto es muy importante porque estamos en una semana de empresa y derechos humanos. Se trata del punto de entrada en la discusión, no el punto de entrada de riesgo.
"Esta investigación aborda la violencia para la población joven, de 18 a 23 años", explicó el Investigador de la Asociación Visibles de Guatemala, Gabriel Duarte. "Fue un proyecto regional que se llevó a cabo en Guatemala, El Salvador y Honduras. En Guatemala, el proyecto se realizó de 2019 a 2020 con enfoque, investigación y acción participativa. Entrevistamos a 30 jóvenes de la diversidad sexual y de género".
Solo uno de cada 20 jóvenes es empresario
En 2020, más del 40 por ciento de los jóvenes LGBTIQ+ de 15 a 29 años tuvieron su primera experiencia en el mundo laboral como asalariados y menos del 5 por ciento (uno de cada 20) tuvieron negocio propio, según el Instituto Nacional de Estadística (INE).
El Estado hondureño tiene debilidades que afectan a la población joven LGBTIQ+. Una de ellas es que el artículo 14 del Código de Trabajo prohíbe la discriminación por diversos motivos, pero nunca aborda la orientación sexual o género.
En cuanto a las discriminaciones contra la comunidad LGBTIQ que pueden llevar procesos legales, no hay ninguna tipificación de delito.
"Uno de los obstáculos del diseño de políticas públicas es no contar con estadísticas oficiales que muestren qué porcentaje de la población se autoidentifica como LGBTIQ+", enfatizó Duarte.
Menos acceso a educación igual a menos oportunidades
Según Gabriel Duarte, la falta de acceso a educación de calidad impacta directamente en el tipo de empleo y la remuneración económica.
"Muchas personas LGBTIQ+ que entrevistamos en esta investigación describían de que al salir del clóset tuvieron que abandonar su hogar porque su familia no los había aceptado", dijo Duarte.
Esta primera ponencia resalta la necesidad de cerrar brechas de acceso a oportunidades de educación.
"Cada vez más empresas crean políticas inclusivas para incluir a personas LGBTI+ en sus organizaciones. UK esta combatiendo la discriminación desde todos los frentes, pasando por los clientes, empleados y la cadena de valor" dijo @WhittinghamFCDO en evento sobre empresas y DH. pic.twitter.com/Ob79eqXovf

— ReportarSinMiedo (@ReportarSin) October 14, 2021
También propone tener políticas de inclusión y de prevención de la discriminación dentro de los lugares de trabajo, ya que muchas personas mencionaron que no sufrían necesariamente violencia física, sino psicológica dentro de estos espacios laborales.
Duarte resaltó que la oficina del Alto Comisionado de las Naciones Unidas recomendó asegurarse de que no haya discriminación en el acceso a los servicios básicos, incluso en el contexto del empleo y de la atención de la salud, y ofrecer educación y capacitación para prevenir la discriminación y estigmatización de las personas LGBTIQ+.
El caso de Walmart
"Cambiar la mentalidad no solo de nuestros asociados, sino también del contexto guatemalteco», dijo la representante de Walmart, Ana Valeria.
Agregó que es necesario dejar de creer que es posible llamar "pobrecita" a una persona con discapacidad.
Según Valeria, Walmart les ha dado valor a estas personas de aportar su talento y habilidades al desarrollo de las unidades de trabajo.
"Walmart en Guatemala cuenta con 367 asociados y asociadas con discapacidad que día a día muestran la pasión y el compromiso de seguir trabajando y aportando en cada una de nuestras metas", dijo la representante de la multinacional.
Ana Valeria Escobar de @WalmartMXyCAM habla sobre la política de inclusión que ofrecen la compañía a mujeres, personas con discapacidad y personas LGBTI+. "Ofrecemos un lugar seguro y libre de discriminación". pic.twitter.com/48IgXej9Rl

— ReportarSinMiedo (@ReportarSin) October 14, 2021
Un carnet para identificar el género
Walmart enfrenta los retos sociales y culturales de las regiones de Guatemala, agregó Valeria, "garantizamos entornos laborales seguros y diversos. Comunicamos de forma abierta y clara nuestra postura como compañía hacia la inclusión y el apoyo a la Comunidad LGTB. Tuvimos resultados que se transformaron en un gran reto y opiniones diversas de los sectores de Guatemala".
Walmart ha avanzado en la integración del talento diverso, según Valeria. "Quienes forman parte de la comunidad LGTB pueden ahora identificarse con un gafete de Walmart. Creemos que estos asociados tienen la libertad de ser ellos mismos y elegir al momento de utilizar esta identificación. Pueden portar el nombre que les permita ser ellos mismos y expresarse con sus características únicas dentro de cada una de nuestras tiendas".
La compañía con sede en Arkansas, Estados Unidos, da también paquetes de beneficios en igualdad de condiciones para sus asociados, dijo Valeria.
Walmart "no limita las oportunidades de carrera, ascensos, información e igualdad de condiciones para sus asociados".
La compañía, considerada "el empleador más privado más grande del mundo" tiene, según su representante, "la responsabilidad de impactar positivamente en las sociedades y comunidades donde operamos".
En muchos países de América Latina, faltan leyes que protejan y reconozcan identidades LGBTI.

Pero ese NO debe ser pretexto para que las empresas se laven las manos.

¡Al contrario! Es una oportunidad para dar el ejemplo y usar su influencia para generar cambios en la ley. 🏳️🌈

— Daniel Berezowsky (@danberezowsky) October 14, 2021
Conservatives blame pro-trans policy after assaults in Loudoun schools
'Gender fluid' 15-year-old accused of attacking female students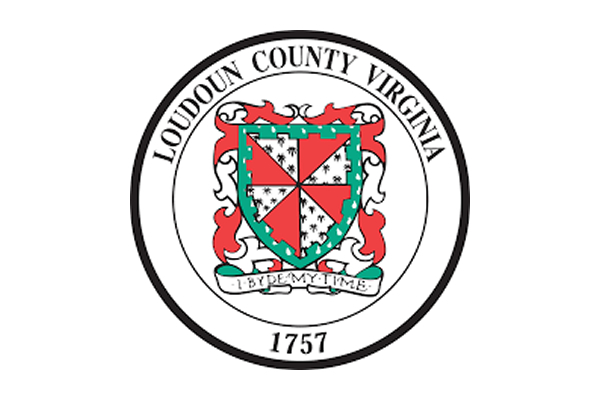 The Loudoun County, Va., public school system's recently adopted policy of allowing students to use the bathroom that matches their gender identity has come under fire over the past two weeks by outraged parents and conservative political activists following reports that a 15-year-old "gender fluid" boy allegedly sexually assaulted two girls in different high schools.
The parents of one of the girls released a statement through the Virginia-based Stanley Law Group blaming school officials for failing to put in place safeguards to prevent the boy, who they say was dressed in a skirt, from entering the girl's bathroom to assault their daughter at Stone Bridge High School in Ashburn, Va., on May 28.
The statement accuses Loudoun County Schools officials and the Loudoun County Board of Education of failing to take steps to prevent the same 15-year-old boy from allegedly sexually assaulting another female student at Broad Run High School, also located in Ashburn, on Oct. 6 in a vacant classroom.
School officials acknowledge that the boy was transferred to the second school after law enforcement authorities released him from a juvenile detention facility following his arrest for the first case, in which the Loudoun County Sheriff's Office said he was charged with two counts of forceable sodomy against his female victim.
"The sexual assault on our daughter and the subsequent sexual assault by the same individual were both predictable and preventable," the parents' statement says. "Subsequent to the sexual assault on our daughter, Loudoun County Public Schools formalized the policy regarding restroom use that was easily exploitable by a potential sexual assailant," the statement continues.
"Because of poor planning and misguided policies, Loudoun Schools failed to institute even minimal safeguards to protect students from sexual assaults," says the statement.
Loudoun County Schools Superintendent Scott A. Ziegler apologized at an Oct. 15 news conference for what he acknowledged was the school systems' mishandling of the two sexual assault cases. He noted that school officials should have publicly disclosed the two cases or at least alerted parents at the time they occurred. But he said a federal civil rights law known as Title IX that mandates how schools must respond to cases of sexual harassment appeared to prevent Loudoun school officials from initially disclosing the two cases of sexual assault until they were investigated by law enforcement authorities.
Ziegler said the school system was revamping its disciplinary procedures and its interaction with the Loudoun Sheriff's Office to ensure that parents and students are alerted to potential danger similar to the cases where the 15-year-old boy allegedly assaulted the two female students.
Meanwhile, school officials and the LGBTQ advocacy group Equality Loudoun have pointed out that law enforcement officials have yet to confirm whether the 15-year-old boy charged in the two cases was actually dressed in women's clothes during the first incident or whether he is trans or gender fluid.
Equality Loudoun's president, Cris Candice Tuck, released a statement to the Washington Blade on Oct. 18 that she said was the first official known statement responding to the Loudoun school controversy from an LGBTQ organization.
"In light of the reporting of recent sexual assault allegations, the Board of Directors of Equality Loudoun wishes to extend our deepest sympathies to the victims of these heinous attacks and their families," the statement says. "Equality Loudoun advocates for due process and justice for the victims regardless of whether the alleged perpetrator was a member of the LGBTQ+ community," the statement continues. "Such actions have no place in our community, and Equality Loudoun does not condone any form of sexual violence, assault, or harassment," it says.
"However, the accusations that the alleged perpetrator of these assaults is transgender or genderfluid have so far been unverified," the Equality Loudoun statement asserts. "Attempts to shift blame of this incident to any individual, group, or policy – other than the alleged perpetrator – does a grave disservice to the victims of these crimes and already marginalized youth in our community."
The statement adds, "We remind those advocating for change to the laws and policies that the initial assault predated any enactment of Policy 8040 by almost 4 months."
The Equality Loudoun statement was referring to the fact that the Loudoun County School Board did not vote to approve the school system's trans nondiscrimination policy until August of this year, more than three months after the first of the two sexual assault incidents occurred.
The policy, among other things, allows transgender and genderfluid students to use the school bathrooms and locker rooms that match their gender identity. The policy also requires that teachers, school administrators and fellow students address a trans or genderfluid student by their chosen name and pronouns.
"Inadvertent slips in the use of names and pronouns may occur," the policy states. "However, staff or students who intentionally and persistently refuse to respect a student's gender identity by using the wrong name and gender pronoun are in violation of this policy," it states.
The statement says that rumors of a bathroom "pilot" program that predated the official approval of Policy 8040 that would have allowed female trans or genderfluid students to use the girls' bathrooms "are simply untrue" and were never put in place.
In a separate statement to the Blade, Equality Loudoun's Cris Candice Tuck challenged claims by some parents and conservative political activists, some of whom are supporting Virginia's GOP gubernatorial candidate Glenn Youngkin over Democrat Terry McAulliffe, that the trans nondiscrimination policy is placing students at risk for sexual assault.
"The adoption of nondiscrimination policies are in no way endangering students," Candice Tuck said. "Across the country, sexual assaults have occurred in schools for decades before any transgender inclusive policies were passed," she said. "And in those counties and states where such protections have passed in recent years, there has been no verified incidence of anyone abusing such policies to commit such attacks in schools."
Candice Tuck added, "The focus should be on improving systems of reporting, coordination, and investigation, protecting the victims of these attacks, and creating safer school environments by creating modernized areas and bathrooms that increase protection for all students, including LGBTQ+ students who are statistically more likely to be the victim of such a crime."
Jamaica man attacked after using gay dating app
Victim's penis partially severed before he was set on fire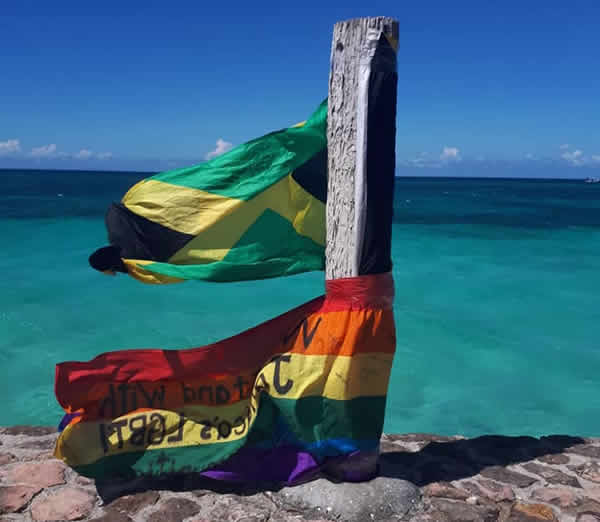 An 18-year-old man in Jamaica remains hospitalized in critical condition after he was targeted on a gay dating app.
The Jamaica Gleaner reports the victim on Oct. 11 went to a neighborhood in Montego Bay, a resort city that is the capital of Jamaica's St. James Parish, to meet the man with whom he was speaking.
The newspaper reports the man and two other men abducted the victim, robbed him and partially severed his penis before they set him on fire. Officials said the three men took his cell phone and used his bank card to withdraw money from his account.
"He is a very lucky young man because although they left him in a critical condition, he managed to make his way to a security checkpoint in the community where they assisted him to the hospital, where he was admitted in critical condition," a local police officer told the Jamaica Gleaner.
The Jamaica Gleaner reported a 43-year-old man in St. James Parish disappeared in January 2020 after he went to meet someone with whom he had spoken on a gay dating website. Authorities later found the man's body, and two men have been charged with his murder.
Violence against LGBTQ Jamaicans remains commonplace. Consensual same-sex sexual relations also remain criminalized in the country.
J-FLAG, a Jamaican LGBTQ rights group, has condemned the latest attack.
"Like all well-thinking Jamaicans at this time, JFLAG is outraged at the recent attack on an 18-year-old man in St. James," tweeted J-FLAG on Sunday. "His attackers must be brought to justice."
‼️TRIGGER WARNING‼️

This is not the time for victim-blaming nor slut-shaming. Justice is our only focus at this time. We appeal to community members, allies and every other Jamaican who may have information to make a report to the police. pic.twitter.com/Lmz6lYAY5s

— Equality Jamaica (@EqualityJa) October 17, 2021