Nationals shortstop Trea Turner apologizes for homophobic and racist tweets
MLB players Sean Newcomb, Josh Hader also being held accountable for old posts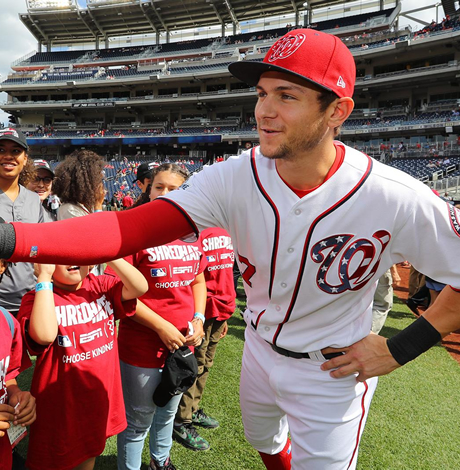 Washington Nationals shortstop Trea Turner has apologized for "insensitive and offensive" tweets posted when he was 18 that resurfaced on Sunday.
The tweets, posted between 2011-2012, came to light after the Nationals' 5-0 loss at Miami. Turner, who is now 25, used homophobic and racist slurs.
Dave have you seen these tweets by trea turner? It would be a shame if the nats guy @BarstoolNate didn't blog about it pic.twitter.com/x6Aw20w8MD

— Blake Bortles is Elite (@BBBortles5) July 30, 2018
— Blake Bortles is Elite (@BBBortles5) July 30, 2018
Turner released a statement via the Nationals saying he is "sincerely sorry for those tweets and apologize wholeheartedly."
Trea Turner issued a statement. pic.twitter.com/5ZFbn2AH5E

— Chelsea Janes (@chelsea_janes) July 30, 2018
"I believe people who know me understand those regrettable actions do not reflect my values or who I am," Turner says. "But I understand the hurtful nature of such language and am sorry to have brought any negative light to the Nationals organization, myself or the game I love."
Nationals general manager and president of baseball operations Mike Rizzo also released a statement calling Turner a "model citizen in our clubhouse."
"I have spoken with Trea regarding the tweets that surfaced earlier tonight," the statement reads. "He understands that his comments – regardless of when they were posted – are inexcusable and is taking full responsibility for his actions. The Nationals organization does not condone discrimination in any form, and his comments in no way reflect the values of our club."
Statement from Nationals President of Baseball Operations and General Manager Mike Rizzo: pic.twitter.com/mqFa24aix2

— Washington Nationals (@Nationals) July 30, 2018
Turner isn't the only MLB player being held accountable for old offensive tweets.
Atlanta Braves pitcher Sean Newcomb's old tweets also came to light on Sunday after he missed a no-hitter by one out during a game against the Los Angeles Dodgers. Newcomb, 25, also posted the tweets when he was 18.
Sean Newcomb is cancelled pic.twitter.com/0KGrXXLm6Z

— squid (@NatsSquid) July 29, 2018
uhhhhhhhhhhhhh hey @SeanNewk, you really like that word, huh? pic.twitter.com/swd0EGG2M7

— Kelly Wallace (@kellyawallace) July 29, 2018
Newcomb issued an apology calling the posts "stupid stuff with friends."
"I just want to apologize for any insensitive material," Newcomb said. "It was a long time ago – six, seven years ago – saying some stupid stuff with friends. I know I've grown a lot since then. I didn't mean anything by it. It was just something stupid that I did a long time ago."
Milwaukee Brewers relief pitcher Josh Hader, 24, also found himself under fire earlier this month when old homophobic and racist tweets were dug up from when he was 17. Hader apologized and the MLB chose not to suspend him but to require he attend sensitivity training.
10 LGBTQ events this week
A Gaga afterparty and a cardboard boat regatta among attractions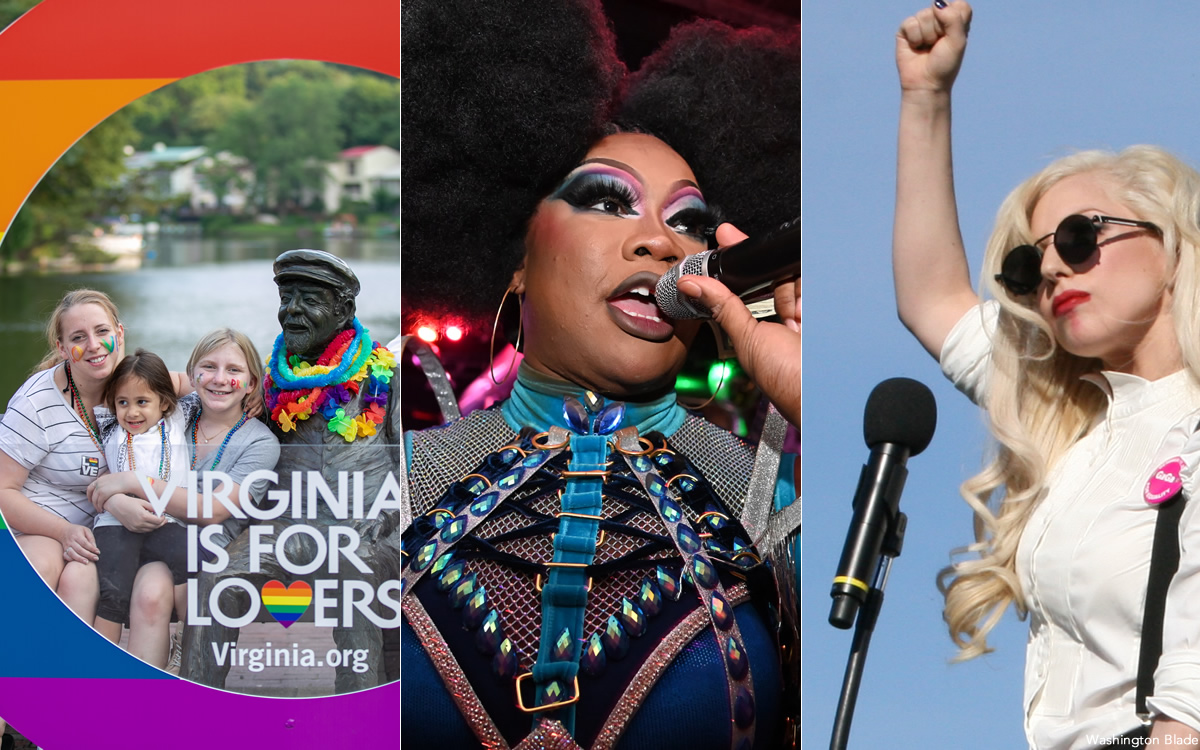 Below are our picks for some of the most fun and creative things to do this week in the DMV that are of special interest to the LGBTQ community.
---
Reign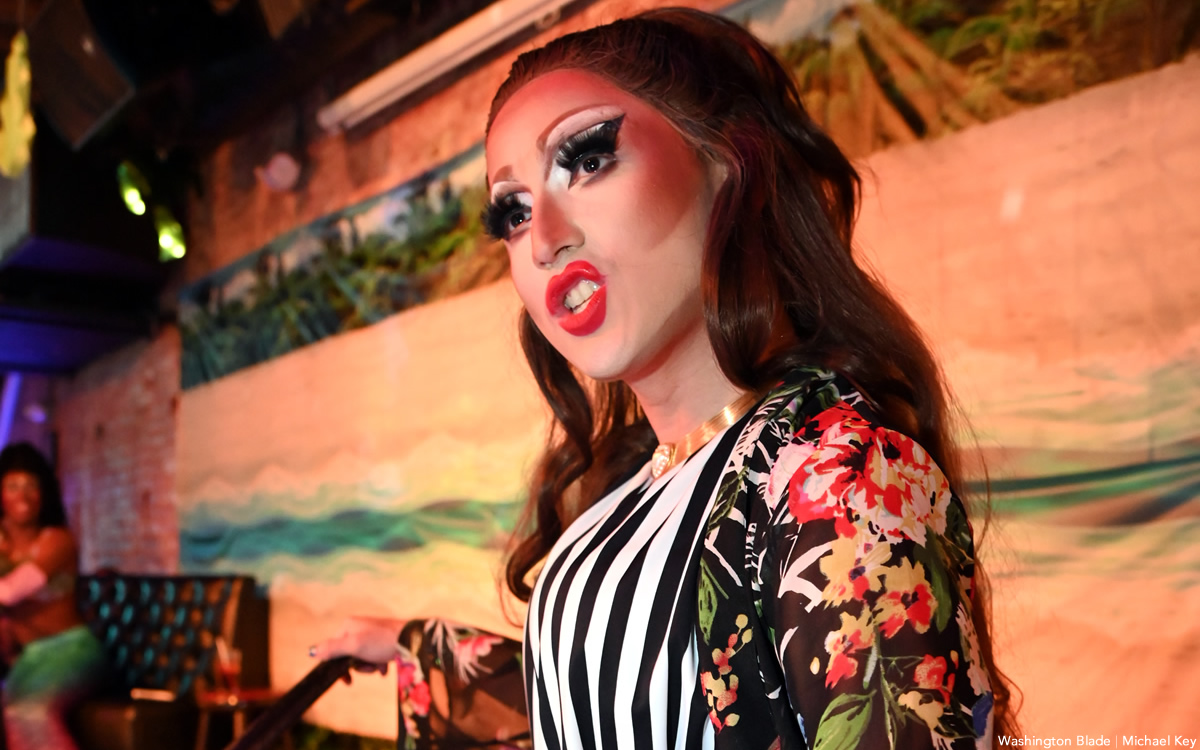 Monday, August 8
8-11 p.m.
DIK Bar
1637 17th Street, N.W. (second floor)
Facebook
Join Logan Stone, Dabatha Christie and Hennessey for a fun-filled drag show at Dupont Italian Kitchen Bar tonight at 8.
---
OMGaga Afterparty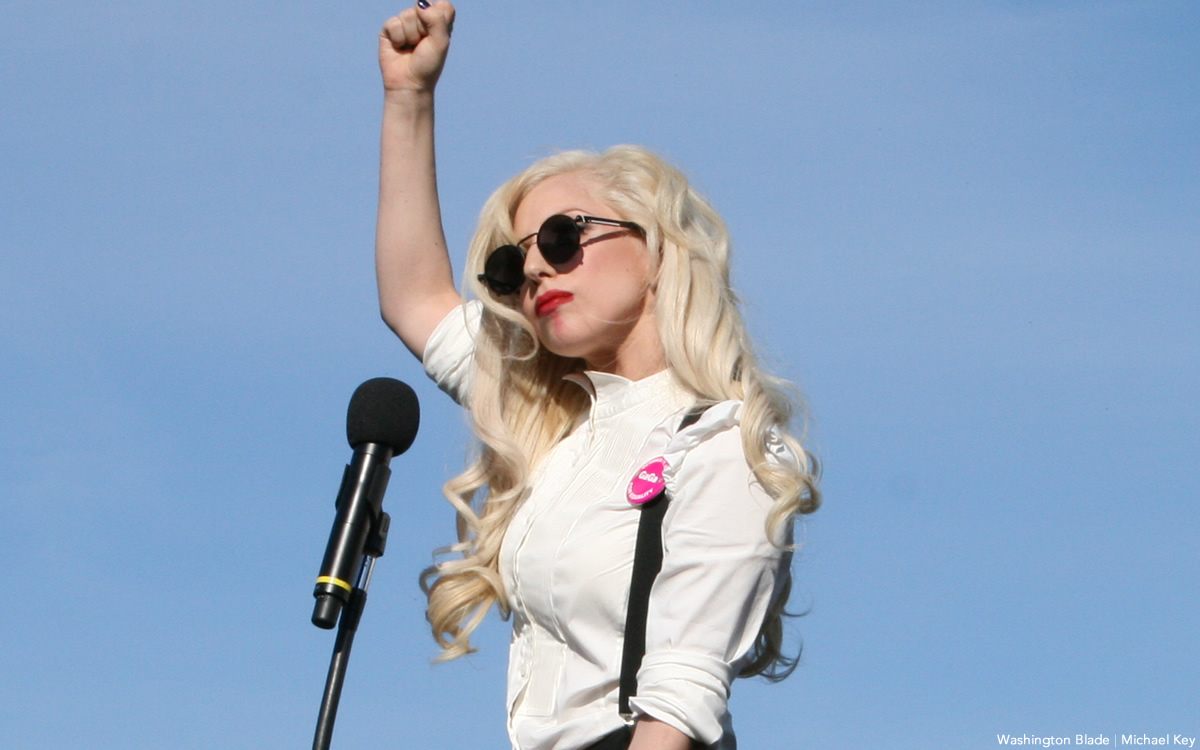 Monday, August 8
10 p.m.
Green Lantern
1335 Green Court, N.W.
Facebook
Did you catch the Gaga concert tonight? Whether you did or not, join the afterparty at Green Lantern. Show your ticket stub from the concert for a free drink on the dance floor.
---
Drag Bingo with Desiree Dik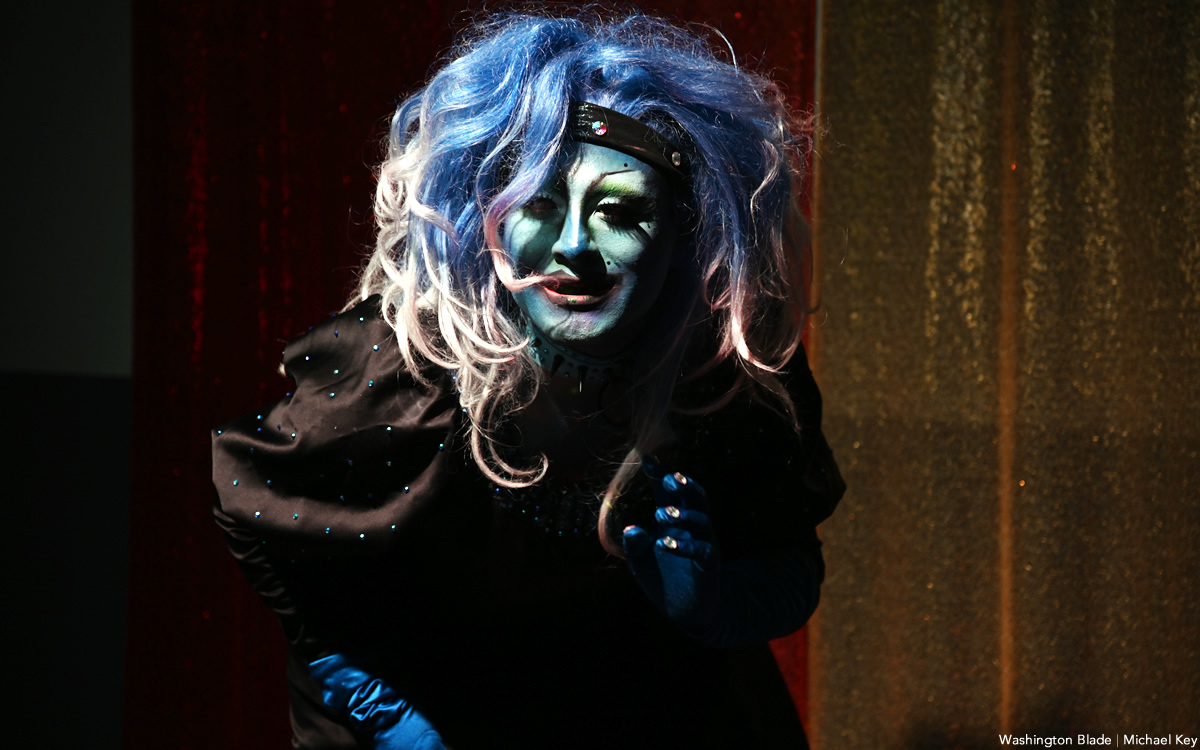 Tuesday, August 9
7-9 p.m.
Red Bear Brewing Co.
209 M Street, N.E.
Facebook
Join Desiree Dik for a game of bingo at Red Bear Brewing Co. on Tuesday. Free to play.
---
Queer Trivia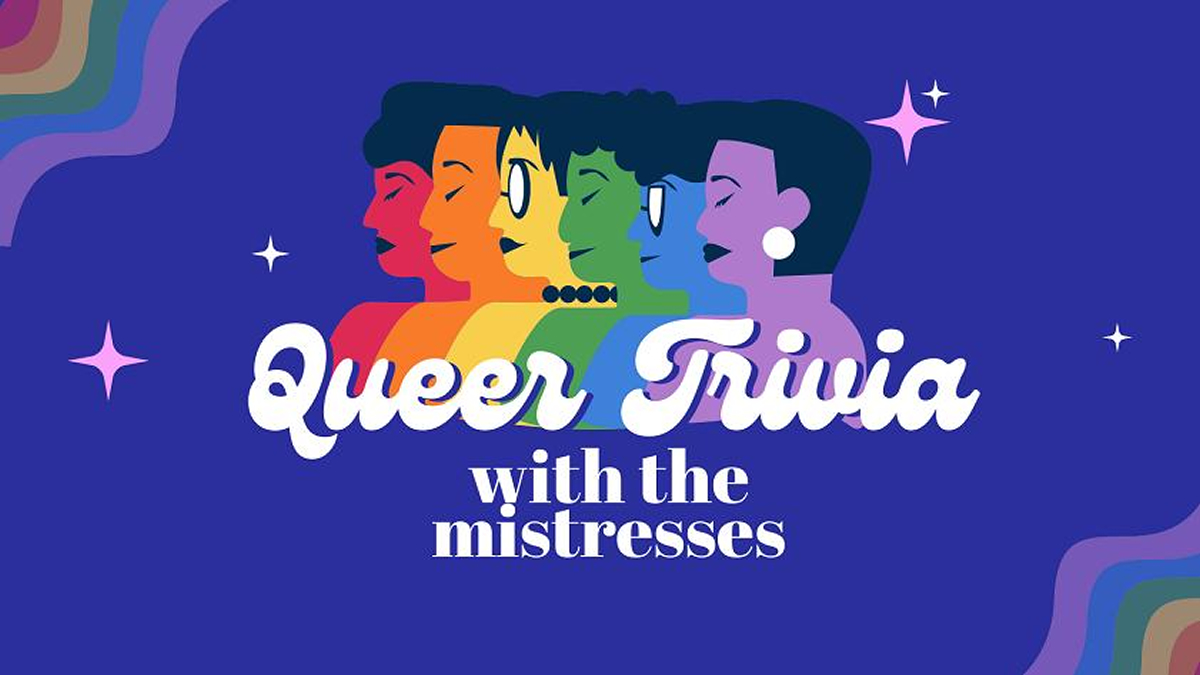 Wednesday, August 10
7-9 p.m.
Dew Drop Inn
2801 8th Street, N.E.
Facebook
The Mistresses lead a night of Queer Trivia on all things gay at the Dew Drop Inn on Wednesday.
---
Thirst Trap Thursdays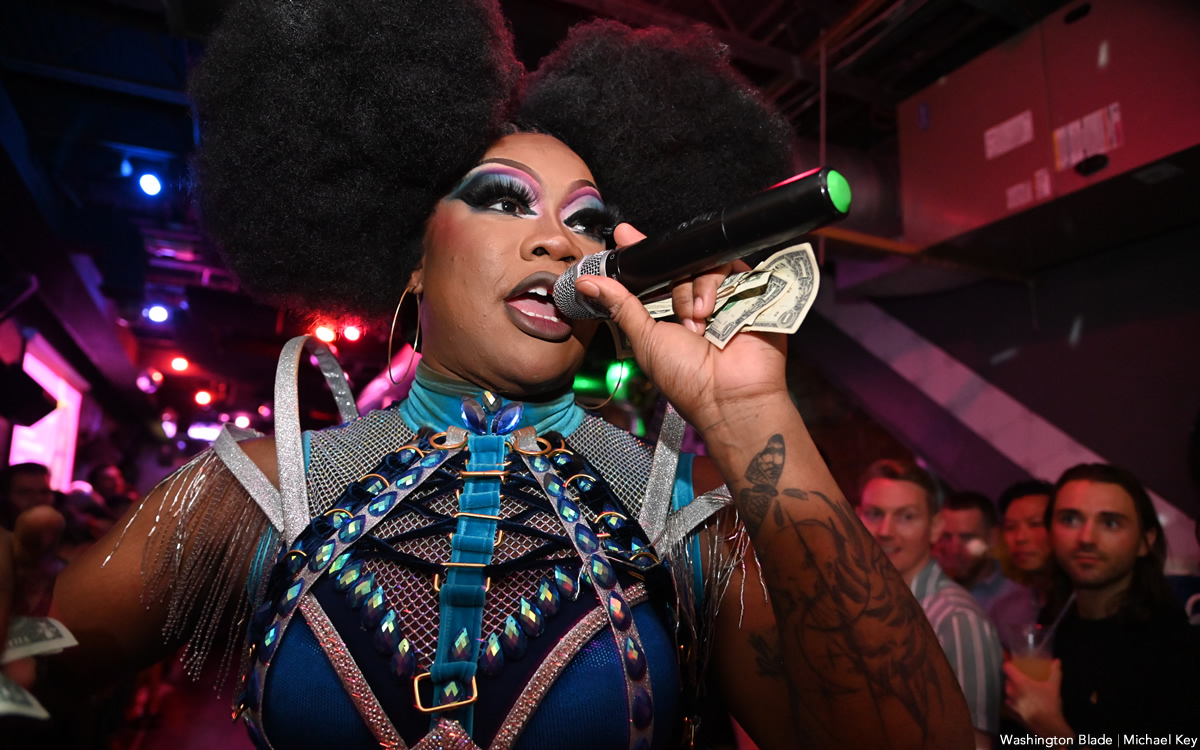 Thursday, August 11
10 p.m.
Pitchers DC/A League of Her Own
2317 18th Street, N.W.
Facebook
Venus Valhalla and Cake host the Thirsty Thursdays drag show at Pitchers/ALOHO on Aug. 11.
---
LGBTQ Social at Wild Days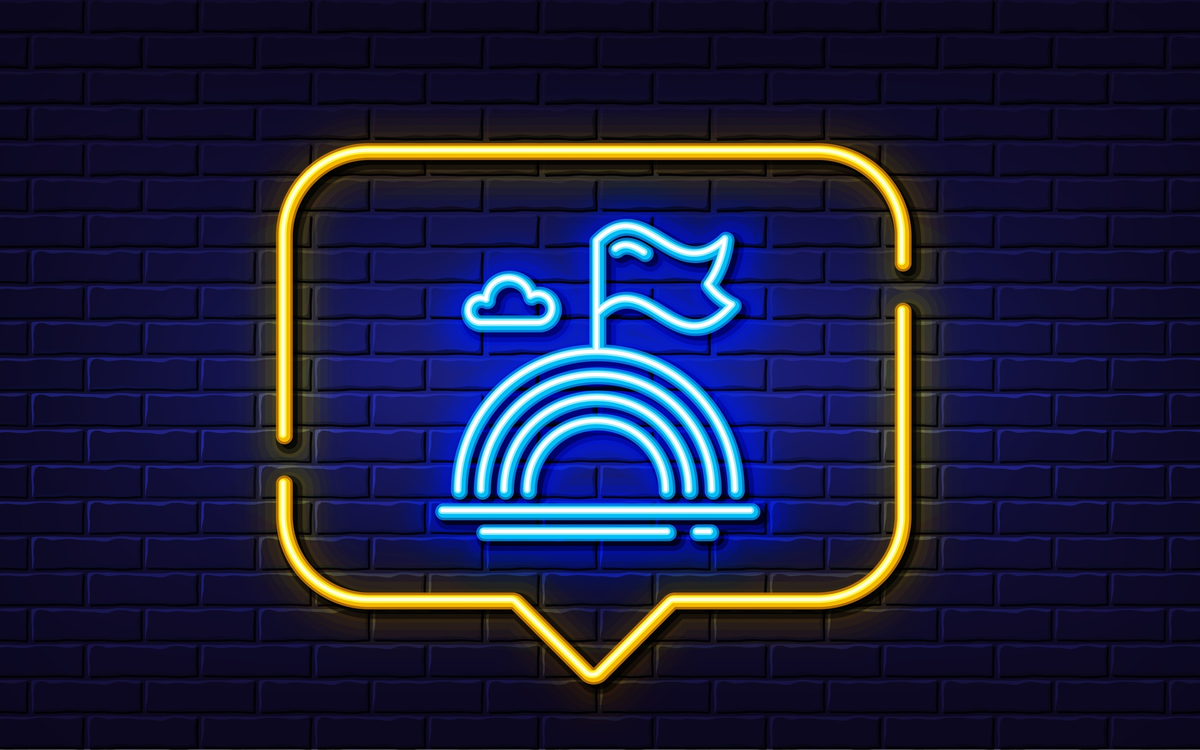 Friday, August 12
7-9 p.m.
Wild Days Rooftop Bar at the Eaton Hotel
1201 K Street, N.W.
21+
Eventbrite
Have some casual conversations with new friends in the LGBTQ community over drinks in a relaxed atmosphere. Hosted by Go Gay DC.
---
A Love Letter to RENT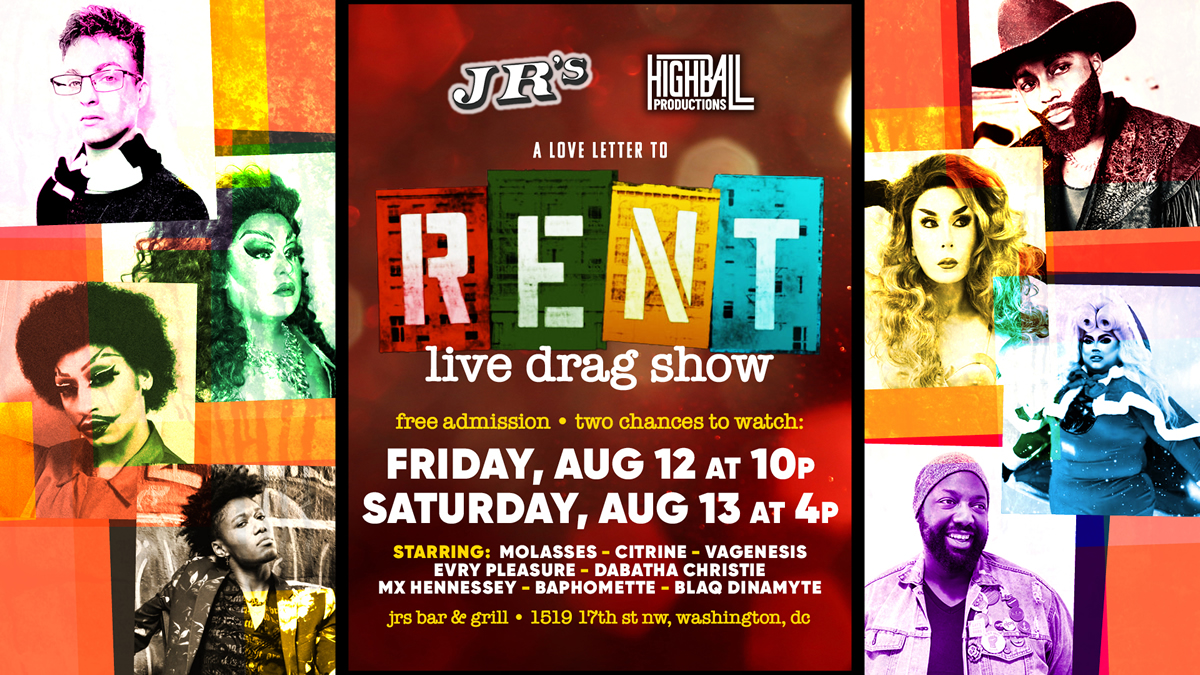 Friday, August 12
10 p.m.
JR.'s Bar
1519 17th Street, N.W.
Free admission
Facebook
Watch a drag show dedicated to the hit musical RENT. If you miss the first show on Friday, come by on Saturday at 4 p.m. for an encore performance.
---
Lights On, Barks Out! Disco Heat Drag Brunch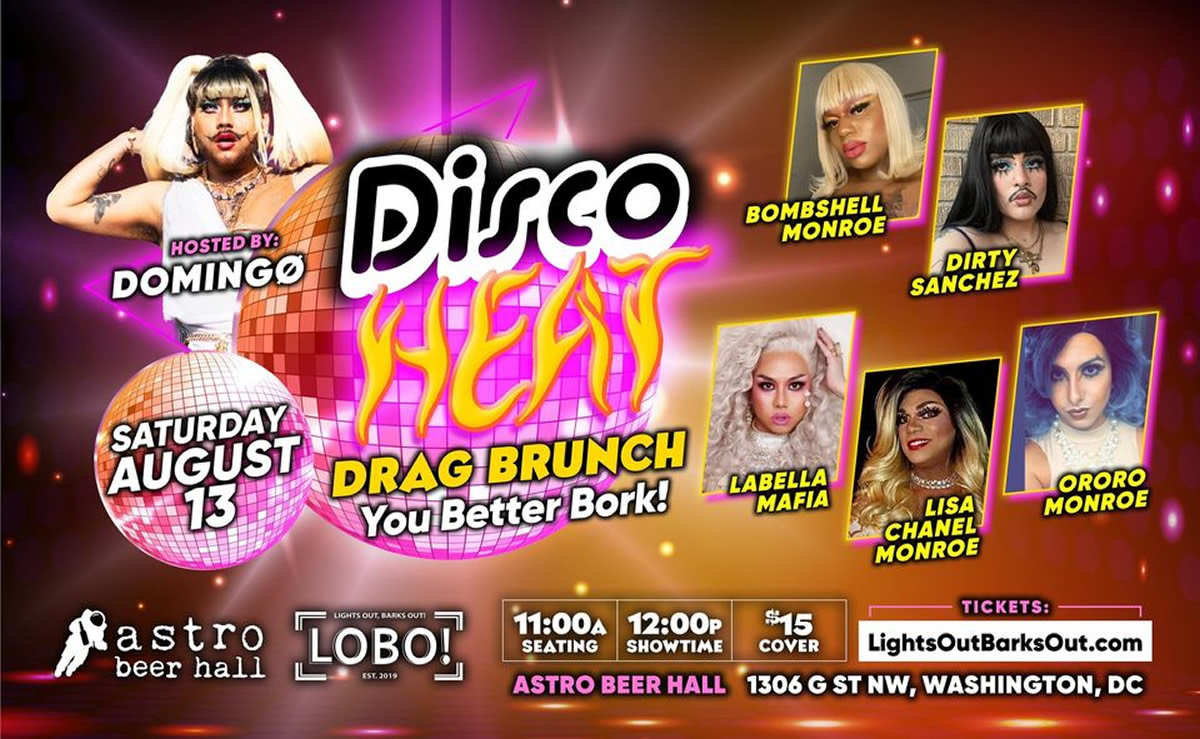 Saturday, August 13
Seating 11 a.m./show 12 p.m.
Astro Beer Hall
1306 G Street, N.W.
$15 cover
Facebook
Join host Doming0 for the Disco Heat Drag Brunch on Saturday at Astro Beer Hall.
---
Lake Anne Cardboard Boat Regatta
Saturday, August 13
2 p.m.
Lake Anne Plaza
1609 Washington Plaza
Reston, Va.
Facebook | Website
Watch a cardboard regatta race along Lake Anne in Reston, Va. Or, you could even participate (rules here)!
---
Mister & Miss AGLA Scholarship Fundraiser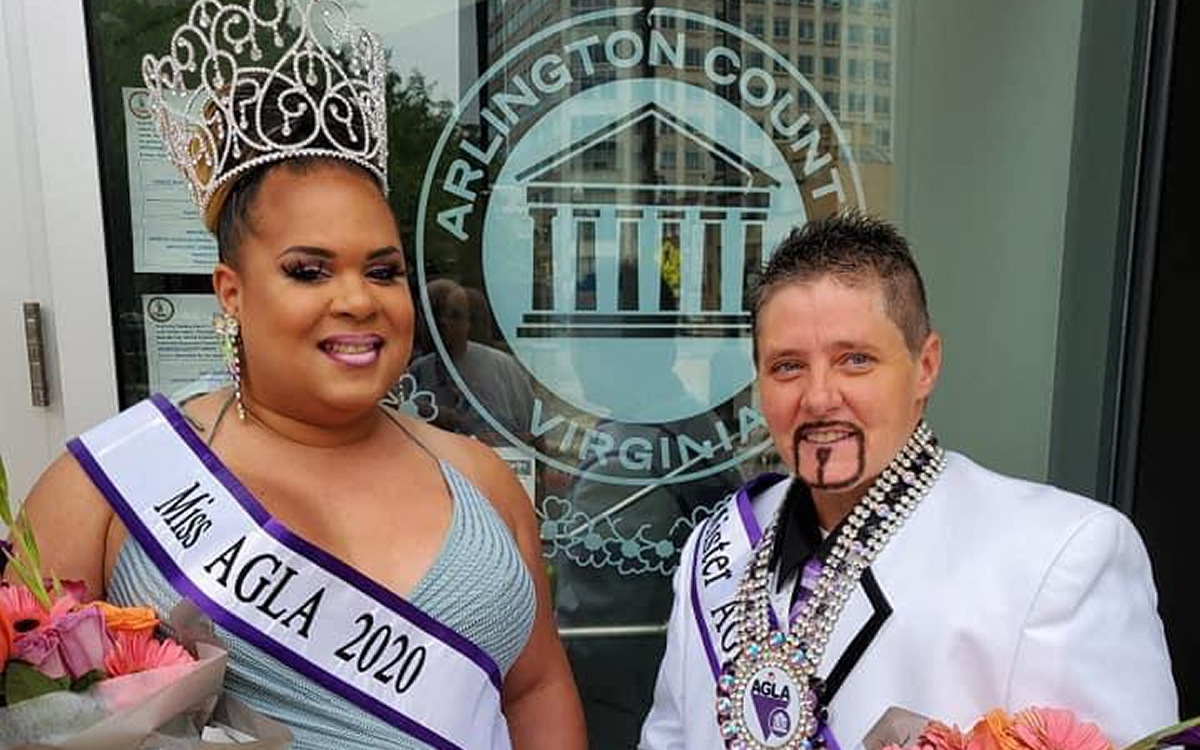 Sunday, August 14
7-9 p.m.
Freddie's Beach Bar & Grill
555 23rd Street S
Arlington, Va.
$10 donation requested
Facebook
Join a fundraiser for a good cause: a college scholarship for an outstanding Arlington County Public High School senior. Also, the 2022 Mr. and Miss AGLA will be crowned.
---
PHOTOS: United Night OUT
Team DC and Federal Triangles honored at halftime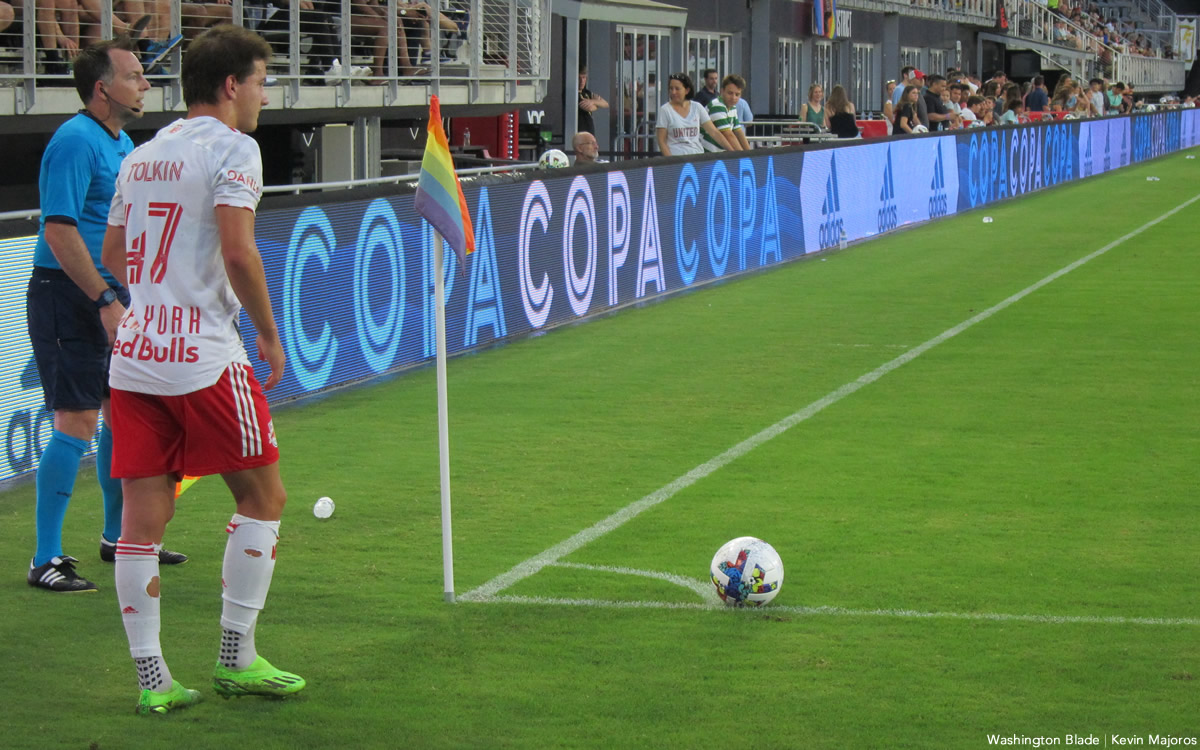 United Night OUT 2022 was held on August 6 at Audi Field with DC United taking on their Atlantic Cup rivals, the New York Red Bulls. The two teams battled to a 0-0 scoreless draw in their 99th meeting. The LGBTQ community event was co-hosted by Team DC and the Federal Triangles Soccer club who were both honored at halftime.
(Washington Blade photos by Kevin Majoros)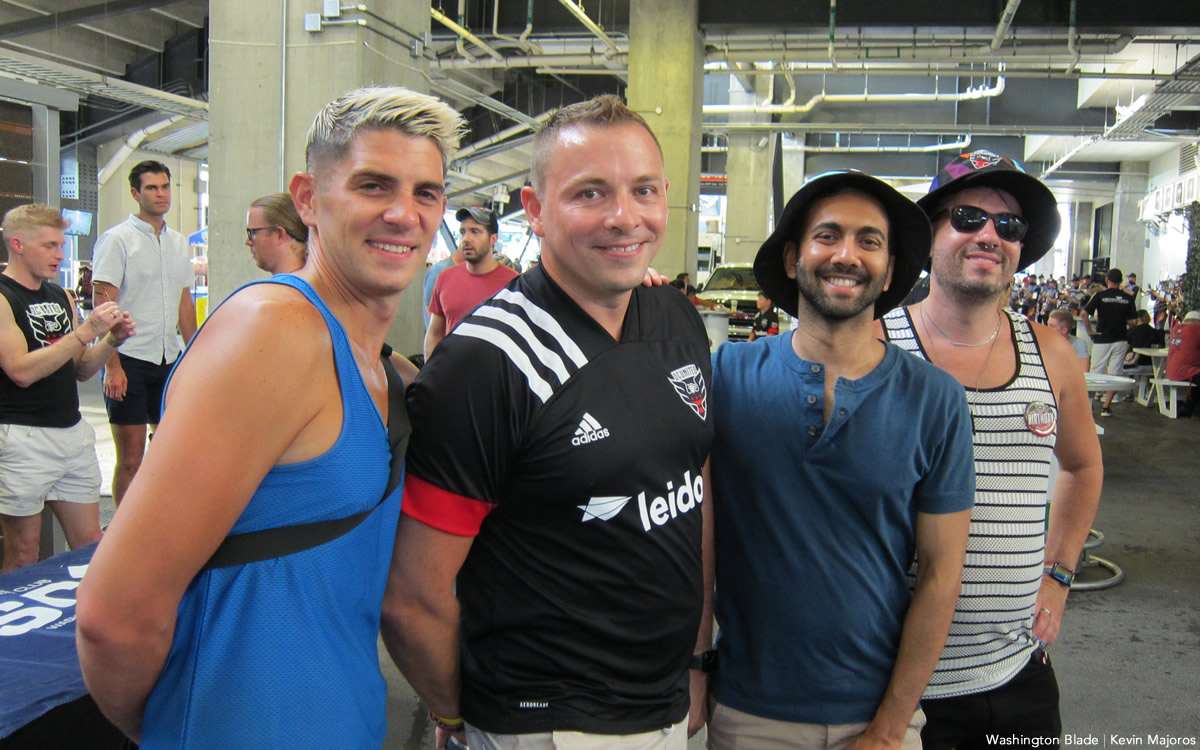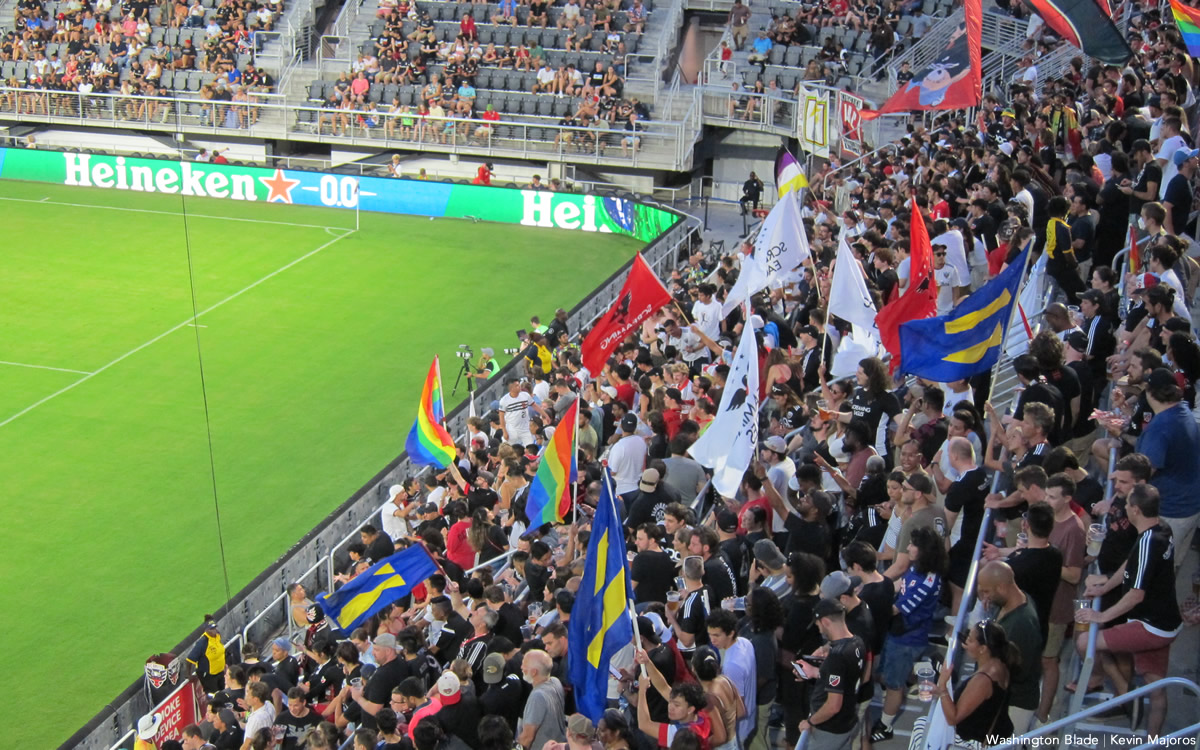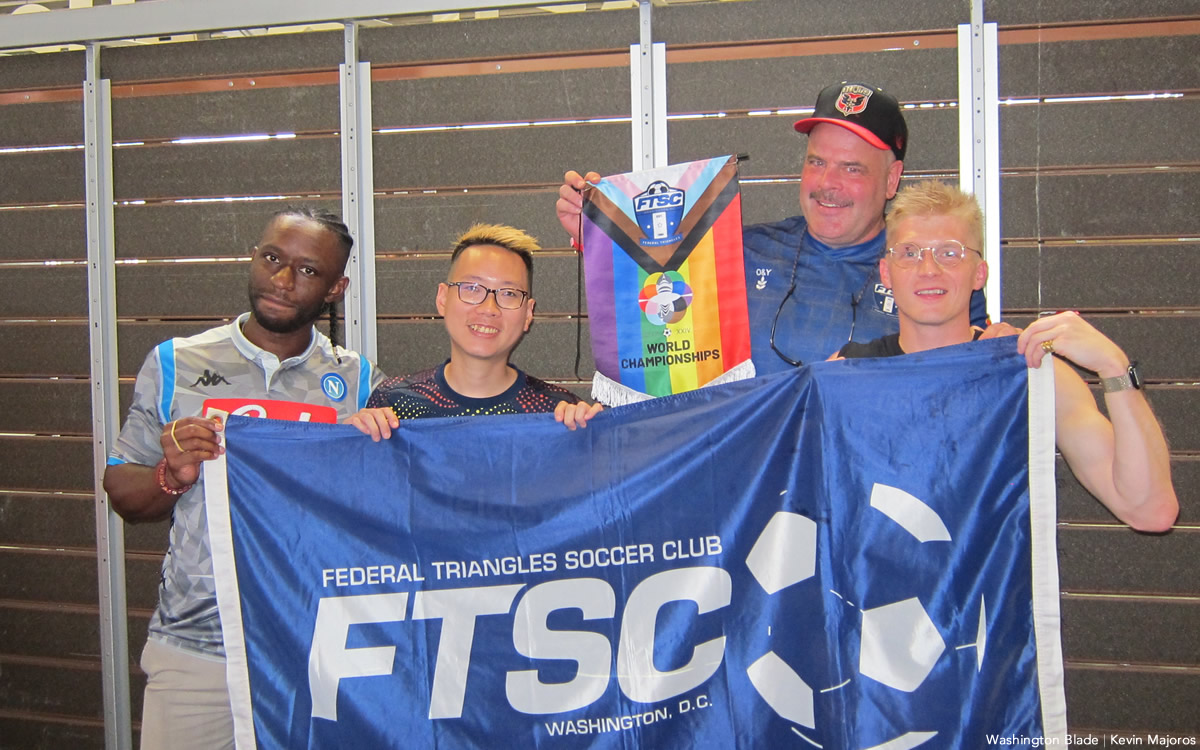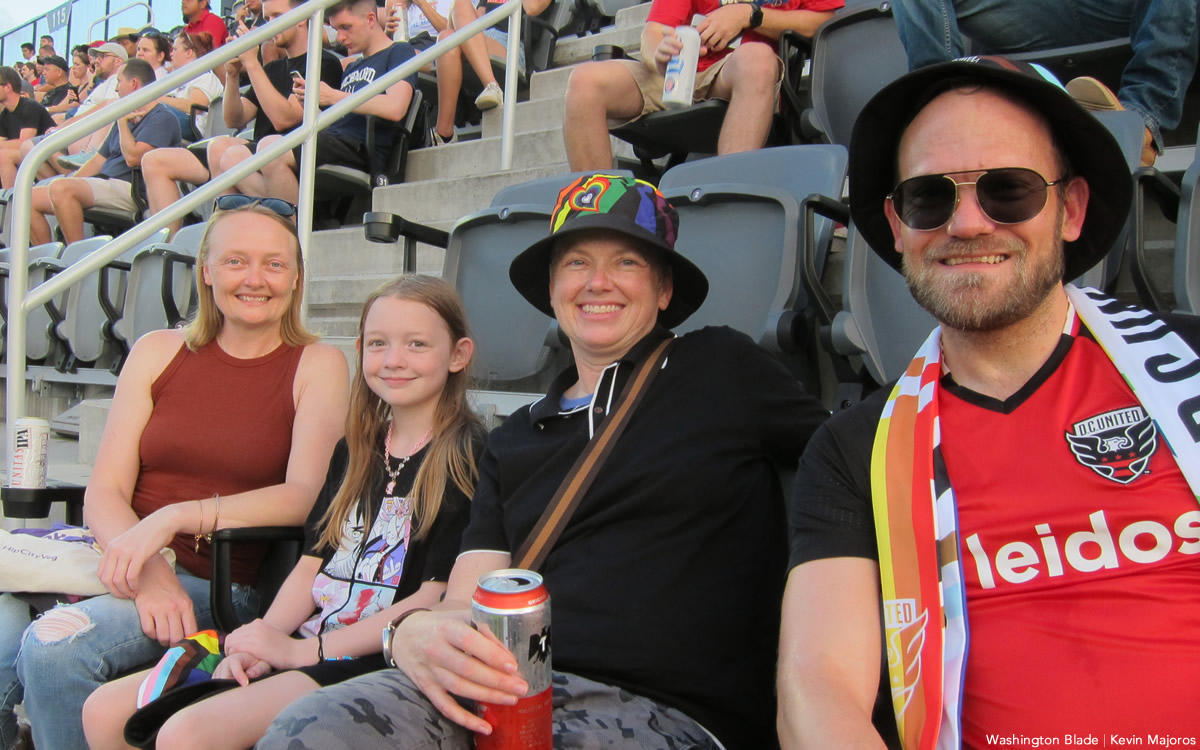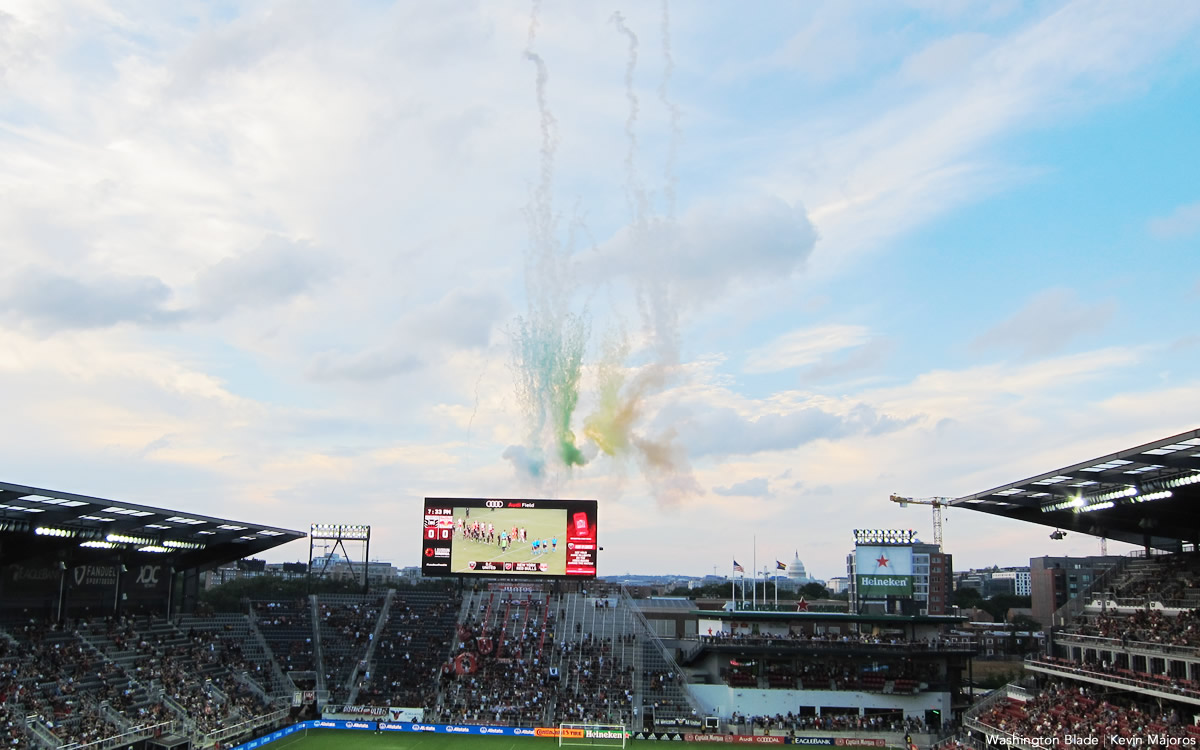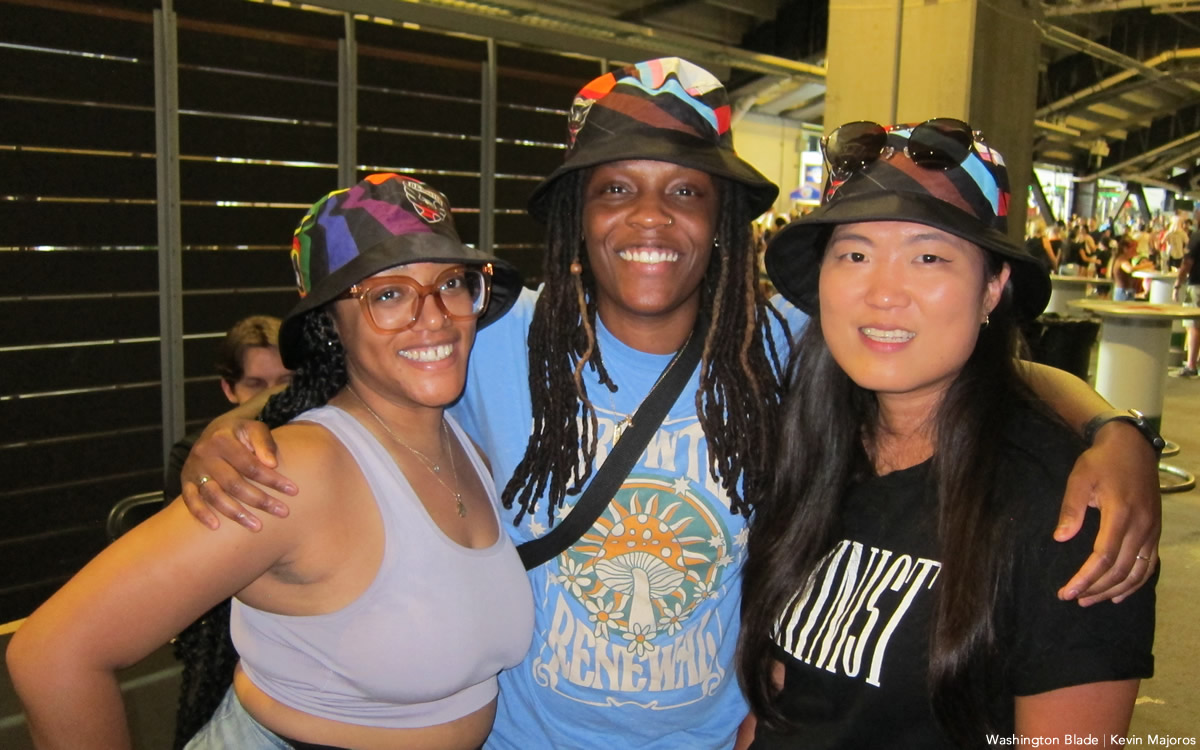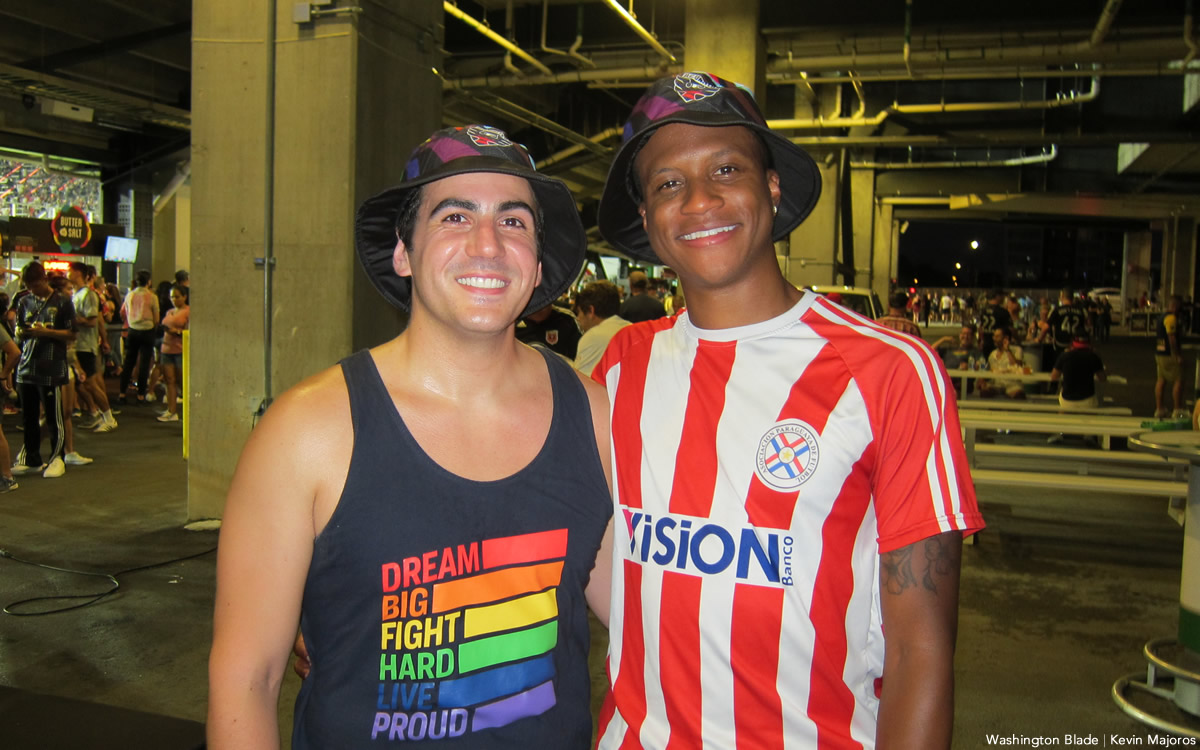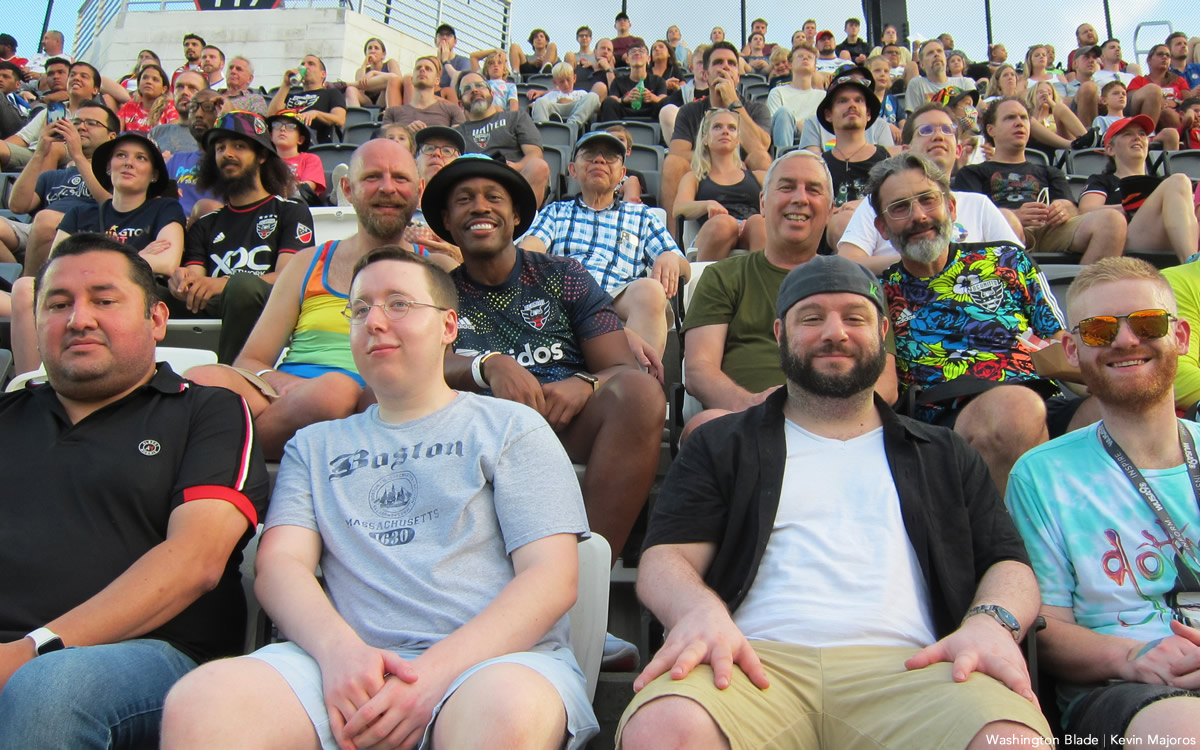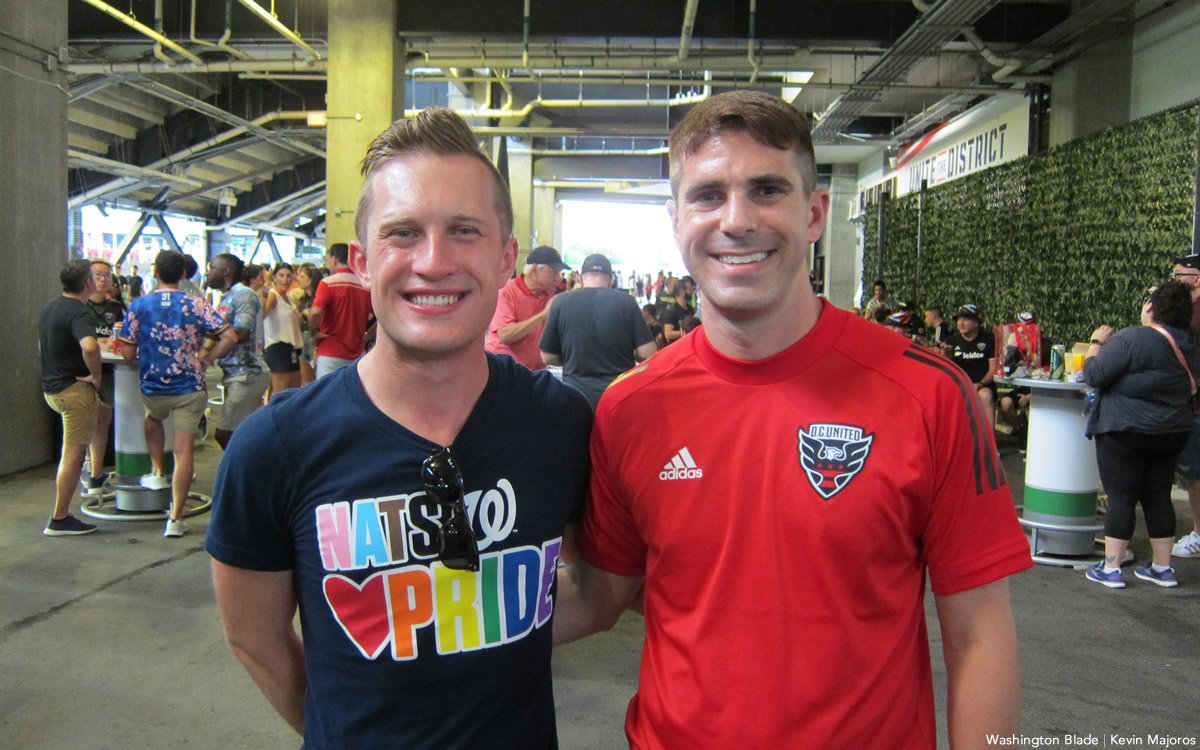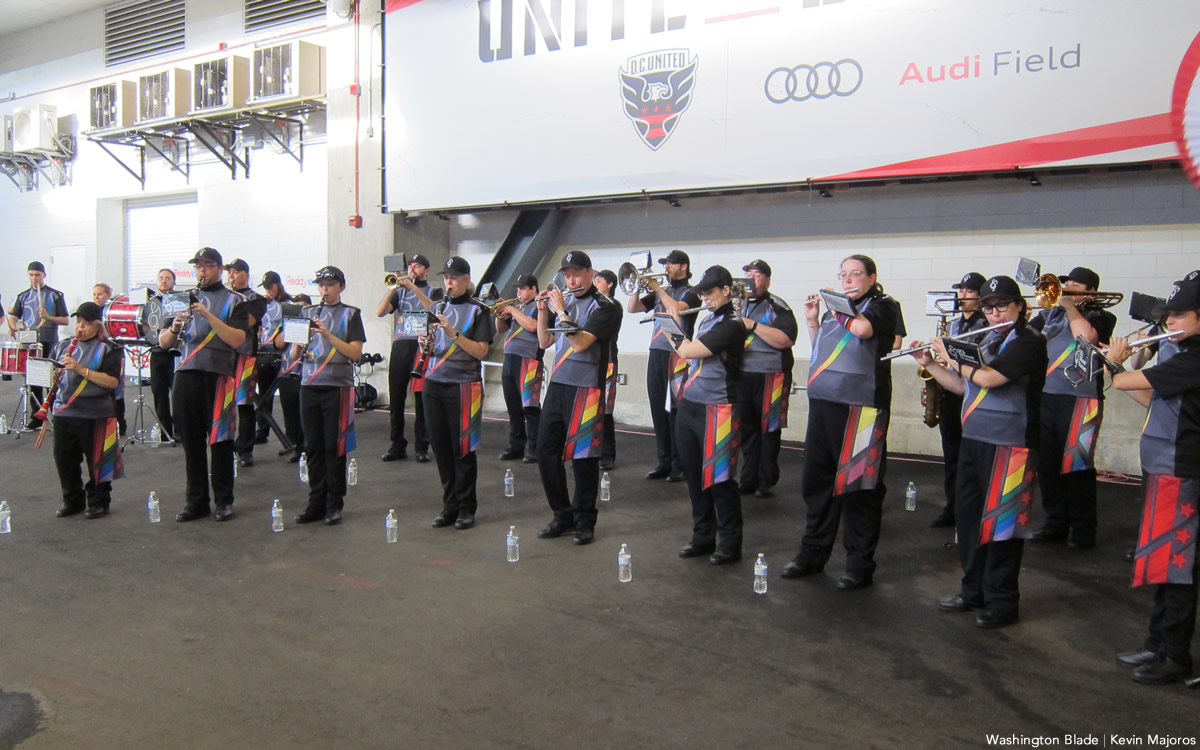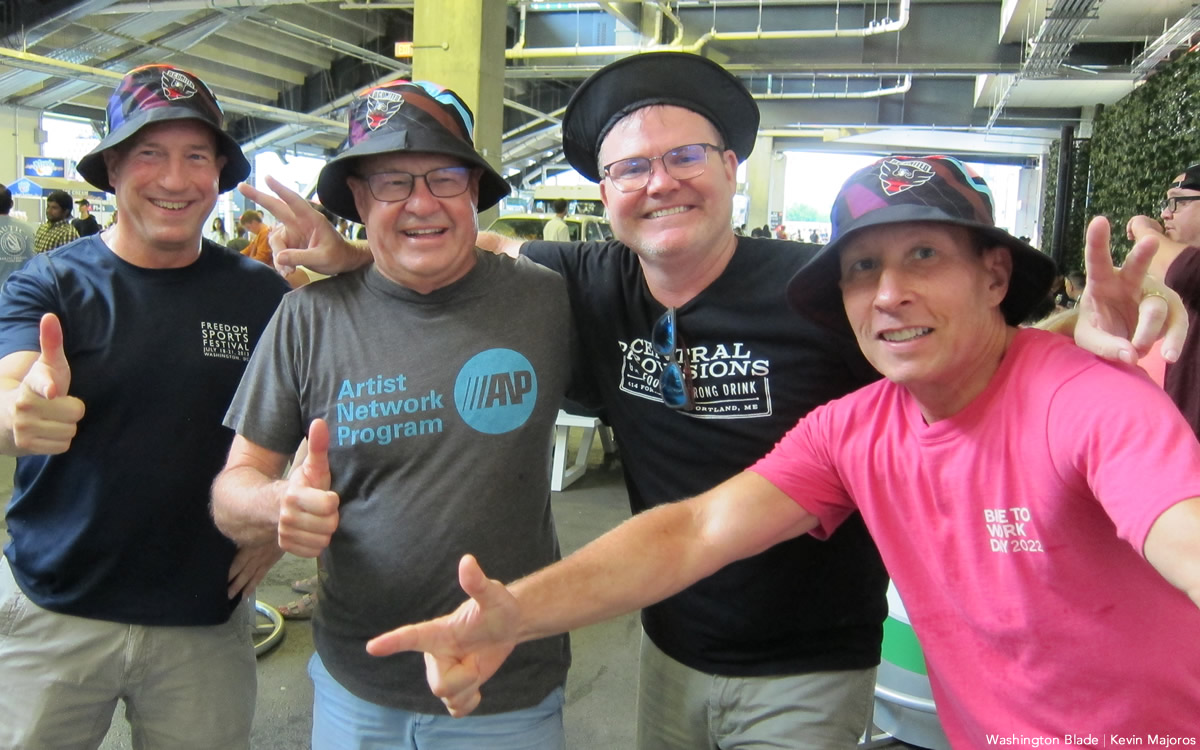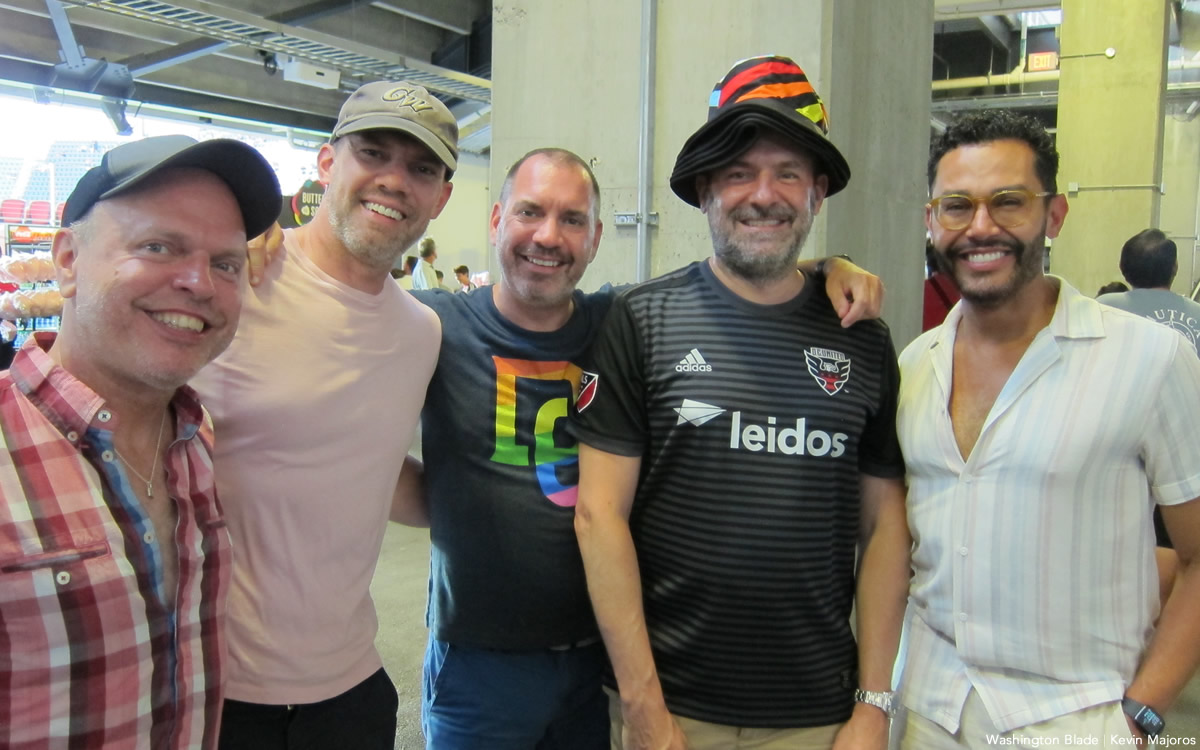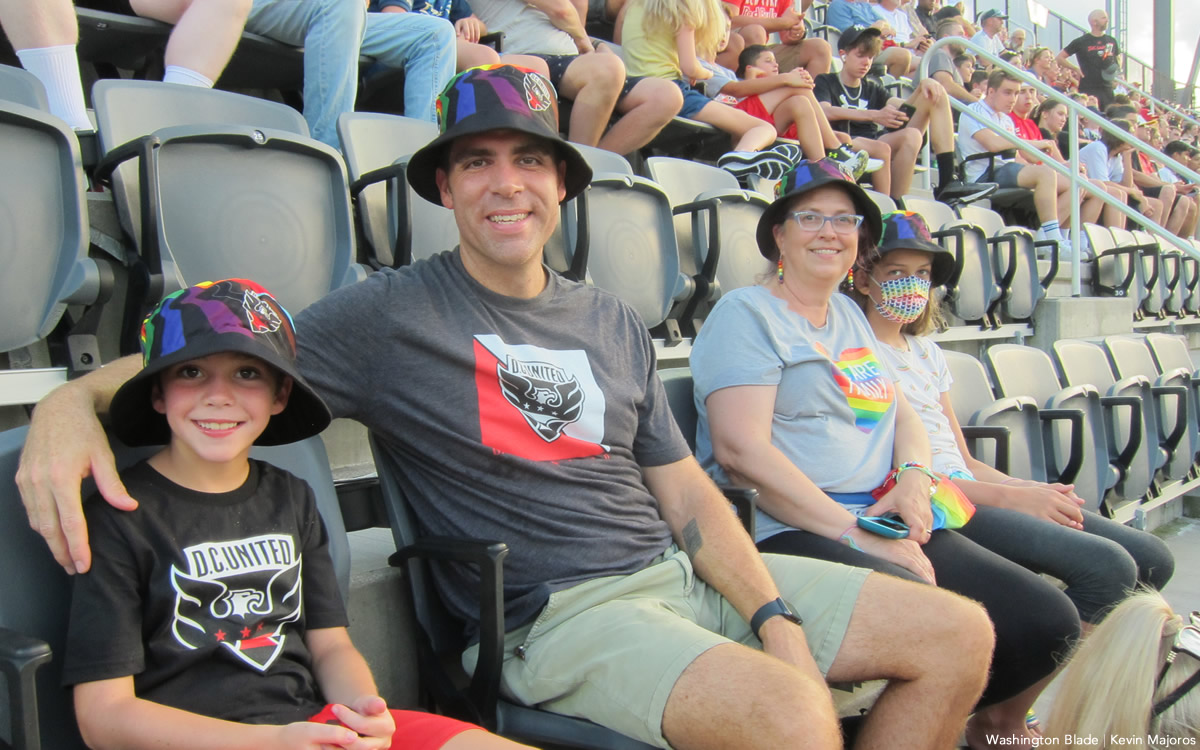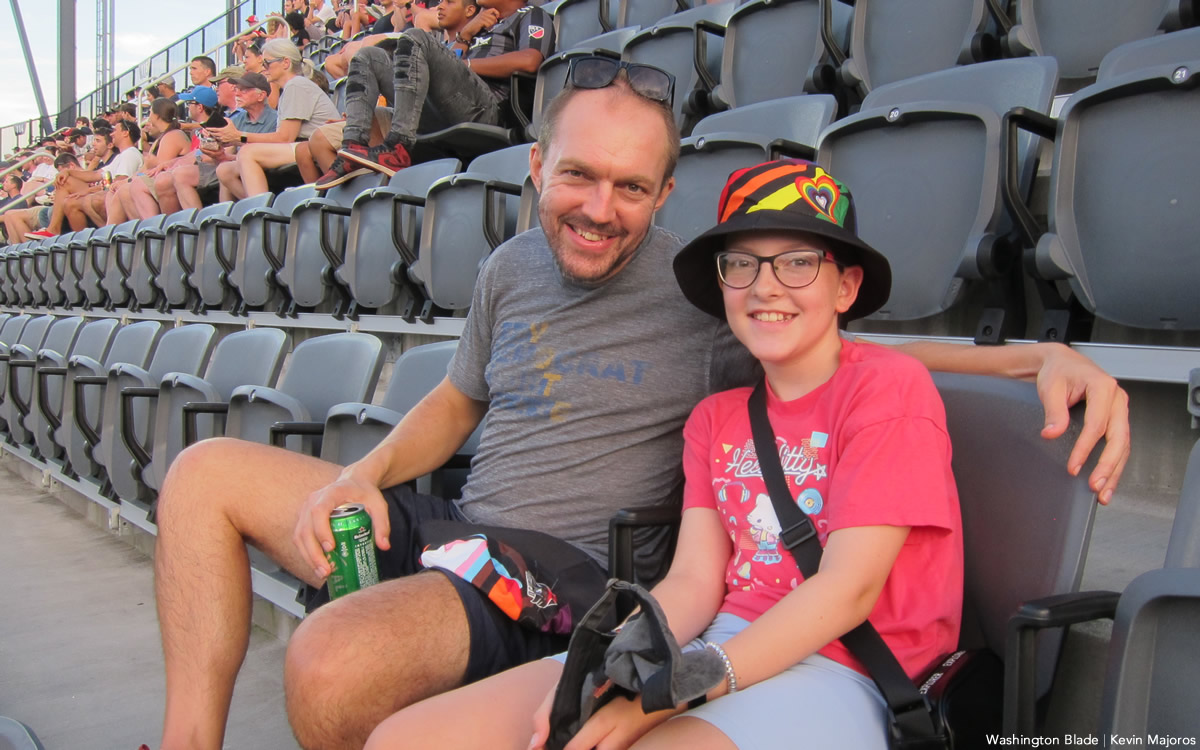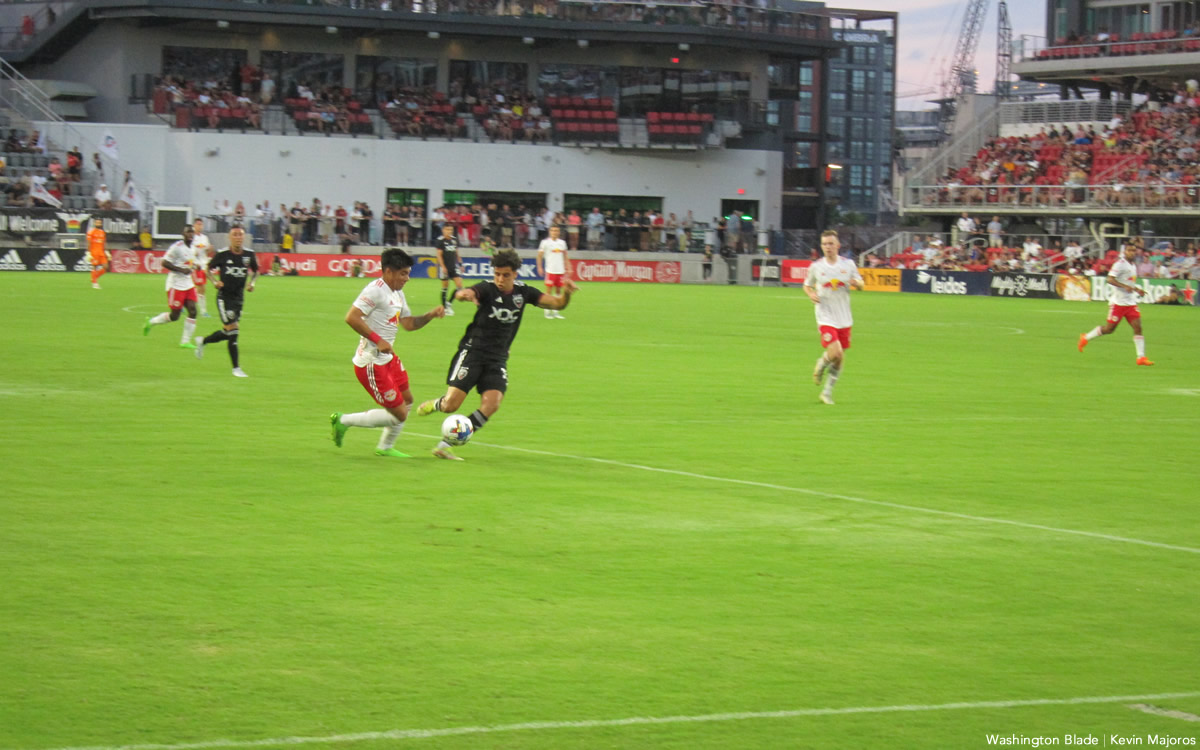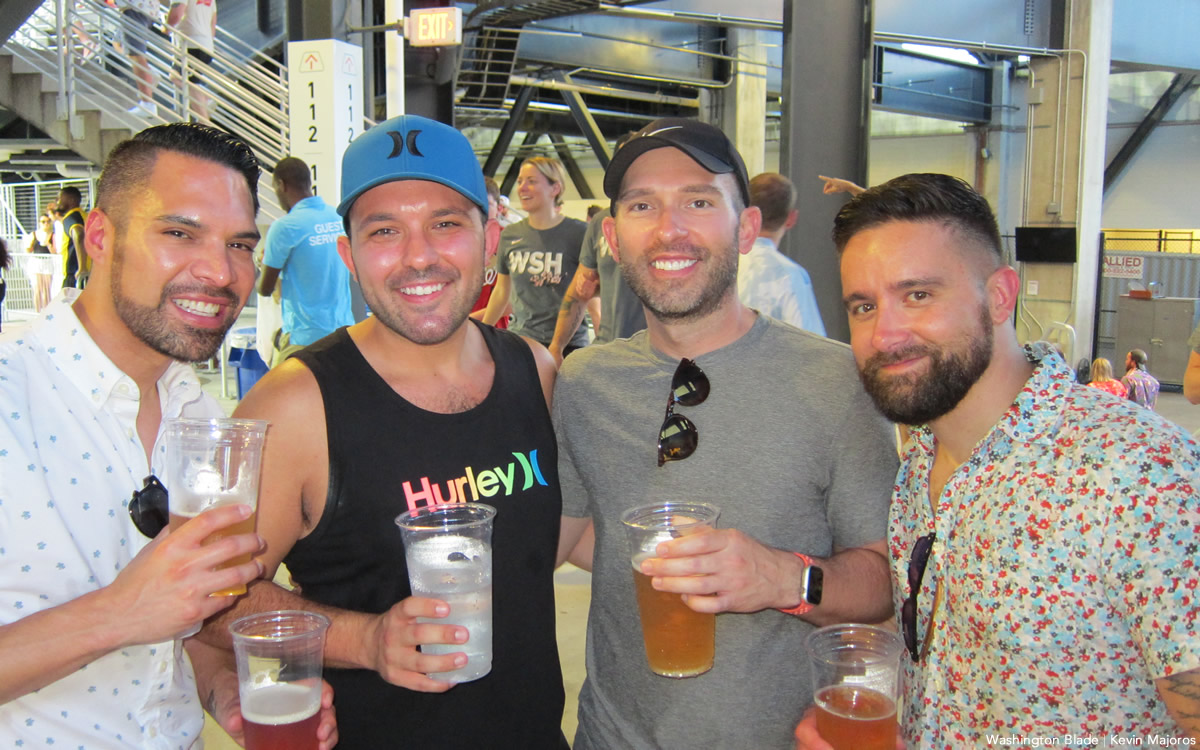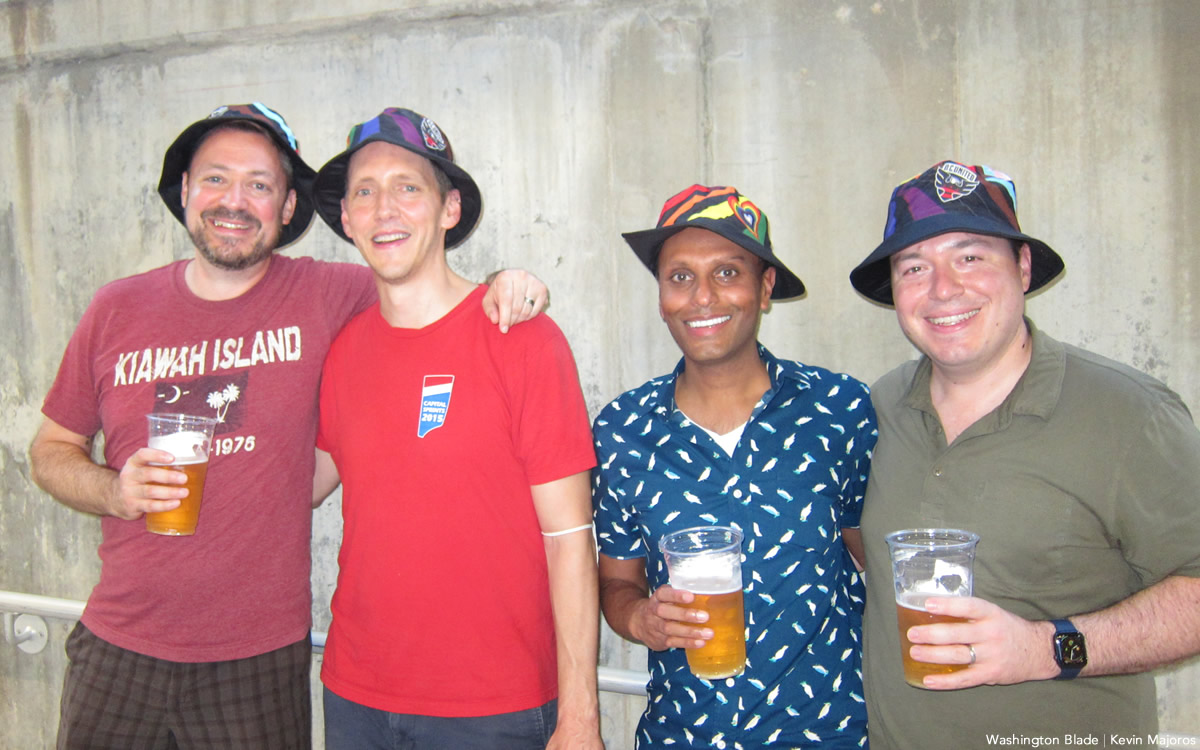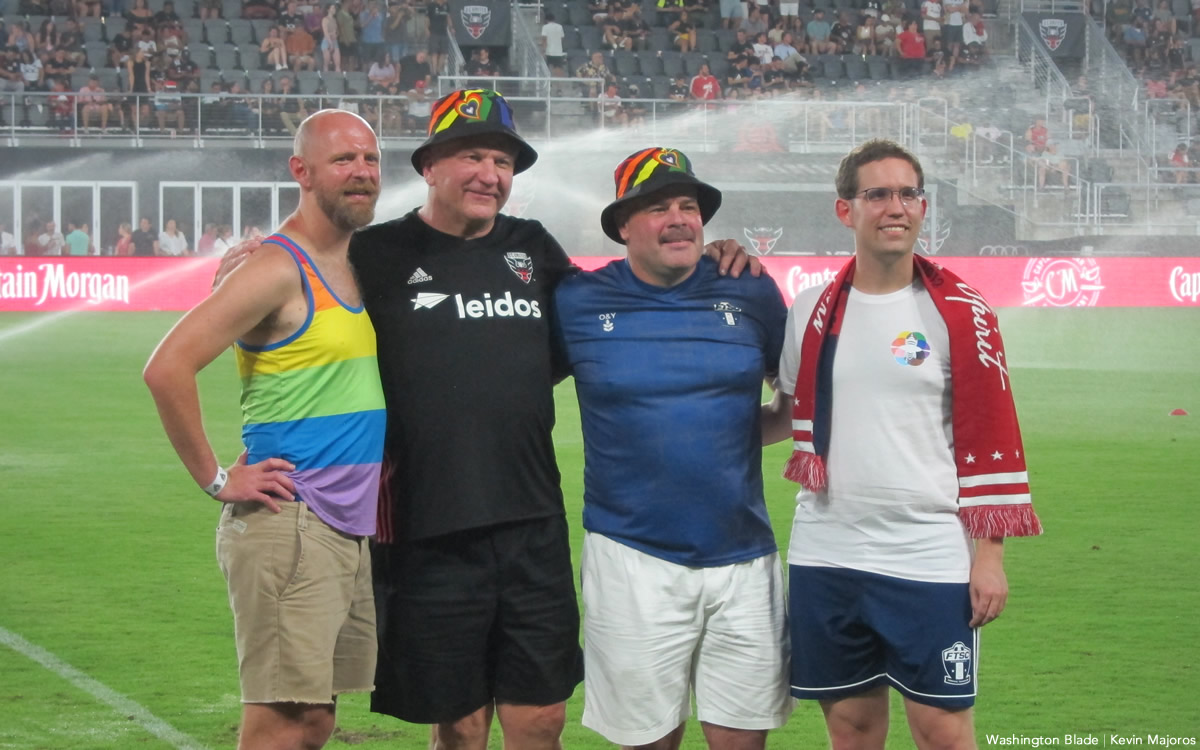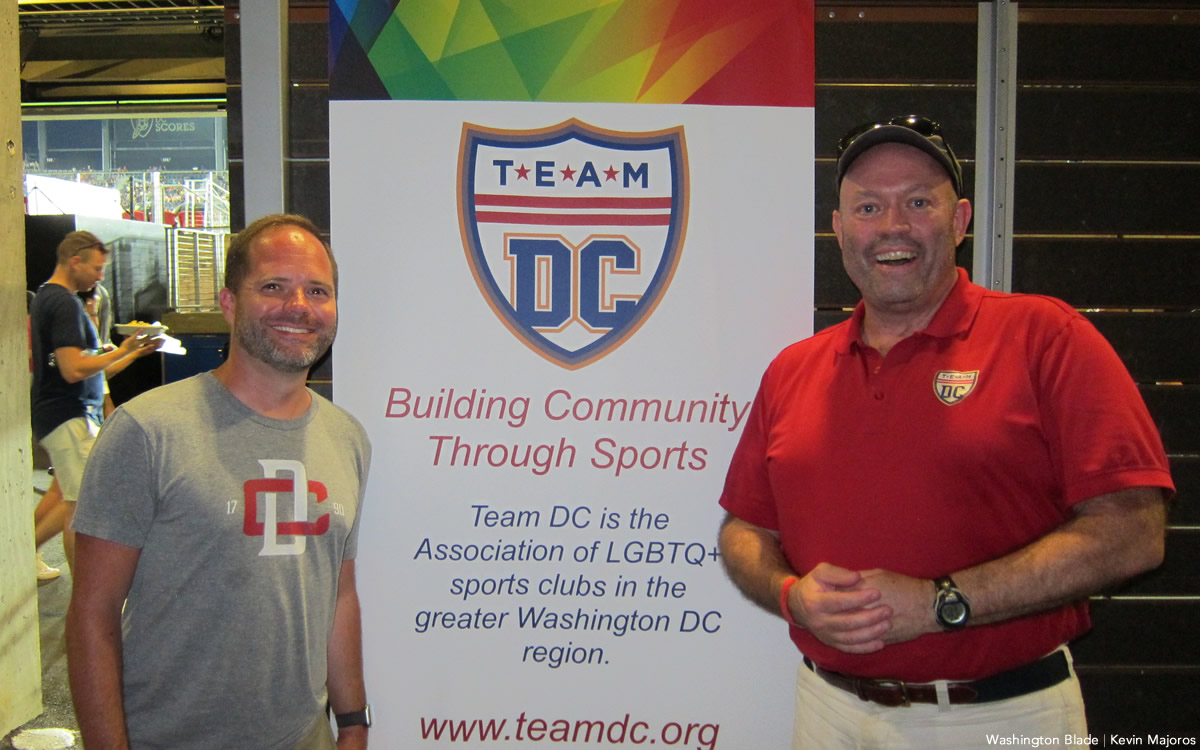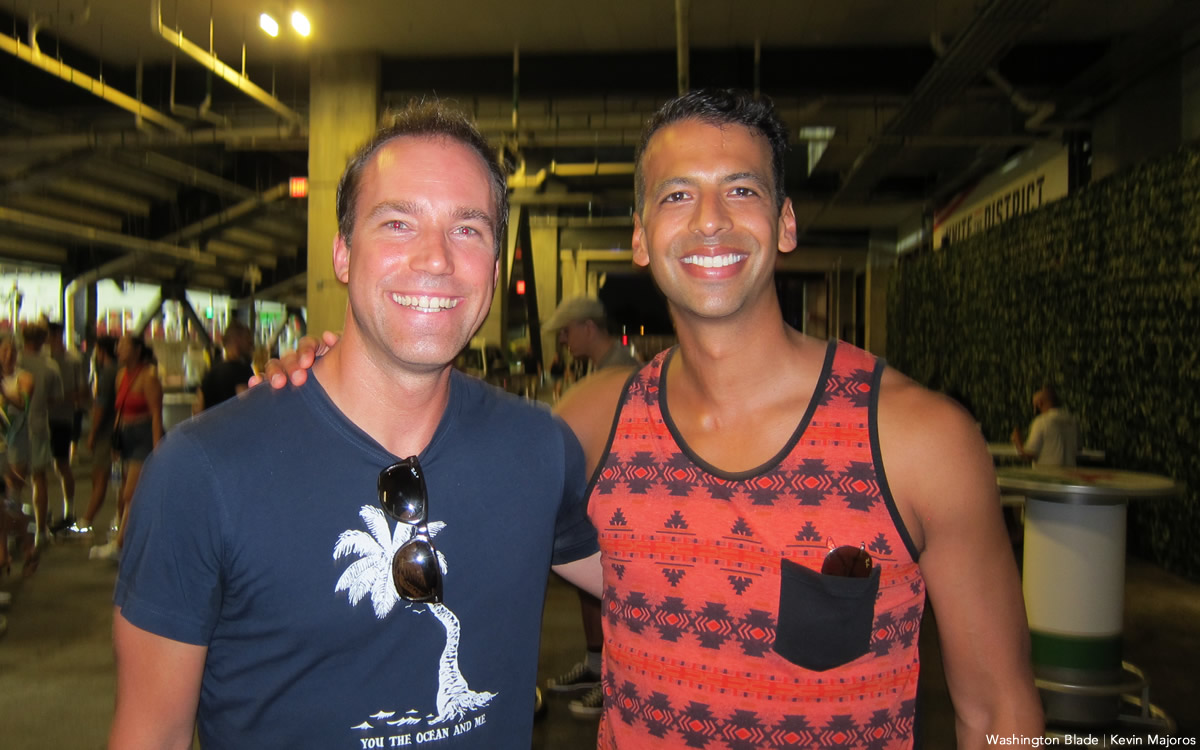 Abbi Jacobson engaged to her girlfriend Jodi Balfour
Last week, Jacobson and Balfour made their first red carpet debut at the Los Angeles premiere of A League of Their Own.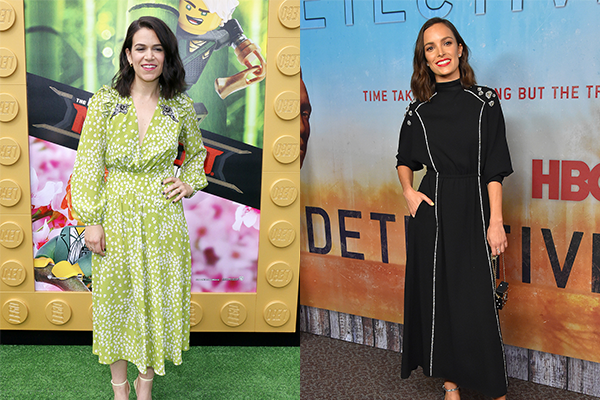 Abbi Jacobson, the Emmy Award nominee, is engaged to her girlfriend Jodi Balfour. She confirmed the news to People as she celebrated with her costars in the upcoming Amazon Video series A League of Their Own.
D'Arcy Carden, the costar and Jacobson's friend of 15 years, said, "It's out. It's great. We're so happy. We love [Jodi]."
"Abbi's engaged! Abbi's engaged! Abbi's engaged!" Chanté Adams, also a costar in the upcoming series, followed, "We've had to hide it for … No, I'm kidding."
"No, you have not. You have not had to hide it." Jacobson responded, blushing, "That was not a thing. It was not a secret."
Last week, Jacobson and Balfour made their first red carpet debut at the Los Angeles premiere of A League of Their Own.
The couple started dating in 2020 and celebrated their first anniversary last October. Jacobson shared some selfies of them on instagram: "One year with this incredible human. Don't know how I got so lucky ❤️."
Likewise, Balfour wrote in the caption: "365 days of the best surprise of my life 💚."
Jacobson officially came out as a bisexual in the interview with Vanity Fair. "I date men and women," she said, adding as long as the person is "funny" and is "doing something they love."
Balfour, a South African actress, is known for her performances on For All Mankind, Supernatural, The Crown and True Detective.
Jacobson is both cast and co-creator of A League of Their Own, in which she would tell the stories of these LGBTQ women in the 1940s. She also talked about Maybelle Blair, a consultant of the show as well as a former All-American Girls Professional Baseball League player who came out at 95.
"But Maybelle's point of view, specifically on the All-American Girls Professional Baseball League experience, what that was like to play baseball at the time, what it was like to be a queer woman in the league, was pretty important for some of the stories we were telling. But at Tribeca, she had not come out publicly and that was so incredible. And don't you feel like it's like, '95!' I'm like, 'This show needs to come out.' She came out because we made this show."
The first episode of A League of Their Own will be released on August 12.