Salir de las redes sociales a las calles
Activistas independientes en Cuba usan métodos innovadores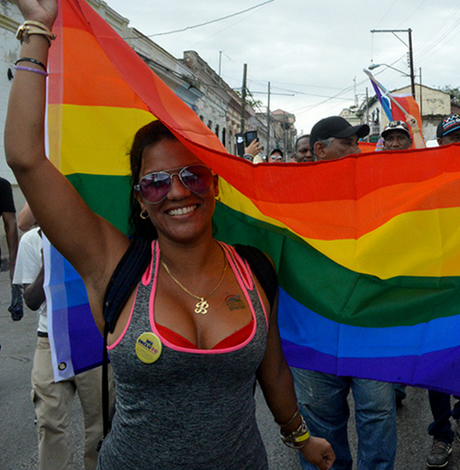 Nota del editor: Tremenda Nota es una revista electrónica independiente que documenta la comunidad LGBTI+ del país y otros grupos minoritarios. Tremenda Nota es una pareja de contenido del Washington Blade.
Esa nota salió originalmente en el sitio web de Tremenda Nota.
LA HABANA — Mientras las iglesias se oponen a la aprobación del matrimonio igualitario en Cuba y el Cenesex mantiene una postura pública discreta, los activistas LGBTI+ — menos organizados que las instituciones religiosas ― promueven campañas en diferentes soportes y medios.
A las tres de la tarde del 27 de octubre de 2018, en la intersección de Prado y Malecón, La Habana, debía celebrarse una besada — o Besuqueo, como le llamaron sus organizadoras — en apoyo al matrimonio igualitario. Unas horas antes habían confirmado su asistencia más de 600 personas y la invitación había sido compartida un centenar de veces en redes sociales. "Sacar los besos del clóset" era la divisa.
Durante el Besuqueo el Proyecto Abriendo Brechas de Colores (ABC) — LGTBI — un grupo que busca "generar espacios de diálogo entre los discursos religiosos y sociales en torno a los derechos de las mujeres y las personas LGBTIQ+" ― entregaría folletos sobre el fundamentalismo religioso, así como carteles y pegatinas alegóricos a la diversidad sexual y de género.
ABC también planeaba proyectar videos producidos en la campaña Todos los derechos para todas las familias. Los besos más creativos quedarían plasmados en una sesión de fotos. En esa zona del Prado se "izarían" banderas de la diversidad.
Sin embargo, un día antes de la cita ABC canceló públicamente el Besuqueo por no recibir el permiso estatal para tomar la calle.
Pese a la suspensión, a la hora y el día previstos hubo un flash mob (movilización relámpago) en Prado y Malecón. Acudieron las organizadoras del evento y otros activistas vinculados al Centro Nacional de Educación Sexual (Cenesex). Se besaron.
El Besuqueo no trascendió más: Asistieron unas 30 personas, en lugar de la multitud que podía haber acudido.
La cancelación del evento y la actitud reticente de sus promotoras generaron críticas de varios activistas en las redes sociales. El poeta Norge Espinosa resumió su decepción así: "El activismo de veras se hace con arrojo, con la disposición precisa a ir más allá de los límites permitidos, o no se hace".
Paradójicamente, dos días antes de que ABC cancelara el Besuqueo, la Iglesia Metodista de Marianao reunió unos 3.500 feligreses en los alrededores del templo para mostrar su desacuerdo con el matrimonio igualitario, según informó la propia institución en su página de Facebook. Celebraron un culto multitudinario, sin permiso de nadie.
Iglesias versus activistas
Hasta ahora las iglesias cubanas han mantenido una postura firme en contra del matrimonio igualitario y "la ideología de género" en las páginas institucionales de sus redes sociales.
Pero su activismo también ha traspasado las fronteras del mundo virtual. Los feligreses han distribuido a lo largo del país carteles y pegatinas que defienden el "diseño original de la familia, como Dios la creó". También se han manifestado en las calles aledañas a sus templos y, como si fuera poco, han "publicado" sus mensajes en el "paquete semanal", la variante cubana a la internet.
Ahora quieren llegar más lejos. La reverenda Alida León, presidenta de la Liga Evangélica de Cuba, confirmó a Tremenda Nota que una veintena de denominaciones recogen firmas contra el artículo 68. "No tenemos nada en contra de los homosexuales, pero exigimos que se conserve el concepto de matrimonio como Dios lo creó".
En efecto, el pasado 13 de noviembre más de una decena de denominaciones cristianas hicieron pública una carta enviada a la "Comisión Constitutiva del del Proyecto de Constitución, Comité Central del PCC". Las 13 iglesias que suscriben el documento aseguran haber recogido casi 180.000 firmas contra la modificación del concepto de matrimonio en el proyecto de Carta Magna.
La comunidad cristiana podría votar No en el próximo referendo si se mantiene el artículo 68 en el Proyecto de Constitución. En su texto "El artículo 68: Evangélicos, católicos, el movimiento LGBTI y las cortinas de humo" el intelectual y activista Alberto Abreu Arcia asegura que León Báez, uno de los líderes de la iglesia evangélica en Cuba, declaró: "Si no se modifica el tema del matrimonio en el proyecto de Constitución todo votaremos en contra".
De acuerdo con el Instituto Patmos en 2017 el 10 por ciento de la población cubana profesaba la fe evangélica, mientras que un 35 por ciento se consideraba nominalmente católico. Las denominaciones cristianas están organizadas y tienen presencia a lo largo del archipiélago cubano. Disponen de locales de reunión y de mecanismos de comunicación directa con el Estado. Por ende, el activismo independiente tiene menos ventaja en esta "contienda".
Muchos defensores de los derechos LGBTI+ en Cuba han tenido que seguir el guión trazado por el Cenesex: Desfilan en mayo a paso de conga y luego regresan a las redes sociales, donde se acumulan denuncias, mensajes y campañas. A las calles no se puede llegar sin la anuencia del Gobierno.
"Las redes sociales y los entornos digitales han venido a suplir las carencias de legitimidad en otros espacios, pero no permiten dar respuesta a todos los desafíos", explica a Tremenda Nota el joven activista Yadiel Cepero.
"En aras de transformar el estado actual de cosas creo, como muchos otros activistas, que se debe impulsar la agenda LGBTI+ a la par que se impulsan los derechos civiles y políticos. De manera que los colectivos puedan legalizarse, articularse, disponer de espacios de reunión y hacer uso de mecanismos de participación e incidencia política", asegura Cepero.
Para el fundador de la plataforma de discusión Construyendo una agenda de la diversidad sexual en Cuba, el primer paso de los defensores de los derechos LGBTI+ sería arriesgarse a tomar el espacio público. "La iglesia puso sus carteles y no pasó nada. ¿A qué le tenemos miedo?"
Sin embargo, durante los debates constitucionales un sector del activismo cubano se ha mantenido a la zaga de las iglesias, confiado en el papel del Estado como garante de derechos.
"Tenemos una herencia fuerte de inactividad, de miedo. Muchas veces porque no nos han dejado caminar solos", asegura la activista y abogada Lidia Romero. "Hemos llegado a un momento importante para impulsar derechos y justo ahora parece que no sabemos qué hacer, ni cómo organizarnos."
Algunos activistas creen inevitable la aprobación del artículo 68 y, por tanto, asumen que sería ocioso replicar a los grupos religiosos. El periodista Francisco Rodríguez Cruz aseguró en su blog Paquito el de Cuba que no debe temerse a que "la matriz de opinión conservadora de algunas iglesias pueda imponerse al resto de la sociedad".
El bloguero explica que los resultados de la consulta popular no los definirá la cantidad de firmas que reúnan las iglesias ni el número de planteamientos en contra del artículo 68, "sino el análisis de la pertinencia o no de cada propuesta que surja del debate, por parte de la comisión redactora del proyecto constitucional y del Parlamento que aprobará el texto definitivo antes del referendo".
La opinión de Rodríguez Cruz se apoya en las declaraciones del Secretario del Consejo de Estado, Homero Acosta Álvarez. El pasado 17 de octubre, durante la inauguración del Congreso Internacional Abogacía 2018, el jurista dijo: "El Derecho no puede permanecer esclavo perpetuo de rezagos sociales, aún cuando en un momento pueda entrar en colisión con parte del espectro social. En su misión transformadora le corresponde también impulsar el desarrollo".
'Vamos a convocar nuevas besadas'
En las últimas semanas varios activistas han puesto a circular en las redes sociales videos cortos donde personas LGBTI+ (o no) muestran su apoyo al artículo 68 del Proyecto de Constitución.
Las páginas 68Va, Acepto, Por el matrimonio igualitario en Cuba, Proyecto Abriendo Brechas de Colores – LGTBI, Construyendo una agenda de la diversidad sexual en Cuba e Iglesia de la Comunidad Metropolitana en Cuba (ICM) llevan adelante diferentes campañas en las redes sociales. También se suman varios cibernautas desde sus perfiles personales o sus blogs.
Sin embargo, las propuestas o campañas generadas en estas plataformas digitales no logran trascender el espacio virtual en un país cuya población mayoritaria permanece desconectada.
Unos meses atrás, el 11 de mayo, una veintena de intelectuales y activistas cubanos publicaron una detallada agenda por los derechos LGBTI+ en Cuba. El documento — primero de su tipo en el país — incluye 63 demandas específicas y se divide en dos grandes secciones: medidas legislativas y políticas, planes y estrategias. Todos sus firmantes son miembros de la sociedad civil.
Algunos de los suscriptores son activistas que buscan alternativas independientes del Estado o el Cenesex para encauzar sus demandas.
"(El Cenesex) es una institución que excluye a quienes no concuerdan con sus ideas políticas, tampoco socializa los avances de su labor, sino que nos pide confiar en que ʻestán trabajando', sin tener más información que esto. No nos trata como iguales, ni como parte", agrega Lidia Romero.
Recientemente, la activista Sandra Álvarez Ramírez, otrora webmaster del Cenesex y miembro del consejo editorial de la revista Sexología y Sociedad, fue replicada por el perfil de Facebook de la institución. "Los ʻperiodistas de verdad' no recibimos instrucciones desde Berlín", escribió Cenesex cuando la psicóloga cubana residente en Alemania preguntó sobre la cancelación del Besuqueo.
Para varios militantes el panorama actual empeora por la falta de articulación de un movimiento LGBTI+ en Cuba. "Si tú no tienes espacios de socialización, ni de accionar, ni una institución que te represente como un todo, y ni siquiera puedes asociarte legalmente, entonces no hay trabajo articulado, pero debemos vencer esos límites", termina Romero.
Menos unidos, más rezagados que las iglesias, los activistas comienzan a salir discretamente de las redes, empiezan a saber que les corresponde emplazar al Estado, a las instituciones y a una parte de la sociedad negada a que todas las personas alcancen todos los derechos.
Jimmy Roque Martínez — uno de ellos — no cree que los simpatizantes con la causa de los derechos sexuales deban mantenerse esperando los resultados del referendo constitucional con discreción. "Además de las historias de vida y opiniones que comenzaron a circular en las redes sociales, y las páginas creadas también vamos a convocar nuevas besadas, solo que estas no van a cancelarse", augura.
HRC ad campaign slams 'extremist' House GOP's role in looming government shutdown
Funding deadline is Oct. 1.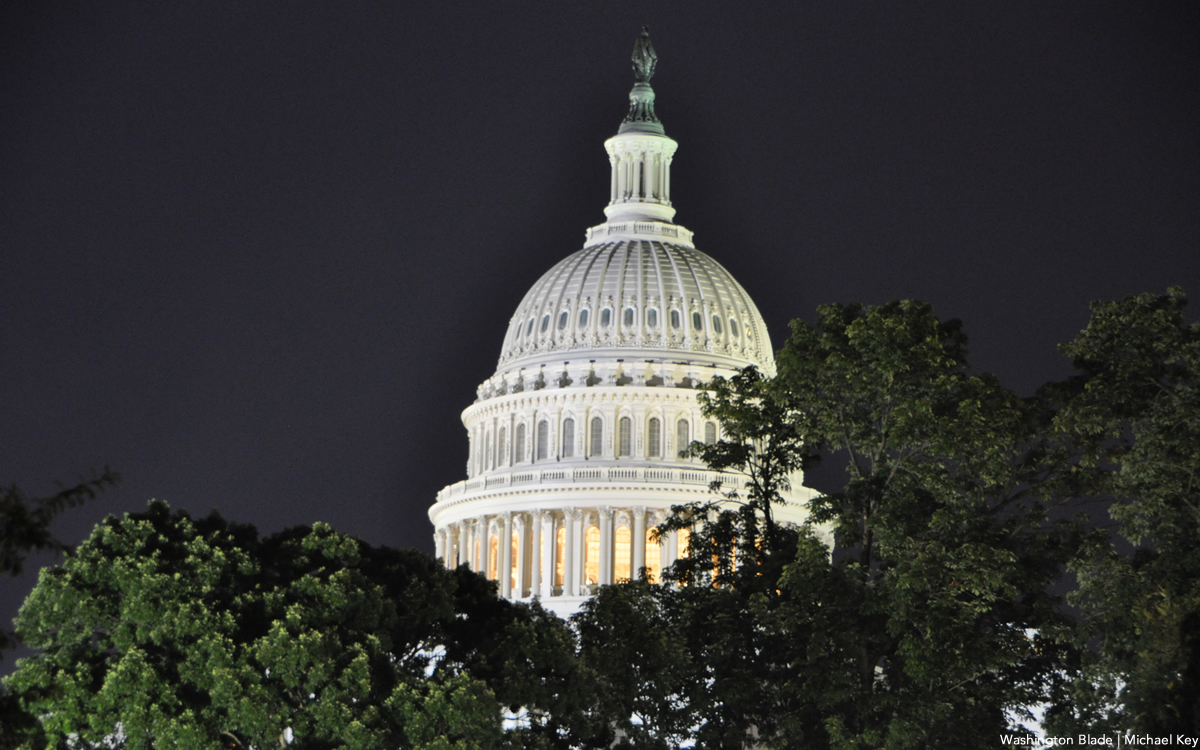 The Human Rights Campaign launched an ad campaign on Monday slamming House Republicans for advancing anti-LGBTQ and other "out of touch demands" rather than working to clear must-pass spending bills before the month's end to avoid a government shutdown.
In the weeks since Congress returned from the summer recess, opportunities to forestall this outcome narrowed with each passing day as small groups of the GOP conference's most conservative members obstructed votes, led an open rebellion against House Speaker Kevin McCarthy (R-Calif.), and added anti-LGBTQ and other far-right amendments to all 12 appropriations bills, effectively dooming the prospects of their passage by the Senate.
HRC's announcement of plans to run the six-figure blitz "across major national outlets, cable networks and digital streaming services" included a 30-second ad titled "Grind to a Halt," which accuses House Republicans of "trying to limit the health care you and your family can access, ban books and flags, and block enforcement of civil rights laws."
In a statement, HRC President Kelley Robinson said the conservative lawmakers had "hijacked the appropriations process to attack LGBTQ+ communities rather than doing their jobs," noting that a shutdown would "interrupt critical government services, hurt working families and endanger our national security."
Barbara Lee: PEPFAR is 'more in peril' than ever before
Congress has yet to reauthorize funding for Bush-era HIV/AIDS program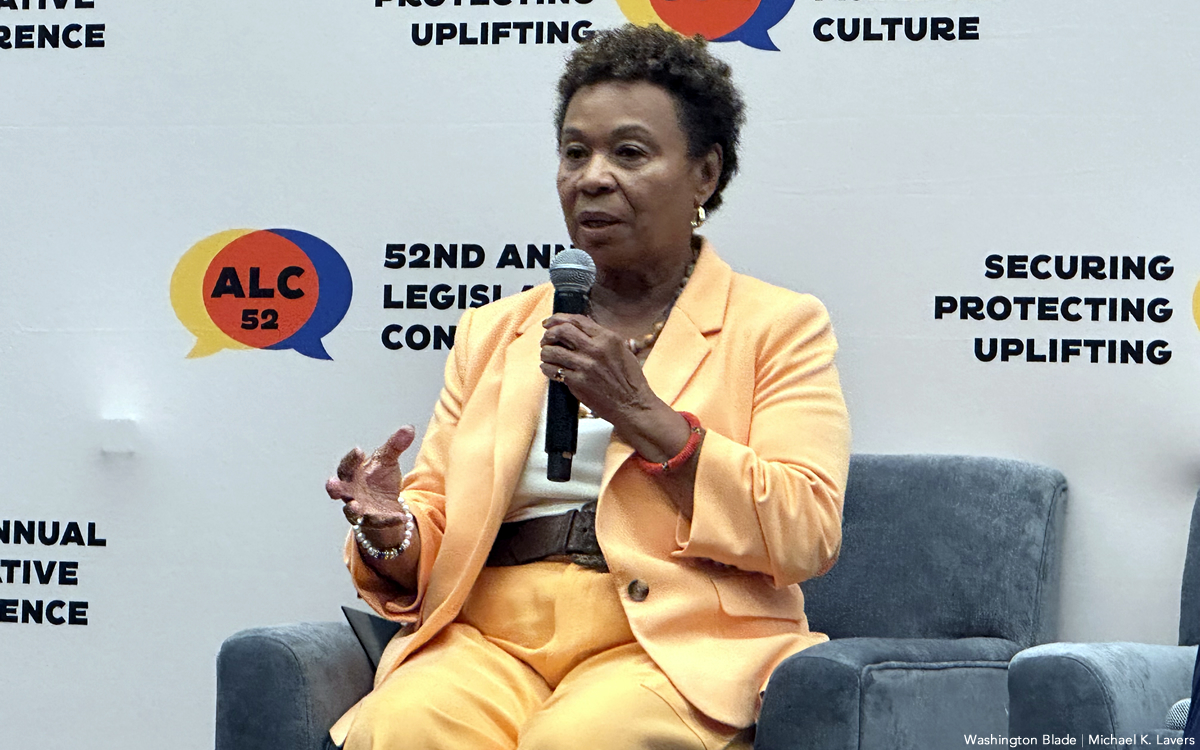 California Congresswoman Barbara Lee on Sept. 22 said the President's Emergency Plan for AIDS Relief is "more in peril" now than at any point since its launch two decades ago.
"This program is reauthorized every five years, but it's always on a bipartisan basis," said Lee during a panel at the Congressional Black Caucus Foundation's Annual Legislative Conference that took place at the Walter E. Washington Convention Center in D.C. "As we approach the benchmark of an AIDS-free generation by 2023, it is unfortunately more in peril now than ever before."
Then-President George W. Bush in 2003 signed legislation that created PEPFAR.
Lee noted PEPFAR as of 2020 has provided nearly $100 billion in "cumulative funding for HIV and AIDS treatment, prevention and research." She said PEPFAR is the largest global funding program for a single disease outside of COVID-19.
New PEPFAR strategy includes 'targeted programming' for marginalized groups
The panel took place amid the continued push for Congress to reauthorize PEPFAR for another five years. The federal government will shut down on Oct. 1 if Congress does not pass an appropriations bill.
Secretary of State Antony Blinken last December at a World AIDS Day event in D.C. acknowledged HIV/AIDS continues to disproportionately impact LGBTQ and intersex people and other marginalized groups. A new PEPFAR strategy the Biden-Harris administration announced that seeks to "fill those gaps" over the next five years includes the following points:
• Targeted programming to help reduce inequalities among LGBTQ and intersex people, women and girls and other marginalized groups
• Partnerships with local organizations to help reach "hard-to-reach" communities.
• Economic development and increased access to financial markets to allow countries to manufacture their own antiretroviral drugs, tests and personal protective gear to give them "the capacity to meet their own challenges so that they're not dependent on anyone else."
The Family Research Council Action in an email to supporters urged them to tell Congress to "stop Biden from hijacking PEPFAR to promote its radical social policies overseas." Family Watch International has said PEPFAR "has been hijacked to advance a radical sexual agenda."
"Please sign the petition to tell the U.S. Congress to ensure that no U.S. funds go to organizations that promote abortion, LGBT ideology, or 'comprehensive sexuality education,'" said the group in an email to its supporters.
A group of lawmakers and religious leaders from Kenya and other African countries in a letter they wrote to members of Congress in June said PEPFAR, in their view, no longer serves its original purposes of fighting HIV/AIDS because it champions homosexuality and abortion.
"We wrote that letter to the U.S. Congress not to stop PEPFAR funding to Kenya, but to demand the initiative to revert to its original mission without conditioning it to also supporting LGBTQ as human rights," it reads.
Biden in 2021 signed a memo that committed the U.S. to promoting LGBTQ and intersex rights abroad as part of his administration's overall foreign policy.
American officials earlier this year postponed a meeting on PEPFAR's work in Uganda in order to assess the potential impact the country's Anti-Homosexuality Act will have on it. The law, which Ugandan President Yoweri Museveni signed on May 29, contains a death penalty provision for "aggravated homosexuality."
Biden in his U.N. General Assembly speech last week noted LGBTQ and intersex rights and highlighted PEPFAR. Family Watch International in its email to supporters included a link to the letter from the African lawmakers and religious leaders.  
The Southern Poverty Law Center has designated both the FRC and Family Watch International as anti-LGBTQ hate groups.
"[PEPFAR is] not about abortions," said Lee.
U.S. Agency for International Development Administrator Samantha Power during the panel referenced Bush's recent op-ed in the Washington Post that urged lawmakers to reauthorize PEPFAR.
"The way he put it is no program is more pro-life [than] one that has saved more than 25 million lives," said Power.
Power referenced the "manufactured controversy that is making it difficult to get this reauthorization." U.S. Global AIDS Coordinator Dr. John Knengasong said a failure to reauthorize PEPFAR would weaken "our own foreign policy and diplomacy."
"Once again the United States will be missing in action," stressed Lee.
Assistant Health and Human Services Secretary for Legislation Melanie Egorin and Kenny Kamson, a Nigerian HIV/AIDS activist, also spoke on the panel that MSNBC host Jonathan Capehart moderated.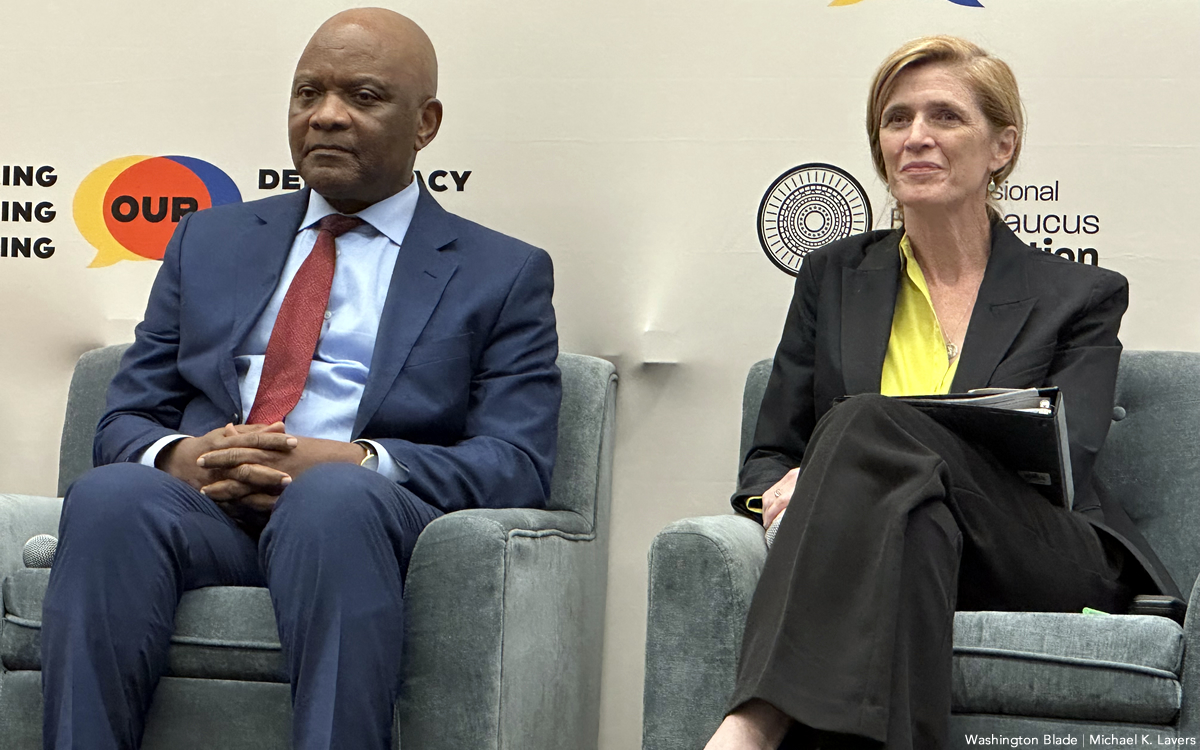 Dignity Washington holds Catholic mass in honor of woman priest
LGBTQ group celebrates its support for ordination of women priests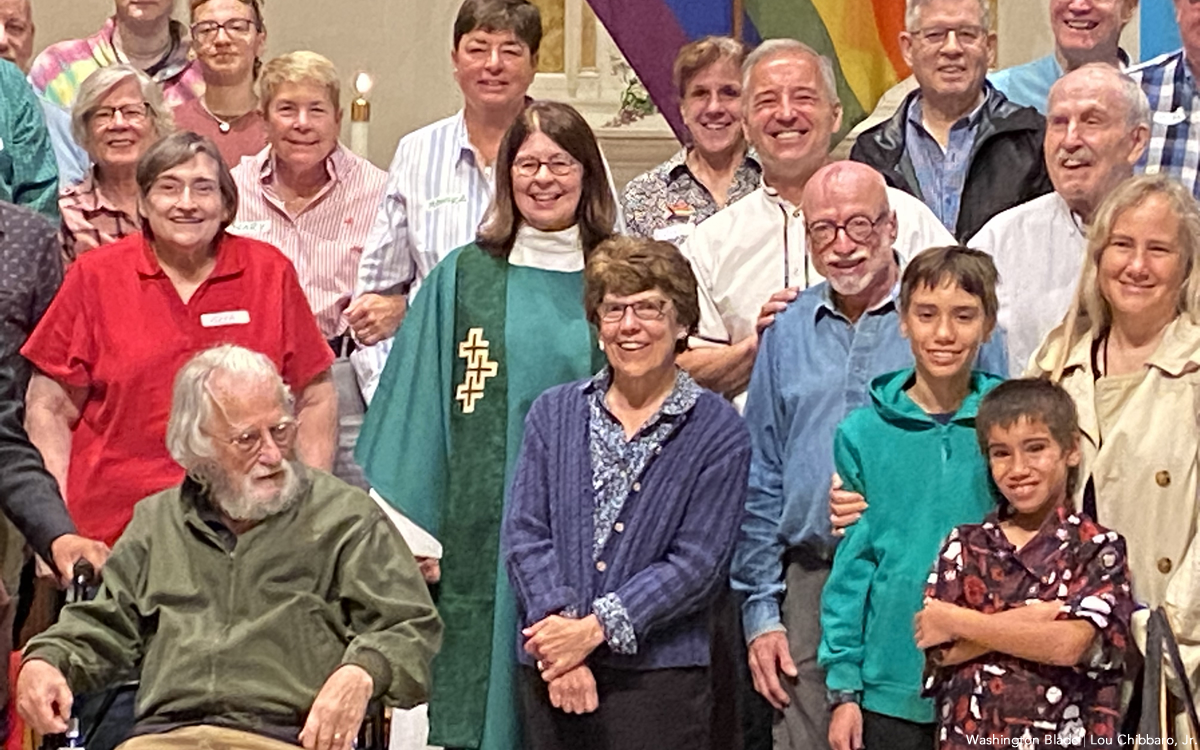 The D.C. LGBTQ Catholic group Dignity Washington says it dedicated its weekly Catholic mass on Sunday, Sept. 24, to honor a woman priest who has served as one of its priests since 2017 in a gesture of support for the women's priest movement.
"This Mass commemorates the ordination of Ann Penick as a Roman Catholic Woman Priest and celebrates the invaluable contributions of women who have served the church in various capacities," the group said in a statement.
"Rev. Ann Penick's ordination as a Catholic priest, and the ordination of female priests like her, represents a step forward in the Catholic Church's ongoing journey towards greater inclusivity and recognition of diverse vocations within its ranks," the statement says. "Dignity Washington is deeply honored to support her ministry and those of other women priests," it says.
The fact that the Dignity mass in honor of Rev. Penick, who presided over the mass, and all of its weekly Sunday masses are held at St. Margaret's Episcopal Church near Dupont Circle highlights the fact that the official Catholic church recognizes neither Dignity nor women priests.
Dignity, a nationwide LGBTQ Catholic group with chapters across the country, is banned from holding any of its masses in Catholic Churches.
Penick told the Washington Blade in an interview the week prior to her saying the Dignity Mass on Sept. 24 that she was ordained as a priest in June 2011 by a woman bishop associated with a breakaway Catholic organization, the Association of Roman Catholic Womenpriests. The organization was formed shortly after three male Roman Catholic Bishops ordained the first known women priests on a ship sailing along the Danube River in Europe in June 2002.
Two of the bishops who publicly disclosed their decision to ordain the women were excommunicated by Catholic Church officials at the Vatican in Rome. The third bishop acted anonymously and is believed to be continuing to serve as a bishop.
One of these bishops subsequently ordained female bishops who, in turn, began ordaining other women Catholic priests in Europe and in the U.S.
Information posted on the Association of Roman Catholic Womenpriests website says it and others associated with the women priest movement believe the ordination of women bishops and priests is valid under the biblical concept of 'apostolic succession."
Under that concept, the spiritual authority that Jesus bestowed on his original apostles has been handed down to subsequent generations of clergy, and the ordained women bishops and priests can pass that spiritual authority on to other female clergy.
A spokesperson for the Catholic Archdiocese of Washington, which oversees Catholic churches in D.C. and parts of Maryland, did not respond to a request by the Blade for comment on the women' priest movement.
Penick, who is married and has two stepchildren with her husband, points out that the women's priest movement has also broken with the official church over the longstanding church requirement that priests practice celibacy and cannot marry.
"The Roman Catholic women's priest movement sees celibacy as a personal calling," Penick told the Blade. "If a woman is personally called to celibacy, she follows that call," Penick said. "But a woman can also be married and have children, and that's always been a vision of the Roman Catholic Women's priest movement."
Penick notes that it was not until the early 1100s that the church put in place a celibacy requirement for its priests.
She has been active in the Catholic Church for most of her life in several states where she has lived and worked. She received a certification in lay ministry from the Diocese of Birmingham, Ala. in 1993, a master's in counseling degree from the University of Birmingham in 1995, and a master's in Pastoral Ministry from Boston College in 2008.
She and her family currently live in Alexandria, Va., and she currently works as a mental health counselor at the Counseling and Psychological Services department at George Mason University in Fairfax, Va. Penick said while living in Maryland she served as a priest for Living Water Inclusive Catholic Community in Catonsville, and currently serves as a priest for the D.C. Living Family Mass Community in D.C. as well as serving as one of Dignity Washington's rotating priests.
"We are so lucky to have her," said Dignity Washington former president Daniel Barutta, who noted that Penick and her husband are Dignity members. "She's just a shining star for women," he said. "And we really hope that Dignity Washington is leading the church, showing the church which direction to go in terms of empowering women and having them as our spiritual leaders."
Barutta said Penick has joined the Dignity Washington contingent in D.C.'s LGBTQ Pride parade and the city's St. Patrick's Day Parade and has led Dignity prayer services on various occasions.
Peter Edwards, Dignity Washington's vice president, said following its Sunday mass that the organization "certainly does affirm that women can serve as priests in our community." Edwards added, "We had a wonderful congregation tonight for a mass in celebration of Rev. Ann."
Sister Jeannine Gramick, co-founder of the Mount Rainier, Md., based LGBTQ Catholic advocacy organization New Ways Ministry, said she believes the fully approved ordination of women priests in the Catholic Church will someday happen.
"There is no theological reason, only cultural ones, why women have not been ordained priests," she said in referring to the official church. "I believe that a Catholic organization that ordains women priests is living out their sincere and deep-seated beliefs and preparing the wider community for what will eventually come to pass,' she said.
"Not all arrive at the destination at the same time, and I admire those with the courage of their convictions who lead the way," she added.