Grammy noms 2018: Brandi Carlile, Janelle Monáe and more LGBT artists
More women were nominated than ever before this year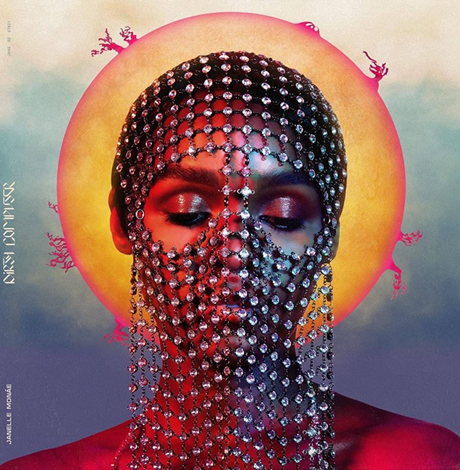 The Recording Academy announced the nominees for the 61st Grammy Awards on Friday with women and LGBT artists dominating the list.
Out Americana singer Brandi Carlile received six nominations including for Album ("By The Way, I Forgive You") and Record of the Year ("The Joke"). This makes her the most nominated woman at the Grammys this year. Carlile is up against pansexual artist Janelle Monáe's "Dirty Computer" which was also nominated for Album of the Year.
Monáe's music video for"Pynk" was also nominated for Best Music Video.
Queer artist St. Vincent was nominated for Best Alternative Album ("Masseduction") and Best Rock Song.
Transgender representation was included among the nominees. Songwriter Teddy Geiger was nominated for co-writing "In My Blood" by Shawn Mendes. Transgender musician Sophie's album "Oil of Every Pearl's Un-Insides" was nominated for Best Dance/Electronic Album.
Other notable mentions include the "Call Me By Your Name" soundtrack which was nominated for Best Compilation Soundtrack for Visual Media. Sufjan Stevens' song "Mystery of Love" from the soundtrack was nominated for Best Song Written For Visual Media.
The nominations kept on rolling in for "A Star is Born," which received three nominations for the song "Shallow," performed by Lady Gaga and Bradley Cooper, including for Record of the Year.
Kendrick Lamar earned the most recognition with eight nominations for his work on the "Black Panther" soundtrack.
Overall, this year' s Grammy's saw more women getting nominated as the categories expanded its  lists from five to eight nominees.
The Grammys air on Feb. 10 at 8 p.m. on CBS. For a complete list of nominees, visit here.
Record of the Year
"I Like It" — Cardi B, Bad Bunny & J Balvin
"The Joke" — Brandi Carlile
"This Is America" — Childish Gambino
"God's Plan" — Drake
"Shallow" — Lady Gaga & Bradley Cooper
"All the Stars" — Kendrick Lamar & SZA
"Rockstar" — Post Malone featuring 21 Savage
"The Middle" — Zedd, Maren Morris & Grey
Album of the Year
"Invasion Of Privacy" — Cardi B
"By The Way, I Forgive You" — Brandi Carlile
"Scorpion" — Drake
"H.E.R." — H.E.R.
"Beerbongs & Bentleys" — Post Malone
"Dirty Computer" — Janelle Monáe
"Golden Hour" — Kacey Musgraves
"Black Panther: The Album"— Various artists
Song of the Year
"All The Stars" — Kendrick Duckworth, Solána Rowe, Al Shuckburgh, Mark Spears & Anthony Tiffith (Kendrick Lamar & SZA)
"Boo'd Up" — Larrance Dopson, Joelle James, Ella Mai & Dijon McFarlane (Ella Mai)
"God's Plan" — Aubrey Graham, Daveon Jackson, Brock Korsan, Ron LaTour, Matthew Samuels & Noah Shebib, songwriters (Drake)
"In My Blood" — Teddy Geiger, Scott Harris, Shawn Mendes & Geoffrey Warburton (Shawn Mendes)
"The Joke" — Brandi Carlile, Dave Cobb, Phil Hanseroth & Tim Hanseroth (Brandi Carlile)
"The Middle" — Sarah Aarons, Jordan K. Johnson, Stefan Johnson, Marcus Lomax, Kyle Trewartha, Michael Trewartha & Anton Zaslavski (Zedd, Maren Morris & Grey)
"Shallow" — Lady Gaga, Mark Ronson, Anthony Rossomando & Andrew Wyatt (Lady Gaga & Bradley Cooper)
"This Is America" — Donald Glover & Ludwig Goransson (Childish Gambino)
Best New Artist
Chloe x Halle
Luke Combs
Greta Van Fleet
H.E.R.
Dua Lipa
Margo Price
Bebe Rexha
Jorja Smith
Best Pop Solo Performance
"Colors" — Beck
"Havana (Live)" — Camila Cabello
"God Is A Woman" — Ariana Grande
"Joanne (Where Do You Think You're Goin'?)" — Lady Gaga
"Better Now" — Post Malone
Best Pop Vocal Album
"Camila" — Camila Cabello
"Meaning Of Life" — Kelly Clarkson
"Sweetener" — Ariana Grande
"Shawn Mendes" — Shawn Mendes
"Beautiful Trauma" — P!nk
"Reputation" — Taylor Swift
Best Dance Recording
"Northern Soul" — Above & Beyond featuring Richard Bedford
"Ultimatum" — Disclosure featuring Fatoumata Diawara
"Losing It" — Fisher
"Electricity" — Silk City & Dua Lipa featuring Diplo & Mark Ronson
"Ghost Voices" — Virtual Self
Best Rock Song
"Black Smoke Rising" — Jacob Thomas Kiszka, Joshua Michael Kiszka, Samuel Francis Kiszka & Daniel Robert Wagner, songwriters (Greta Van Fleet)
"Jumpsuit" — Tyler Joseph, songwriter (Twenty One Pilots)
"MANTRA" — Jordan Fish, Matthew Kean, Lee Malia, Matthew Nicholls & Oliver Sykes, songwriters (Bring Me The Horizon) "Masseduction" — Jack Antonoff & Annie Clark, songwriters (St. Vincent)
"Rats" — Tom Dalgety & A Ghoul Writer, songwriters (Ghost)
Best Rock Album
"Rainier Fog"— Alice in Chains
"M A N I A"— Fall Out Boy
"Prequelle" — Ghost
"From the Fires" — Greta Van Fleet
"Pacific Daydream" —Weezer
Best Urban Contemporary Album
"Everything Is Love" — The Carters
"The Kids Are Alright" — Chloe x Halle
"Chris Dave And The Drumhedz" — Chris Dave And The Drumhedz
"War & Leisure" — Miguel
"Ventriloquism" — Meshell Ndegeocello
Best Rap Album
"Invasion Of Privacy" — Cardi B
"Swimming" — Mac Miller
"Victory Lap" — Nipsey Hussle
"Daytona" — Pusha T
"Astroworld" — Travis Scott
Best Country Album
"Unapologetically" — Kelsea Ballerini
"Port Saint Joe" — Brothers Osborne
"Girl Going Nowhere"— Ashley McBride
"Golden Hour" — Kacey Musgraves
"From A Room: Volume 2″— Chris Stapleton
Best Jazz Vocal Album
"My Mood Is You" — Freddy Cole
"The Questions" — Kurt Elling
"The Subject Tonight Is Love" — Kate McGarry with Keith Ganz & Gary Versace
"If You Really Want" — Raul Midón with The Metropole Orkest, conducted by Vince Mendoza
"The Window" — Cécile McLorin Salvant
Best Gospel Album
"One Nation Under God" — Jekalyn Carr
"Hiding Place" — Tori Kelly
"Make Room" — Jonathan McReynolds
"The Other Side" — The Walls Group
"A Great Work" — Brian Courtney Wilson
Best Latin Pop Album
"Prometo" — Pablo Alboran
"Sincera" — Claudia Brant Musas
"(Un Homenaje al Folclore Latinoamericano en Manos de los Macorinos), Vol. 2" — Natalia Lafourcade
"2:00 AM" — Raquel Sofía
"Vives" — Carlos Vives
Best Americana Album
"By The Way, I Forgive You" — Brandi Carlile
"Things Have Changed" — Bettye LaVette
"The Tree Of Forgiveness" — John Prine
"The Lonely, The Lonesome & The Gone" — Lee Ann Womack
"One Drop Of Truth" — The Wood Brothers
Best Comedy Album
"Annihilation" — Patton Oswalt
"Equanimity & The Bird Revelation" — Dave Chappelle
"Noble Ape" — Jim Gaffigan
"Standup for Drummers" — Fred Armisen
"Tamborine" — Chris Rock
Best Song Written For Visual Media
"All The Stars" — Kendrick Duckworth, Solána Rowe, Alexander William Shuckburgh, Mark Anthony Spears & Anthony Tiffith (Kendrick Lamar & SZA), "Black Panther"
"Mystery Of Love" — Sufjan Stevens (Sufjan Stevens), "Call Me By Your Name"
"Remember Me" — Kristen Anderson-Lopez & Robert Lopez (Miguel, featuring Natalia Lafourcade),  "Coco"
"Shallow" — Lady Gaga, Mark Ronson, Anthony Rossomando & Andrew Wyatt (Lady Gaga & Bradley Cooper), "A Star Is Born"
"This Is Me" — Benj Pasek & Justin Paul, songwriters (Keala Settle & The Greatest Showman Ensemble), "The Greatest Showman"
Producer Of The Year, Non-Classical
Boi-1da
Larry Klein
Linda Perry
Kanye West
Pharrell Williams
Amy Schneider's Jeopardy! winning streak ends at 40 games
Transgender contestant is the highest-earning woman in competition's history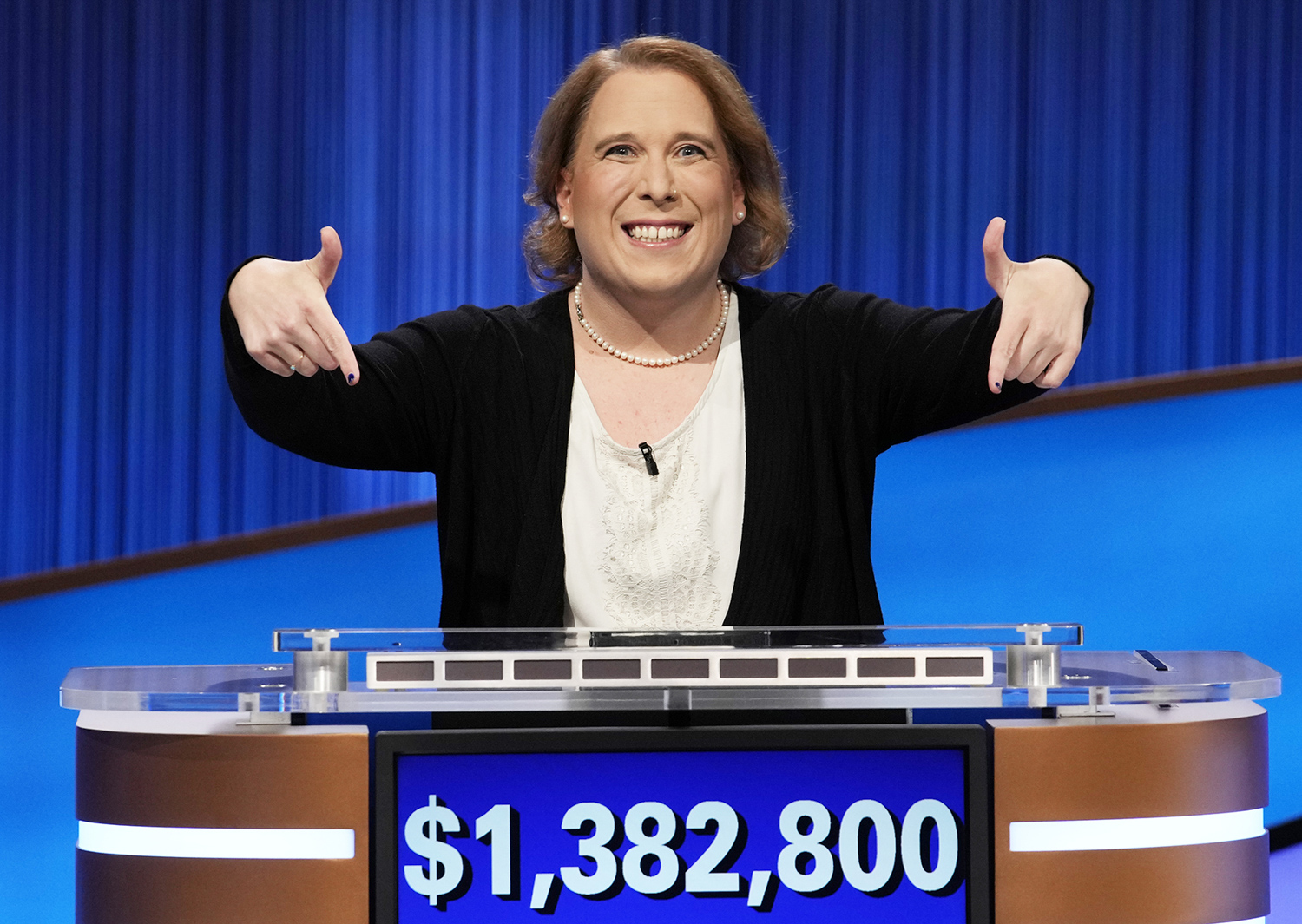 Amy Schneider's record-setting Jeopardy! winning streak came to an end on Wednesday's show after getting tripped up on the Final Jeopardy! clue.
Schneider is the first transgender contestant to qualify for the Tournament of Champions, and she's the highest-earning woman in the competition's history, with a total of $1,382,800 from 40 wins.
Schneider was leading by $10,000 as the contestants headed into the all-important "Final Jeopardy!" category, she failed to answer the clue. It was, "The only nation in the world whose name in English ends in an H, it's also one of the 10 most populous." Contestant Rhone Talsma managed to overtake Schneider when she answered, "What is Bangladesh?" the correct response. Schneider ended up with $19,600 versus Talsma's $29,600.
"I think that the best part for me has been being on TV as my true self, expressing myself and representing the entire community of trans people," Schneider told Good Morning America this week. "And just kind of showing a different thing than maybe some people have seen, of just being a smart, confident woman and just doing something super normal, like being on Jeopardy!."
A Revolution for Women in Baseball
Last week, they announced that Rachel Balkovec will become the first woman to manage a team in minor league baseball.
The Yankees were late on introducing an African-American player to their roster, adding Hall of Famer Elston Howard to the team in 1955, eight years after Jackie Robinson starred for the Brooklyn Dodgers. The Yankees seem determined not to repeat that bad history. Last week, they announced that Rachel Balkovec will become the first woman to manage a team in minor league baseball when she takes the helm of the Tampa Tarpons this spring.
It has been just over ten years since Justin Siegal threw batting practice to the Cleveland Guardians and five since she was the first woman to coach a MLB squad with the Oakland Athletics. Two years ago, Kim Ng became the first female General Manager of any of the four major professional sports when the Marlins hired her to run their team. In the two years since then, the dam has burst. Women have been hired to important on-field positions with professional baseball at an impressive clip. As baseball has lagged behind other professional sports in bringing women into the game, the current pace of hires indicates that baseball's embrace of analytics and objective measures have finally penetrated the walls of one of the most enduring old boys clubs in the U.S. and given talented women opportunities they have long been denied.
Ten women will be coaching with major or minor league teams in 2022. In 2021, Bianca Smith became the first African-American woman to coach in the minors when the Red Sox hired her. Alyssa Nakken became the first woman in uniform during a Major League Baseball game when she coached first base for the Giants in a July 2020 exhibition against the Oakland A's. Her jersey now belongs to the National Baseball Hall of Fame. Cuban-American Veronica Alvarez is not only the coach of the U.S. Women's National Baseball team, she also served as a spring training coach for the Oakland A's.
The proliferation of women in baseball is not an accident. More girls than ever are playing baseball. Here, in the DC area, 160 girls participated with D.C. Girls Baseball in 2021. Baseball for All, an organization that supports and promotes girls in baseball, held a tournament last summer that drew nearly 600 girls who play baseball. There are more women than ever on collegiate baseball rosters. Major League Baseball has also devoted significant resources to girls and women in baseball, running several development camps for girls in baseball. Six of the women now coaching professional baseball participated in MLB's Take the Field initiative, which is designed to help place women into baseball positions. To top it all off, the classic film about the All-American Girls Professional Baseball League, A League of Their Own, is getting a reboot on Amazon Prime this year.
The pace of hiring is exhilarating. Unfortunately, every report of a woman being hired is followed by predictable hateful commentary on social media. Many cannot imagine that a woman may be hired for a baseball position on merit and resort to making sexist and derogatory comments. As women in baseball, the coaches are used to that vitriol and have developed thick skin and sophisticated defense mechanisms. However, also reading are thousands of girls who are inspired by the achievements of these women and they are, sadly, learning that to achieve in baseball means enduring the sexist taunts, gross come-ons, and hurtful comments.
Baseball has a long way to go. Other leagues have women officiating games, so it should be reasonable to expect that baseball will have women umpires in the near future. The possibility of women playing professional baseball is tantalizingly close as 17 year old Genevieve Beacom made history last week as the first women to play Australian professional baseball, when she threw a scoreless inning against the Adelaide Giants.
We are watching a revolution in baseball unfold before our eyes.
Baltimore DJ on using music as a bridge to combat discrimination
Deezy brings high-energy show to the Admiral on Jan. 28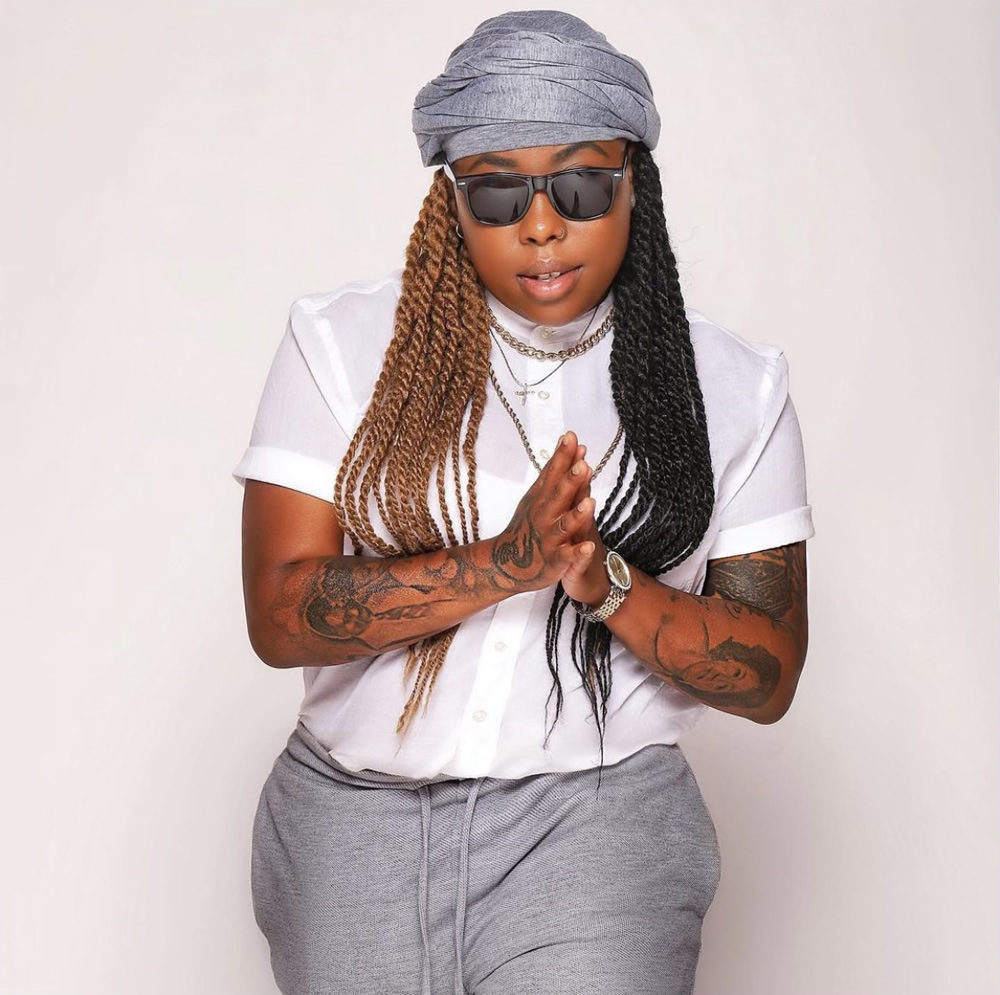 A Baltimore DJ will conclude a month of performances in Baltimore and Washington, D.C. clubs this Friday, Jan. 28, according to the artist's management. DJ Deezy is set to perform at the Admiral in D.C. at 9 p.m.
Since the year began, Deezy has hosted electric events at clubs such as Hawthorne DC, DuPont and the Baltimore Eagle Bar & Nightclub.
The Washington Blade sat down with the DJ to discuss the course of her career.
The beginning of DJ Deezy's infatuation with music dates back to her childhood spent between her mother's house in Baltimore City and her father's house in the suburbs.
In Baltimore, Deezy was exposed to the local rap and raw hip-hop scene that inspired her to embark on a rap career in high school.
Concurrently, she was entrenched in Motown and classic rock by virtue of her singer, songwriter, and guitarist father Ron Daughton's involvement in a classic rock band. He is a member of "The Dalton Gang" and was inducted into the Maryland Entertainment Hall of Fame in 2015.
"Before I embarked on my DJ journey, my father let me record 'a little 16' on his tape recorder," said Deezy. "Eventually, he bought me a wireless microphone that I carried around with me to performances."
Between her experience as a rapper and watching her father maneuver the classic rock music scene, Deezy acquired varying tastes in music that have influenced how she curates her sets today.
She "specializes in open format vibes with spins from multiple genres including hip-hop, rap, circuit, and top 40s hits," according to a summer 2021 press release from her management.
Deezy is also a proud member of the LGBTQ community — she identifies as a lesbian — and this also informs her approach to her work.
"I'm easily able to transition and rock the crowd because I can relate to many different backgrounds," said Deezy. "I can DJ in places that are predominantly white, Black, or gay [and still do my job effortlessly]."
Centering community
Deezy values representation. Not only because she exists in a field dominated by men, but also because DJs who inhabit other identities aside from being men are less common in the industry.
The scarcity of Black and lesbian DJs has prompted her to use her career as evidence that people who are different can attract audiences and succeed.
"I want to put us out there especially for Baltimore," said Deezy. "I know that there's Black lesbians out there doing the same thing as me, but why aren't we getting [recognized]?"
In 2018, Deezy rented out a "Lez" lot at the Baltimore Pride block party where she set up a tent and played a set for the crowds tailgating around her. While entertaining them, she distributed her business cards — an act she believes yielded her the contact who eventually got her booked for a residency at the Baltimore Eagle.
While this was a step forward in her career, Deezy acknowledges that it wasn't without challenges. She likened entering the Baltimore Eagle — traditionally a leather bar frequented predominantly by men —to navigating foreign territory.
"When I first got there, I got funny looks," she said. "There's a lot of these guys who are like, 'Why are you bringing a lesbian DJ to a gay bar?'"
But Deezy powered through her performance, lifted the crowd from its seats and "rocked the house [so that] no one will ever ask any questions again."
She admits that she's an acquired taste but believes in her ability to play music infectious enough to draw anyone to the dance floor.
"Feel how you want to feel about a Black lesbian DJ being in the gay bar," said Deezy. "But music is a bridge that [will] connect us all, and you'll forget about your original discrimination when you [experience] me."
While Deezy has mostly performed in the DMV, she has also made appearances in Arizona where she hosted a family event and also in clubs in Atlanta and New York City.
Her work has also attracted international attention and she was the cover star of  French publication Gmaro Magazine's October 2021 issue. 
Looking to the future, Deezy's goal is to be a tour DJ and play her sets around the world.
"I had a dream that Tamar Braxton approached me backstage at one of her concerts and asked me to be her tour DJ," she said. "So, I'm manifesting this for myself."
In the meantime, Deezy will continue to liven up audiences in bars and clubs around the country while playing sets for musicians like Crystal Waters and RuPaul's Drag Race celebrity drag queens like Alyssa Edwards, Plastique Tiara, La La Ri, Joey Jay and Eureka O'Hara — all of whom she has entertained alongside in the past.
Outside the club, Deezy's music can be heard in Shoe City where she created an eight-hour music mix split evenly between deep house and hip-hop and R&B.