May 11, 2019 at 8:38 am EDT | by Brian T. Carney
'SNL' stars, writers go lesbian in new movies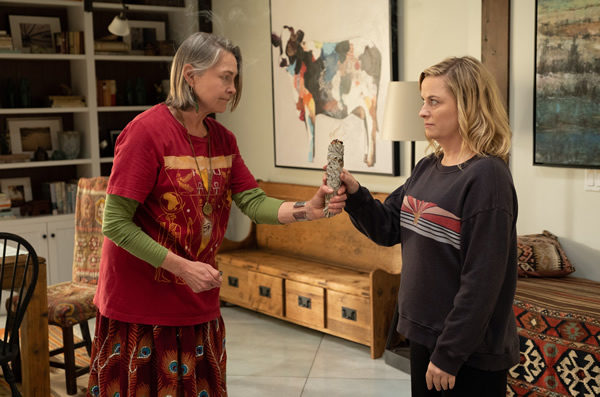 Lesbian Visibility Day has recently passed, but this week LGBT cinephiles can catch three interesting films about lesbians in very different times and places.
The passionate Kenyan romance "Rafiki" is a must-see for all LGBT audiences.The award-winning movie about two young women who fall in love was initially banned under Kenya's strict anti-LGBT laws, but writer/director Wanuri Kahiu won an important international legal victory by convincing the Kenyan Supreme Court to lift the ban.
"Rafiki" is about Kena (Samantha Mugatsia) and Ziki (Sheila Munyiva), who are anxiously awaiting the results of their all-important school exams. Their friendship is challenged by the political rivalry between their fathers, but their lives are threatened when Mama Atim, the vicious gossip who runs the local café, tells everyone about their relationship.
Although this is only her second feature-length film, Kahiu directs with remarkable confidence and a strong sense of pacing and style. She paints a vibrant picture of the Nairobi neighborhood where the story unfolds and creates vivid multi-dimensional characters.
Across the board, the acting is strong and interesting. Mugatsia and Munyiva are utterly convincing and heart-breaking as two young women falling in love for the first time. Jimmi Gathu is wonderful as Kena's selfish father who proves to be an unexpected ally and Muthoni Gathecha gives a surprisingly rich performance as Mama Atim, creating fascinating layers of comedy, menace and resentment.
"Rafiki," by the way, means "friend" in Swahili, but the word is also used by queer people as a coded way to refer to their partners. The film will be shown at the Avalon Theatre (theavalon.org) on Connecticut Avenue.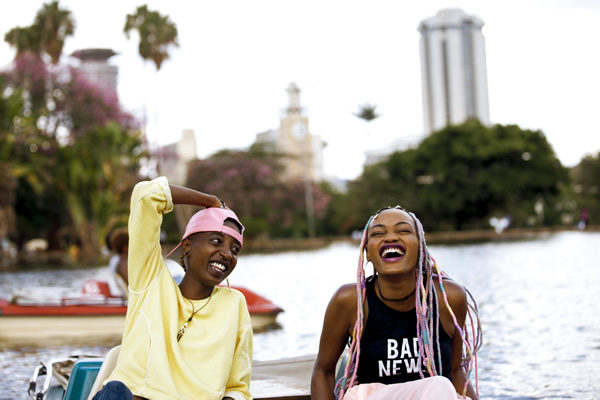 Fans of Amy Poehler's work on "Saturday Night Live" and "Parks and Recreation" will certainly enjoy "Wine Country," a genial comedy that drops on Netflix today (May 10). Poehler stars and serves as director and producer; the screenplay is by Emily Spivey and Liz Cackowski. The premise is familiar, but the jokes are generally well-executed by a great ensemble of female comedians, most of whom have worked with Poehler before.
Rebecca (Rachel Dratch) is about to turn 50 and Abby (Poehler) decides to get the old gang together to celebrate. The old gang includes homebody Jenny (Spivey); Catherine (Ana Gasteyer) a workaholic chef on the brink of a major decision; weary mom Naomi (Maya Rudolph); and Val, a brassy lesbian who owns a vintage shop in Portland (Paula Pell, a lesbian comic who was a writer on "SNL" for over a decade).
Abby plans a Napa Valley weekend where the friends can relax and reconnect in a guest house owned by Tammy (Tina Fey), who fails to mention that the dim-witted Devon (Jason Schwartzman) "comes with the house." Wine-fueled hijinks ensue. The freshest and funniest bits involve out actor Cherry Jones as a wacky but eerily accurate tarot card reader (it's great to see her flex her seldom-used comic muscles) and Maya Erskine as Jade, a young server/artist who flirts with Val and whose exhibition inadvertently ignites a very funny inter-generational debate about pop culture.
With a running time of under two hours, "Wine Country" is a great way to spend an evening with a group of friends and a few bottles of wine.
Finally, "Wild Nights with Emily" is a movie with a mission. Openly lesbian writer/director Madeleine Olnek draws on the latest scholarship about legendary poet Emily Dickinson to prove that your high school English teacher had it all wrong. Dickinson was not a reclusive virginal spinster who sequestered herself in her bedroom, dressed all in white, hiding her poems in a trunk.
That was the creation of her self-appointed literary executor Mabel Loomis Todd, a Dickinson family friend who was also the mistress of Emily's brother Austin.
Recent scholarship by Martha Nell Smith and others has demonstrated that Emily Dickinson cared deeply about getting her poems published (but on her own terms) and carried on a long-term affair with Susan Gilbert, who later married an unwitting Austin to provide protection to the lesbian couple.
Olnek lets this delightful domestic soap opera unfold in a pleasantly fluid fashion. She gently weaves together three time frames: the adolescent courtship between Young Emily and Young Susan (Dana Melanie and Sasha Frolova); the adult shenanigans of the two adulterous couples who try to hide their affairs; and Mabel's ridiculous lectures about Emily.
Olnek has enlisted a top-notch cast that includes Molly Shannon as Emily, Amy Seimetz as Mabel and Susan Ziegler as Susan, but the movie frequently feels more like a research paper than a fully realized film. There are some very funny bits (although they sometimes feel more like sketches from "Saturday Night Live" than fully developed scenes), but the characters and situations never really catch fire.
Fans of Emily Dickinson and Molly Shannon will enjoy the revelations about their favorite poet and the transformation of their favorite comic. And, the movie has an important lesson for all LGBT audiences about how our presence can be all too easily erased from history.
"Wild Nights with Emily" will open at Landmark's E Street Cinema and Bethesda Row Cinema on May 10 and at the Old Greenbelt Theatre on May 17. There will be Q&As with Dickinson scholar Martha Nell Smith after select performances at both theaters. Go to landmarktheatres,com or greenbelttheatre.org for details.