June 20, 2019 at 3:31 pm EDT | by Crystal Schelle
Former 'As the World Turns' actor reflects on career, historic gay kiss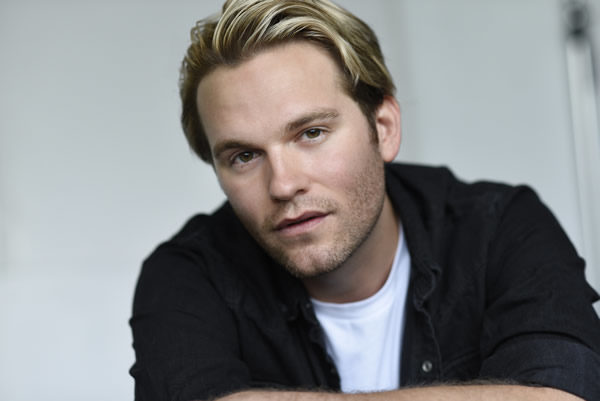 Daytime Pride
Saturday, June 29
Morning event: 10 a.m.-4 p.m..
VIP dinner: 6:30-9 p.m.
Human Rights Campaign Equality Center
1640 Rhode Island Ave., N.W.
Washington
$125-375
Van Hansis was just barely a year out of graduating from Carnegie Mellon University when he landed the role of Luke Snyder on "As the World Turns."
From 2005-2010, Hansis stepped into a role that made TV history and gave the Massachusetts native a sold training ground for his career.
Today, with credits in film, off-Broadway and the long-running web series "EastSiders," Hansis will revisit his character Luke for Daytime Pride on Saturday, June 29, at the Human Rights Campaign Equality Center.
Hansis will join fellow daytime drama stars Ryan Carnes, Lucas from "General Hospital"; Camryn Grimes, Mariah from "The Young & The Restless"; Greg Rikart, ex-Leo from "Days of Our Lives"; Jake Silbermann, ex-Noah from "As the World Turns" and Freddie Smith, Sonny from "Days."
The morning event, which is from 10 a.m.-4 p.m., includes autographs, photo ops, panel as well as a meet and greet. A VIP dinner will be from 6:30-9 p.m. at the Mayflower Hotel. Proceeds from the event will be donated to True Colors United, which assists homeless LGBTQ youth.
When Luke was recast in what's called "rapid aging" in soaps during which the character magically becomes an adult overnight, Hansis says writers had already decided his character would be gay. Luke would be one of the first male gay soap opera characters. Whether he was uncomfortable or not to play a gay character so early in his career, Hansis knew he had to take it.
"When you're an acting , to get an recurring role a soap opera — that was kind of my first on-camera professional job — I was not in any place to turn anything down," he says during an interview from his homebase of New York City. "Luke was such a rich character and such a wonderful experience I ended up having for five years. It was a blessing."
The role would earn Hansis three Daytime Emmy nominations.
"He was kind of a brat, but I really liked him," he says of his character. "His heart was totally in the right place. I played the character for five years, and he grew up into a shipping heir. He was a good kid with a sweet heart who I think was also a little bit self-righteous and self-obsessed, but in spite of some of his negative qualities, he was still a human being. He was just a nice mix. He felt real to me. He felt like a real person."
And to gay fans across the nation, Luke became one step closer to acceptance. On Aug 17, 2007, the first-ever gay male kiss on American television was aired, which was Luke and Noah Mayer (played by Silbermann, who will also be at the event) on "ATWT." Luke and Noah shared the first-ever on-screen gay male kiss on an American daytime drama on Aug. 17, 2007.
One of Hansis' favorite storylines was when Luke and Noah met. Another was when Luke was an alcoholic for a while, also when he got kicked out of college.
"I liked playing him when he was being bad," he says.
Although Luke came out in 2007, Hansis waited until 2014 to officially come out to his fans during an interview about "EastSiders." Openly gay in his personal life, Hansis says he was apprehensive about outing himself so early in the career, afraid that he might be stereotyped.
"Back when I started with Luke, and it being my first thing, a lot of people who were telling me, 'Don't come out publicly,'" he says. "Even back then, it was a different world, sort of. It was not like it is today, especially for an actor. If you come out gay, you're only going to play gay for the rest of your life."
Although it's well-known that he has been in a relationship with Broadway star Tyler Haines since 2007, Hansis said he likes to keep his private life as private as he can.
"In retrospective, I wish I had come out earlier publicly, but I was out in my private life," Hansis says. "Even to this day I keep my private life pretty private. I do social media, but I don't do it a lot. I really try to choose what I put out there about my life because even though I have a public career, I am a private person. I want to stay that way."
When he came out, he felt like things had changed and "I gave less of a fuck."
This Daytime Pride event is the second one Hansis has been since "ATWT" ended eight years again.
"It'll be interesting to try to relive all that stuff. I probably should try to watch it to help remember what I did," he says, noting it will be nice to see Stilbermann who has remained a good friend. "It'll be nice to get together a lot of gay characters. What I like is that it's specific, it's not just on a soap opera, but a gay character on a soap opera."
Since leaving "ASWT," Hansis has had a varied career. He was cast in 2012 on the dark comedy web series "EastSiders," which he was also nominated for a Daytime Emmy. The show will enter its fourth and final season this year.
Hansis is proud that he was able to be a part of what has become an iconic LGBTQ role.
"It was a big deal back then. I think almost soap from then on has gay characters now," he says.
In addition to acting, he has directed a web series called "Ms. Guidance" that has been submitted to several festivals. He also teaches at MN Acting Studio in New York City.
Although a regular at New York Pride, this will be his first time doing anything Pride-related in Washington.
"I plan to do (this event) on Saturday, then Pride in New York on Sunday," he says. "Then Monday, I'm taking a vacation."