July 12, 2019 at 2:11 pm EDT | by Yulani Rodgers
SUMMER IN THE CITY 2019: Movies on the lawn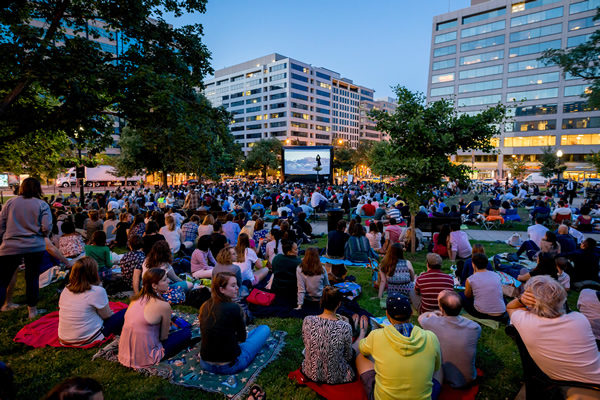 From summer staples like "Jaws" to recent hits like "Crazy Rich Asians," this year's outdoor movie options in the region abound with eclectic titles.
AFI Silver (8663 Colesville Rd., Silver Spring, Md.) returns with its free outdoor movie series providing films starting July 5 and ending Aug. 30. Screenings planned are "The Matrix" (July 19), "Isle of Dogs" (Aug. 2), "The Little Mermaid" (Aug. 16) and "Bill & Ted's Excellent Adventure" (Aug. 30). At the showing on Aug. 2, participants are encouraged to bring their dogs along for the fun. Movies start at sunset, around 8-8:30 p.m. For more information, visit silver.afi.com.
Bethesda Outdoor Movie Series returns to Bethesda's Woodmont Triangle (Norfolk and Auburn Ave., Bethesda, Md.) for its 15th year July 24-27. The four nights will be packed with films like "10 Things I Hate About You" (July 24), "Won't You Be My Neighbor" (July 25), "Crazy Rich Asians" (July 26) and "As Good As It Gets" (July 27). Admission is free and all screenings begin at 9 p.m. Visit bethesda.org for more details.
Capitol Riverfront presents its outdoor movie series at Canal Park (2nd and K St., S.E.) through Aug. 22. Screenings include "Ralph Breaks the Internet" (July 18), "Jurassic World: Fallen Kingdom" (Aug. 1) and "Incredibles 2" (Aug. 15). All screenings begin at sunset and include captioning. Admission is free. To see a complete screenings list, visit dcoutdoorfilms.com.
Columbia's Lakefront Summer Festival continues through Sept.29 and includes movies, dancing and live music at Columbia's Downtown Lakefront (10275 Wincopin Circle, Columbia, Md.). Screenings include "Aquaman" (July 19), "Bumblebee" (July 26), "Frozen" (Aug. 12), "Marvel's Captain Marvel" (Sept. 1) and "Marvel's Avengers: End Game" (Sept. 7). Admission for all events are free and films start at 8:30 p.m. For more information, visit columbiaassociation.org.
Georgetown Sunset Cinema (1000 Potomac St., N.W.) presents its 2019 film series "Out of Office" featuring films about vacations and trips. The lineup includes "Sandlot" (July 16), "The Parent Trap (1998 version)" (July 30) and "Eat Pray Love" (Aug. 6). Several food trucks will be available across the street during each screening for a quick snack before or after the movie. All movies start at sunset and early arrival is suggested. For more information, visit georgetowncinema.com/sunset-cinema.
Golden Cinema at Farragut Square (912 17th St., N.W.) is showing a variety of films through Aug. 2. New takes on classics such as "Mary Poppins Returns" (July 12), "Fantastic Beasts: The Crimes of Grendelwald"(July 26) and "Wonder Woman" (Aug. 2) are part of this series lineup. Movies will start around 8:30 p.m. Blankets and lawn chairs are encouraged. Visit goldentrianglec.com/golden-cinema-2019.
Being the first and only summer movie series held at a memorial at the National Mall, Films at the Stone (1964 Independence Ave., S.W.) will be showing "Spider-Man Into the Spiderverse" (July 18) and "The Hate You Give"(Aug. 28). Films start at 7:30 p.m. This event is free and open to the public. Visit filmsatthestone.org for details.
Movies on the Potomac will feature a plethora of films at the National Harbor (165 Waterfront St., Oxon Hill, Md.) every Thursday and Sunday through Sept. 29. Featured films will include "Coco" (July 14), "Justice League" (July 25), "How to Train Your Dragon:The Hidden World" (Aug. 4), "Bring It On" (Aug. 15), "Black Panther" (Sept. 5) and "Despicable Me 3" (Sept. 22). Movies will start at 7 p.m. on Thursdays and 6 p.m. on Sundays. Dates and times are subject to change due to weather. The National Harbor will announce updates via their social media. For a complete list of films, visit nationalharbor.com/events.
Every Wednesday evening, NoMa Summer Screenings (1150 First St., N.E.) will play films according to their theme of Who's Got Game? featuring films about sports. The lineup includes "Bend It Like Beckham" (July 17) and "Remember the Titans" (July 24). Along with each film showing, there will be featured food trucks for patrons to enjoy before and after the show. Films begin at sunset and admission is free. Visit nomabid.org/summerscreen for more details.
The Drive-In at the Union Market(1309 5th St., N.E.) is back for a seventh season featuring films such as "Jaws" (Aug. 2), "Coco" (Sept. 6) and "The Wiz" (Oct. 4). Food vendors and pre-show activities will be available at each showing as well. The parking fee is $15 while walk-ups are free. For showtimes, visit unionmarketdc.com.