August 3, 2019 at 10:36 am EDT | by Staff reports
Cannabis Culture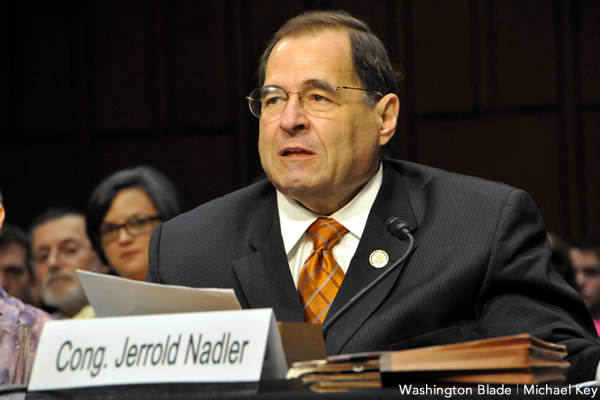 Nadler, Harris seek to end federal cannabis prohibition
Rep. Jerry Nadler (D-N.Y.), chair of the House Judiciary Committee and Sen. Kamala Harris (D-Calif.) last week introduced comprehensive legislation (The Marijuana Opportunity, Reinvestment, and Expungement Act) to end federal marijuana criminalization.
The Act removes the marijuana plant from the federal Controlled Substances Act, requires the federal courts to expunge prior marijuana-related convictions, and provides grants to communities that have been disproportionately impacted by the drug war, among other changes.
"The MORE Act is the most comprehensive marijuana reform bill ever introduced in the U.S. Congress and is backed by a broad coalition of civil rights, criminal justice, drug policy, and immigration groups," said NORML Political Director Justin Strekal, who assisted Nadler's office in drafting the bill. "It embodies the need to legalize cannabis and restore the rights of those who have suffered under the cruel and failed policy of criminalization."
Added NORML Executive Director Erik Altieri: "By passing the MORE Act, Congress can begin to remedy the pain caused by the criminalization of marijuana. This bill provides a real federal solution by fully de-scheduling of cannabis from the Controlled Substances Act and providing relief to those suffering under the collateral consequences of having a marijuana charge on their record by facilitating the process of expungements. The American public is overwhelmingly ready to legalize marijuana, their elected officials in Washington need to finally start representing the will of the people and advance this sensible legislation."
6 in 10 Americans back legalizing cannabis: poll
POUGHKEEPSIE,, N.Y. — More than six in 10 U.S. adults endorse cannabis legalization, according to nationwide polling data compiled by The Marist Institute for Public Opinion, in partnership with National Public Radio and the PBS News Hour.
Sixty-three percent of respondents said that it is a "good idea" to "legalize marijuana nationwide." The issue received greater public support than did numerous other policy questions, including raising the national minimum wage to $15 (56 percent support), imposing a 'wealth tax' on those with incomes above $1 million (62 percent), and banning the sale of automatic weapons (57 percent).
"As Americans learn more about the successful legalization of marijuana in state after state, their support for the policy at a national level continues to grow," said NORML Political Director Justin Strekal. "Even House Judiciary Committee members on both sides of the political aisle have concluded that it is time to end the federal prohibition of cannabis."
The results are similar to those of a nationwide Axios poll, released in June, which also reported that 63 percent of adults back legalization. Recently compiled polls by Gallup (66 percent), Pew (62 percent), and the Center for American Progress (68 percent), among others, show similar levels of national support
Marijuana arrests soar in Virginia
RICHMOND, Va. — The number of marijuana-related arrests in 2018 climbed to nearly 29,000 — a total that is three times higher than 1999 totals, according to crime data compiled by the Virginia State Police.
Marijuana-related arrests in Virginia have risen steadily in recent years, increasing an estimated 25 percent since 2016. The overwhelming majority of arrests are for possess-related offenses, and over half of those arrested are under 24 years of age.
"Voter attitudes are no longer reflected in state law," says NORML's Jenn Michelle Pedini, executive director of Virginia NORML. "Marijuana arrests in Virginia have skyrocketed to a 20-year high, and in stark contrast to the year-over-year national trend downward. The Commonwealth now spends over $100 million annually enforcing marijuana prohibition, at a time when over three quarters of Virginians favor fines not crimes for simple possession and six in 10 support legalizing and regulating responsible adult-use."
Virginia Attorney General Mark Herring agrees.
"While other states are moving to a more sensible approach to cannabis, Virginia is still moving in the wrong direction. It makes absolutely no sense," said Herring. "Marijuana arrests are now at their highest level in at least two decades and maybe ever, meaning that even more Virginians, especially young people and people of color, are being saddled with criminal records that can drastically affect their lives. Now is the time to put a stop to this costly, unfair, and ineffective approach, and to pursue a better, smarter, fairer course."
Under state law, first-time possession offenders face up to 30 days in jail and a criminal record. Subsequent offenses are punishable by up to one year in prison.
Senate legislation introduced earlier this year to decriminalize low-level marijuana possession offenses was rejected by members of the Senate Courts of Justice Committee – with all Republicans voting against the measure. House companion legislation was similarly rejected along party lines.
Cannabis Culture news in the Blade is provided in partnership with NORML. Visit norml.org for more information.