October 31, 2019 at 9:59 am EDT | by Brian T. Carney
Strong cast gives 'Frankie' luster; 'Harriet' is flawed but compelling Tubman biopic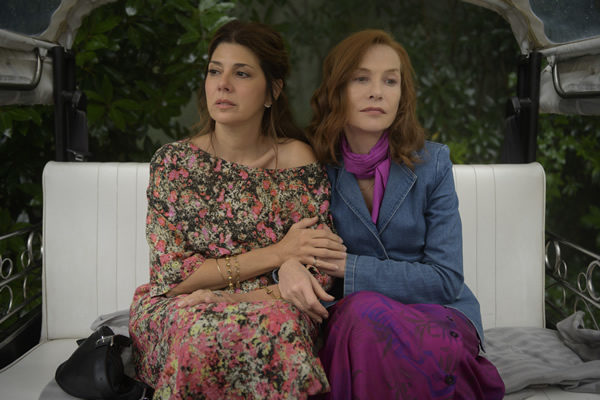 Awards season just got a little more interesting with two of the excellent movies opening in Washington this week.
Nominated for the Palme d'Or at this year's Cannes Film Festival, "Frankie" is helmed by queer filmmaker Ira Sachs ("Love Is Strange" and "Little Men") and features a sublime performance by Isabelle Huppert, who was nominated for an Oscar in 2017 for her stunning work in the thriller "Elle."
Huppert stars as Françoise Clemens, known as "Frankie" to her friends and family, a famous French actress who is dying of cancer. Since she does not expect to be alive by Christmas, she has gathered everyone together for a summer holiday at the historic beach resort of Sintra in Portugal.
Her extended family includes her first husband Michel Gagne (Paul Greggory) who came out after their divorce. Their petulant bisexual son Paul (Jérémie Renier) is about to leave Paris to start a new job in Manhattan.
Frankie lives in London with her second husband Jimmy (Brendan Gleeson). His daughter Sylvia (Vinette Robinson) is unhappily married to Ian (Ariyon Bakare); their daughter Maya (Sennia Nanua) feels torn between the two.
The party is rounded out by Ilene (Marisa Tomei), who has worked with Frankie on several films and is her best friend. She's dating Gary (Greg Kinnear), a cameraman who's on a break from the latest "Star Wars" movie which is being shot in Spain. There's also Tiago Mirante (Carloto Cotta) who travels to Sintra every year to serve as a tour guide, despite the jealousies of his suspicious wife.
Working with co-screenwriter Mauricio Zacharias, Sachs weaves a series of casual encounters into a complex tapestry of emotions and relationships. Given the reason for the gathering, the overall mood is melancholic and somewhat Chekhovian (in the best possible way) as the characters discuss memories and regrets, dreams and plans and the timeless wonders of nature, love and art. The dialogue is always believable and naturalistic, even as certain phrases and objects begin to achieve rich symbolic values. There are also some delightful moments of comedy to lighten the proceedings.
Anchored by a luminescent performance by Huppert, the ensemble cast is splendid. Huppert's work is a marvel of restraint. With a deliciously dry wit and just a few moments of vanity and drama (she is a famous actress after all), Frankie is approaching death with a minimum of sentiment and self-pity. With her pale, translucent skin and an amazing economy of movement, Huppert offers a powerful portrait of a woman whose body is failing her and who is slowly withdrawing from the world, whether she wants to or not.
Tomei is heart-breaking as Frankie's best friend, a brave woman whose world suddenly turns upside down in the course of a day. Newcomer Nanua turns in a delicate and nuanced performance as Frankie's granddaughter, easily holding the screen with more experienced actors. Gleeson and Greggory are also wonderful and the scene where they discuss Michel's coming out is a highlight of the film.
Sachs' color-saturated collaboration with cinematographer Rui Poças is stunning. They capture the many lovely vistas of Sintra with a vibrant flair and alternate between intimate close-ups and long shots with an startling depth of field to explore the intricacies of the compelling family drama. The long silent final sequence, the only time the entire principal cast is seen onscreen together, is a masterstroke by a major queer artist.
"Frankie" includes dialogue in French and Portuguese, but the subtitles are easy to read.
"Harriet" will undoubtedly be a significant contender at the major award shows this season. Directed by Kasi Lemmons ("Eve's Bayou") from a script by Lemmons and Gregory Allan Howard ("Ali"), the stirring cinematic epic is amazingly the full full-length feature to depict the life of the iconic African-American freedom fighter Harriet Tubman.
The film opens on the Brodess farm in Dorchester County, Md., in 1849, a sharp reminder that that the state of Maryland was south of the infamous Mason-Dixon line. Minty (later known as Harriet Tubman) learns that she is about to be sold to new owners in the South. Alone, but guided by visions, she makes the grueling trip across the Pennsylvania border into freedom.
In Philadelphia, entrepreneur Marie Buchanan (a powerful performance by Janelle Monáe) helps Harriet find a job, but Harriet decides to make the dangerous trip back to Maryland to free her husband. Working with William Still (Leslie Odom Jr.) of the Pennsylvania Anti-Slavery Society, Harriet becomes a full-fledged conductor for the Underground Railroad, a member of the Union Army and a leader in the abolitionist movement.
Overall, the script is a sharp combination of action thriller and inspirational history lesson. It's especially effective at showing the destructive impact of the Fugitive Slave Act of 1850, scenes that have an unsettling resonance with current events, and in depicting Gideon Brodess (Joe Alwyn) and his mother Eliza (Jennifer Nettles). Lemmons and Allen carefully avoid the standard tropes of melodrama and sentimentality in depicting the slave owners. Instead, they are shown as desperate capitalists for whom Harriet and her family are primarily figures in a ledger.
The acing is generally outstanding. Cynthia Erivo, who won the Tony Award for "The Color Purple" and was seen in "Widows" last year, is riveting as Harriet; her transformation from frightened runaway slave to fearless warrior is mesmerizing.
While "Harriet" has some significant flaws (the movie loses momentum toward the end and despite Erivo's expressive performance the film never really captures Tubman's inner life), it is a must-see for LGBT activists and freedom fighters of all kinds. With lush cinematography by John Toll and a vibrant score by Terence Blanchard, this is an experience to be savored with friends in a movie theater.