April 25, 2020 at 1:25 pm EDT | by Brian T. Carney
'The Half of It' director Alice Wu on her new Netflix teen dramedy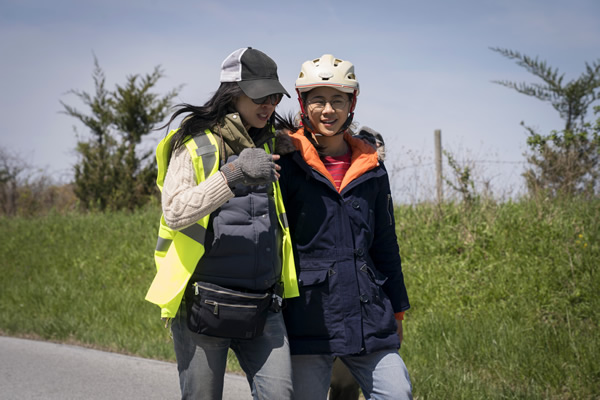 Writer/director Alice Wu did not set out to make a teen movie.
She started writing — in what became "The Half of It" (Netflix, May 1) — about her own coming-out story.
"My best friend in college was a straight white guy," she says. "He helped me accept myself as gay more than anyone. But his new girlfriend was wary of our relationship, despite knowing I was gay, and slowly, ineffably, the delicate calculus of our connection eroded."
Wu started to write about her heartbreak over the loss of their friendship, but hit a wall.
"As I started outlining it, I realized I couldn't do justice to these themes in a 100-minute movie. I couldn't find an ending that felt both satisfying and earned."
Then revelation struck.
"At a certain point, your characters tell you what they want, and I thought maybe I should just set this thing in high school. I love teen movies. Only in high school is every feeling so intense. Because it's the first time it's happened to you, you think it's the only time it's going to happen to you. Everything is heightened in a way that allows you to cover a lot of emotional territory."
"Frankly," she says, "when it comes to love, don't we all regress to being teenagers? Then the whole Cyrano component slipped in and the film became something else entirely."
Cyrano is the swash-buckling hero of an 1897 play by French playwright Edmund Rostand. A brilliant poet and swordsman, Cyrano is also renowned for his remarkably large nose. He's in love with his beautiful and intellectual cousin Roxanne, but she's in love with the handsome and dim-witted Christian. Cyrano helps Christian woo Roxanne. Most famously, he even hides in the shadows beneath her balcony and pretends to be Christian. Christian and Roxanne marry, but Cyrano gets a dramatic death scene where he finally confesses his love for Roxanne.
In "The Half of It," Wu moves the Cyrano story to a small town in eastern Washington state and adds a lesbian twist to it. The famous French romance becomes a contemporary queer coming-of-age story.
Her story centers on Ellie Chu (Leah Lewis), a shy, straight-A high school senior who helps pay the bills by ghost-writing papers for classmates. One of her clients, a football player named Paul Munsky (Daniel Diemer), hires her to write love notes to their classmate Aster Flores (Alexxis Lemire). Ellie agrees, but there are obstacles. Aster is the daughter of a local minister and the girlfriend of quarterback Trig Carson (Wolfgang Novogratz). Ellie also realizes she has a crush on Aster.
Wu says the title has a double meaning. It refers to a speech from Plato's Symposium where the playwright Aristophanes explains that humans spend their lives searching for their "other half." Ellie tells the story over the opening credits; the story may also be familiar to LGBT audiences from the song "Origins of Love" from "Hedwig and the Angry Inch."
But as Wu explains, the title also refers to the saying, "you don't know the half of it."
"Everybody has a secret they're harboring. Paul has a lot to say, but his family doesn't give him any space to say anything. Aster wants a different life than the one that's been prescribed for her."
Ellie hides her dreams and desires.
As the story unfolds, Wu focus on the deepening friendships between the characters.
"For me, she says, "the point of the film isn't about who ends up with whom. It's about people who collide in a moment in time."
Wu admits that "endings are tricky because we expect answers."
Some critics felt the ending of her first film, "Saving Face," which premiered at the Sundance and Toronto Film Festivals in 2005, was "too happy." At the time, Wu said the ending was grounded in the truth for her characters and now proudly declares that history has proved her right.
Now she's proud of the hopeful ending for "The Half of It."
"The end of the film is each of their beginnings," she says. "That is the happiest ending for all of them."