May 13, 2020 at 5:00 am EDT | by Lou Chibbaro Jr.
Council hopefuls back LGBTQ rights at Stein Club forum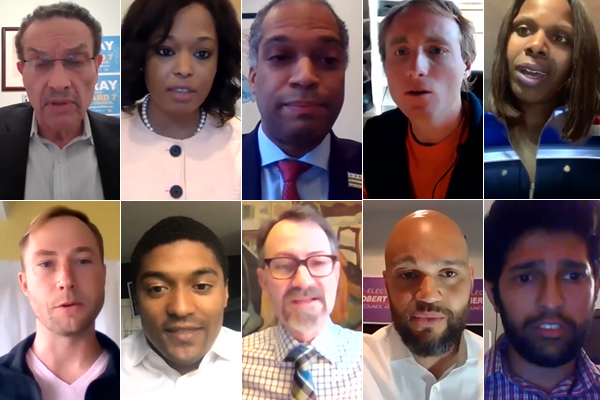 All 23 candidates running in D.C.'s June 2 Democratic primary for seats on the City Council and three congressional seats that showed up for the Gertrude Stein Democratic Club's virtual endorsement forum on Monday night expressed strong support for LGBTQ rights.
Among those participating in the live video streaming forum were D.C. congressional Del. Eleanor Holmes Norton, D.C. "shadow" U.S. Sen. Paul Strauss, D.C. "shadow" U.S. House candidate Oye Owolewa, and incumbent D.C. Council members Robert White (At-Large), Brandon Todd (Ward 4), Vincent Gray (Ward 7), and Trayon White (Ward 8).
Also participating in the forum were the eight candidates running in the primary in the hotly contested race for the Ward 2 Council seat, including former Ward 2 Council member Jack Evans, who resigned from the seat last year following allegations of ethics violations. Evans' decision to run again for the seat has drawn sharp criticism from many in the city's political establishment.
But only one of the seven candidates running against Evans, former Obama administration official Jordan Grossman, raised the matter of Evans' ethics breaches that prompted his Council colleagues to decide to expel him from the Council had he not resigned.
Instead, Evans and the other seven candidates running against Evans, including Grossman — aside from his criticism of Evans over the ethics issue — chose to stress the positive steps they pledged to take to advance the quality of life for the LGBTQ community and the city as a whole rather than attack their opponents.
The Ward 2 candidates running in the Democratic primary participating in the Stein Club forum in addition to Evans and Grossman were Patrick Kennedy, John Fanning, Kishan Putta, Daniel Hernandez, Brooke Pinto, and Yilin Zhang.  Fanning, who's gay, Kennedy and Putta are elected Advisory Neighborhood Commissioners.
The Ward 4 candidates participating in the forum, in addition to Todd, were Janeese Lewis George and Marlena D. Edwards.
The Ward 7 candidates, in addition to incumbent Gray, were Kelvin Brown, Anthony Lorenzo Green, and Veda Rasheed. Two other candidates running in the primary for the Ward 7 seat – Rebecca J. Morris and James Leroy Jennings – did not participate in the forum on Monday, the only candidates out of a total of 25 candidates on the Democratic primary ballot who did not participate.
The Ward 8 candidates appearing at the forum besides incumbent Trayon White included Stuart Anderson, Mike Austin, and Yaida Ford.
Norton, Strauss, and Owolewa are running unopposed in the Democratic primary. Norton and Strauss are longtime vocal supporters of LGBTQ rights.
At the direction of Stein Club President Kent Boese and Vice President for Political Affairs Monika Nemeth, the candidates gave opening statements before responding to questions by Washington Post local political reporter Fenit Nirappil, who served as guest moderator.
Boese announced at the start of the forum that the Stein Club's membership of over 300 LGBTQ and LGBTQ supportive D.C. residents would be voting for the candidate of their choice for a club endorsement online from May 12-15.
"The Stein Club will be using a ranked choice ballot and a contingent vote system to calculate a winner, and we encourage everyone to rank all of their choices and not bullet vote," a message the club sent to its members by email says. "To receive the Stein Club endorsement, a candidate must receive a supermajority vote of more than 60.0%," the club says in its email.
The email says the club invited all candidates running in the Democratic primary to submit candidacy statements to the club, which would be sent to the membership. In addition, the club was to send its members copies of the candidates' responses to the D.C. Gay and Lesbian Activists Alliance's candidate questionnaires and GLAA's ratings of the candidates based on their questionnaire responses and known record on LGBTQ issues.
Although all of the candidates participating in the Stein Club's forum on Monday expressed support for LGBTQ issues in their opening statements and in response to questions asked by Nirappil, GLAA's detailed scrutiny of the candidates' responses to its questionnaire and some of the candidates' failure to return the questionnaire resulted in several receiving a low rating.
GLAA rates candidates on a scale of +10, the highest possible rating, to -10, the lowest score. It assigns plus or minus two points based on whether a candidate answers "yes" or "no" on questions asking whether they support an important LGBTQ related issue. A plus or minus four points are given based on what GLAA says is the "substance" of the candidates' responses to the questions. And a plus or minus four points are given based on a candidate's public record – good or bad – on LGBTQ related issues.
Candidates that fail to return the questionnaire receive an automatic "0" rating if they have no known public record on LGBTQ issues.
In the Ward 7 Council race, Rasheed received a "0" GLAA rating for not returning the questionnaire and having no known record on LGBTQ issues, GLAA states in a statement accompanying its ratings. Green, who's gay and who has expressed strong support for LGBTQ issues in the past, received +4 rating for also failing to return the questionnaire. He received the maximum of 4 points based on his record of support on LGBTQ issues, GLAA said.
Gray, who has a longtime record of strong support for the LGBTQ community as a former mayor and Council member, received a +8 rating, which GLAA considers a strong rating. The group said Gray lost points for not agreeing with GLAA's position of full decriminalization of sex work in the city and not giving sufficient substance to a few of the other questions with which he agreed with GLAA. Gray received the maximum points for his past record on LGBTQ issues.
Council member Robert White (D-At-Large) and Ward 2 Council candidate Jordan Grossman were the only candidates to receive GLAA's highest rating of +10 in the June 2 primary races. Gay Ward 2 candidate John Fanning received a +9, the second highest of the primary ratings. Ward 2 candidates Patrick Kennedy and Kishan Putta each received a rating of +8.5, the next highest among rating given by GLAA.
In an action considered controversial by some political observers, GLAA refused to assign a rating to Evans or to send him the GLAA questionnaire. In a statement accompanying its ratings, GLAA says it has a policy of not issuing a rating for "candidates who, in their capacity as elected officials, were expelled from any elected post, or resigned, for ethics violations that include, but are not limited to, conflicts of interest, self-dealing, and malfeasance."
Evans received a +10 GLAA rating four years ago when he successfully ran for re-election to the Ward 2 Council seat. His supporters note that Evans is recognized as being one of the Council's strongest supporters of LGBTQ rights in the 29 years he served on the Council.
During the Stein Club forum on Monday night, Evans said he would continue to be an advocate and "champion" for LGBTQ issues if elected again to the Ward 2 seat.
In a part of the forum in which Stein Club members who signed up in advance were given a chance to express support or opposition to one or more candidates, gay Advisory Neighborhood Commissioners Mike Silverstein, Japer Bowles, and Randy Downs, gay D.C. School Board member Jack Jacobson, and Casa Ruby founder and CEO Ruby Corado each expressed support for Kennedy, saying he has a longstanding record of support and commitment to LGBTQ issues.
Longtime gay activist and community leader Michael Saint Andres expressed strong support for Fanning, saying Fanning has a record of commitment and support for LGBTQ issues and progressive causes for more than 20 years.
In his own remarks, Fanning thanked the other Ward 2 candidates for their support for the LGBTQ community as allies, but said it's time for the LGBTQ community to once again have one of its own on the Council.
The Stein Club virtual candidate endorsement forum can be viewed in its entirety here.
GLAA's candidate ratings and the candidates' responses to the GLAA questionnaire can be accessed here: http://glaa.org/projects/elections/