Celebrating queer icons during LGBT History Month
Politicians, clergy, activists and more honored by Equality Forum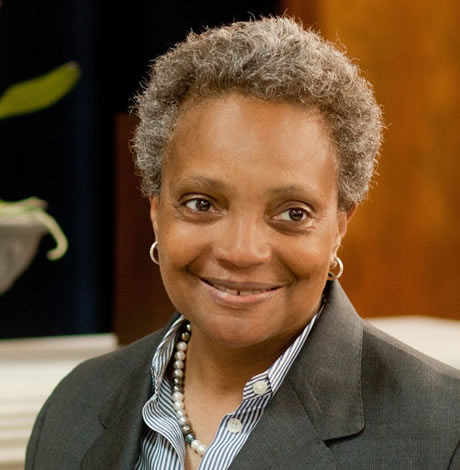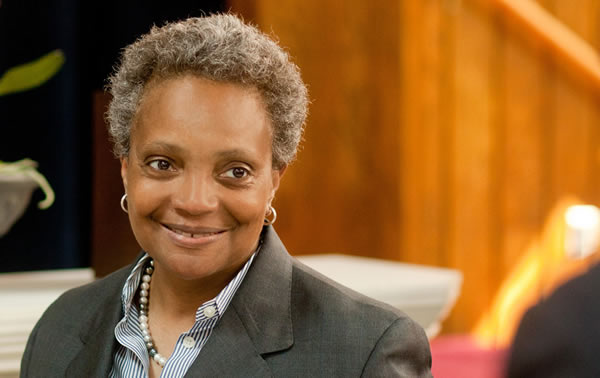 "Our first and second commandment for ourselves as we ministered with people with AIDS," Fr. Bernard Lynch, an openly gay, Irish Catholic priest, author, activist and founder of the first AIDS ministry in New York City in 1982, said in a FaceTime interview, "was thou shalt not bullshit anyone!"
Lynch, who holds a doctorate in counseling psychology and theology from Fordham University and New York Theological Seminary, recalled what it was like to live during the height of the AIDS epidemic. "It's hard to even begin to imagine what it was like if you weren't there," he said. "Gay men were queer-bashed. The Pink Panthers protected them. People with AIDS would be in the hospital, and the staff wouldn't feed them – they were so homophobic and afraid they would get AIDS."
Lynch is one of 31 icons being celebrated this October during LGBT History Month. The other icons being honored (national, international, living and dead) are from many walks of life – from politicians to clergy to writers – and time periods – from ancient Greece to 19th century in the United States to present day Russia.
The icons range from poets (Sappho) to activists (Moscow Pride founder Nikolay Alexeyev and transgender rights activist Felicia Elizondo) to elected officials (Lori Lightfoot, Chicago's first openly gay, first Black, female mayor). (For a complete list and bios of all 31 of this year's icons as well as resources for educators, go to: lgbthistorymonth.com.)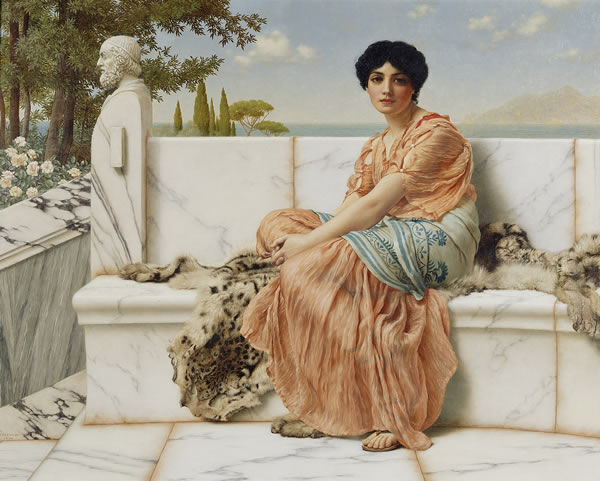 Beginning on Oct. 1, a different icon will be featured on the site. A 30-second video featuring a different LGBT icon will appear on the site daily. Before Oct. 1 and after Oct. 31, a two-and-a-half-minute overview video of all 31 icons will be on display.
History helps us to learn from the past. Stories from history inspire and encourage us to act in the present. Yet, many of us who are queer have only recently started to become informed about the history of our community.
Since 2006, the Equality Forum has spearheaded LGBT History Month in October. "In 1994, Rodney Wilson, a Missouri high school teacher, believed a month should be dedicated to the celebration and teaching of gay and lesbian history, and gathered other teachers and community leaders," according to Equality Forum's website.
The idea was endorsed by GLAAD, the Human Rights Campaign, the National Education Association and other organizations. In 2006, Equality Forum, according to its website, "assumed responsibility for content, promotion and resources for LGBT History Month." The Equality Forum is a national and international LGBT civil rights organization with an educational focus.
"I grew up in Central Pennsylvania," Malcolm Lazin, 76, Equality Forum executive director, said in a phone interview. "There was a very negative view of anyone who was gay when I was growing up. Everybody was deep in the closet."
As was the case with others interviewed for this article, Lazin learned nothing about LGBT history when he was growing up. "In 2006, when we launched Gay and Lesbian History Month [later renamed LGBT History Month], our minority was the only group in the world not taught its history at home, in schools or religious institutions," Lazin said.
Over the past 15 years, more than 400 "icons" (31 per year) have been celebrated during LGBT History Month. Icons honored previously during LGBT History Month range from James Baldwin to Tallulah Bankhead to Barbara Gittings, widely regarded as the mother of the LGBT civil rights movement, to Alexander the Great to Billie Holiday to economist John Maynard Keynes to Billie Jean King to trailblazing transgender, gay rights and AIDS activist Marsha P. Johnson. The Blade's Lou Chibbaro Jr. was honored as an icon in 2019.
The LGBT History Month 2020 and 15th Anniversary launch was held on Sept. 30. At the event, Chicago Mayor Lori Lightfoot and Jess O'Connell, one of this year's 31 LGBT History Month icons, who was the first openly LGBT Democratic National Committee CEO, received awards. Lightfoot received the Equality Forum's 25th Annual International Role Model Award. O'Connell received the 6th Annual Frank Kameny Award.
"It was conservative in all the ways you would expect when I was growing up in Arizona," O'Connell said in a phone interview.
O'Connell didn't learn about gay history as a high school student in the 1980s. But, from early on, she was exposed to all kinds of diversity. "I was raised by a Black father and white mother," O'Connell said, "I had an aunt in California who was gay."
One of the first times that she grieved was when a family friend died from AIDS. "I learned that love comes in many different forms," O'Connell said.
LGBT rights along with issues of racial and economic inequality were part of her everyday life. Her first job was in AIDS activism. In 2000, she was the first female director of AIDS Walk Colorado, a Colorado AIDS Project program. "The COVID-19 pandemic is triggering to me," said O'Connell, who served as a senior adviser to Pete Buttigieg's presidential campaign. "With AIDS, I saw the devastation that occurs when the government pretends a disease doesn't exist."
There are some similarities between COVID-19 and AIDS, Lynch said. In the beginning of the AIDS epidemic, people didn't know how it was spread and people died from it. As with COVID, there was fear of contagion and of death. "But, no other disease has the stigma of AIDS," Lynch said. "The stigma is still there today. It's rooted in the unease that so many have with sexuality."
Young queer men were trying to face the fact that they would die from AIDS before they had any idea of the meaning of their lives, he said. One lesson in dealing with COVID-19 that can be learned from the history of the AIDS epidemic is "compassion," Lynch said. "During the epidemic, friends and lovers fed, visited, and cared for people with AIDS. Even when no one else would. You didn't think about it – it was the thing to do."
Theater can help us to connect to our LGBTQ history. "The great thing about theater," Moisés Kaufman, an award-winning theater director and playwright, emailed the Blade, "is that it allows audiences to have several types of intimacy with the LGBTQ characters in history."
They can see the play, and be in the room with the living actors as they encounter our ancestry, said Kaufman, one of this year's 31 LGBT History Month icons.
"Our history is made by other LGBTQ people who had to survive in perilous and forbidding times," he added. "I've been fortunate to be able to learn from them."
His groundbreaking play "The Laramie Project," inspired by the brutal murder of Matthew Shepard has generated worldwide empathy and dialogue around LGBTQ hate crimes. Actors "get to experience our ancestors first hand," Kaufman said, "They get to inhabit their humanity."
History tells the stories of LGBTQ pioneers and helps us tell our own stories. Rabbi Deborah Waxman, one of this year's 31 LGBT History Month icons, is herself a pioneer. Waxman is the first woman and the first lesbian to lead a Jewish seminary and national congregational union. She serves as president of the Reconstructionist Rabbinical College (RRC) and of Reconstructing Judaism, the leading organization of the Reconstructionist movement.
There were no role models for being lesbian or being a woman, let alone an openly lesbian rabbi when Waxman was growing up. "I just knew I didn't want to kiss boys," Waxman said in a telephone interview.
Waxman didn't come out until she was into her 20s. When she said she wanted to be a rabbi, her mother was worried. Because, at that time, there were so few women rabbis. "When I came out to my Mom, she was really worried. She said, 'It was hard enough being a woman,'" Waxman said. "How would I ever be a rabbi as not only a woman but a lesbian?"
Years later, when she was installed in her leadership positions, Waxman told her Mom, "It worked out OK."
Her parents were immensely proud, she said.
Waxman is keenly aware that she's often a pioneer. Frequently, she's the only woman and only queer person during national conversations among leaders about religious matters. "I try to do it with humility," she said. "Storytelling helps us make our way through the world, she added.
Tagg turns 10
D.C. magazine thriving post-pandemic with focus on queer women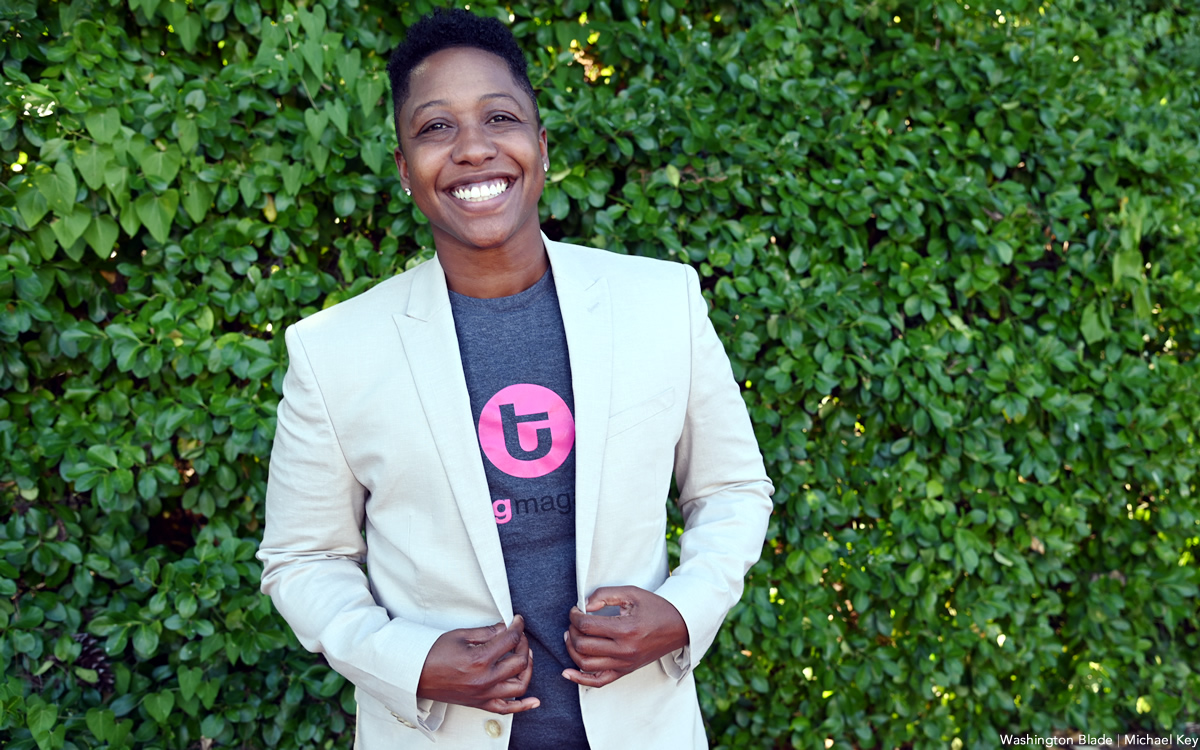 In a 10-year-old YouTube video, owner and editor of Tagg magazine, Eboné Bell, — clad in a white cotton T-shirt, gray vest and matching gray fedora — smiled with all her pearly whites as a correspondent for the magazine interviewed her outside now-closed Cobalt, a gay club in downtown D.C. that hosted the magazine's official launch in the fall of 2012.
"I want to make sure that people know that this is a community publication," Bell said in the video. "It's about the women in this community and we wanted to make sure that they knew that 'This is your magazine.'"
As one of just two queer womxn's magazines in the country, Tagg has established itself as one of the nation's leading and forthright LGBTQ publications that focuses on lesbian and queer culture, news, and events. The magazine is celebrating its 10th anniversary this month.
Among the many beats Tagg covers, it has recently produced work on wide-ranging political issues such as the introduction of the LGBTQ+ History Education Act in the U.S. House of Representatives and the Supreme Court's assault on reproductive rights through a reversal of its landmark Roe v. Wade ruling; and also attracted the attention of international queer celebrities, including Emmy-nominated actress Dominique Jackson through fundraisers.
"Tagg is a form of resistance," Bell said in a Zoom interview with the Washington Blade. "I always say the best form of activism is visibility and we're out there authentically us."
Although the magazine was created to focus on lifestyle, pressing political issues that affect LGBTQ individuals pushed it to dive deeper into political coverage in efforts to bring visibility to LGBTQ issues that specifically affect queer femme individuals.
"We know the majority of our readers are queer women,' said Bell. "[So] we always ask ourselves, 'How does this affect our community?' We are intentional and deliberate about it."
Rebecca Damante, a contributing writer to the magazine echoed Bell's sentiments.
"The movement can sometimes err toward gay white men and it's good that we get to represent other groups," said Damante. "I feel really lucky that a magazine like Tagg exists because it's given me the chance to polish my writing skills and talk about queer representation in media and politics."
Tagg's coverage has attracted younger readers who visit the magazine's website in search of community and belonging. Most readers range between the ages of 25 and 30, Bell said.
"[The magazine] honestly just took on a life of its own," said Bell. "It's like they came to us [and] it makes perfect sense."
Prior to the magazine becoming subscription-based and completely online, it was a free publication that readers could pick up in coffee shops and distribution boxes around D.C., Maryland, and Virginia.
Battling the pandemic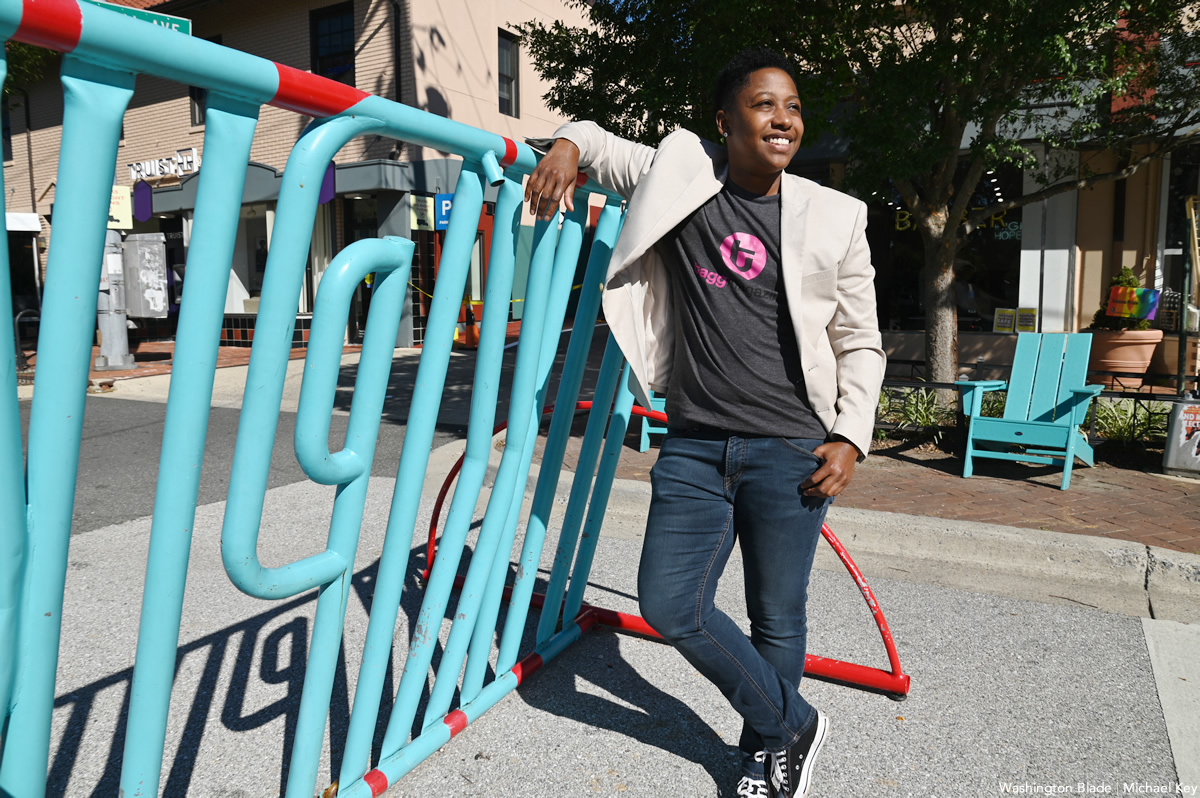 When the COVID-19 pandemic struck in 2020, newsrooms across the world were forced to function virtually. Additionally, economic strife forced many publications to downsize staffs and — in some cases — cancel entire beats as ad revenue decreased, forcing them to find alternative ways to self-sustain financially. Tagg was no exception.
"We didn't fly unscathed," said Bell. "[The pandemic] took a huge emotional toll on me because I thought we were going to close. I thought we were going to fail."
However, the magazine was able to stand firm after a fundraiser titled "Save Tagg Magazine" yielded about $30,000 in donations from the community.
The fundraiser involved a storefront on Tagg's website where donations of LGBTQ merchandise were sold, including a book donated by soccer superstar Megan Rapinoe.
There was also a virtual "Queerantine Con" — an event that was the brainchild of Dana Piccoli, editor of News Is Out— where prominent LGBTQ celebrities such as Rosie O'Donnell, Lea DeLaria and Kate Burrell, gave appearances to help raise money that eventually sustained the publication.
"There was a time where I was ready to be like 'I have to be OK that [Tagg] might not happen anymore," said Bell. "But because of love and support, I'm here."
While the outpouring of love from community members who donated to the magazine helped keep the magazine alive, it was also a stark reminder that smaller publications, led by women of color, have access to fewer resources than mainstream outlets.
"It's statistically known that Black women-owned businesses get significantly less support, venture capital investments, things like that," said Bell. "I saw similar outlets such as Tagg with white people making $100,000 a month."
Bell added that Tagg had to work "10 times harder" to survive, and although the magazine didn't cut back on the people who worked for it, it ended free access to the magazine in the DMV especially as the places that housed the magazine were no longer in business. The publication also moved to a subscription-based model that allowed it to ameliorate printing costs.
Despite the challenges brought about by the pandemic, Tagg remains steadfast in its service to the LGBTQ community. The magazine hired an assistant editor in 2021 and has maintained a team of graphic designers, photographers, writers and an ad sales team who work to ensure fresh content is delivered to readers on a regular basis.
For Bell, Tagg mirrors an important life experience — the moment she discovered Ladders, a lesbian magazine published throughout the 1950s, 1960s and early 1970s.
"To that young person coming up, I want you to see all the things that happened before them, all the people that came before them, all the stories that were being told" she said.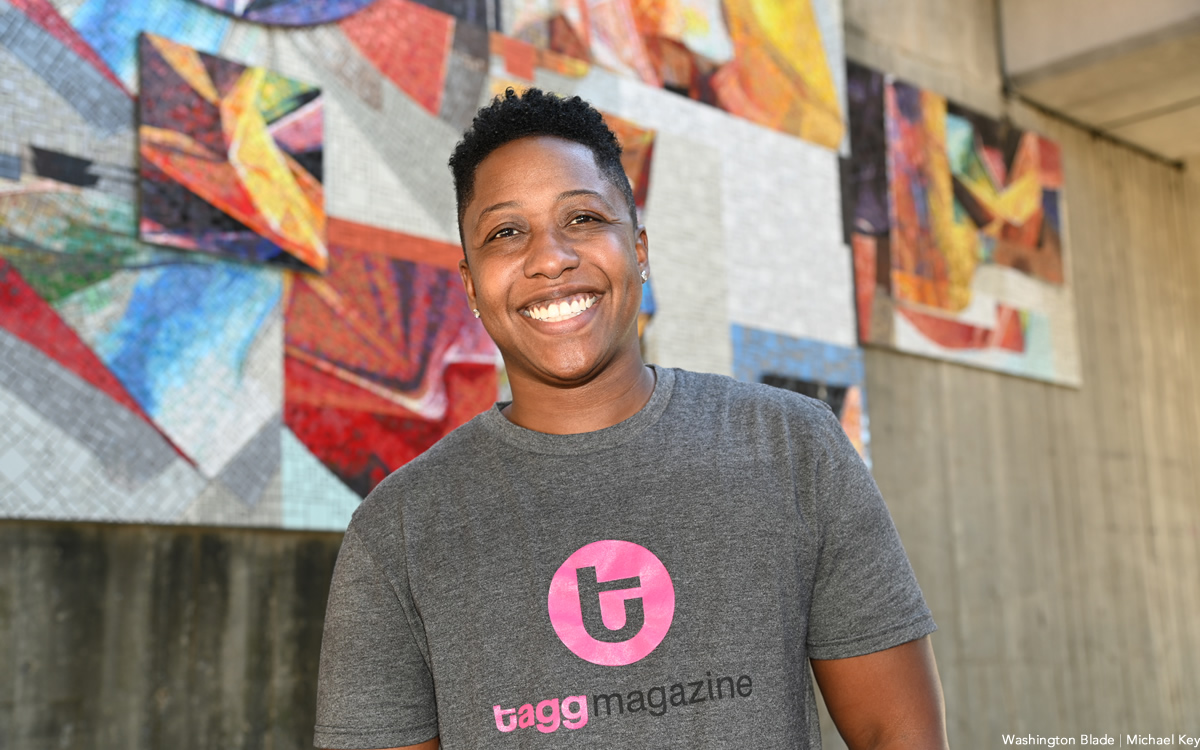 Daisy Edgar-Jones knows why 'the Crawdads sing'
Actress on process, perfecting a southern accent, and her queer following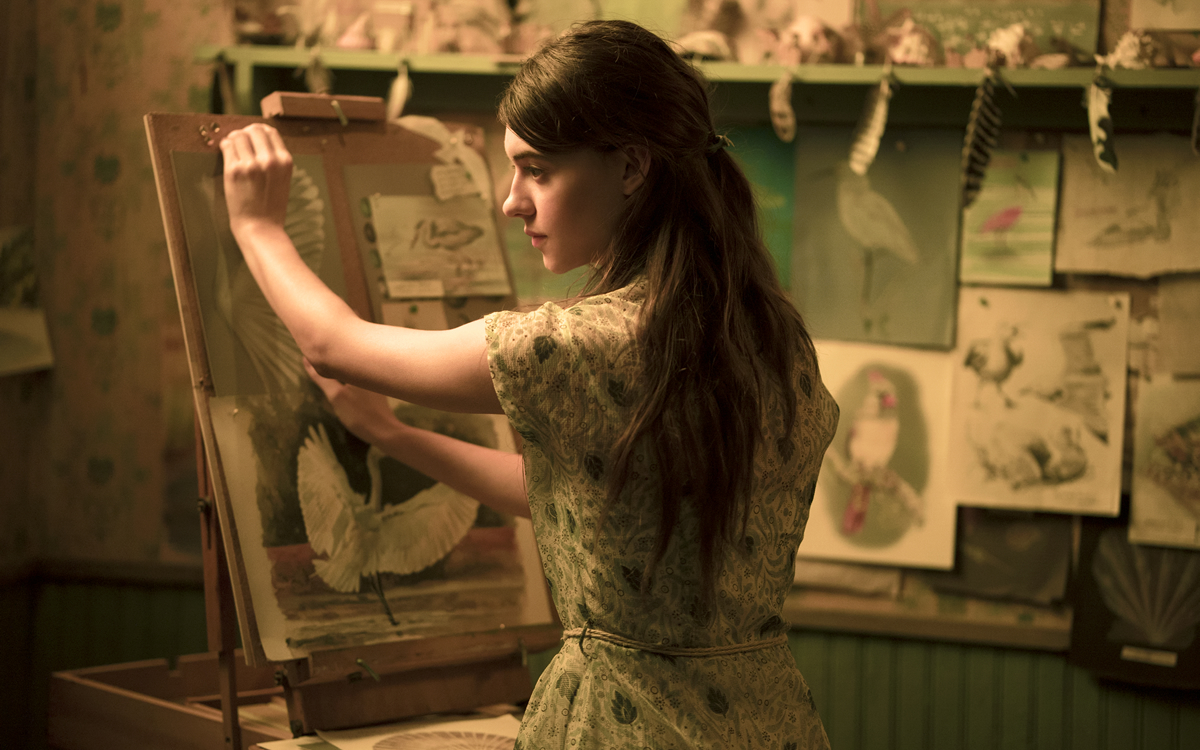 Daisy Edgar-Jones is an actor whose career is blossoming like her namesake. In recent years, she seems to be everywhere. LGBTQ viewers may recognize Edgar-Jones from her role as Delia Rawson in the recently canceled queer HBO series "Gentleman Jack." She also played memorable parts in a pair of popular Hulu series, "Normal People" and "Under the Banner of Heaven." Earlier this year, Edgar-Jones was seen as Noa in the black comedy/horror flick "Fresh" alongside Sebastian Stan.
With her new movie, "Where the Crawdads Sing" (Sony/Columbia), she officially becomes a lead actress. Based on Delia Owens' popular book club title of the same name, the movie spans a considerable period of time, part murder mystery, part courtroom drama. She was kind enough to answer a few questions for the Blade.
BLADE: Daisy, had you read Delia Owens's novel "Where the Crawdads Sing" before signing on to play Kya?
DAISY EDGAR-JONES: I read it during my audition process, as I was auditioning for the part. So, the two went hand in hand.
BLADE: What was it about the character of Kya that appealed to you as an actress?
EDGAR-JONES: There was so much about her that appealed to me. I think the fact that she is a very complicated woman. She's a mixture of things. She's gentle and she's curious. She's strong and she's resilient. She felt like a real person. I love real character studies and it felt like a character I haven't had a chance to delve into. It felt different from anyone I've played before. Her resilience was one that I really admired. So, I really wanted to spend some time with her.
BLADE: While Kya is in jail, accused of killing the character Chase, she is visited by a cat in her cell. Are you a cat person or do you prefer dogs?
EDGAR-JONES: I like both! I think I like the fact that dogs unconditionally love you. While a cat's love can feel a bit conditional. I do think both are very cute. Probably, if I had to choose, it would be dogs.
BLADE: I'm a dog person, so I'm glad you said that.
EDGAR-JONES: [Laughs]
BLADE: Kya lives on the marsh and spends a lot of time on and in the water. Are you a swimmer or do you prefer to be on dry land?
EDGAR-JONES: I like swimming, I do. I grew up swimming a lot. If I'm ever on holidays, I like it to be by the sea or by a nice pool.
BLADE: Kya is also a gifted artist, and it is the thing that brings her great joy. Do you draw or paint?
EDGAR-JONES: I always doodle. I'm an avid doodler. I do love to draw and paint. I loved it at school. I wouldn't say I was anywhere near as skilled as Kya. But I do love drawing if I get the chance to do it.
BLADE: Kya was born and raised in North Carolina. What can you tell me about your process when it comes to doing a southern accent or an American accent in general?
EDGAR-JONES: It's obviously quite different from mine. I've been lucky that I've spent a lot of time working on various accents for different parts for a few years now, so I feel like I'm developed an ear for, I guess, the difference in tone and vowel sounds [laughs]. When it came to this, it was really important to get it right, of course. Kya has a very lyrical, gentle voice, which I think that North Carolina kind of sound really helped me to access. I worked with a brilliant accent coach who helped me out and I just listened and listened.
BLADE: While I was watching "Where the Crawdads Sing" I thought about how Kya could easily be a character from the LGBTQ community because she is considered an outsider, is shunned and ridiculed, and experiences physical and emotional harm. Do you also see the parallels?
EDGAR-JONES: I certainly do. I think that aspect of being an outsider is there, and this film does a really good job of showing how important it is to be kind to everyone. I think this film celebrates the goodness you can give to each other if you choose to be kind. Yes, I definitely see the parallels.
BLADE: Do you have an awareness of an LGBTQ following for your acting career?
EDGAR-JONES: I tend to stay off social media and am honestly not really aware of who follows me, but I do really hope the projects I've worked on resonate with everyone.
BLADE: Are there any upcoming acting projects that you'd like to mention?
EDGAR-JONES: None that I can talk of quite yet. But there are a few things that are coming up next year, so I'm really excited.
CAMP Rehoboth's president talks pandemic, planning, and the future
Wesley Combs marks six months in new role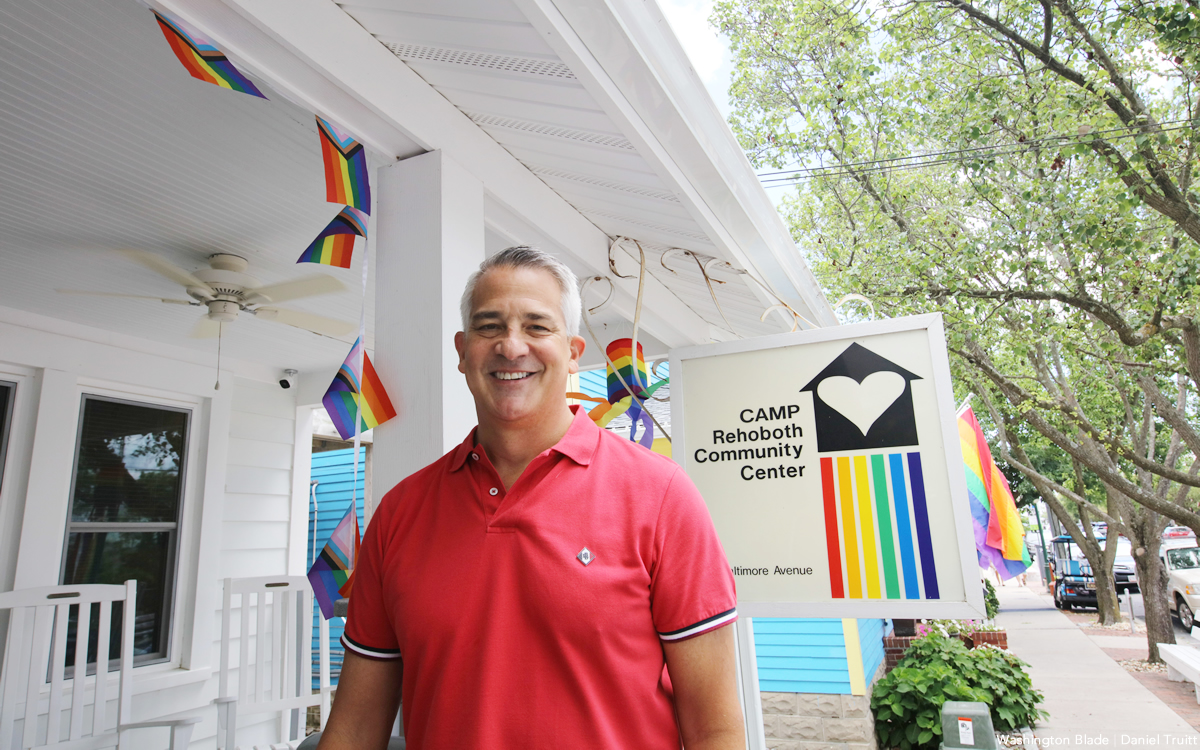 June marks half a year since Wesley Combs stepped into his role as president of CAMP Rehoboth. In a conversation with the Blade, Combs recounted his first six months in the position — a time he said was characterized by transition and learning.
Since 1991, CAMP Rehoboth has worked to develop programming "inclusive of all sexual orientations and gender identities" in the Rehoboth Beach, Del. area, according to the nonprofit's website. As president, Combs oversees the organization's board of directors and executive director, helping determine areas of focus and ensure programming meets community needs.
For Combs, his more than three decades of involvement with CAMP Rehoboth have shaped the course of his life. In the summer of 1989 — just before the organization's creation — he met his now-husband, who was then living in a beach house with Steve Elkins and Murray Archibald, CAMP Rehoboth's founders.
Since then, he has served as a financial supporter of the organization, noting that it has been crucial to fostering understanding that works against an "undercurrent of anti-LGBTQ sentiment" in Rehoboth Beach's history that has, at times, propagated violence against LGBTQ community members.
In 2019, after Elkins passed away, Combs was called upon by CAMP Rehoboth's Board of Directors to serve on a search committee for the organization's next executive director. Later that year, he was invited to become a board member and, this past November, was elected president.
Combs noted that CAMP Rehoboth is also still recovering from the pandemic, and is working to restart programming paused in the switch to remote operations. In his first six months, he has sought to ensure that people feel "comfortable" visiting and engaging with CAMP Rehoboth again, and wants to ensure all community members can access its programming, including those from rural parts of Delaware and those without a means of getting downtown.
Still, Combs's first six months were not without unexpected turns: On May 31, David Mariner stepped down from his role as CAMP Rehoboth executive director, necessitating a search for his replacement. Combs noted that he would help facilitate the search for an interim director to serve for the remainder of the year and ensure that there is "a stable transition of power." CAMP Rehoboth last week announced it has named Lisa Evans to the interim director role.
Chris Beagle, whose term as president of CAMP Rehoboth preceded Combs's own, noted that the experience of participating in a search committee with the organization will "better enable him to lead the process this time."
Before completing his term, Beagle helped prepare Combs for the new role, noting that the "combination of his professional background, his executive leadership (and) his passion for the organization" make Combs a strong president. Regarding the results of the election, "I was extremely confident, and I remain extremely confident," Beagle said.
Bob Witeck, a pioneer in LGBTQ marketing and communications, has known Combs for nearly four decades. The two founded a public relations firm together in 1993 and went on to work together for 20 years, with clients ranging from major businesses like Ford Motor Company to celebrities including Chaz Bono and Christopher Reeve. According to Witeck, Combs's work in the firm is a testament to his commitment to LGBTQ advocacy.
"Our firm was the first founded primarily to work on issues specific to LGBTQ identities, because we wanted to counsel corporations about their marketing and media strategies and working in the LGBTQ market," he explained. By helping develop communications strategies inclusive of those with LGBTQ identities, Combs established a background of LGBTQ advocacy that truly "made a mark," Witeck said.
Witeck emphasized that, in his new position, Combs brings both business experience and a renewed focus on historically underrepresented in LGBTQ advocacy — including people with disabilities, trans people and people of color.
Looking to the rest of the year, CAMP Rehoboth hopes to host a larger-scale event during Labor Day weekend. In addition, the organization will revisit its strategic plan — first developed in 2019 but delayed due to the pandemic — and ensure it still meets the needs of the local community, Combs said. He added that he intends to reexamine the plan and other programming to ensure inclusivity for trans community members.
"CAMP Rehoboth continues to be a vital resource in the community," he said. "The focus for the next two years is to make sure we're doing and delivering services that meet the needs of everyone in our community."