Dignitaries tour the 60% completed USNS Harvey Milk
This past week on the eve of what would have been Milk's 91st birthday Milk's nephew elected officials and other dignitaries toured the ship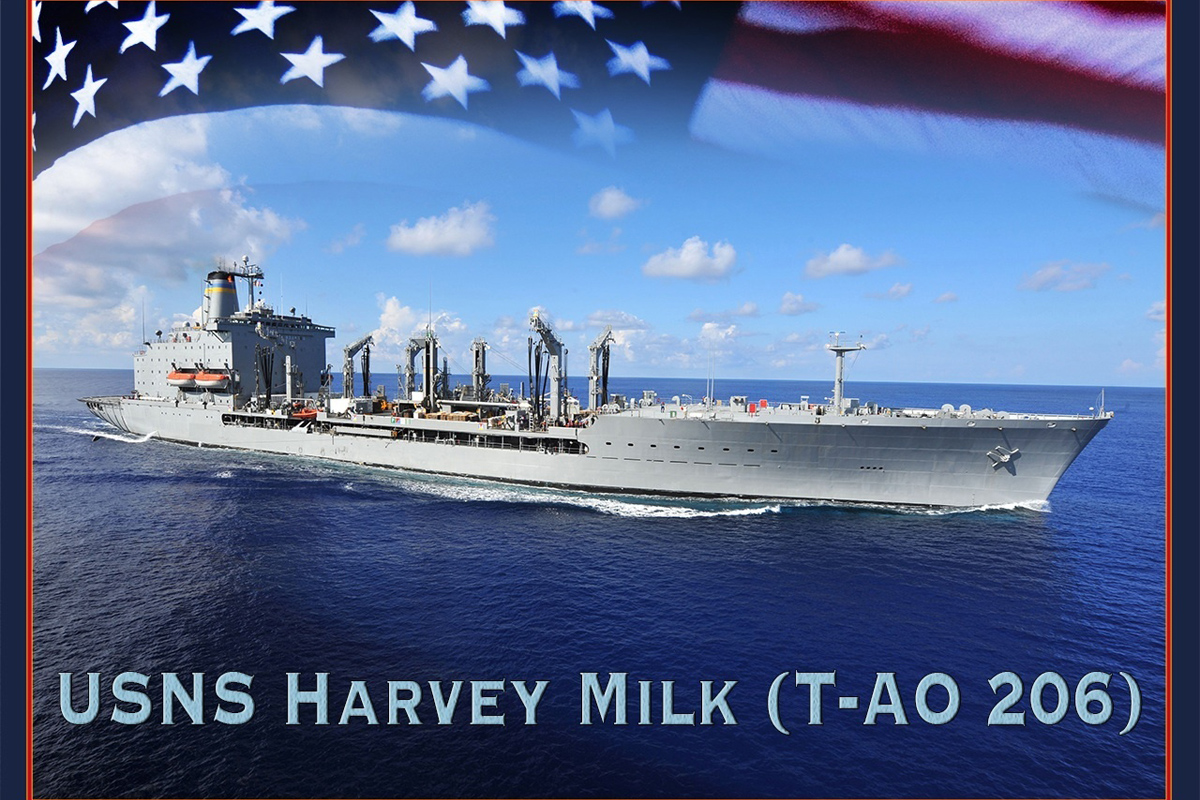 SAN DIEGO – The construction work on the future U.S. Navy fleet oiler named for slain gay San Francisco Supervisor Harvey Milk is nearly sixty-percent completed according to a spokesperson for the National Steel and Shipbuilding Company division of General Dynamics Corporation commonly referred to as NASSCO.
This past week on the eve of what would have been Milk's 91st birthday on Saturday, Milk's nephew Stuart Milk, elected officials and other dignitaries were given two separate tours of the vessel.
The Milk is a fleet oiler and will be assigned the tasks of replenishing fuel oil and dry goods to U. S. naval vessels at sea. The Milk is the second ship in the new John Lewis class of fleet oilers. The future USNS John Lewis (T-AO-205) , is named for the former civil rights leader and Georgia Congressman, and is also under construction at NASSCO San Diego.
The first six vessels in the Lewis class of fleet oilers are named after prominent civil rights activists and leaders, in addition to the USNS John Lewis (T-AO-205) are; USNS Harvey Milk (T-AO-206) – LGBT activist Harvey Milk; USNS Earl Warren (T-AO-207) – Chief Justice of the United States Earl Warren; USNS Robert F. Kennedy (T-AO-208) – U.S. Attorney General Robert F. Kennedy; USNS Lucy Stone (T-AO-209) – Women's rights activist Lucy Stone; USNS Sojourner Truth (T-AO-210) – Abolitionist and women's rights activist Sojourner Truth.
San Diego City & County Commissioner Nicole Murray Ramirez arranged the private tours led by Dennis DuBard, Manager of Government Relations at General Dynamic NASSCO on behalf of the shipbuilders.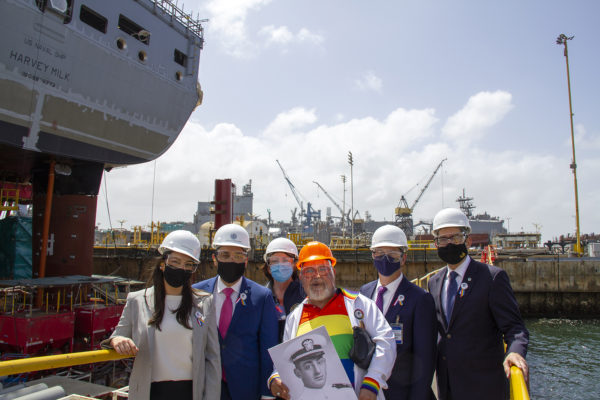 Among the dignitaries were Stuart Milk- Co-Founder of the Harvey Milk Foundation, San Diego's openly gay Mayor Todd Gloria; State Senate President Toni G. Atkins; City Councilmember Stephen Whitburn; State Assemblymember Christopher Ward; Congressmember Sara Jacobs; State Commissioner Robert Gleason; The Center's Cara Dessert; and Navy veteran, Chief Petty Officer Morgan M. Hurley, USN Ret. former chair of the LGBTQ Veterans Wall of Honor.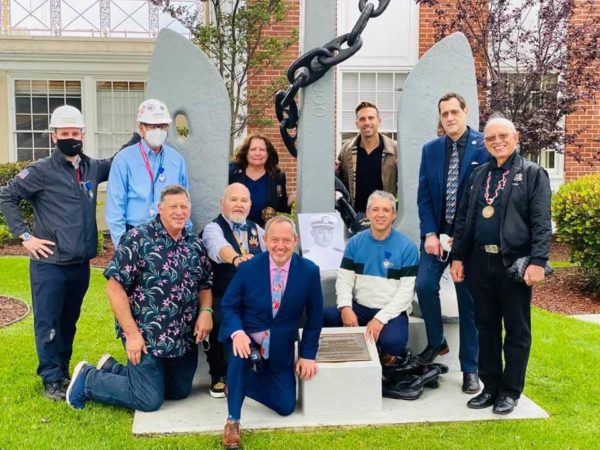 Also given a tour were Bevan Dufty, former San Francisco Board of Supervisor- District 8, member of the Bay Area Rapid Transit Board of Directors and Executive Director of H.O.P.E. for the City & County of San Francisco; Ryan Bedrosian, business man, owner of Rich's San Diego and secretary of the Hillcrest Business Association; Charles Rozanski, businessman, president and CEO of Mile High Comics, and member of the International Imperial Court Council; Michael "Bigmike SanDiego" Phillips, philanthropist, and chair of the newly minted San Diego LGBTQ historic Task Force; Eddie Rey, Executive Director of the Equality Business Alliance.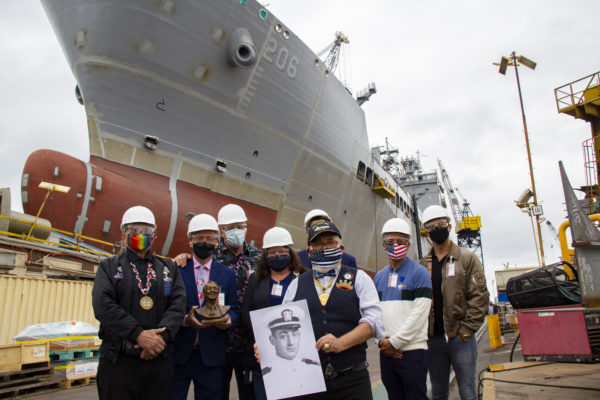 Eddie Rey, Executive Director of the Equality Business Alliance noted; "The naming of the USNS Harvey Milk is historic for multiple reasons- including that it's the first military ship named after a service member who was harassed, court martialed and then dishonorably discharged- simply for being gay; but most importantly to me — because it tells the world that our nation now honors and supports LGBTQ individuals. It is my hope that someday the military will reverse and rectify the wrongful "Other Than Honorable Discharge" given to thousands of our LGBTQ brothers, sisters, and siblings. As for Harvey Milk- the message of his less than honorable discharge and naming of a ship is a powerful message- that the family wishes to keep as is."
Milk was dishonorably discharged from the US Navy on February 7, 1955 after being forced by U.S. Navy investigators to describe his sexual relationships in a 152 page document. Some twenty-two years later he was the first openly gay person elected to a seat on the San Francisco Board of Supervisors in 1977. Milk would go on to only serve 11 months in office, until he and then San Francisco Mayor George Moscone, were murdered in their office spaces at City Hall on the morning of November 27, 1978 by disgruntled former supervisor Dan White.
Every year on his birthday, the foundation that bears his name celebrates Harvey Milk Day to remember and teach about his life and his activism work to stop the discrimination against LGBTQ+ people and in California, Harvey Milk Day is recognized by the state's government as a day of special significance for the Golden State's public schools. 
The day was permanently established by the California legislature and signed into law by then Republican Governor Arnold Schwarzenegger in 2009.
Pulse survivor 'at a loss' over Texas elementary school massacre
Brandon Wolf is Equality Florida's press secretary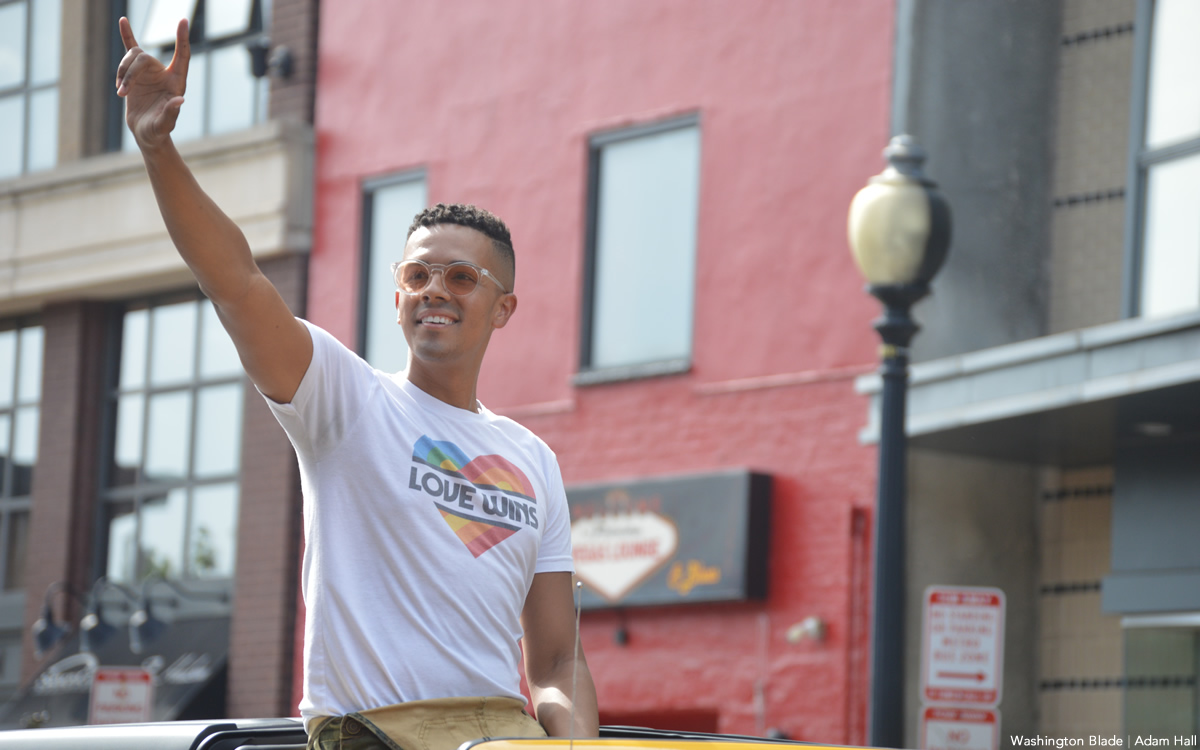 A survivor of the Pulse nightclub massacre on Wednesday said he is "at a loss" over the massacre at a Texas elementary school that left 21 people dead.
"Twenty-one people were murdered," said Equality Florida Press Secretary Brandon Wolf in a statement he sent to the Washington Blade a day after a gunman killed 21 people inside Robb Elementary School in Uvalde, Texas. "Nineteen of them were children — babies. That means 19 families sent their elementary age kids off to school only to get the worst news: That their babies would be leaving class in body bags."
Wolf was inside the Pulse nightclub in Orlando, Fla., on June 12, 2016, when a gunman opened fire and killed 49 people. His two close friends — Christopher "Drew" Leinonen and his fiancé, Juan Guerrero — were among those killed.
Wolf in his statement noted "right wing politicians have spent the past year insisting that the greatest threats our children face are the potential they'll learn that this nation was built on the backs of enslaved Black people or that their teacher uses they/them pronouns."
"They've banned books, censored curriculum and bastardized history lessons," said Wolf. "All the while, they haven't lifted a finger to protect kids from what is killing them."
Equality Florida echoed Wolf's sentiments.
We have an entire faction of extremists laser focused on banning books, propagandizing history, and bastardizing curriculum while the nightmare of gun violence ravages our kids without end.

Heartbroken for those shattered by gun violence today. https://t.co/ED7ItnNR2T

— Equality Florida (@equalityfl) May 24, 2022
"I am heartbroken for the shattered families," added Wolf. "Grief-stricken for these stolen lives. And enraged at the power-hungry leaders who have chosen time and again to serve up this country's most vulnerable as sacrifices in exchange for a boost up the ladder of their own ambitions."
Axel Rodríguez's friend, Xavier Serrano Rosado, died inside the Pulse nightclub.
Rodríguez told the Blade that Tuesday was "such a dad day for us here" in Orlando.
"It is like going through the same emotions we had when the attack at Pulse happened, but it's even worse because we are talking about children," he said. "When will our government stop thinking about money and stop this madness? Everyone now can obtain a gun anywhere. I just cannot comprehend that at all."
The Pulse nightclub massacre was the deadliest mass shooting in modern U.S. history until a gunman on Oct. 1, 2017, killed 60 people at a concert in Las Vegas.
A gunman on Feb. 14, 2018, killed 17 people at Marjory Stoneman Douglas High School in Parkland, Fla. Twenty children and six adults died in the massacre at the Sandy Hook Elementary School massacre in Newtown, Conn., on Dec. 14, 2012.
The Robb Elementary School massacre took place less than three years after a gunman killed 22 people at a Walmart in El Paso, Texas.
"There are no words," tweeted Pride Center San Antonio, which is roughly 90 minutes east of Robb Elementary School, on Wednesday.
There are no words… #uvaldetx #texasstrong #prayforuvalde pic.twitter.com/O9QhjDre3M

— The Center – Pride Center San Antonio (@PrideCenterSA) May 25, 2022
"Our hearts are with the Uvalde community," said Equality Texas on Tuesday. "Every child deserves to free safe at school."
Every child deserves to feel safe at school

— Equality Texas (@EqualityTexas) May 24, 2022
Republican lawmaker claims Texas school gunman was transgender
Massacre victims were inside single classroom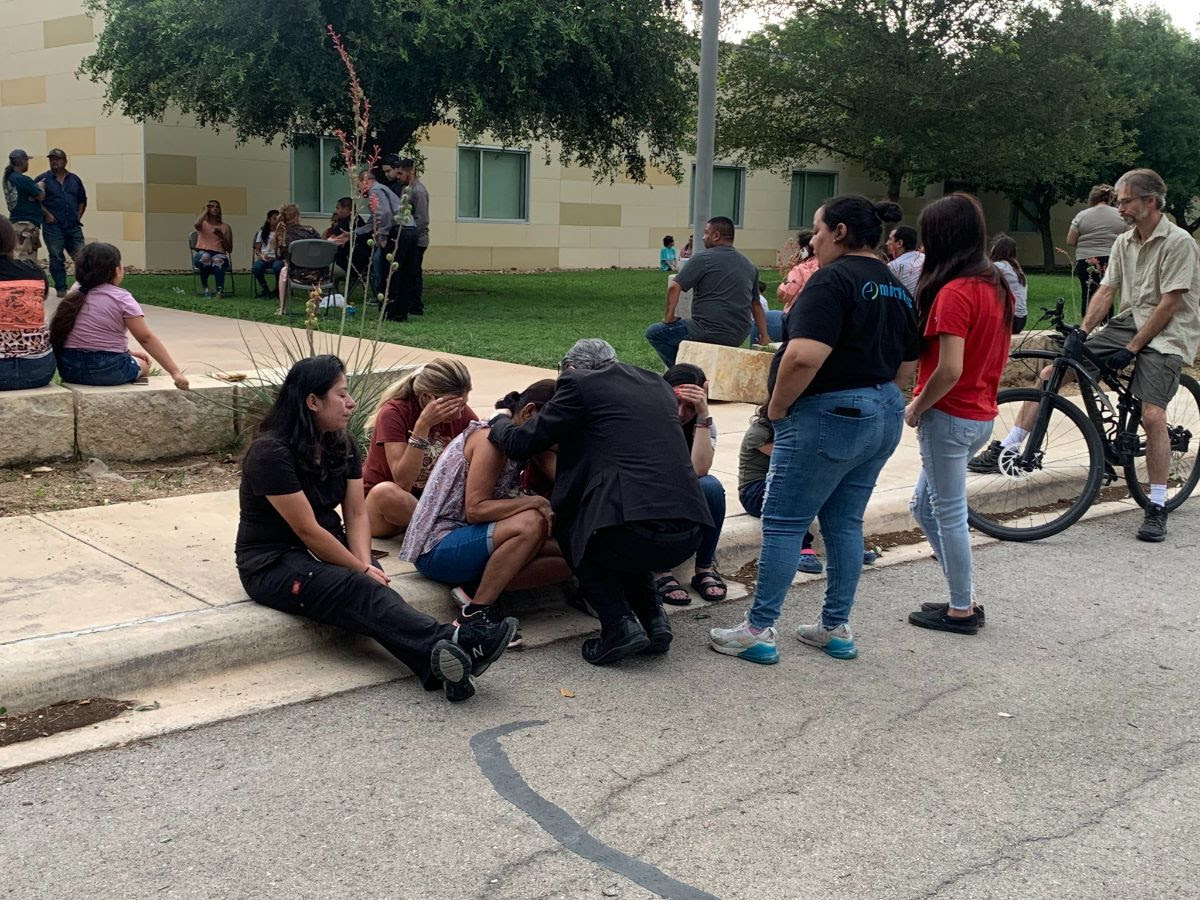 A spokesperson for the Texas Department of Public Safety confirmed that all of the 19 children and two adults were killed in single classroom at the Robb Elementary School in Uvalde, Texas, Tuesday.
According to officials, 18-year-old Salvador Rolando Ramos, wearing body armor had barricaded himself inside a fourth-grade classroom, where all the fatalities and injuries occurred. Ramos, who attended the nearby high school, was killed on scene by a member of a federal U.S. Border Patrol tactical unit who had responded alongside local law enforcement.
Several other children were injured in the attack, including a 10-year-old who remained in critical condition in a Texas hospital. Law enforcement officials told reporters Ramos shot his grandmother before heading to the school with two military-style rifles he bought on his 18th birthday which was within the last two weeks.
Law enforcement has only released some of the victim's identities and according to the Austin Statesman newspaper's political reporter Niki Griswold, parents were gathered late into the night to give DNA samples to find out whether or not their children were among the dead. Griswold also tweeted, "The agonized screams of family members are audible from the parking lot," as she also noted "A family has erupted into sobs outside the civic center."
The agonized screams of family members are audible from the parking lot

— Niki Griswold (@nikigriswold) May 25, 2022
As Texas and the nation reeled in shock over yet another deadly mass shooting, Arizona Republican Congressman Paul Gosar, who espouses radical right view points and former President Trump's MAGA philosophy, took to Twitter and spread a false and transphobic claim that the suspected shooter was a "transsexual leftist illegal alien."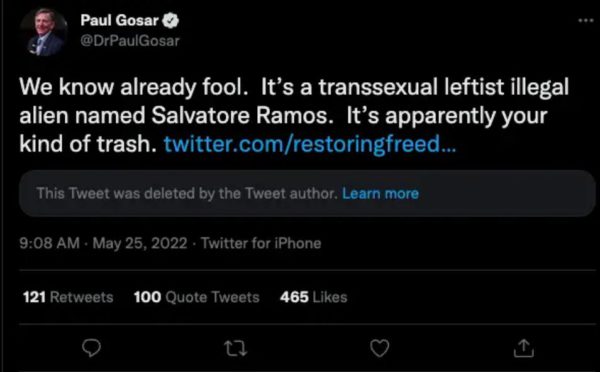 As of Tuesday evening, Gosar had not commented on his tweet, which was deleted about two hours after being published.
Gosar is an anti-immigration, anti-vaxxer, radical right hardliner who routinely cozies up to white nationalists. He was apparently promoting a false claim circulating on right-wing networks. Users shared images of a transgender person unrelated to the attack claiming they were the shooter.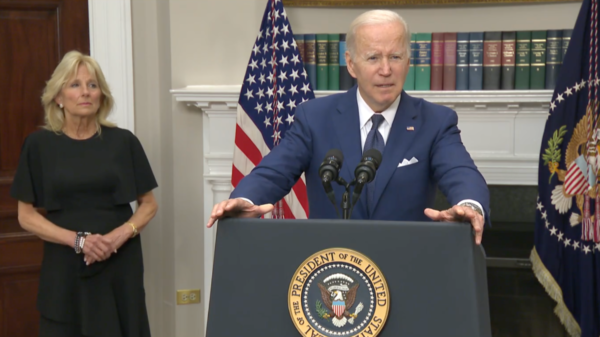 In Washington last night, President Biden, speaking to the nation said;
"Why are we willing to live with this carnage?" he asked. "Why do we keep letting this happen? Where in God's name is our backbone to have the courage to deal with it and stand up to the [gun] lobbies?
Speaking from personal experience, as a father who has lost two children, Biden added: "To lose a child is like having a piece of your soul ripped away. There's a hollowness in your chest, and you feel like you're being sucked into it and never going to be able to get out. It's suffocating. And it's never quite the same."
Global reaction included sympathy from Ukraine's leadership.
Ukrainian President Volodymyr Zelenskyy expressed condolences to the community of Uvalde where the 21 people — including the 19 students — were murdered in one of the deadliest school shootings in U.S. history.
"Deeply saddened by the news of the murder of innocent children in Texas," Zelenskyy wrote. "Sincere condolences to the families of the victims, the people of the U.S. and @POTUS over this tragedy. The people of Ukraine share the pain of the relatives and friends of the victims and all Americans."
Deeply saddened by the news of the murder of innocent children in Texas. Sincere condolences to the families of the victims, the people of the US and @POTUS over this tragedy. The people of Ukraine share the pain of the relatives and friends of the victims and all Americans.

— Володимир Зеленський (@ZelenskyyUa) May 25, 2022
NPR reported Wednesday that Zelenskyy also referenced the shooting while speaking by video link at a conference on the sidelines of the World Economic Forum in Davos, Switzerland, in which he drew a direct parallel between the shooting and the war in Ukraine.
"I feel it is my personal tragedy when children are killed in Texas, and now in my country Russian military is killing our children," he said.
Gay man shot to death on NYC subway train
Police say shooting was random and unprovoked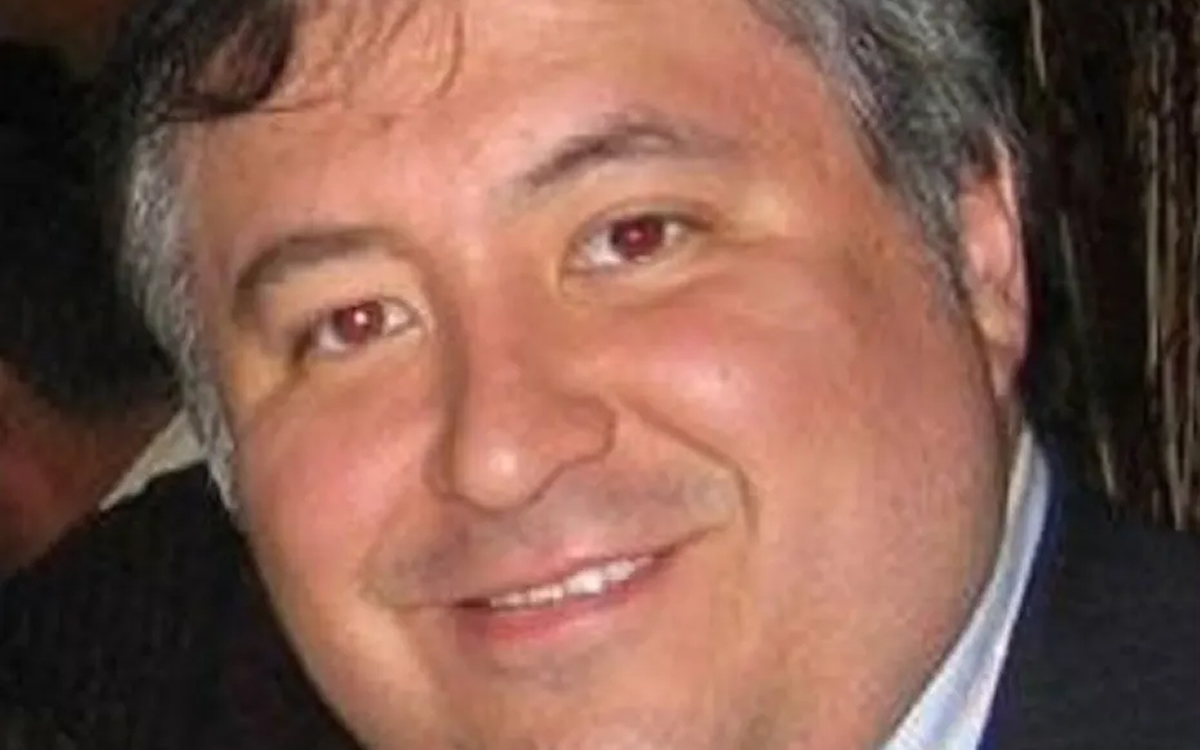 A gay man became the latest victim of a New York City subway shooting on Sunday when police say a male suspect shot Daniel Enriquez, 48, in the chest in an unprovoked random act inside a subway car traveling from Brooklyn to Manhattan.
Police on Tuesday arrested Andrew Abdullah, 25, who they identified as the sole suspect in the shooting, after attorneys representing him from the Legal Aid Society attempted to arrange for his surrender, according to a report by NBC 4 News in New York.
Police said the shooting occurred around 11:42 a.m. while the train was traveling over the Manhattan Bridge. The then unidentified suspect walked off the train and disappeared into a crowd of people when the train stopped at the Canal Street station minutes after Enriquez lay dying on the floor on the train car, police said.
Possibly based on the viewing of images from video surveillance cameras, police sources told the New York Times that investigators identified the suspect as Abdullah whose last known residence was in Manhattan, as a suspect in the fatal shooting. NYPD officials released two photos of Abdullah and appealed to the public for help in finding him.
Adam Pollack, Enriquez's partner of 18 years, told both the Times and the New York Post that Enriquez took the subway to meet his brother for brunch. According to Pollack, Enriquez previously had taken Ubers into Manhattan, where he worked and socialized, from the couple's home in the Park Slope section of Brooklyn. But in recent weeks the cost of taking an Uber rose dramatically to more than $80 for the round-trip fare, prompting Enriquez to begin taking the subway, Pollack told the Times and Post.
"I don't love the subway," the Post quoted Pollack as saying. "I know how dangerous New York is. It took me two years to get back on the subway. I don't feel safe on the subway," he said.
The fatal shooting of Enriquez took place six weeks after another gunman identified as Frank R. James began shooting inside a crowded rush-hour subway car in Brooklyn, injuring at least 23 people.
Pollack told the Times his partner was a native New Yorker who worked as a researcher for the Goldman Sachs investment bank in Manhattan. Enriquez was the eldest of five children and a beloved uncle known for taking his nieces and nephews for ice cream in local parks and out to amusement parks when he visited them, Pollack told the Times.
When asked by the Washington Blade if any evidence has surfaced to indicate suspect Abdullah targeted Enriquez because he thought Enriquez was gay, a police public information officer said the investigation into the incident was continuing.
"There's nothing on that now," the officer said. "Everything, the motive, and all of that stuff, is part of the investigation and that is still ongoing. So, there's no comment on that yet."
The Times reports that court records show Abdullah, who is now in police custody, was charged along with others in 2017 in an 83-count indictment for alleged gang related activity. The following year he pleaded guilty to criminal possession of weapons and other charges in 2018 and was sentenced the following year to a prison term and released on parole several months later.
According to the Times, he faced new gun charges in 2020, was charged in 2021 with assault and endangering a child, and in April of this year was charged with possession of stolen property and unauthorized use of a vehicle.
"We are devastated by this senseless tragedy and our deepest sympathies are with Dan's family at this difficult time," Goldman Sachs CEO David Solomon said in a statement.